North Michigan Avenue or the Magnificent Mile, is a must when you visit Chicago. Here you will find  many shops, department stores, and boutiques lining the northern half of the street that continue on Oak Street to the north. Many stores are found in the in vertical malls like Water Tower Place and 900 N. Michigan Shops.  There are a number of  historic buildings as well. Make sure to see the Tribune Tower at 435 N. Michigan, the Wrigley Building across the street at 400 N. Michigan, the John Hancock Center at 875 N. Michigan, the classic Drake Hotel and the Historic Water Tower at 806 N. Michigan, which is one of the few structures to have survived the Great Chicago Fire of 1871. My top recommendations include:
Museum of Contemporary Art: Just south and east of Water Tower Place is the Museum of Contemporary Art. It offers exhibitions of contemporary art and does offer a series of programs including musical performances throughout the year. Their museum store is well-worth the trip by itself. 220 E. Chicago Ave.
The third-tallest building in Chicago, the John Hancock Center, has wonderful panoramic views of the lake and surrounding skyline. I recommend skipping the observatory and head to the 96th-floor bar connected to the Signature Room restaurant on the 95th floor. Better to spend your money on a cocktail rather than on the entry fee to the observation deck. 875 N. Michigan Ave.
Arts Club of Chicago: A private club that has a public gallery on the first floor. Check out the calendar as they have some great temporary exhibitions. Make sure to see the Calder sculpture and the Mies van der Rohe staircase that was constructed for its original building and then moved to this new building. Many of the 20th century's most celebrated visual artists received their first solo exhibitions in the United States, or the Midwest, at The Arts Club including Pablo Picasso, Alexander Calder and Marcel Duchamp. 201 E. Ontario, east of Michigan Ave.
Around the corner on Michigan Ave. is Colores Mexicanos at 605 N. Michigan Ave. This is a very colorful store featuring Mexican  art, ceramics, rugs, accessories, clothing and jewelry. It is a cooperative in a sense that the makers in Mexico receive a portion of the profits. "More than 50 families from 12 Mexican states contribute to our store. They represent over 35 indigenous communities, each with its own language, customs and art."
One of my top finds is Fig & Olive, which opened at 104 E. Oak. This 10,000 sq. restaurant on two levels, is warm, contemporary and sleek. There is a small outdoor terrace as well. The menu inspired by the South of France, Italy and Spain is really excellent. I loved the brunch menu with a really wonderful crab cake benedict, made with the best in fresh ingredients. My friends raved about the French omelette, the octopus and gazpacho.
Eataly: A block off of Michigan Ave. is Eataly, one of the chain's newest international locations. Here you will find a wonderful market featuring Italian specialties, restaurants, a wine shop and a cooking school. You will find plenty of options with 23 eateries from fine dining to a Nutella Bar. 43 E. Ohio.
Chicago Poetry Foundation: I was blown away by the architecture of this building which I saw for the first time during Open House Chicago 2011. The building is sleek and contemporary. There is huge library dedicated to poetry which is open to the public and there is an attractive performance space where they offer programs throughout the year.
LUMA/Loyola University Museum of Art: A good, small art museum with a permanent collection as well as rotating exhibitions. You might stop in to see what is being featured. The permanent collections features European art from the Middle Ages, Renaissance, and Baroque eras. It is located at 820 N. Michigan.
Driehaus Museum: This is a museum, located in the historic Samuel M. Nickerson mansion dating from America's Gilded Age in the 19th century, that is a perfect place if you like antiques and the decorative arts. It is particularly wonderful during the holidays when it is totally decorated for Christmas. It is located at 40 E. Erie, just west of Michigan Ave.
Bistronomic: Bistronomic is an updated version of a classic French bistro. It is at 840 N. Wabash. I was just back and enjoyed a great brunch on a Saturday before a Joffrey Ballet performance.
Lookinglass Theatre: This is a great Chicago-based theater company located in the old Water Tower Pumping Station directly across from Water Tower Place. If you see a play on the schedule directed by Mary Zimmerman, don't miss it. 821 N. Michigan. Nearby is the Broadway Playhouse at Water Tower Place, which features plays and musicals through Broadway in Chicago. It is at 175 E. Chestnut.
The Ritz Carlton nearby also has a sleek, rooftop bar called Rooftop at Torali.
Purple Pig: This popular N. Michigan Ave. restaurant that is a collaboration of chefs Scott Harris of Mia Francesca, Tony Mantuano of Spiaggia and Jimmy Bannos and Jimmy Bannos Jr. of Heaven on Seven. Opened in 2009, Bannos Jr. shared the James Beard Award for Rising Star Chef in 2014. It features Mediterranean food with housemade charcuterie and cheeses. It has a new location in the building just to the south at 444 N. Michigan.
For true elegance on Michigan Avenue, head to The Four Seasons at 120 E. Delaware and their new Adorn Bar & Restaurant along with their more casual Social Lounge. It is great for lunch, dinner or afternoon tea.
Also for elegance is the famous Drake Hotel at 121 E. Walton. Here you can enjoy afternoon tea in the Palm Court which also has jazz and music on weekend nights. I was just back again. The music was great. If you like dancing, this is the place to go after dinner!
The Peninsula Hotel's The Lobby, at 108 E. Superior, is perfect for afternoon tea! Their new rooftop bar, Z Bar, has become a popular after work destination. They have a large cocktail menu along with a food menu of snacks and shareable items. They do have a lunch menu as well. Their indoor dining area is fun but the outdoor terrace is spectacular. So go early to make sure you get a table!
Recently re-opened is Pierrot Gourmet, the hotel's European-style café located on the first floor on Rush St. Open for breakfast and lunch they have a good menu of salads, soups, flatbreads, quiche and wonderful pastries. After 2:30pm you can stop in for a pastry, dessert and coffee. I recently enjoyed my first visit with friends for lunch.
RL is the great, clubby restaurant with American classic food that is part of the Ralph Lauren flagship store on Michigan Ave. The entrance is at 115 E. Chicago Ave. Also in Ralph Lauren is their new coffee shop Ralph's Coffee on the Michigan Ave. side. It is an attractive and colorful cafe with helpful staff.
To the west of RL at 59 E. Chicago is Leonidas Cafe Chocolaterie. This is a small cafe featuring Belgian chocolates, French pastries and macarons, espresso and coffee drinks, sweet and savory crepes, Belgian waffles, croissants, croissant sandwiches, ice cream and gelato, omelettes and quiche. I had been to the one in Evanston, but just went to this location for the first time. It is a great location while you shop or visit the area.
A recent spot that I found through Eater Chicago is Doc B's Restaurant + Bar at 100 E. Walton. I went for lunch with a friend and enjoyed this American restaurant with a menu of comfort food, from sandwiches, bowls, burgers, salads and entrees. The turkey burger with sweet potato fries was a perfect choice.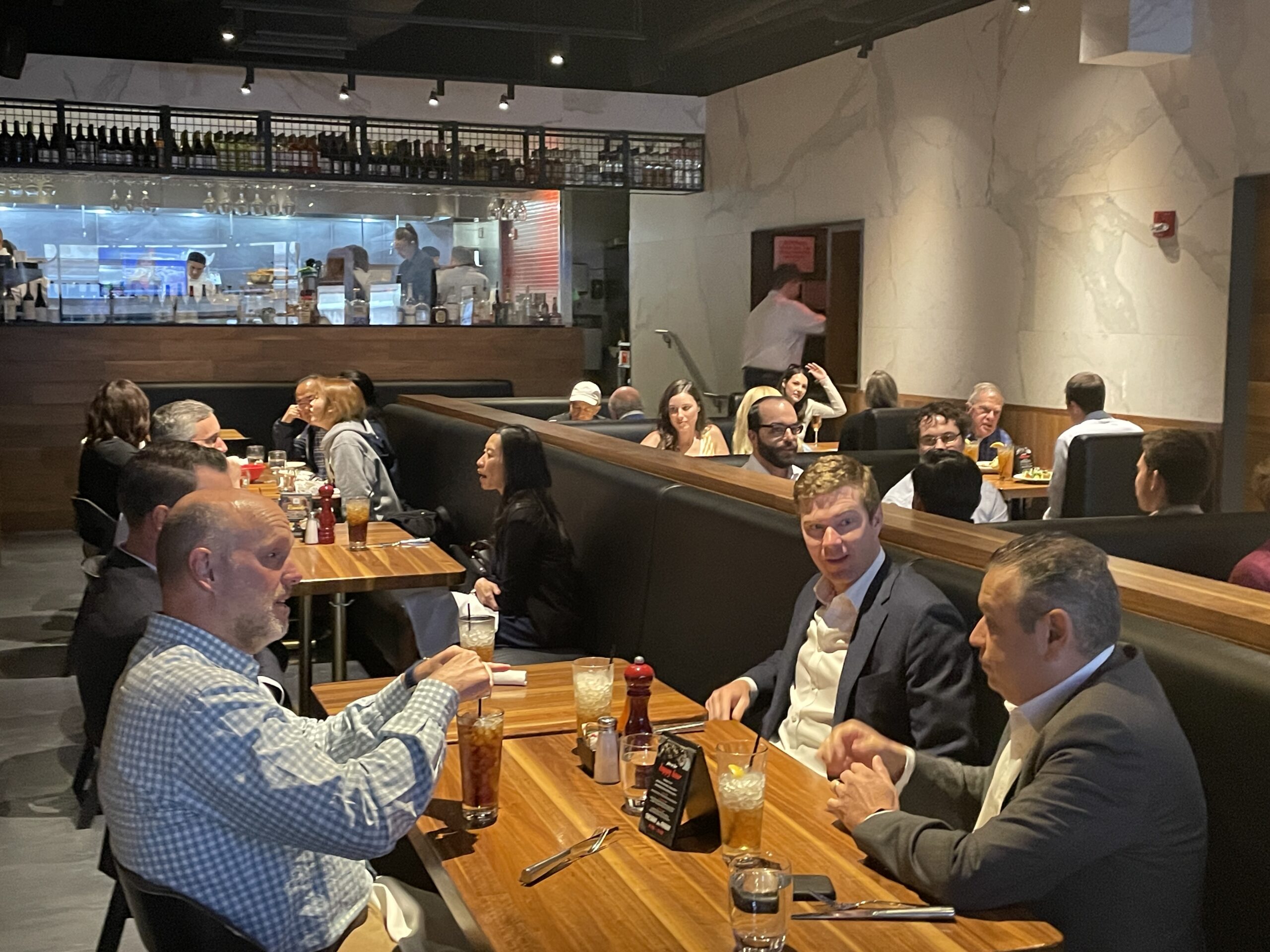 Also at 100 E. Walton is Hendrickx Belgian Bread Crafter. Opened several years ago by a Belgian couple who lives in the building. This is a tiny bakeshop that features their breads, pastries, croissants and  chocolates along with a menu of  coffee drinks, salads, quiches, sandwiches and soups. I loved the chocolates! I can't wait to go back and have lunch. They are open every day but Monday.
Nearby at The Waldorf Astoria Hotel is Brass Tack. This is an upscale restaurant that features American cuisine using locally sourced ingredients. I went for brunch on Saturday with a neighborhood friend before a play at the Broadway Playhouse.  It has a lovely classic atmosphere and good menu. 11 E Walton St. 3rd Floor.
Paul Stuart: This is the Chicago location for this New York based menswear retailer that opened in 1938. It also offers updated, traditional styling and women's apparel as well. 107 E. Oak. For women, Ikram is high on the list. 15 E. Huron. It carries apparel and home fashion plus has a gallery featuring Chicago artists.
Made famous by Saturday Night Live, "Cheeseburger! Cheeseburger! Cheeseburger! No Coke! Pepsi! No Fries! Chips!", Billy Goat Tavern is located below 430 N. Michigan Ave. Walk down the stairs to the lower level.
NoMi Kitchen, at the Park Hyatt is a perfect spot for brunch overlooking Michigan Avenue at 800 N. Michigan Ave. They have a great terrace in the back during the warmer months.
One of my favorite spots off Michigan Ave. is Le Colonial. It features upscale French-Vietnamese cuisine in an attractive, French Colonial setting. They recently moved to a new, larger location at 57 E. Oak in the middle of this great shopping street. I just went for lunch and loved the new space and design. The service and food were very good. They recently opened a second location in downtown, suburban Lake Forest.
Opened in September 2019,  Tzuco is the new restaurant by  Carlos Gaytán who earned a Michelin star at his first Chicago restaurant, Mexique which closed in 2018.  His new restaurant pays homage to his hometown of Huitzuco, Mexico. The food was really excellent and the decor is really stunning. It looks almost like a museum where designer Ignacio Cadena features imported cooking utensils, plant life and other items. It is one of the best that I have seen anywhere. I also had one of the best meals that I have had in Chicago in several months. I can't wait to go back. 720 N. State.
La Storia Ristorante: This Michelin recommended Italian restaurant, has a warm, classic atmosphere and an extensive menu. They feature a number of pizzas, pastas, risottos and main courses from fish and scallops to beef and lamb. I really enjoyed the cioppino with fish, clams, mussels, shrimp, calamari in a puttanesca tomato sauce. The arugula pizza was also excellent. I also recommend the squid ink pasta with seafood.
One of the highlights is the colorful mural by Ed Sorels who is an  illustrator, caricaturist, cartoonist, graphic designer and author whose work is known for its storytelling. The mural features some of Chicago's historic figures over many years. Recently, I really enjoyed dining outside on their lovely patio. I also just went back to celebrate a friend's birthday. We were seated upstairs. This was my first time in that space. There are two elegant rooms which highly recommend if you want a more quiet experience. 1154 N. Dearborn.
Next to La Storia at 1160 N. Dearborn St. is Chicago q. This is a fun barbecue restaurant featuring a good number of salads, sandwiches, platters, combos, sides and desserts. They also feature some special recipes from well-known chef Art Smith of nearby Blue Door Kitchen & Garden. I enjoyed trying one of his dishes, a tasty shrimp and grits.
Getting great press is Marisol the new restaurant and bar on the lower level of the Museum of Contemporary Art/MCA. There is a casual area for coffee, a community work space, a bar, counter service with communal tables, and an attractive dining room for lunch, brunch or dinner. It is a great spot for brunch on a busy Saturday or Sunday, before a musical nearby at the Broadway Playhouse. Not to be missed is the commissioned mural by British artist Chris Ofili.
Hungry Michigan Avenue shoppers can avoid the crowds and head a block east of Water Tower Place to The Lunchroom at Space 519. Space 519 is a lovely boutique featuring women's apparel and accessories, men's accessories, green apothecary, inspired home goods, as well as unique books and gifts. Within SPACE 519 is The Lunchroom, a 40-seat lunch and brunch restaurant, along with an all-day cafe. They serve Metric coffee and pastries from Evanston bakery, Hewn.  They feature locally sourced ingredients whenever possible. I went for brunch on a Saturday and thought the food was very good. I really loved the Baked Eggs Espagna made with a tasty romesco sauce! It came with a a salad and multi-grain toast with blueberry jam. I highly recommend it. 200 E. Chestnut.
Across the street at 215 E. Chestnut, I recently found another great cafe, Cafecito. It is a casual coffeehouse specializing in pressed Cuban sandwiches plus salads, platters and more. It has a colorful, casual atmosphere. My friend, who lives next door, loved her turkey sandwich. I highly recommend the GuavaQ Pork platter. It came with roasted pork, caramelized onions, a guava bbq sauce, jicama slaw plus rice, black beans and plantains. It was excellent!! I can't wait to go back. They have other locations in the Loop downtown.
Across the street from Cafecito is my newest find, Francesca's on Chestnut. This is part of a growing group of six restaurant concepts. I really enjoyed my brunch dish, the smoked salmon benedict. The downstairs dining room is very attractive.
The Albert: I was pleased to have just found The Albert restaurant at the Autograph Collection's boutique hotel, EMC2. It has a stunning dining room with great design, a creative menu and beautifully presented dishes. I thought the food was excellent from the melon and prosciutto salad and the poached halibut entree to the great carrot cake gelato. I highly recommend it. 228 E. Ontario.
A block north of The Albert is another great new find.  Woodwind took over the former GreenRiver space at 259 E. Erie – 18th Fl. It is a contemporary space with great views of Streeterville and the surrounding neighborhood. There is an outdoor terrace for the summer months. It has a contemporary American menu with dishes designed by Chef Matt O'Neill and Executive Chef Donald Young with seasonally sourced ingredients. I went for lunch and loved the three course, prix-fixe lunch menu for $21. I totally enjoyed the butternut squash soup and the harvest salad with an olive-oil poached salmon. The cashew gelato was a great way to end the meal. I will definitely go back. It is a fun spot to go to while shopping on N. Michigan Ave. or visiting the area or Northwestern Memorial Hospital. I thought the food was excellent as was the attentive service.
I have also enjoyed several meals at The Capital Grille Chicago Downtown at 633 N. St. Clair St., a block east of Michigan Ave.  They have a extensive menu of steaks, seafood and appetizers. I was recently back with a group of friends and loved the tuna steak.
South of The Albert along Ogden Slip is River East. Here you will find several restaurants along with Winter's Jazz Club, a recently opened jazz club at 465 N. McClurg Ct. It is downstairs along the water. They have an almost nightly line-up of jazz performers from Tuesday to Sunday. There are tickets for general admission and VIP seating which are reasonable. There is a one drink minimum per set per person. I went to a performance of Cole Porter music that was really outstanding! I can't wait to go back. It is a small, intimate venue which features, traditional jazz, swing, big band, New Orleans-style jazz and Gypsy-jazz. I asked the owner where the name came from. He said Winter was his mother's maiden name and that he got his love of jazz from her, so he named it in her honor!!! I just went back for the second time and again had a great experience.
Next door is a perfect spot for dinner before the show. Robert's Pizza and Dough Co. opened in the spring of 2019. It is a great spot along the water that features a number of thin crust pizza's with creative toppings. I really enjoyed the arugula, prosciutto, cherry tomatoes and mozzarella with a tasty rose wine. I went back again and enjoyed the margarita pizza and a perfect salad. They have a nice dining room in back during the chillier months and wonderful outdoor seating during the warmer months.
Two blocks north on N. McClurg Ct. is a group of cafes and restaurants surrounded by The Streeter and Atwater Apartments, making it a quiet spot in a busy neighborhood. I recently went to Dollop Coffee Co. at 345 E. Ohio. It is a great spot to stop in while you are in the neighborhood. I definitely want to go back and try Yolk a breakfast and brunch restaurant at 355 E. Ohio, that has a lovely outside patio. Across from Yolk is D4 Irish Pub & Cafe that also looks like a fun bar and restaurant that opened in 2007.. 345 E. Ohio.
Just west at 215 E. Ohio is the Streeterville location of MingHin Cuisine. This is the third location I have visited of this local popular Chinese restaurant that specializes in dim sum and Cantonese food. I recently went with a local friend and enjoyed sharing a number of dim sum dishes. I loved the elegant decor.
Another new find nearby is Volare Ristorante Italiano at 201 E. Grand Ave. This is an old-world Italian restaurant, opened in 1997, with a large menu and wine list. At the recommendation of my brother, I enjoyed dinner on the outdoor terrace with a neighborhood friend. I really enjoyed my pasta entree.
To the east of Volare and Robert's Pizza and Dough Co. is Caffè Oliva on the Ohio Street Beach and next to Olive Park. It is from the same team as "The Dock" at Montrose Beach. This is a seasonal bar and restaurant located right on the beach with outstanding views. It is open daily for lunch and dinner. It has a menu with mussels, burgers and sandwiches, salads, coconut shrimp, fried calamari, fish and chips and fish tacos. 550 E. Grand Ave.
It has great views of Lake Point Tower at 505 N. Lake Shore Drive.  It was designed by Chicago-born architect Adrian Smith  and completed in 1968.
Nearby is Navy Pier. This is one of the major tourist attractions in the city that sits on a 3,300-foot-long pier that extends into Lake Michigan. It is a fun spots for families with children. There are boat tours, many casual restaurant options including bars, restaurants, coffee shops, bakeries and ice cream shops. One of the biggest attractions is the Chicago Children's Museum. Not to be missed is Brown Sugar Bakery. This popular bakery located on the southside at 328 E 75th St., recently opened a second location in Navy Pier. Don't miss their famous caramel cakes or cupcakes.
Recently opened at Navy Pier is celebrity Chef Art Smiths new family-friendly restaurant, Reunion. It features Southern comfort food including fried chicken, fried catfish, fried green tomatoes, biscuits, mac & cheese and collard greens. I really enjoyed my shrimp and grits before a Sunday matinee at the Chicago Shakespeare Theater, which is also located on the pier. They also have large outdoor patio.
In addition, there is a new hotel, the Sable at Navy Pier Chicago, Curio Collection by Hilton. This is a good option if you have a conference or event at the pier. The highlight is Offshore Rooftop, a 20,000 sq. ft. rooftop bar and restaurant with amazing views of the lake and the city. They say it is the world's largest rooftop bar.
Recently opened at 900 N. Michigan Shops, is their new food hall, Aster Hall. The 5th floor has  six different restaurants by Hogsalt, which has some of the top spots in Chicago. You can find everything from burgers, salads, fried chicken sandwiches and tacos along with deserts and chocolates. Upstairs you will find Aster Hall Bar & Study serving coffee and cocktails in a lovely atmosphere with Lake Michigan views. I enjoyed the experience and will definitely go back.
Upstairs, the restaurant at the Four Seasons is now known as Adorn Bar & Restaurant and is  Chicago's first restaurant with James Beard Award-winning chef Jonathon Sawyer. It features globally-inspired cuisine starring the bounty of the American Midwest in a contemporary setting.  I recently went for lunch with local friends and throughly enjoyed the experience and great food and creative menu.