New Buffalo a just under a 90 minute drive East of Chicago along Lake Michigan.  It is predominantly a resort community of just under 2,000 people and known for its large harbor. Here you will find a good number of restaurants, bars, shops and lodging. Make sure to visit the New Buffalo Beach and boat harbors.
Jackie's Cafe at 801 W. Buffalo St.:  Jackie Shen had one of the most successful restaurants in Chicago in the 1980's and 90's specializing in Asian/Fusion.  In 1996, she  became executive chef at Red Light in the West Loop and went on to Marche and Chicago Cut.  She fell in love with the area, moved there and opened a cafe in New Buffalo featuring breakfast and lunch with. The menu, combining Asian and French cuisines, offers lunch as well as breakfast and brunch items including quiches, frittatas, waffles and crepes. There are also soups, salads, sandwiches and Asian specialties. The small but attractive restaurant has both indoor seating and outdoor patio seating. There is also a take-out area in the back. Since they are not open for dinner, Jackie is available for catering and cooking dinner in people's homes. You might also check out her farm-to-table dinners.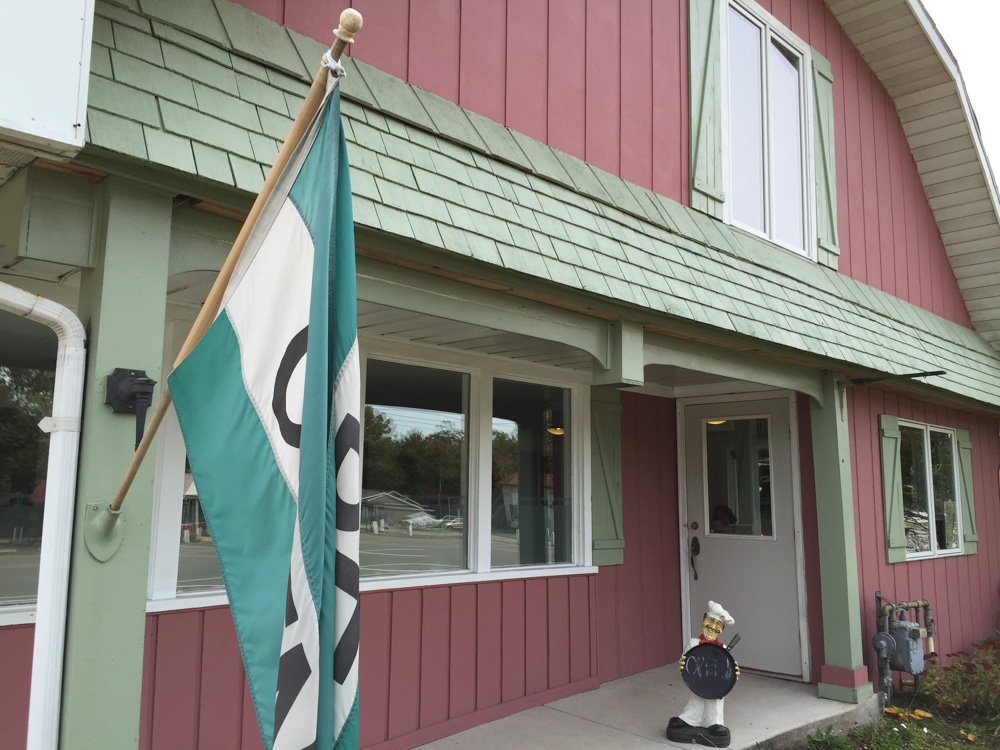 In downtown New Buffalo you will find  Casey's Bar and Grill and The Stray Dog Bar & Grill near the water with rooftop dining. David's Delicatessen & Coffee is a good spot for coffee and sandwiches at 30 N. Whittaker. Redamak's at 616 E. Buffalo St. is an institution for burgers just outside of town.
I really enjoyed my brunch at the Bentwood Tavern at the Marina Grand Resort. It is a lovely spot on the water. I recommend the omelette with smoked trout, feta and spinach. It will reopen in  April, 2023 after a new renovation. The resort is an excellent place to stay if you want to spend  a night or  weekend on harbor. 600 W. Water St.
I recently learned about the Beer Church Brewing Co. at 24 S Whittaker St., where  you can sample their locally brewed beers and wood fired pizza. I was excited to visit the brewery on my  recent trip. Located in a former Civil War era church, they have an indoor taproom and restaurant, a large outdoor patio and rootop deck. They make a a number of small batch ales, IPAs, sours, saisons and stouts.
High on my list for my next trip is to try the Terrace Room for great Italian food along the lakefront. Chicago friends just went and loved it. It is at the Harbor Grand Hotel at 111 W. Water St. It is a sister property to the Marina Grand Resort. It looks like a lovely spot to stay as well.
Oink's Dutch Treat is a great place for ice cream or candy at 227 W. Buffalo St. I   was back  recently and loved the pumpkin pie ice cream on a beautiful October day.
As mentioned above, to stay in New Buffalo, check out the Marina Grand Resort, at 600 W. Water St., with views of the water and harbor. The Harbor Grand, their sister property on the waterfront at 111 W. Water St., is also recommended.
Roger Brown's River Pavilion and Guest House: Located near the beach 415 Marquette Dr. this was the New Buffalo home of well-known Chicago artist Roger Brown. According to the SAIC/School of the Art Institute of Chicago, "In 1977 Roger Brown purchased property in New Buffalo, MI, a beach community 85 miles east of Chicago. He commissioned his partner, George Veronda, to design a home and studio retreat. Completed in 1979, the Veronda Pavilion, a residence, and the Roger Brown Studio and Guest House, are steel and glass modernist structures tucked into a secluded dunes landscape between the Galien River and the beachfront road. Clearly an homage to Mies van der Rohe's Farnsworth House (Plano, IL, 1950), the buildings are exquisite studies of geometric forms in the natural landscape." 
Make sure to drive by and see the home from the road.