New Hope is on the west side of the Delaware River in Bucks County PA across from Lambertville NJ. It is an easy drive from Philadelphia, Princeton NJ or the Jersey Shore.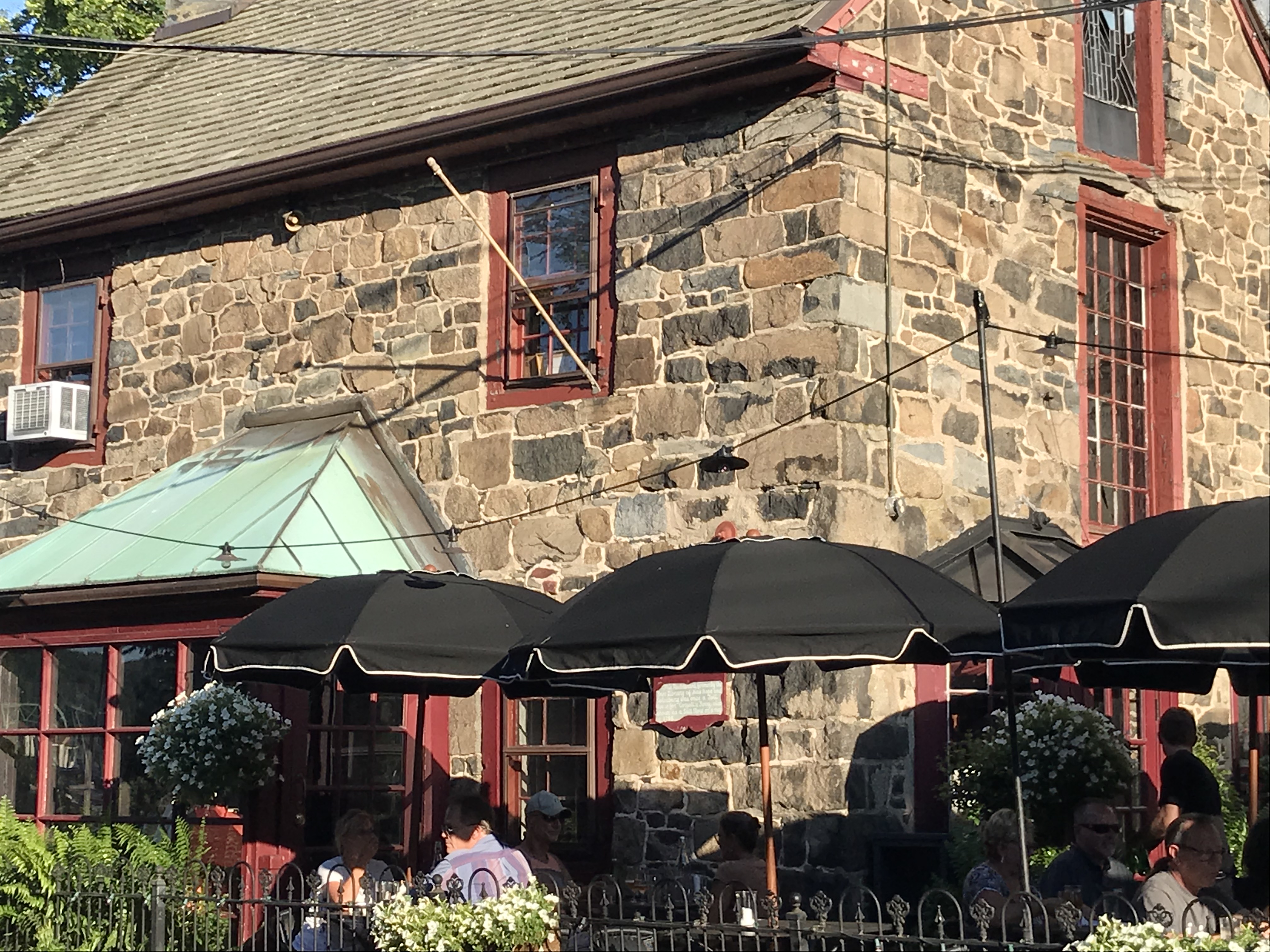 Of the two, this city is somewhat more crowded and has more stores and restaurants geared to visitors. On weekends, you will see a large number of motorcyclists in town. I found it interesting with some fun shops, galleries, bars and restaurants along with great theater. There are some historic homes to visit as well.  One of the best is the Parry Mansion Museum of 1784 at 45 S. Main. I was recently back and found some newly opened restaurants and shops. Nearby are some fun wineries to visit and enjoy a tasting.
The Landing: The perfect spot for lunch or dinner with its lovely patio along the river. 22 N. Main St.
Bucks County Playhouse: For 80 years this "summer stock" theater features a summer series of plays and musicals featuring world-class actors from Broadway and Hollywood including Angela Lansbury, Liza Minelli, Grace Kelly, and James Earle Jones among them.  This rustic playhouse, established in a converted grist mill in 1939, is also where Broadway show hopefuls have debuted (including Neil Simon's first play, Come Blow Your Horn; Barefoot in the Park starring Robert Redford and Elizabeth Ashbury).
There are matinees on weekends and Wednesday and Thursday afternoons. The season, from May to September, features four productions plus a Christmas show. I enjoyed Marsha Mason in Deathtrap, a popular thriller. After the season there are special events, children's programs, performances, comedy and dance throughout the year. There are classes for educators, along with acting, improv  and storytelling workshops  available to adults. Now open is The Deck Restaurant and Bar an onsite gastropub. 70 S. Main.
Another good dining option near the theater across the parking lot, is Stella, opened in June, 2019 in the renovated Ghost Light Inn.  Chef Jose Garces, with restaurants in NYC, Philadelphia and Atlantic City, NJ, has opened a casual restaurant featuring small plates with local ingredients from the region's farmers and artisans.  It has an indoor bar/dining room and an outdoor deck looking over the Delaware River and Lambertville, NJ on the other side. I enjoyed an excellent scallop entree.
For dessert, make sure to visit Nina's Waffles & Sweets for their great homemade ice cream. Just west of Main at 31 W. Mechanic St.
Next time I want to try the Logan Inn for lunch or dinner which is located in an historic inn from 1727.
I recently read about the Aaron Burr House, a small bed and breakfast downtown. It comes highly recommended and has some beautifully designed rooms. It is located near downtown at 80 W. Bridge St.
Also recommended south of town is the River House at Odette's.  With great views, it is beautifully furnished and has a restaurant, piano lounge and rooftop bar and restaurant.
Other dining options include The Dubliner On The Delaware, an Irish pub and restaurant at 34 N. Main,  Nektar Wine Bar for wine and small plates and a great outdoor patio at 8 W. Mechanic St. and Greenhouse, a bar and restaurant with live music at 90 S. Main. A local just recommended the Old Stone Church of New Hope (formerly the Marsha Brown Restaurant) located downtown in a former 125 year old stone church. 15 S. Main St.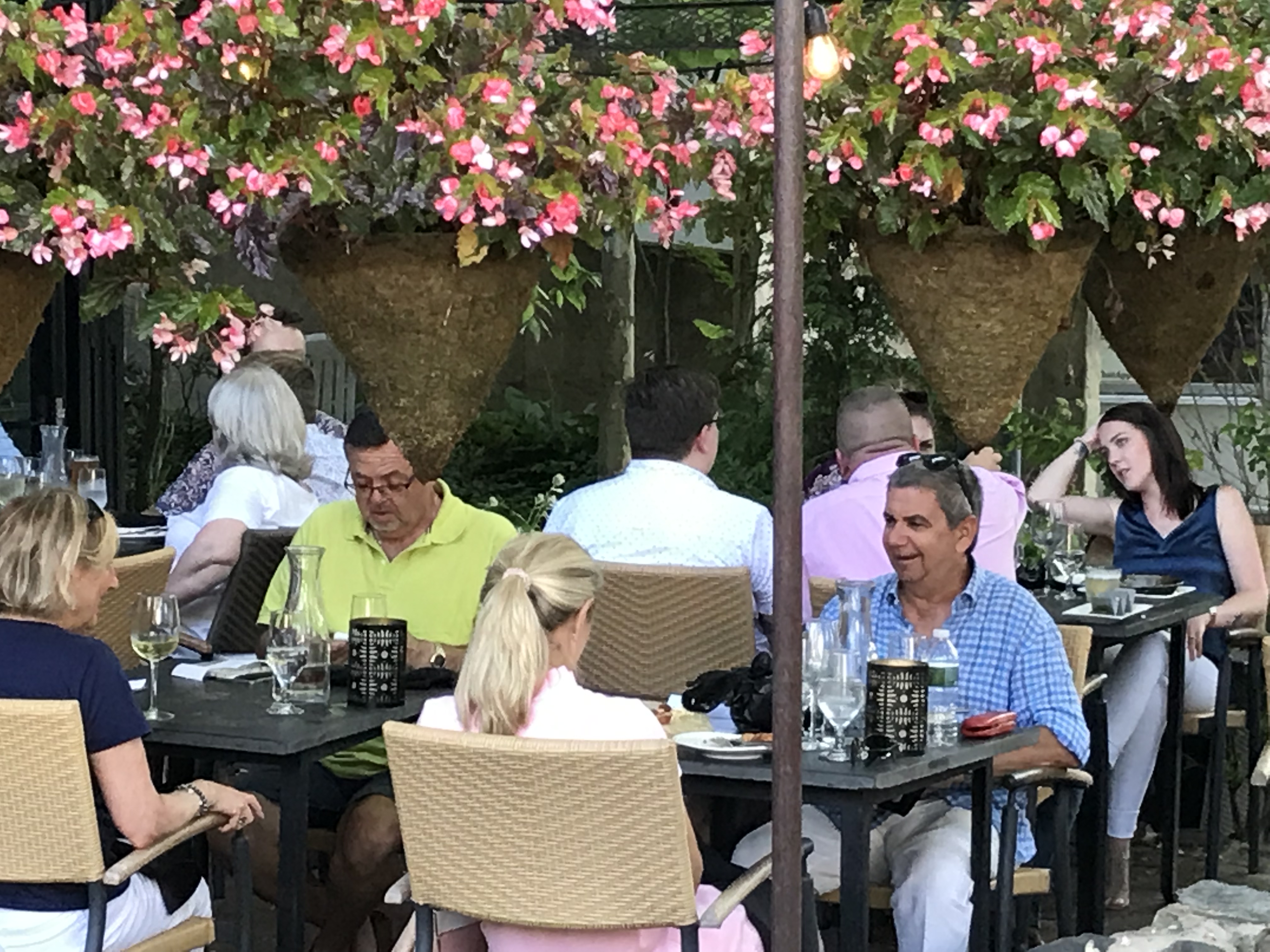 I love food halls.  Since my last trip to New Hope, a new one has opened on Main St. The New Hope Ferry Market at 32 S. Main, features a number of vendors offering crepes, coffee, gyros, pastries, poke bowls, sandwiches, artisanal cheeses and meats, Indian cuisine, cookies, beer and wine.
There are number of shops and galleries in downtown New Hope. One of my favorites is Goose Creek Pottery at 17 W. Ferry St. which is a ceramics studio and gallery. They also teach classes throughout the year.
Peddler's Village:  Peddler's Village is a 42-acre countryside property in Bucks County west of New Hope that features 60+ retail shops and boutiques, full and quick-service restaurants and bars, tasting rooms for wines and spirits and a 66-room hotel called the Golden Plough Inn. There are a number of festivals and activities throughout the year. It is a fun spot to visit when you are in town.
Here you will find the Buttonwood Grill, the Cock 'N Bull Restaurant, Hart's Tavern, Nina's Waffles & Ice Cream and Saxbys for coffee from the Philadelphia based roaster.
You will also find Free Will Brewing Taproom, a tasting room for Chaddsford Winery and Hewn Spirits.
I opted to stay at the Golden Plough Inn located in the village. I was planning on staying at another spot, but changed my reservation. With 66 rooms, they have a main inn along with multiple units scattered throughout the property. I really enjoyed my second floor room which came with an assigned parking spot across the street. It was nicely furnished and very attractive. Attached to the Inn is the Buttonwood Grill which I found as a good spot for breakfast.
Another good spot to stay, which was booked for a wedding when I was in town, is the charming The Inn at Barley Sheaf Farm at 5281 York Road in Holicong, PA. It has beautiful rooms and a really lovely Conservatory dining room.
Another inn getting great reviews is The Inn At Bowman's Hill. It is a lovely B&B south of town. It has lovely rooms, grounds and a pool. It is recommended for a romantic getaway! 518 Lurgan Rd.
One of the reasons for going back was to check out some of the wineries in the area. I always try to find and explore some of more the more obscure wine producing areas in each state.
I really enjoyed my lunch at The New Hope Winery at 6123 Lower York Road. This is a rustic winery in an 18th-century barn featuring a range of varietals, salads, soups, sandwiches and entrees in their Pour House restaurant along with live music. The winery itself has moved but the tasting room and restaurant are still in the old location right outside of New Hope between downtown and Peddler's Village. I really enjoyed meeting Sandra Price the owner, having a great salad and enjoying the live music. They produce a number of white, red and sweet and fruit wines. I thought the Chambourcin was smooth, full-bodied and very good to drink.
There is also the Bucks County Wine Trail, which features eight wineries in the area. I visited Buckingham Valley Vineyards at 1521 Durham Rd. in Buckingham, PA. Started in 1966, this is one of Pennsylvania's first wineries. They make a number of reds, whites, sangria plus fruit and sparkling wines. I thought the cabernet was very good
Wycombe Vineyards at 1391 Forest Grove Rd in Furlong, PA is another good spot to visit on the wine trail in a very attractive setting. The land has been in the family since 1925 with the first grapes planted in 1999. Today they have 10 acres and produce 15,000 bottles of wine. The wines range dry whites and reds to sweet and dessert wines. Their chambourcin was very tasty!
George Nakashima Woodworkers:  Thanks to a Chicago friend, I heard about George Nakashima Woodworkers before my trip to the area. Nakasima, born in Spokane, WA in 1905,  was an American woodworker, architect, and furniture maker who was one of the leading innovators of 20th century furniture design and a father of the American craft movement. Being of Japanese descent he was interred during WWII. After his release, he moved to New Hope. He bought a number of parcels of land and built a number of buildings on the site. Today his daughter and son continue his legacy.
Nakashima's home, studio, and workshop was listed on the U.S. National Register of Historic Places in August 2008; six years later the property was also designated a National Historic Landmark. In June 2015, the site received a "Keeping It Modern" grant from the Getty Foundation to create a solid conservation plan as a model approach for the preservation of historic properties
I was glad that I was able to visit the property and see some of the work that is still being created. Their Showroom, Finishing Room, Conoid Studio, and Chair Shop are open to the public on Saturday afternoons between 1:00pm and 4:30pm. It is located two miles south of New Hope at 1847 Aquetong Rd.