There are some wonderful on-mountain dining options while skiing in Aspen/Snowmass. I love:
My latest find is Sam's at the top of Sam's Knob in Snowmass. It took over the former Sam's Smokehouse space. This is a large restaurant with beautiful views. They serve breakfast and lunch. Their Italian menu features antipasti, homemade pastas and a variety of entrees. I loved the lamb burger!  They also have a bar and feature a large number of wines.
Elk Camp: A great new restaurant at the top of the Elk Camp gondola in Snowmass Village that replaced the old Café Suzanne. I miss some of the old favorites, but  the new construction with curved roof, large windows and stone columns makes it a spectacular place for lunch. There are several food stations and a new bar area. There are often special events during the ski season on Friday nights with entertainment and activities for the entire family.
Lynn Britt Cabin: Located on the mountain in Snowmass, this is the place for lunch on the mountain. It is a charming small cabin with great food. You have options for a three-course prix fixe menu or to order off the menu. The elk stroganoff and mac and cheese are excellent.  The only negative is that you may not want to ski much after such a wonderful lunch. Evening options are available as well.
One of my favorite spots, Gwyn's High Alpine, has closed and has been replaced by the Alpin Room. Located at the top of the Alpine Springs lift, it offers French, Swiss, and Austrian fare infused with modern touches.   You can make a reservation to assure you get a reservation. I went on my last ski trip with a local friend and enjoyed the experience. The service and decor were excellent and I enjoyed my lunch of the French onion soup gratinée along with a warm popover. They have a number of soups, sandwiches, salads and entrees.
Cloud Nine Alpine Bistro: Located at Aspen Highlands in an old ski patrol shack, this is a sit-down, recently updated, fine dining restaurant open for lunch, après ski and  snowcat dinner during the ski season on certain nights. There are two seatings and lunch, one at noon and the popular 2:00pm.
At the base of Aspen Highlands is Highlands Ale House. This is a casual, locals' brewpub, serving a number of brews, burgers sandwiches, salads and bowls. It is open for lunch, après ski  and dinner. I enjoyed the food and staff and learned that they are going to start brewing some of their own beer onsite.
The Sundeck on Ajax is a fun spot. The former Aspen Mountain Club, has re-opened as Aspenx Mountain Club with a new design by artist Paula Crown and executed by famed Spanish sculptor and designer Luis Bustamante of Luis Bustamante Interior Design according to Vogue Magazine. Currently not open for lunch as in the past, it is private event venue.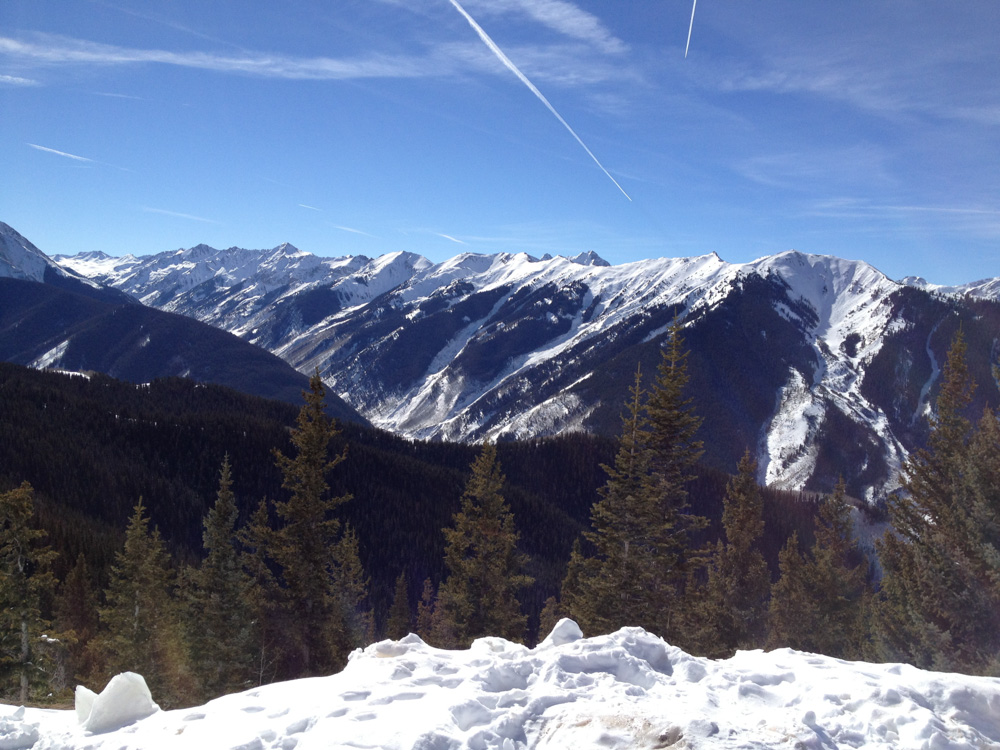 Ajax Tavern, at the base of Ajax near the gondola and located at the Little Nell Hotel, has a wonderful deck for outdoor dining at lunch on those warmer, sunny days.
Just tried Venga Venga right on the slopes in the Snowmass Village Mall. It was the former Timberline and has great Mexican food. The taco combination made for a perfect lunch! It is also great for apres ski drinks on the patio. In the summer they have Taco Tuesdays with life music on the patio. I was just back and really enjoyed the evening.
Also in the Snowmass Village is the fun, casual The Stew Pot featuring homemade soups and stews. I recently went back after several years and enjoyed a wonderful chicken stew for lunch. It is a popular spot so you might go early to make sure you get a table. 63 Elbert Lane.
Before you hit the slopes, you can stop by their recently opened The Coffee Pot window, from 8am to 11am, where you can grab a coffee, breakfast burrito or a local Louis Swiss pastry.
Across from the Stew Pot is a new find for me Big Hoss Grill. Opened since 2006, this is a casual spot on the Snowmass Mall.  It is open for breakfast, lunch and dinner. I loved it for lunch where they had a number of  starters, soups, salads, sandwiches, tacos and burgers.  I really loved the tasty Kansas City,  a pulled pork sandwich with their Big Hoss BBQ sauce. Along with cole slaw and a cup of New England clam chowder, it was  a perfect lunch.