A far cry from the old shopping center or airport food courts of the past, food halls are currently the hottest trend throughout the US and around the world. They are becoming a haven for artisanal and specialty food purveyors, food stalls and upscale restaurants. We will add to our list as we visit them or as they open. Our recent finds and recommendations include:
Chicago, IL
Chicago French Market: At 131 N. Clinton, this is Chicago's first indoor market featuring local artisans and food purveyors. It was named one of Bon Appetit's best five food halls in the US. Vendors include Saigon Sisters and Vanille Patisserie.
Eataly: A block off of Michigan Ave. in Chicago is Eataly, one of the chain's newest international locations. Here you will find a wonderful market featuring Italian specialties, restaurants, a wine shop and a cooking school. You will find plenty of options with 23 eateries from fine dining to a Nutella Bar. 43 E. Ohio.
One my my favorite Chicago food halls is the Revival Food Hall featuring 14 chef-driven restaurants. It features the Revival Café-Bar, Smoque BBQ,  Aloha Poke Co., The Budlong for Nashville-inspired chicken and Lito's Empanadas.  At 125 S. Clark it is a great location for visitors to the city as well as for the office workers in the Loop.
Recently opened at 900 N. Michigan Shops, is their new food hall, Aster Hall. The 5th floor has  six different restaurants by Hogsalt, which has some of the top spots in Chicago. You can find everything from burgers, salads, fried chicken sandwiches and tacos along with deserts and chocolates. Upstairs you will find Aster Hall Bar & Study serving coffee and cocktails in a lovely atmosphere with Lake Michigan views. I enjoyed the experience and will definitely go back.
New York, NY
Eataly NY: Located at 200 5th Ave. between 23rd and 24th Streets, this is a large complex consisting of a fresh food market featuring breads, pastries, cheeses, pastas, meats, fish, produce, beers, wine, chocolates and other specialty food items. There are a number of cafes and restaurants as well. They also offer a number of cooking classes and special events. Partners include the well-known restaurateurs Joe Bastianich and Lidia Bastianich. This is well worth the trip on your next visit to NYC.
Gotham West Market, 600 11th Ave. between 44th and 45th in NYC: This is a great concept in a 15,000 sq. ft. space that has six restaurants, two bars, a coffee shop and a cook-ware and grocery store. Here you will find Blue Bottle Coffee for great coffee. The Cannibal featuring small plates, house-made charcuterie and cured meats and a rotating list over 200 global beers and bourbons and whiskeys. Chozo Taqueria has really good Mexican specialties including tacos, burritos, tamales, tortas and ceviches. I enjoyed a combination of lamb, shrimp and chicken tacos, rice and beans and a wonderful iced  Mexican hot chocolate. Court Street Grocers Sandwich Shop serves hand-crafted sandwiches. Ivan Ramen Slurp Shop features classic ramen and rice bowls. Genuine Roadside serves tacos, sandwiches, burgers, shakes, wine, beer and cocktails. El Colmado is a traditional Spanish tapas restaurant. There is also a bike store NYC. Velo and The Brooklyn Kitchen which sells kitchenware and specialty grocery items. They also offer cooking classes.
Le District: Including the opening of One World Trade Center, there is a great deal of commercial and residential development and activity in Lower Manhattan. One of the newest projects is Le District, the French inspired food hall, that opened in early 2015 in Brookfield Place. It is located at 200 Vesey St. As the name implies, the project is divided into different districts. The Market District includes La Boulangerie, La Poissonnerie, La Fromagerie, La Charcuterie and La Rotesserie. The Garden District has purveyors that sell groceries and prepared foods, with a salad bar at lunch and a chocolate mousse bar. The Cafe District has stations with wonderful French pastries, crepes and waffles baked on the spot plus ice cream, coffee and candies. The Restaurant District includes the new restaurant, Beaubourg at 225 Liberty St., which has gotten some very good reviews. It is a lovely restaurant with both indoor and outdoor seating overlooking the Hudson River and boat harbor. It will also have an outdoor oyster bar. L'Appart with its chef's table features a tasting menu.
Turnstyle: Stretching two blocks at 57th St. and 8th Ave., under the Columbus Circle subway stop, this is a new food hall featuring a number of independent shops and vendors for food, coffee and sweets. I enjoyed a really great grilled cheese sandwich at Meltkraft. Called the Brielle, it was made with brie, cranberry chutney, caramelized onions and toasted pine nuts. With four locations in NYC, Brooklyn and Philly, they feature the artisan cheeses of Valley Shepherd Creamery. They have a large menu featuring soups, salads, milkshakes in addition to a number of grilled cheese sandwiches. This was followed by coffee and chocolate at 2 Beans.
Canal Street Market: I love food halls and this was my most recent find in NYC.  This is both a food hall and retail market with small indy shops or boutiques. The current list of food offerings include Luke's Lobster, Mission Ceviche, Davey's Ice Cream with others featuring Lebanese and Japanese cuisine. The shops are attractive and feature home good, personal accessories, clothing, shoes and more. 265 Canal.
Napa, CA
Oxbow Public Market: This was one of the highlights of my stay in Napa, CA. I actually went twice. It is a new attractively designed artisanal food hall opened in 2008. Some of the stalls open early so you can catch breakfast before heading north to the vineyards.
San Francisco, CA
The Ferry Building Marketplace is a great spot to check out for restaurants, specialty food counters and shops. It is along the Embarcadero at the foot of Market St in San Francisco.
New Orleans, LA
Just across the street from Marigny, in the St. Roch neighborhood, is the recently opened St. Roch Market. The original St. Roch Market first opened in 1875, as one of the city's many public markets. The building was destroyed in 2005 by Hurricane Katrina. In 2015, it reopened with 13 food vendors from those featuring coffee, oysters, cocktails, seafood and Creole food to others featuring Korean, Mexican, juice and pastries and baked goods. It has a clean, contemporary design and attracts more locals than tourists. I enjoyed my latte from Coast Roast. 2381 St. Claude Ave.
Denver, Colorado
Avanti F&B: This is one of my favorite new food halls that I have found in recent months.  Located at 3200 Pecos, it features an eclectic mix of local bars and restaurants. I enjoyed lunch at the recently opened Bistro Georgette which features French fare. I thought the  moules-frites (mussels and fries) were very good as was the peach pie made with local peaches. The food hall has a bar, and restaurants featuring tacos, burger, sandwiches, pizza, pasta, Venezuelan style arepas or flatbreads and poke and bowls.  3200 Pecos.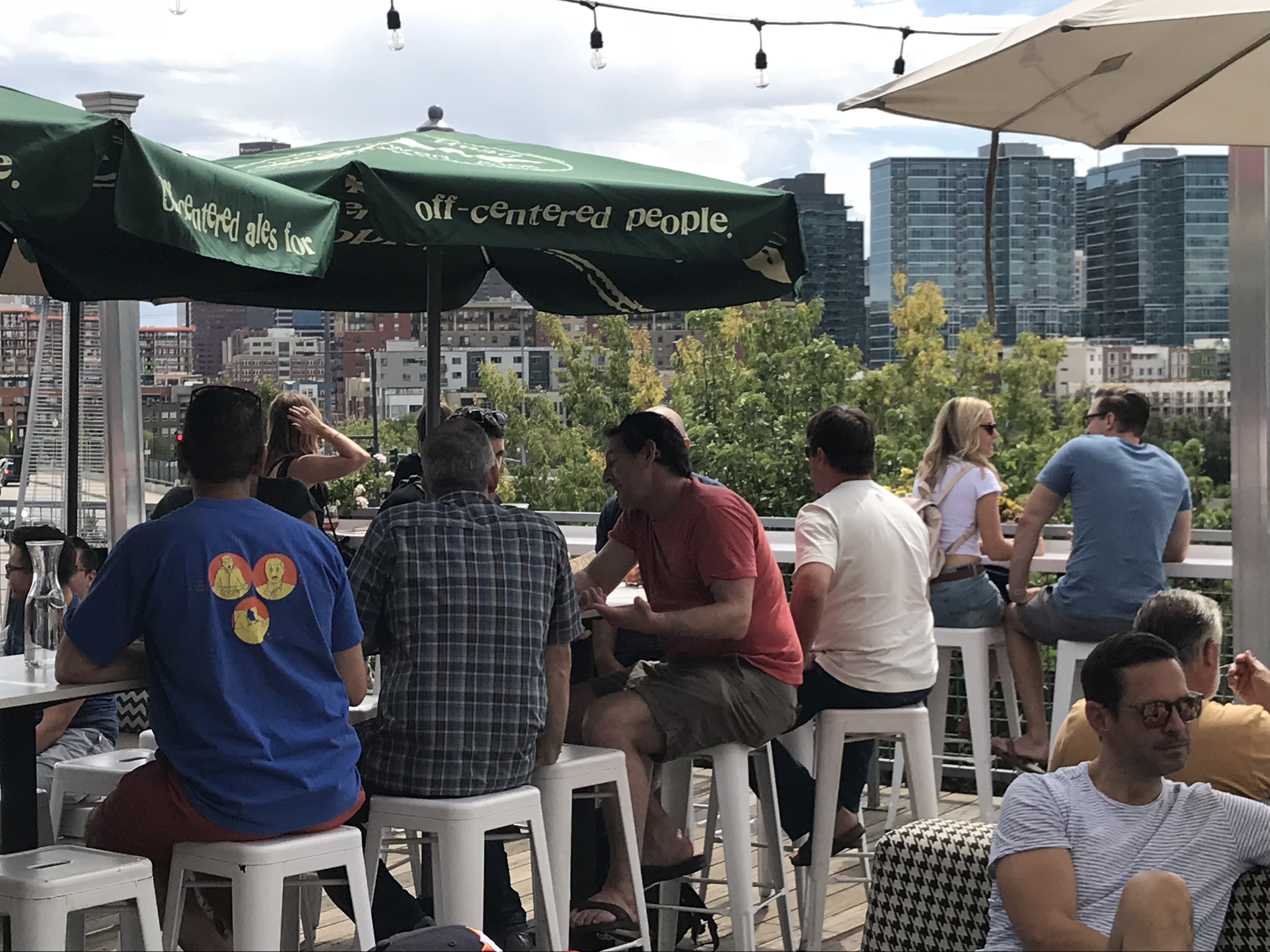 Now open on my last trip, I was please to be able to visit the Denver Central Market at 2669 Larimer. This food hall has a number of vendors and restaurants including Vero Italian for pizza and pasta; Curio neighborhood bar; Crema Bodega for coffee; Izzio Artisan Bakery for breads, pastries and desserts; High Point Creamery for great ice cream; Tammens Fish Market for seafood, sandwiches and poke; Temper Chocolates and Confections and SK Provisions for sandwiches, burgers and tacos.
The Source is one of my favorite new finds in Denver. Located in RiNo, the River North Arts District, at 3350 Brighton Blvd., this is a former 1880's steel foundry that is a hot new "foodie"destination. Here you will find an artisan food market, restaurants and stores featuring Babettes Artisan Bread, a French bakery with the best almond croissants and  Beet & Yarrow floral shop There is The Proper Pour for wine and spirits and the Crooked Stave Artisan Beer Project, a small brewery specializing in sour beers. There is Caffe Figurati a coffee shop and roastery; Mondo Market, a cheese, spice and specialty food store and RiNo Yacht Club for craft cocktails. There are special events, cooking classes and mornings talks.
Another popular restaurant in The Source is Comida, a modern Mexican taqueria, started from a food truck.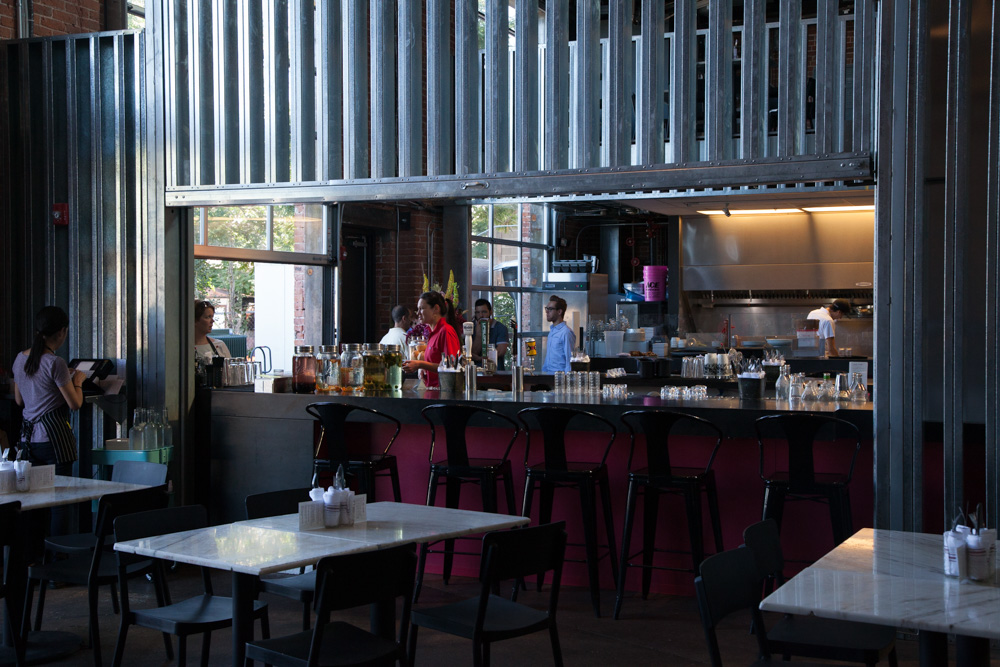 The Source Hotel opened in September, 2018 next to the The Source food hall. The Hotel added 100 contemporary rooms to the complex and a new wing that features a barbecue restaurant, Smok BBQ,  a brewery, New Belgium Brewing, a new restaurant, Safta, by James Beard Award-winner Alon Shaya and a rooftop bar and restaurant, The Woods. It is a great spot to stay in one of the top emerging neighborhoods of Denver.
Madrid, Spain
Mercado De San Miguel: This is an old market building in Madrid that has been restored to a new bustling market. There are vegetables, cheeses, meats, bread etc., but there are many stands selling wine, pastries, tapas, coffee, chocolates and ice cream. You can definitely go and make a meal out of it. I stopped by twice once for a snack and once for lunch! Plaza de San Miguel, s/n 28005.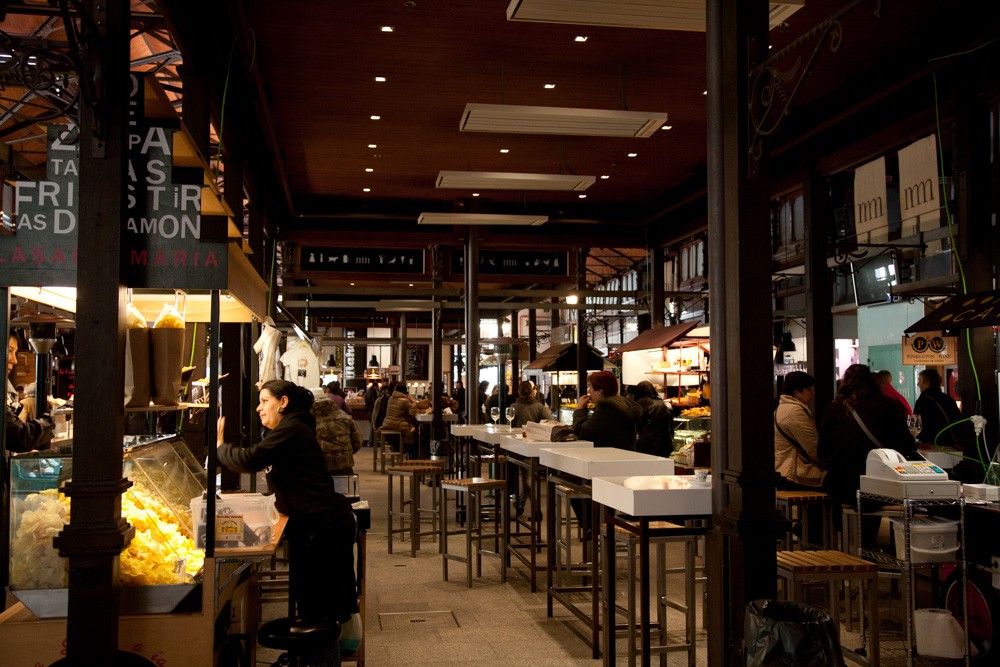 Barcelona, Spain
La Boqueria on La Rambla 91 in Barcelona: This is one of the best food markets in Europe according to many sources. It has wonderful produce, meats, fish, cheese, chocolates and sweets. I had lunch at El Quim de la Boqueria, which was highly recommended. It was a really great choice. I would suggest going early around 12:30 to get a seat at the bar.
Rotterdam, Netherlands
Markthal: Not to be missed, is this recently opened market and food court. I went to Rotterdam mainly due to the articles I had read and the pictures I had seen. It is a wonderful curved building with a painted ceiling of large flowers. It is part of a building that has a number of apartments along the side and across the top. Here you will find sellers of cheeses, vegetables, meats, pastries, flowers and fruits and vegetables. Along the sides are a diverse selection of restaurants to try. I enjoyed a tapas restaurant with a local friend.
Amsterdam, Netherlands
De Hallen Food Hall/DeFoodhallen: Located in an historic tram depot, this popular Food Hall has a number of restaurants and stands, featuring burgers, sushi, beer, pastries, breads, Spanish ham, Indian street food, pizza and Turkish specialties. Bellamyplein 51 in Amsterdam.
San Miguel de Allende, Mexico
Doce 18 Concept House: The former Casa Cohen on Calle Relox 18 now houses high-end boutiques featuring jewelry, designer clothing and gourmet cuisine. There are galleries, a tasting room for Casa Dragones tequila, a new Cumpanio bakery and food court with bar and restaurant. They are now offering cooking classes through their Kitchen Studio. Nomada Cocina de Interpretacion, has moved its fine dining restaurant outside the food court. Upstairs, L'Otel, one of the top boutique hotels, has a number of boutique hotel rooms. It is a wonderful addition to San Miguel. You do feel like you are in Mexico City, New York or Chicago!!
Mexico City, Mexico
On my most recent trip to Mexico City, I was very excited to find Mercado Roma located in Col. Roma at Queretaro #225. I went for the churros and hot chocolate at El Moro.  You can also find a large number of vendors selling, pizza, tacos, sandwiches, salads, empanadas, sweets, burritos, salads, asian food and tapas.  It has a great open, design and attracts a young, hip Mexico City crowd.
Copenhagen, Denmark
Torvehallerne KBH: This market at 21 Fredericksborggade is the perfect place for lunch. Opened in 2011, this permanent market has many small food stands and restaurants. You can grab a sandwich or open faced smørrebrød, coffee, chocolate or pastries. I had a great seared tuna, shrimp and orzo pasta salad from HAV.DK.