As a day trip from San Miguel de Allende or a destination on its own, Guanajuato is a colonial city and one of Mexico's most beautiful cities, that is very European in its feel. I love eating in a café on the Jardin, walking and exploring the twisting streets, beautiful churches and small quiet plazas, exploring its museums and visiting the large market in the center of town with its many food stalls. It was designated an UNESCO World Heritage Site in 1988.
Make sure you explore and see the following:
The small Jardin de la Union is particularly nice with its sculpted laurel trees, musicians and attractive cafes. I like the sidewalk cafe of the old world hotel, the Posada Santa Fe for lunch which is the oldest hotel in the city. Recently I tried Casa Valadez. This is a lovely restaurant overlooking the Jardin and the Theatro. What a perfect spot for lunch on the terrace. I had a very good coconut shrimp with salad. Jardin de la Union #3
Enjoy a comida or long lunch at Casa Mercedes, Calle de Arriba #6, Frac San Javier. Ask for Jesus at 014-737-327375. It is near the Camino Real and the Castle. It gets great reviews from my friends.
NY Magazine recommends Mestizo at Positos #69. Also getting great reviews and awards for its cuisine is El Jardin de los Milagros at Calle Alhóndiga 80.
Truco 7 Restaurant at Del Truco #7 is a casual spot for traditional Mexican food.
On my recent trip, I met a local friend at La Vie en Rose for lunch. This is an attractive French cafe, owned by transplants from France, serving coffee, pastries and traditonal French dishes. Breakfast is served until 2:30 and then the lunch and dinner menu is available. I enjoyed the traditional croque madame sandwich with an egg and smoked salmon along with a tasty pineapple tart with coconut. I recommend the experience. Cantarranas 18.
My local friend who joined me, lives in Guanajuato and has some other great suggestions on The Best Restaurants that you might find helpful.
Teatro Juarez: This is right off the Jardin and has a wonderful neo-classical façade. It is a major venue during the Cervantino Festival. I highly recommend visiting the theater when it is open in the afternoons. The interior architecture is really stunning.
Festival Internacional Cervantino is one of the most important festivals in Latin America. It is listed as one of the 1000 Places to See Before You Die in the book by Patricia Schultz. Each October, there are well-known performing artists from around the world, art exhibits, theater performances and musicians performing in outside venues throughout the center of town. Sometimes there are performances in San Miguel de Allende during the Festival.
The Mercado Hidalgo is located in a very large market building with balcony built in 1905. I always love seeing the food stands and local people.
Check out the current art exhibits at the University of Guanajuato.
Make sure to walk through Plaza Baratillo, one of the oldest square in the city.
Don't miss the churches. The Basilica de Nuestra Senora de Guanajuato is lovely and the facade on the Templo de San Felipe Neri is really wonderful. The Iglesia de San Cayetano de Valenciana, on the outskirts of town as you enter from Santa Rosa, is a must see. There are three spectacular gold altars.
Museo Casa Diego Rivera, Pocitos 47: This is the house where Diego Rivera was born. It is now a museum dedicated to his life and art and is well worth the visit. You can visit the home on the lower floors and see permanent as well as temporary exhibitions on the upper floors.
Two other museums you should add to your list include:
Museo Iconografico del Quijote at Manuel Doblado #1: This museum, featuring Don Quixote as subject, has some excellent paintings plus wonderful murals and a chapel with a contemporary painted ceiling and walls. There is also an attractive coffee cafe off the center court. Nearby by is La Casa del Quijote,a lovely store featuring jewelry, folk art, pottery and other gift items. Soperia 17.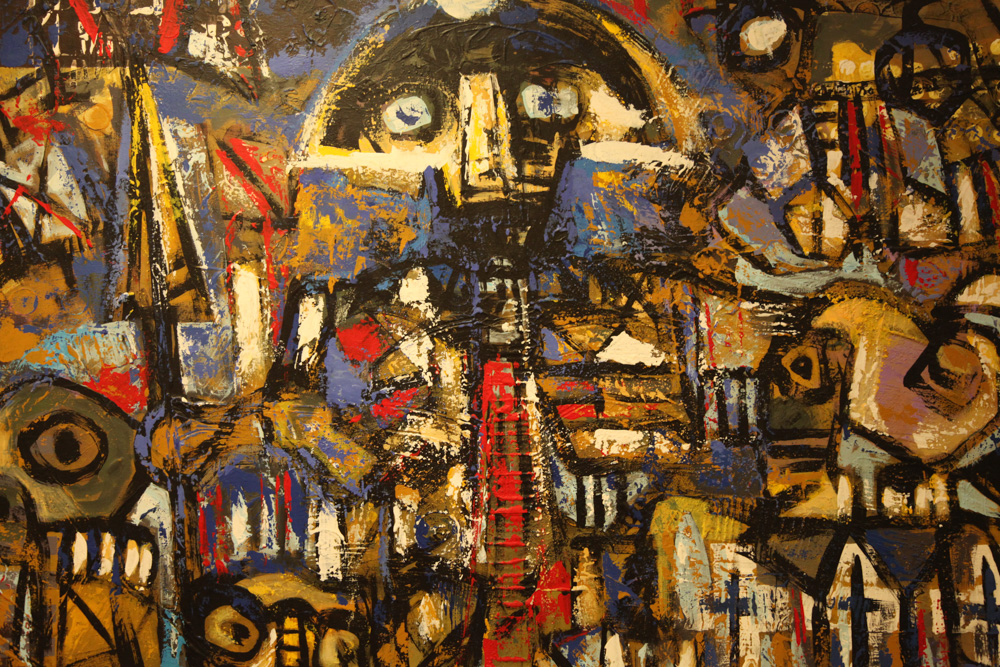 Primer Deposito Museo de Arte Contemporaneo: This is a small museum with a collection featuring bronze sculptures by Leonora Carrington, ceramics by Jesus Hernandez Capelo and others. There is a small cafe and a Capelo ceramics store. Positos 25A.
The Pottery of Gorky Gonzalez: When you are in Guanajuato this is not to be missed. Gorky González Quiñones was one of the Great Masters of Mexico Folk Art. You can buy his work in the US and in some of the best stores in San Miguel de Allende. But the best place to see his work is in his own store and studio near the center of Guanajuato. Make sure to call ahead for an appointment to make sure they are there. Unfortunately Gorky died in 2017, but his son, Yu Fijuwara, continues to make the traditional pottery  made famous by his father along with his own more contemporary ceramics. If you go ask if you can visit their home and see his father's collection of Mexican folk art and ceramics. It is really wonderful! Ex Huerta de Montenegro s/n Col. Pastita.
Another museum to visit is the Museo del Pueblo de Guanajuato, a small museum featuring historical & modern art, including paintings and sculptures. I recently went for my first time and and enjoyed the permanent collection. Positos #7.
The Estudiantinas: At night enjoy the music of the Estudiantinas, student musicians dressed as strolling 16th century troubadours. Follow them through the narrow winding streets as they are sing and play their mandolins and guitars.
Take the funicular or climb the hill behind the Teatro Juarez to the El Pipila monument. The views of the hillsides dotted with colorful painted homes reminds you of Europe and is really wonderful!
As far as hotels go, you might also stay at the traditional Posada Santa Fe if you want to explore Guanajuato at night or to attend the Cervantino Festival. It is right on the Jardin at Jardin de la Union #12.
For a more contemporary,design hotel, I really like the Edelmira Hotel at Allende #7. This is a small boutique hotel just off the Jardin Union with great temporary design. It is a Tesoros hotel with lovely pool, dining room, and rooftop terrace with great views of the city.
Also, on the Jardin, the Hotel Boutique 1850 is another great option with great contemporary style. Jardin de la Union #7.
A wonderful property I  recently discovered is Casa del Rector at Positos #33. Opened in late 2016, this boutique hotel has a contemporary design and great style. The 12 rooms are nicely done and there is a is a lovely rooftop bar, Bartola, with stunning views along with an infinity pool. There is a coffee bar, Cafe 33 on the first floor along with their Las Vieyras Restaurante. My friends and I decided to eat lunch here as some of the other spots nearby had not yet opened. The food was very good.
A recent article in NY Magazine recommended the elegant Villa Maria Cristina, boutique hotel, on the edge of the center. I have also heard that Alma de Sol Bed & Breakfast is an attractive property in town and is filled with local folk art.

My local friend also has some excellent hotel recommendation in his Guanajuato Hotels in the Historic Center.
Capelo Pottery: Known for their attractive majolica pottery. Make sure to stop at their gallery and store, which is just outside of town on the road to Sierra de Santa Rosa. Cerro de la Cruz, Col. Mineral de Valenciana, Carretara GTO Dolores
The small village of Santa Rosa, known for its majolica pottery is a short distance from the Valenciana area of Guanajuato. Don't miss Mayolica Santa Rosa. I have always enjoyed this large ceramics store on two floors, and have bought a number of pieces over the years for the houses I have done in San Miguel de Allende. Camino Real s/n in Santa Rosa.
Nearby is Conservas 1998. This is an organization of local women founded to help give them an outlet to sell the products from the fruits and vegetables of the area. Here you can find a large number of jams and jellies, candies and liquors. Camino Real #25.
The Restaurant de la Sierra in Santa Rosa gets good reviews in case you want to grab lunch while you are in town.