New Mexico's cuisine has strong roots in Pueblo Indian culture as well as in the culture of the Spanish settlers. Three ingredients unique to the state are the green chile, blue corn and pinon nuts. You will love the food in Santa Fe. Here are some of my top picks by neighborhood:
The Plaza
Café Pasqual's, 121 Don Gaspar: The famous James Beard Award Winning Restaurant. I love the atmosphere but it can get crowded. If there are no tables, join the communal table in the center of the dining room. My favorite dish is the Huevos Motuleños – eggs over easy on a corn tortilla with black beans topped with sauteed banana, feta, green peas, roasted tomato-jalapeño salsa, green or red chile or tomatillo salsa with a side corn tortilla. It doesn't get any better than this!
Santacafé, 231 Washington Ave, just north of the Plaza: Always one of my favorites with a sleek white interior in the winter and a great patio in the summer.
Coyote Café, 123 W. Water: Opened in 1987 by Mark Miller, creator of modern Southwest Cooking. It is still popular with good food. I just went back and enjoyed my dinner with a local friend. They have just totally remodeled and added a fun, casual rootop bar and restaurant.
La Casa Sena and Cantina: A great spot for lunch or dinner. In the Cantina, the waiters and waitresses sing jazz, show tunes and more every  Wednesday to Sunday. They have a great outdoor patio for dining in the warmer months.
Pink Adobe, 406 Old Santa Fe Trail: Located in a 300-year old rose colored adobe, this has been one of the best restaurants since 1944.
The Shed: One of the best for New Mexican Cuisine, located at 113 ½ East Palace Ave. They have great outdoor dining in the warmer months. It won a James Beard Foundation Award in 2003 for an American Classic of timeless appeal. It has won many other awards as well.
Sazón: My brother and his wife recently tried Sazón, so I went on my last trip to try it out based on their recommendation. It was a really good experience. Opened in 2015, it is located at 221 Shelby St. and features upscale Latin American Cuisine and specialty cocktails. The atmosphere is warm with wonderful murals in the main dining room featuring fruits, vegetables, nuts, cheese and more. I really enjoyed my duck entree with a mole sauce. Make sure to add it to your list. On June 13, 2022 chef  Fernando Ole for was named the Best Chef Southwest by the James Beard Foundation.
Kakawa Chocolate: This fun, casual spot at 1050 Paseo de Peralta, has chocolate drinks, chocolate brownies, chocolate candy and truffles plus great ice cream. I chose the chocolate and it was worth every calorie. It is the perfect spot for an afternoon snack after sightseeing and shopping.
Rio Chama Prime Steakhouse: An attractive restaurant with lovely outdoor patio, known for its steaks, but have other good options as well. They are open for lunch, brunch and dinner. 414 Old Santa Fe Trail.
TerraCotta Wine Bistro: At 304 Johnson St., this is a small colorful restaurant in a 19th Century adobe building. I enjoyed lunch with friends and family. They have a good selection of soups, salads, panini and entrees. I enjoyed a great salmon entree with orzo pasta and vegetables.
La Plazuela Restaurant, at the La Fonda Hotel on the Plaza, is very popular with locals and tourists alike. Built in 1922, the hotel is the oldest in Santa Fe.  In 1925, the building changed hands  when it was acquired by the Atchison, Topeka & Santa Fe Railway.  "The company leased the property to Fred Harvey, a gentleman renowned for his keen sense of hospitality. Harvey introduced his own personal touch and made the inn a Harvey House, a hotel chain noted for its high standards, fine dining and the signature "Harvey Girls," a staff of exceptionally well-trained waitresses."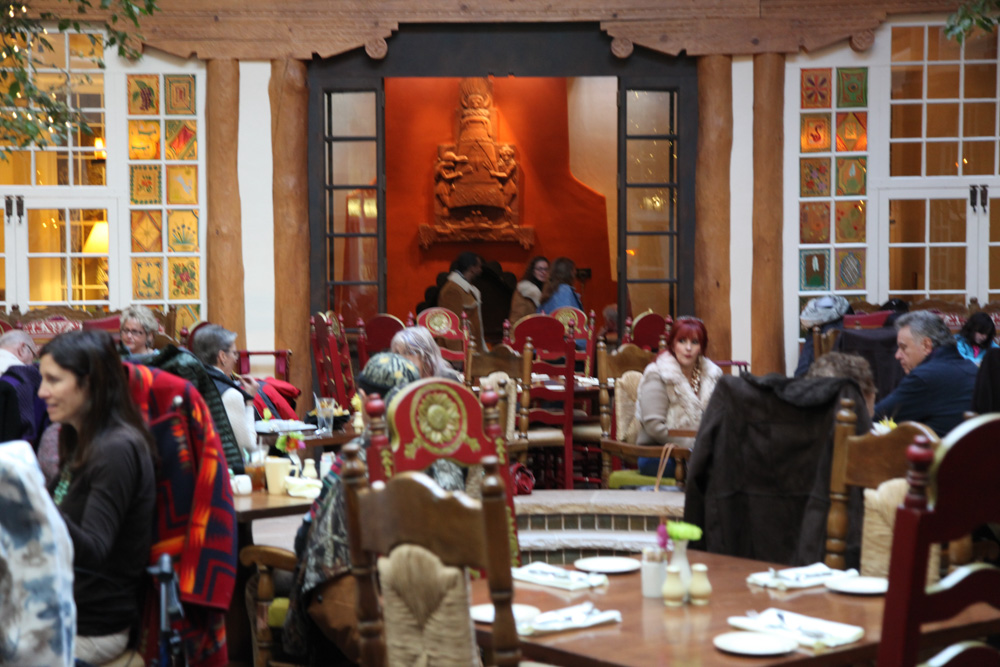 La Boca, 72 W. Marcy: I enjoyed this tapas restaurant that was recommended by friends. I had a delightful dinner of a kale salad, a roasted beet salad, a wonderful paella with chicken, shrimp, mussels and chorizo and a scallop entree. It was great being able to share and try multiple plates.  They have a large number of fish, chicken seafood and meat options. They also have Taberna La Boca, a more casual spot. 125 Lincoln Ave.
315 Restaurant & Wine Bar, 315 Old Santa Fe Trail: Attractive restaurant in a small adobe with outdoor seating. It features French cuisine and great wines.
On a recent trip I enjoyed La Lecheria, a New Mexico craft ice cream store. They feature as number of unique flavors from Ikonik Coffee, to Chocolate Sea Salt and Green Chile. I highly recommend it. It has since has moved downtown to 101 West Marcy Street. Now in addition to ice cream it a lunch menu with sandwiches, salads, and a daily market soup.
Just off the Plaza is Tia Sophia's which is a casual, diner featuring regional favorites. It is known for it breakfasts.
Canyon Road
The Compound, 653 Canyon Road: Features Mark Kiffin who won the James Beard Foundation Best Chef of the Southwest Award. This is one of the local's favorites. It celebrated its 50th anniversary in 2016.
Geronimo, 724 Canyon Road: One of the best restaurants in town where I have never had a bad meal!
The Teahouse, 821 Canyon Road: A Great place to stop for lunch or a break during a day of gallery hopping on Canyon Road. I always enjoy it!!
El Farol, 808 Canyon Road: Santa Fe's oldest restaurant and cantina specializing in Spanish cuisine and Tapas. I love eating on the porch.
N. Guadalupe St. Railyard District
Cowgirl BBQ, 319 S. Guadalupe St.: This is a fun, casual spot featuring BBQ, New Mexican and Mexican fare. They also feature live music and have a pool hall onsite! Cowgirl BBQ is known for their margaritas and is on the Sante Fe Margarita Trail. You might download the app and enjoy visiting a number of local spots.
Bumble Bee's Baja Grill, 301 Jefferson: A great fast food restaurant with really great fish tacos.
Ohori's Coffee: With two locations, I chose the one at 505 Cerillos Rd. for a great latte and a scone. They roast their own coffee daily and in small batches.
Paloma Restaurant, opened two years, is a colorful, casual spot for Mexican and New Mexican cuisine with a nice outdoor patio. I went with local friends for dinner. We all enjoyed our entrees. I really enjoyed the half chicken with mole poblano and a perfect flan for dessert.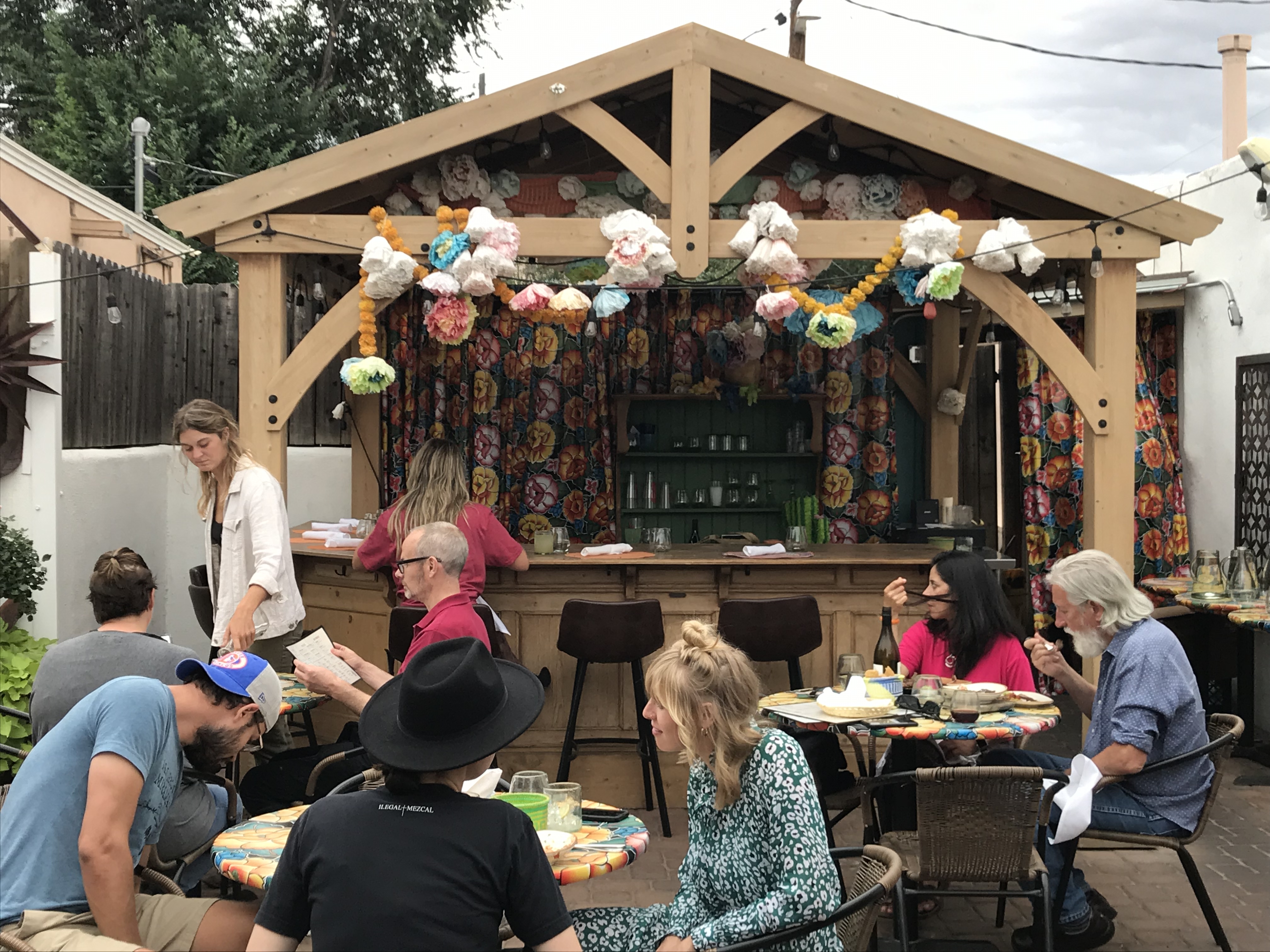 South of Paloma is Tomasita's which serves classic New Mexican cuisine for over 40 years. 500 S. Guadalupe.
Clafoutis: Just found this excellent French bakery/cafe on a recent trip thanks to a long-time local friend. It has great salads and sandwiches and amazing French pastries and desserts!!  Their new location is located at 333 W. Cordova Rd.
Restaurant Martin: One of my  newest recommendations is for Restaurant Martin at 526 Galisteo. Martin Rios has been nominated twice by the James Beard Foundation Award as Best Chef Southwest in 2017 and 2018. It has a large patio with a charming, warm interior space. It has a wonderful seasonal menu with a large wine list. I loved the service, the atmosphere and the food. The roasted monkfish entree was complex and perfectly prepared with Swiss chard stuffed with lump crab meat, cauliflower puree, raisins, cannellini beans, candied ginger and a lemongrass-coconut nage. There were salmon, scallop, chicken, duck breast, pork and beef entrees as well. The assortment of chocolate desserts was over-the-top!
I recently read about Santa Fe Spirits which is a local distillery and tasting room which features its Expedition vodka, its Silver Coyote white whiskey, their Wheeler's gin, a Colkegan single malt whiskey, The Slow Burn whiskey made with a smoked gin liqueur plus hickory and apple wood smoke, an apple brandy made from northern New Mexico apples and the Atapino single malt white whiskey made with pinion nuts and the resin from the ponderosa pine tree. I just visited the tasting room downtown at 303 Read St. on my recent trip and enjoyed the atmosphere and loved the Colkegan single malt whiskey. They also feature tours and a tasting room at 7505 Mallard Way.
Whole Hog Cafe: With two locations in Albuquerque,  one in Santa Fe and now locations in Missouri, Arkansas and New Jersey, this is a fun, casual BBQ spot featuring meats dry rubbed with spices and smoked with pecan wood. They feature pulled pork, beef brisket, pulled chicken, pork loin and sausage. They also have ribs and chicken. They have sandwiches, wraps and plates with a number of side. I enjoy the pulled pork sandwich with coleslaw and baked beans. 320 S. Guadalupe
After reading great reviews, I enjoyed lunch at Vinaigrette. Located at 709 Don Cubero Alley right off Cerrillos Rd., they are known for their amazing salads. The atmosphere is contemporary and colorful and the service excellent. They also offer a number of sandwiches, soups, starters and sides. I really enjoyed the cherry tart salad, made with dried cherries, mild feta cheese, peppery baby arugula and toasted pecans with champagne vinaigrette. I added grilled shrimp. They have two other locations, one in Austin, TX and the other in Albuquerque, NM.
Next door, under the same ownership, is Modern General, at 637 Cerrillos Rd. This is a sleek, contemporary space with a restaurant featuring toasts, bowls, sandwiches, salads and modcakes, their version of flapjacks or pancakes in several flavors. They also feature some fun housewares throughout the store/restaurant.
Shake Foundation: Located at 631 Cerrillos Rd., this is a popular spot known for their green chile cheeseburgers and other burgers.
Fenix at Vanessie is known for its popular piano bar with singer Doug Montgomery performing four nights a week. It has a great atmosphere. I went back on my last trip for a cocktail before my dinner reservation down the street and really enjoyed the service and the music.
Tune Up Cafe: A fun local's spot that is a great new find in Santa Fe. Open for breakfast, lunch and dinner and brunch on weekends, they have a variety of great New Mexican, El Salvadorian and Mexican specialties plus salads, burgers and much more. It is a colorful, casual spot where you order at the counter and then the food is brought to you. 1115 Hickox St.
La Choza: Serving lunch and dinner from Monday through Saturday, this casual, colorful restaurant located in an old adobe home, serves New Mexican specialties. The blue corn tacos with chicken were excellent. It is a local's spot a short distance from the Plaza. It is a sister restaurant of The Shed, one of the most popular restaurants downtown. It comes highly recommended by my local friends as well as recent articles. 905 Alarid St.
A great new addition to the dining scene is Joseph's Culinary Pub. At 428 Agua Fria, this is a small, free standing adobe with a warm and inviting decor featuring frescoes, sculptures and original art. Chef Joseph Wrede is a Food & Wine Best New Chef. He opened Joseph's Table in 1995 in Taos and has now re-launched it in Santa Fe. It has a very creative menu and excellent food.
I read in Eater.com about Radish and Rye at 548 Agua Fria St. for whiskey and locally sourced food. I went for dinner on my recent trip and really enjoyed the restaurant and meeting the owner. It has a warm, contemporary interior and excellent food.
Opuntia Cafe: I enjoyed lunch at their popup at the El Rey Court. There permanent space in the Railyard  District opened in late 2019 at 1607 Alcaldesa Street.  They feature a seasonal menu of food along with coffee and tea drinks.
Now in the Railyard District is Second Street Brewery at 1607 Paseo De Peralta #10. This is one of their two tap rooms in addition to their production facility in town. They feature their beers along with food. Across the street is a new coffee shop, Sky Coffee at for coffee, tea and baked goods. Food & Wine Magazine recommends it as serving some of the best coffee in the state.
Just off of  S. Guadalupe and near the Railyard is Cocteau Cinema and Coffee House. They feature films and other events. But on the first floor is a small bookstore, art gallery,  coffee lounge and  cocktail bar.
Cerrillos Road and South
Maria's, 555 W. Cordova: One of the best Mexican restaurants in town. It has a fun, casual atmosphere.
San Marcos Feed Store and Café: A short drive from Santa Fe, on the Turquoise Trail, is the highly recommended San Marcos Café. It is next to a feed store and grounds where you can see peacocks, turkeys and hens. The café is one of my favorite new finds. It is cozy and charming with great Southwestern breakfasts. There is a bright enclosed porch with kiva fireplace. It is popular on weekends so reservations are recommended. They also offer live music which really enhances the experience. 3877 State Road 14. They are open for breakfast and lunch from 8 am to 2 pm and for Sunday brunch from 8 am to 2 pm. 505-471-9298.
One of my favorite new coffee spots is Iconik Coffee. This is a fun locals spot in a large, hip and eclectic space. They roast their own coffee on site, make their own great pastries and cookies and have a number of food items including frittatas, soups, sandwiches and salads.  Their coffee is organic and Direct Trade. 1600 Lena Street.
On my last trip, I went to Iconik's two other locations in town. Their location at 314 S. Guadalupe is located in an old building and has an attractive indoor cafe and a very special outdoor patio. Their downtown location near The Plaza is located in 202 Galisteo in the Collected Works Bookstore & Coffeehouse. Grab a latte and explore the many offerings in the store.
Chocolate Maven: Chocolate Maven was recommended by my neighbors in Santa Fe for delicious baked goods. They also have a café for breakfast, lunch, brunch, dinner and high tea. I went for a latte and a great cookie. The downstairs overlooks the bakery in the rear of the property. 821 San Mateo. I will definitely be back for the afternoon tea.
Nearby is Second Street Brewery at 1814 Second Street.  They feature their own brews along with comfort food. They produce a large number of ales, porters, stouts, IPAs, pilsners and other seasonal offerings. I enjoyed tasting the Jordy's Irish Red and the Belgian Witbier or Wheat Beer. They have a second location in the Santa Fe Railyard and a third on
Counter Culture, 930 Baca St.: A local's favorite for coffee, baked goods, soups, sandwiches and salads. I went for coffee and loved the artsy atmosphere and industrial feel.
Sage Bakehouse: At 535 Cerillos Rd, this is a great industrial chic space featuring really excellent breads, cookies, croissants, pastries and open-faced sandwiches. I loved stopping in for an almond tart and a latte. I will definitely be back!
After seeing them on a prior trip, I made a point to visit The ChocolateSmith, a chocolate boutique, at 851A Cerillos Rd. and Whoo's Donuts next door at 851B Cerillos Rd. The ChocoateSmith makes great homemade chocolates while Whoo's Donuts has a large selection of donuts made from scratch daily and coffee.
Tiny's Restaurant & Lounge.  This is a classic roadhouse/supper club from 1950 that is still owned by the same family. It was featured in recent article in the Wall Street Journal.  They feature a large selection of New Mexican cuisine and cocktails along with live music. It is open for lunch and dinner at the corner of St. Francis Drive and Cerrillos Rd.
Harry's Road House, 96 Old Las Vegas Hwy: A fun, casual restaurant just outside of town. A local friend also enjoys Café Fina for casual dining in converted Fina gas station at 624 Old Las Vegas Hwy.
Tesuque
Tesuque Village Market: One of my favorite spots. An old roadhouse in Tesuque 12-15 minutes north of the Plaza. It has great breakfast, lunches and dinners featuring New Mexican as well as Mexican specialties. Grab a New York Times and enjoy coffee with the locals. There is also a small general store if you want to pick up some grocery items. 138 Tesuque Village Rd.
Gabriel's: Just north of the Santa Fe Opera, this was recommended to me by a long time local. It is a fun casual spot for Mexican food and perfect for a large group. They are known for their guacamole made tableside. They have a large menu featuring vegetarian options, moles, tacos, fajitas and other Mexican specialties. It has a lovely patio in the summer months.
El Nido Restaurant: Located north of Santa Fe in Tesuque at 1577 Bishops Lodge Road, this was a local institution that closed a few years ago and sat empty. It was reopened in November, 2016 under new management. I had been in the past and so was pleased to see that it was back. The restaurant has a cozy bar in the back and a sleek new dining room in front looking into the open kitchen. It has large menu featuring starters, salads, pizzas, pastas and grilled  entrees. I had a really outstanding salmon dish with polenta, sautéed spinach, a tomato relish and a balsamic reduction drizzled on the side of the plate.
Getting good reviews is Arroyo Vino (a restaurant and wine shop) at 218 Camino La Tierra which is eight miles northwest of the Plaza and a short drive from Tesuque. Colin Shane, the chef ,was named a semifinalist in the Rising Star Chef of the Year category for the James Beard Award in 2017 and 2018.
I recently went for dinner on my last night in town and really enjoyed the experience. It is a nice spot to get away from the crowds downtown, and to be in a quiet residential development. The clientele appeared to be mostly nearby residents. I enjoyed the seared diver scallops and a lovely rosé. The evening ended with a beautiful sunset over the nearby hills.
Other
Other places that come highly recommended by locals, and friends, include:
The Pantry, 1820 Cerrillos Road: A local's place that was recommended to me.
Jambo Café, 2010 Cerrillos Rd.: African Swahili food in a restaurant with colorful painted walls and African art.
Midtown Bistro, at 901 W. San Mateo Road.
Mucho Gusto, for Mexican cuisine and Andiamo for Italian.
Horseman's Haven: 4353 Cerrillos Rd. Known for its casual, New Mexican cuisine.
Joe's Dining and Tortilla Flats are other casual spots.
Santa Fe Bite is also known for their green chili cheeseburgers. 311 Old Santa Fe Trail.
Ten Thousand Waves is a popular spot for spa services just outside of town. Their new restaurant, Izanami, has gotten some great recent press for excellent Japanese food.

The Wall Street Journal in a recent article recommends Cafe Castro features native New Mexican cuisine at 2811 Cerrillos Rd.
Eater.com is one of my favorite sources to find new restaurants. Recommended by them are Dolina Cafe & Bakery at 402 N. Guadalupe St. for breakfast and lunch, Palacio Cafe at 209 E. Palace Ave., the gastropub Rowley Farmhouse Ales at 1405 Maclovia St. and Dr. Field Goods Kitchen at 2860 Cerrillos Rd. for local seasonal foraged ingredients. I have a lot of places to try on my next trip back to Santa Fe.