On my first trip to Europe with my parents in April and May, 1972, I was so excited to visit Paris for the first time. I had loved seeing the slides of Paris and of France that my father had taken on their previous visits plusI  had taken French in both high school and college and loved the culture. In addition, I had grown up watching The French Chef with Julia Child about French cooking starting in early1963 and lasting for ten years. We had her cookbook at home which my mother used often. French food became one of my favorites.
We had a lovely, classic hotel near the Paris Opera or Opera Garnier. I went to my first opera and loved the music and the grandeur of the opera house with its stunning grand staircase. Along with visiting the museums, eating well was a highlight. I loved the pastries! My mother and I snuck into a charming patisserie for a wonderful chocolate éclair and a decadent Napoleon. Then, my father happened to walk in and caught us as we indulged ourselves without him!
To celebrate my mother's 54th birthday, we chose a traditional café on the Left Bank in the 6th Arrondissement. I still remember the warm atmosphere, mirrored walls,  the white table cloths and the waiters dressed in their traditional long white aprons. It was just how I had imagined it would be. When I got my entree, after confidently ordering from the menu what I thought truite, I looked down and saw this slimy piece of meat covered in a mustard sauce. After one bite, I knew that something was wrong and immediately sent it back. I had learned the hard way that tripe is not a fish!!!
But since then, I have been to Paris many times and highly recommend these spots for great French cuisine.
Fauchon, at 26 place de la Madeleine, has wonderful gourmet items.
Maille: For the famous French mustards and other specialty food items.
Laduree: At 75 Avenue des Champs-Elysees, this is the place in Paris for macarons.
Mariage Freres: Located in the Marais at 30 rue du Bourg, this store has the best teas!
Au Pied de Cochon, 6 rue Coquilliere: Great brasserie from 1947 in the old Les Halles market area. It is known for its onion soup.
Restaurant Polidor: This is a traditional bistro and restaurant that opened in 1845. It features traditional French dishes. It is located in the 6th at 41 Rue Monsieur le Prince.
Le Petit St.-Benoit: Located at 4 rue St. Benoit, this is a charming restaurant opened in 1901.
Lasserre, 17 Ave. Franklin Roosevelt: This was my first major five star experience years ago. I loved the fact that the second floor roof opens for alfresco dining.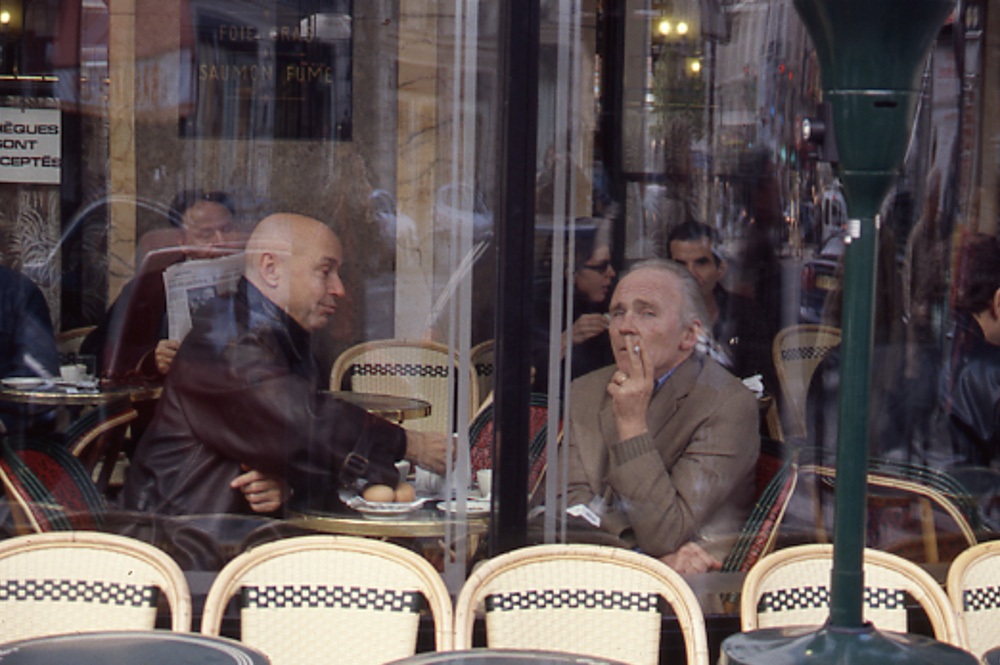 Le Jules Verne, at the Eiffel Tour: This was a fun spot for our family Thanksgiving Dinner in 2001. The views are amazing.
Brasserie Balzar, 49 rue de Ecoles: Have enjoyed the great atmosphere on two separate trips. I always get the mussels or moules frites. Know for it classic brasserie dishes, it originally opened in 1886.
Brasserie de l'Isle St. Louis, 55 quai de Bourbon: This is an Alsacian restaurant serving very hearty food.
Cremerie Restaurant Polidor, 41 rue Monsieur Le Prince: Opened in the 1800's this has a wonderful atmosphere and great food. The beef bourguignon was a big hit.
La Fourmi Ailee, 8 rue du Fouarre: Charming small restaurant.
Berthillon A Café on rue St. Louis on the Ile St. Louis, known for its wonderful ice cream. I always love the hazelnut!
My favorite cafe is Les Deux Magots at 6 Place Saint Germain-des-Pres. It has the perfect ambiance and setting. A close second is Cafe de la Paix at 5 Place de l'Opera.
Café de Flore is always fun and is one of the oldest cafes and coffee houses in Paris. 172 Boulevard Saint-Germain.