This famed New Jersey university town is perfect for a day trip from Philadelphia, New York or the Jersey Shore.
Start your day at the Grounds for Sculpture just south of Princeton near Trenton in Hamilton Township, NJ. Here you can walk through the 42 acres of beautiful gardens and parklands to view over 270 sculptures from well-known and emerging artists. There are also inside exhibition spaces. It opened in 1992 after the vision of J. Seward Johnson, sculptor and philanthropist. He is known for his large works of such figures as American Gothic and Marilyn Monroe which I first saw in Chicago. You can also see his wonderful pieces that he created from Impressionist paintings. For example, you can admire Renoir's Luncheon of the Boating Party along the water.
I highly suggest eating at Rat's Restaurant for lunch or Sunday brunch, where you can enjoy good food in a building that is meant to look like Monet's home in Giverny, France. It overlooks the water-lily pond complete with boat and the Japanese Footbridge.
In September there is the Epicurean Palette food and wine festival with many featured vendors and chefs from the region.
The Princeton University Art Museum: This small museum is worth the visit. It has a good permanent collection featuring Asian, American, European, Modern and Contemporary art plus Photography, Prints and Drawings. There are also temporary exhibitions like the one I saw, Rothko to Richter – Mark Making in Abstract Painting. Plus there are many events throughout the year including yoga, outdoor film screenings, lectures and special presentations.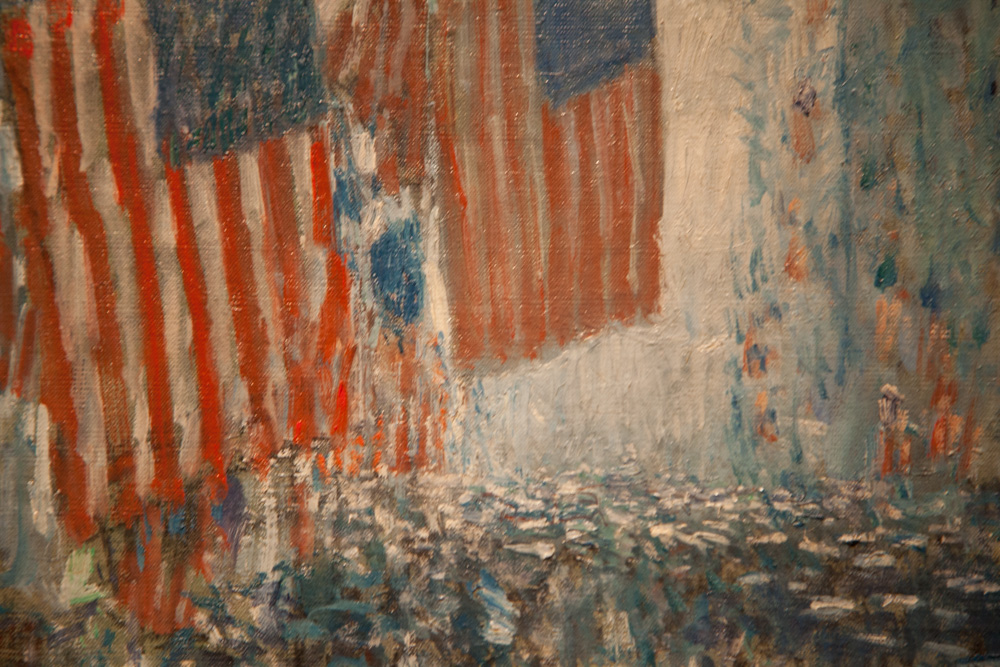 Theater lovers should check out the schedule for the McCarter Theatre Center on the Princeton Campus. A number of Broadway productions have debuted there including Our Town and You Can't Take It With You.
Small World Coffee: A local coffee shop at 14 Witherspoon St. is perfect for a break before or after a visit to the Princeton University Art Museum.
Halo Pub: At 9 Hulfish St. on Palmer Square, this was a great spot for ice cream on a hot summer day. They have a local dairy in Lawrenceville NJ and use the best ingredients. The toasted almond was great!!
Still hungry then stop in at The Little Chef Pastry Shop which has a large selection of homemade pastries and cakes. 8 S. Tulane St.
Agricola: A highly recommended farm-to-table restaurant with a creative menu and great food. I thoroughly enjoyed it for dinner with a local friend. I loved the scallops. 11 Witherspoon St.
Elements is another good dining option that features locally-sourced ingredients and tasting menus. 66 Witherspoon St. They recently moved to a smaller spot and has received great reviews. Under the same ownership and next door is  Mistral which has also received very good reviews.
I  just read about Triumph Brewing at 138 Nassau St. They feature lunch and dinner along with brews on tap and live music. They also have locations in Red Bank, NJ and New Hope, PA.
According to the NY Times, other spots to check out include Labyrinth Books at 122 Nassau St. and Princeton Record Exchange, an independent record store since 1980, at 20 S. Tulane St. They also recommend the casual Hoagie Haven at 242 Nassau St. for great sandwiches for over 40 years.
The Peacock Inn: If you did want to spend a night in town, the Peacock Inn is a really lovely spot near downtown. It was originally built in the late 1700's and has a very good restaurant and bar plus 16 king and queen rooms. 20 Bayard Lane.