I highly recommend exploring the Philadelphia Fishtown neighborhood; a working-class neighborhood of row houses and warehouses. It is experiencing a huge renaissance with the opening of many restaurants, bars, stores, a boutique hotel and the building of many new condo projects. My recent recommendations include:
La Colombe Coffee Roasters: Their Fishtown location features a large cafe and bakery in a fun, refurbished warehouse. 
Wm. Mulherin's Sons Restaurant & Hotel: Located in an historic building that was a whiskey blending and bottling factory from the 1800s, it is now home to a popular restaurant and four hotel rooms above. It is similar to the concept I have seen in Chicago with the rooms above the restaurant Longman & Eagle. The rooms are beautifully decorated. The building sits next to the elevated train tracks, so make sure to request a room farthest away if you are a light sleeper. The restaurant has beautifully restored details and features wood-fired pizzas and Italian specialties including small plates, pastas and large plates. It was named one of Bon Appétit's "50 Best New Restaurants" list after opening in 2016. 1355 N. Front St.
R&D: At 206 Frankford Ave., I enjoyed a great brunch at Root. Since I was there Root has been transformed into R&D and now serves classic and innovative cocktails alongside creative small dishes.
Frankford Hall is a large German beer garden with communal seating and a menu of appetizers, sausages, burgers and other classic German dishes. It also serves a large number of German draft beers, American beers, wine and cocktails. 1210 Frankford Ave.  
Joe's Steaks + Soda Shop: At 1 W. Girard at Frankford St, this is the place for steaks, cheesesteaks and burgers, plus sodas, ice cream and sundaes. The original business opened in 1949 as Chink's Steaks. Though the name was changed to Joe's in 2013, the cheesesteak recipe has remained the same for over 66 years.  
Kensington Quarters Restaurant & Butcher Shop: At 1310 Frankford Ave., this is a popular restaurant and bar in a repurposed warehouse with an industrial feel. They feature locally sourced products and also offer cooking classes and other events upstairs.
Weckerly's Ice Cream: After your meal, make sure to stop in at Weckerly's for some great ice cream. Weckerly's specializes in French-style ice cream made with local, seasonal ingredients. 9 W. Girard Ave.  
The second location of Cheu Noodle Bar is opening in the old Bicycle Stable building at 1416 Frankford Avenue.
Johnny Brenda's: This is local restaurant, bar featuring local brews and music venue that is a popular institution in Fishtown. The atmosphere is out of the past and well-worth the visit. 1201 N. Frankford Ave.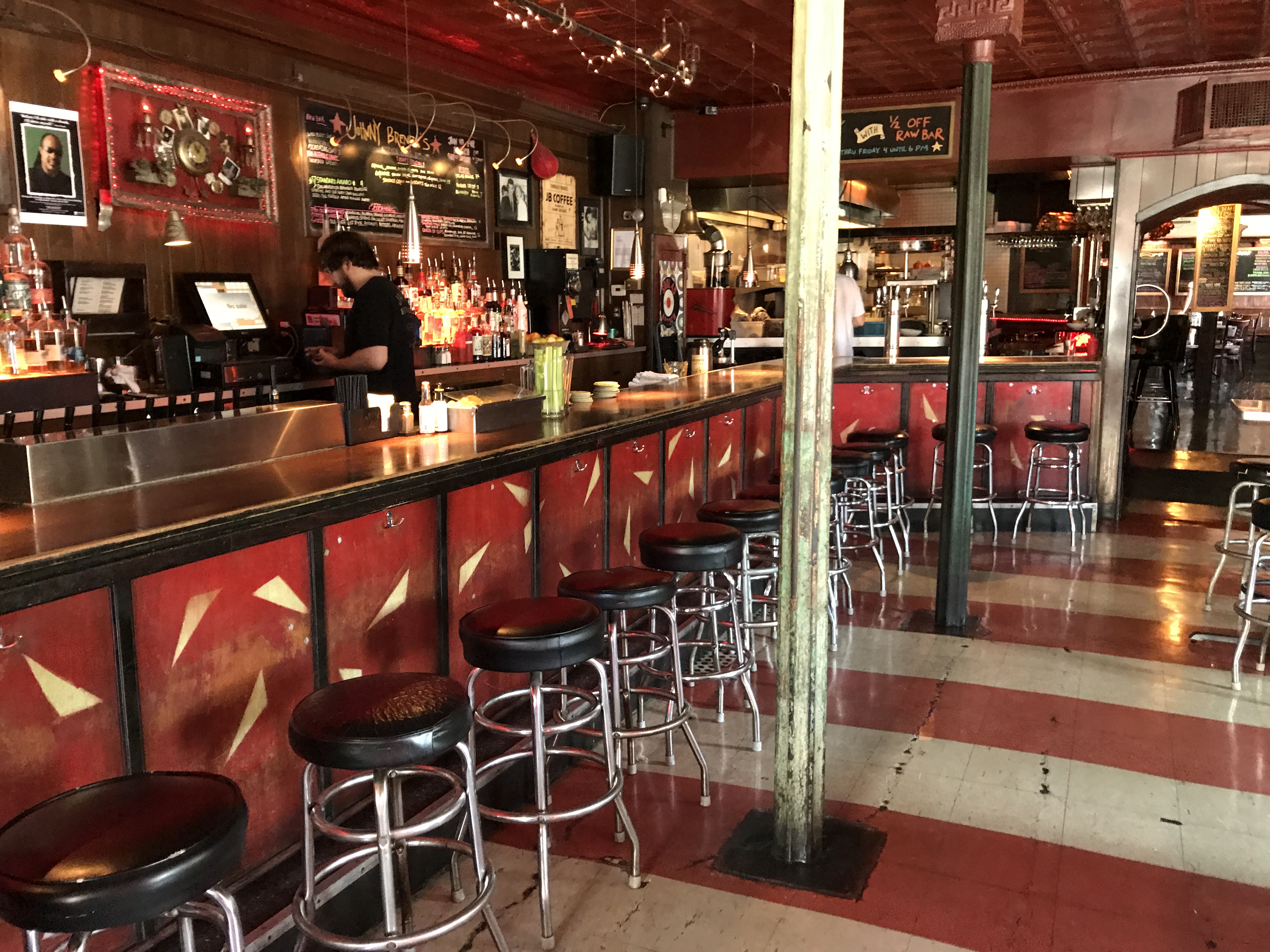 Fette Sau: This is a large restaurant at 1208 Frankford Ave. that has a menu featuring smoked meats and sides. They also feature over 100 North American bourbons and whiskeys!! They have another popular location in Williamsburg, Brooklyn.
Jinxed Philadelphia: Make sure to stop in at this fun store featuring housewares, art, vintage prints, gifts and books. 1331 Frankford Ave.  
The area has a number of distilleries and craft breweries in the area that are well-worth the visit.
New Liberty Distillery: This is a local craft whiskey maker offering facility tours and tastings in an historic building. The building, a former stable complete with horse stalls, is home to their still and rickhouse for barrel aging. Their bar and tasting room on the top floor is most attractive. I highly recommend a tasting and a tour and really enjoyed the experience and their products. They make a line including whiskey, malt whiskey, bourbon white whiskey, rum and vodka under the Kinsey and Linfield labels. Their products have won several recent medals including the Dutch Malt Whiskey, Melvale Straight Rye Whiskey, Kinsey Cask Strength Rye Whiskey, Kinsey Rye Whiskey, Kinsey Cask Strength 7 year old Whiskey and New Liberty White Whiskey. It was named the 2015 Philadelphia Whiskey Distillery of the Year.  
Philadelphia Distilling: This is a large facility located at 25 E. Allen St. Established in 2005, this is a fun spot for cocktails, tours and tastings. It is open Thursday to Sunday. They primarily feature white spirits and are the makers of Bluecoat American Dry Gin, Bluecoat Barrel-Finished Gin, Vieux Carré Absinthe, Penn 1681 Vodka and THE BAY Seasoned Vodka, made with traditional Chesapeake Bay seasonings. I prefer brown spirits, but the Barrel-Finished Gin was quite good.
Philadelphia Brewing: I was unable to take a tour/tasting as they are open only on Saturdays, but this is a popular local brewery at 2440 Frankford Ave. It was constructed as a brewery over 132 years ago by the Weisbrod & Hess Oriental Brewing Company in 1885. Today they feature year round as well as seasonal offerings including ales, IPAs, porters, lagers and stouts.
Red Brick Craft Distillery: Just north of Fishtown at 2628 Martha Street, is this small craft distillery. I tasted their products at the Rittenhouse Square Farmers' Market. I really liked the Red Brick Single Malt Whiskey. They also make a Red Brick Barrel Strength Whiskey, a Simple Shine Sugar Wash Rum, a Simple Shine Pineapple Rum. From the Wood Black Birch Beer. You can have a cocktail on weekends before or after one of their weekend tours.
You might also check out the Philly Distillery Trail and other local operations.