Pilsen
This primarily Mexican neighborhood of Chicago is one of my favorites. It has great restaurants, galleries and a world class art museum. I always love spending time there.
It was originally named after the city of Pilsen in the Czech Republic, when in the 1840s it became one of Chicago's earliest working-class immigrant communities. After the Great Chicago Fire of 1971, it drew a large number of Bohemian immigrants who found work at the nearby factories. Since the 1960s it has been a predominantly Mexican American neighborhood.
My top recommendations include:
The National Museum of Mexican Art: One of the top cultural institutions in the city with an emphasis on Mexican art and folk art. It celebrated its 25th Anniversary in 2012. Check out their current exhibitions. In the Fall they always have great altars for Day of the Dead and often bring in Mexican folk artists for special markets and demonstrations. I was just back for an exhibition on the personal photos of Frida Kahlo from Mexico City. They also have an excellent gift shop that has some excellent Mexican folk art and books to purchase.
Not far from the museum is my newest find and recommendation on where to eat is 5 Rabanitos Restaurante & Taqueria. Open for lunch, dinner and weekend brunch,  this colorful spot has a large menu of Mexican specialties including tacos. I really enjoyed my tacos for lunch made of pork al pastor and chicken tinga along with rice, beans and guacamole. I highly recommend the experience.  1758 W 18th St
On my recent visit to the neighborhood, I was pleased to have found Mandala Cafe at 1641 W. 18th. It opened in August, 2022 by two friends from Venezuela. They feature coffee from Columbia and Costa Rica along with croissants and bagel sandwiches, avocado toast, cookies, cupcakes and pastries. I enjoyed meeting the owner.
Next door at 1639 W. 18th St. is Nevería El Sabor de México. This is a colorful, local ice cream store that has many flavors including paletas or ice cream bars and snacks. I had to have my favorite, the coconut paleta!!! It was the best.
For carnitas in a casual atmosphere, check out Carnitas Don Pedro at 1113 W. 18th St. It has been a local favorite since 1981.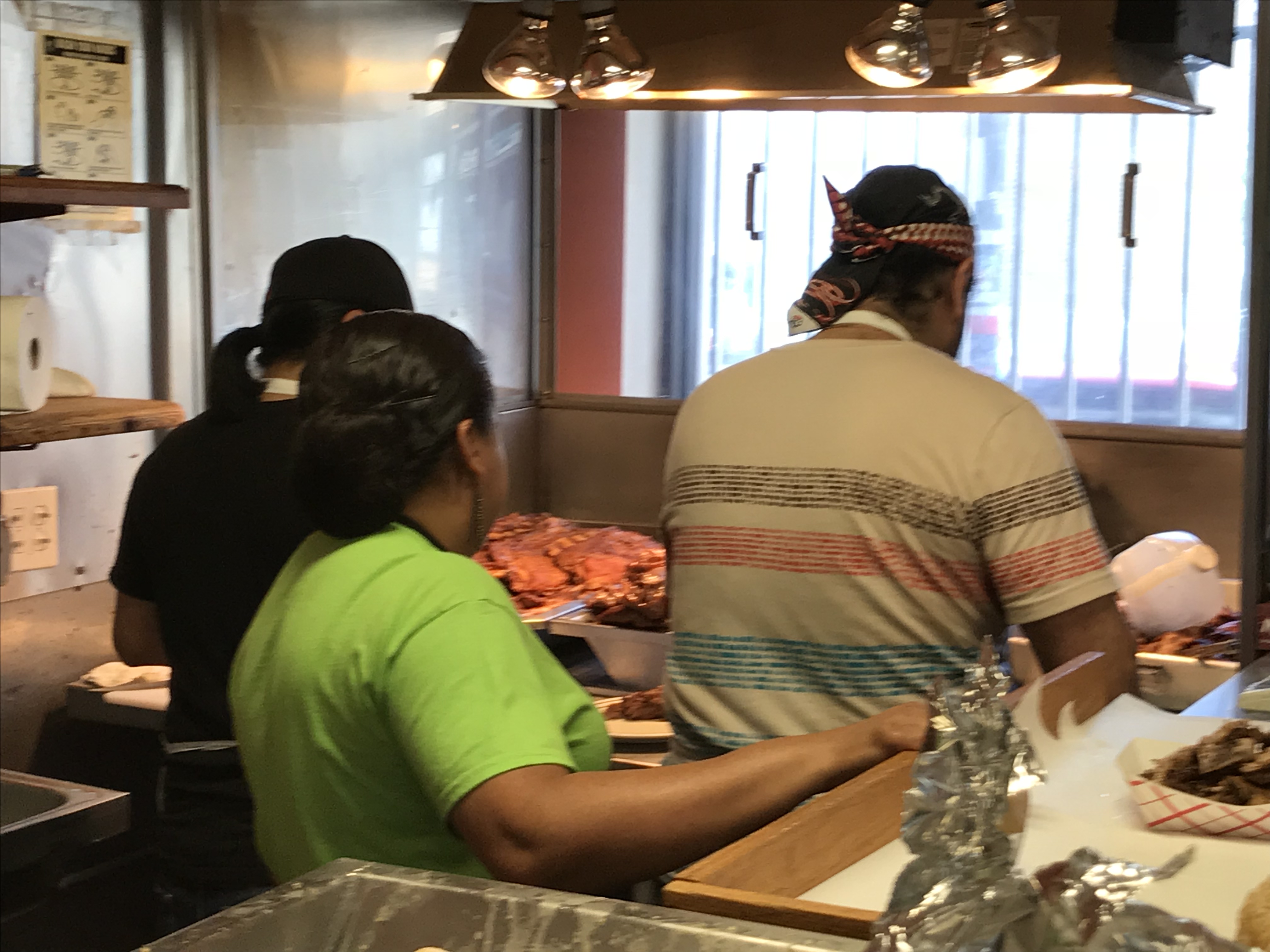 Also known for its carnitas is Carnitas Uruapan at 1725 W. 18th.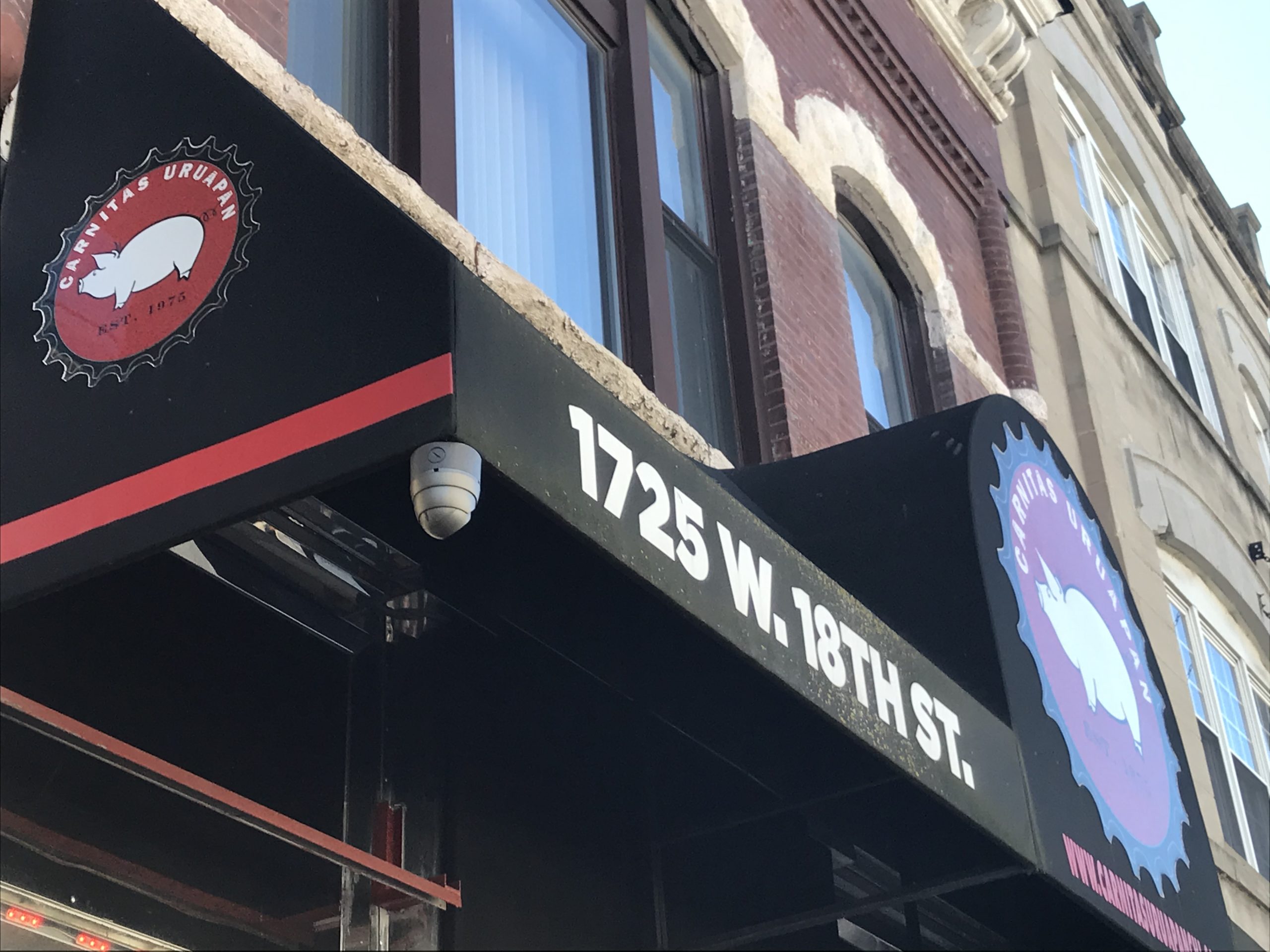 Cafe Jumping Bean: At 1439 E. 18th St., this a funky, local coffeehouse and cafe that is well-worth the visit. Since 1984, it was Pilsen's first coffeehouse/gallery featuring many local artists. The healthy menu features soups, salads, sandwiches and vegetarian options. I also was just at their second location L' Cafecito Jumping Bean which is next to the Damen Pink Line L Station at 2010 S. Damen. It is small inside but has a nice outdoor terrace.
Nearby you can visit Panaderia Nuevo Leon at 1634 W. 18th for traditional Mexican pastries and sweets and The Spoke & Bird Bakehouse for pastries and coffee drinks at 1348 W. 18th.
Located a few blocks south of the National Musum of Mexican Art at 2214 S. Wolcott Ave. is Xurro. This is a Mexican sweets cafe with a menu of churros, ice cream coffee and hot chocolate. The churro I ordered was just as good as what I have had in Mexico. They opened their first Pilsen location in 2009. Today there are six in the Chicago area as well others in Wisconsin, Michigan and Florida.
Another spot that caught my eye was the Frida Room, a breakfast and brunch restaurant at 1454 W 18th. I am excited to try it on my next visit.
The new Pilsen hot spot is Dusek's located in the historic Thalia Hall that was built in 1892. Dusek's, opened in 2013 has recently announced a new chef.  Before or after dinner make sure to visit Punch House, a dark and cozy bar downstairs, that in addition to other drinks, features 8 house made, draft punches daily by the glass, carafe or bowl. They also have the Tack Room for cocktails and live piano music. A great concept! 1227 W. 18th St.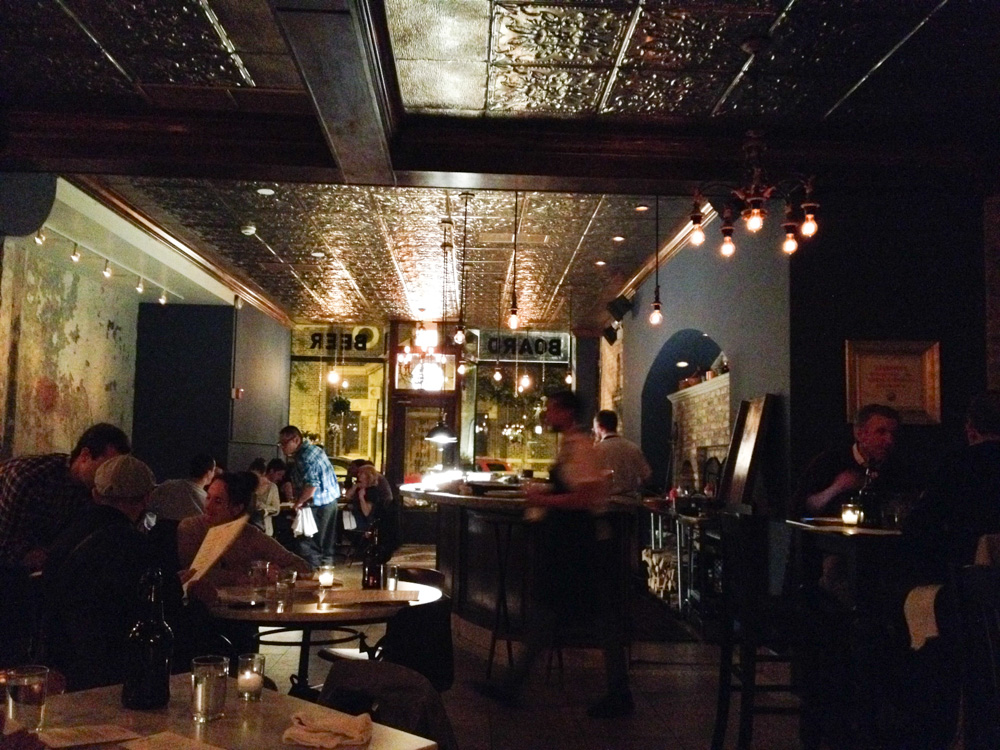 A recent find is the hip, casual bar and restaurant, Pilsen Yards, with a large outdoor patio and a focus on Latin street food. I really liked the vibe, the service and the food. I enjoyed the fish tacos for lunch on the patio. They have a large bar and also offers life music. Inside they also feature art exhibitions by contemporary artists. Closed when I was there for lunch, is The Alderman. This is their small, intimate 16-seat cocktail bar. 1163 W. 18th St.
Across from Dusek's is one of my local favorites, S.K.Y. Restaurant. It is located at 1239 W. 18th. It has gotten great reviews since opening in late 2017. Chef Stephen Gillanders has created a very creative menu from re-imaging classic dishes from his travels.  They are open for dinner and brunch on weekend.  They offer separate entrees as well as a tasting option. My friend and I went for brunch and shared the warm Maiitake mushrooms, the smoked salmon bao, the coconut pancakes and the lobster dumplings. The food and service were excellent. I can't wait to go back. They are across from Thalia Hall which allows you to eat at S.K.Y. and then head to a concert across the street.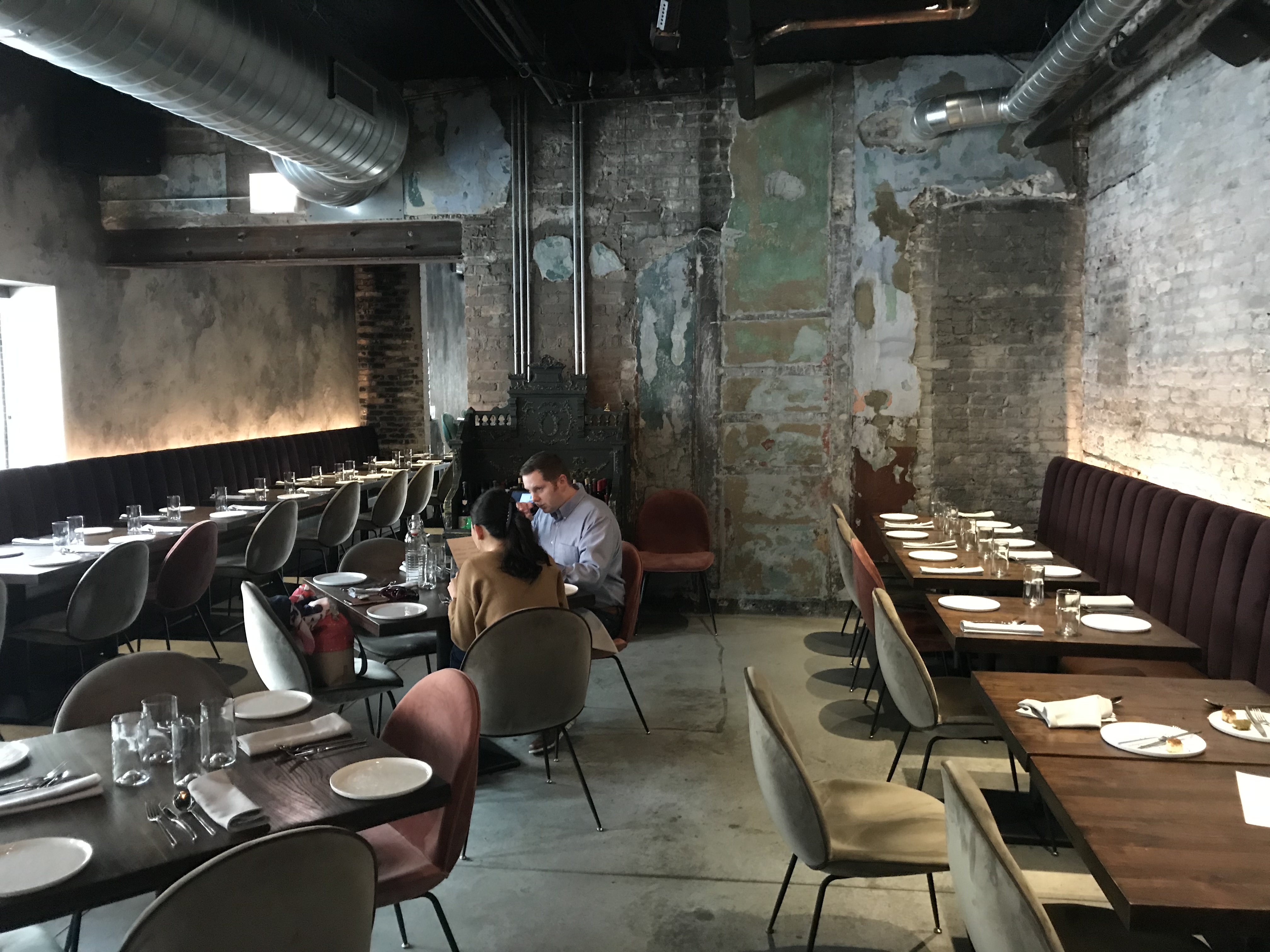 After reading the great press about HaiSous Vietnamese Kitchen, I had brunch at this Pilsen  hot spot owned by Thai and Danelle Dang. It was a Semifinalist for the 2018 James Beard Foundation Award for Best New Restaurant and received the Michelin Bib Gourmand listing. It was featured in Forbes as one of Chicago's Best New Restaurants, in the USA Today, Chicago Tribune, on Eater.com and Chicago Magazine. I had a wonderful experience!! I talked to both Thai and Danelle and was so impressed with their passion for food and the customer experience. The decor was contemporary with great art by Vietnamese artists. I loved the green papaya salad served over an omelette and a coconut bun for dessert. 1800 S. Carpenter.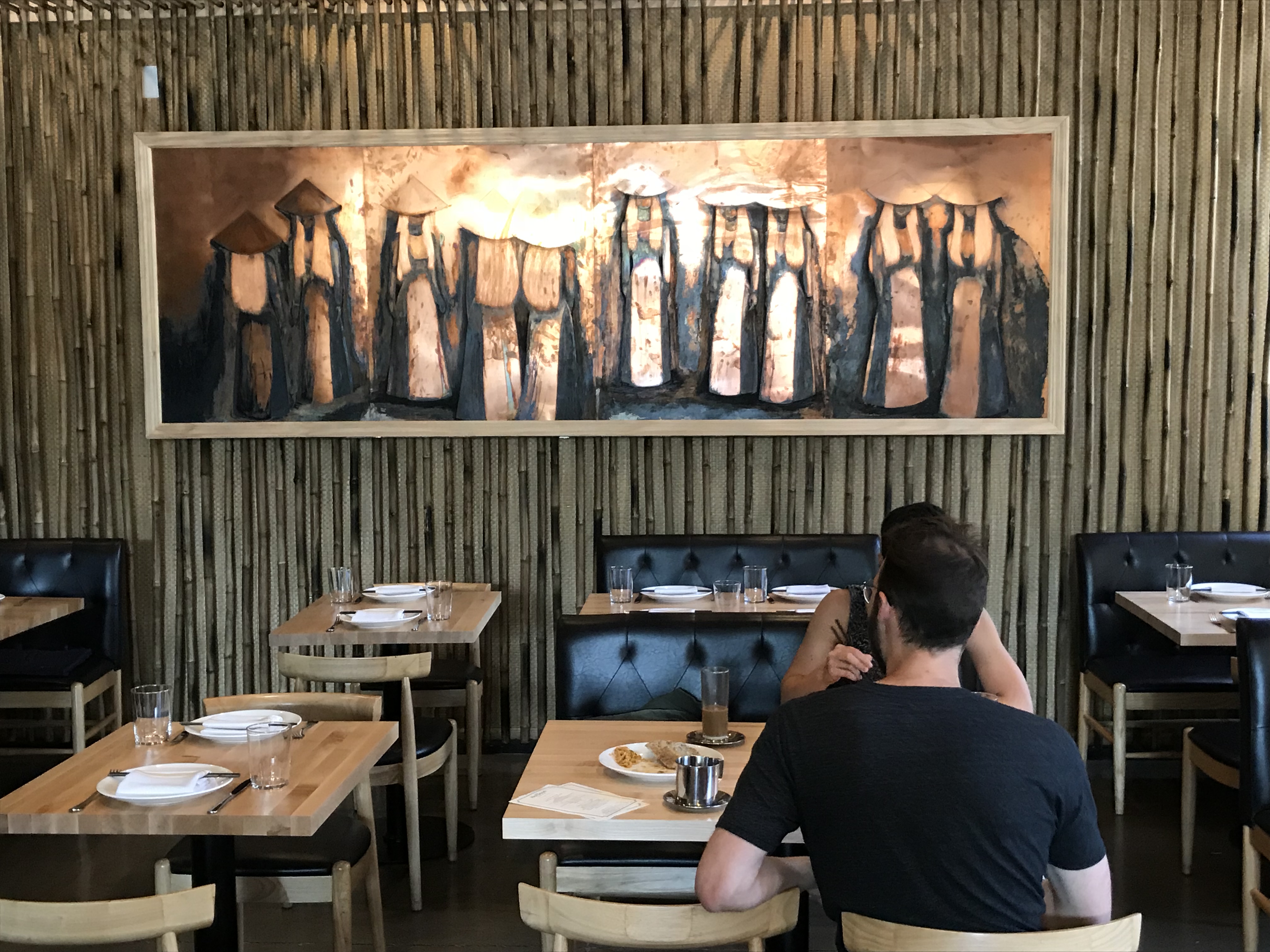 They also have next door Cà Phê Dá which features, coffee, wings, fries, waffles, cocktails and more.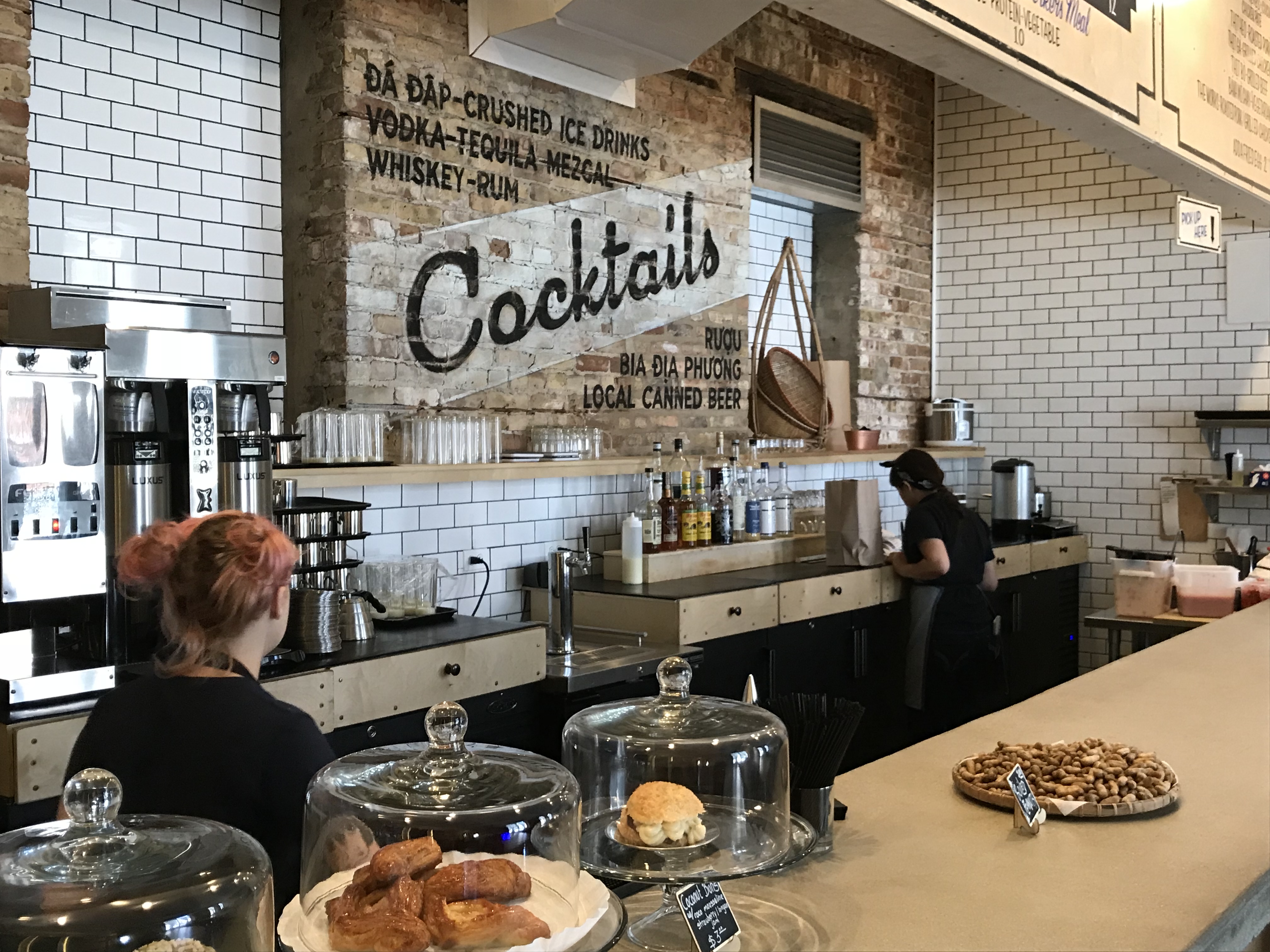 Kristoffer's Cafe & Bakery: During your exploration of the neighborhood and  galleries, stop in at Kristoffer's for a sandwich, coffee or a piece of their amazing tres leches cake. 1733 S. Halsted.
Once down the street, Chocolat Uzma Sharif, a small shop for handcrafted chocolates, ice cream and pastries moved from 1900 S. Halsted to 917 W. 18th St. at the east end of the neighborhood.
Pleasant House Pub:  Pleasant House Bakery in Bridgeport has moved north to Pilsen and taken over the former Nightwood restaurant at 2119 S. Halsted. You can stop in for coffee and a pastry or sweet or enjoy one of their famed meat or royal pies. I enjoyed a Sunday brunch and loved the chicken Balti Pie made with all-natural chicken in fresh-ground curry spices with tomato and Nigella seeds along with buttered peas in mint.  It is a perfect spot to eat while visiting the National Museum of Mexican Art or one of the local galleries nearby.  
Drive through the neighborhood as the street art and murals are well-worth the visit. There are a number of styles including  painted, spray painted, logo style, graffiti and mosaic. It has the most murals of any neighborhood in the city of Chicago. There are many on 18th St. west of Ashland to Cermak and along the train tracks on 16th St.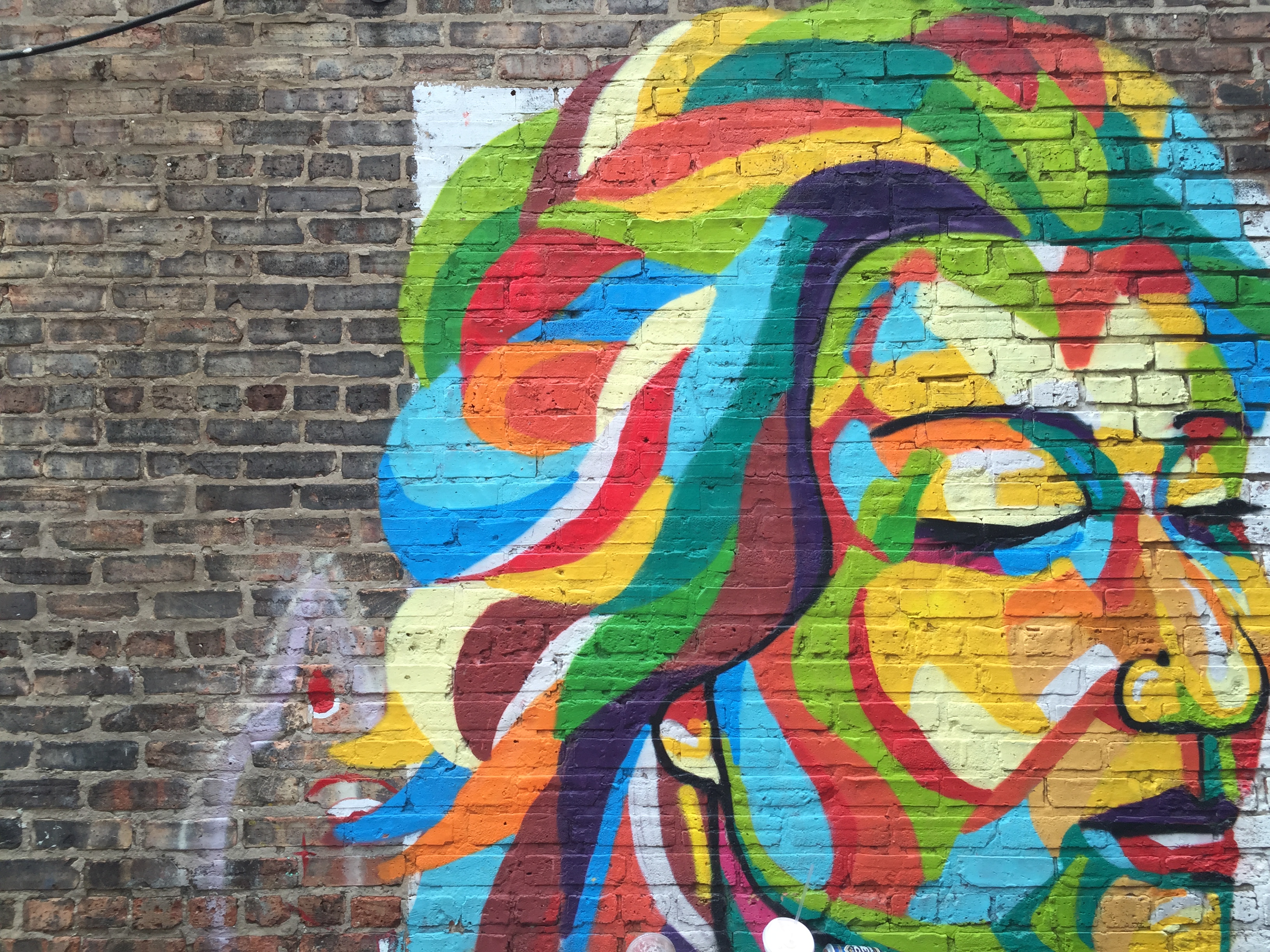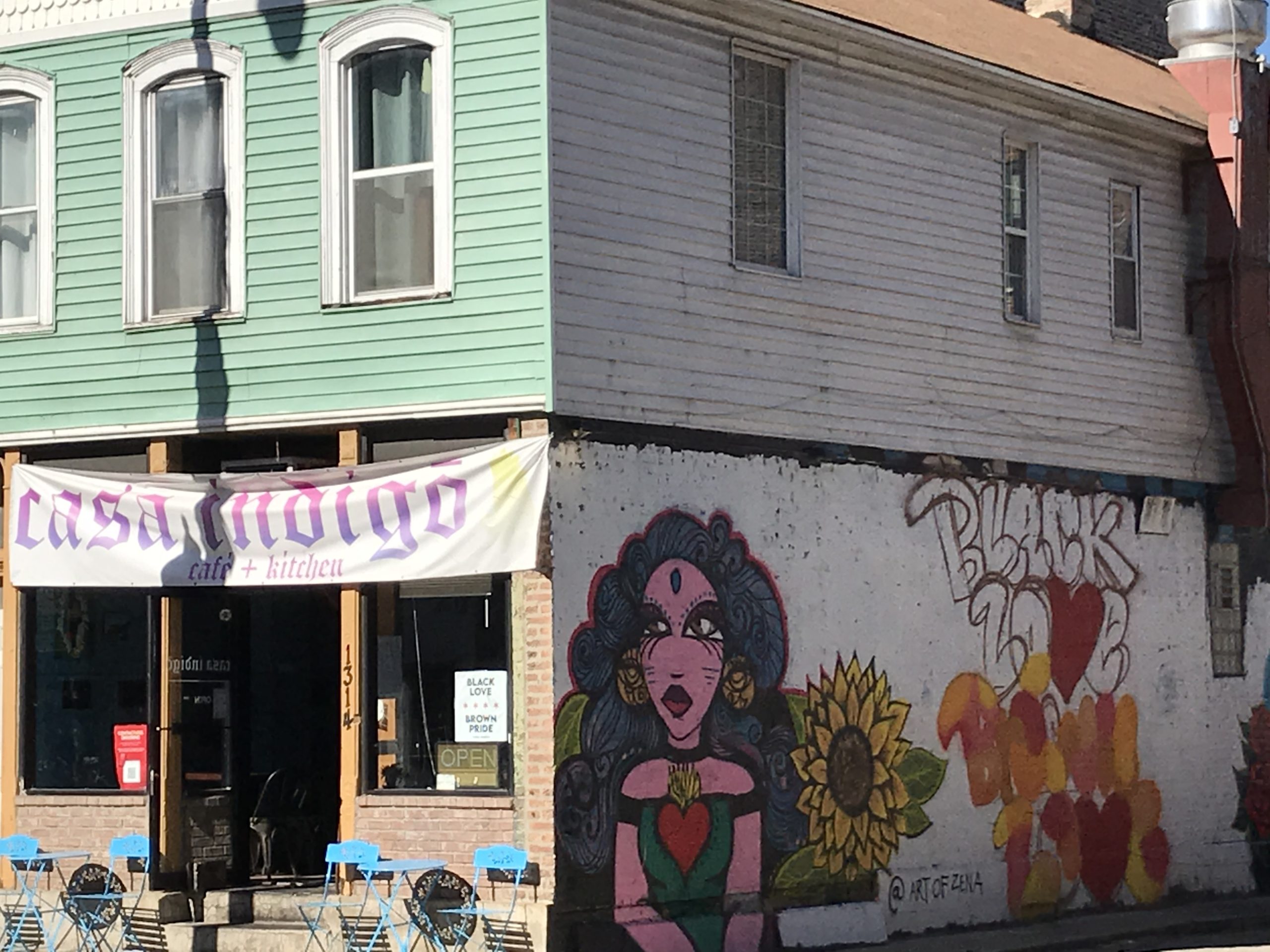 One of the most famous muralists is Mexican born Hector Duarte whose studio can be found at 1900 W. Cullerton St.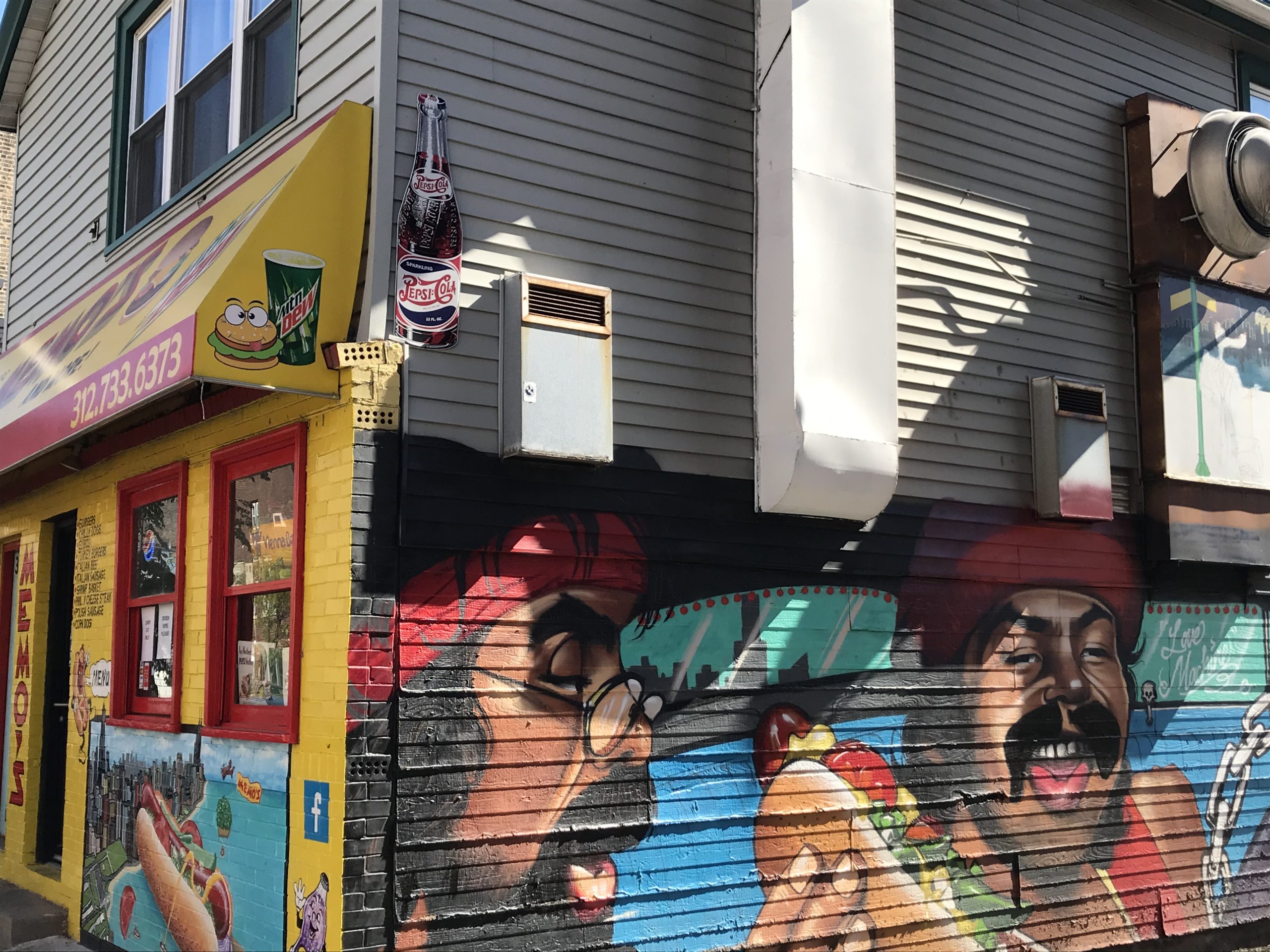 Little Village
The two-story Little Village Arch is the gateway to this vibrant Mexican-American neighborhood of Chicago known locally as La Villita. Here you will find local street art and murals, sidewalk food carts, small corner stores, bakeries, candy shops, taco restaurants and retail shops where you can buy everything from piñatas to quinceañera dresses. The boundaries are from Western Ave. on the east to just past Kostner on the west and from Ogden (Historic Rt. 66) on the north to roughly 31st St. on the south. Most of the businesses are located on or near 26th. 
I recently went back three weeks after returning from San Miguel de Allende in Mexico and felt that I was still south of the border!
My top recommendations include:
Start your visit at the Little Village Arch. In November, 2021 the commission on Chicago Landmarks approved the recommendation to officially designate it a Chicago landmark. It is the first structure designed by an architect of Mexican descent to gain landmark status in the city. "The landmarking of the arch proves that the Latino community, particularly the Mexican American people, are a vital part of Chicago's fabric." It can be found on 26th Street between Troy St. and Albany Ave. at the east end of the neighborhood.
La Baguette Bakery: Located at 3117 W. 26th St, this is a large, traditional Mexican bakery that specializes in made-to-order cakes plus bread and pastries. I enjoyed my sugar cookies and coconut donut that I purchased! Just as in Mexico, you grab a metal tray and tongs to use to pick your selections.
I also enjoyed the nearby La MichoaKana Golden Paleteria Y Nieveria. This is a traditional Mexican ice cream shop with a number of flavors and frozen yogurt along with many types of paletas or ice cream bars. The pecan ice cream was really tasty! 3125 W 26th St.
Rosy's Bakery: Rosy's is a traditional Mexican bakery featuring breads, cookies, pastries, cakes and more. 3237 W 26th St.
Mi Tierra: For over 30 years, this is a colorful Mexican restaurant serving Mexican specialties. They also have a performance space where they feature live music. Their menu features traditional dishes along with tacos, burritos, enchiladas and fajitas plus churros, crepas and flan for dessert.  Their drink menu includes margaritas, piña coladas, sangrías, martinis, micheladas plus tequila and mezcal. I would love to go back to hear authentic Mexican mariachis, live music or bands while sipping a smoky mezcal. 2528 S Kedzie.
Dulcelandia, 3253 W. 26th: This is a store, part of a local chain, that sells piñatas, children's party favors and a large selection of candy imported from Mexico. They have Christmas items as well as items for Day of the Dead or Dia de los Muertos.
Taqueria el Milagro: This a popular local spot for tacos and other Mexican dishes at 3050 W. 26th St. The line was out the door on my recent trip. Next door is their Tortilleria el Milagro which has been making tortillas since 1950.
La Chaparrita: Make sure to stop in at this small Mexican grocery store on a corner with a small, colorful cafe serving tacos, fresh juices and aguas frescas. I bought a great piece of traditional flan and loved it! 2500 S. Whipple St. #4138.
Another small grocery store is Cremeria La Ordeña 3 which carries tamales and other Mexican specialties. 3234 W 26th St
La Catedral Cafe: At 2500 S. Christiana Ave., near Kedzie and 26th St., this is a colorful restaurant specializing in Mexican breakfast and other specialties. It is one of the most fun spots I have been to in Chicago for a while! The menu is very extensive and includes coffee, drinks, hot chocolate, crepes, waffles, pancakes, French toast, desserts, chilaquiles, egg dishes, salads, wraps, paninis, sandwiches. 
I loved my omelette and a cappuccino made with Mexican cajeta or caramel. It is owned by Chef Ambrocio Gonzalez  from Guadalajara Mexico. I highly recommend it.
For tequila and mezcal lovers, make sure to drive west to Moreno's Liquors which has a large selection to choose from including over 900 different tequilas and 600 kinds of Mezcal. It has been open since 1977 and moved to this larger space in 1987. On my prior visit to the area, I bought a smoky mezcal which was bottled just for them. It has been a local institution for over 40 years at 3724 W. 26th. I also read that the owners also opened Osito's Tap in 2019. It is a "speakeasy" inspired bar  with craft spirits, beer and cocktails. Their weekend brunch menu looks particularly good and I hope to get down there again soon to check it out. It is located behind Moreno's at 2553 S. Ridgeway Ave.  
Another popular spot is Nuevo Leon at 3657 W. 26th St. They have a large menu of Mexican specialties for breakfast, lunch and dinner. I enjoyed their Pilsen location in the past, which did not reopen after a major fire in 2015.
On the north edge of the neighborhood, is the Firehouse Community Arts Center, located in a colorful building at 2111 S. Hamlin. It has served as a safe haven for young people in the Chicago area for over a decade and has been coordinating various events and art programs dedicated to preventing and interrupting youth and young adults caught in violence.
Firehouse Community Arts Center