The colonial, historic center of Querétaro is really charming and was named an UNESCO World Heritage Site in 1996. I recommend walking and exploring, eating in a cafe and exploring the parks, squares, churches and museums. It is an easy day trip from San Miguel de Allende. So if you are there and want to explore another city nearby, Querétaro is a good option.
My top finds include:
MAQRO – Museo de Arte Querétaro, Allende No. 14 Sur: The museum is located in the stunning Baroque-style San Augustin Temple and Former Monastery built between 1731 and 1745. Make sure to explore the beautiful building, with painted cloister ceilings, while viewing both contemporary and religious art. There are both permanent and temporary exhibitions.
Galeria Libertad: This is a two level art gallery featuring temporary exhibitions by contemporary artists. It is a good place to stop in on the way to the Plaza de Armas. Andador Libertad #56 Poniente.
Temple and former monastery of San Francisco: This beautiful church from 1540 was the city's cathedral between 1865 and 1922. It has beautiful painted walls, ceiling and chapels. Calle Corregidora, Calle 5 de Mayo.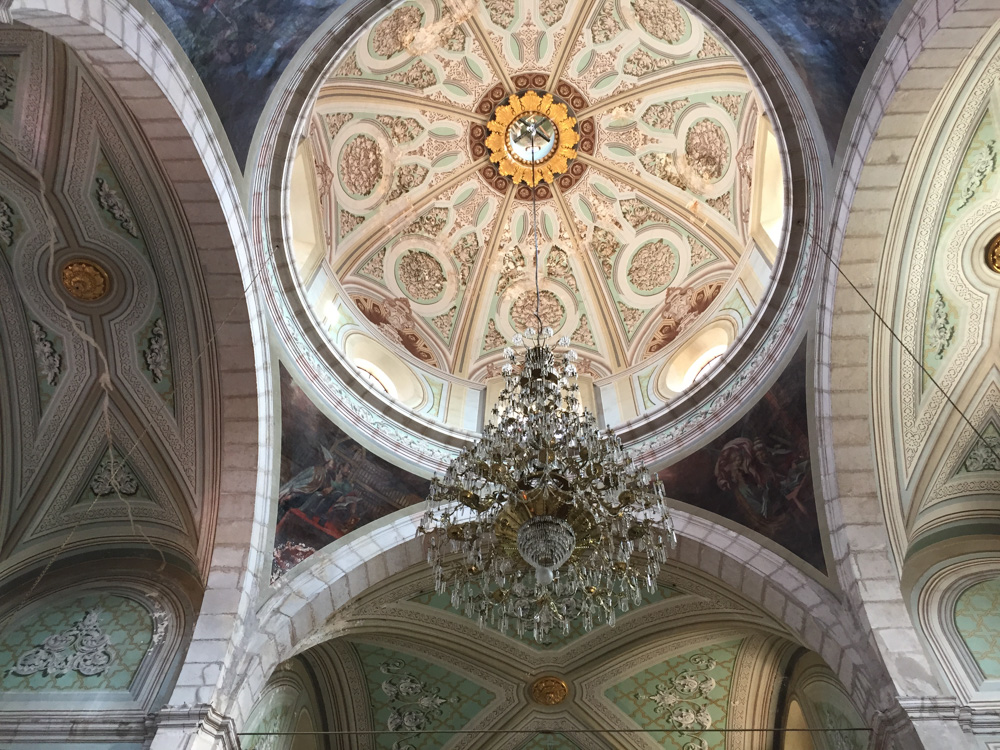 Templo de Santa Rosa de Viterbo: On my recent visit to Querétaro, I went to this Catholic church which is one of the most ornate of the historic churches. It has unusual architectural arches on the exterior and elaborate wood carving and gilt inside. It was completed in the late 1700s. The address is  José María Arteaga 89. It is well worth the visit!
Semana Santa: On Viernes Santo or Good Friday, at 6:30, is the beautiful Procession of Silence or Procesion de Silencio which leaves from the Convento de la Santa Cruz de los Milagro and winds through the colonial streets. The participants wearing hoods of different colors are very solemn as they leave the church. I recommend seeing the procession from the start at the church for the best photographs. In nearby Ixtla, GTO there is a very moving mock crucifixion, earlier the same day, if you you want to experience the pageantry of holy week.
Hecho a Mano y Mas, at Calle Cinco de Mayo #60, is a fun store with ceramics, gifts and more.
The Plaza de Armas, Plaza Constitucion, Jardin Guerrero, Jardin Zenea and Jardin del Arte are wonderful squares and parks to explore in the historic center of downtown.
Casa de la Corregiora: This is an historic building in downtown Querétaro that is now the Government Palace. Make sure to stop in to see the historic murals. Andador, Calle 5 de Mayo.
Museum of Contemporary Art: Opened in 2018 in the former convent of Santa Cruz, this is a museum featuring contemporary art exhibitions. I thought the building was beautifully designed, but was disappointed with the art exhibition that was on display. Manuel Acuña esq, Av Reforma Ote S/N, La Cruz, 76000.