Great restaurants, art galleries and design stores are found all over the River North neighborhood in Chicago. Some of the best include:
Tanta: This popular Peruvian restaurant opened in 2013 by famed Peruvian chef Gaston Acurio at 188 W. Grand. I have been to two of his restaurants in Lima, Peru. It has a colorful, yet casual decor. The many small plates make it perfect for sharing many items to sample the wonderful Peruvian specialties. There are many cebiches (ceviches), causitas or small appetizers served on whipped potatoes, anticuchos or traditional skewers and empanadas to choose from.
Frontera Grill/Topolobampo/Xoco: These are the three restaurants on North Clark by well-known Mexican-food Chef Rick Bayless. Frontera is a favorite so reservations are hard to come by and there is usually a wait. Their weekend brunch is excellent. Frontera was named the James Beard best restaurant in the US in 2007. His more formal, high-end Topolobampo has wonderful food and does take reservations.  In 2017 it received a James Beard Award for Outstanding Restaurant. Xoco is his newest restaurant which is known for its Mexican street food featuring tortas, Mexican hot chocolate, churros and other fare.
Bar Sótano:  Rick Bayless and his daughter Lanie, have opened Bar Sótano downstairs below Frontera and Topolobampo. It is a casual cocktail lounge and restaurant, with 50 seats, featuring tequila and mezcal along with a Mexican menu of tacos, tostados, ceviche, snacks, burgers and more.They have a menu of daily specials as well.  I thought my tuna tostados were really excellent as was the chocolate, pecan tart. They have created a menu of 16 specialty cocktails along with mezcal and tequila flights.  I also enjoyed the old fashioned with a smoky mezcal. I highly recommend the experience and the casual, fun atmosphere. The mural on the west wall is  You enter through the alley behind Frontera Grill at 443 N. Clark. They do take a limited number of reservations.
I recently went to Jaleo by famed chef José Andrés. At 500 N. Clark St., this popular restaurant featues Spanish cuisine including tapas and savory paellas. I enjoyed their outdoor terrace and  my Jamón serrano sandwich with lettuce, tomato, Manchego cheese and mayonnaise on a fresh brioche. The gazpacho was also very tasty.  Downstairs is Pigtail, a speakeasy-style bar, featuring ibérico pork and bespoke cocktails. The decor is really stunning.
Opened in October, 2022 is Yardbird Table & Bar at 530 N. Wabash.  With locations in Miami, Las Vegas and other US cities, it has received many accolades from James Beard, Southern Living, Bon Appétit and others for its comfort food. I have been to the Miami and Las Vegas locations along with their Chica restaurant in Aspen. It is also known for its bourbon cocktails. I thought the food and service were excellent and the space very attractive. I enjoyed the crispy fried chicken biscuits, deviled eggs, mac & cheese, crispy brussel sprouts, Waldorf chicken salad sandwich and a yummy key lime pie and salted caramel ice cream which I shared with a friend.
Stores in the area include P.O.S.H. for hotel silver, dinnerware, glassware and accessories. 631 N. State. Near P.O.S.H. at 601 N. State, is Pops for Champagne, one of the best champagne bars in the city. In between the two is a fun new find, L. A. Burdick Handmade Chocolates at 609 N. State. I recently went to their location in Boston where I learned about the Chicago location. Here they have a attractive European-style store and cafe with lovely views of the building courtyard in the rear.  Started in 1987, they feature a large selection of chocolate bonbons, truffles and caramels along with pastries, coffee drinks and drinking chocolate. They have locations in Cambridge, MA, New York and Washington, DC as well.
Marina City: Make sure you walk by this famous building complex completed in the early 1962 by architect Bertrand Goldberg. It is a true landmark. His work also includes River City in the South Loop, along the Chicago River. I have a wonderful memory of visiting an appartment there in 1963 with my parents. 300 N. State.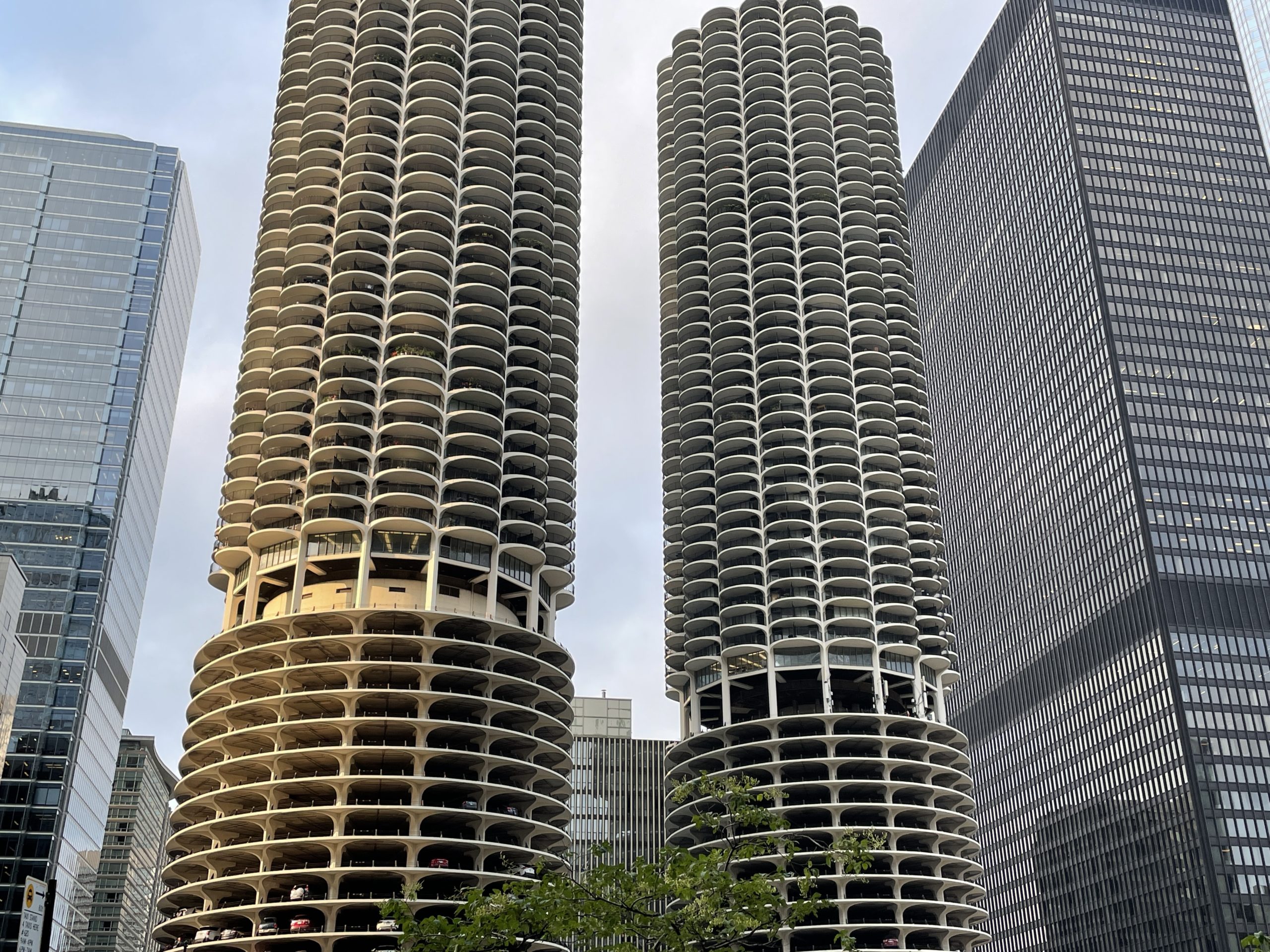 Tortoise Supper Club: At 350 N State in Marina City, this is a supper club/restaurant with hip bar and traditional American food. The traditional interior is like the classic Chicago club such as the Chicago Club, Union League or University Club. On my first visit, I enjoyed the quinoa and beet salad and the and white fish and salmon entrées.  On my recent second visit, I loved the pimento cheese burger, fries and two perfect old fashioned cocktails. They have a network of local farmers and specialty artisans where they purchase their fresh ingredients. They also have a happy hour special on Wednesdays with 1/2 price coctails and $1 oysters and shrimp. There is also a special on Friday with live music. It is very popular, so make sure to book your reservations in advance.
Shaw's Crab House has been a Chicago institution for 30 years. I highly recommend it. 21 E. Hubbard.
Siena Tavern: At 51 W. Kinzie, this is a new hot spot in River North. Be prepared for the huge bar scene and a lot of noise. It is a new Italian restaurant by popular chef Fabio Viviani who appeared on Top Chef and Top Chef All Stars.
For more great Italian food try Coco Pazzo at 300 W. Hubbard. It has been a Chicago favorite since 1992.
Three other popular spots include Gilt Bar which has a great menu at 230 W. Kinzie, Bavette's at 218 W. Kinzie and The Doughnut Vault around the corner. Go early as they tend to sell out fast!!
To stay in the area, the Langham is a stunning addition to the Chicago hotel scene. It occupies the first 13 floors of the historic landmark, IBM Building designed by Mies van der Rohe. Dirk Lohan, the architect's grandson, designed the hotel's lobby and furniture. Some of Mies van der Rohe's designs were also used. According to the New York Times, the hotel has an extensive art collection as well with works by Juder Ledgerwood, David Klamen, Jaume Plensa and Anish Kapoor. The hotel is a great place for tea, or a drink in the bar overlooking the skyline of Chicago. The Travelle restaurant is also getting very good reviews. It is located at 330 N. Wabash.
Another good option is the newly opened Aloft Chicago City Center at 515 N. Clark with a hip lobby and good restaurant, Beatrix which is a neighborhood restaurant, coffeehouse, and meeting place. Also check out the Hotel Felix at 111 W. Huron which is a smaller boutique hotel.
Further North is the Godfrey Hotel at 127 W. Huron and the Eurostars Magnificent Mile (formerly the Dana Hotel) at 660 N. State, both with great rooftop bars. I recently went back to I/O Lounge at the  Godfrey Hotel for a glass of wine on a gorgeous September night. The views are really outstanding.
One of my new favorites is The Kitchen at 316 N. Clark St. This sleek, new space in an old industrial building along the Chicago River, is the latest from the Colorado group. They have restaurants in Boulder and Denver where I have eaten in the past. The design, food and service were excellent.
For a great traditional Chicago experience don't miss Gene & Georgetti at 500 N. Franklin. I recently went to this Chicago institution that has been serving steaks and Italian specialties since 1941. Not a trendy spot frequented by the younger, hip crowd, the crowd is older and consists of many regulars. The attentive waiters, wear traditional white jackets and long white aprons. You feel like you walked back in time. It has a warm, clubby feel with great photographs and murals. They have a great selections of steaks, chops, pastas, salads and seafood. The mussels marinara was really excellent!
I have been twice to Beatrix at 519 N. Clark St. The first time I had lunch and enjoyed the krispy kale salad included pumpkin seeds, papaya, dates, parmesan and a white balsamic vinaigrette. The second time, I enjoyed a latte and the chia pudding, made with chia seeds, coconut milk, and a mango passion fruit puree. This is a popular spot so make sure to make a reservation before you go.
Piccolo Sogno Cafe is now Noninna, by the same team. It offers Italian specialties in a classic, upscale space. Perfect for pre-theater, I enjoyed my dinner, prior to a downtown concert at the Chicago Theater. I thought the food and service were very good. 340 N. Clark.
Next to Noninna is Caffe Umbria at 346 N. Clark. This is an attractive cafe featuring Italian-style drinks brewed from house-brand beans, plus baked goods.
A fun new addition not far from Noninna is Barrio. This is a rustic, industrial spot that features a menu of Mexican dishes, mostly small plates, with with Japanese influences and creative cocktails. I enjoyed my dinner with octopus tacos and sea scallop skewers. Chef Katsuji Tanabe appeared on Top Chef Season 12 Boston and is highly influenced by his Japanese father and Mexican mother. 65 W. Kinzie.
Just north is a great new find, Three Dots and a Dash. Located in the alley behind 435 N. Clark, this is a downstairs Tiki bar, offering a large selection of rum drinks and luau bites in a "retro Polynesian-island setting." It is a great spot for a drink before you head to one of the restaurants in the neighborhood. The decor is really fun and colorful. You have to enter it through the alley in the back of the building.
The Merchandise Mart has a new food hall on the second floor and the new Marshall's Landing, also on the second floor, which is a fun new spot for "gathering, socializing, eating, drinking, noshing, caffeinating and working." It has a number of shops, restaurants on the first and second floors.
Marchesa at 535 N. Wells St.,  is located in the former Crofton on Wells space. This is a fine-dining restaurant with a very elegant, art deco decor that features the cuisine of France, Italy and Spain. They have a fun champagne bar on the lower level. They have an extensive wine and cocktail menu as well.  I enjoyed dinner there with a local friend after a theater performance nearby.
Further north at 702 N. Wells, is Avli River North. Originally from Winnetka, they now have four locations in Chicago and now one in Milwaukee. I just went to this location which is my third. They feature contemporary Greek cuisine. The food is always good and creative. I went with local friends for lunch and we all enjoyed the experience. I enjoyed the three spreads of tzatziki, hummus and roasted eggplant along with grilled marinated octopus, caramelized pearl onions, marinated cherry tomatoes, oregano in a sherry vinaigrette. The baklava ice cream with  vanilla ice cream, spiced nuts, honey, crumbled baklava and caramelized phyllo was a great way to top off the meal. I recommend the food and atmosphere. They also have a large outdoor patio.
I went for a business lunch at Chicago Cut Steakhouse. This is a very elegant and modern steakhouse overlooking the Chicago River. They feature a large menu of steaks, seafood, salads, tacos and more. I enjoyed a really outstanding halibut entree on a bed of butternut squash, topped off with corn and tomatoes sauteed in white wine.  The views were lovely and the service great. They are open for breakfast, lunch and dinner. 330 N. LaSalle. It is an easy walk from the Loop as well for a business lunch or pre-theater dinner.
After seeing it reviewed on Check Please on the PBS station in Chicago, I had to try Ēma at 74 W. Illinois. This is a Mediterranean restaurant featuring small plates. I went with friends, so we were able to share a number of salads, sides and hummus dishes. All were very tasty. I also liked the coconut curry mussels for my entree! It is located in the first floor of the Hyatt Place Hotel. The space has a contemporary, casual design.
On the north side of the neigborhood is True Food Kitchen. I was recently introduced to this restaurant chain, that now has locations in close to 20 states. The concept was founded by Dr. Andrew Weil, who I have been a fan of for many years and whose emails I get daily. It features a healthy menu based on the anti-inflammatory food pyramid that he recommends. I went for lunch and had a wonderful butternut squash soup, the truffle honey and pear flatbread and a tasty butternut squash pie. They have a large menu of bowls, salads, burgers and sandwiches. I can't wait to go back and try more  menu items. I really liked the atmosphere and service. 1 W. Erie.
Francophiles will love the Alliance Française de Chicago. Since 1897 is has been instrumental in fostering a love the French language and culture in Chicago. They feature a number of classes and cultural events. I took French there many years ago and just joined as a member after enjoying a Plein Air Concert on the outdoor patio. Check out the website for all information and events. I was just back for another excellent concert.
The River North Arts District has been one of my favorite places to visit in Chicago for many years. Though some galleries have left over the last few years due to increasing rents, there are still a number of galleries to visit.  Throughout the year there are a number of of art walks and gallery openings on the first Friday of each month. The big event is the first Friday after Labor Day, when all of the galleries are open and wine and snacks are served. My favorite galleries include:
Carl Hammer Gallery: Located at  740 N. Wells 740 N. Wells, the gallery specializes in contemporary self-taught & outsider artists from Europe & America.
Gruen Galleries is located  226 W Superior. This large gallery features, paintings, encaustic paintings, sculpture and more.  
Jean Albano Gallery: The gallery features painting sculpture and mixed media. 215 W. Superior. 
Zolla/Lieberman Gallery:  At 325 W. Huron, they feature contemporary artwork including painters, sculptures and installation artists. It was founded in 1976. 
Zg Gallery: Zg Gallery features emerging artists in all media including contemporary paintings, drawings and sculpture. 300 W. Superior.  
Rosenthal Fine Art: This gallery is located at 210 W. Superior St.  They focus on Modernism, Abstract Expressionism, Post-War, and Contemporary art.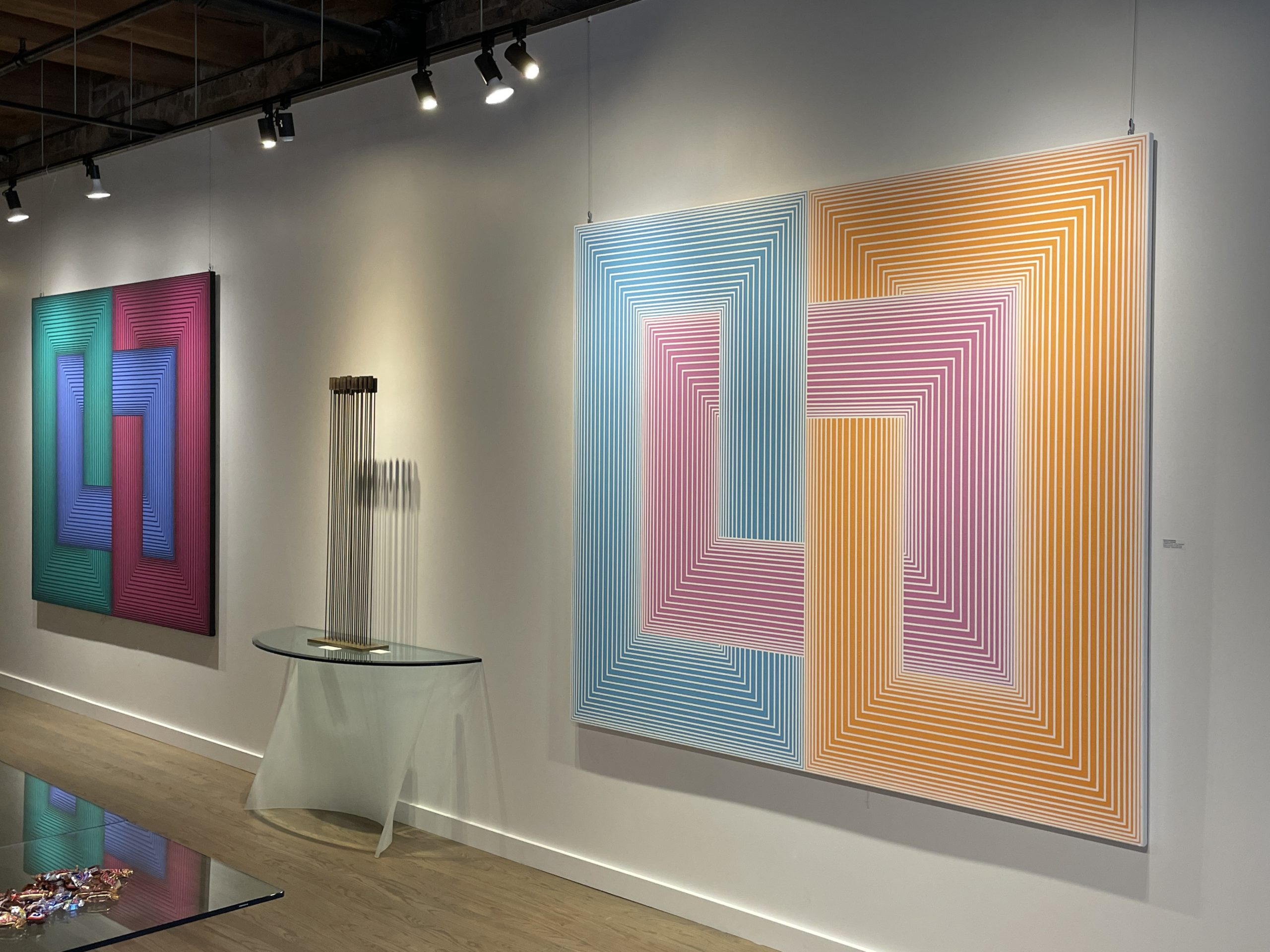 There are a  growing number of excellent design studios in the neighborhood. These are part of The Rover North Design District and include ARMAZEM.design at 212 W. Superior.
While visiting the galleries and design studios, make sure to visit Proseco Ristorante for upscale Italian dining. After the Fall Gallery Walk, I enjoyed dinner with a friend on the outdoor patio. I thought the food and service were excellent. We both loved the burrata salad with figs and the polpetti or grilled octopus with crispy fingerling potatoes, oven-cured heirloom tomatoes, salsa verde, squid ink aioli, grilled onion and a roasted pepper oil purée.  I will definitely go back!