San Francisco's neighborhoods include:
Nob Hill: This is a great area of the city with stately homes and high-rise apartment buildings. I have stayed several times at the Fairmont which I really like. I prefer staying in the old building from 1907, with its great character, rather than in the newer tower from 1961. 

Across the street is the InterContinental Mark Hopkins with its famous bar Top of the Mark, an Art Deco bar. I always like watching the cable cars as they go up and down the steep hills of Nob Hill.
Union Square: I have also stayed in the Union Square area several times which is a very convenient location from which to explore the city. I recently stayed at the hip Vertigo Hotel at 940 Sutter. This location is in lower Nob Hill and close to Union Square. It is part of the Oxford Capital Hotel Group which has several boutique hotels in San Francisco each with its own character and personality. The Vertigo was a great value. It now has a new cafe in the lobby.
Union Square is the main shopping area. My favorite store to explore is the San Francisco based Gump's, at 250 Post St., for its unique home accessories, table top and home furnishings. The store is under new management and is much improved. You should stop at Ghiradelli for their chocolates, at Nespresso Cafe for a cup of coffee and see the shops behind Gump's on Maiden Lane.
The Financial District is just east of Union Square. This is the location of my favorite dim sum restaurant, Yank Sing at 101 Spear St., which I have been to at least three times. It recently received the Michelin Bib Gourmand designation.
Alamo Square: On my previous visit, I played tourist and went a little west of downtown to Alamo Square. The area has great Victorian architecture. The row of houses facing the park on Steiner Street, known as the Painted Ladies, are often shown in the foreground of panoramic pictures of the city's downtown.
Civic Center: This is the area just south of Union Square. Here I explored the Asian Art Museum, at 200 Larkin, for the first time. I learned about the museum several years ago when it was the recipient of Llloyd Cotsen's amazing Japanese bamboo basket collection. I had seen wonderful traveling exhibitions from the collection in Aspen and Chicago and had started a small collection myself of these contemporary bamboo pieces from the same gallery in Santa Fe. There are a few examples from the collection on display.
In addition, there are wonderful stone carvings from Southeast Asia; bronzes, pottery and jade from China; scrolls, ceramics and decorative arts from Japan and Buddhist religious art from Nepal, Tibet and Bhutan. The collection is really outstanding and the number of pieces is quite overwhelming. Check the website for special exhibitions. I just missed one on objects from Bali. There is a nice museum shop and café where you can grab lunch or a cup of coffee or tea.
South of Market (SOMA) and Yerba Buena Gardens: I ventured into this area for the first time, this trip, as I wanted to explore this emerging area. It is home to many museums, the convention center, performing arts center, a children's center and a shopping and entertainment complex. Overlooking the complex and gardens, I found Samovar Tea Lounge, just by chance, for lunch. This is a tea house and restaurant that offers a good selection of sandwiches and salads in addition to its assortment of teas, both hot and cold. I had a great lunch in its attractive, brightly lit space.
My goal, however, was to visit the San Francisco Museum of Modern Art at 151 3rd St. The building, designed by Swiss architect Mario Botta with huge skylight, was attractive with several floors of exhibition space and a rooftop sculpture garden. I enjoyed viewing the permanent collection with works by Henri Matisse, Georges Braque, Diego Rivera and Frida Kahlo, Jackson Pollack, Clyfford Still, Picasso, Jasper Johns, Roy Lichtenstein, Robert Rauschenberg, Georgia O'Keeffe, Mark Rothko and others.
Golden Gate Park: I highly recommend Golden Gate Park. This is a three mile long park in the western part of the city. The park was started in the 1870's to compete with such parks as Central Park in New York. Here I visited the famous de Young Museum at 50 Hagiwara Tea Garden Drive. After the 1989 earthquake, the museum was torn down and totally rebuilt in 2005.  I enjoyed a special Picasso exhibition from the Picasso Museum in Paris. I also enjoyed the permanent collection which features American art with works by John Singer Sargent, Mary Cassatt and Grant Wood; art of the Americas, African art, Oceanic art and Textile art. This is a great museum that should not be missed.
Also not to be missed is the Japanese Tea Garden. This is a maze of winding paths, stone lanterns, ornamental ponds, a wooden pagoda, a Zen garden and wooden tea house built for the Mid-winter Fair of 1894. This is a perfect place to relax after visiting the de Young. I would eat here rather than at the museum.
Across form the de Young is the California Academy of Sciences with its contemporary design by world famous architect Renzo Piano. On the day I was there the park was crowded. There was music, dancing and food trucks offering food for those enjoying a rare sunny, warm summer day.
Marina District: I really enjoy this area of the city. It has a great neighborhood feel. It was heavily damaged by the earthquake in 1989 where the ground liquefied during the tremors. All is now erased and the neighborhood is thriving. I like the strip along Chestnut with its many restaurants, cafes, coffee shops, boutiques and food markets.
I also like the part of the Marina District known as Cow Hollow. Along Union Street between Van Ness and Steiner was a great group of galleries, boutiques and restaurants along with some national chain specialty stores. From here I drove down Fillmore Street through the Pacific Heights area. This is another great area to explore with great shops and restaurants. I need to go back and explore these two areas more on my next trip.
Hayes Valley: Having seen the Hayes Valley neighborhood on recent trips, I explored this fun neighborhood. It is a hip, young neighborhood with many boutiques, shops, restaurants, food trucks, coffee and ice cream shops. The small square on Hayes west of Gough, Patricia's Green, has a small square where the locals enjoy sitting out in the great sunshine with a coffee or ice cream.  I particularly love the coffee stand in a garage in an alley! The neighborhood is north and south of Hayes between Webster and Franklin.
Japantown: This is the center of the Japanese-American cultural life. There is Japan Center with galleries, shops, restaurants and cinemas and a large Peace Pagoda rising above the plaza.
North Beach: Near Powell and Union, this a fun neighborhood, with tons of cafes, restaurants, bars and shops. This is one of the city's oldest neighborhoods that sits between Russian Hill, Telegraph Hill and Fisherman's Wharf. You can hang out with the locals in Washington Square Park. Next time I will consider staying at the Washington Square Inn at 1660 Stockton St. This is a small, charming B&B right on the park. On my previous trip, I had dinner at a new restaurant, Park Tavern, that had recently opened. The San Francisco Chronicle named it one of the top 10 new restaurants in 2011. 1652 Stockton St.
Castro District: I enjoyed exploring the Castro district for the first time which is the gay area that is so famous. I liked the colors, murals and the neighborhood feel.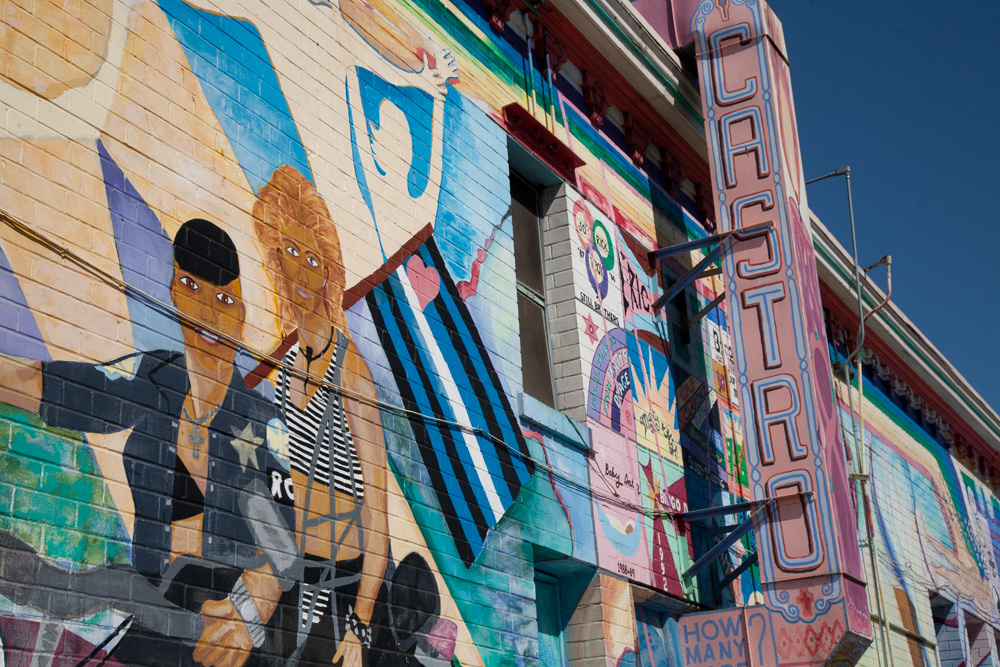 The Mission: On my last trip I spent a large amount of time exploring this area south of Market along Mission, Valencia plus Folsom and S. Van Ness Ave. There are many great bars, restaurants and some interesting shops and boutiques. It quickly became one of my favorite areas of the city.
Next time I want to focus on the Presidio,  a 1,500-acre park on a former military post.