San Miguel de Allende has been a destination for artists since the 1940's. Check out some of my favorite artists and galleries. There are often gallery openings and art walks where you can see current exhibitions and meet some of the locals.
Fábrica La Aurora
Fábrica La Aurora has a number of galleries and artist's studios, located on the site of an historic textile factory. You can still see a number of the machines from the factory as you explore.  There is usually an art walk on the first Saturday of every month usually from 5pm to 7pm. Many of the studios are open on Thursdays as well and now many are offering art classes. There are a number of cafes and restaurants as well that you can enjoy during your visit. The Café de La Aurora was recently expanded with more seating.
Some of my favorites include:
M. Calederoni Studio Gallery, La Aurora 10A: Mary is one of my favorite local artists. She often puts bullfight posters or wall fragments into her work. I was excited to see her featured recently in the finale of Top Chef Boston when they moved to San Miguel to end the season.
Don't miss Victoria Pierce's gallery CSEIS (C6) which features her mixed media work. I love her work and just bought my first piece.
Skot Foreman Gallery is one of the best galleries at Fábrica La Aurora and features contemporary art from the 2oth and 21st centuries.
The Belgian interior designer Dirk Jan Kinet has a really beautiful showroom in #8D.
Other galleries to check out at the Fábrica La Aurora that we like include Galeria Zoho, Nelly Lorenzo Arte Textil, Rita Torlen Gallery, Le Spezie for lighting, textiles and home accessories, James Harvey Artist with wonderful paintingsm Moyshen Gallery and Guiness Fine Arts Gallery. I  just met Kelly Vandiver and enjoyed seeing his watercolors and other pieces at his new location in the complex. Rachel Horn Home is one of the best sources for home furnishings and accessories.
Three new galleries I recently visited and enjoyed were Beatriz Casteñeda Galeria,  Algarabía  and There is also a new gallery for local mural artist Lucas Rise who moved from his location on Canal and Zacateros. I also liked the work of Fillippo Giusti.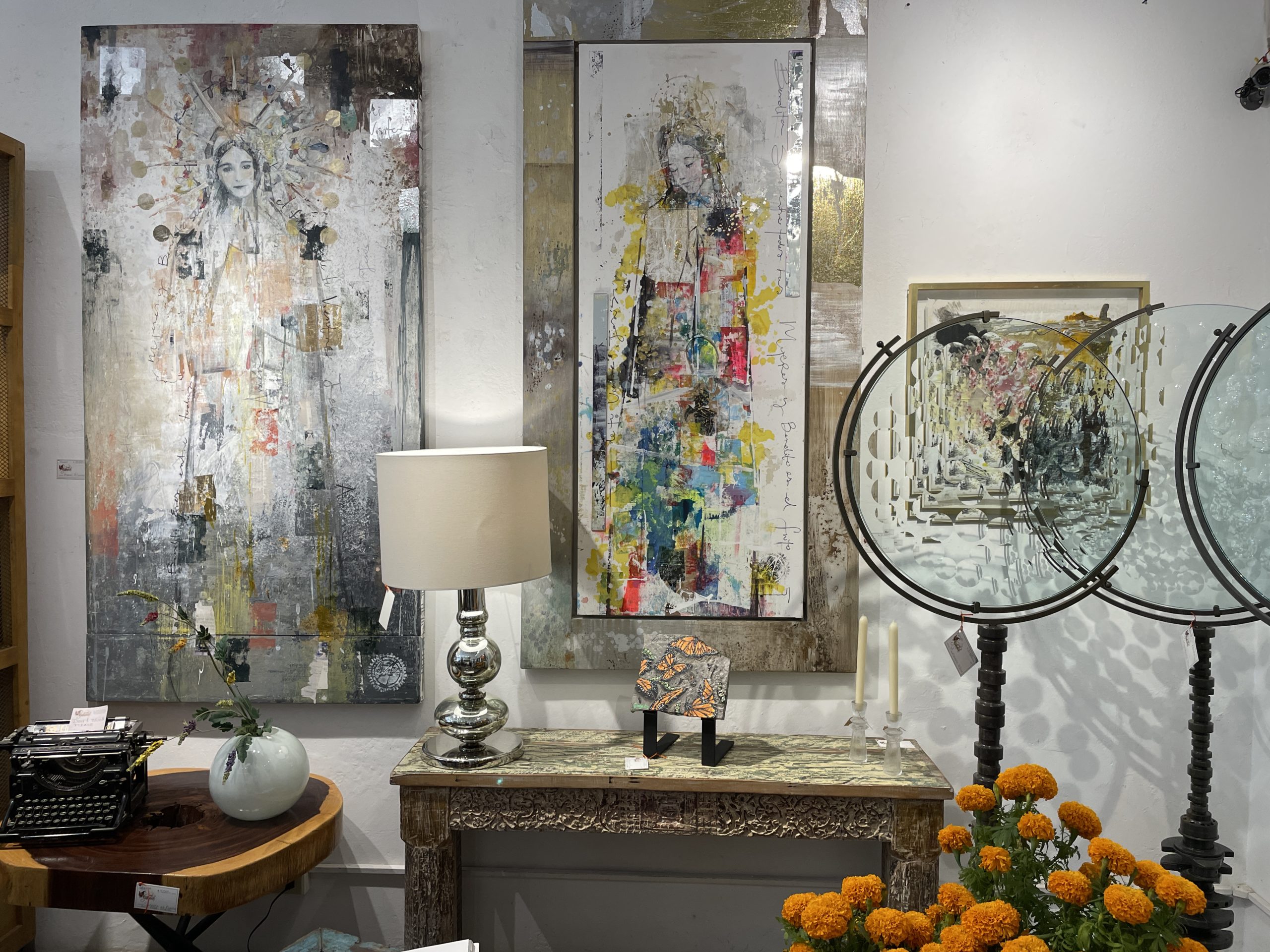 I also like Galeria MANUK at Fabrica la Aurora 18C. They feature some great art as well as teach classes and workshops. Check out their website for the schedule or call to schedule a class. I  just took my first wine and painting class a few years ago with four friends and had a wonderful experience!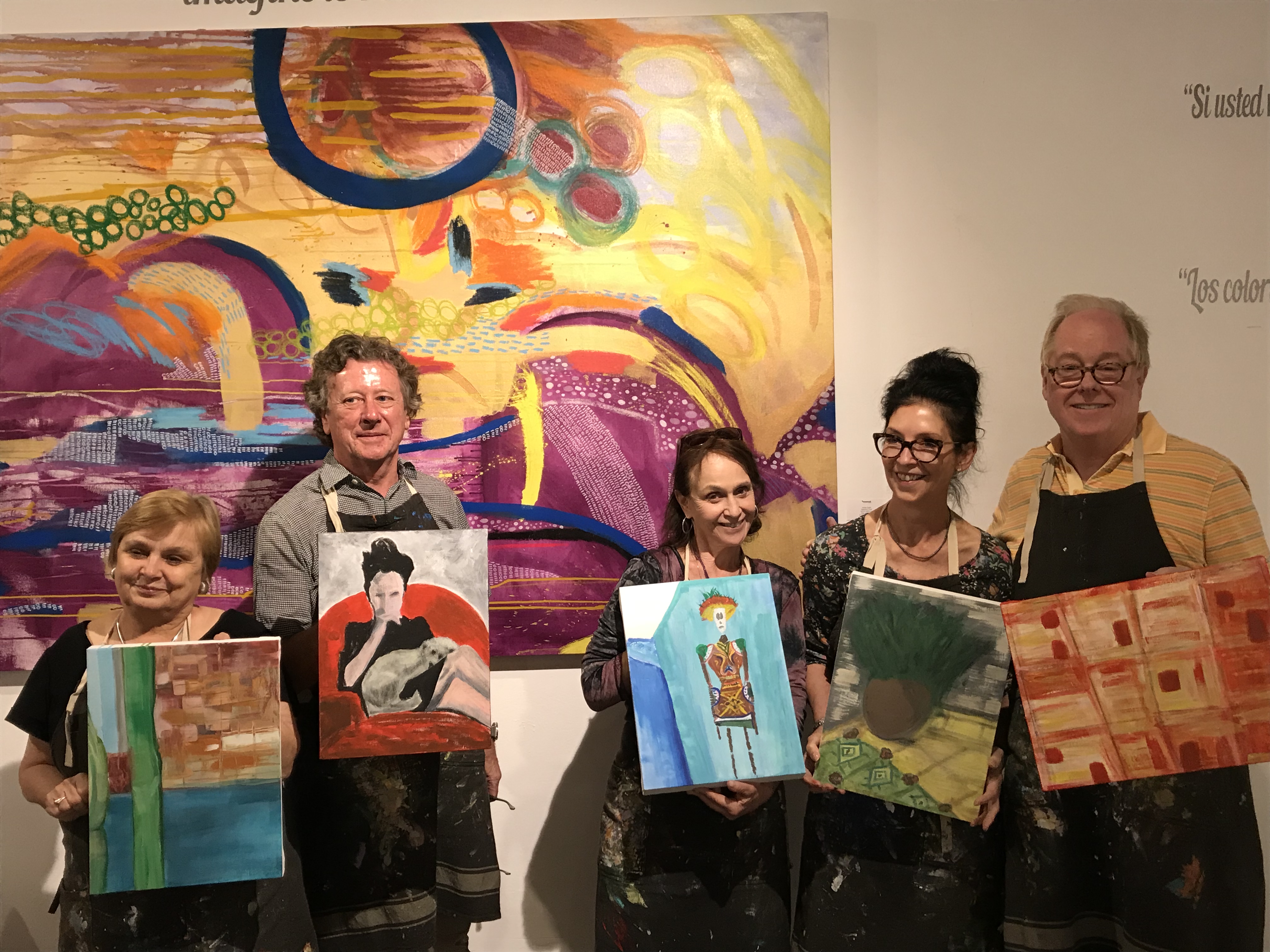 Galeria San Francisco, #3E, is a local gallery that committed to promoting the artists who live in San Miguel. In addition to the gallery they have a space where you can take art classes in different mediums.
Other Galleries
Dawn Designs: I always enjoy the encaustic work of Dawn Gaskill. Call her at 154-4813 to visit her home gallery. You can find original pieces, journals and even pieces printed on metal that can be hung outdoors.
I highly recommend the encaustic and cold wax classes taught by Robyn Cole in her local studio in Obraje, not far from Fabrica la Aurora. I just took my  third cold wax class with her and loved the experience. Please contact her at robyncoleartworks.com.
I just happened to walk by the gallery and studio of  Canadian artst Catherine Shea, who now lives in San Miguel. I really liked her work, as it caught my eye as I walked by. She offers classes and other events at her gallery which is located at Potranca #4 at the corner of Ancha San Antonio. It is open on Saturday and Sunday or by appointment.
Made by Anado/Casa las Ranas: This is one of my favorite places just outside of town. Anado McLauchlin and Richard Shultz created an amazing art space which is so fun to see and explore. Check out the studio, the house and their collections or visit the Chapel of Jimmy Ray. You will be amazed! It will remind you of  Antoni Gaudí. Unfortunately Anado died in mid-2021, but Richard has reopened the gallery and property for tours. 
Galleria Izamal: This is an artist's cooperative featuring great local artists. It has moved from Mesones #80 to a new location at Jesus #25 with double the gallery space!  Check out their website for a schedule fo classes and workshops in additon to the featured artists and exhibtion schedule. The quality of the art is excellent.
Photography lovers will really enjoy Jo Brenzo's SMA Photographic Gallery at Mesones #57. Here you can see the work and photography books by her and other artists. She holds weekly photographer's meetups for locals, plus classes and workshops along with photography tours in locations such as Oaxaca and Cuba. Check her website for the details. I really enjoyed seeing her work. She has lived and taught in San Miguel for many years.
I have always liked, and bought one of my favorite paintings from, Galeria Pergola. Featuring contemporary art, it is located in the back left courtyard of the Instituto de Allende at Ancha de San Antonio 20, Local 16.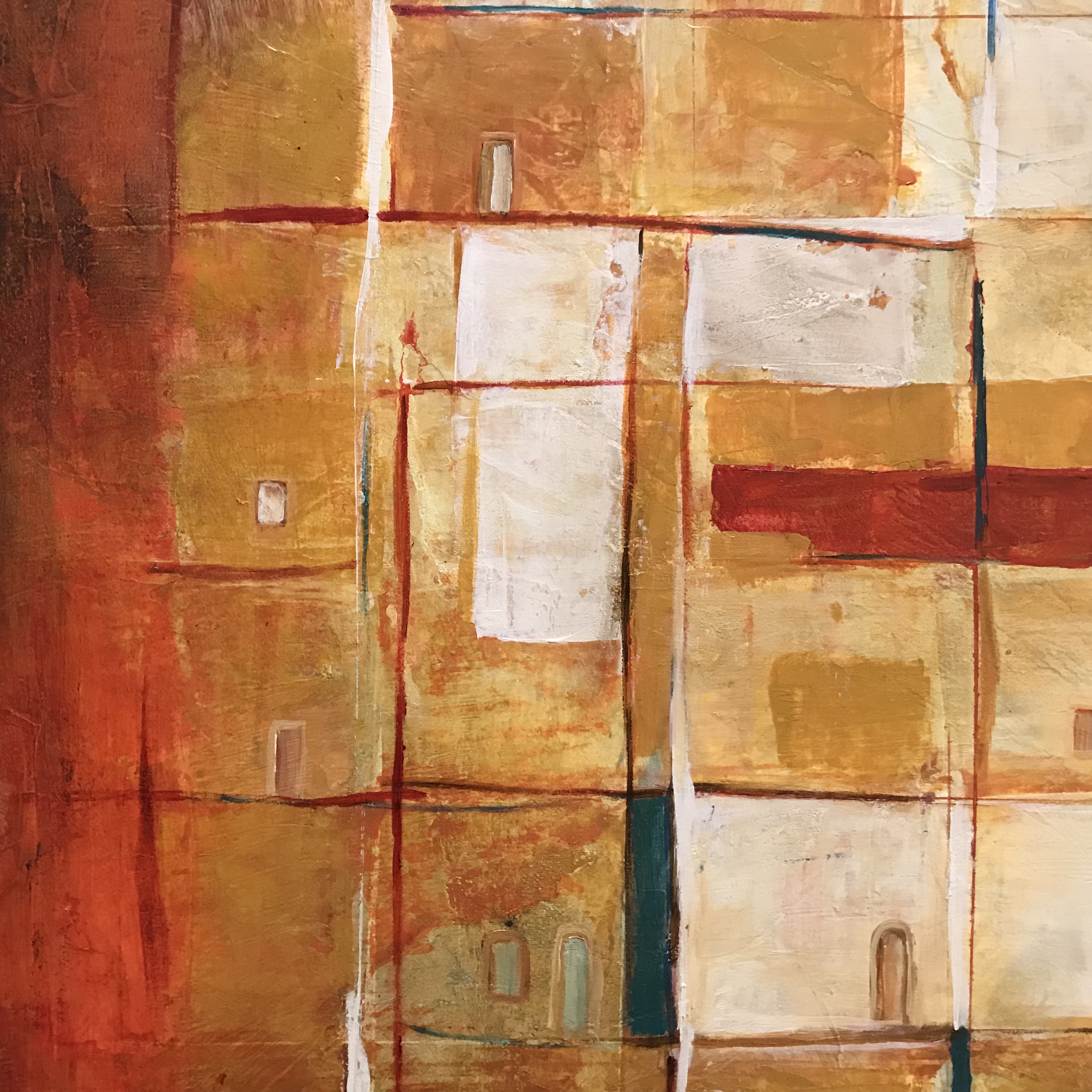 Arte Contemporaneo Gallery: Quality gallery and sculpture garden at Sollano #13.

Galleria Nudo: A contemporary art gallery featuring paintings, sculpture, encaustics, prints and lithographs. It is at Recreo #10-B.
Also on Recreo at #48 is Casa Diana Galeria de Arte. They are a quality gallery with a focus on the works by Pedro Friedeberg and the photography of Deborah Turbeville.
Dan Rueffert: One of my favorite artists is now showing at Galeria 15 at  Sollano 15.
Centro Cultural Ignacio Ramierez El Nigromante: Formerly known as Bellas Artes, this historic cultural center features exhibitions of contemporary Mexican and local artists, classes, concerts, lectures and films. But the highlights are some amazing murals that you should add to your San Miguel list. There are four by Pedro Martinez from 1939 to 1941, one by Eleanor Cohen from 1941 and an entire room painted by well-known Mexican artist David Alfaro Siqueiros, painted in 1948. Siqueiros's work is amazing and covers the ceiling and all walls.

In October 2o22 when I was in town, I visited the center for a special Day of the Dead Festival, Festival de Vivos et Muertos.It was an event centered around art projects for children. It was so fun to watch them being creative. I hope it becomes an annual event.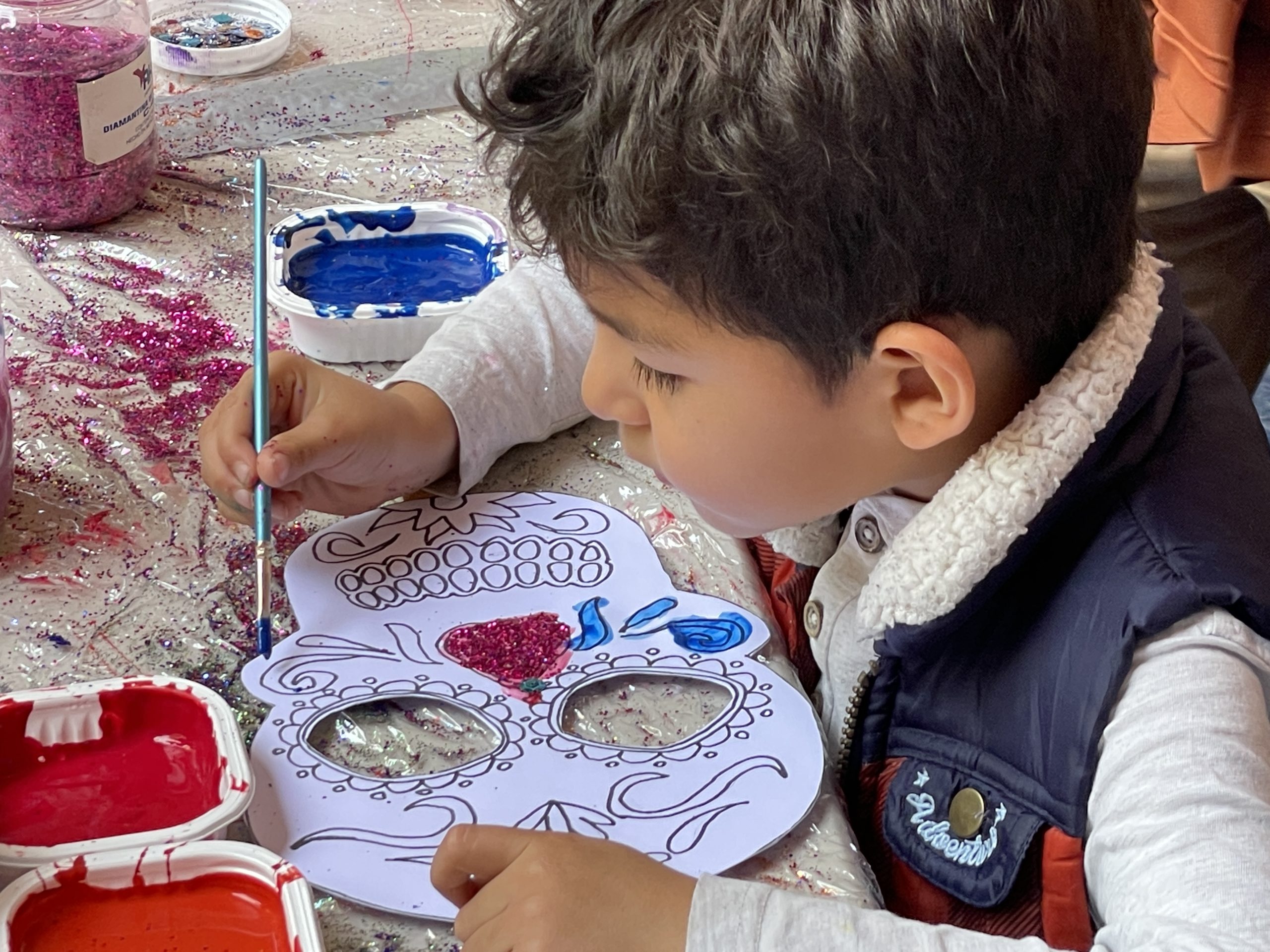 A short walk from Fabrica la Aurora is the Col. Guadalupe neighborhood. Make sure to wander and see some of the great street art that is being created by local as well as Mexico City artists.  Most can now be found along the arroyo on the northern part of the area as well as on the walls along the borders of the neighborhood. In February 2021, Fodor's Travel, wrote an article that San Miguel is one of the best cities in the world for street art and artists.
I originally found the gallery location for Ascender Arte Fino at Calzado de la Aurora #48A. They have since moved to a new location at Hidalgo #112B. This colorful gallery features the paintings of David Vazquez and Quinta Irma hand painted ceramics.
Taking over his old gallery is Juan Zaragoza Art Co.  He is known for his landscapes and paintings of San Miguel. Calzada de la Aurora #47A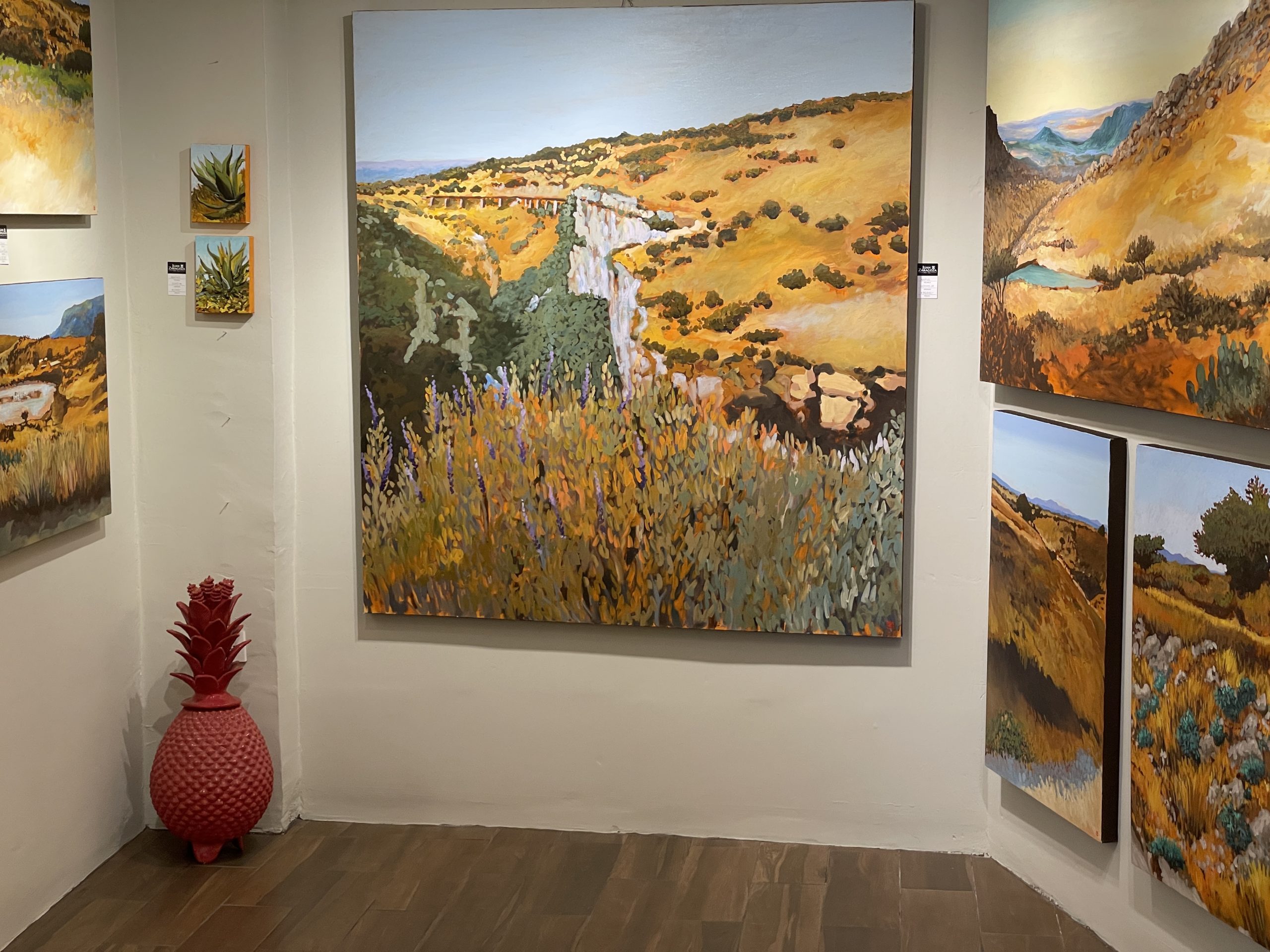 Stirling Dickinson was an American artist from Chicago who spent much of his life in San Miguel de Allende, where he was one of the first members of what would become a colony of expatriate artists from the United States.  He was director of the Escuela Universitaria de Bellas Artes in town. So it is appropriate that on the street named after him, there are some excellent new murals that you should see. They are immediately west of Ancha San Antonio. 
As part of the growing Stirling District SMA in Col. San Antonio, there are a number of galleries including Galería Blue Moon. I recently went to a gallery opening and enjoyed the quality of the art. Sterling Dickingon #7.
Another new gallery in Col. San Antonio is Galería 69 at Orizaba 69. This is a local gallery owned by artist David Dorantes in a building that houses both his home and studio.  It features his work along with a number of local artists including Barry Weis, Tonny Heideman and Lisa JonesMoore. Watch for their gallery openings which feature the artists along with wine, food and live music. I enjoyed my first visit to an opening in April, 2023.
Col. San Antonio has many new murals that have been painted in the last few years.
There are number of new murals completed in March, 2022 located the school at the top of Cinco de Mayo just down the hill from Prol. Aldama.