Sawyer is a cute town just east of Red Arrow Highway that is seeing some rapid growth of new businesses. I always make a point to stop while I am in the area as there are new restaurants, shops and cafes being added frequently. My recent finds include:
Catherine Doll Fashion for Green Living: Located in the old Sawyer Fire Station at 5844 Sawyer Rd. The store features unique clothing designs by artist Catherine Doll who creates creative tops, jackets and skirts for women.
Infusco Coffee Roasters: Just off of Sawyer Rd is a coffee roaster, featuring single-source coffee, which is a good spot for caffeine before hitting the nearby wine trail. I was back recently on a Sunday morning, and it is still great.
Next door is Molino Tortilleria and Mexican Market for Mexican specialties, corn tortillas, tacos, pan dulce, cookies. 5846A Sawyer Rd. It is recommended by my local friends in Harbert.
Sawyer Garden Center: A great farmer's market and  specialty food store with craft beers and wine. They also feature plants and flowers, garden products, seasonal decor, paper products, gifts and apparel.
Opened since I was last in town is Susan's Restaurant near the Garden Center at 5851 Sawyer Rd. It comes highly recommended by my local friends. It is a upscale spot with a creative menu.
They also recommend The Peasant's Pantry, a café and delicatessen 12856 Red Arrow Hwy. in Sawyer. They have an excellent breakfast and lunch menu and also serve coffee and tea drinks. They also sell groceries, baked goods and other deli items.
Greenbush Brewing Company: The hot spot in town is this microbrewery that features 14 artisanal ales and stouts and a number of seasonal offerings. Be prepared for large crowds. There is a large tap room for tasting and eating one of their soups or sandwiches. Across the street is a large outdoor patio with a small cafe offering beers, cheeses and charcuterie.
Hindley Fine Art: If open, check out the studio and gallery of artist for paintings, drawings, sculpture and furniture by artist Joe Hindley. It is immediately across from the Sawyer Garden Center and behind Go Fish. I have bought several pieces in the past.
Sojourn: At 12908 Red Arrow Highway in Sawyer is Sojourn, a great store featuring vintage finds and designer home accessories.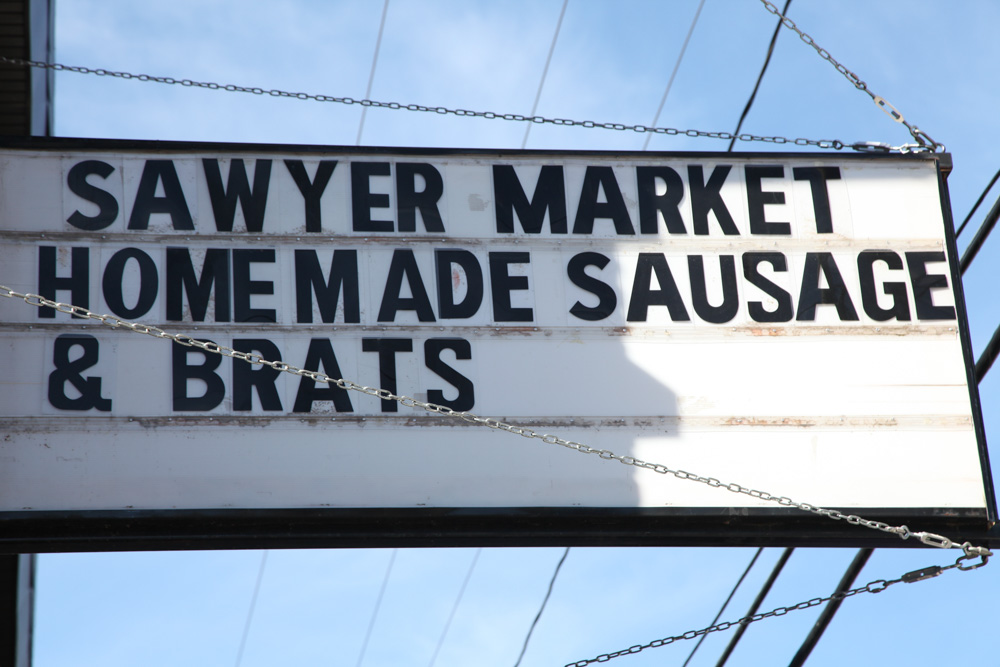 Fritz Olsen Fine Art: At 6914 West Holloway Drive in Sawyer, this lovely gallery, sculpture garden and studio features fine art and the sculptures of Fritz Olsen.