In South Philly don't miss:
Walking South Street: This was my first time walking South Street. This street is a major shopping street with funky boutiques, colorful buildings, coffee shops and restaurants. There were a number of tattoo parlors but I avoided these. Some of the buildings had been painted different colors and some had colorful murals. The line was out the door for Jim's Steaks which has served Philly Cheese Steaks since 1939.
But I immediately noticed some of the walls were covered in colorful mosaic murals. This was the reason why I came to visit the neighborhood. Local artist, Isaiah Zagar has spent years working on over 100 walls throughout the city with most on South and the surrounding blocks, and between 3rd and 12th Streets. At 1020 South St. is his Magic Gardens which is a folk art environment and gallery space. This is his largest artwork which includes a fully tiled indoor space and large outdoor labyrinthine mosaic sculpture garden. There are colorful glass bottles, hand-made tiles and thousands of mirrors.
Zagar spent 12 years excavating tunnels, grottos and sculpting multi-layered walls. It is really amazing to see what he has accomplished as every wall space, and even the floors, are totally covered. When someone threatened to buy the building and tear it down, many locals worked to save the works and created Philadelphia's Magic Gardens to preserve and promote his work. It is definitely worthwhile to see what he has created.

Walking and eating your way through the 9th St. Italian Market: In July 2013, I finally made it to the 9th St. Italian Market. Billed as the oldest outdoor market in the US, this is a several block long area of purveyors of fruits and vegetables, pasta, meats, fish, cheeses, wines, breads and other baked goods, chocolates, spices and tea, coffee, olive oils and other imported goods.
I enjoyed the coffee and atmosphere of Anthony's Italian Coffee House and their great ice cream and chocolate shop a few doors away at Anthony's Chocolate House. Sarcone's is a fifth generation bakery on the street. Di Bruno Bros has great imported goods. There are a large number of restaurants including Ralph's Italian Restaurant and George's Sandwich Shop at 900 S. 9th.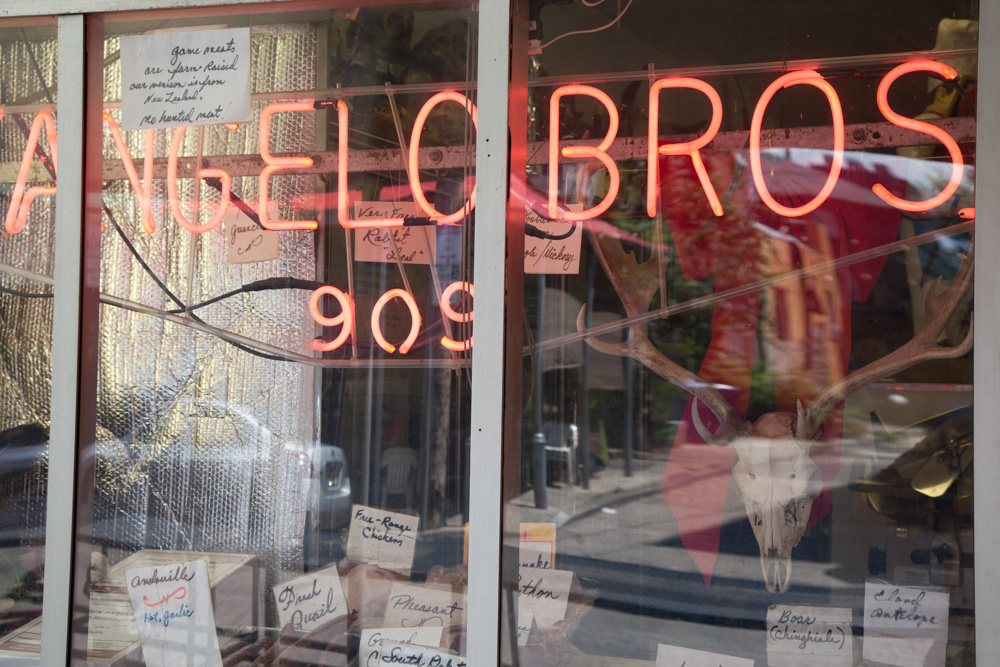 A little further south are the well-known Pat's King of Steaks at 1237 E. Passyunk Ave. since 1930, and Geno's Steaks for cheese steaks and other sandwiches at 1219 S. 9th.