Spring Lake
Spring Lake is a gorgeous town with some amazing old homes with large porches. It has been a major destination on the shore since 1892!  According to Wikipedia, "during the "Gilded Age" of the late 19th and early 20th centuries, Spring Lake developed into a coastal resort for members of New York City and Philadelphia high society, in similar fashion to the settlements of Newport, Rhode Island and Bar Harbor, Maine."
Today, turn-of-the-century architecture borders the wide tree-lined streets which surround a large lake. There is a nice downtown shopping area with many good restaurants,, bakeries, cafes and shops. I highly recommend a visit when you are in the area, as it is one of my favorite small downtowns in the US.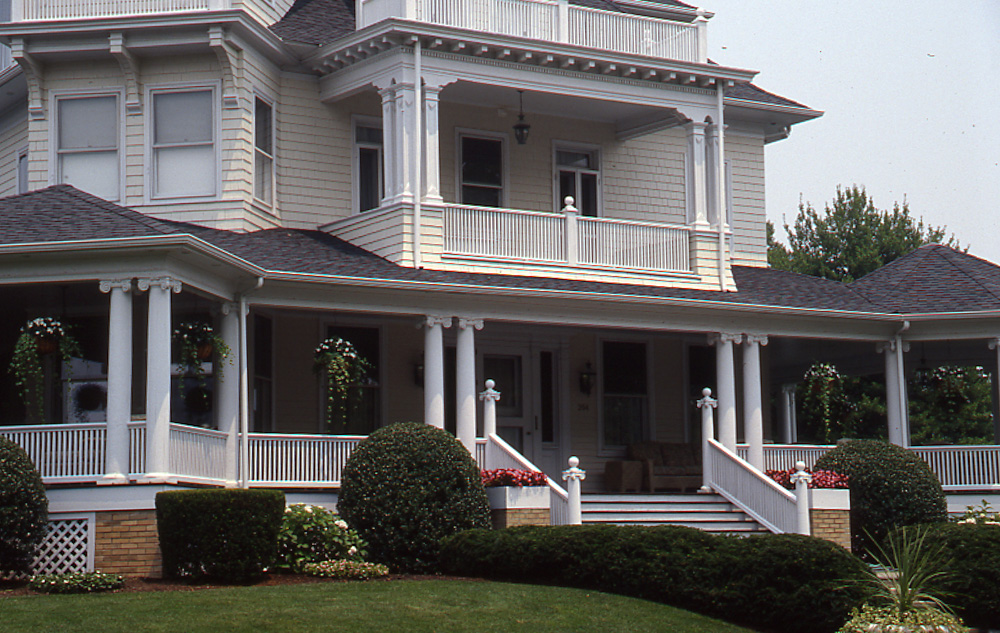 In downtown Spring Lake, the former Ray's Cafe and a.m. kitchen, at 1321 3rd Ave., is now Honey Berry Cafe. Opened in December, 2022, it is a good spot for breakfast and lunch. I went recently for the first time and was impressed with the menu. I enjoyed the fig and brie omelette and can't wait to go back for the smoked salmon eggs benedict.
Another fun spot is  Spring Lake Seafood. At 1300 3rd Ave. It was formerly On Third Cafe & Coffee Company where I had been several time in the past. They are open for lunch and dinner.
With the closing of On Third Coffee, there are some other coffee options downtown. I enjoyed Driftwood A Coastal Coffee House located at 1102 3rd Ave. Here you can order a number of coffee and tea drinks.
Another excellent option is Noon Designs Shop + Coffee at Noon. This is a lovely shop featuring art, home accessories, gifts, jewelry and fragrances. In addition they have a  small coffee shop. 1221 3rd  Ave. They have a second location nearby in Bay Head.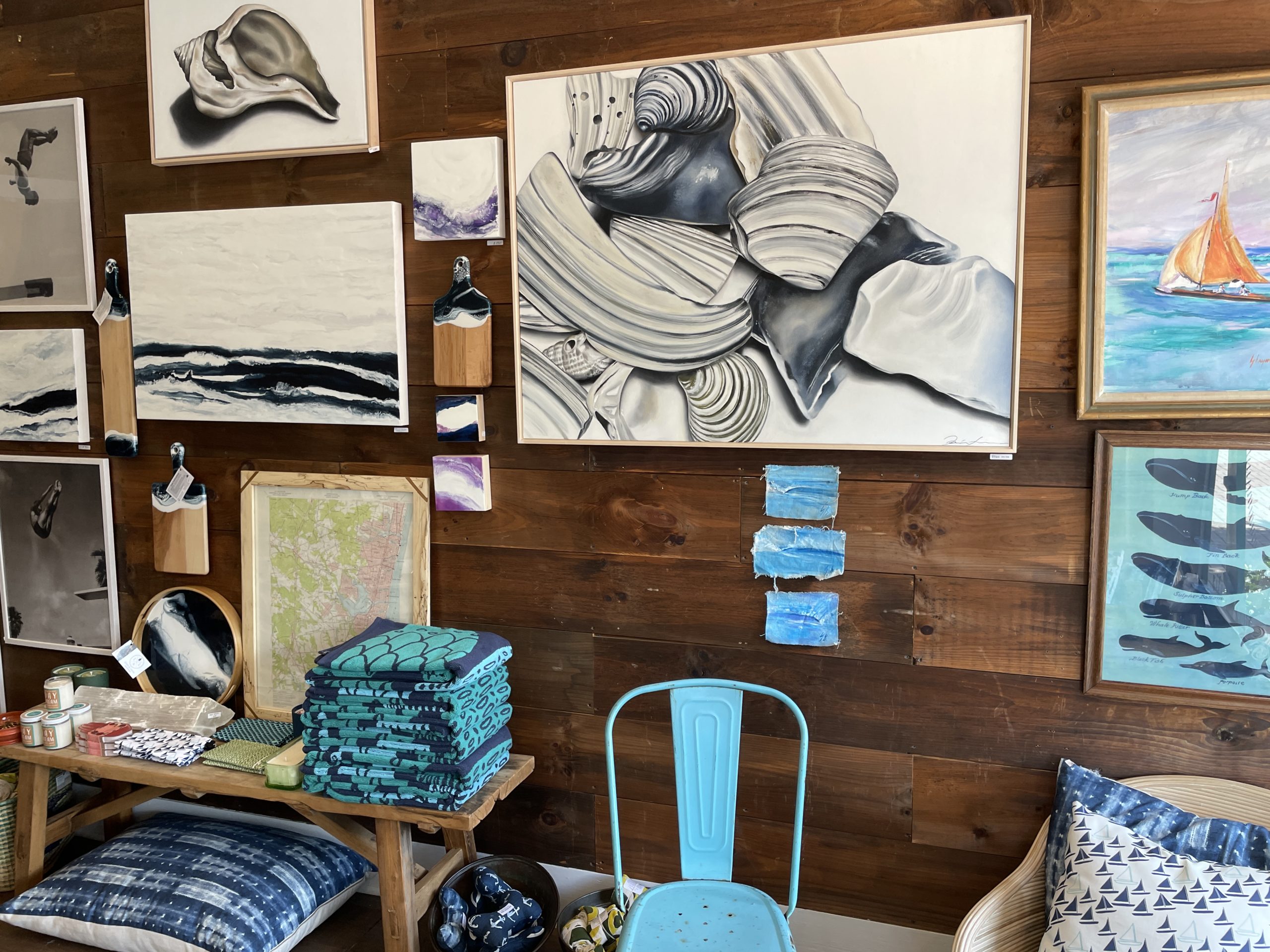 There are some wonderful boutiques and galleries on 3rd Ave. as well with many specializing on gifts and home accessories. Whimsicality Home Interiors at 1219 3rd Ave. is one of the best. I also enjoy visiting Artisan Spirit at 1317 3rd Ave. featuring the works of many local artists and designers. The quality is excellent.
Euphemia Gallery of Art & Framing, at 1319 3rd Ave., features art, framing and gifts.
Design Domaine Gallery at 306 Morris Ave. just off of 3rd Ave. has a large selections of original paintings, many with a beach or nautical theme.
Third Avenue Chocolate Shoppe at 1118 3rd Ave. is a fun spot while downtown. They have been there for over 25 years. They have a great selection of chocolates, candies and ice cream. Jean Louise Candies is also a fun spot for candy that opened in 1947.  1205 3rd Ave. I also loved finding, Scone Pony Specialty Bake Shoppe, at 305 Washington Ave. They have a large selection of cakes, pies, cupcakes and scones. I loved the almond cookies and the crumb cake!
Belle's Ice Cream is another good spot for an ice cream treat with a colorful decor at 300 Morris Ave. I loved the blueberry pie flavor on a hot Sunday afternoon before my theater matinee. On my recent visit, loved the Almond Joy with chocolate, almonds and coconut.
Near Belle's Ice Cream, at 304 Morris Ave., is Nick + Sons Bakery. A local friend just told me about this bakery that opened in Spring Lake in 2021. She said that their croissants are the best. I will definitely try it next summer.
Opened in early 2019 is Dune Donuts & Bagels for donuts, bagels, bagel sandwiches and more. On my last trip, I had two small donuts that were excellent! 1408 3rd Ave.
Whispers is a very good fine dining restaurant in the beautiful, historic The Hewitt Wellington Hotel, though more formal and not as casual as many on the Shore. 200 Monmouth Ave.
In July 2019, I saw a poster for a production of Hello Dolly by the Spring Lake Theatre Co. founded in 1923. I was not aware of the theater before, but decided to attend a Sunday matinee at 2pm. It was a really excellent production with first rate costumes, staging and cast. Their season runs from July through April and includes six musicals. I was so glad I found it. All performances are located in the Spring Lake Community House at 300 Madison Ave. They also provide a number of theater and dance programs and classes for children during the summer months. I can't wait to go back in the future.
As far as hotels, go The Breakers Hotel at 1507 Ocean Avenue, has been there since the late 1800s and has a good restaurant. The Grand Victorian also has rooms and a good restaurant overlooking the ocean. Formerly the Black Trumpet, followed by Bareli's by the Sea, and now Amelia's By The Sea, its menu is a blend of old-school Italian and contemporary continental cuisine. Both hotels are across from the beach and short walk to restaurants and shops downtown.
There are also other Historic Inns and The Hewitt Wellington, an historic Victorian condominium hotel, just south of downtown at 200 Monmouth Ave. has rooms for rent from the owners plus the Whispers Restaurant.
After lunch or dinner head to Hoffman's Ice Cream & Yogurt for some wonderful ice cream. I loved the banana on my first visit and the sea salt caramel latte on the second. 569 Church St., Spring Lake Heights, NJ.
Sea Girt
Sea Girt is another lovely town though smaller than Spring Lake. The Parker House hotel/restaurant is  and has been there since 1878. They have a restaurant with dining on the porch, a raw bar, a back porch with bar and casual dining and a downstairs Tavern. I just went back after several years and had a really excellent meal. The scallops in a balsamic reduction along with grilled asparagus and a large portion of crab salad was perfect. I suggest going during the week as the crowds can be huge on weekends in the summer and parking can be tight. 290 Ist Ave.
On the way into town is a small strip along Washington Blvd. with some fun spots to try.
Shore Pour Specialty Coffee: Located at 519 Washington Blvd. this is a coffee shop featuring a menu of coffee and tea drinks along with excellent macarons as well as biscotti, bagels and other breakfast  items. I was just back for the second time and love the staff and atmosphere.
Ray's Cafe is a casual breakfast and lunch that has been there since 1993. You can order a number of breakfast combos, omelettes, sandwiches plus salads, sandwiches, wraps and burgers for lunch. I enjoyed my tasty pork roll sandwich with a fried egg and American cheese! 523 Washington Blvd.
Close by at 527 is Joe Leone's Gastronomia. This is a small deli and market featuring takeout items and Italian specialties, sandwiches and prepared food. It was the perfect place to pick up food for lunch and dinner for visiting friends from Philadelphia so I didn't have to cook!! I have been to their Point Pleasant location in the past.
Surfside Frozen Custard: Open since 2014 at 500 Washington Blvd., this is a  popular shop featuring their homemade, locally sourced frozen custard made daily. I had to try the salted caramel, one of nine flavors, which was the perfect choice!  I was just back and loved the coffee almond crunch.
Another new find is Fratello's Italian Restaurant & Lounge. It is an popular Italian seafood and steak restaurant at 810 The Plaza. It has a classic décor, extensive menu and outdoor patio. I really enjoyed my branzino entree with local friends!
Down the street is the recently re-opened Rod's Tavern at 507 Washington Blvd. They reopened in 2022 after a two year remodel. Formerly Rod's Olde Irish Tavern, it was acquired by Chefs International restaurant group after the long-time owner decided it was time to sell after 39 years in Sea Girt. Chef's  completed a total floor to ceiling makeover, both inside and out, adding outdoor seating and an outdoor bar. I went for lunch with friends and liked the bright, open atmosphere and the food. Their menu features seafood, sandwiches. burgers, salads, pasta and more. I had to try the popular flounder sandwich which was a great choice!
While in town, make sure to drive by and see the historic Sea Girt Lighthouse located at 9 Ocean Ave.  Built in 1896, "the lighthouse was built to illuminate a blind spot midway in the 38½-mile stretch between Navesink Lighthouse (Twin Lights) to the north and Barnegat Lighthouse to the south. It also served as a landmark for nearby Sea Girt Inlet and Wreck Pond."  It was fully restored in 1981. Tours of the lighthouse are conducted Sundays 2 p.m. to 4 p.m., except holiday weekends, from mid-April through the Sunday before Thanksgiving.