Whether you take the Amtrak train from Chicago for a day trip or stop on the way from St. Louis to Chicago, there are some very important attractions to see in Springfield, the capital of Illinois. It is a 3.5 hour drive from Chicago in case you want flexibility.  Many of these attractions will particularly appeal to children and to history buffs of all ages. In addition to the Lincoln historic sites, there are a number of casual restaurants, coffee houses, galleries and antique stores. There are also historic events, performances and reenactments throughout the year.
I recommend visiting:
Dana–Thomas House: Located close to downtown, at 310 E. Lawrence, this is an historic home from 1902 designed by Frank Lloyd Wright for Susan Lawrence Dana. It was the 72nd building designed by Wright and currently has the largest collection of site-specific, original art glass and furniture that Wright designed. You can take a tour Thursday to Sunday from 9am to 4pm. It is a large house of 35 rooms, totaling 12,000 sq ft., on three levels. I really enjoyed the beautiful glass doors, windows, light fixtures, terra cotta sculpture and painted mural. It is considered to be one of Wright's best preserved and most complete of his early Prairie-style homes. I only wish that interior photography was permitted! The tour lasts approximately 90 minutes.
The Lincoln Presidential Library: Visitors and scholars can access the Library that is found in a 98,000 sq.ft. building with 12 million books, documents and artifacts. 47,000 are from the Lincoln Collection and include an original copy of the Emancipation Proclamation, the 13th Amendment outlawing slavery, the Gettysburg Address and his presidential briefcase. There is also much material from Illinois history covering the 1700's through the 1900's. Materials can be viewed in the Library only. It is at 112 N. Sixth St.
The Lincoln Presidential Museum: At 212 N. Sixth, across from the Presidential Library, is the Presidential Museum. This is the largest Presidential Museum with over 50,000 sq. ft. of exhibits, special effects theaters and displays of original artifacts. It is is extremely well-done and perfect for children and adults with a love of history. A big focus is on the pre-presidential years and his years in the White House. There is a gift shop and restaurant as well.
Lincoln Home: A National Historic Site, this should be high on your list of what to see in Springfield. This was Lincoln's home, from 1844 before they moved to Washington, which you can tour, by obtaining free tickets at designated times. The entire neighborhood is part of the Historic Site, so make sure to leave time to explore and see the other homes after you tour the Lincoln home. Some are open with special exhibits. The visitors center is located at 426 S. Seventh.
Lincoln Tomb: Located in Oak Ridge Cemetery, at 1500 Monument Ave., is Lincoln's tomb that was built around 1860. This is the final resting place for Lincoln, his wife Mary Todd Lincoln and three of his four sons, Edward, William and Thomas (Tad). It is a National Historic Landmark and is also listed on the National Register of Historic Places. The tomb is 117 feet tall and is brick sheathed in granite. The base is 72 ft. square with large semi-circular projections on the north and south sides. The cemetery is a short drive or cab ride from downtown.
Lincoln's New Salem State Historic Site, about 2 miles South of Petersburg and about 20 miles Northwest of Springfield, is a reconstruction of the village where Abraham Lincoln spent his early adulthood. Here you can visit 12 log houses, the Rutledge Tavern, ten workshops, stores, mills and a school that have been reproduced and furnished as they might have been in the 1830s.
Union Station  At 500 East Madison, across from the Presidential Museum and part of the museum complex, is the Springfield Union Station (opened in 1896) that now houses special exhibitions. I enjoyed seeing some of the costumes and memorabilia from the 2012 movie Lincoln by Steven Spielberg. It starred Daniel Day-Lewis as Abraham Lincoln and Sally Field as Mary Todd Lincoln. A recent exhibition featured Lincoln's dream of the transcontinental railroad.
Lincoln-Herndon Law Office: At Sixth and Adams in downtown, across from The Old State Capitol, is Lincoln's law office where he practiced from 1843 to 1852. It is listed on the National Register of Historic Places. Tours are available and are the only way to see the offices.
Old State Capitol: Make sure to visit The Old State Capitol which is a renovated statehouse, the first to be located in Springfield. It was the seat of government from 1839 to 1876. Lincoln visited the building while in the Illinois House of Representatives and delivered his famous "House Divided Speech" there in 1858. It was also the site of his final laying-in-state on March 3-4, 1865, after his assassination. You can visit or tour the Greek Revival-style building with it rotunda, legislative chambers, offices, meeting rooms and supreme courtroom. It is a National Historic Landmark and listed on the National Register of Historic Places. #1 Old State Capitol Plaza in the heart of downtown.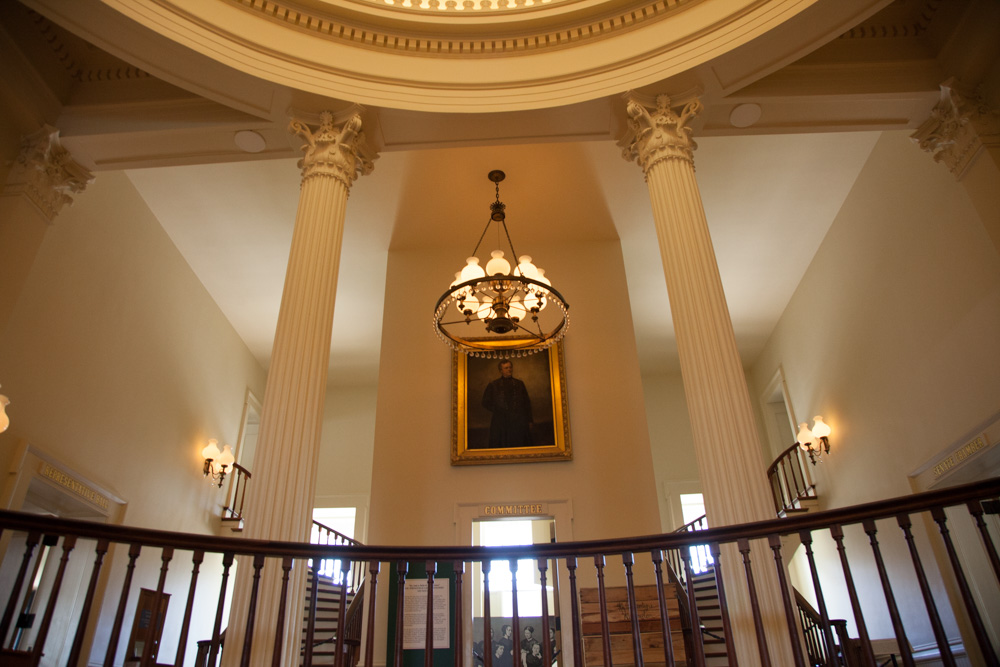 Established in 2011, the Springfield and Central Illinois African American History Museum aims to honor the lives of African-Americans who have lived in the Land of Lincoln. "Through story-telling, exhibits, videos, and events, the museum preserves this important side of the state's legacy and culture." 1440 Monument Ave.
For Route 66 fans, the famed highway from Chicago to the Pacific Ocean in California passed through Springfield. There are several sites in town that you might explore. Shea's Gas Station Route 66 Museum at 2075 Peoria Rd. is currently closed, but you can drive by and see this all-metal filling station that was moved from nearby Middletown, IL. There are old gas pumps, old signs and a vintage Airstream trailer that you can still see on the property. I hope it is still there when you drive by. Cozy Dog Drive-Inn, at 2935 South Sixth St., is a shrine to Route 66. Check the website, Illinois Route 66, for other restaurants, antique malls, and hotels/motels along the road in Springfield.
The Washington Post recommends the Route 66 Drive-In Theater for movies in the warmer months. There is also the Route 66 Mother Road Festival held in late September featuring a  thousand hot rods and vintage motorcycles along with live music and food vendors.
If you want to spend the, two recommended hotels include the Inn at 835, a lovely boutique property in an historic mansion from 1909.  It has 11 rooms and two additional suites located in the nearby Bell House property. The other is the renovated and contemporary State House Inn in downtown Springfield with 23 rooms and 2 suites, the Abraham Lincoln and the Mary Todd.