From wonderful art museums and theater to music and dance, I stongly feel that the Berkshires is one of the best destinations to experience the best. Make sure to visit:
Shakespeare & Company, 70 Kemble Rd., Lenox MA: Just south of downtown, this is one of the largest Shakespeare festivals in the country and was founded in 1978. The company develops and performs Shakespeare classic plays as well as contemporary new plays of social and political significance. It also has an extensive actor training program. It has two indoor theaters as well as an outdoor venue in the summer. Performances are scheduled from May into November.
Tanglewood: Tanglewood is  the summer home of the Boston Symphony Orchestra and has been since 1937. You can sit on the lawn or buy tickets for one of the music venues which include the Koussevitzky Music Shed or the smaller Seiji Ozawa Hall or Chamber music hall. You can explore the gardens, visit the Glass House Gift Shop or eat at the Beer Garden, Tanglewood Cafe, Tanglewood Grille or The Highwood Manor House for an elegant buffet dinner. Take out meals-to-go are available with an advance order. In addition to performances by the Boston Symphony, there are a large array of concerts ranging from The Boston Pops, classical, chamber music, jazz, contemporary and popular artists. There is also the Tanglewood Wine & Food Classic in mid-August featuring wines from around the world and food by regional chefs and locally-sourced foods.
Jacob's Pillow Dance Festival:  Jacob's Pillow, a National Historic Landmark, was founded in 1933 by dancer Ted Shawn and is home to America's longest-running dance festival. The 224-acre site contains 31 historic buildings, including dance studios, landscaped gardens and natural wetlands. There are several venues including the Doris Duke Theatre and the Ted Shawn Theatre. They offer pre-show talks, outdoor performances, dance classes and special exhibitions. There are also a number of dining options including the Coffee and Ice Cream Bar, the Pillow Pub and the Pillow Cafe. I enjoyed a wonderful evening of dance from Alonzo King Lines Ballet in the Ted Shawn Theatre.
Mahaiwe Performing Arts Center in Great Barrington: Located in a renovated theater from 1905, the Mahaiwe is now a unique year-round performing arts center presenting music, dance, theater, opera, and classic films in the southern Berkshires.
The Williamstown Theater Festival: Since 1955, the festival has brought to the Berkshires some of America's finest actors, directors, designers and playwrights. They produce classic plays as well as new productions. They also offer Free Theatre, Late-Night Cabarets, readings, workshops and other education programs. It is the recipient of a Tony Award for Outstanding Regional Theatre.
MASS MoCA: This contemporary art museum is located in North Adams, MA, a short drive east of Williamstown. The Museum is located in an amazing complex of buildings which are listed on the National Register of Historic Places. There are 26 buildings that are linked by an elaborate system of interlocking courtyards, passageways, bridges, viaducts, elevated walkways and red brick facades. I love looking at contemporary art in an historic setting.
From the late 1700's to the early 1800's, the site housed a brickyard, saw mill, machine shops, marble works, wagon and sleigh maker, and an ironworks that later forged the armor plates for the Civil War ship, the Monitor. It then housed Arnold Print Works, one of the largest producers of printed textiles. From 1942 to 1985 it was the home of Sprague Electric, an electronics plant.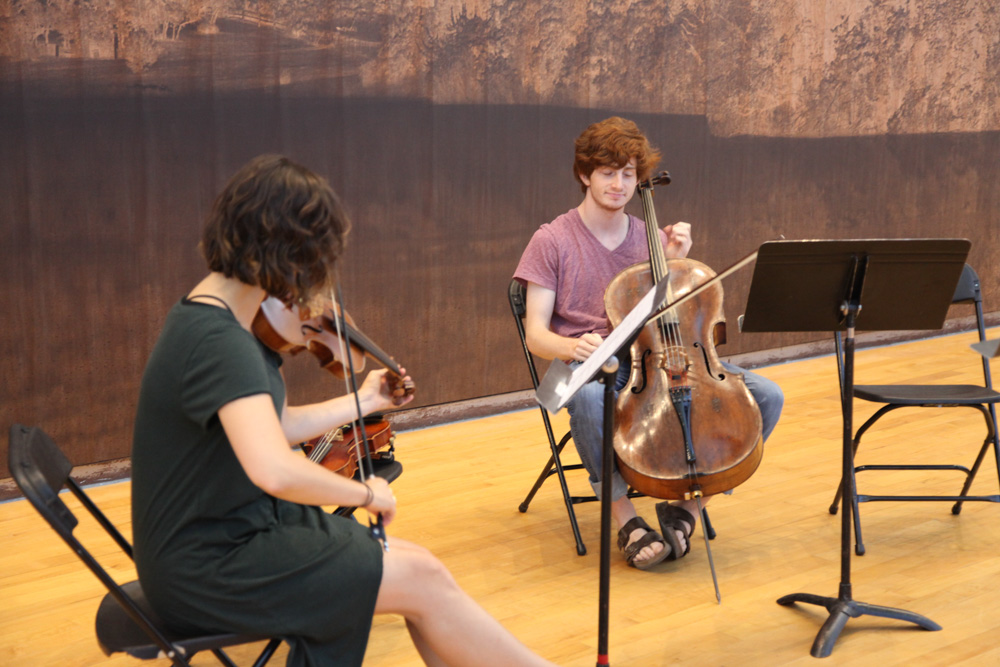 In 1999, the Museum opened and brought new life to the complex as one of the country's largest centers for contemporary visual and performing arts. My favorite part was seeing the exhibition Sol LeWitt: A Wall Drawing Retrospective which will be there until 2033.
Make sure to walk outside to visit the former power plant and to see the current exhibitions of the Hall Art Foundation in its dedicated gallery space.
They also feature outdoor concerts in the summer months plus films and theater, alternative cabaret and dance performances.
Gramercy Bistro, located at MASS MoCa at 87 Marshall St., is a great spot for lunch while visiting the Museum. It is across the museum and has both indoor and patio dining. They have a locally sourced menu and is open for lunch, dinner and brunch. I enjoyed the poached shrimp salad with tomato, cucumber, strawberries, mango, farmers cheese and an orange vinaigrette.
Eclipse Mill Artist Lofts: If you have time you might check out Eclipse Mill Artists Lofts to visit the resident artist studios and galleries located in a building from the 1800's. 243 Union St., in North Adams.
Near downtown Williamstown, is the Williams College Museum of Art at 15 Lawrence Hall Drive. If you have time, make sure to visit the museum to see its special exhibitions  as well as its permanent collection. The museum is the world's largest repository of the work by Maurice and Charles Prendergast including watercolors, oils, sketchbook, studio materials, photographs and diaries. Their permanent collection also includes works by Edward Hopper, Winslow Homer and George Inness. I enjoyed my time there.
The Clark Art Institute: Located in  Williamstown MA, The Clark is an incredible museum that is known for it collection of Impressionist and Old Master Paintings. I loved seeing its works by Renoir, Degas, Gauguin,Toulouse -Lautrec, Monet and Manet as well as the American paintings by Homer, Inness and Remington. I also saw an amazing traveling Van Gogh exhibition. One of the highlights is the new wing, The Clark Center,  designed by famed Japanese architect Tadao Ando that includes the restaurant Cafe 7 and  Francine's casual cafe, the Museum Store and temporary exhibition space. The Lunder Center at Stone Hill, a shuttle away, has two exhibition galleries and the Stone Hill Cafe. It was also designed by Tadao Ando.
Berkshire Museum: The museum was founded in 1903 by Zenas Crane. The Crane Family were the owners of Crane & Company which is known for it paper and stationery products. Crane purchased many of the Museum's first acquisitions including a large group of paintings from the Hudson River School including works by Frederic Church, Albert Bierstadt, Thomas Cole, Thomas Hill, George Inness, Thomas Moran and Aaron Draper Shattuck. They also have works by Calder. They also feature temporary exhibitions. 39 South St.
Local friends recommend the Berkshire Theatre Group for its good performances. You can choose from performances in Stockbridge at The Berkshire Theater Festival Campus or in Pittsfield at the Colonial Theatre/Garage.
There is also the Barrington Stage Company, for theater, in downtown Pittsfield. They offer performances from May to October in three downtown locations.
The Mount, Edith Wharton's house: South of downtown Lenox is The Mount which is well-worth the visit. Edith Wharton is considered one of America's greatest authors and was the first woman to receive the Pulitzer Prize for fiction. She wrote over 40 books in 40 years including The Age of Innocence, The House of Mirth and Ethan Frome. You can visit the grounds, gardens and take a guided or self-guided tour of her large home which Wharton designed and built in 1902. I was lucky to have been there during a sculpture show where the pieces were displayed throughout the lovely grounds. You might check the website for a calendar of events. There was a poetry reading after hours the day I was there. You will also find art, theater, film, storytelling, French conversation classes, readings of Wharton's short stories and lectures.
Norman Rockwell Museum: Located at 9 Route 183, not far from downtown Stockbridge, this is a museum highlighting the work of this famous illustrator. Here you can see his studies for his original paintings for many of his famed Saturday Evening Post covers. Downstairs, you can see all of his covers in one exhibit. They also have temporary exhibitions of other artists. His original Stockbridge studio which was downtown behind his home was moved to the 36-acre site. This is a highlight so make sure to see it as it is a short walk from the museum.
Just south of the Norman Rockwell Museum is Chesterwood, a Site of the National Trust for Historic Preservation. Chesterwood is the former Summer home, studio and gardens of Daniel Chester French, one of America's foremost sculptors, who lived from 1850 to 1931. He is best known for his Minute Man statue from 1875 in Concord, MA and his statue of a seated Abraham Lincoln, from 1922, that is the focal point of the Lincoln Memorial in Washington, D.C. He created over 100 memorials and monuments located in France and the US.
You can tour his home and visit his studio where he did most of his work. Since 1978, more than 500 emerging and established sculptors have exhibited at Chesterwood. I enjoyed an excellent exhibition of 24 contemporary works located throughout the grounds and gardens. Make sure to check the website to see information about current exhibitions. 4 Williamsville Rd. in Stockbridge, MA