When you are in NYC, make sure to take time to visit Hudson Yards, the new 28-acre, $25 billion mixed-use development in New York's Chelsea neighborhood, located two blocks from Penn Station. Opened in early 2019, the development, which anchors the northern end of The High Line, features The Shops and Restaurants at Hudson Yards with over 100 retailers and restaurants, The Shed, a new art space featuring theater and art installations, and a new 200 room hotel, from the fitness brand Equinox. According to Architectural Digest, "the end result has come to be known as Hudson Yards, the largest mixed-use private real-estate project in American history."
I recently spent over 8 hours there, meeting friends and family for lunch, afternoon tea, and dinner; visiting The High Line and seeing two art exhibitions at The Shed. It was a great spot to escape the heat on a very hot summer day in the city.
One of the key features, and a focal point of the development, is the Vessel. At a cost of $150 million, this is a honeycomb-like sculptural structure featuring a network of stairs and landings where visitors can climb or take an elevator to the top. Designed by British designer Thomas Heatherwick, it has become a popular attraction to New York similar to Anish Kapoor's Cloud Gate or "The Bean" in downtown Chicago. You need to get a ticket to climb the new landmark. You can buy timed tickets for the day when you visit or you can buy tickets for a future date online.
Hudson Yards is located between 30th and 33rd Streets, and between Tenth Avenue and the West Side Highway. In total, the space, once completed, will include 18 million square feet, spread throughout 16 buildings on 28 acres of land. The development includes offices, condominiums and apartment buildings as well. Development is expected to continue until 2024. There will be 14 acres of parks and green space including a five-acre perennial garden.  Though I have read some critical reviews about the project, I  like the idea of a new neighborhood anchoring The High Line with some significant new architecture built over an active railyard. It might also take some of the crowds away from 5th Ave. and Times Square.
The seven-story, 720,000-square-foot shopping mall, The Shops and Restaurants at Hudson Yards, has a number of high-end retailers including Dior, Louis Vuitton, Cartier, Tiffany & Co. 
There are a number of other restaurants in the complex as well with many by some of the top chefs in the US. Michelin starred Chef Thomas Keller helped curate the offerings. 
Make sure to visit José Andrés' 35,000 sq. ft. Spanish food hall, Mercado Little Spain. Andrés has teamed up with Spanish chefs Ferran and Albert Adrià, of El Bulli fame, to open various counters for traditional Spanish fare from paella and patatas bravas to churros, coffee and cured meats. In addition to the food stations, there are three restaurants, Leña, Spanish Diner and Mar. Mar serves seafood and Leña featured grilled meats and vegetables cooked over a giant fire pit. I chose Mar for lunch with one of my oldest friends and enjoyed sharing the sauteed shrimp, the boiled octopus, the chilled almond soup with baby white shrimp and the tomato salad with seaweed and sesame seeds. 10 Hudson Yards.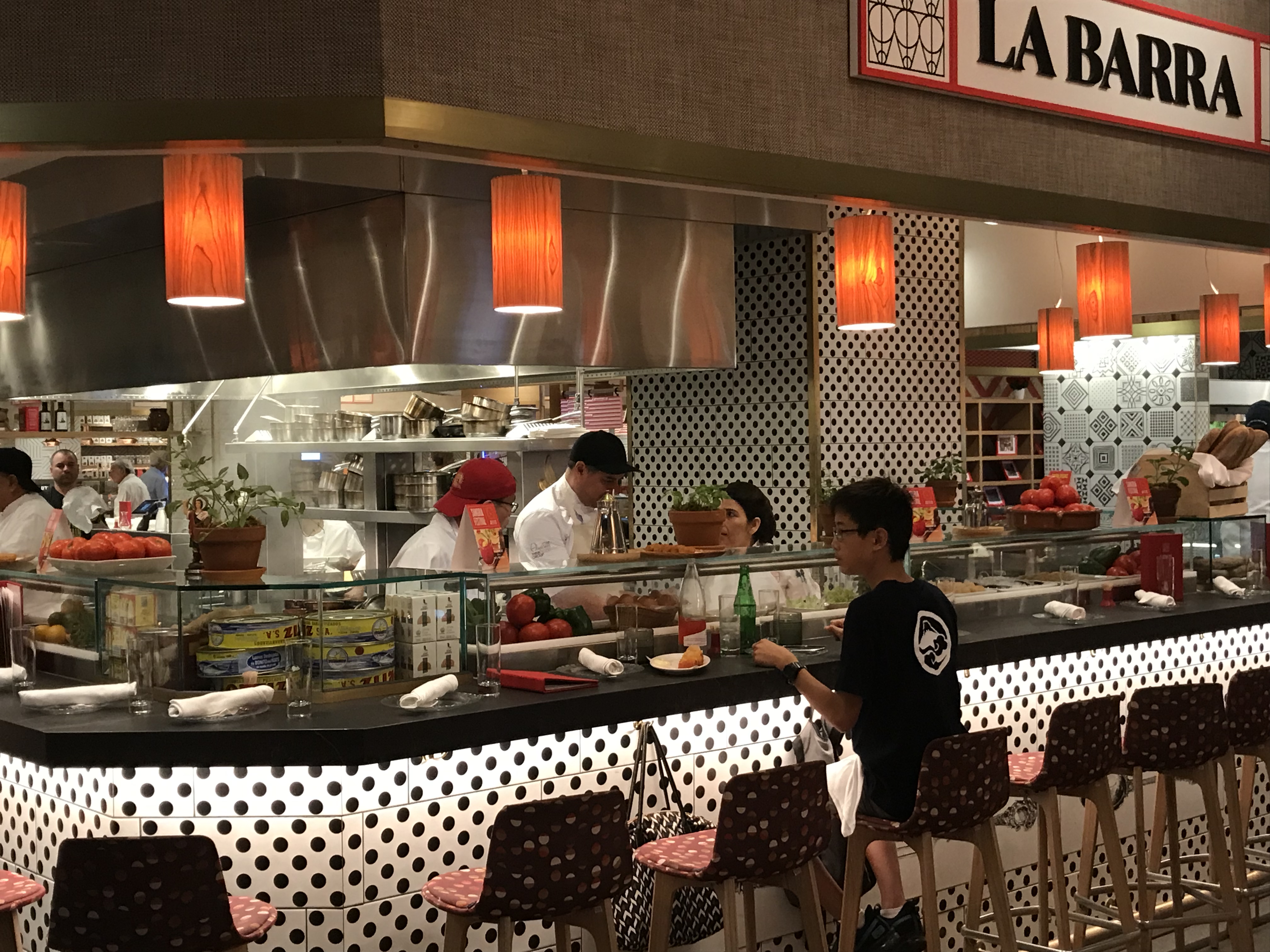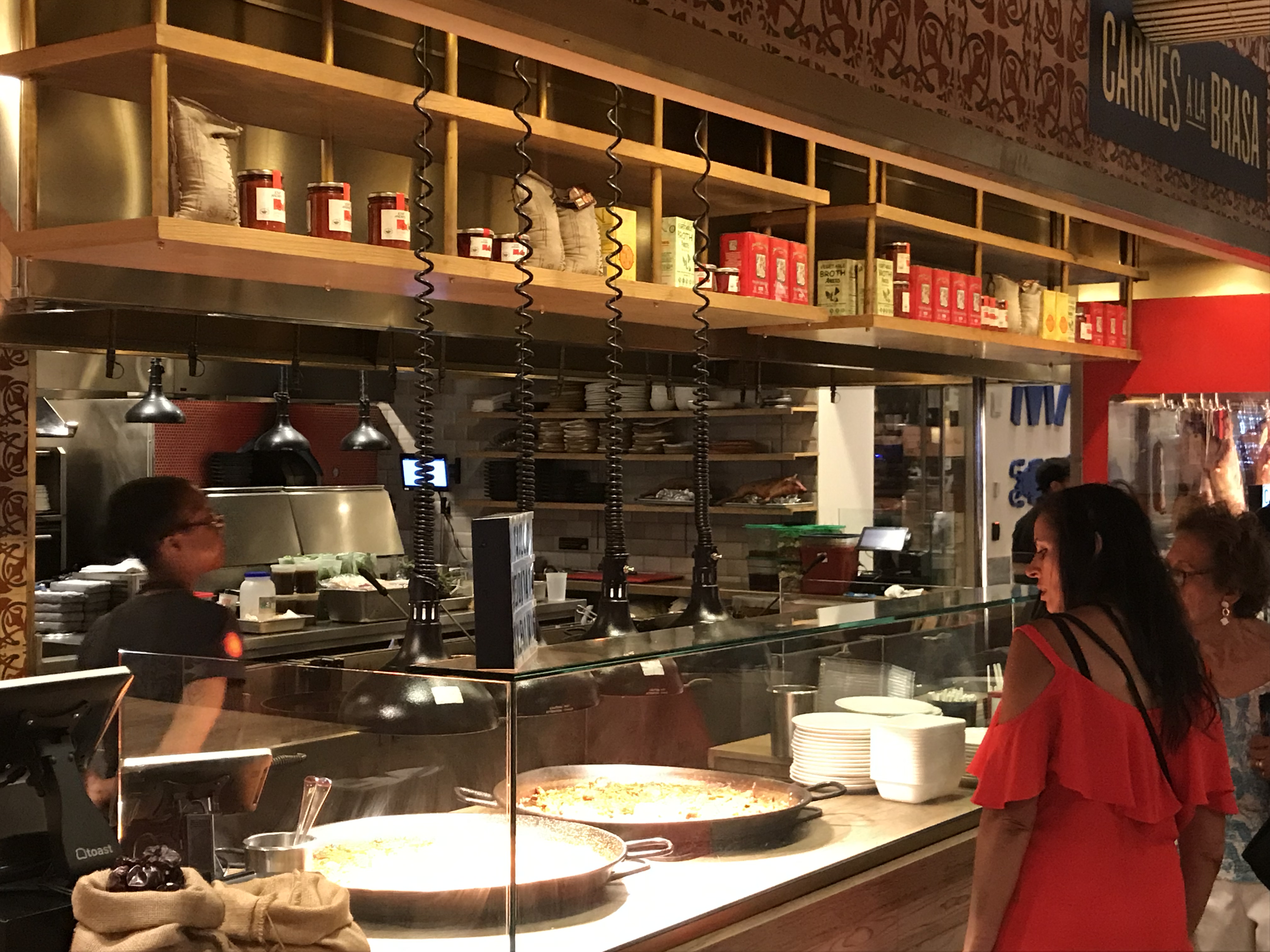 Hudson Yards Grill: I Enjoyed dinner with my two nieces at Hudson Yards Grill. Located at 20 Hudson Yards on the Level 4, this 265-seat restaurant by NY Chef Michael Lomonaco, has an open kitchen and large bar. They feature a variety of meats, from chicken and lamb legs to prime rib, all cooked on a spit, American classics like fried chicken and steak plus pizza and sushi. With a very warm, inviting interior with great art, it is a more casual spot than some of the other restaurants in the center, which is why I chose it. My nieces loved the burger and I thought the halibut with a shellfish nage, tomatoes, summer squash and basil oil was the perfect entree on a hot night in the city.
Other spots to consider are:
Milo's Wine Bar, at 20 Hudson Yards Level 5, is a casual spot for Greek wines, small plates and snacks, plus a Greek yogurt bar during the day. Milo's is recommended over the more formal and very expensive Estiatorio Milos for fine dining upstairs. I read that you must ask exactly how much each item will cost before you order so you won't have any surprises. However, during the day they do have a three course business lunch menu at a reasonable price! 
Wild Ink: London-based hospitality and catering company Rhubarb has opened an Asian inspired restaurant featuring small plates, snacks, and dim sum dishes pulling elements from Japan, Thailand, China, Tibet, England, and Italy. "Food options include a Japanese risotto with shiitake mushroom dashi, a curried lamb momo, and a miso custard tart, while cocktails use ingredients such as a black sesame-infused gin or yuzu bitters." 20 Hudson Yards, Level 5.
Queensyard: I really liked the look of this multi-room spot on Level 4 of 20 Hudson Yards. This British based concept, includes a restaurant with a focus on British cooking, a bar featuring gin-based cocktails, the kitchen for more casual dining including favorites like fish and chips, a café for lunch and dinner with grab-and-go options and private dining room. The space capitalizes on its spectacular views overlooking Thomas Heatherwick's Vessel, The Shed arts center and the Hudson River.
Bluestone Lane, the Australian coffee chain and cafe as a new location at 55 Hudson Yards near the Vessel. They have inside as well as outside patio dining.
On Level 4 of the shopping center are a number of other cafes and shops.  There is William Greenberg Desserts and Greenpoint, Brooklyn-born ice cream shop, Van Leeuwen Ice Cream. New York-born, global burger chain Shake Shack from Danny Meyer has opened a popular new location. Across the hall is Jack's Stir Brew Coffee that I have enjoyed in their original location and an outpost of celebrity favorite chain Dylan's Candy Bar for your candy cravings. Around the corner, longtime chocolate maker Li-Lac Chocolates sells more than 100 handmade chocolate varieties. It is Manhattan's oldest chocolate house and a New York institution since 1923.
One of the highlights of the complex is The Shed, an eight-story performance and exhibition space designed by Diller Scofidio & Renfro and the Rockwell Group. Here you can attend a performance or visit one of their art installations. I got my free tickets online and enjoyed visiting two art installations on the upper floors. Make sure to check out their website before you go to see what is taking place when you are in town.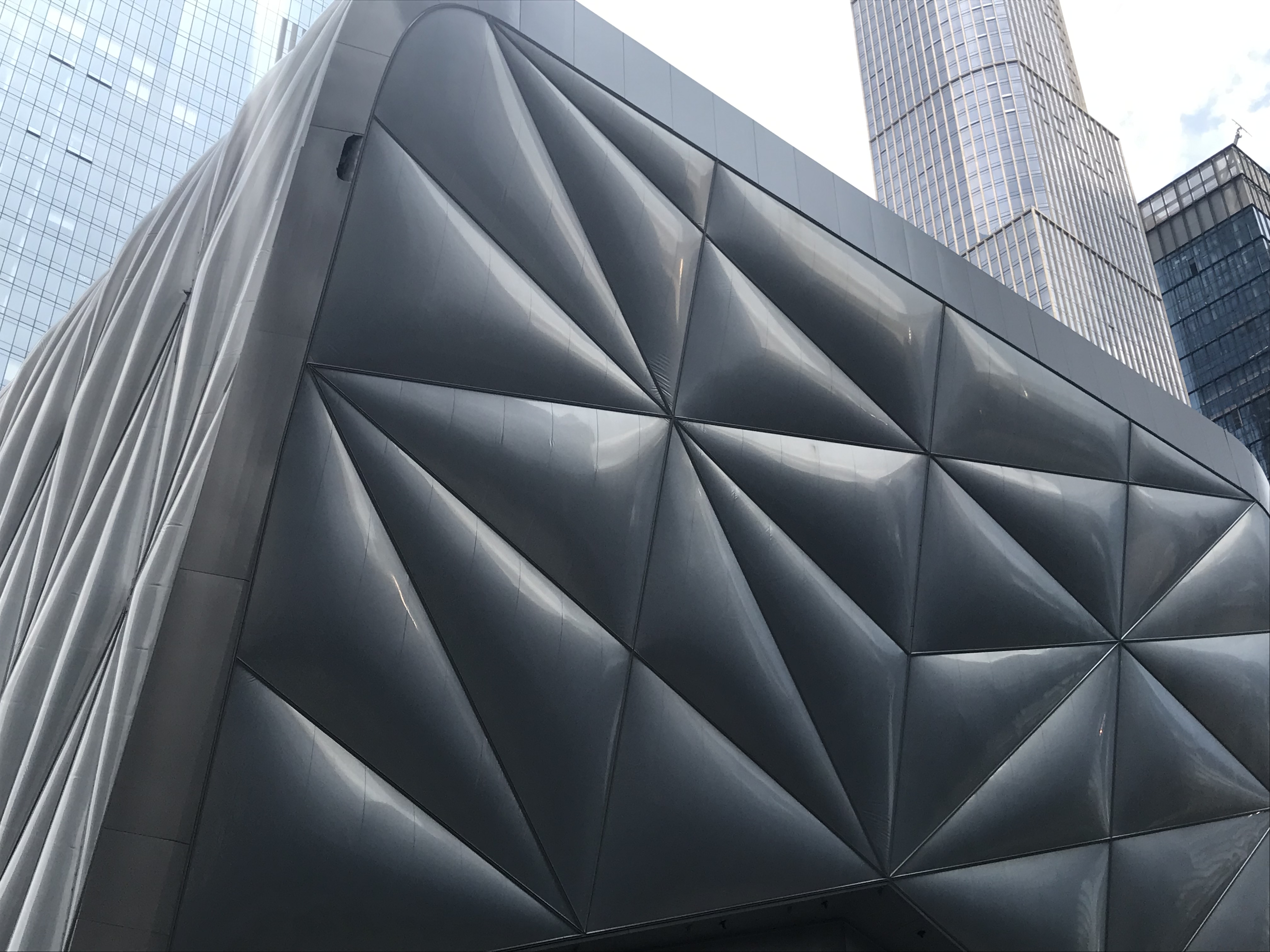 In the lobby of The Shed, Danny Meyer, of Gramercy Tavern, Shake Shack and Union Square Hospitality fame, has opened a casual bar/restaurant called Cedric's at the Shed. It has 121 seats and is open from morning to late evening serving cocktails, craft beer, wine, coffee drinks, snacks, sandwiches and salads. It is also less crowded than other cafes and restaurants in the complex.
The new hip, 212 room Equinox Hotel, promoting sleep and wellness, was just getting ready to open when I was there. It will include state-of-the art wellness amenities and include a 65,000 sq. ft. gym, an indoor lap pool and a large outdoor pool. There is also a bar and a restaurant on the 24th floor. Current Equinox Club members get extra perks! This is their first hotel. Other sites being developed include projects in LA, Chicago, Seattle and Houston. 35 Hudson Yards.
Recently opened is the Edge, the highest outdoor deck in the Western Hemisphere. There  is a champagne bar with light food service on this level as well. The views should be stunning! You should book the date and time of your visit along with the bar reservation in advance.