Marfa is in the middle of nowhere, so from I-10 you can drop down and drive through Marathon (Hwy 385/90) or through Alpine (Hwy 67/90)  if you are coming from the east. From El Paso you can get off 1-10 and drive southeast from Van Horn on Hwy 90.
Ft. Stockton: On the way to Marathon, I stopped in Ft. Stockton for lunch. B's Family Dining at 101 N. Main St., in the somewhat desolate downtown area, is a local's spot that was fun for lunch. They have a lunch buffet or you can order off the menu.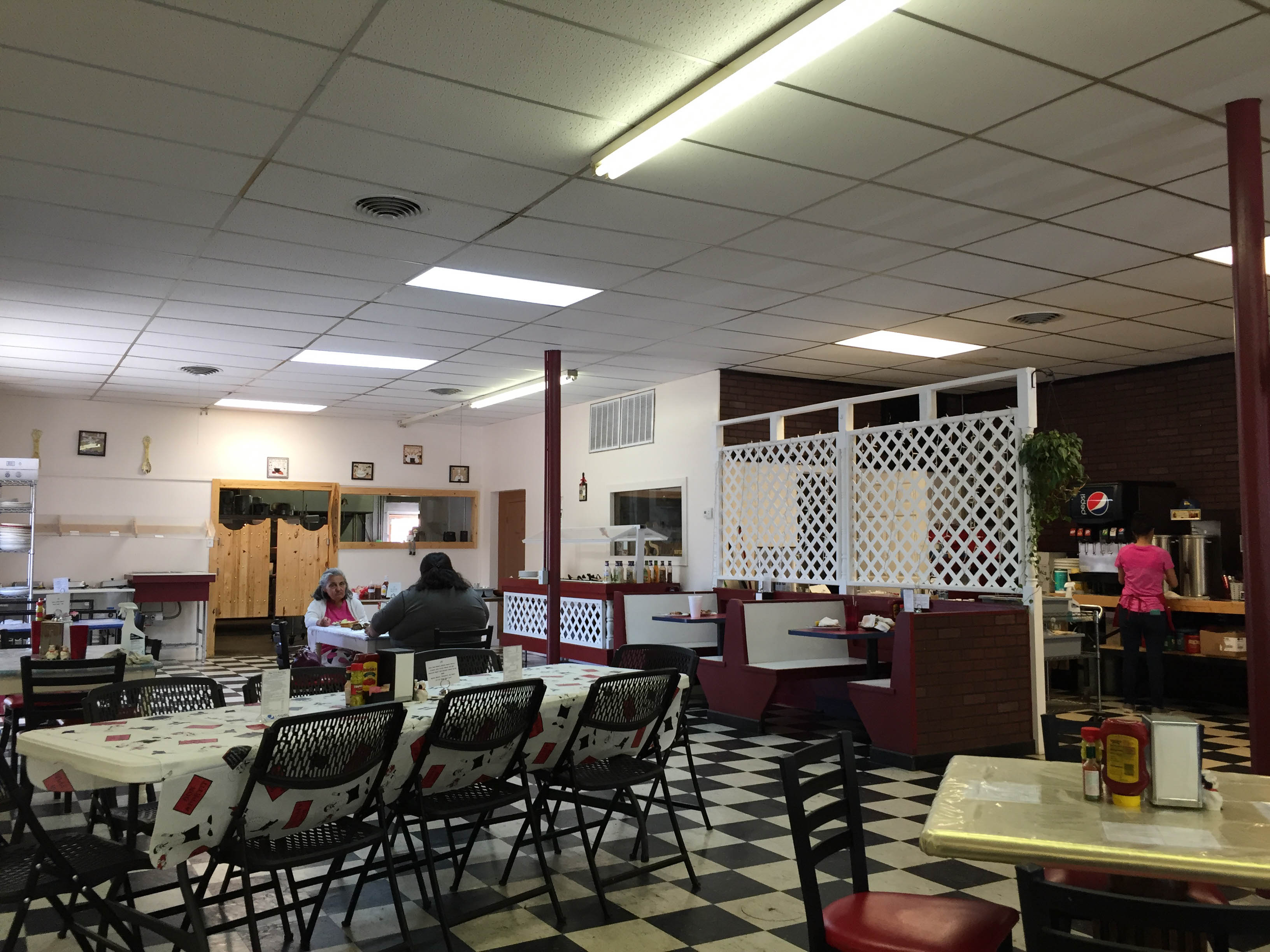 In Alpine make sure to visit:
Plaine Coffee: At 215 E. Holland Ave. in Alpine, this is a fun coffee shop, ice cream parlor and laundromat. It is great for a break from the long drive to Marfa!! They are owned by the same group as Frama in Marfa.
Reata Restaurant: Located in Alpine, this  restaurant is known for its Texas or "cowboy" cuisine of the area. 203 N. 5th.
Make sure to stop in Marathon to see the historic Gage Hotel. Designed by architect Henry Trost and opened in 1927, it has received great reviews and positive press include Texas Highways Magazine #1 Small Hotel in Texas, National Geographic Travel Magazine's "Stay List" and, Conde Nast Traveler Magazine #1 Hotel in Texas and #17 in the US in its readers poll. It has an award winning restaurant, the 12 Gauge Restaurant and according to Texas Monthly, the Best Hotel Bar in Texas. 102 NW 1st St./Hwy 90. 
To or from El Paso you might enjoy stopping to see the Hotel Capitan in Van Horn, the sister hotel to the Hotel Paisano in Marfa. It is another Henry Trost hotel built in 1930. "Trost was responsible for the design of over 550 buildings from California to Texas between the early 1900's until his death in 1933. He studied architecture under Louis Sullivan in Chicago and was influenced by Frank Lloyd Wright."   
Also, if you fly into El Paso, I highly recommend spending a few hours to visit the El Paso Mission Trail. Located in the southeast part of the city, on the way to Marfa, there are three mission churches to see and explore. Ysleta Mission was built in 1682 by the Tigua Indians and is located in the oldest community in the state. To the east is Socorro Mission, located in the second oldest community in the state, which has a beautiful interior and altar. My favorite was San Elizario Presidio Chapel which was established in 1789. I was pleased to catch part of a mass on a Sunday morning. The area around San Elizario, including the charming square in front of the church, was my favorite as there were a number of restaurants, shops and galleries in old adobe structures. 
According to Padma Lakshmi in her new show Taste the Nation, El Paso has some excellent restaurants from casual Mexican spots to upscale dining.  Jalicso Cafe gets excellent reviews for its traditional burritos and comfort food at 1029 E. 7th. ELEMI at 313 N. Kansas St. is known for the use of local ingredients and traditions. Make sure to try their corn tortillas which are one of their specialties according to Padma. H&H Car Wash is a combination Car Wash and Coffee Shop/diner  that received a 2001 James Beard Foundation Award for America's Classics. It serves excellent Mexican food.
Prada Marfa: Prada Marfa is located 1.4 miles northwest of Valentine, TX and 26 miles northwest of Marfa on US 90. It is a permanently installed art installation or what the artists called a "pop architectural land art project." From Marfa on the way to El Paso, as soon as you pass Valentine, make sure to slow down as you might miss the installation. The structure was designed to resemble an actual Prada store, with two large windows displaying actual Prada shoes and handbags. I have seen photographs that  have been featured in a number of art exhibitions and museums around the country. I was so pleased to finally have seen it! Make sure to slow down and enjoy it.