I have been going to Tucson every June for 32 years to go to Canyon Ranch, the world famous health and fitness resort. Many people go to Tucson to either go to Canyon Ranch, to Miraval or to stay at one of the well-known golf resorts and never venture out of the resort. I think there are some wonderful things to do in and around Tucson that are well-worth the time to see while you are in town! Downtown is really coming back with great restaurants, hotels, art galleries and wonderful museums. There is more and more happening every year. So my advice is to get out and explore!
Not to be missed are:
Mission San Xavier del Bac:  At 1950 W. San Xavier del Bac, it is called "The White Dove of the Desert" and is a wonderful white-colored mission church that was built by the Franciscans in the 1700's. It is considered one of the finest examples of Spanish mission architecture in the US. It is a few miles southwest of the airport and has wonderful painted ceilings and altars. I was amazed as to the beauty of this white church sitting in the desert and of the quality of its restoration. I highly recommend this!!!!
Sabino Canyon: This is always one of my favorite places in Tucson. Sabino Canyon is located at the north end of Sabino Canyon Road and is a great place to walk, hike or bike. There is a tram that will take you to the top and back. You can also ride up and walk down. The desert terrain is wonderful particularly in the Spring when the flowers are in bloom.
The Lost Barrio: Located at Park just south of Broadway this is a unique row of stores that carry antiques, furniture, home furnishings and accessories mainly from Mexico, South America and Asia. The quality is really quite good. My favorites are Colonial Frontiers at 244 S. Park and Rustica with wonderful Mexican and Peruvian furniture and accessories at 200 South Park.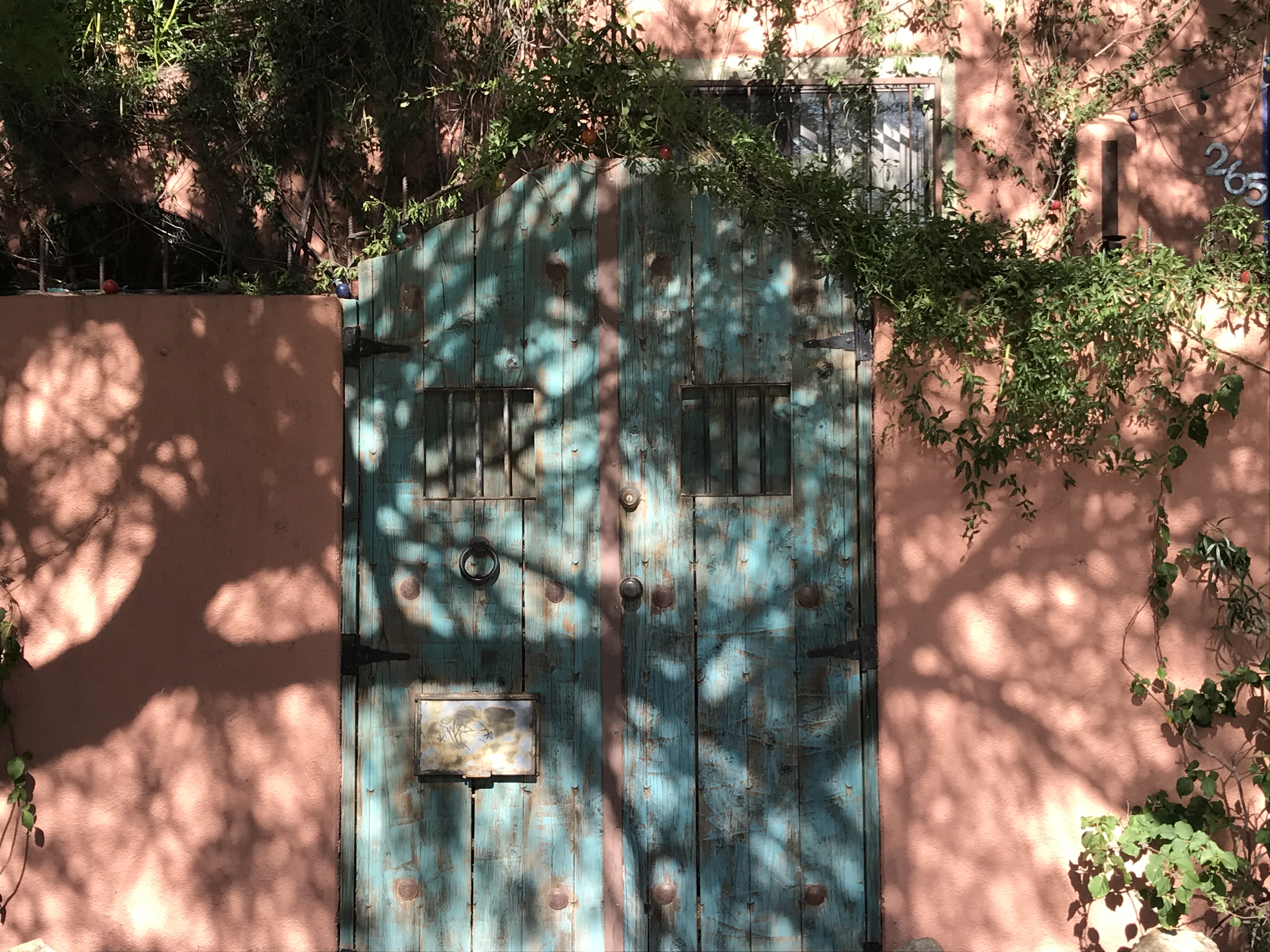 Fourth Avenue: Explore 4th Avenue between Congress and University. There are more than 100 restaurants and shops offering vintage and boutique clothing, artwork, antiques, handicrafts and imported goods and a food co-op. There is the Sun Link Streetcar that runs the length of the neighborhood.

Old Town Artisans, 201 N. Court: Located across from the Tucson Art Museum, you will find a large amount of handicrafts by local, regional and Latin American artists and artisans. I really liked some of the pottery and ceramics that I saw. It has a large landscaped courtyard and a restaurant.
Downtown Tucson: I was really impressed by the restored old buildings and homes, new apartments and new restaurants in this small downtown area. If you are in town check out Second Saturdays Downtown for monthly arts and entertainment events held the second Saturday of every month beginning in May.
Arizona-Sonora Desert Museum: A highly recommended world-renowned zoo, natural history museum and botanical garden, all in one place that has a mission of helping you understand the Sonoran Desert.
Saguaro National Park: This smaller national park is a great place to visit and be in the middle of the amazing saguaros.
Pima Air and Space Museum: Close to the Tucson Airport, at 6000 Valencia, is the largest non-government funded aviation museum. You'll see more than 300 aircraft and spacecraft. There are historic World War II and 1950s era aircraft along with several Air Force Ones. You can also visit the Kit Peak National Solar Observatory and famed Biosphere 2 where you can visit several ecosystems under glass.
Other things to do include attending performances at the Gaslight Theatre, The Invisible Theatre, the Tucson Jazz Society and the Tucson Symphony Orchestra.
The Neon Pueblo: I also loved driving along South 6th, North 6th, Miracle Mile and Drachman St. to see the original, restored and reinstalled neon signs for a number of old motels, businesses and restaurants from the 1950s.
For  photography tours, birding trips and hiking trips, make sure to check out the offerings by Southwest Discoveries. I was impressed when I met their team a few years ago.
If you want to hike during the hotter months, head to Mt. Lemmon. With a summit elevation of 9,159 feet, it is the highest point in the Santa Catalina Mountains. It can be 30 degrees cooler than the temps in Tucson in the summer.
On my last trip I went to the Presidio San Agustín del Tucsón, an historic presidio located in downtown Tucson. The original fortress was built by Spanish soldiers during the 18th century and was the founding structure of what became the city of Tucson. I enjoyed visiting the museum where a docent gave me a tour of this historic structures and a great history lesson.
There is also the Tucson Botanical Garden to explore and Tohono Chul where you can view gardens and nature trails,  see exhibitions by local artists and dine in their Garden Bistro.
Each February is the Tucson Rodeo  or the Fiesta de los Vaqueros with performances and a parade.
I love murals and street art. On my most recent trip I explored some of the Tucson Murals Project. Joe Pagac is a local artist, and the son of a friend who has created some wonderful pieces in town.