Warehouse Arts District
One of my favorite areas of downtown Tucson is the Warehouse Arts District centered around the corner of 6th St. and 6th Ave. Add this to your list of things to explore.  There are a number of galleries and studios. I been very disappointed to have seen several galleries close in the last few years, but there are still some good ones to explore. Unfortunately it doesn't have the same feel that it did.
I always love the First Saturday Art Walks from September to June. Check out:
The Santa Theresa Tile Works has classes and workshops in tile making, mosaics and plate decorating.
Contreras Gallery and Jewelry at 110 E. Sixth Street features silver and turquoise jewelry. 
Steinfeld Artists Galleries & Studios at 101 W. 6th St. which has twelve artists studios and four galleries. It is open on the First Saturday Art Walk.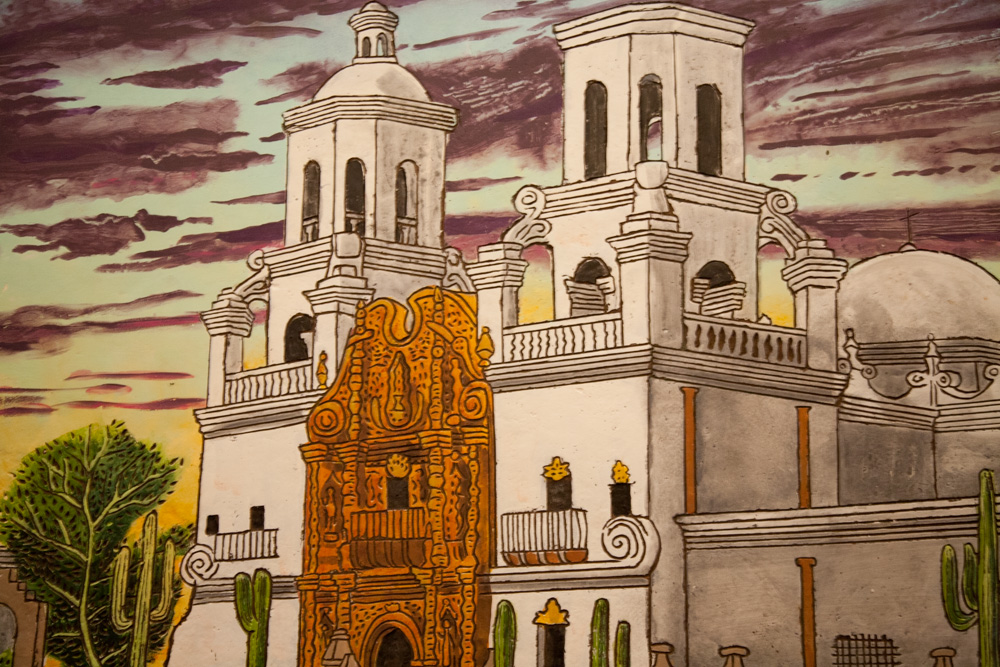 S. Convent Ave.
As the Warehouse Arts District has lost galleries, one of the newest gallery districts has seen five new galleries open recently. These are found along S. Convent Ave. in Barrio Viejo between W. Cushing St. and W. Simpson. It is being included in the SOCO (South of Congress) Arts and Entertainment District according to the Arizona Daily Star. It is also located down the street from Tucson's Museum of Contemporary Art.
These include:
The Andrew Smith Gallery moved from Santa Fe, NM to Tucson. Originally on W. Sixth Ave., they are now at 330 S. Convent Ave.This is an excellent gallery featuring featuring 19th-, 20th- and 21st-century photographs from popular artists and photographers.
Bathi Indian Arts Gallery: At 314 S. Convent Ave., this is a gallery that specializes in Native American art.
Decode Gallery: You can find Decode Gallery on Convent Avenue behind a vibrant yellow door behind Andrew Smith Gallery. This submission-based photography gallery contains work from renowned artists like Ansel Adams and Edward Weston. 320 S. Convent Ave.
Etherton Gallery: Etherton Gallery has been a staple photography gallery in Tucson for over 40 years. The gallery specializes in photography from the 19th century to today. Terry Etherton's move from Sixth Ave., has helped draw four other galleries and studios into the area. 340 S. Convent Ave.
Studio light | space is one of the newer additions to the Convent Avenue art gallery hub. The studio and gallery "presents work by artists with an emphasis on reductive and minimal drawings, paintings and objects," according to owner Beverly Fisher. 307 S. Convent Ave.
Nearby is the Philabaum Glass Gallery at 711 S. 6th Ave. Thanks to a Chicago friend, I stopped by to see the work of their 60 nationally recognized artists. They feature blown glass art, sculpture, cused glass platters and jewelry. The gallery also told me about the nearby Convent Avenue gallery district, so I am very glad that I visted it.