Jersey City
Across from Manhattan, Jersey City is the second largest city in the state. It is easily accessible by car or by ferry or the PATH train from NYC. If you want, you could stay in Jersey City and then go over to the city to explore, eat or go to the theater.
I was recently back for the third time and really enjoyed the experience and the stunning views of Manhattan. Jersey City reminds me of parts of Brooklyn with historic row houses and brownstones. It has become a prime residential area for people working in NYC. With this growth in residents there are many new restaurants, coffee shops and stores. It is also one of the most culturally and ethnically diverse cities in the country. Of its population, 42% are foreign-born and 53% speak a language other than English at home. This is reflected in the many ethnic restaurants, cafes and stores that you will see while exploring.  In April, 2022 Food & Wine Magazine named Jersey City one the Next Great Food Cities in the US!
My top recommendations include:
Skinner's Loft: At 146 Newark Ave., I enjoyed a fun brunch with my nephew, a former resident of Jersey City. This is a two level restaurant in an historic building plus roof top bar. It is open for brunch and dinner and features an contemporary American menu. The eggs Florentine with poached eggs over housemade buttermilk biscuits, smoked salmon, sautéed spinach and hollandaise sauce hit the spot.
South House: At 149 Newark Ave., across from Skinner's Loft, is a great casual spot. with an eclectic decor, that features Southern specialties.
Taqueria Downtown: I really liked the atmosphere of this casual Mexican restaurant. It has received a number of recommendations from recent articles I have read including New York Eater. Their large outdoor patio is a big plus. 236 Grove St. at Grand.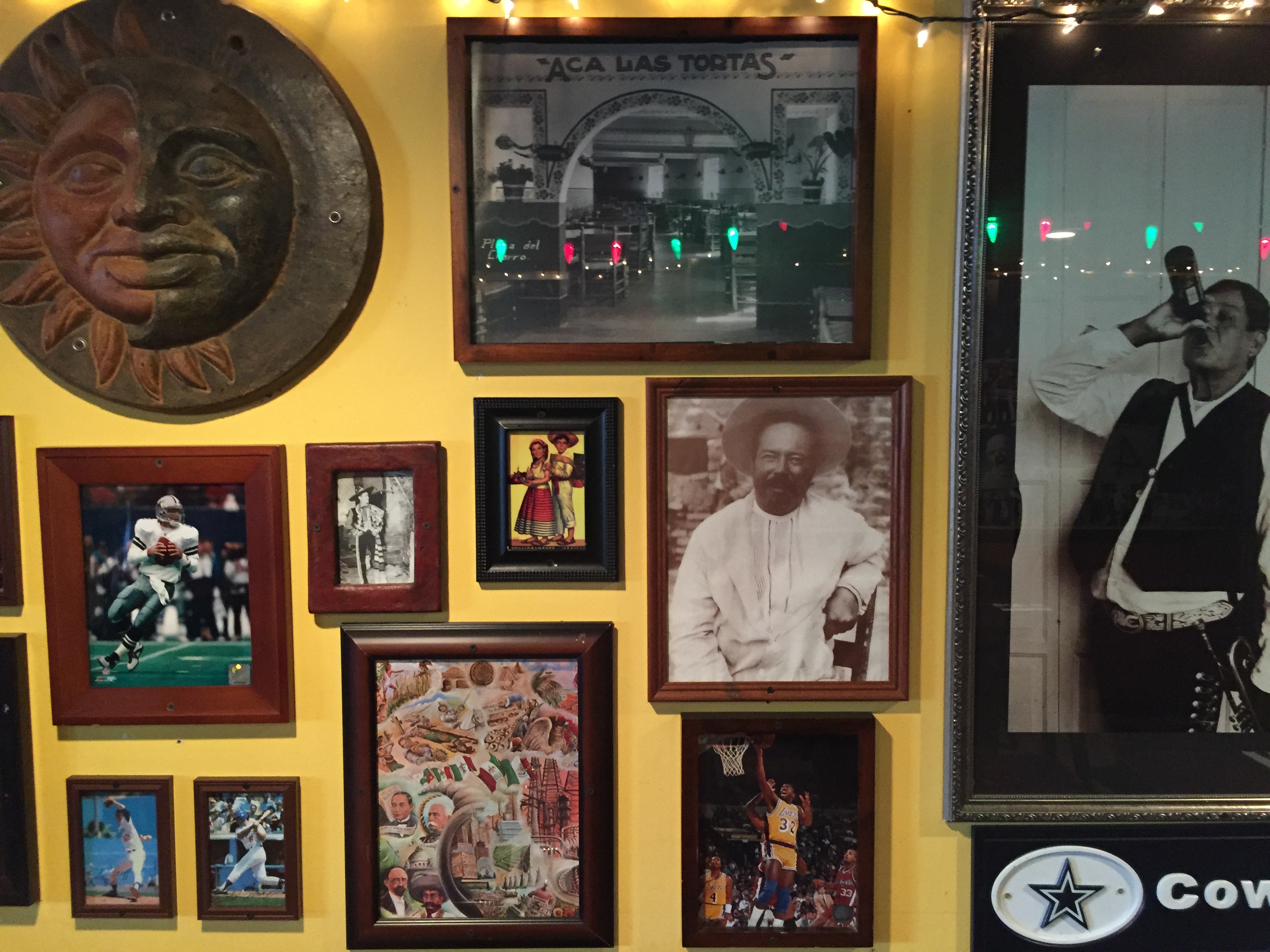 dullboy: This a fun spot for food and great specialty and classic cocktails. 364 Grove St.
On a past trip, I really enjoyed Thirty Acres for brunch at 500 Jersey Ave. It has since closed and replaced by Kitchen Step featuring a modern American menu. It has indoor dining as well as an outdoor patio. It is highly recommended by the Thrillist as one of The Top 21 Restaurants in Jersey City Right Now.
Choco O Pain: This French Bakery & Café, at 530 Jersey Avenue, has great pastries and good coffee. Don't miss the chocolate and almond croissant! They also have a second location in downtown Hoboken.
Dames Coffee Espresso Bar: This is a casual spot for coffee at 581 Jersey Ave. It has good coffee and nice staff!
Torico Homemade Ice Cream: Since 1968, this is the perfect spot for a break on a hot summer afternoon particularly with its many tropical flavors influenced by Puerto Rico. 20 Erie St. at 1st.
On my recent trip, I enjoyed my brunch at Frankie, a colorful restaurant and bar with Australian influences. It has received great reviews in publications. I really liked the avocado toast with feta, radish, roasted tomatoes, peas and a fried egg. They have both indoor and outdoor patio seating.
I decided to pick a spot for dinner that I could walk to from my hotel. Thanks to a recommendation by Eater New York, I am glad I chose Bistro La Source, a French restaurant, with outdoor patio seating, offering classic French dishes such as steak frites, cassoulet and mussels. I really liked the mussels À la Marinière in a garlic, white wine and butter sauce and a tasty chilled gazpacho on a warm, summer night.
Word Bookstores: After a reference in the NY Times I visited Word at 123 Newark Ave. It is a great bookstore.  Check out their website for special events. They now have a new location at 29 McWilliams Pl.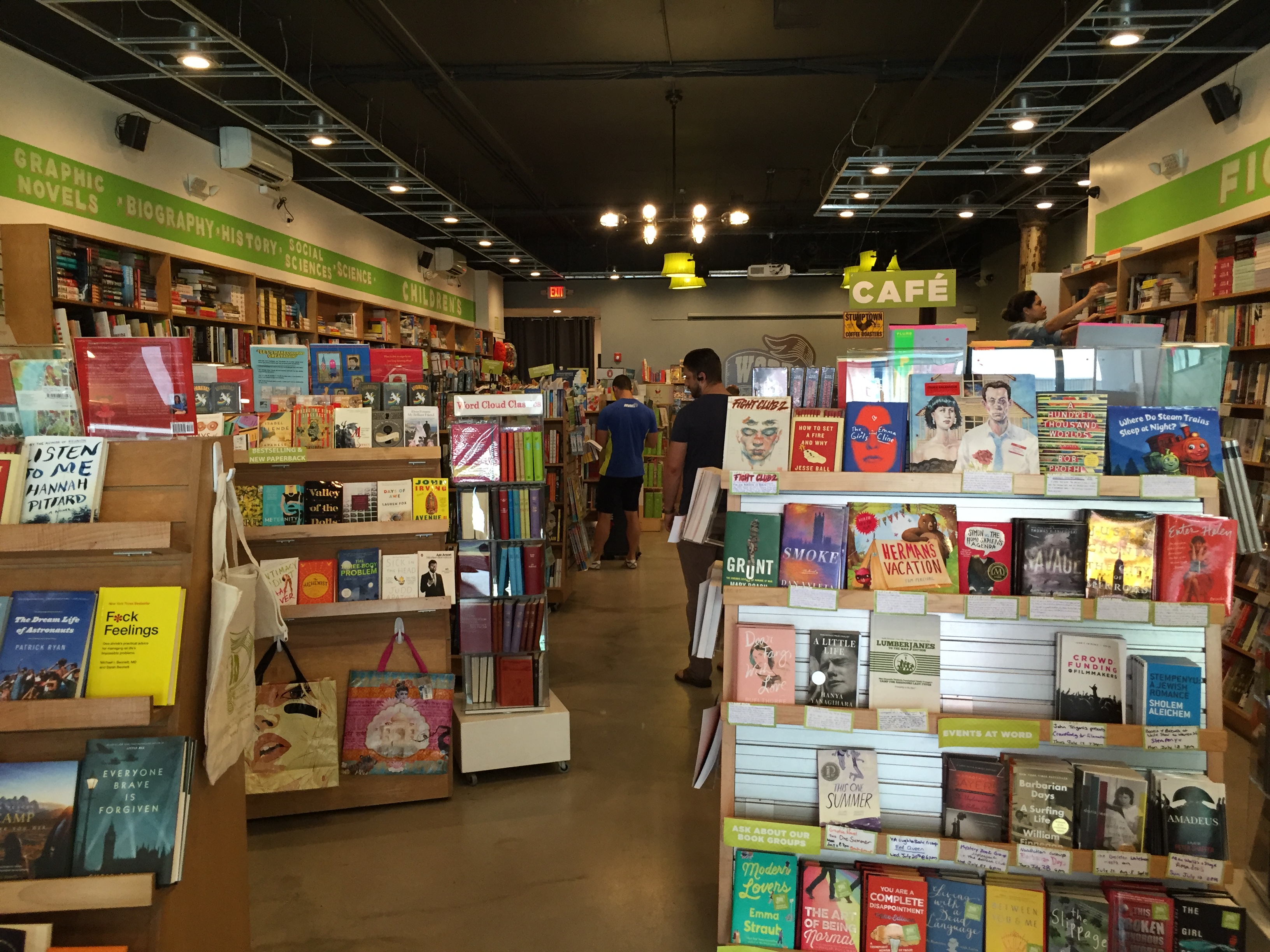 On my next trip, I would love to dine at Maritime Parc along the water with great views of the Manhattan skyline and the boat docks below. It is at located at 84 Audrey Zapp Dr. in Liberty State Park. It was featured as one the top restaurants in the state by NJ Monthly. Nearby is Liberty House restaurant also with great views.76 Audrey Zapp Dr.
I also want to try Greene Hook Bar & Kitchen at 70 Greene St. which gets good reviews. Also for great views, there is Terre E Mare for steaks and seafood at the Hudson House, 2 Chapel Ave Unit 2, and Batello for contemporary Italian at 502 Washington.
I also just read that Razza Pizza Artiginale was named the Best Pizza in the US by The James Beard House in conjunction with S.Pellegrino and Aqua Panna.  The NY Times also said it had the best pizza in the New York despite being in New Jersey. It opened in 2012 at 275 Grove St.
Other places that looked fun when I was in town are Franklin Social, a classic tavern, at 292 Barrow St., Beachwood Cafe at 290 Grove St. and Light Horse Tavern at 199 Washington St., for modern American cuisine. City Diner also looks great for all-day breakfast and comfort food for lunch and dinner. 31 Montgomery St.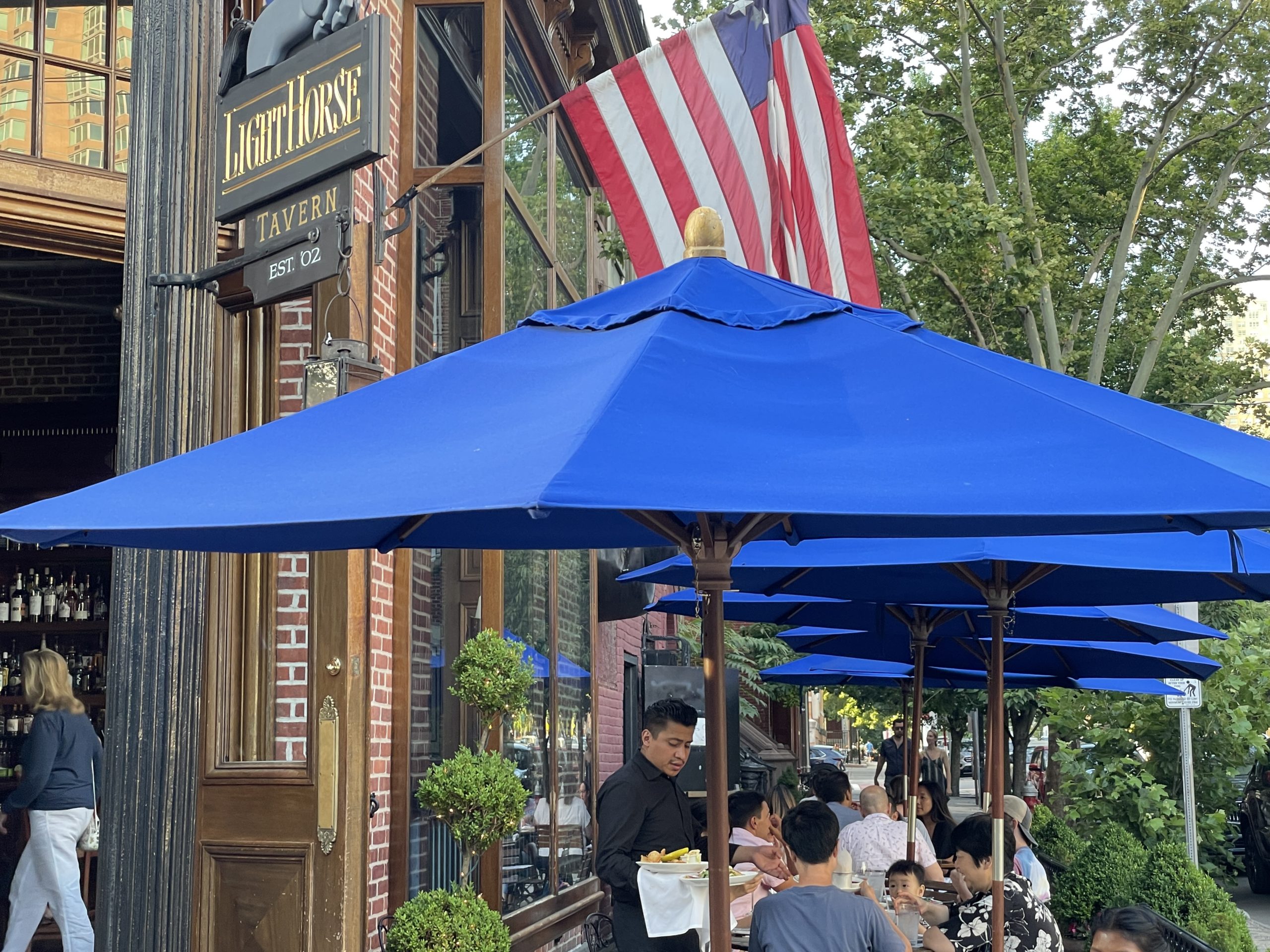 Several years ago I visited Smorgasburg in Brooklyn, NY.  This is a summer food festival held Friday, Saturday and Sundays in various locations in the area. On my recent trip to Jersey City, I went to recently opened location at Harborside Pl. at Hudson St. on a Saturday afternoon. There also Smorgasbar, beer garden, with drinks and food and great views of NYC. There are a number of food trucks and food vendors. It is a fun experience and great for families with children.
If you want to stay in Jersey City, I highly recommend the Hyatt House Jersey City at One Exchange Place. Located along the Hudson River, it has very nice contemporary rooms, offers guests a free breakfast in the Terrace Lounge overlooking Lower Manhattan and has spectacular views from their bar, the RoofTop at Exchange Place.  My standard king room also had a nice kitchenette as an amenity.
The hotel sits across from Owen Grundy Park, which shoots out into the Hudson River and offers excellent views of Liberty State Park, Lower Manhattan, and the Jersey City waterfront. Nearby is the Hudson River Waterfront Walkway.  Grab a coffee at Gregory's Coffee or Bluestone Lane and enjoy an early morning walk along the water and the spectacular views of Lower Manhattan. 
I am a big fan of Mana Contemporary, an art center with artist studios in Chicago's Pilsen neighborhood. I just saw that they have a second location in Jersey City. This location has a number of artist studios, features art exhibitions and has a number of museums, foundations and art centers/programs. Check out the website for details as tours maybe be required along with appointments for some of the galleries/museums. Unfortunately it was closed the weekend I was in town. 888 Newark Ave.
Make sure to also visit Liberty State Park. It is located south of downtown and opposity of Ellis Island and the statue of Liberty. Here you can see the historic Central Railroad of New Jersey Terminal (CRRNJ) and  the NJ Empty Sky 9/11 Memorial.  The Memorial honors the memory of the 750 people that lived in or had ties to New Jersey that lost their lives at the World Trade Center, the Pentagon, and Shanksville, PA on September 11, 2001
Ferry service from Liberty State Park to the Statue of Liberty and Ellis Island is available throughout the year. For rates, boat schedules, and to purchase tickets online please visit Statue City Cruises. You can also drive south and see the statue from the end of the park. You can also enjoy boating, fishing, crabbing, picnicking and visiting the Liberty Science Center museum.