Aspen was originally settled at Ute City, by a group of miners and then incorporated in 1881. It was officially named Aspen in 1888. It was inhabited by miners, prospectors and entrepreneurs who established grocery stores, schools, a hotel and other services. When mining declined in the 1900s, the city fell on hard times. A resurgence started in the 1940s with the founding of the Aspen Skiing Company and the arrival of the Bauhaus influence and founding of the Aspen Institute and Aspen Music Festival.
The Aspen Ski Company celebrated its 75th anniversary in January, 2022! I read recently in the Aspen Times that for the 1936 Olympics, both men's and women's Alpine skiing was added for the first time with a downhill and a slalom competition. These new events stimulated an interest in the sport. Billy Fiske, a former Olympic bobsledder, was one of the founding partners of the Highland Bavarian group that started skiing in Aspen. He had visited the Alps and wanted to start a resort like what he saw in St. Mortiz, Switzerland. He came to Aspen with his partners in 1936 and opened their lodge and Little Annie slopes before the Olympics. Freidl Pfeifer, the Austrian slalom racer and coach, escaped to Sun Valley when the Nazis took over. He became the ski school director there and then came to Aspen during the war while in the Ten Mountain Division. After the war, he pitched the idea of expanding their operations to build lifts. The Aspen Skiing Co. was born!
Today it is a thriving town with many cultural insitutions, an expanding food scene and an amazing array of outdoor activities throughout the year. I personally have been going there for almost 40 years and now spend four to five weeks there every year.
There are many events happening in Aspen and Snowmass throughout the year. Aspen Gay Ski Week is held in mid-January, while the Winter X Games are held the last week of January. The Snowmass  Rodeo occurs weekly on Wednesdays every summer along with the Aspen downtown Saturday market.
I recently went back to the Rodeo. It is a great spot for families that also has food vendors where you can eat before and during the event. There are a number of events featuring children as well.
There are so many outdoor activities to partake in… hiking, biking, fly fishing, world class skiing and snowboarding on 4 mountains, jeep tours, snowshoe and cross country skiing, white water rafting, exploring old ghost towns, dog sled tours, horseback riding and of course shopping for many. You can also play golf, tennis, do yoga and pilates. For those wanting to take ski lessons, I recommend you contact Mary Woulfe, a longtime friend, at 970mary@gmail.com. She will make sure you are matched appropriately and will bring in the right person to make your experience a great one.
I recommend Snowmass Mountain for skiing with its more than 3,000 skiable acres. It was named North America's #1 ski resort in Condé Nast Traveler's 2023 Readers' Choice Awards. Buttermilk is beloved by beginners and has a number of parks and pipes for snowboarders and freeskiers. Aspen Highlands is a favorite of locals and is home to the Highlands Bowl and the Cloud Nine restaurant. Highlands was was named North Aemerica's #10 ski resort in Condé Nast Traveler's 2023 Readers' Choice Awards. Aspen Mountain right downtown is more difficult but does have a number of blue trails. Aspen Mountain was recently named North America's #4 ski resort in Condé Nast Traveler's 2023 Readers' Choice Awards.
I always tell people that you can take the gondola up, ski the top and take the gondola back down at the end of the day. Check out the website for Aspen Snowmass for information on the four mountains and buying lift tickets.
For hiking, great trails include Cathedral Lake, American Lake, Conundrum Creek, the Ditch and Rim trails in Snowmass plus the Maroon Lake Trail leading up from the beautiful Maroon Bells. Remember during the summer and into the fall you are not allowed to drive to Maroon Bells except early in the morning and late in the afternoon. A bus is required from the base of Aspen Highlands. In 2020, a reservation for parking is also required. The Hunter Creek Trail in Aspen is also recommended as is Smuggler Mountain Trail and the Ute trail.
I have only seen one bear while hiking in Aspen on a trail east of town. I have, however, seen a few more at night in downtown Aspen and in Snowmass Village. If you are out hiking or walking and come across a bear, I found an article, How To Be Safe Around Bears, that might be helpful in case you encounter one.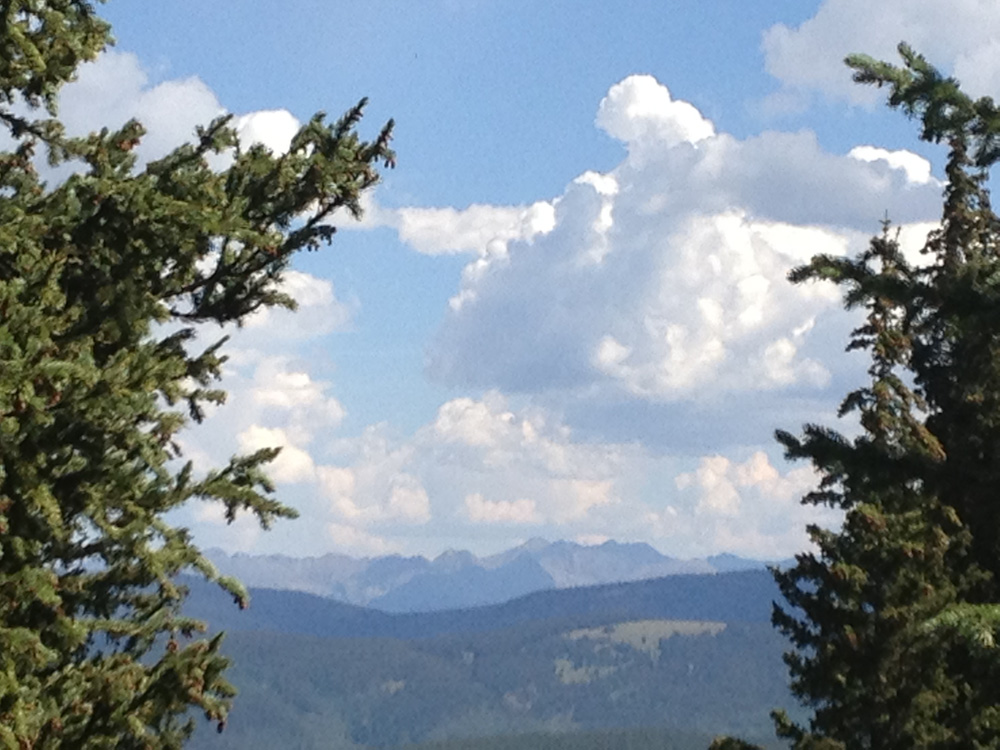 For biking, locals love the Rio Grande Trail which follows an old railway line and runs 42 miles from Aspen to Glenwood Springs.
In the past I have done a tour with Blazing Adventures. Recently celebrating their 50th anniversary, they offer group and private river rafting, paddle board, kayaking, hiking and bike trips along with jeep tours and sunset dinners. They have offices in Aspen at 555 E. Durant Ave and in Snowmass at 1 Village Mall.
Ashcroft: Don't miss the Ashcroft Ghost Town 10 miles out of town. Here you will find a hotel, general store, post office and a few homes. It flourished in the 1880's when there were over 2,000 living there; at that time it was larger than Aspen. The silver mines turned out to be only shallow deposits so the town quickly lost population and had only 100 summer residents by 1885. The Ghost Town is one of the Aspen Historical Society museums.
In addition to the Ashcroft Ghost Town, the Aspen Historical Society has three other museums. The first is the Independence Ghost Town fro 1879 near the top of Independence Pass east of town. The second is The Wheeler-Stallard Museum  located on West Bleeker St. a block off of Main St. It is a brick structure built in the Queen Anne architectural style built in 1888, and renovated twice in the 20th century. It was built by Jerome B. Wheeler who built the Hotel Jerome and the Wheeler Opera House in Aspen. In 1975 it was listed on the National Register of Historic Places. I heard about a Bauhaus exhibition celebrating the 100 anniversary of the founding of the famous German Art school and its influence on Aspen in subsequent years.
With my admission ticket to the Wheeler- Stallard Museum, I got free entry to the Holden/Marolt Mining & Ranching Museum a  short drive away. I was not aware it was in town. It is located on the former Holden Mining and Smelting Company facility on the western edge of the city.  It consists of one remaining building and the remains of some others. Next to it is the McMurchy-Zupancis house that was moved to the site from its original location on Main St.
The Aspen Historical Society  also does tours of the Hotel Jerome.  I just did my first tour of the Jerome and was very impressed.  I loved learning about the history of Aspen and how the hotel has been a major part of Aspen history since it opened in 1889. They also do downtown and Victorian West End walking tours, historic pub crawls and tours of local Bauhaus architecture.
Other things to do include:
Catching a concert at Belly Up Aspen at 450 S. Galena St. which features live music from a number of national headliners. In the past they have hosted The Temptations, Jimmy Buffet, Snoop Dogg and John Legend. There are over 300 events a year.
Isis Movie Theater: For first run movies, this is the place to go in town. 406 E. Hopkins. You can enjoy large, reclining seats as part of the experience.
Attending a concert, movie, festival lecture, community event or opera at the Wheeler Opera House. Tours are available most Wednesdays, so make sure to check the website. Located at the corner of East Hyman Avenue and South Mill Street, it is a stone building erected during the 1890s, from a design by Willoughby J. Edbrooke that blends elements of the Romanesque Revival and Italianate architectural styles
Attend a workshop or conference at the Aspen Center for Physics.
ACES/The Aspen Center for Environmental Studies  is a nonprofit environmental science education organization that has worked since 1968 to "inspire a life-long commitment to the earth by providing immersive programming for all ages. Their programs focus on ecological literacy, regenerative agriculture, forest and ecosystem health, land restoration, and environmental leadership." I recently went back to their Halem Lake Nature Preserve close to downtown. It is a special place to get away and be in nature. In addition to Halem Lake, they have the Catto Center at Toklat in Ashcroft and Rock Bottom Ranch in Basalt.
While driving from Snowmass to Aspen down Owl Creek Road, I was enjoying one of my favorite views of the mountains, when John Denver's Rocky Mountain High started playing on the radio. It brought back wonderful memories of my childhood and was the perfect background for my drive. This motivated me to visit the John Denver Sanctuary near Rio Grande Park and Theatre Aspen's Hurst Theatre. This is a quiet space featuring lush grass, perennial flowers and engraved rocks honoring John Denver and his lyrics. I highly recommend the experience for those who love his music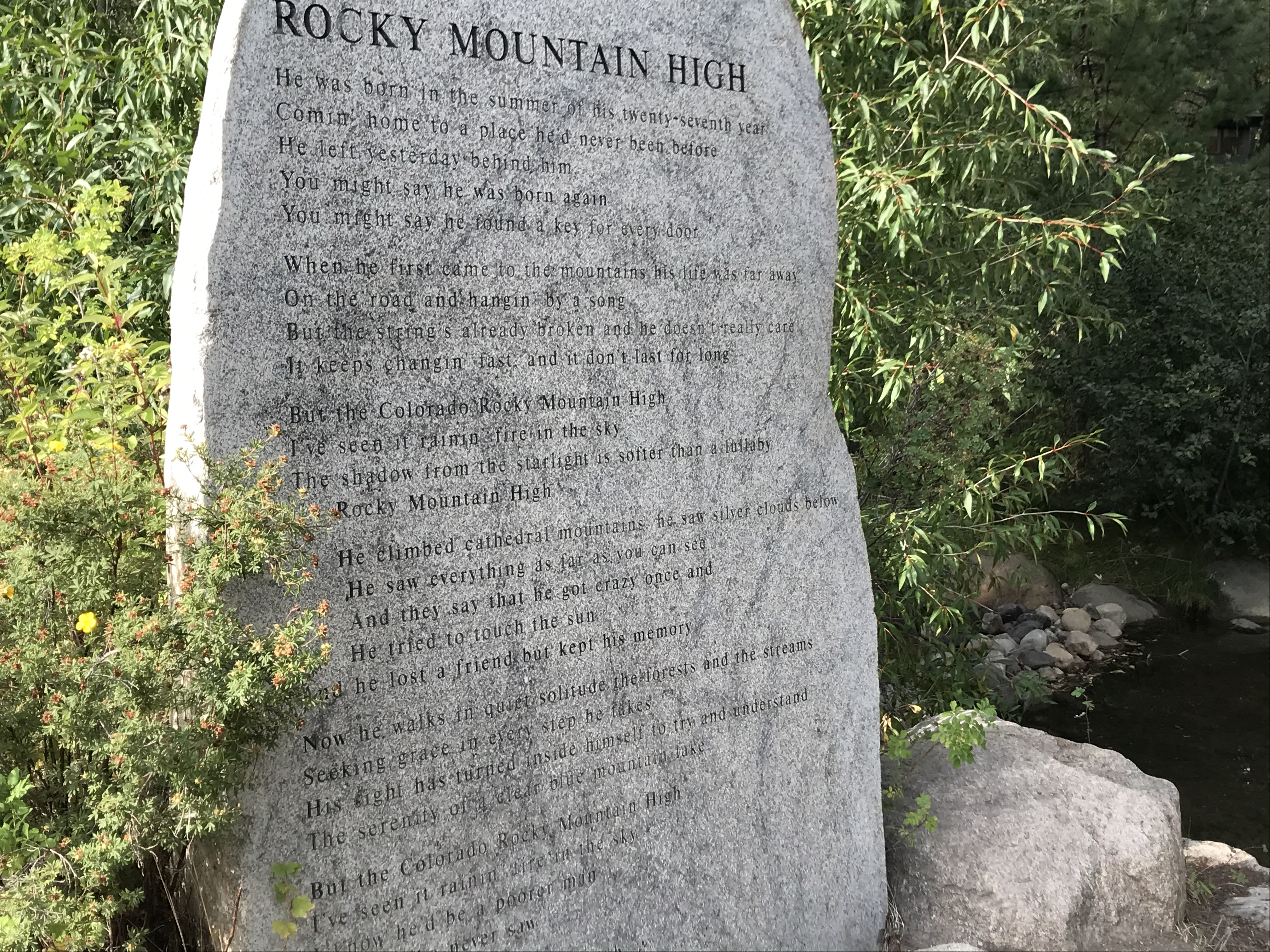 Aspen Words features programs and retreats with contemporary writers.
Winterskol Celebration is a winter festival in January with on-mountain activities, live music and fireworks.
From mid-June to early October, the Aspen Saturday Market in downtown Aspen is always one of my favorite things to do when I am in town.  The market offers Colorado grown produce, breads and pastries, coffee, gelato, crafts, live music and a food court for lunch or a snack while you explore. The market makes a U-shape from the corner of Galena and Hopkins, to Hunter and then again back to the intersection of Hyman and Galena.
Snowmass Baloon Festival is a great event to see hot air balloons over three days in early September with over 30 pilots participating. There is also the Snowmass Wine Festival  in mid-September.  Jazz Aspen Snowmass (JAS) has a huge music event in Snowmass over Labor Day Weekend with top entertainment over three days. They also have a really outstanding JAS Cafe in downtown with great headliners and a June event at the Benedict Music Tent in Aspen. Their new performance space is under construction and should open in 2023.
Located on Fanny Hill near the Snowmass Mall is the Snowmass Summer of Free Music Series from mid-June through late August.  This free concert series features touring musical acts on Thursday evenings.
Snowmass has recently expanded its Base Village to include a new hotel, condos, dining, a skating rink and a community center called The Collective. Here you will find lectures, art classes,  theater, art exhibitions, storytelling, kids activities, bingo, yoga and music performances. Recently opened is a restaurant and bar mix6 and moxiBar. The food is excellent! Across the street you can also take art classes at Straight Line Studio, an art gallery and studio space.
Downstairs is the colorful Snowmass Game Lounge a public play space to bring your friends and family to enjoy a variety of games including foosball, tube table tennis, a ball pool, interactive wall mural, intriguing games, board games, full-size pin art, air hockey and lounge area.
Snowmass also has the Breathtaker Alpine Coaster, where non skiers can ride an elevated roller coaster on sleds through a pine forest. It is at the top of the Elk Camp gondola.