Evanston
This tree-lined suburb of close to 75,000 people is located 12 miles directly north of downtown Chicago. It is home to the famed Northwestern University. The students give the town a great energy.  If you have time, it is well-worth the visit. You can drive, take the el and/or train to the downtown area. The attractive downtown area has some excellent restaurants, shops and galleries. There are also new breweries and distilleries to try.
My top restaurant picks and things to do include:
Mt. Everest Restaurant for great Nepalese and Indian cuisine at 630 Church St.  I was back recently and still love the food. I recommend the non-vegetarian value platter for two which gives you several great dishes to try.
A great spot to try downtown is The Barn Steakhouse, featuring steaks and cocktails in the warm, rustic atmosphere of a former horse stable. The barn was operated in the late 1880s by the Borden Condensed Milk Co. The meat-centric menu, does feature some fish, pasta and chicken entrees as well. I enjoyed the bison Bolognese and my friends the pork chop and the lasagna special. It is located in the rear of 1016 Church St. in downtown Evanston and is a little tricky to find. So go down the alley between Davis, Church, Maple, and Oak Streets. They offer valet parking in the lot.
Cupitol Coffee & Eatery: Located at 812 Grove St. this is sleek, modern cafe that serves coffee, pastries, breakfast, lunch and dinner items. I loved it for lunch where I met a friend staying in Evanston. I thought the smoked salmon sandwich on a baguette with a salad was very good. The quality and freshness was excellent.
I had heard great reviews about Patisserie Coralie, at 600 Davis St., for great French pastries.  So I made a point to try it on my last visit downtown. They have a full menu of tea and coffee drinks along with French cakes, pastries, crossants, macarons, sandwiches and quiche. They have an attractive inside cafe along with outdoor seating on the sidewalk to the east. I highly recommend it.
Down the street is the sleek, contemporary Newport Coffee House at 622 Davis St. and Bennison's Bakery at 1000 Davis St.
Bennison's Bakery has been offering fresh bread and European-style pastries, cookies, and custom cakes to the area since 1938.  These include apfelstrudel, paczki and croissants.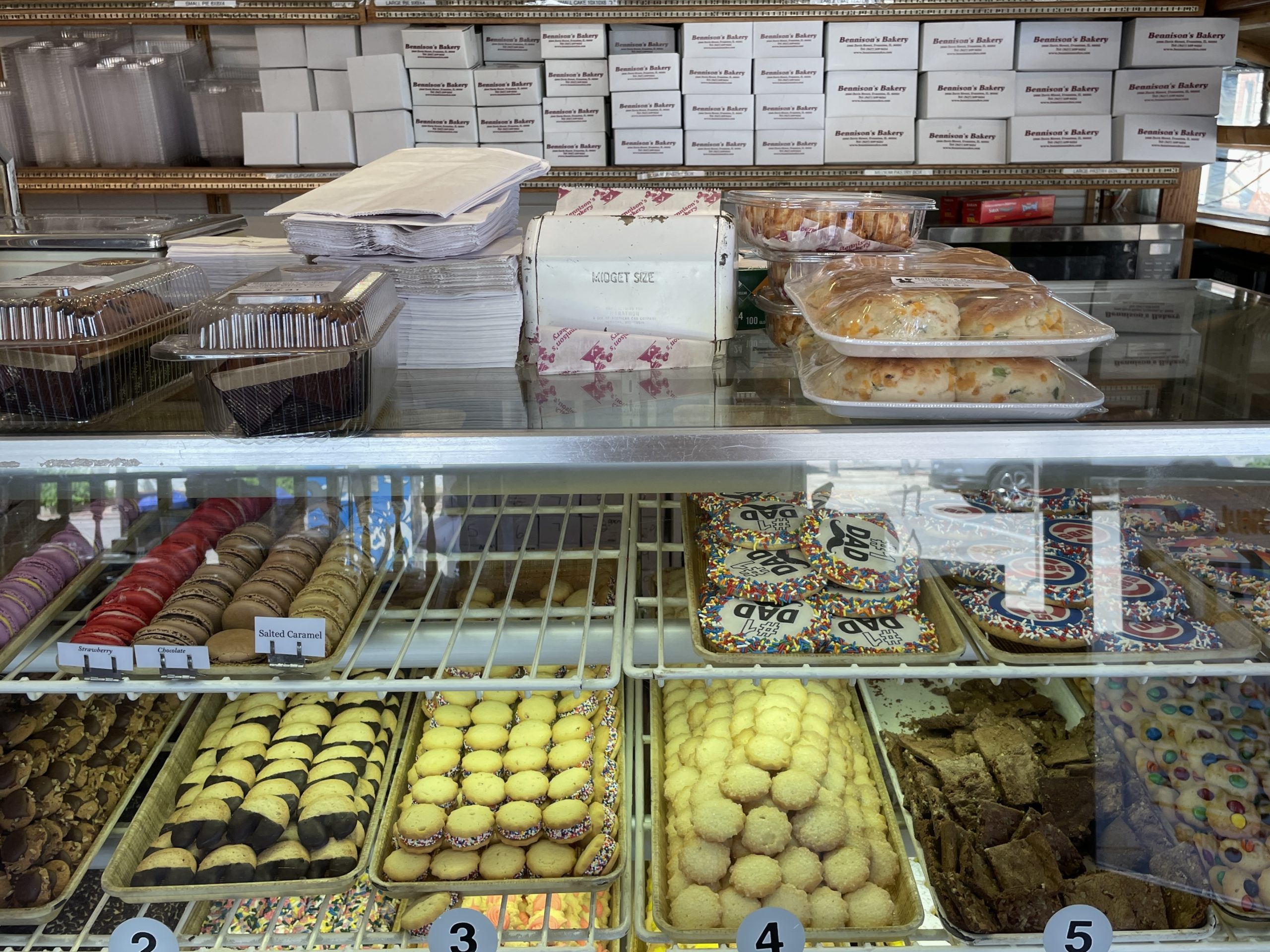 A great breakfast, brunch and lunch restaurant in downtown Evanston is  the casual Le Peep, part of a national chain. They have a great menu with many choices including omelets, benedicts, skillets, pancakes, crepes along with sandwiches, burgers and salads. I was very pleased with my avocado toast, a latte and the service.
After reading several reviews, I had originally wanted to try BAT 17, a casual pub, which is located next door to Le Peep, however it was closed for lunch that day. I am anxious to go back and try one of their many sliders, sandwiches or burgers.
Mary and Leigh Block Art Museum: Located on the Northwestern Campus, is the well-known Mary and Leigh Block Art Museum. Here, you can see its permanent collection or one of its temporary exhibitions. The museum building is really exceptional. It opened in 2000 and was designed by Chicago architect Dirk Lohan, the grandson of famed architect Mies van der Rohe.
The permanent collection of close to 5,000 items, has diverse holdings including works on paper, architectural drawings, photographs, textiles and bronze sculptures. Artists include Albrecht Durer, Honore Daumier, Mary Cassatt, Max Beckmann, Andy Warhol, Ed Paschke and Sarah Sze. 4 Arts Circle Drive.
They also have the Block Cinema with showings several times a month. Check the website for the current schedule. The Northwestern University School of Communication has theater productions there throughout the year from October to May.
Located across from the campus is Northwestern's Alice Millar Chapel at 1870 Sheridan Rd. The highlight of this 700 seat chapel  built in 1962, are the stunning, colorful and abstract stained glass windows. Towards the north end of the campus is the Dearborn Observatory built in 1889. It is open on Fridays for viewing.
Gross Point Lighthouse: At 2601 Sheridan Rd. is a 113-foot lighthouse built in 1874 as navigational aid for Lake Michigan. It is now owned by the city and still operates using its original lens. There are a number of diplays in keeper's cottage.
Evanston History Center/Dawes House: At 225 Greenwood St. this is a grand mansion built by Henry Edwards-Ficken in 1894. It was the home of Charles Gates Dawes who served at Vice President of the Us from 1925 to 1929 under Calvin Coolidge. He was also the recipient of the 1925 Nobel Peace Prize. The opulent interior is really lovely and there are a number of exhibits to explore as well. It has been a National Historic Landmark since 1976.
If you want to stay local, I recently toured the Margarita European Inn at 1566 Oak Ave. This building from 1927, was the former Margarita Club for Working Women that provided housing for young business women. Today is it a lovely, formal bed and breakfast that has a lovely sitting room and library plus a roof deck for the warmer months overlooking downtown Evanston. The 46 rooms on five floors are beautifully furnished.
Opened in late 2020 is the new Graduate Evanston hotel at 1625 Hinman, near downtown and Northwestern University. I really like this chain of hotels which has a contemporary, traditional design and a focus on college and university towns. I was able to visit the property and really loved the design and the location!
There is a lot happening in the area of Evanston south of Dempster. There are new residential buildings, coffee shops, restaurants, distilleries and microbreweries. Make sure to visit:
Blind Faith Café, at 525 Dempster, is a perfect vegetarian spot for lunch or brunch. It has been open for over 30 years and is located on the southern part of town.  For the second time, I had a wonderful omelette with pesto and goat cheese which comes with potatoes and corn muffin.
Brothers K Coffeehouse: The popular local's spot is located at 500 Main St. They serve Chicago-roasted Metropolis coffee along with baked goods which they sourced from local Evanston bakeries and cafes. I love their website location description which states that The Brothers K Coffeehouse is "accessible by plane, train, sailboat, automobile, ferry, hot air balloon, bicycle, covered wagon, semi-truck and rickshaw. It was an easy drive from the city. It is a block from the CTA Purple Line station as well as the Metra station.
A top new find is FEW Spirits at 918 Chicago Ave.  It is tucked away in an alley so find 916 and head down the alley to the left.  It is a small local distillery named after Frances Willard, the head of the Women's Christian Temperance Union, which fought for prohibition.  She lived nearby in Evanston. This craft distillery makes a number of gins, whiskeys and bourbon.  I enjoyed a tour along with a tasting.  My favorites were the Rye Whiskey and the  newly released Single Malt Whiskey.  The Bourbon and the Barrel Gin, seasoned in oak barrels, were also good.  The labels and branding all are taken from scenes of the 1893 World's Columbian Exhibition in Chicago.
Not far is the Frances Willard House Museum at 1730 Chicago Ave. It was built n 1865 and Willard lived in the house from then until she died in 1898. There are a number of displays and you can visit the rooms as well.
Also fitting is the name of Temperance Beer Co. which is a few blocks west at 2000 W. Dempster St. in an industrial area.  They have a fun taproom attached to their brewery.  They make a number of ales, saisons, IPAs and stouts. I enjoyed the Birdsong saison which was very light and refreshing.
Temperance Beer Co. recommended another local microbrewery, Sketchbook Brewing Co. Their brewery and taproom is located at 821 Chicago Ave. They make a number of innovative brews from an oatmeal stout, a porter with elderberries and a pilsner to a peach sour beer, a pale ale and a German wheat beer. The taproom has recently been expanded in the same location.
A block south at 749 Chicago Ave. is Hoosier Mama Pie Company & Dollop Coffee. This is a large, space featuring Dollop's coffee drinks and the wonderful pies, muffins cookies and pastries from Hoosier Mama. They also buttermilk biscuit sandwiches.  At lunch and dinner they serve savory pie plates, sandwiches, and salads. I can't wait to go back!
On my next visit, I want to try the Firehouse Grill at 750 Chicago Ave. It is located  in a former fire station. They feature beer, burgers, soups and salads.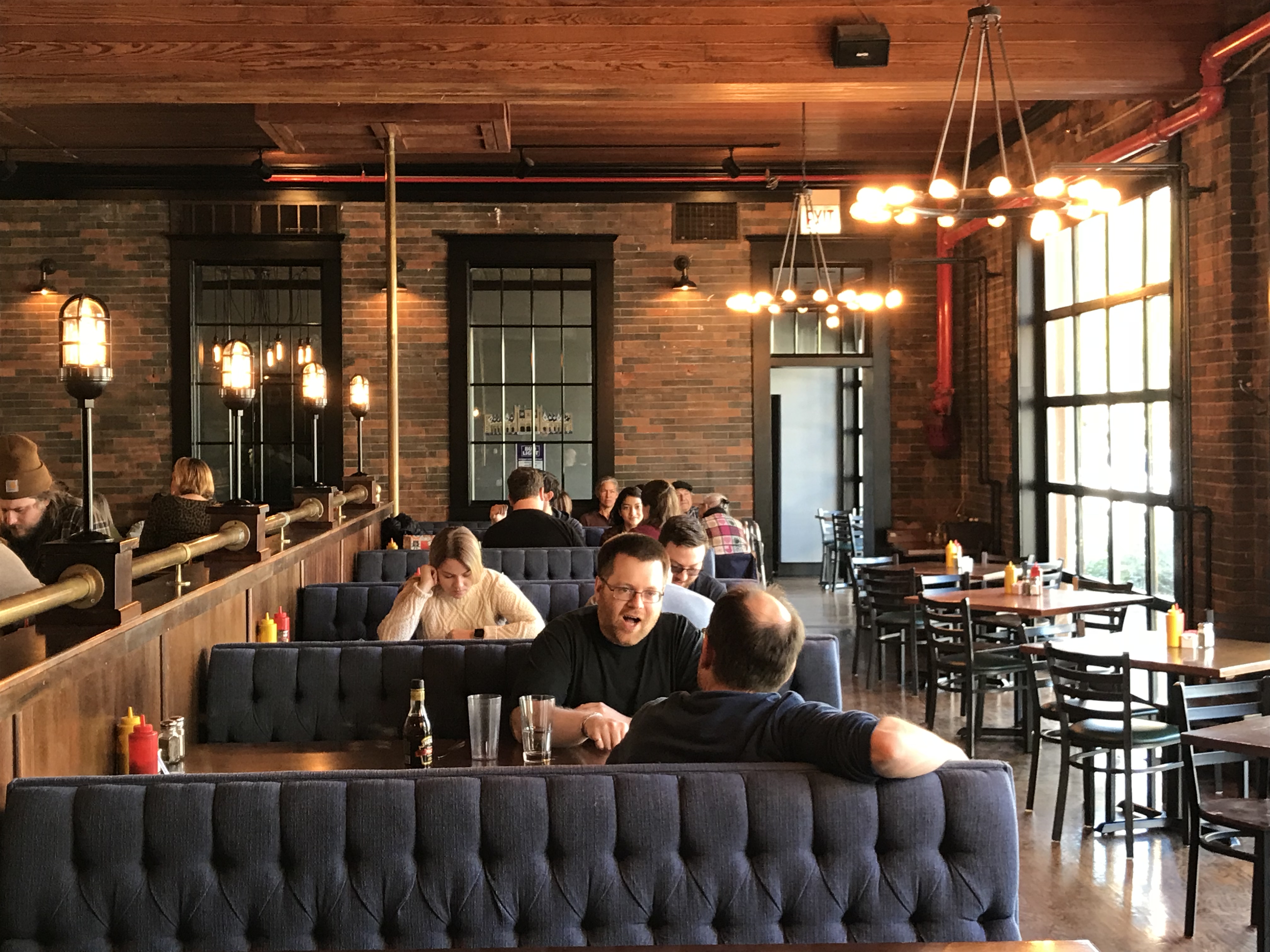 Also emerging is the area in north Evanston along Central Street. Here you will find a number of boutiques, restaurants and cafes.
Ten Mile House:  This is a great new find in Evanston at 1700 Central. This is an upscale,  casual restaurant that has a extensive menu of wood fired pizzas, smoked meats, sandwiches and salads. They also feature local beers and creative cocktails.  My friend loved the Cuban sandwich while the South by Northwestern salad with roasted sweet potatoes, farro, pepitas, roasted corn, avocados, pepper jack cheese, grape tomatoes, cornbread croutons and  sherry vinaigrette plus shrimp was really excellent. It is open for lunch, dinner and brunch on weekends. They recently opened DB3 Donuts next door.
Evanston Arts Center: I was so glad to have been introduced to this Arts Center in Evanston located at 1717 Central Street. Its mission to to foster "the appreciation and expression of the arts among diverse audiences." They feature classes, lectures, exhibitions, interactive arts activities and community outreach initiatives. Workshops are taught in ceramics, digital media and fabrication, drawing and painting, sculpture, jewelry and metalsmithing, printmaking and woodworking.  They also feature youth classes as well. I saw a very creative textile exhibition on my first visit to the center! 
Recently opened is Lush Wine & Spirits at 2022 Central. Lush offers customers a fusion of a wine shop and wine bar along with French food. Here you can find artisanal cheeses, charcuterie, small and large plates for paring with the wine. They also have an outdoor patio for the summer months. I  have a friend who is now involved in the management.
Nearby at 2010 Central St. is the popular Tag's Bakery. This bakery opened in 1937 and specializes in cakes for all occasions, pastries, cookies and and their famous Florentines. Next door they opened Tag's Cafe  in 2018 at 2012 Central St., where they serve breakfast and lunch menu items along with coffee drinks. They also feature the bakery's breads, muffins and cookies.
Backlot Coffee: I enjoyed meeting a friend at this local coffee house at 2002 Central St. This is a colorful cafe where many locals come to work and meet others in the community.
A new find on the street is the Leonidas Chocolate Cafe at 1907 Central St. I recently went for lunch on Memorial Day and enjoyed the food. The chain was established in 1913, when Leonidas Kistakedis set up his first tea room in Ghent, Belgium, offering chocolates and pastries.  Today they feature fresh Belgian Chocolates, French pastries, espresso drinks,  sweet and savory crepes, Belgian waffles, croissants and warm croissant sandwiches, omelettes and quiche. I loved the ham and cheese croissant sandwich and a decadent hazelnut cake. I highly recommend it. They have another location in Chicago and one in suburban Northbook.
Make sure to visit Hewn at 1733 Central St. which moved to this larger location in 2020.  This is a local bakery offering made-from-scratch bread, pastries and sandwiches in a warm, rustic space. I made a point to go when I was back in Evanston. I enjoyed a great turkey baguette sandwich and a latte. Just be aware they don't have table seating.  Food & Wine Magazine named it one of The 100 Best Bakeries in America in 2020.
Just south is the Evanston based Soul & Smoke. This is chef D'Andre Carter's award winning, local barbecue spot that specializes in slow roasted, smoked and braised meats. They do not have a restaurant, but have a pick-up window at 1601 Payne St. They have a location in Avondale at 3517 N Spaulding Ave, and a counter at the Time Out Market, food hall  in Chicago at 916 W Fulton Market.  I went to a pop-up at the Wrigleyville Christkindlmarket and loved the pulled pork sandwich and apple slaw. They are looking to open a permanent restaurant soon.
While in Evanston I highly suggest that you visit some of the homes designed by famed architect Frank Lloyd Wright. Two are located just west of Central St. The Hanney and Son House was built in 1916 and is located at 2614 Lincolnwood Dr. As one of the American System-Built Homes, these were Frank Lloyd Wright's early effort to provide beautiful and affordable housing to the middle class. The Oscar Johnson House 1st floor plan was altered in the 1930s and is in need of an historically accurate restoration.
My favorite by far was the Charles A. Brown house from 1905. Located at 2020 Harrison St.,"it has a simple, square-shaped plan, clapboard siding, and sash windows—some of the last to appear in Wright's work. A wide veranda at the front of the house displays a vast cantilevered roof that interrupts the box-like structure of the residence and opens the house to its surrounding environment."
Lincolnwood
Just west of Evanston in Lincolnwood at 7110 N. Lincoln Ave. is L. Woods Tap & Pine Lodge. This is a traditional, rustic supper club featuring comfort food from salads, sandwiches and burgers to whitefish, walleye, chicken and ribs. I loved the warm atmosphere. It has been there for many years, but has been under current ownership since 1998. I enjoyed lunch with a friend, but they are also open for dinner.
Skokie
Skokie, IL is 15 miles north of Chicago and just west of Evanston. Here you should visit:
Kaufman's Deli:  I read about Kauffman's in an article about it being one of the top Jewish delis in the Chicago area, so I had to go. It is a long-standing kosher bakery and deli  from 1960 offering sliced meats, bagels and a wide selection of sandwiches. I went for lunch and loved the reuben! 4905 Dempster St.
I recently made a special trip to visit the Illinois Holocaust Museum & Educational Center at 9603 Woods Drive in Skokie.  I found the exhibitions very moving including a special photography exhibition about the Jewish Ghetto in Lodz Poland. It gives an indepth history of " pre-war European life, the rise of Nazism, ghettoization, concentration camps, liberation and resettlement around the world through more than 500 artifacts, documents, photographs, and a German rail car of the type used in Nazi deportations. It has a special focus on post-war life in Skokie, Illinois, which had the largest per capita population of Holocaust survivors outside of Israel, and sparked the Museum's eventual creation." I highly recommend it.
When you are in the area, make sure to visit the Skokie Northshore Sculpture Park. Located along the North Shore Channel and North Shore Channel Trail, this is a narrow, 2-mile landscaped park, bike trail and walkway that features over 60 sculptures of different materials made by different artists. I enjoyed my recent visit. There are four sections that runs from Touhy to Dempster. There are three areas for parking.