This Monmouth County Borough is where I have been going every year since I was ten months old. It was incorporated in 1887 and named for the Lenni Lenape Indians who were the first settlers of the area.
We now have a family cottage there on the boardwalk. There are some really lovely old Victorian homes surrounding the downtown, but the highlight is the beach. By the 1920's, a mix of Victorian homes, seashore cottages, and beach shacks dotted the shoreline. Some remain, but many have been torn down and rebuilt particularly on the beachfront after Hurricane Sandy in 2012.
The beachfront has never looked better! The boardwalk is a great place to walk in the morning and evening. The nice thing is that here you are right on the beach and do not have to cross a busy street for access. The beachfront and boardwalk has been popular since the 1800's. Originally "Squan Beach", it had a number of early pavilions, which provided food, beverages and dancing for the visitors. These have been replaced by a number of small restaurants and a small "penny-arcade" that is popular with kids today.  Make sure you try the skee ball machine! The old wooden boardwalk was replaced in the 1950s with the asphalt paved  boardwalk of today. The old amusement park that I grew up with as a child was replaced by condominiums several years ago.
During the summer you can enjoy concerts, yoga, fireworks and beach vollyball. There a a daily charge for going to the beach during the summer from 9am until 4pm.
Manasquan is at the Manasquan inlet which is the beginning of the intracoastal waterway that goes south to Florida and west to Texas. The town is served by NJ Transit with service from Penn Station in NYC, Newark and Newark Airport. You can then rent a car from Enterprise Car Rental in town if you need a car after taking the train down.
There is a really nice, small downtown area along Main Streets with some great restaurants, shops and delis. The Algonquin Theater, the old movie house, is now the Algonquin Arts Theatre and features a number of plays, musicals, jazz performances and classical concerts throughout the year.
Nearby is BookTowne, a good local bookstore at 171 Main St.
I always enjoy Green Planet Coffee at 78 Main Street for a good latte and Sunburst Pie Co., at 150 Main St.,  features sweet and savory pies and baked goods.
Opened in 2020 is a fun new coffee shop, batch coffee + cafe + juice. They have a large menu of coffee and tea drinks along with juices, smoothies, wraps, pastries,  cookies, toasts along with grab and go items.  They also sell a selection of accessories and gift items. It is a great addition to Main St.  at #99.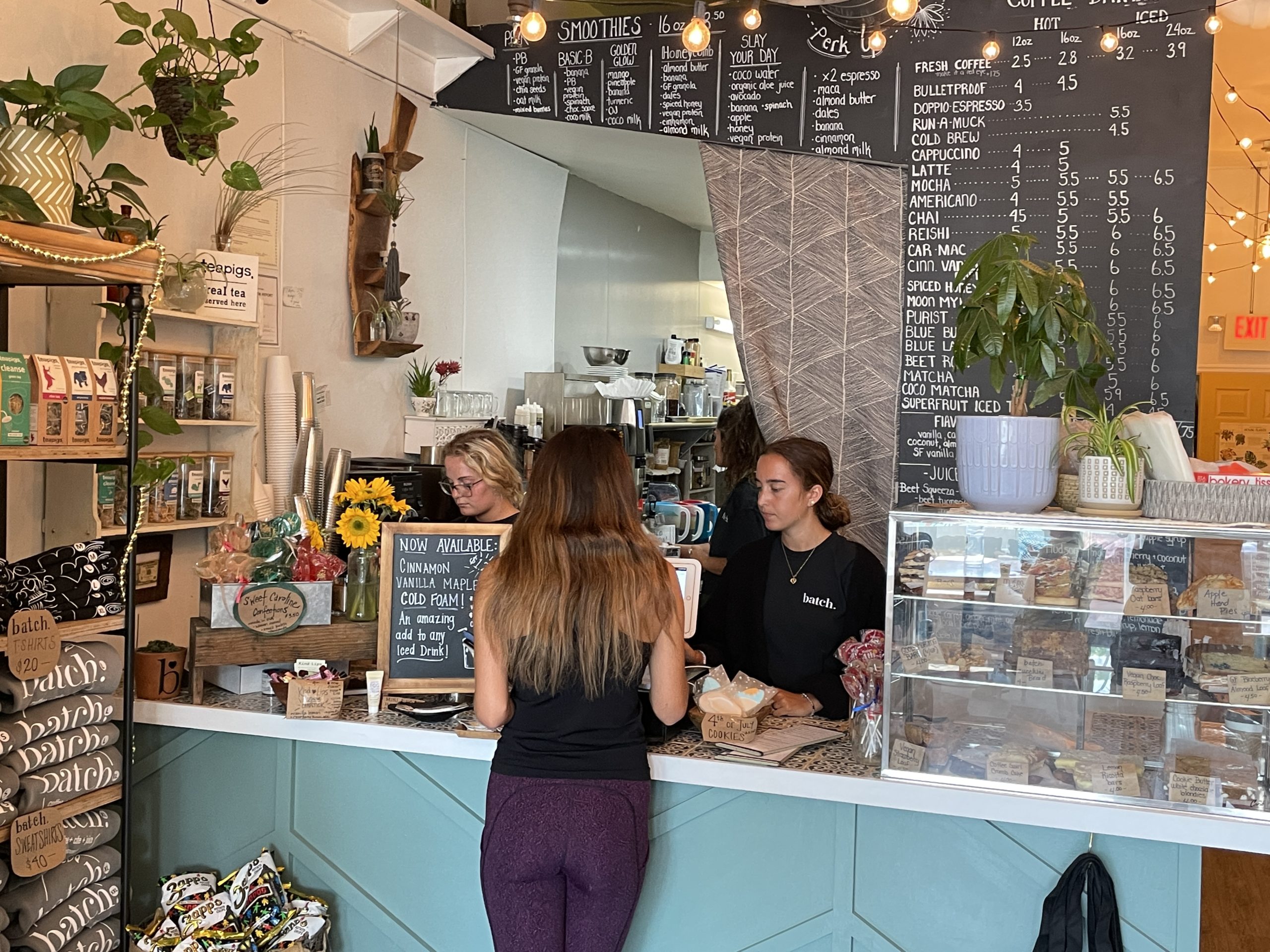 Also downtown is the recently opened Joe Leone's Centro Market. In the past I have been to their locations in Sea Girt and Point Pleasant. I am very excited that they just opened their latest location in downtown Manasquan at 113 Main St. They have a large selection of takeout items from soups, sandwiches salads, sides and vegetables, pasta, seafood along with cookies and desserts. It is an easy place to buy great food instead of cooking at home! The staff is very friendly and helpful and they have parking in the rear if none is available in front on the street.
Another new spot is Papa Ganache, a vegan bakery with gluten free choices also. At 217 E. Main St., they have a large selection of tasty cookies, cakes, cupcakes, crossants, pies, biscotti, brownies, muffins and quiche.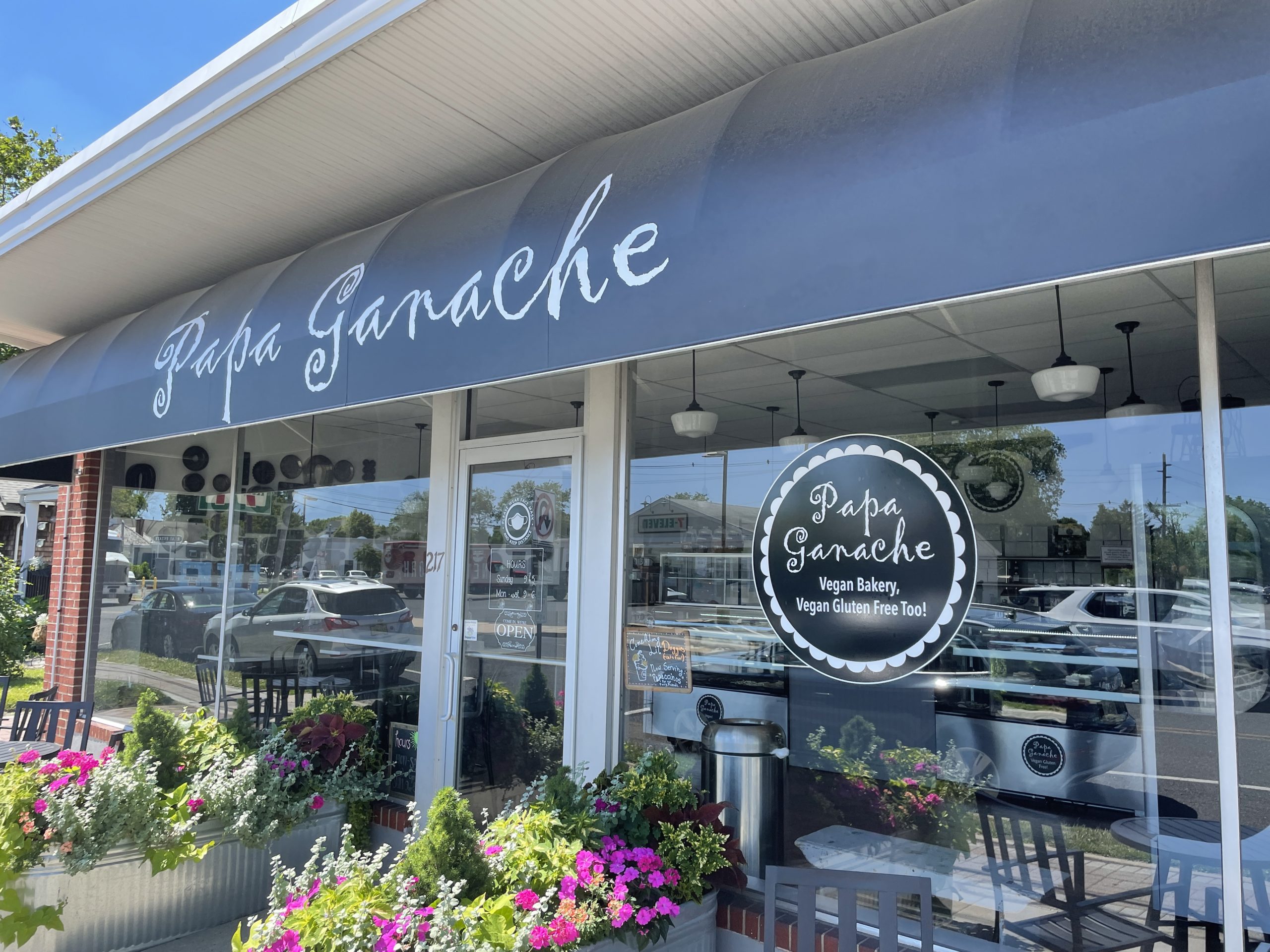 For shopping, Main Street Gallery has some great paintings and prints of the ocean and beach at 131 Main St., while The Garret Home at 135 Main St. has some attractive and creative home furnishings and accessories. I have bought several things there for our beach cottage over the years. Palm Place at 161 Main St. is a Lilly Pulitzer Signature Shop for lovers of the brand.
Surf Taco at 121 Parker Ave. is great for fish tacos. You can eat in or takeout.
I recently went back to Squan Tavern for the first time in several years and loved the classic atmosphere and the excellent food. Established in 1964, they feature pizza, seafood and Italian specialties. I highly recommend the mussels in the marinara sauce and the scallops with sauteed spinach in a tomato sauce. I also love their slogan, Buon Cibo, Buon Vino and Buon Amici. Good Food, Good Wine and Good Friends! I just went back again and enjoyed the fried calamari and the pasta marinara with mussels, shrimp and clams. 15 Broad St.
Two casual spots worth trying are Max Devros and the Paramount Diner. At my nephew's suggestion, I tried Max Devros , a casual breakfast and lunch spot. I had to try the pork roll sandwich and really enjoyed it.  Since I was there they moved nextdoor from 144 Main St. to 142 Main St. They now have a full service bar.
The Paramount Diner at 130 Main is a casual diner in the heart of downtown. It has a fun, traditional design. They have a large breakfast and lunch menu along with daily specials!
Main Street Kitchen is a newer spot featuring take-out and prepared foods including sandwiches, quiches, salads,  soups and hors d'oeuvres/platters which is perfect if you are renting  or entertaining at the beach. 140 Main St.  Across the hall is Main Scoop Creamery for great ice cream treats. I loved the toasted coconut almond and went back again for another scoop!!
The Committed Pig is great for breakfast, lunch and dinner.  They moved across the street to a new location at 165 Main St., in early 2023 that had been occupied for many years by Maria's. I just went back and really enjoyed the new, larger space. The menu is excellent with a great number of burgers, egg dishes,  porkroll sandwiches, grilled cheese sandwiches and salads. They have a full-service bar downstairs. Upstairs is a new bar and outside roofdeck that features cocktails and a limited food menu. I always love the pork roll and cheese sandwich.
Nearby is Blend, for fine dining, at 152 Main St. This is an attractive farm to table restaurant that is open for dinner. The staff is also friendly and helpful. Outdoor seating is also available. Breakfast and lunch are now served in the Peach Pit Cafe on the other side of the restaurant.
Just to the east is Esposito's Pizza-Pasta-Catering, since 2010, at 233 E. Main St. On a recent trip, I went for dinner with friends. They have a large menu of appetizers, salads, wraps, toasted focaccia sandwiches, soups, pizza, pasta, Italian dinners, seafood and calzones. I loved mussels marinara and will definitely order it again. My friends loved their veal parmigiana and shrimp diavolo. The service was also excellent. In addition to dining at the restaurant, inside or on the terrace, they also offer pick up and delivery.
A few doors north in the same complex is The Corner Bagelry, which also has locations in Belmar and Sea Girt. They have a large menu of bagels, breakfast sandwiches, subs and other breakfast dishes. I always like going to buy their crumb cake which is a traditional Jersey shore treat I love having every year. 233 E. Main.
On weekends or on holidays when the town gets more crowded, you can drive a short distance west to The Kitchen@35. I just went for the first time and really enjoyed the experience. It is an upscale diner/restaurant serving breakfast, lunch and dinner. The menu is very large with many choices to choose from  I was impressed with the lunch special which included a cup of tomato bisque, half an apple apple salad and half a reuben sandwhich for $11. I can't wait to go back. 2601 Rt. 35.
After many years I recently went back to Harpoon Willy's, located at 2655 River Rd. in Manasquan. Overlooking the Manasquan River, this is a popular bar and restaurant in an historic waterfront setting. They have a large indoor bar and restaurant as well as outdoor patio seating. I was glad to have reserved outside as it was a beautiful night when I went with a local friend. They have a large menu of steaks, seafood, burgers, sandwiches and salads. The portions are huge!!  I really enjoyed my halibut special served on rice with asparagus and a pineapple salsa. They also feature live music.
Just outside of town is the Atlantic Farm Market which is a farmstand where you can find great NJ corn, tomatoes and blueberries. They just bought the operation from Atlantic Farms which has been there for 32 years. 1506 Atlantic Ave. Nearby is Hinck's Turkey Farm, known for its deli and restaurant. It is a local tradition since 1938.
Close to the beach is the The Breeze at 101 1st Ave. They feature coffee and bakery items as well as a good number of breakfast and lunch items including a pork roll and cheese sandwich, wraps, salads, sandwiches and burgers.  They have casual dining inside as well as a small outdoor patio.  Under new ownership, they now feature counter service. The cold brew coffee is very good and the pork roll and cheese sandwich with an added fried egg is great!.  I am glad it is a block from my cottage!
Other spots near the Manasquan Inlet include the Riverside Cafe  at 425 1st Ave. which has been there under the same ownership for over 55 years. Across the street is  Carlson's Corner has been there for many years and is another great option.  Stop in for a burger, sandwich or wrap and top off with some great ice cream. 432 1st. Ave.
On the boardwalk near the arcade is Playa Bowls, Gee Gee's Pizza & Grill  and Gee Gee's Deli and Ice Cream on the boardwalk near the arcade. They have a large selection of ice cream flavors.  In 2023 Coffee Surf Co., in Belmar opened a coffee counter for cold brews, iced teas and other drinks on the Gee Gee's outdoor patio. I just went to the Belmar location and then the next day went to the Manasquan spot. I loved the cold brew which they brewed with coconut!!! I will now go back frequently.
The Salty Whale and Guest House is located at 385-417 E. Main Street between the beach and the train station. It was a former hotel and a number of restaurants over the years. It has been totally redone and features a large menu of soups, salads, sandwiches, pizzas and more. It is open for lunch and dinner. I went for lunch an enjoyed a great beet salad with arugula and goad cheese plus some grilled mahi mahi tacos with a pineapple and mango salsa. It has a rustic atmosphere with some old painting and photographs of the area. I definitely recommend it.  They opened a number of hotel rooms upstairs for weekly, weekend and monthly rentals. It is a great location to walk downtown and to the boardwalk.
To stay at the beach, I suggest contacting Lisa Smith at the Richard I. Wood Agency 535 E. Main St. I have worked with them for many years to rent our our cottage and they do a great job at finding the best rental for you and your family or friends. If you want a short term place to stay, they recommend the five room Nathaniel Morris Inn, a B&B located near downtown. 117 Marcellus Avenue.
Close to the Manasquan inlet is the Fisherman's Cove Conservation Area consisting of 55 acres of unspoiled land near the water.
Also of historic interest is the historic Life Saving Station from 1848 that was one of the first eight on the coast to help protect the heavy shipping traffic.  It is located at Ocean Ave. between First and Second avenues. It became a Coast Guard Station but was decommissioned in he early 1990s.
I recommend driving or walking down Virgina Ave. just west of Main St. to see the beautiful Victorian homes.