---
St. Joseph, MO, my hometown, is an historic city along the Missouri River.  Originally known as Black Snake Hills, it was established in 1843  and became one of the starting points for many heading west along the Oregon Trail and was the headquarters and beginning point of the famed Pony Express to Sacramento, CA. Visiting St. Joseph is worth a visit. It is an hour north of downtown Kansas City and even closer from the Kansas City airport. Highlights should include:
There are a number of historic sites, museums and neighborhoods to explore. Make sure to visit some of the historic districts including Hall Street and Museum Hill.
The Hall Street Historic District has a concentration of  43 residential mansions which are examples of Post Civil War 19th and Early 20th century Italianate, Second Empire, Chateauesque, Romanesque, Queen Anne and Neo-classical Revival architectural styles. It is located a few blocks north of downtown, mostly centered on Hall St. between 6th and 8th Streets.
The Museum Hill Historic District consists of 248 homes and buildings built between 1860 and 1942. Northeast of downtown, it includes representative examples of Italianate, Second Empire, Queen Anne, Tudor Revival, American Foursquare and Bungalow/American Craftsman style architecture. Its borders are from 9th St. to 15th St. and from Faraon to Messanie Streets.
The Wyeth-Tootle Mansion at 1100 Charles St. is one if the highlights of the district and was the former home of the St. Joseph Museum when I was a child. Today it is still owned by the museum and open for tours and private events. It is an Italianate masion built in 1879. It has three floors, a tower and more than 40 rooms. The Mansion is open seasonally from April – October, on Friday and Saturday from 10 am to 4 pm.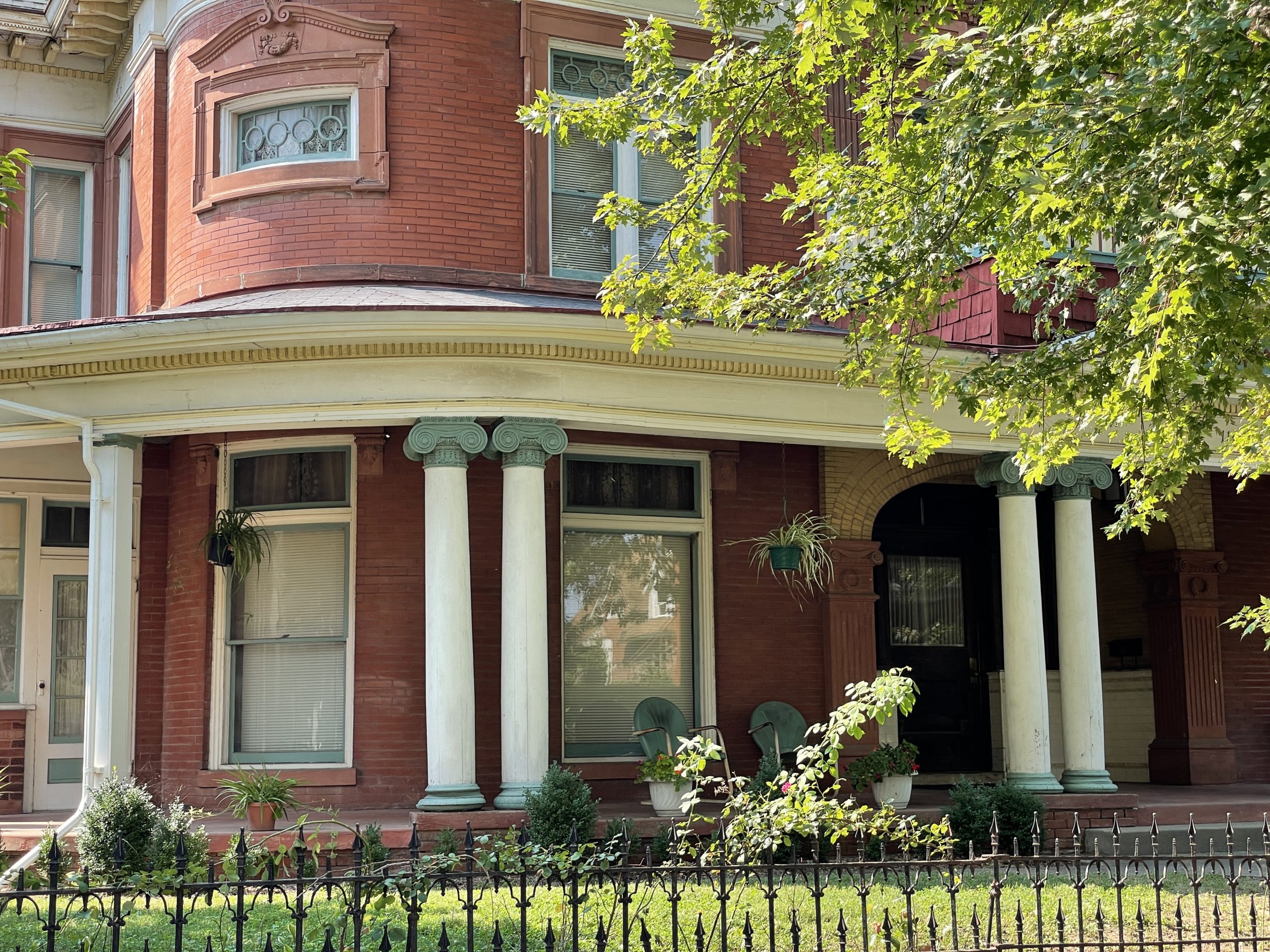 Other homes historic homes to see include the Beattie Mansion built in 1864 at 1120 Main St. and  Robidoux Row.
Robidoux Row: Robidoux Row is a historic apartment building located at 219-225 East Poulin St. It was built by St. Joseph founder Joseph Robidoux in north St. Joseph in the late 1840s/early 1850s. Today it is a museum where you can visit to learn about the history of its founder and the history of the city.
North of downtown is Krug Park. It is a large city park with Italian Renaissance structures, extensive landscaping and flowerbeds. I have great memories of going there as a child including honking the car horn as we drove through the tunnel.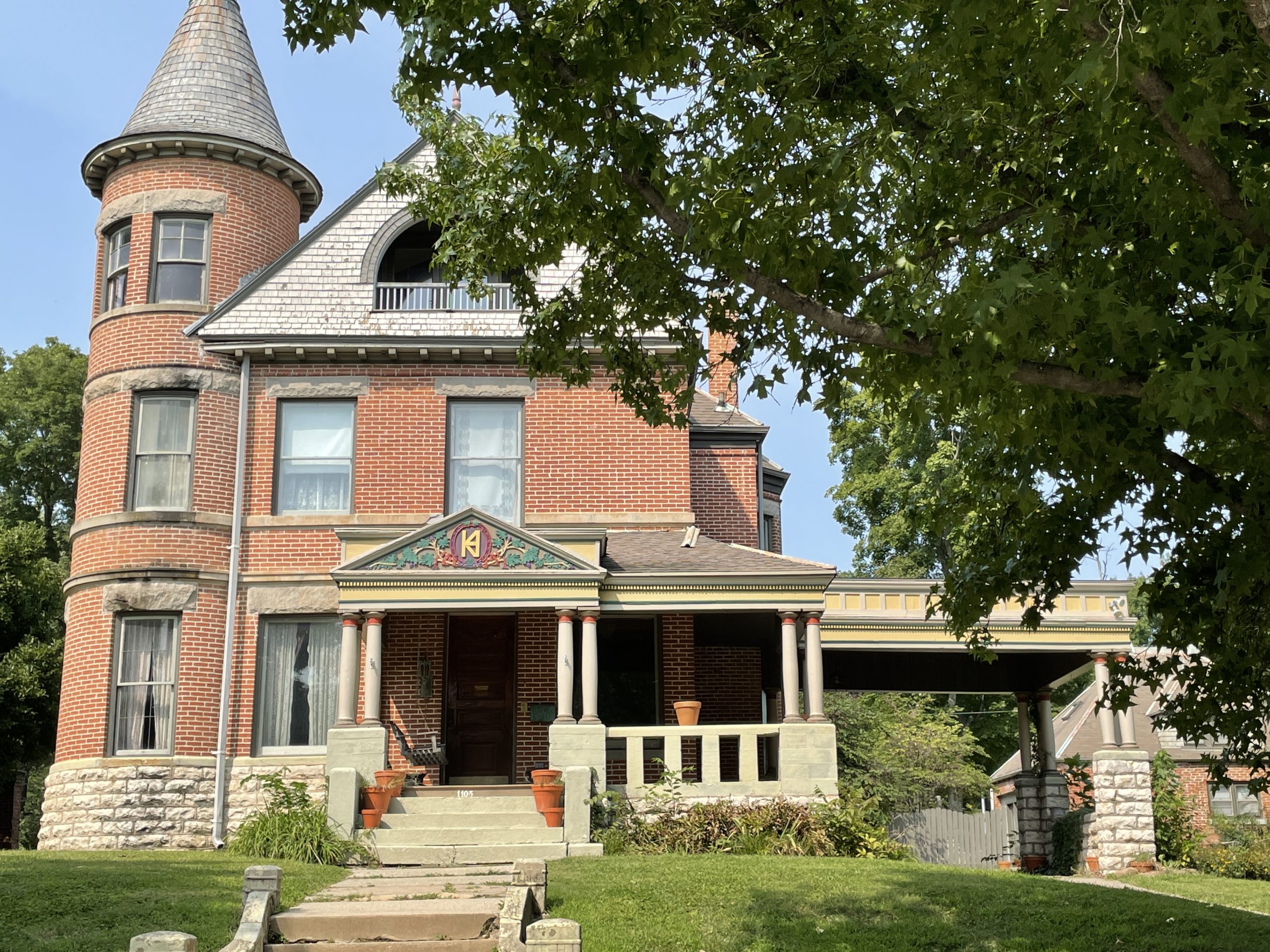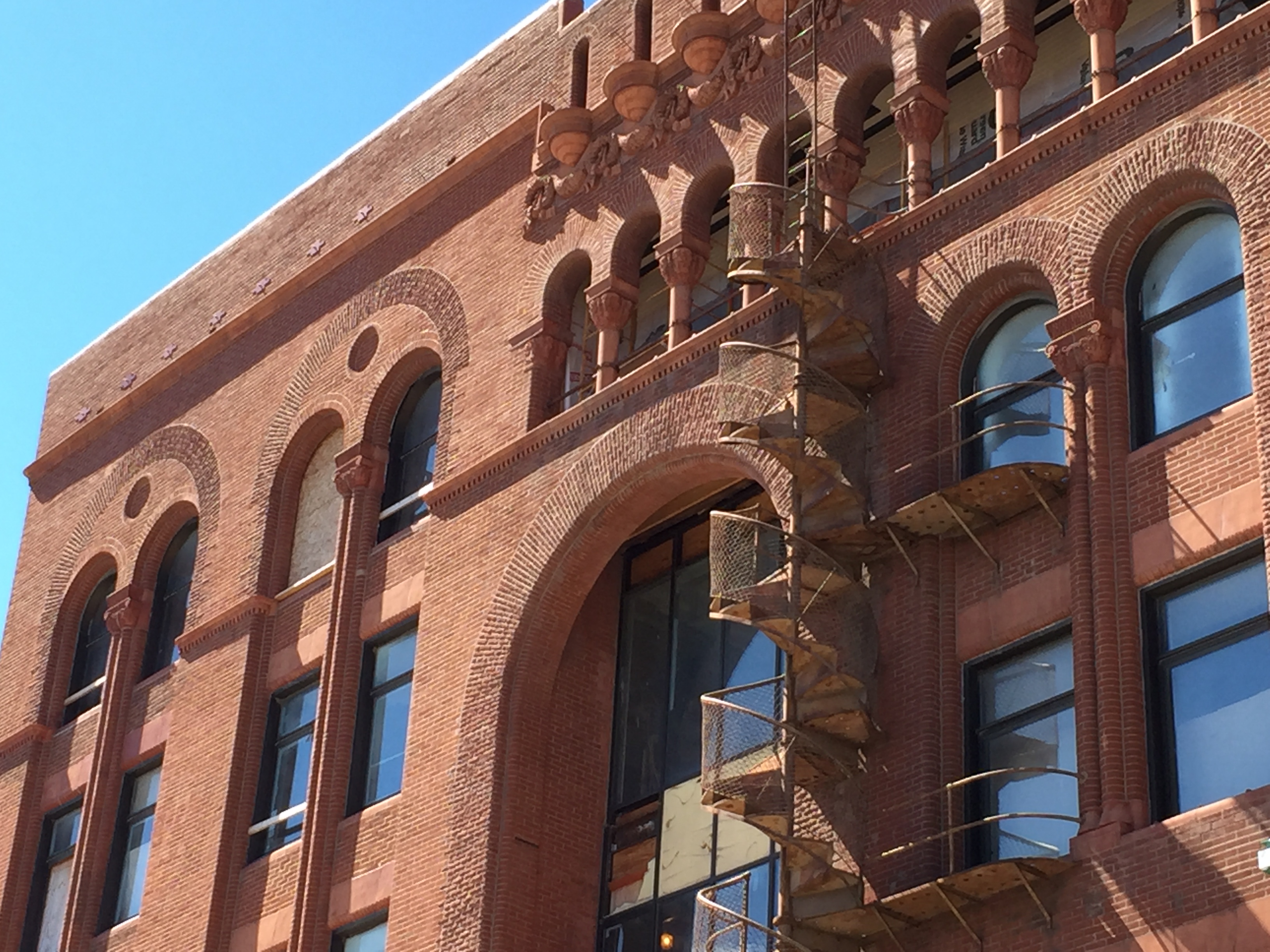 Downtown St. Joseph is coming back after many years of decline. There are many new restaurants, bars and shops located in historic buildings.
Frederick Avenue
Gold-N-Glaze Donuts: At 1825 Frederick Ave., it is under new ownership who have expanded the space to include more seating. The glazed donuts are the best. I was recently back and loved having them which brought back many memories from my childhood.  It has been in business for over 80 years. I grew up eating them in school and at other events.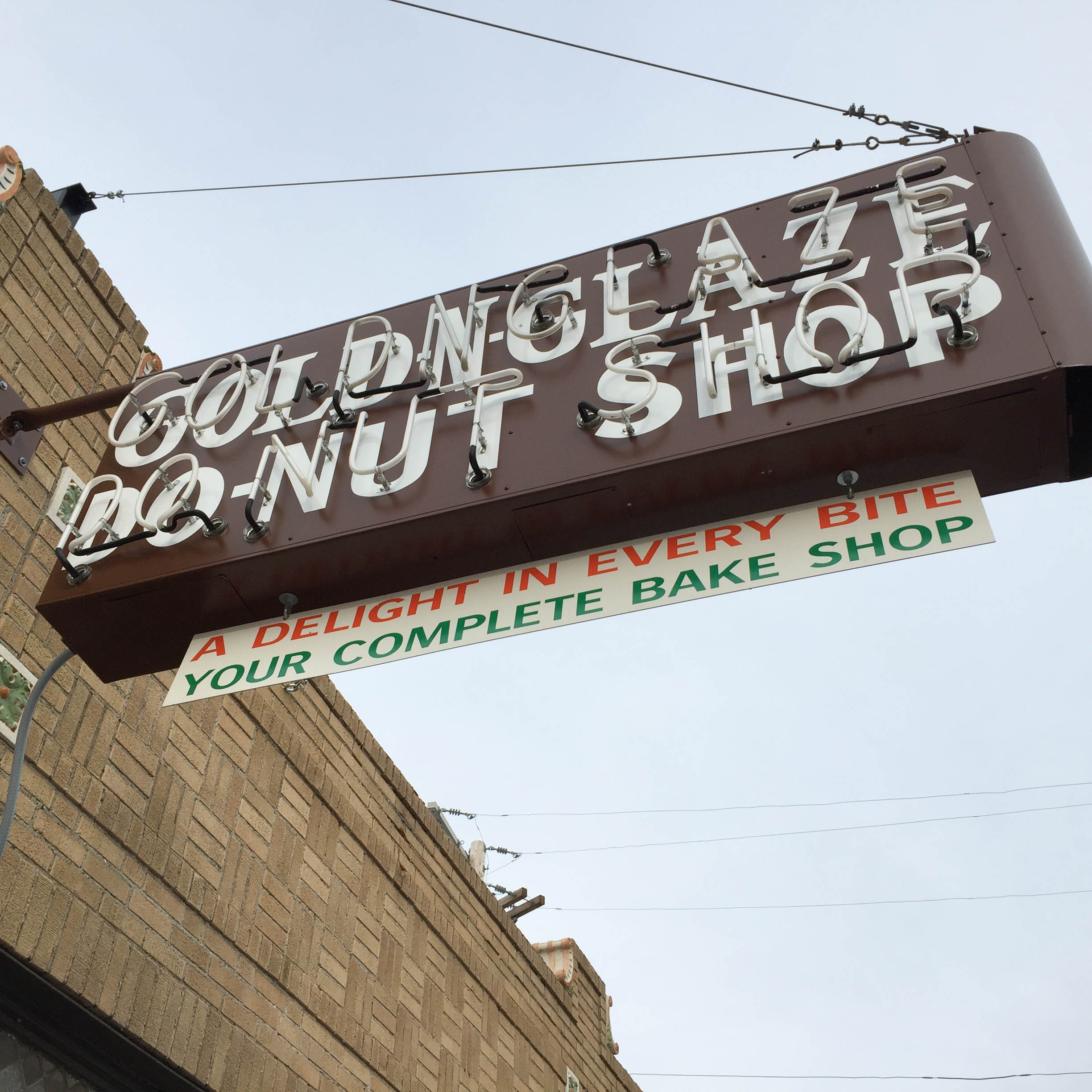 Pronto Cafe: At 2513 Frederick Ave., this is a local coffee shop and cafe in the former Geiger mansion, serving coffee, ice cream, sandwiches and more. I was recently back and enjoyed seeing the photographs  of many of the well-known locals from the past.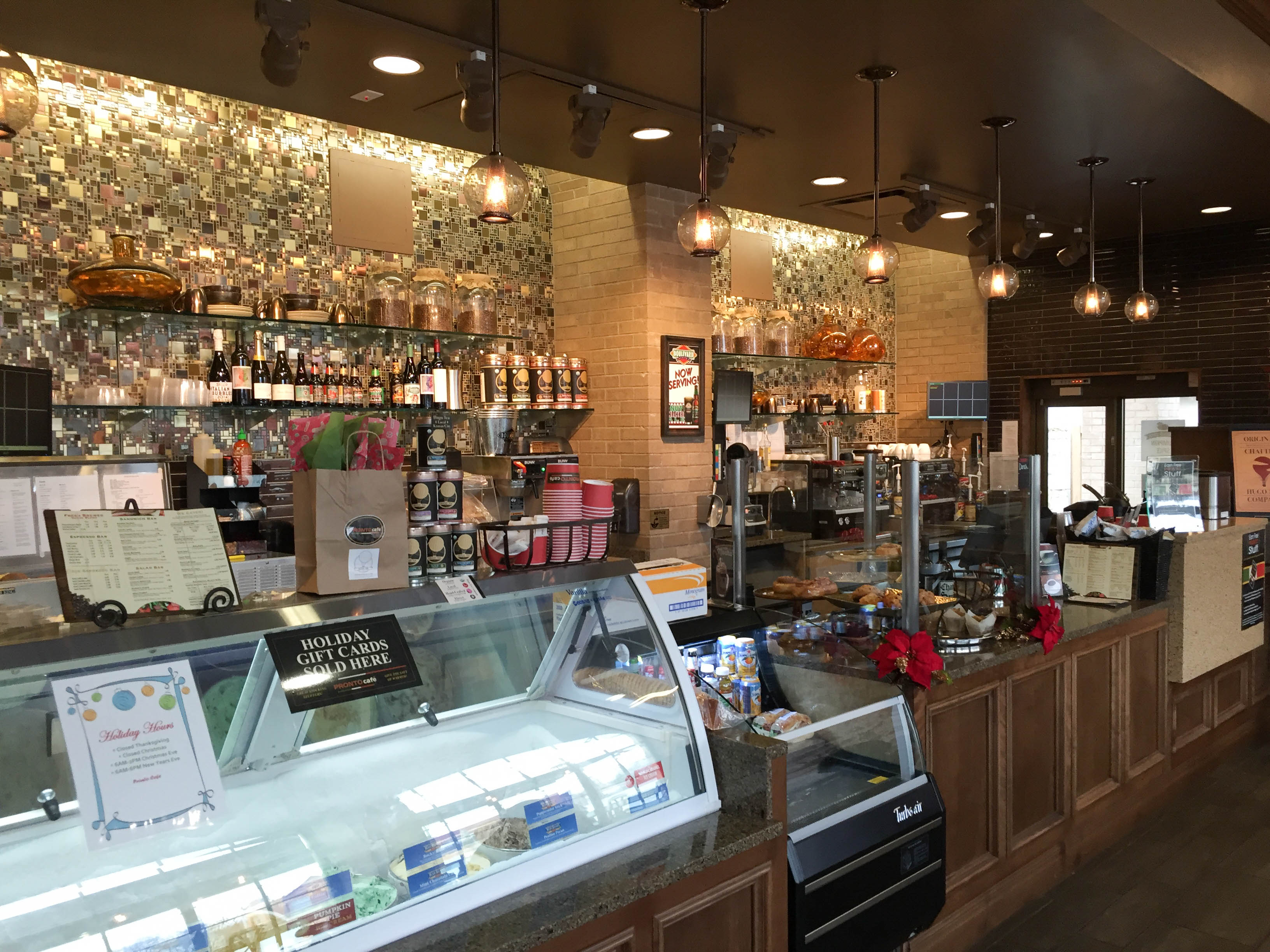 River Bluff Brewing:  On my last trip, I really enjoyed visiting River Bluff Brewing at 1224 Frederick Ave. This is a new microbrewery that makes a number of lagers, ales, IPAs, porters, stouts, blondes, wheat and ryes onsite.  I enjoyed tasting the Dirty Chai, a chai tea infused porter along with the Union Lager. They have a fun tasting room, with historic architectural details, including several from a building that was owned by my father. 
Just down the street in a beautifully restored building are a new gift shop, restaurant and market. Cafe Belle Epoque at 1141 Frederick Ave. is a casual spot open for brunch, lunch and dinner. It features a seasonal menu of soups, salads, sandwiches and entrees plus craft beer and wines. The Bee & Thistle is a lovely gift shop next door at 1137 Frederick Ave. They feature a beautiful collection of home accessories, gifts, textiles, clothing and jewelry. Recently opened in between the two is Provisons Wine Market & Deli. They sell wines, specialty food items.
Nearby is St. Joe Cookie Company.  Opened in 2022, this is a bakery that has features almost 1/2 pound scookies. They are a cross between a cookie and a scone. Thick, heavy, crumbly and delicous. I loved the salted carmel.  They also sell cupcakes,  cinnamon rolls, pastries and muffins. They also serve brunch, coffee and cocktails. It has a nice space that is worth the visit. 1207 Frederick Ave.
There are three casual bars and restaurants that I visited when back in town. I recommend that you try:
Frederick Inn Steakhouse: Located at 1627 Frederick Ave., this is a popular steakhouse that also has seafood and an all-you-can-eat soup and salad bar. I enjoyed the shrimp cocktail, the fried calamari and a classic old fashioned cocktail.
D&G Pub & Grub Brew Haus: This historic pub that opened in 1945 is under new ownership. It is a casual bar and restaurant that also has the Cafe Acoustic concert hall which features live music, trivia and other events. Check out the website for the event information. I went with a lifelong friend to celebrate his birthday. I really enjoyed my cheese burger and the atmosphere. 1918 Frederick Ave.
I also enjoyed my lunch at the Hi-Ho Bar & Grill. I hosted a group event at this casual Irish pub featuring a menu of burgers, sandwiches, wraps, salads, pizza  and more. I thought my reuben sandwich with coleslaw as a great choice.  1817 Frederick Ave.
Next time, I want to try Il Lazzarone for pizza at 1628 Frederick Ave. which I understand  the food is great.
Albrecht- Kemper Museum of Art: Located in a stunning mansion at 2818 Frederick Ave., this small museum features temporary exhibitions in addition to a small permanent collection consisting of 18th, 19th and 20th-century American art. Here you can see works by George Bellows, William Glackens, Edward Hopper, Wayne Thiebaud, Mary Cassat, Thomas Hart Benton, William Merritt Chase. George Innis and Edward Curtis. There are also educational programs. art classes, gallery talks along with film and performance events.
In 2021 they dedicated a 15-foot sculpture, titled "Heliko," by Gower, Missouri, artist Brent Collins. It can be found on the front lawn.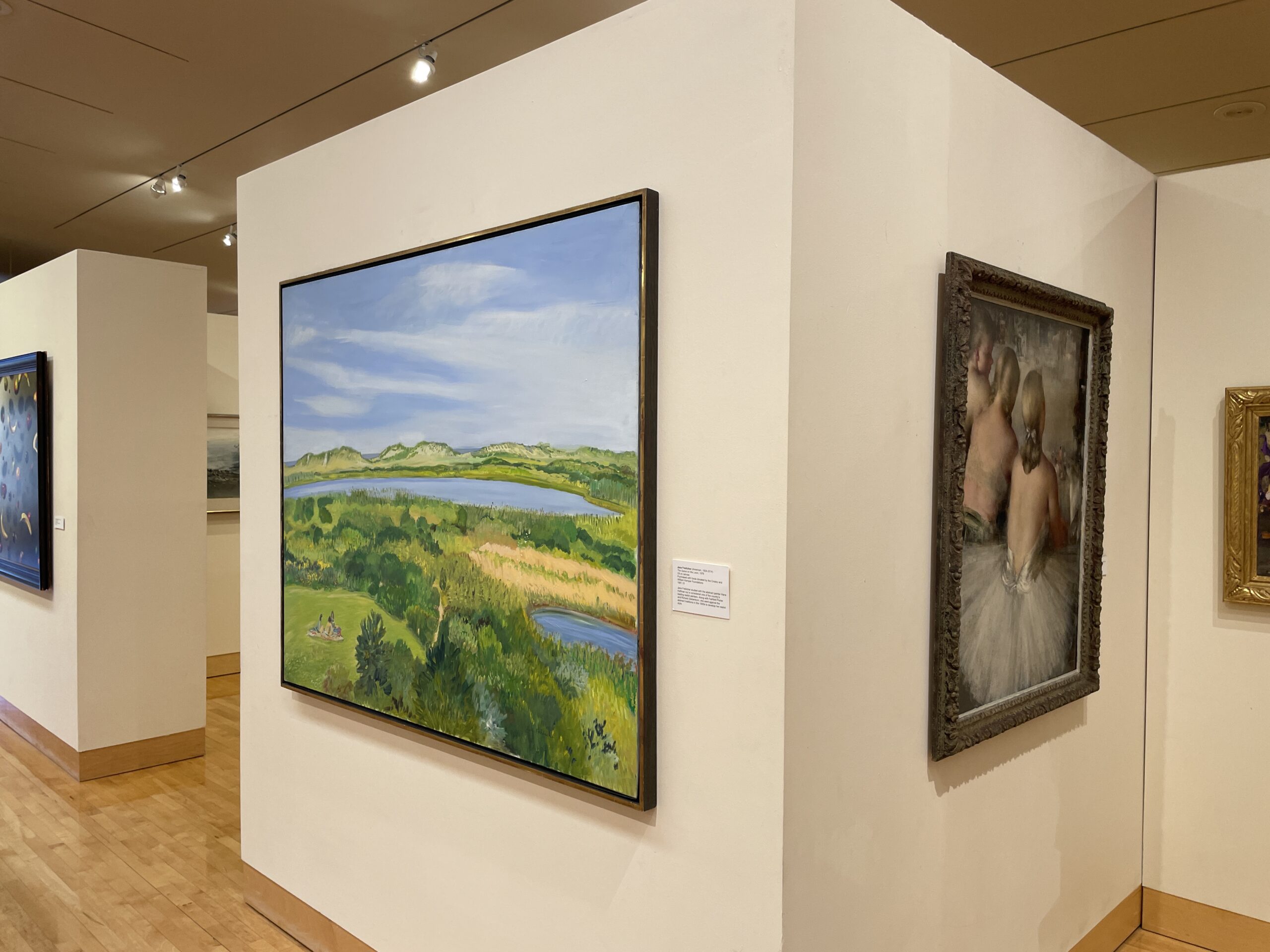 East of the Albrecht – Kemper Museum of Art are the St. Joseph Museums which include the Glore Psychiatric Museum, Black Archives Museums, Native American and History Galleries along with the  Doll Museum.
Downtown St. Joseph
The former Cafe Pony Espresso and Reverie Coffeehouse is now Toe Beans Coffee House.  Make sure to stop in for coffee, tea and espresso drinks. They also have a food menu.  The owner is very nice and helpful. I enjoyed my latte and supporting new businesses. 114 S. 8th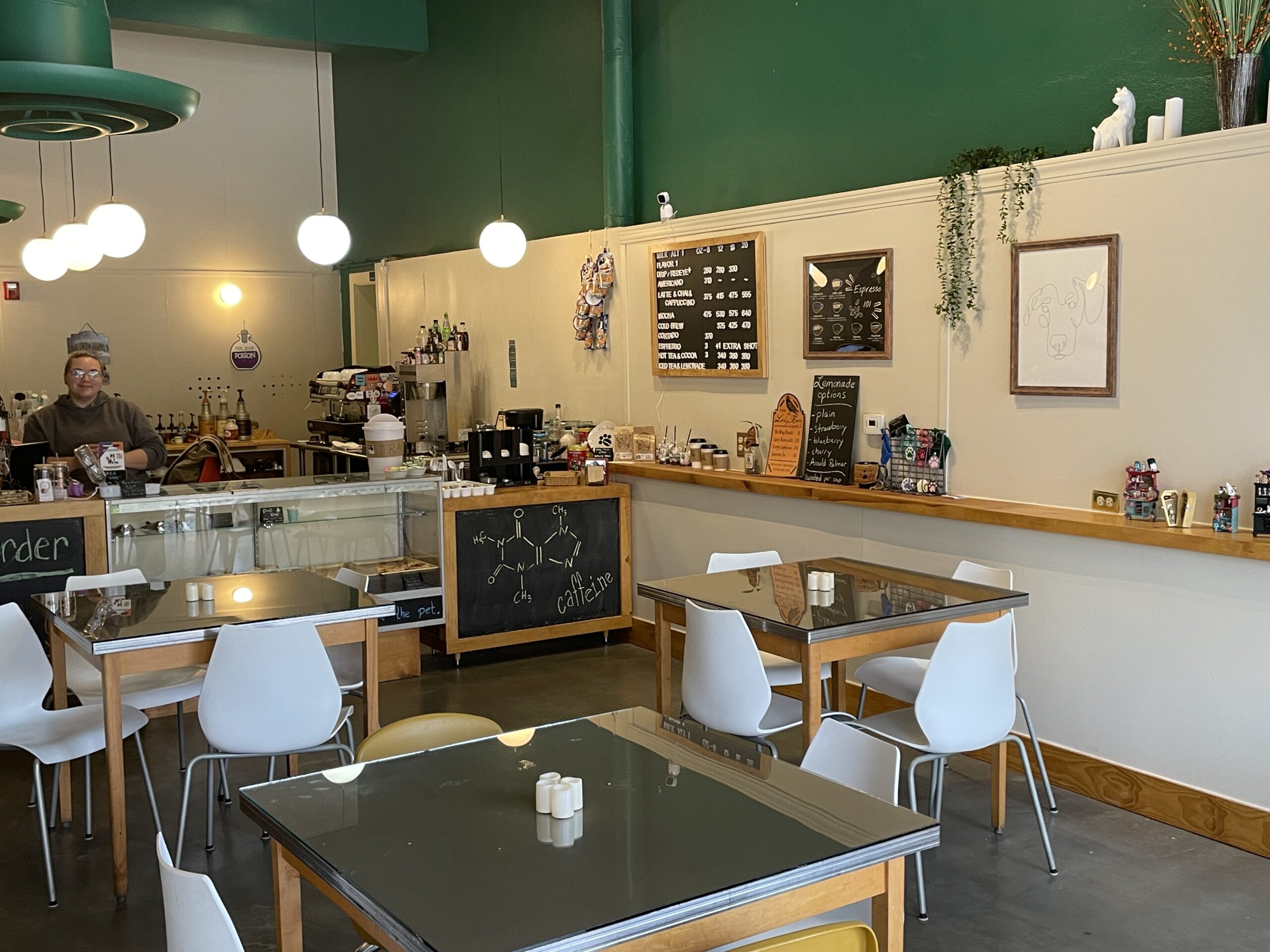 Boudreaux's Lousiana Seafood & Steaks: At 224 N. 4th St., this is a fun spot for seafood, Cajun specialties and steaks. I just hosted a lunch there for longtime friends and had a very good crab bisque and seafood jambalaya. I will  definitely go back!
North of Beaudreaux's, is a new coffee shop Hazel's Coffee & Roasting Company at 310 N. 3rd St. in a loft apartment building. I enjoyed my latte after driving up from Kansas City for a lunch with friends. They have a second location east of downtown at 3829 Frederick Ave.
I went to the Frederick Ave. location on my last trip and enjoyed my latte. It is a good location if you are on the east side of town near the museums.
Seventh Street Cafe: At 114 N. 7th, this recent addition to downtown in the former Delish Bakery & Malt Shoppe space, and most recently the Brioche French Bakery & Cafe. Their menu features breakfast dishes, soups, salads, sandwiches  crepes and desserts. It is an attractive space. I went for lunch on my recent trip and really enjoyed the fish tacos and a side salad. The staff was very friendly. 
Mokaska Coffee Company. Now at 705 Edmond, this is a small batch coffee roaster that named itself after  the original local coffee roaster that opened in 1884 and closed during the Great Depression. Started as a wholesale roaster, they recently opened this new cafe. When last there, I enjoyed sitting on their outside terrace.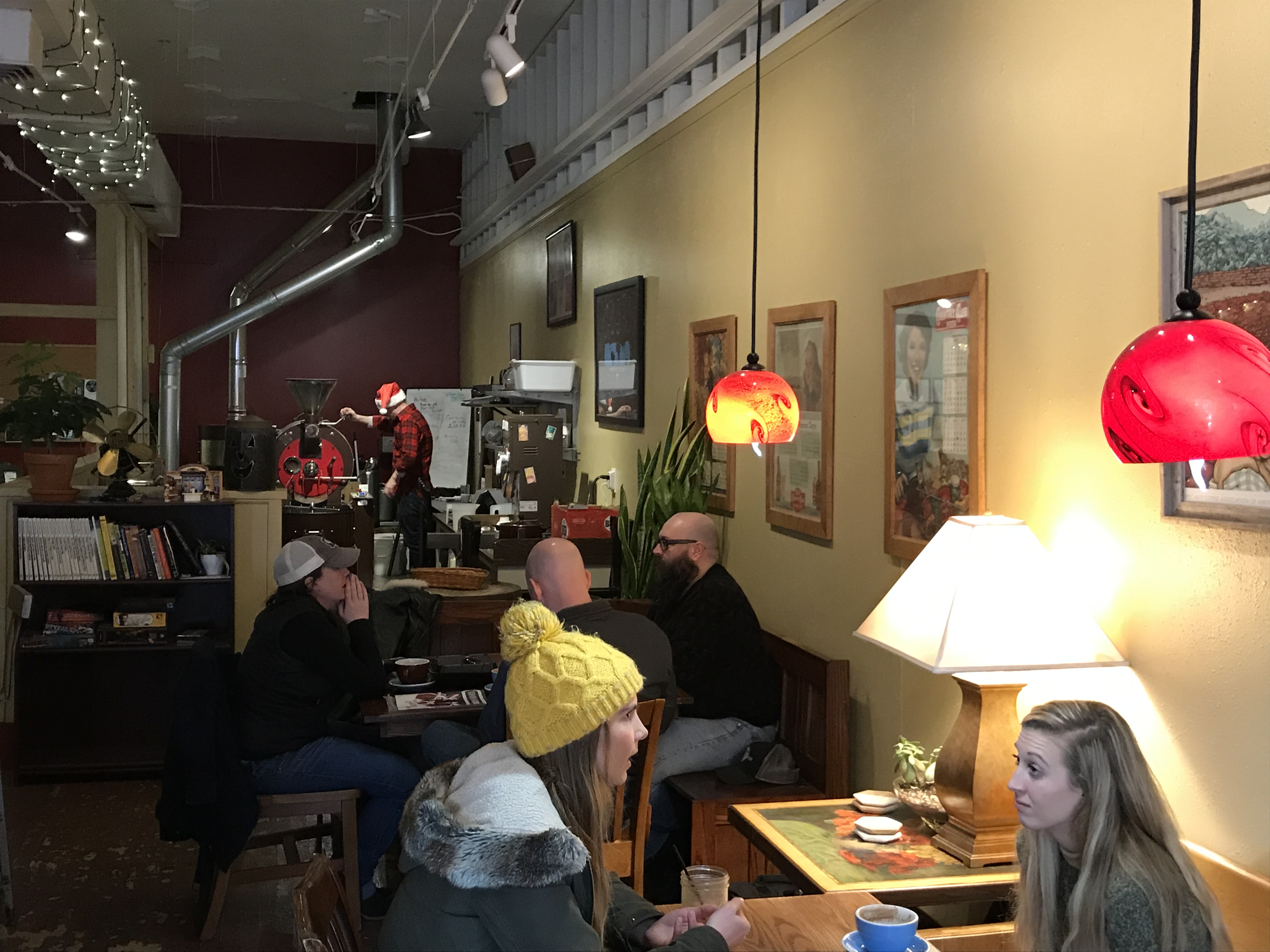 I enjoyed visiting Nesting Goods, an attractive gift shop featuring items by local artists and creators. Here you will find home accessories, jewelry, wall decor and textiles. 615 Felix St.
Next door, the owner of Nesting Goods has opened the attractive Alcemy Tea Co which sells tea, tea accessories and tea drinks. I enjoyed the cinnamon tea.
J.C. Wyatt House: This lovely Victorian mansion from 1891 is now a wonderful private dining restaurant. Located in the home of two New York City transplants, they offer lunch and dinner from Tuesday to Sunday. Make sure to book early and give your menu choices before you arrive. The decor alone is well-worth the trip. I just hosted a group of longtime friends for the third year in a row and loved the food, ambiance and service. I have already booked it again for next Christmas. 1309 Felix
The Tiger's Den at 519 Felix is now The Den,  a contempoary speakeasy  featuring  cocktails, craft beers,  wines, and food.  Used books are available for purchase or reading. They also have live music, trivia, art experiences and more.
They also have The Lucky Tiger, at 718 Francis, which specializes in vintage clothing, accessories and vinyl records.
Another popular downtown spot is the Marco Polo Restaurant at 614 Francis for Italian and Asian fusion specialties.
Mod-Podge Boutique & Design studio: At 624 Francis, this is a nice store for clothing, accessories and decor.
At 623 S. 8th is Magoon's Famous Delicatessen from 1918. This has been one of my favorite spots since I was child. I have fond memories of Benny Magoon holding court at his restaurant. They have great sandwiches including the perfect reuben.
Manic Snail: On a recent visit I enjoyed this small paper and gift boutique featuring some great cards and books. 618 Francis.
Felix Street Gourmet: At 722 Felix St., this was a small, new shop featuring wine, cheese and specialty food items. They recently expanded to the two spaces to the east. There is now a full bar, restaurant and outdoor patio. I recently went for lunch with a group of friends and really enjoyed it.
Jake's Steakhouse & Sports Bar: At 620 Edmond St., this is a casual sports bar that features sandwiches, wraps, pastas and salads along with breakfast items.
Make sure to stop into the Angry Swede Brewing Company located at 513 Francis St. This is a local brewery, brewpub and downstairs speakeasy.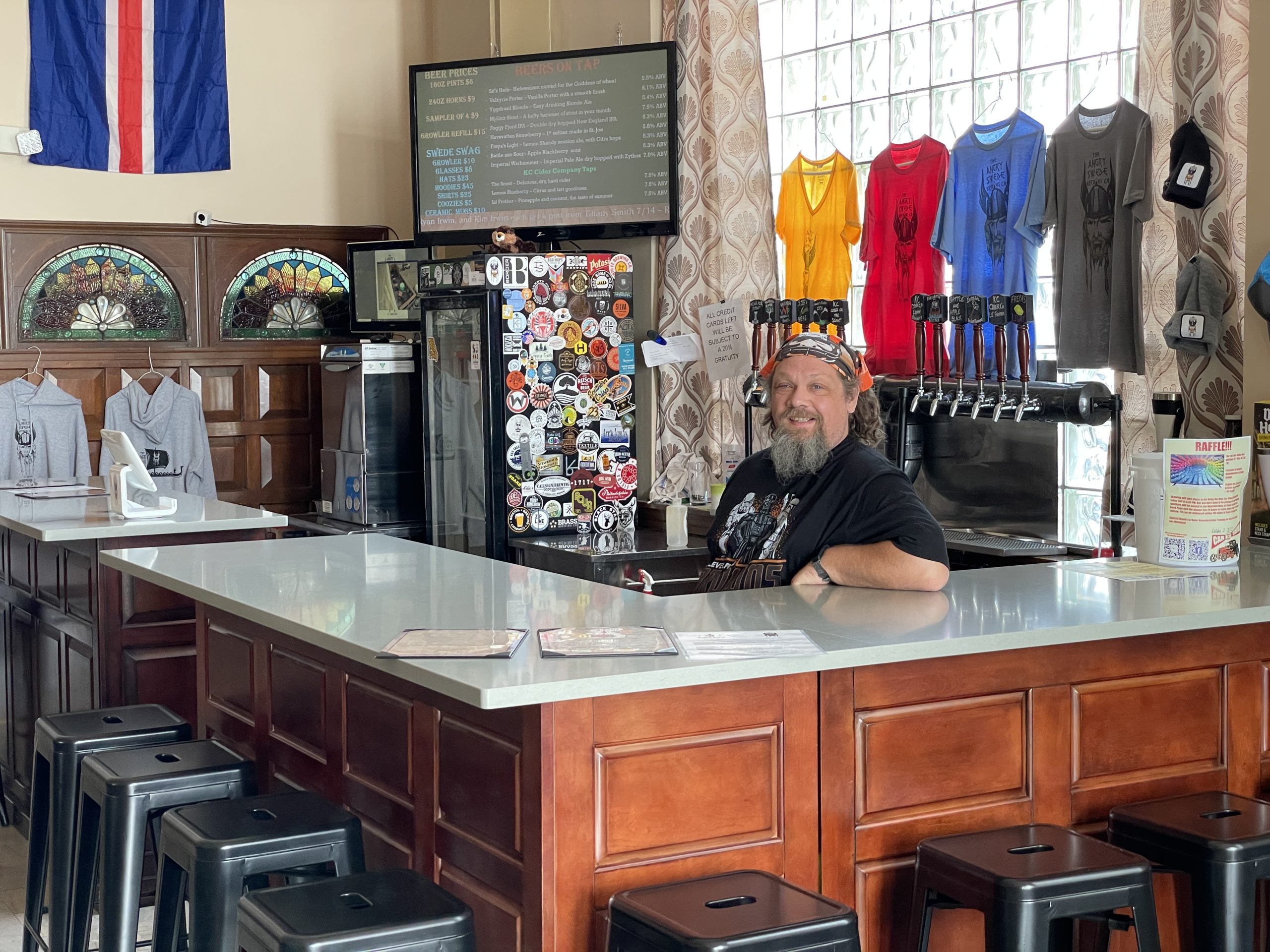 Another new find is the First Ward House Bar & Grill located at 2101 St. Joseph Ave., a few blocks north of downtown. I had not heard of this bar/restaurant until I went back to town. Opened in 1878, they claim it is the oldest bar west of the Mississippi. I went with a friend and loved the BBQ brisket sandwich, coleslaw and sweet potato fries. I loved the experience. They have a large menu of salads, sandwiches, wraps and burgers. They have a large outdoor deck in the rear in addition to inside seating.
A childhood friend, recommended that I try the Brown Bear Tavern across the street at 2028 St. Joseph Ave. I will definitely add it to my list for my next visit.
After your meal head north to the Dairy Queen at 3202 St. Joseph Ave. near Krug Park.  It was where we went with my parents when I was young. It has been there over 70 years and still looks the same!
Missouri Theater: Built in 1927 as a movie theater with Art Deco and Moorish architecture and details, the theater hosts a number of films, theater presentations, concerts, musicals and  symphony concerts.
Another popular theater venue is the Robidoux Resident Theatre, which performs locally at the Ruby Theatre located at 615 S. 10th and the Missouri Theatre. They perform a number of Broadway musicals throughout the year.
Southside
Patee House Museum: This National Historic Site is located in the former Patee House built in 1858 as a luxury hotel. The Patee House served as the Pony Express headquarters from 1860 to 1861. Today there are two floors of exhibitions. The former home of outlaw Jesse James, where he was killed on April 3, 1882, was moved nearby several years ago. You can also visit the Wild Thing Carousel from 1941 at the museum. 1202 Penn St.
Pony Express National Museum: On April 3, 1860 a lone rider left the Pikes Peak Stables in St. Joseph, Mo. carrying saddlebags filled with mail to Sacramento California. These riders braved great danger as they united a country separated by great distances. The famed stables today is the Pony Express National Museum. Make sure to stop in for a visit while in town.
South of the Patee House and the Pony Express Museum is Betty's Cafe at 5307 King Hill Ave. This is a fun, casual diner serving breakfast and lunch since 1989. The pie is to die for!!!
Also on the southside is the historic Hoof & Horn Steakhouse located at 429 Illinois Ave.  Established in 1896, it is the oldest restaurant in the area. It reopened recently after an extensive remodel.
East of downtown near I-29 
The Walter Cronkite Memorial: Walter Cronkite was born in St. Joseph on November 4, 1916. This memorial/museum located at Missouri Western State University, features displays on his life and work. It is well-worth the visit. You can see many photos and displays of his coverage of the US Presidents, the space program and more.
Where to Stay
If you want to spend the night, one of my top recommendations is the Shakespeare Chateau, located on the historic Hall Street north of downtown and surrounded by lovely mansions. I stayed there for the second time while attending my recent high school reunion and loved the classic design, the stained glass, the lovely rooms, the excellent breakfasts and the attentive owner, Isobel McGowan. It was built in 1885. It was one of the best B&B experiences I have had in all of my travels. 809 Hall St.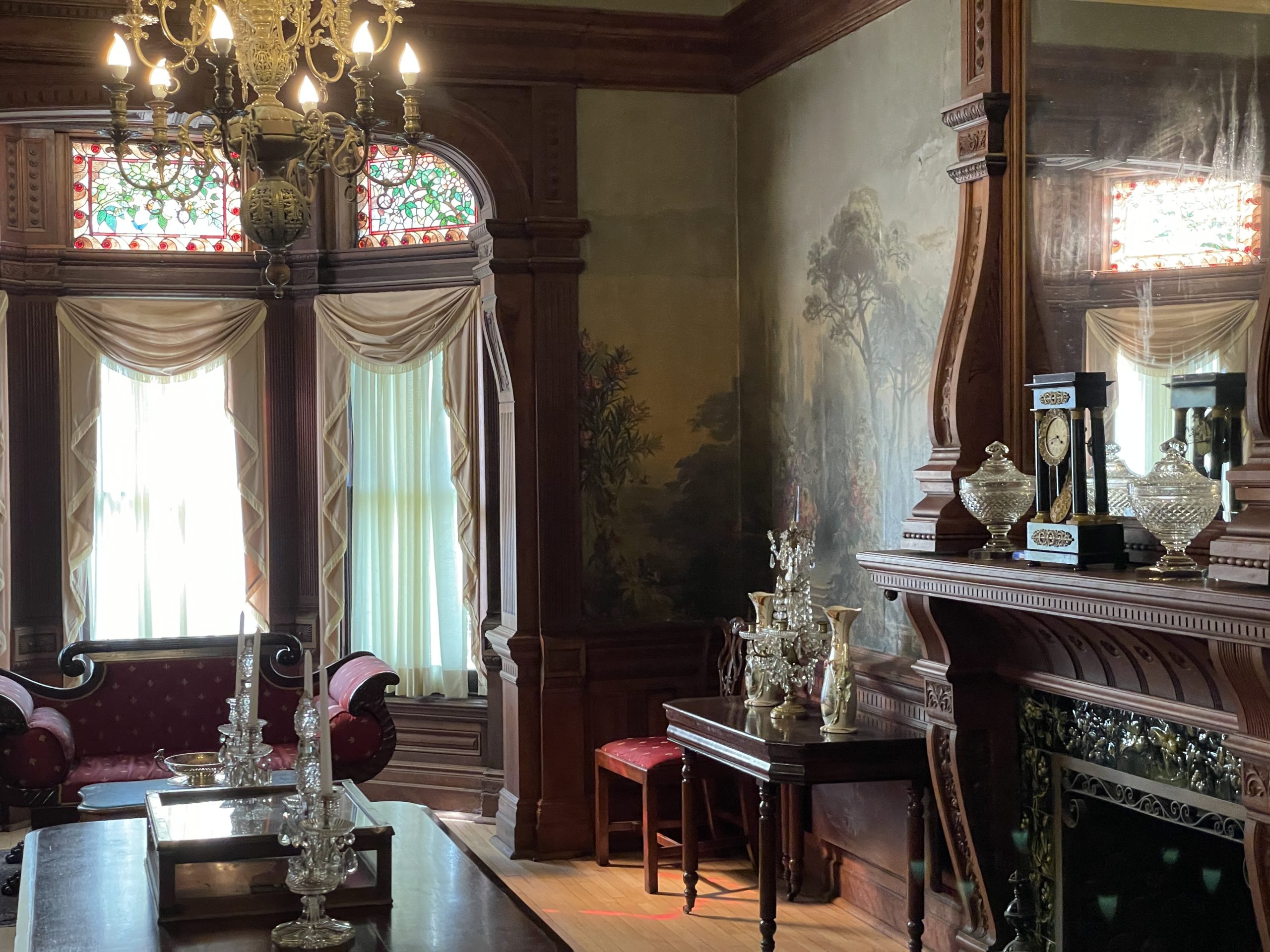 For those wanting a hotel experience, I suggest the Stoney Creek Hotel at 1201 N. Woodbine Ave. on the east side of town near I-29. I had a nicely appointed room with a king bed and all of the amenities. They also offer a free breakfast to all guests. It has a rustic, western theme which is perfect for St. Joseph and its history.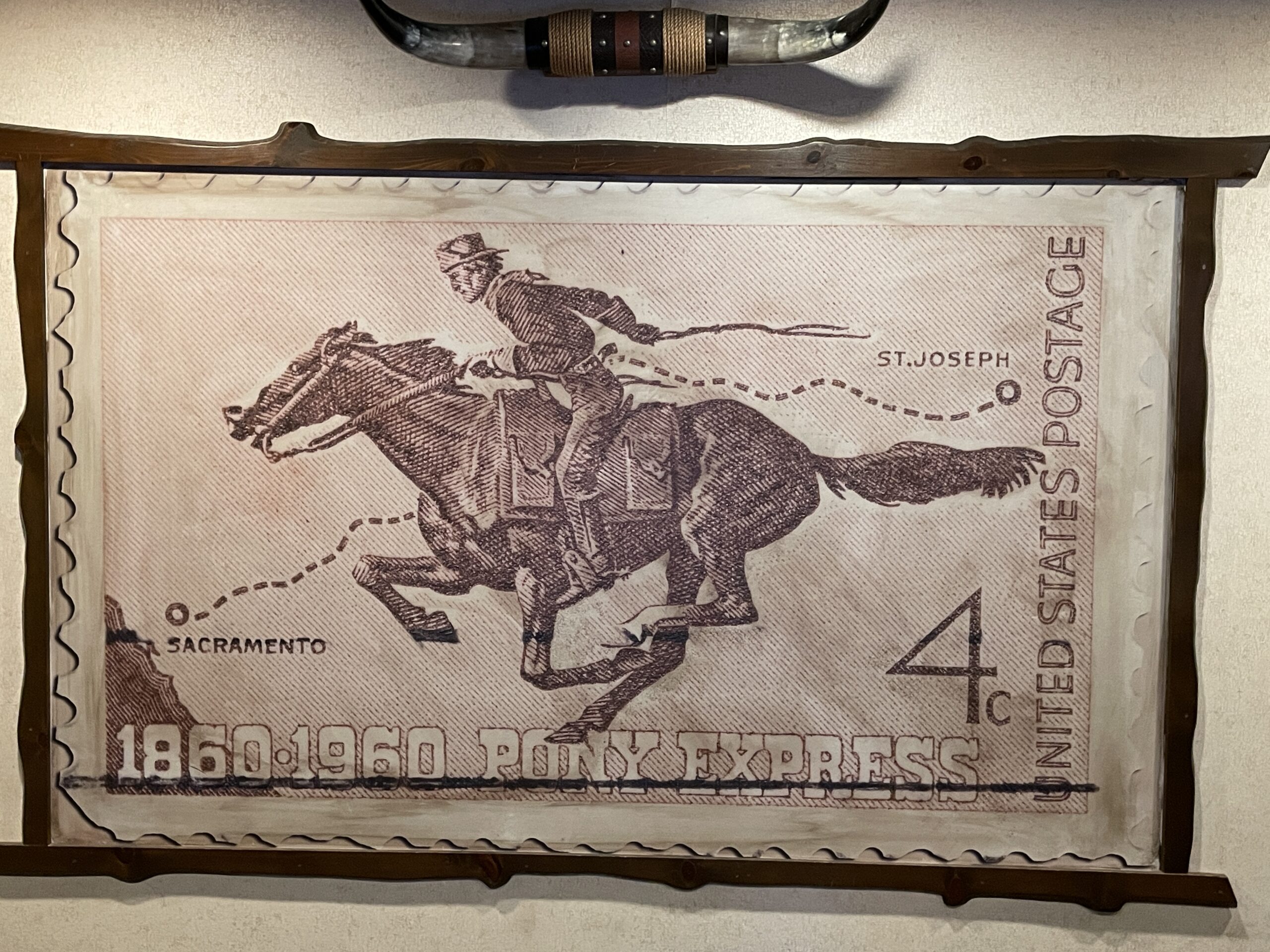 Located at 1502 MacArthur Drive near the Missouri River, is the Remington Nature Center which has gardens, wild life viewing areas, a river walk, wetlands and exhibitions. I went on my last trip and was very impressed. It has excellent exhibitions on the wild life as well as the history of the area and St. Joseph.
At 4101 Huntoon Rd, the River Bluff Trails Park, opened in May, 2022, offers a recreational escape for nature lovers of all ages. From the miles and miles of multiuse cross country biking trails to the winding hiking trails and incredible views overlooking the Missouri River, there is something for everyone in the family to enjoy.
37 miles north of St. Joseph on I-29 near Mound City, MO is the Loess Bluffs National Wildlife Refuge. I knew it originally as  the Squaw Creek National Wildlife Refuge. The name was changed in January, 2017.  It was established in 1935 by President Franklin D. Roosevelt as a refuge and breeding ground for migratory birds and other wildlife. I have typically gone in the late fall where you can see bald eagles, snow geese, mallard ducks and Canada geese. It is a spectacular way to see these birds in the refuge which includes 7,440 acres of wetlands, grasslands, and forests along the eastern edge of the Missouri River floodplain. I have great memories of visiting with my parents.