The downtown Loop is the historic commercial center of Chicago. Here you will find hotels, restaurants and the best in theater, dance, music and art. Our recommendations include:
The Art Institute of Chicago: One of the true treasures of Chicago, this is one of the top encyclopedic museums in the US with great collections in many areas from textiles, prints and drawings, photography, European decorative arts and even architecture. Its new Modern Wing, designed by architect Renzo Piano, is really outstanding. The AIC is known for its outstanding French Impressionism collection with works by all of the major artists. One of the masterpieces not to be missed is Seurat's Sunday Afternoon on the Island of  la Grand Jatte which will only be seen in Chicago and will not be allowed to travel. Gustav Caillebot's Rainy Day is also a must for your list along with the famous Chagall windows. 111 S. Michigan.
Across the street the Art Institute at Adams and Michigan is the start of the famous Route 66 that went from Chicago to LA.  It started in November, 2016.  Make sure to stop and see the sign marking the location.
Goodman Theatre: A Tony Award Winning Regional Theater with great productions. Founded in 1922, it has been at its current location since December 2000. There are two theaters, the Owen and Ivan, named after the Goodman Brothers. The Owen is the main stage and the Ivan the smaller of the two with often newer plays. 170 N. Dearborn.
Auditorium Theatre: The Theater is a masterpiece by Chicago architect Louis Sullivan that was opened in 1889  and recently totally restored. It has many outstanding dance, theater and music performances throughout the year.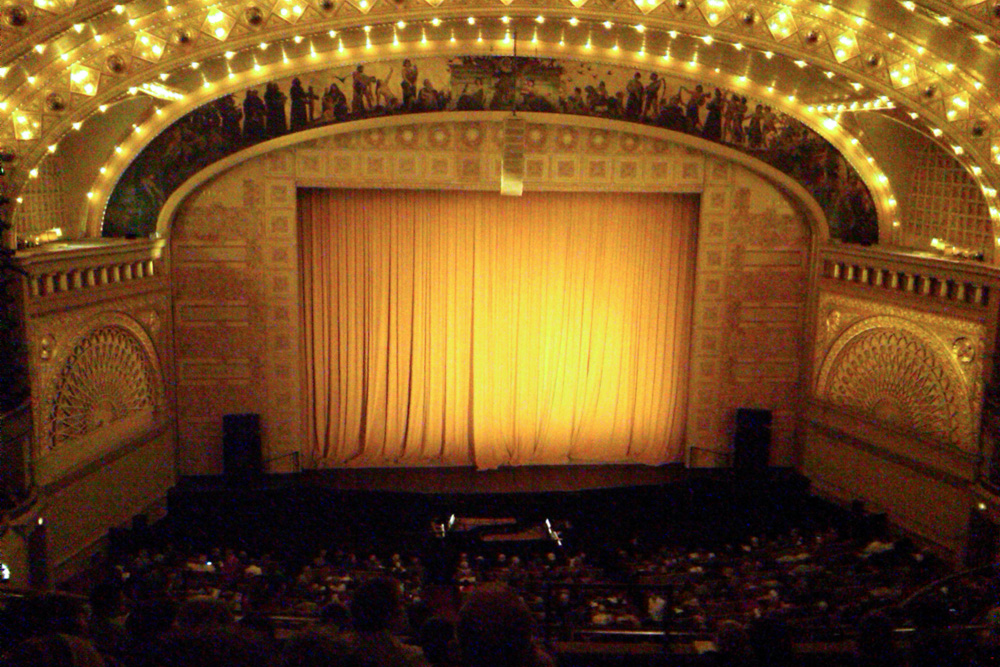 Harris Theater: Donated by Joan W. and Irving B. Harris, this is a great theater at the edge of Millennium Park, on Randolph just east of Michigan Avenue. They have a number of dance and music performances throughout the year. Hubbard Street performs here several times a year.
The Chicago Theatre at 171 N. State, is a landmark theater from 1921. Today it is used primarily for comedy events and concerts. I was just back for a concert of the Doobie Brothers. There is ample parking nearby and many restaurants to choose from.
Millennium Park: A must see on a trip to Chicago. See Anish Kapoor's Cloud Gate sculpture which reflects the skyline of Chicago, the fountain, the Lurie Garden and Frank Gehry's brilliant Pritzker Pavilion with its wonderful stainless steel structure. The Pavilion is home in the summer to the Grant Park Music Festival featuring the Grant Park Symphony and Chorus as well as to great jazz and world music. All concerts are free!! You can sit in the seats or take a lawn chair or blanket and sit on the lawn. The sound system is superb at any point on the lawn.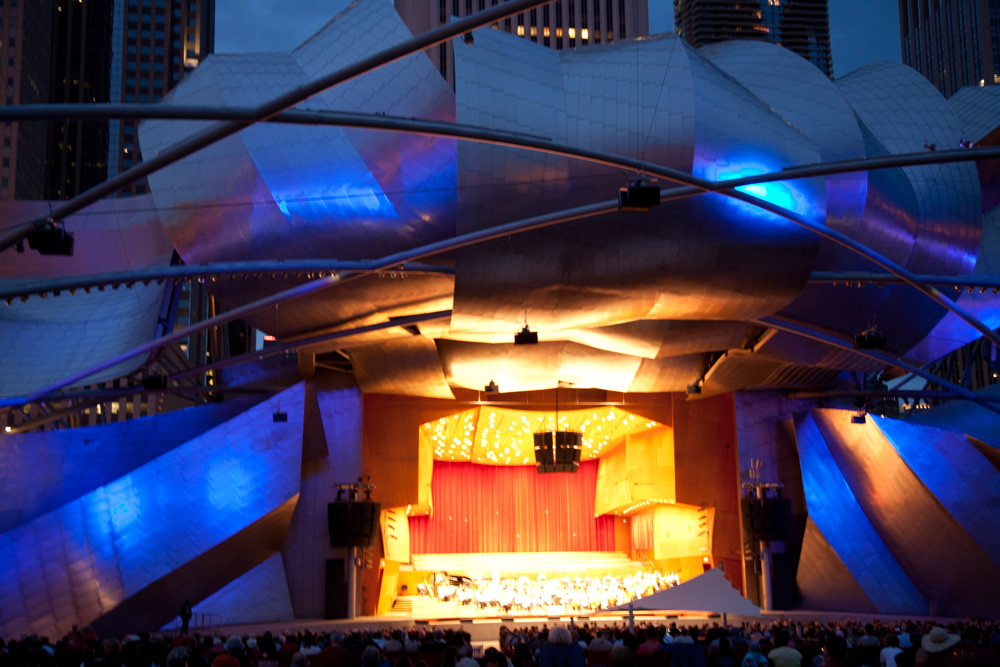 Chicago Architecture Center: Check out their website or go by their new location at 111 E Upper Wacker Dr. for a list of their outstanding architectural tours of Chicago and the surrounding area. The architectural river cruise is always a favorite in the  summer. They offer tours of the 1893 Columbian Exposition site in Jackson Park on the south side, the sites found in the book Devil in the White City and many others throughout the year. I recently went for the first time and thought it was a great addition to the city. They also have a nice gift shop for books and more. They also now feature lectures and other programs.
Chicago Cultural Center: In a building with a wonderful Louis Comfort Tiffany stained glass dome, this is home to many free concerts, performances and art exhibits throughout the year. I was recently back to see the Tiffany dome again and enjoyed an exhibition on mural artists. There is also a nice boutique featuring art and crafts by Chicago artists.

Joffrey Ballet: Having moved to Chicago from New York, the Joffrey is one of the leading cultural institutions in the city. It has four groups of performances throughout the year and are now performing at the Lyric Opera House. They perform a combination of traditional as well as contemporary pieces, plus its Nutcracker Ballet performances are one of the highlights of the Christmas season in Chicago.
Lyric Opera of Chicago: One of the best known companies in the country with performances at the wonderful Civic Opera House at 20 N. Wacker Drive. Their spring performances are now Broadway musical revivals which are beautifully done. The Lyric also has a fine dining option with a prix fixe menu, The Pederson Room, for patrons holding tickets on the day of the performance. They also have the casual bistro, the Florian.  Located on the third flood with a full bar, it is the perfect place to enjoy a light pre-performance meal, a glass of wine during intermission, a specialty cocktail or a  dessert after the performance. It was recently renovated and reopened in November, 2021. The main auditorium has also been updated with all new seating.
Hubbard Street Dance: I love Hubbard Street and hope you are able to catch one of their great performances at the Harris Theater on Randolph, at the north end of Millennium Park. They perform several times a year. 205 E. Randolph.
Roosevelt University/Chicago College of Performing Arts: Check the schedule and attend a free concert in the beautiful Ganz Hall designed by Louis Sullivan. 430 S. Michigan Ave., 7th fl.
For an active way to tour downtown Chicago  and the surrounding neighborhoods and the lakefront, Fat Tire Tours offers daytime and evening bike and Segway tours
I highly recommend a wonderful Chicago French restaurant. Opened in 2022,  this new BISTRO MONADNOCK, is located downtown in the historic Monadnock Building at 325 S. Federal St. This  is a modern French bistro that focuses on traditional preparations of classic French dishes. It also has a 100 bottle French wine list along with classic cocktails. I was excited to meet Executive Chef Johnny Besch, who has spent decades cooking and studying under the guidance of some of the world's great French chefs. He gave us a tour of his kitchen, his wine cellar and curred meat cooler. He even has his family gourmet slicer for his charcuterie from 1921.
It has a classic French design. I enjoyed the French onion soup and the croque madame made with a baguette, mornay sauce, smoked ham and a sunny side up egg. My friend also loved the soup and the escargots. It is open for lunch and dinner. I went for lunch. It is a good spot to eat in town before a concert or performance at the Auditorium Theater, Chicago Symphony, Goodman Theatre or Broadway in Chicago.
The Berghoff Restaurant: Your Globalphile Curator went to the Berghoff for the first time when he was 11 years old. The Old World atmosphere is the best as is its great German food. Try the Sauerbraten! At Christmastime the decorations are always festive. It  has been there in the same location since 1887. Just recently it closed for a short period of time, but was soon reopened by one of the family members. You will be so glad that it is still around!!  They recently opened up the bar as part of the main restaurant and added the Adams Street Brewery on the premises. 17 W. Adams St.
The Gage: The Gage is a fun gastropub with excellent outdoor seating in the summer. It is located at 24 S. Michigan. Next door, Henri is now Acanto at 18 S. Michigan. This is a sleek new restaurant featuring Italian specialties. The food is fresh and very good and service excellent. They feature starters, salads, pastas, pizzas, entrees and daily specials.
Just south at the corner is the recently opened Amorino Gelato Al Naturale. It has become my favorite gelato shop after visiting locations in Paris, France and San Miguel de Allende, Mexico. In addition to its amazing gelato flavors they also feature sorbetti, gourmet sundaes and milkshakes, gelato macarons, crepes, waffles, hot drinks, ice cream cakes and Italian gourmet specialties. 38 S. Michigan Ave.
Symphony Center and the Chicago Symphony Orchestra: As one of the world's best symphony orchestras, this is a must if you love classical music. Check out the schedule on their website. There are jazz offerings as well as chamber music and other programs throughout the year.  220 S. Michigan Ave.
Spertus Institute of Jewish Studies: Stop in to see the great architecture with its faceted glass facade by Chicago architects Krueck and Sexton and catch an art exhibition in one of its galleries. 610 S. Michigan Ave.
Museum of Contemporary Photography: As part of Columbia College, this is an excellent museum dedicated to showcasing photography. Check out their website for the calendar of exhibitions, lectures and other special events. 600 S. Michigan Ave.
A fun spot to try is Buddy Guy's Legends, a classic blues club at 700 S. Wabash. I went recently for the first time with a friend from Mexico who was in town on business. I wanted him to experience a true Chicago tradition. They offer music seven nights a week along with New Orleans-inspired food. I loved the atmosphere and the music!
After a visit to Buddy Guy's Legends, I enjoyed my dinner with a friend at the Grant Park Bistro. Located in the Le Méridian Essex Chicago hotel, it is a casual American bistro with a contemporary decor.
At Macys on the 7th Floor is the historic Walnut Room that has been there since Marshall Field's, now Macy's, opened in 1907. A holiday tradition is the Great Tree along with the famed Christmas windows on State St. along with decorative trumpets above the street. 111 N. State.
The Filini Restaurant at the Radisson Blu is now FireLake Grill House & Cocktail Bar: Located at 221 N. Columbus Drive, this is a sleek/contemporary restaurant featuring Midwestern cuisine and specialty cocktails. It is a location for a pre-theater dinner.  It is located in Aqua, the award winning building designed by Jeanne Gang and is worth a visit on its own.
Outdoor sculptures: Walk around the Loop and see great works by Calder, Picasso and Miro. One of the newest additions to the group is Anish Kapoor's Cloud Gate sculpture in Millennium Park at Washington St. At the south end of Grant Park is a great work, Agora, featuring a group of 106 headless and armless iron sculptures designed by Polish artist Magdalena Abakanowicz.
A recent find if Olafur Eliasson's Atomospheric Wave Wall made in Belin from 1,963 metal tiles. It is on the south side of Willis Tower at 233 S. Wacker Dr.
Catch 35: This is one of the best restaurants in the Loop. It has been open for over 23 years and has the best seafood and sleek decor. They recently opened an outdoor patio which I enjoyed on my last visit.  They also have live music in the bar. 35 W. Wacker
At 230 N. Michigan Ave. is the recently opened Pendry Chicago, a boutique hotel located in the historic and iconic Carbine & Carbon Building, an Art Deco building from 1929. It is a beautifully renovated property along with Bar Pendry off of the lobby, Venteaux a French brasserie, oyster & champagne bar and café from Michelin-starred  Chef Donald Young and a stunning rooftop bar, Château Carbide. Venteaux also has a colorful café featuring coffee, pastries, salads and sandwiches. I went for the first time and thought the avocado toast was one of the best I have ever eaten.
Petterino's: Located next to the Goodman at 150 N. Dearborn, this is Chicago's answer to Sardi's in New York. Clubby with its wall of caricatures of actors who have performed in Chicago.
A great spot for a cocktail before or after the theater is ROOF on the WIT. This is a rooftop bar and restaurant on the 27th floor of the contemporary WIT Hotel at201 N. State St.  I has a sleek vibe with wonderful views of Chicago. I was just back after several years, and loved the experience.
Mercat a la Planxa: Thie well-known tapas restaurant at 638 S. Michigan will not disappoint. It has a great menu and is the perfect location for a pre-concert or pre-theater dinner.
Primitive: Primitive is a wonderful store that presents exclusive as well as one-of-a-kind collections of furniture, artifacts, art, textiles, jewelry and fashion from all over the world. Asia is heavily represented. You will also find framed art, paintings, drawing, posters and rugs. 130 N. Jefferson.
The CIBC Theatre (the former Shubert Theatre), Cadillac Palace Theater and the Nederlander Theatre are the venues of Broadway in Chicago which provide pre-Broadway and post-Broadway plays and musicals. Many productions start in Chicago before heading to the Great White Way. For discount tickets  stop by Hot Tix at 72 E. Randolph or 163 E. Pearson or shop on line for discounted tickets to these productions and other theater offerings in the smaller off-Loop theaters.
If you are attending a performance at the CIBC Theatre, the Grillroom Chophouse & Winebar at 33 West Monroe St. is a convenient place to eat, as it is right across the street.
Just to the west is Bandol Brasserie & Raw Bar at the Hyatt Centric The Loop Chicago. This is a southern French coastal-inspired restaurant, combining French and Mediterranean classics with  modern seafood and a raw bar. It is opened for breakfast, lunch, dinner and weekend brunch. The dishes include a lobster club sandwich, seafood salad with crab, lobster and shrimp, a seafood omelette and crab quiche, mussels, escargot, crabcakes, burgers and raw bar selections. I enjoyed the seafood salad for lunch and with some rosemary parmesan fries. Bandol took over the space vacated by the former Cochon Volant French brasserie. 100 W. Monroe.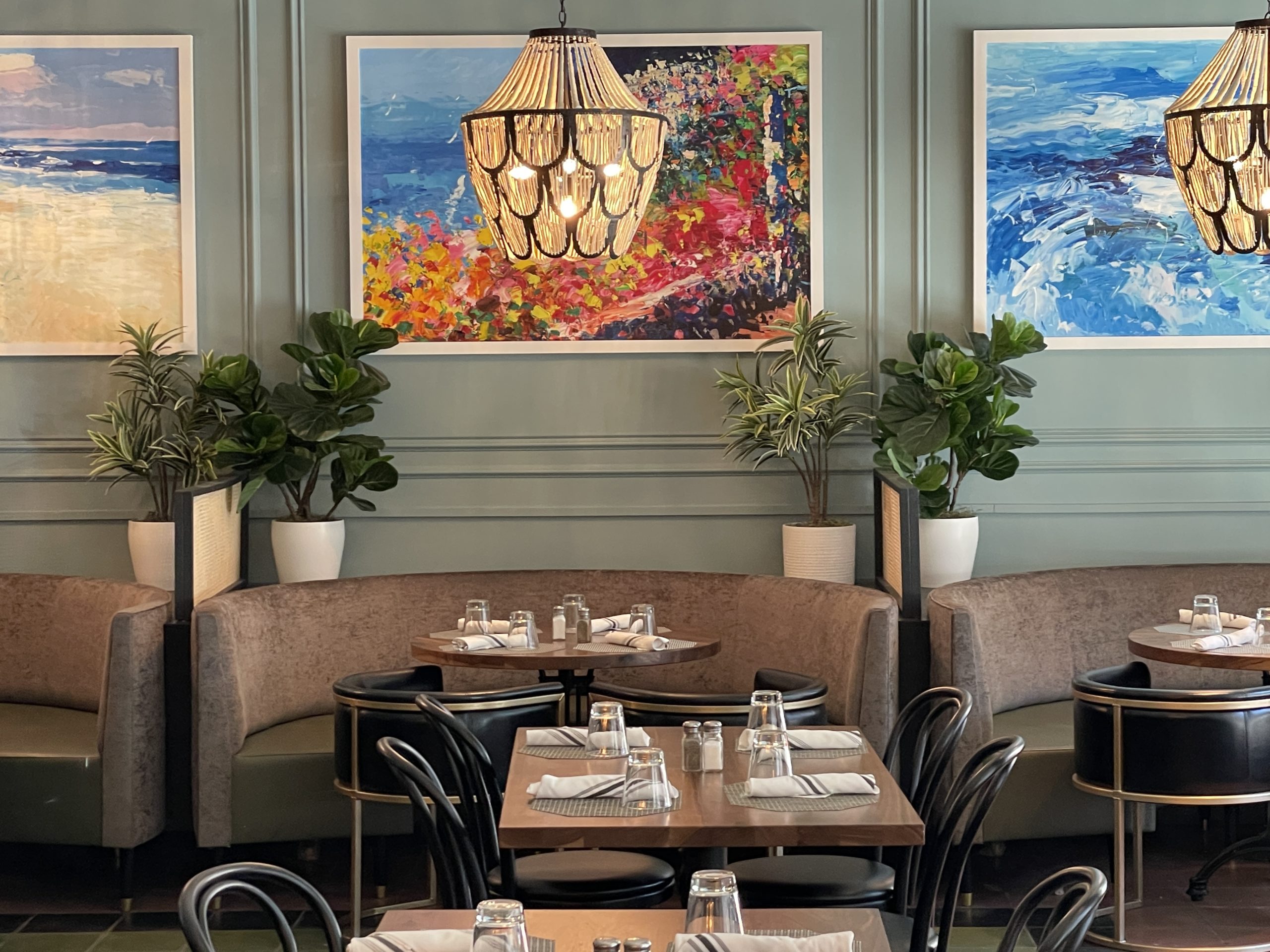 Gene Siskel Film Center: As part of the School of the Art Institute of Chicago, this is a film center named after Chicago movie critic Gene Siskel of Siskel and Ebert fame. It has a full schedule of documentaries, art and independent films. 164 N. State.
Atwood Cafe: At 1 W. Washington is a very good restaurant with art deco decor that is perfect for pre-theater or post-theater dining. It is located on the ground floor of The Staypineapple Chicago hotel which is located in the historic Reliance Building which was designed by Burnham and Root in 1890.
The newly opened Riverwalk from State to LaSalle on the South side of the river is a great spot to walk and have a drink on a perfect Summer night in Chicago. There are several restaurants including a branch of City Winery along with Beat Kitchen on the Riverwalk, Chicago Brewhouse, O'Briens Riverwalk Café and Sweet Home Gelato. I enjoyed a great meal sitting along the river on the terrace of River Roast at 315 N. LaSalle. Carved table-side are roasted fish, beef, chicken, pork and veggies. I was recently back and enjoyed a chai latte at Chiya Chai located in the Community Marketplace. I had enjoyed their Logan Square location in the past.
When downtown for a theater matinee, I really enjoyed my lunch at the Tiny Tap & Cafe which offers a menu of food, cocktails and coffee. I enjoyed the BBQ chicken flatbread and sitting along the river on a beautiful summer day. The service was also excellent.
Along the Chicago River at 180 N. Wacker Dr. is the one of the newest hot spots in the Loop. Beatnik On The River is the popular bar/restaurant on the lower level. There is an extensive cocktail and wine menu. Here there is outdoor seating with great views. No reservations are taken so it can be  very crowed. I suggest going early. Upstairs is their more formal restaurant, Cafe Bonhomme.  We opted to go there for our pre-theater dinner and thought the food was very good. They feature a menu of small plates, entrees and shared plates with Mediterranean influences.
Immediately across the river in a new office building at 150 N. Riverside Plaza is Porter Kitchen & Deck. This is a very elegant space with a menu of classic American cuisine. I enjoyed lunch with views of the boats on the river.
I love Revival Food Hall featuring 14 chef-driven restaurants. It features the Revival Café-Bar, Smoque BBQ,  Aloha Poke Co. and Lito's Empanadas.  At 125 S. Clark it is a great location for visitors to the city as well as for the office workers in the Loop.
Two new Food Halls that recently opened include the Urban Space Food Hall at Willis Tower at 233 S. Wacker Dr. ,with a number of vendors including brown bag seafood  co. and Do-Rite Donuts & Chicken. The other with nine vendors is From Here On Food Hall & Market owned by the local group that owns Longman & Eagle, Dusek's Tavern, Revival Food Hall and The Promontory. The space is really stunning after its recent renovation and transformation. 433 W. Van Buren St.
I also enjoyed my experience at The Dearborn. It is located at corner of Dearborn and Randolph at 145 N. Dearborn. It is an upscale urban tavern that is open for lunch, dinner and brunch. It is a great pre-theater addition to the Loop.
If you are hungry while shopping on State St., Magnolia Bakery at 108 N. State has great baked goods.
The Chicago Athletic Association Hotel: At 12 S. Michigan Ave., this hotel, opened in 2015, is a wonderful renovation of the former Chicago Athletic Association that was established in 1890. The building was completed in 1893 and was designed to resemble the Doge's Palace in Venice, Italy. The club disbanded in 2007. The two year restoration started in 2012.
Shake Shack, on the first floor, occupies the space of the club's  former Turkish baths. The second floor, contains the Drawing Room, The Milk Room (named after the place where the members drank "milk" when it was a prohibition-era speakeasy), the Game Room and the Cherry Circle Room that was the club's original men-only dining room,, which won a James Beard Foundation Award in 2016 for best restaurant design. I remember great meals there in the 1980s. Cindy's Rooftop is the new rooftop bar and restaurant, that has wonderful views of Chicago's Millennium Park. I suggest going early and making reservations as Cindy's is very popular and can be very crowded. There is also a Fairgrounds Craft Coffee and Tea cafe on the first floor.
Minghin Cuisine:  Located at 333 E. Benton Place Suite 200 right off of E. Randolph, this is a branch of the Chinatown favorite, that offers very good Chinese food plus dim sum all day. I had enjoyed the Chinatown location in the past, and was so pleased to have found the downtown location.  The have a large selection of dim sum items to choose from! This would be a perfect spot for dinner before a concert or event at the Harris Theater across the street at 205 E. Randolph. I am anxious to try their other location at 1234 S. Michigan Ave.
Minghin is located in an emerging residential area called the New East Side. There is a park in the middle surrounded by a number of contemporary designed residential buildings and hotels along with a number of restaurants and a grocery store. One of the newest buildings is the 101-story St. Regis Tower designed by local architect Jeanne Gang. Formerly known as the Vista Tower, it will house a new St. Regis Hotel. It is one of my favorite neighborhoods downtown with a beautiful park in the center.
One of the newest restaurants in the development is Avli on the Park at 1850 N. Field Blvd. This is an upscale Greek restaurant featuring weekend brunch, lunch and dinner. It has a really stunning interior with lovely views of the neighborhood.
Sociale is a fun bar and restaurant in the South Loop at 800 S. Clark in the historic Printer's Row. They feature Mediterranean-inspired small plates, wine and cocktails. The lunch menu features a number of salads and sandwiches. I went for the first time and enjoyed it.
In the next block north is Umai sushi bar and Japanese restaurant. I recently went to celebrate my assistant's birthday. They have a large menu of nigiri and sashimi, undon and ramen, hand rolls and maki along with appetizers, salads, entrees and deserts. I was very impressed with the quality and particularly enjoyed the unagi avo crunchy which was a roll made with eel and avocado. 730 S. Clark
Across the street is Half Sour at 755 S. Clark.  I read about it as it was recommended  for its bagel sandwiches, deli dishes and burgers. The also have an extensive beer and cocktail menu My assistant lives around the corner, so I had to go and take her to try it. She loved the cheese burger and I really enjoyed the lox and bagel. They also have outdoor seating in the summer and live music.
I also like Totto's Market at 721 S. Dearborn. If your plans call for a picnic in Grant or Millennium park for an event or concert, this is a great spot to buy your food.
After many years, I recently went back to Eleven City Diner at 1112 S Wabash Ave. They have an extensive menu of classic American diner meals and delis standards in a colorful retro-style restaurant. They have excellent omelets, bagels, pancakes, waffles, soups, sandwiches including grilled cheese and Rueben's, mac & cheese, salads and hamburgers along with pies, cakes and ice cream. It was a fun experience.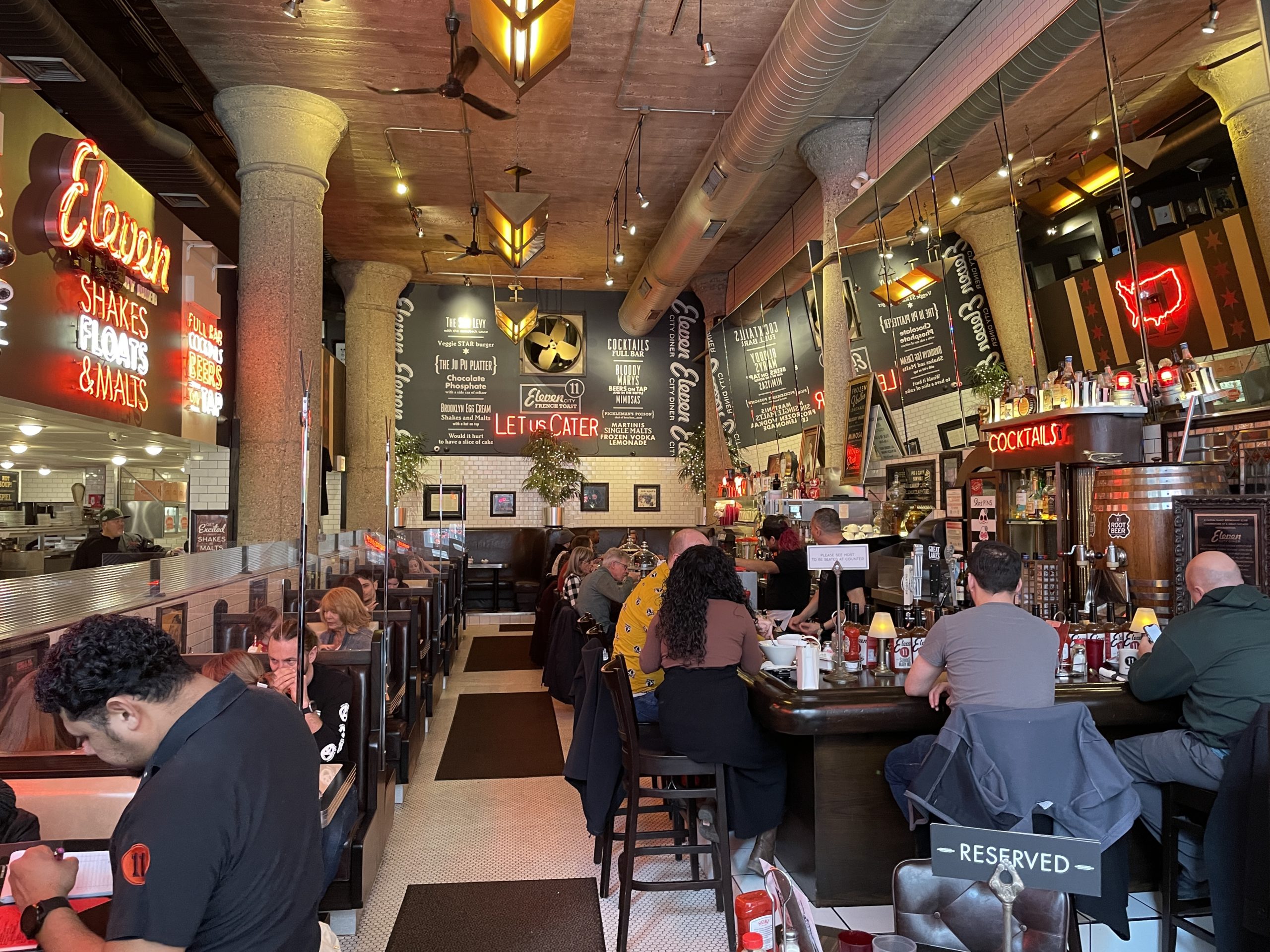 A few blocks further south is Tapas Valencia at 1530 S. State. I recently went with friends for a fun dinner of tapas and seafood paella. They have a large tapas and wine menu along with a number of different types of paella.  It has a great outside patio and a contemporary dining room.  I really enjoyed the food and the excellent service. They offer complementary valet parking, which really added to the experience.
Fisk & Co. Mussels + Beer  is a great addition to the Loop food scene. It is located at 225 N. Wabash in the Hotel Monaco Chicago.  The menu has a wonderful selection of  five mussel dishes and frites or fries with six different ketchups or aioli along with a number of starters and main dishes. I loved the classic mussels which were beautifully cooked.  They also have an extensive wine, cocktail and beer list. It is great spot before you head to the Goodman, Harris Theater or other downtown theater venue.
On a recent architecture tour, I enjoyed seeing the lobby of the historic Marquette Building at 140 S. Dearborn. It was designed by Holabird  & Roche and built in 1894. Make sure to visit the lobby and see the rotunda with the Tiffany mosaics showing the journey of Father Marquette and Louis Jolliet. There is a small museum in the rear of the lobby.
Other buildings to see include the Monadnock Building, a 16-story skyscraper located at 53 West Jackson Blvd. Built in two stages, the north half of the building was designed by the firm of Burnham & Root and built starting in 1891. The other is by Holabird & Roche. It is one of the largest commercial buildings with load-bearing masonry walls ever built.
The building has a number of boutiques and restaurants including Optimo Hats for beautiful handmade hats and Zeglio Custom Men's Clothing.
Not to be missed is the historic Rookery Building, located at 209 South LaSalle St. Completed by architects Daniel Burnham and John Wellborn Root of Burnham and Root in 1888, it is considered one of their masterpiece buildings,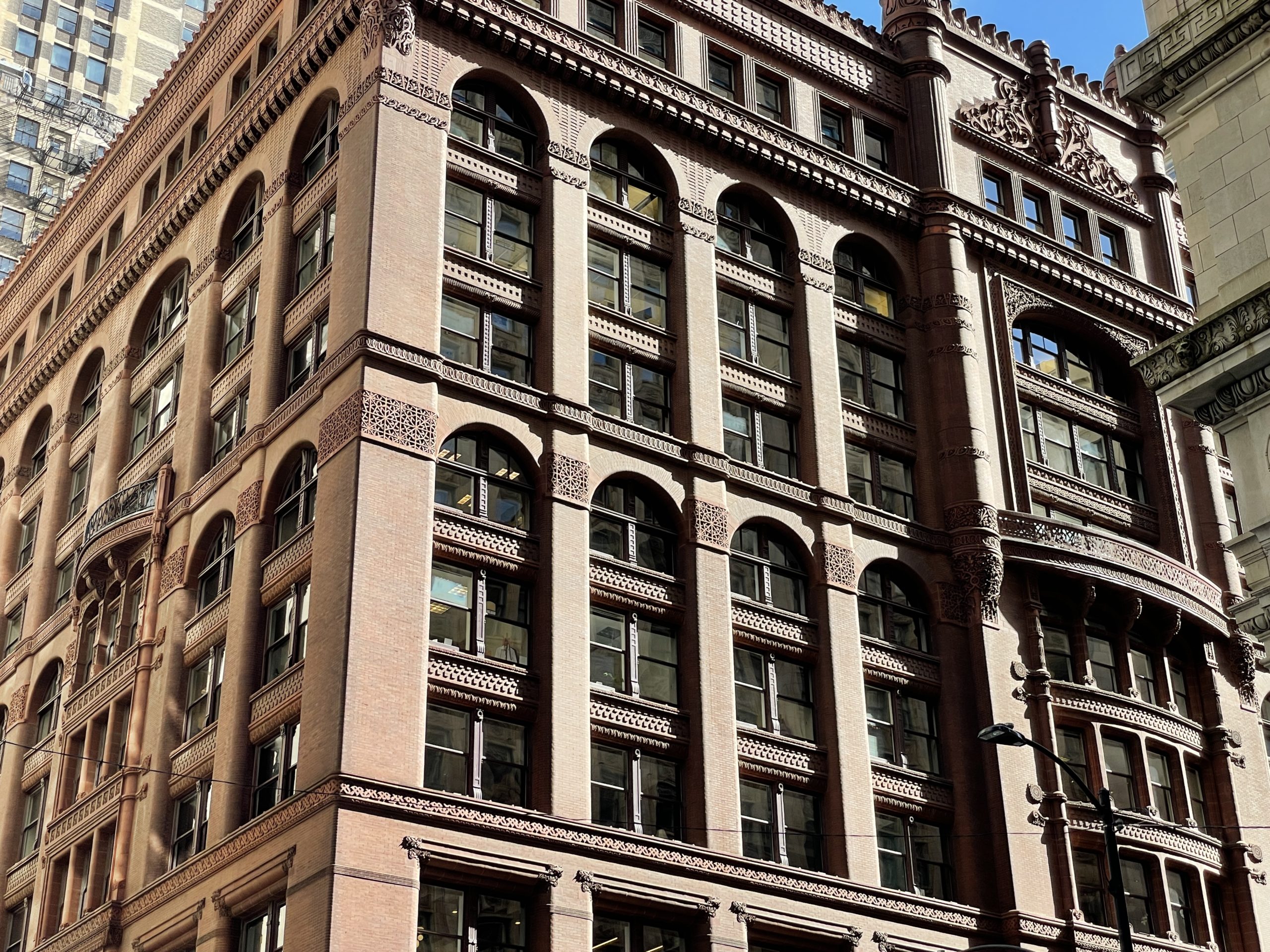 If you have time make sure to visit Buckingham Fountain. At 301 S. Columbus Drive, this is a Chicago Landmark in the center of Grant Park, dedicated in 1927 and donated to the city by philanthropist Kate S. Buckingham. It is one of the largest fountains in the world.