Eating and drinking in Crested Butte can be a wonderful experience as there are some great restaurants in town to try. You will find traditional bars and taverns, cafes and fine dining options. My top recommendations include:
For coffee, Camp 4 Coffee is always one of my favorites. It is a fun, local's hangout in a great atmosphere. I love sitting on the outside patio! 402 1/2 Elk St.
The Sunflower Communal Kitchen is now Sunflower at 214 Elk  Ave. This is a great spot for dinner. They feature locally grown ingredients. The creative menu features a good number of soups, greens, appetizers and plates or entrees. The farm-to-table menu changes depending on what is in season.
I was very impressed with the menu when I was there recently with a local friend and had one of the best meals I have had in a while. We shared three small plates and a dessert. I loved the salad with heirloom tomatoes, grilled peaches, burrata, arugula, a balasmic reduction and pest0. The roasted carrots and beets with a coconut puree, dill yogurt, carrot noodles an crispy quinoa was also excellent as was the muschroom riccota and tarragon ravioli, with chanterrells, sweet corn and a chanterrelle cream. The nectarine tart for dessert was the perfect ending to the meal. They have a lovely outdoor patio during the warmer months.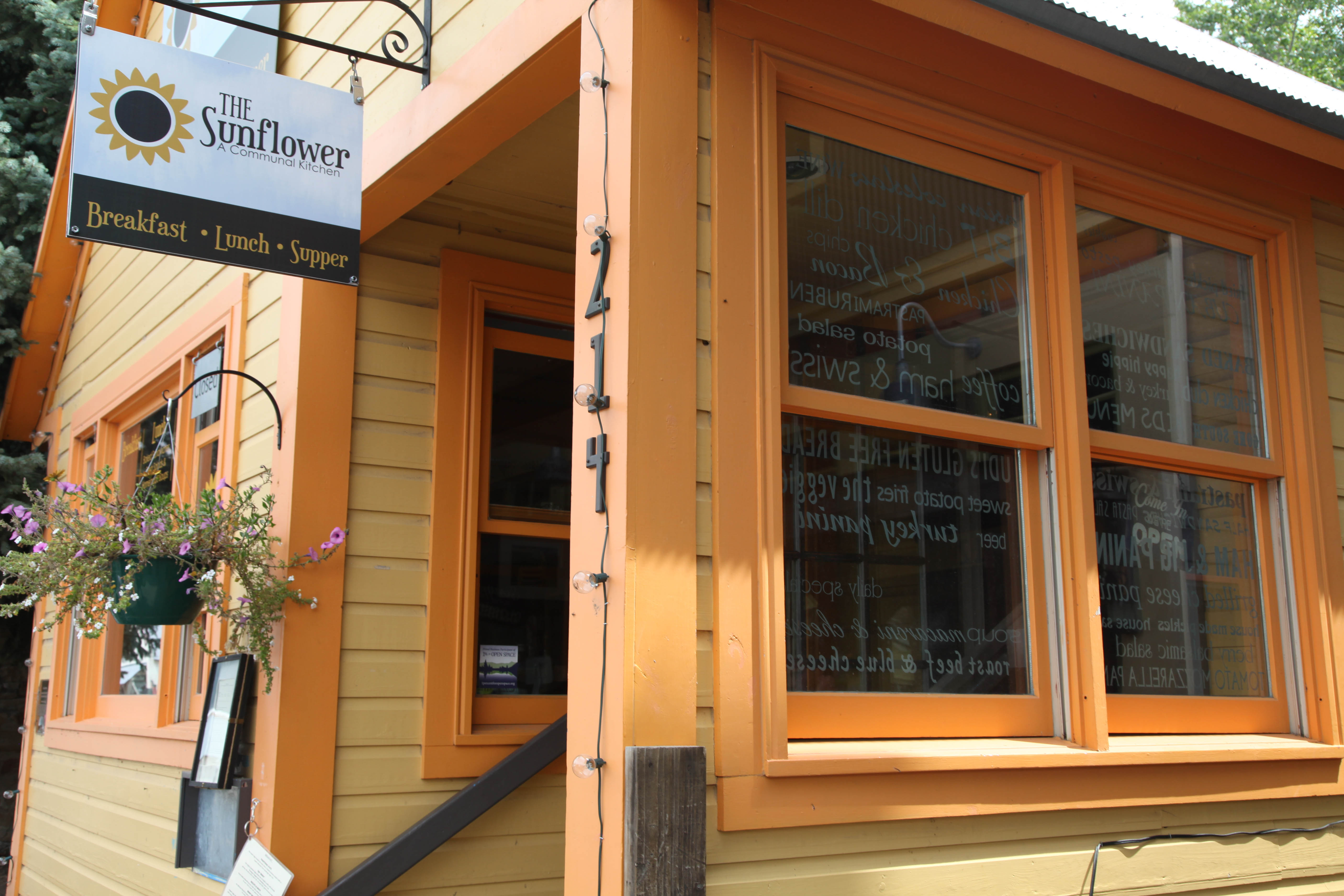 Before my dinner at Sunflower, I enjoyed a cocktail on the lovely patio at The Dogwood Cocktail Cabin, one of my favorite new places in town. At 309 Third St. in a cozy old miners cabin, this is a great spot for creative cocktails, wine and small plates of food. I highly recommend the experience. I loved their special, the Just Peachy, made with Breckenridge Bourton, house-made peach puree, fresh basil, aromatic bitters, honey and citrus.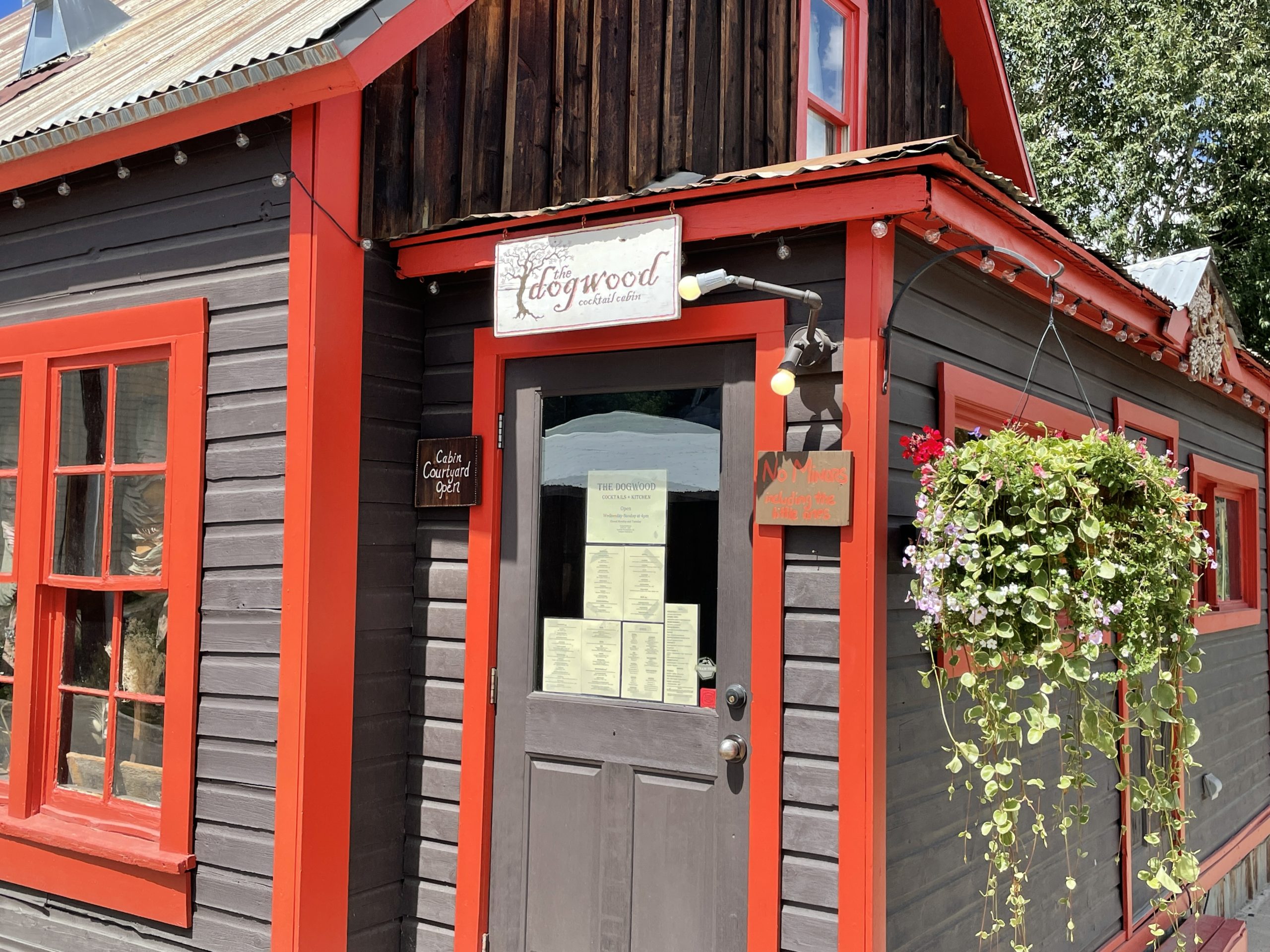 The Slogar Bar & Restaurant:  Located in an historic building from 1882 at 517 2nd St., The Slogar features family style skillet- fried chicken dinners along with sides of cream corn, biscuits, mashed potatoes and gravy along salads like cottage cheese, caesar salad and slaw. They have wine and cocktails along with ribs and beef as alternatives to chicken. I loved the experience and I highly recommend that you try it when you are in town.
One of my best meals was at the Public House at 202 Elk Ave. A modern Colorado saloon/gastropub, they feature a local menu. I had to try the Elk meatloaf made with ground elk, Nueske's bacon, parmesan, balsamic glaze along with garlic mashed potatoe and hunter mushroom gravy plus a side salad. They also feature live music in their downtstairs venue.
I recently read that Butte Bagels is a fun spot for breakfast sandwiches and coffee. 218 Maroon Ave. A. Paradise Cafe at 435 6th St. is also a good spot for breakfast. So I made a point to visit both while in town. Butte Bagels is a casual cafe a block off of Elk Ave. I really enjoyed my bagel sandwich with lox, cream cheese, capers, onions, and tomatoes. As I headed out of town, I really enjoyed my Sunday Brunch at Paradise Cafe on the outdoor patio. I recommend the smoked salmon eggs benedict.
Rumors Coffee & Tea House: This is a small cafe serving coffee and tea that is adjacent to Townie Books at 414 Elk Ave. This independent bookstore is a fun spot to explore as well. 
Also good for coffee is A Daily Dose at 330 Elk Ave Unit C. They also feature baked good, sandwiches, salads, smoothies and more.The Rocky Mountain Chocolate Factory also serves coffee, chocolates, ice cream and more at 314 Elk Ave.
I loved Soupçon which a local friend recommended. Located in an old mining cabin located in the alley off of Elk Ave.,it is a fine dining, French American bistro. Since I was there, it has a new owner/chef, John Leonardi. He has transformed the experience into a four course tasting menu only with one nighly seating at 6:30pm. It still gets excellent reviews, but is on the pricey side.  127 Elk Ave. A.
On my next trip I really want to try The Wooden Nickel which is a steakhouse and Crested Butte's oldest saloon in a building constructed in 1929. The original building on the site was from from 1880. 222 Elk Ave. Bonez Tequila Bar & Grill is good for tacos and tequila at 130 Elk Ave. For good Italian specialties, make sure to check out Marchitelli's Gourmet Noodle at 411 3rd St.  The casual McGill's at Crested Butte is recommended for its breakfast and lunch menu. 228 Elk Ave.
Talk of the Town is a fun local bar in the heart of dowtown. 230 Elk Ave. Since 1982,  it has big screen TV's, pool tables, fooseball, juke boxes and bars on both floors.  They also feature live music and great pizza.
Other good spots include Ryce Asian Bistro for modern Asian, Secret Stash Pizza and Teocalli Tamale for casual Mexican fare including burritos, tacos and  tamales, plus margaritas.  The Last Steep Bar & Grill is a local's hangout with a menu of burgers, tacos, bowls, sandwiches, salads and more. 208 Elk Ave.
You definitely must check out the Montanya Rum Distillery. Opened in 2008, they produce four award-winning rums including the lighter Platino 1-Year Aged Light Rum and their Oro 1-Year Aged Dark Rum. The Platino is good though I really preferred the Oro Dark Rum which is great for sipping. Since my first visit, they have moved to a more contemporary and attractive cafe and tasting room. They offer tastings of the rum, cocktails made with their rums plus a number of small plates. I just read that they feature sustainable, traceable, North American ingredients which distinguishes then from other distillers. 204 Elk Ave.
The Eldo Craft Brewery, Tap Room, Pub is located at 215 Elk Ave. They provide food, drinks, and nightly entertainment for Crested Butte locals and visitors since 1996.