In the last several years Indianapolis has gained a national reputation for inventive craft food and drink. You can find farm-to-table restaurants and locally brewed beer and spirits in emerging neighborhoods as well as in the downtown Wholesale District. My recent recommendations by neighborhood include:
Downtown/Wholesale District 
There are a number of great dining options downtown in the Wholesale District. My recent finds include:
Cafe Patachou: This downtown restaurant is part of Martha Hoover's Patachou, Inc. restaurant group. Open for breakfast and lunch, this contemporary spot offers a large selection of omelettes, breakfast specialities, soups, sandwiches and salads. It is very convenient for those visiting or working downtown. 225 W. Washington St.
Another Patachou, Inc. concept is Napolese. Located in the heart of downtown, they have a large menu of starters, soups, salads, sandwiches and pizza. I had a very good lunch there on my last trip. I enjoyed the  pork sugo, the baked capriole goat cheese, the fava bean hummus and a perfect arugula and strawberry salad. My favorite was the pizza margherita. They are known for their fresh, local ingredients.
OP Italian (formerly Osteria Pronto: A good spot if you are staying at the JW Marriott. They feature Northern Italian cuisine and are open for breakfast, lunch and dinner. For lunch and dinner the menu includes a large number of soups, salads, pizzas, pastas and entrees. I very much enjoyed the OP house salad with grilled salmon. 10 S. West St.
St. Elmo Steak House: Not to be missed is Indy's  historic steakhouse from 1902. This classic restaurant with white tablecloths, wood paneled walls, tall ceilings and great service is an experience not to be missed. The menu features their famous navy bean soup, traditional steak cuts of filet mignon and porterhouse and shrimp cocktail. Just be aware that the horseradish/cocktail sauce is somewhat strong and will clean out your sinuses, so I recommend asking for it on the side or less spicy. I really enjoyed the yellowfin tuna entree. They have a bar upstairs, the 1933 Lounge, if you want a classic cocktail before or after dinner. 127 S. Illinois St.
Harry & Izzy's: The sister restaurant to St. Elmo's, just to the south at 153 S Illinois St, is another great downtown dining option. I enjoyed dinner there with a local friend. Though known for their steaks and pasta, the pan-seared scallops served with citrus couscous, watermelon radish, lemon beurre blanc and arugula was the perfect entree. They also feature a three course prix fixe option on Sunday evenings. The name comes from Harry Roth and Izzy Rosen who were longtime friends and partners in St. Elmos.  
Tinker Street Restaurant & Wine Bar: Local friends recommend Tinker Street which is north of downtown at 403 E. 16th. It is known for its seasonal menu, wines and outdoor patio.
Indianapolis City Market: From 1821, and in this location since 1886, the old city market that is now a food hall, has more than 25 local food purveyors. It is a perfect place for lunch as you mingle with the locals who work nearby. The INDPLS GUIDE, a local guide book, recommends Three Carrots, Circle City Sweets, 3 Days in Paris, The Tamale Place and Tomlinson Tap upstairs for its beer selection. The building itself is listed in the National Register of Historic Places.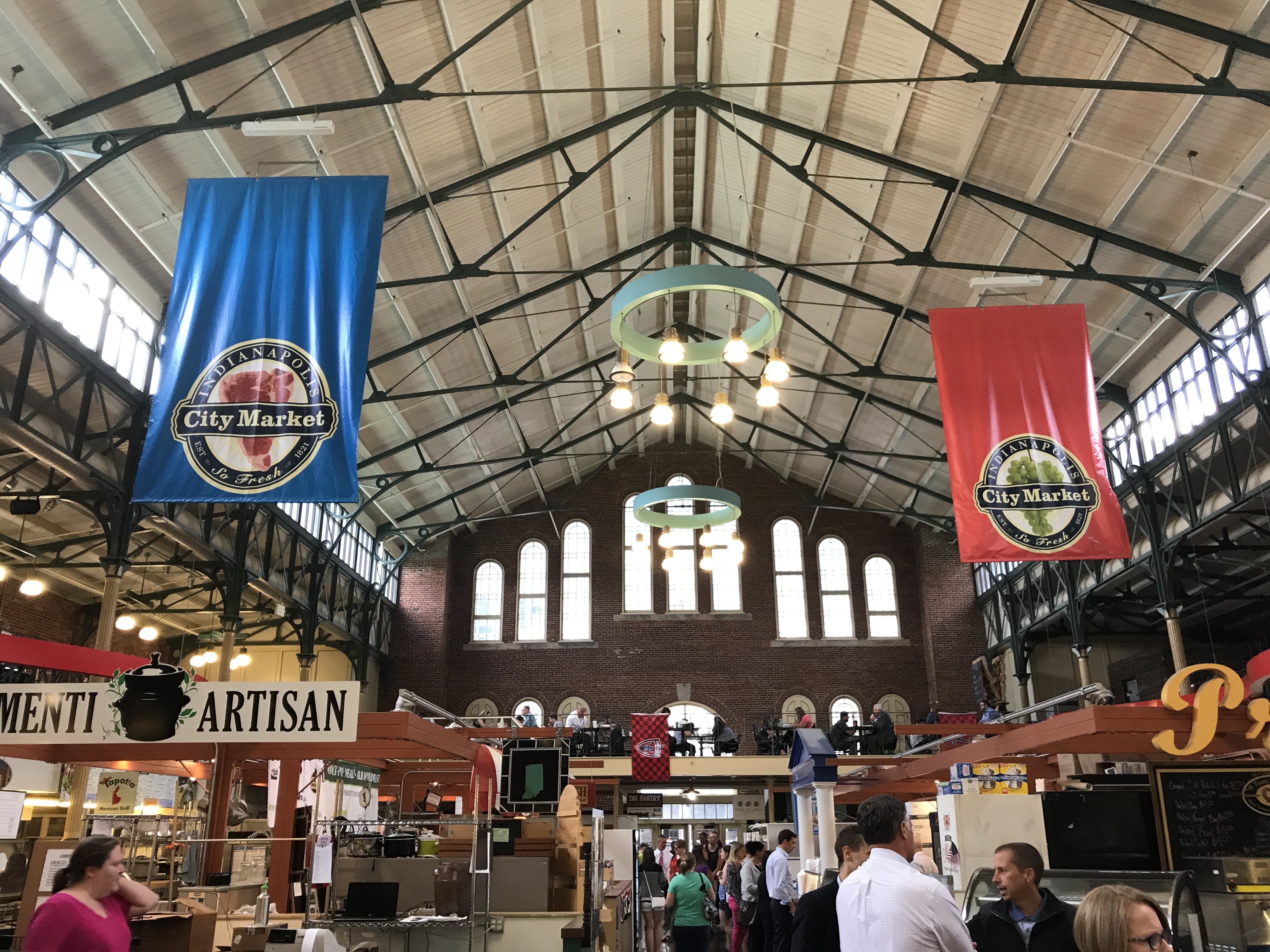 Virginia Avenue/Fletcher Place 
The historic Fletcher Place neighborhood, one of the city's oldest, is now home to some of the most creative bars and restaurants in the city, making it "Indy's new restaurant row". Make sure to visit:
Bluebeard: I experienced a lovely meal at this popular Indy spot from 2012 at 653 Virginia Ave. It is located in a converted factory warehouse from 1924 and has a focus on contemporary American cuisines using local produce and meat. I really enjoyed the halibut with vegetables and an amazing dessert of roasted peaches, toasted pecans and a bourbon ice cream. I can see why chef Abbi Merriss was a past James Beard Foundation nominee/semi-finalist for Best New Restaurant 2012. Merriss was also a best chef Great Lakes semifinalist in 2016, 2017 and 2018.
 Milktooth: Open for breakfast and lunch, Milktooth was created by by chef/owner Jonathan Brooks and wife Ashley "from a passionate commitment to great local ingredients".  According to them "Mom always told us that breakfast was the most important meal of the day, we hope to make it your most fun and delicious as well!" It is known for it waffles, pancakes and burgers. I enjoyed lunch in the great space that was a former auto garage. The restaurant was on Bon Appetit's 2015 list of 50 Best New Restaurants. Jonathan Brooks was a James Beard semi-finalist for Best Chef: Great Lakes in 2016 and Food & Wine put him on the national magazine's cover as one of America's 10 Best New Chefs in spring 2015.
Hotel Tango Artisan Distillery: Hotel Tango is one of my favorite new finds while visiting Indianapolis. A small-batch distillery, their spirits distilled on-site include Golf Gin, Romeo Rum, Victor Vodka, Mike Moonshine, Lima Charlie Limoncello, Oscar Charlie Orangecello, Bravo Bourbon and Whiskey. You can taste their spirits or try one of their creative cocktails. Located in a former 19th century carriage house, I loved the comfortable, warm atmosphere, with a fireplace, and their great old fashioned made with their Bravo Bourbon. Founded in 2014, their goal was to make it a "one-of-a kind-destination place in Indy". They definitely succeeded. Don't miss it when you are in town. 702 Virginia Ave.
12.05 Distillery: The distillery, whose name comes from December 5, 1933, the date of the repeal of Prohibition, makes Vodka, New American Gin, Rhubarb Liqueur, Four Finger Rye Whiskey, White on the Line Wheat Whiskey, The Barreled Reporter distilled from a sour beer and The Corn Star Corn Whiskey. Tours are available on request. I really enjoyed tasting their Four Finger Rye Whiskey after a great dinner at Bluebeard across the street.
Fountain Square 
Thunderbird: Located in the Fountain Square neighborhood at 1102 Shelby St., Thunderbird is a fun spot, featuring a large number of cocktails as well as a Southern-inspired food menu.
Just north or Thunderbird is Action & Atomic Duckpin Bowling in the historic Fountain Square Theatre Building. Originally opened in 1928 on the fourth floor, Action Duckpin Bowling has eight lanes of duckpin bowling (smaller pins and balls), a vintage billiard table and a cafe. Atomic Bowl Duckpin is located in the basement and is an authentic 1950s style cafe featuring appetizers, salads, BBQ sandwiches, burgers and pizza. 1105 Prospect St.
Literally Divine Chocolates: Located in Fountain Square at 1114 Prospect St., make sure to stop in and try some of the really great handcrafted, organic chocolates. I loved the dark coffee toffee!!!
Opened since I was back in Indy, is  the casual Three Carrots Fountain Square. It is highly recommended for its vegan and vegetarian takes on American and Midwestern fare, plus cocktails and craft beer. 920 Virginia Ave
Broad Ripple Village 
Located 20 minutes north of downtown Indianapolis, this neighborhood has a lively mix of restaurants, bars, shops and galleries. It is one of six Indianapolis Cultural Districts. It was also one of my favorite areas that I visited on my recent trip. My recent finds include:
Petite Chou Bistro & Champagne Bar: Located in the heart of Broad Ripple Village is Petit Chou, the neighborhood French bistro by Patachou, Inc. For lunch and brunch, they feature a number of sandwiches, crepes, tartines, salads and omelettes. For dinner, they feature large entrees and other French specialties. Recently, Travel + Leisure Magazine named it as one of the top 26 French Restaurants in the US. 823 Westfield. 
Another Patachou, Inc. concept nearby, is Public Greens Urban Kitchen, an urban, farm-market cafeteria. Located along the Monon Trail, this is the spot to grab a salad, sandwich or full plate like the grilled cheese and tomato soup or just a dessert and a Stumptown coffee. You can create your own meal by mixing and matching their menu items. Patachou, Inc. is a group of restaurants by Martha Hoover. Public Greens has a community focus and " dedicates 100% of its profits to The Patachou Foundation which feeds at-risk and food insecure children in the Indianapolis community." They have a small garden across from the restaurant along the trail where crops and edible flowers are grown for use in the restaurant and in the feeding program of the Foundation. Throughout the summer, they have First Friday at the Farm on deck at Public Greens. They feature a three-course mail as a fundraiser for the at-risk children.
Martha Hoover also earned a semi-finalist nomination by the James Beard Foundation for outstanding restaurateurs in 2016. 902 E. 64th St.
Brics Ice Cream: Brics or the Broad Ripple Ice Cream Station is not to be missed. Located along the Monon Trail at 901 E. 64th St.,they feature a large number of flavors, toppings, shakes and sundaes. The coconut almond fudge was perfect on a beautiful summer afternoon. The contemporary space is located in the historic Monon Railway Station, built over 100 years ago and originally known as the Broad Ripple Station.
Hubbard & Cravens Coffee & Tea: I enjoyed stopping in for coffee at this local coffee roaster. They have three other location in the area as well. 6229 Carrollton Ave.
Also recommended for coffee  and pastries is Monon Coffee at 920 E. Westfield Blvd.
Mass Ave. 
Northeast of Monument Circle, Massachusetts Avenue or Mass Ave. is one of the six designated Cultural Districts in Indy. I recommend starting at the top and walking down to explore the shops and restaurants. Make sure to enjoy the historic architecture as you go.
The Best Chocolate in Town: At 880 Massachusetts Ave., this is the perfect spot to try on your walk down Mass Ave. They feature specialty chocolates, espresso drinks, gourmet cookies and desserts.
The Rathskeller: Located in the Bavarian-styled Athenaeum Building, this is a popular restaurant and beer garden offering German specialties as well as seafood, poultry, beef, pork, vegetarian and pasta entrees. The building was designed by a team including Bernard Vonnegut, grandfather of author Kurt Vonnegut. It was designed " in the German Renaissance style as a gathering place for members of local German societies". The Rathskeller restaurant has been there since 1898. 401 E. Michigan St.
Mesh, 725 Massachusetts Ave.: Mesh is an upscale restaurant with very good food, offering a number of appetizers, cheese and meat boards, sandwiches, salads and entrees from the land and sea. They also offer a lunch and brunch menu as well. I really enjoyed the chicken salad with grilled chicken, spring greens, dried cranberries, spiced pecans, bleu cheese and a cranberry-poppy seed dressing.
The Flying Cupcake, 423 Mass Ave.: With six locations in the Indianapolis area, this is a bakery featuring cakes, cupcakes, cookies, bars and brownies.
Bru Burger Bar, 410 Massachusetts Ave.: Down the street from Mesh is Bru Burger Bar also owned and operated by the Cunningham Restaurant Group. It is a casual spot with a great outdoor patio. It has an extensive burger menu, including a tuna and turkey burger if beef is not your thing.
Coat Check Coffee at the Athenaeum is a good spot for coffee. 401 E. Michigan St.
Also in the area is the new location for Love Handle. It is recommended by the NY Times in a recent 36 Hours in Indianapolis for breakfast and brunch at 877 Massachusetts Ave.
I recently read that Union 50, at 620 N. East St., features an innovative and seasonal menu. There is also live music.