Conde Nast Traveler has called Telluride one of the best American Cities for Foodies. There are many dining options in both downtown and the Mountain Village. Our recent finds include:
New Sheridan Chop House: Located in the historic New Sheridan Hotel at 233 W. Colorado. They are known for their steaks but do have other options including excellent fish dishes. I loved the Colorado striped bass.
Chocolate Shop by Telluride Truffle: This is a great spot to grab an ice cream or one of their decadent chocolates or truffles. I loved the coconut crunch ice cream!! 101 N. Fir St.   
The Butcher & Baker Cafe: I loved this restaurant which features locally sourced ingredients. They are open for breakfast, lunch and dinner. I had the best turkey sandwich along with sides including a beet salad and fresh peaches with feta and fresh basil. They also have a full bar featuring local spirits and wines and innovative cocktails. They are located at 201  E. Colorado.  
For coffee make sure to visit The Coffee Cowboy in a food truck downtown and  Steaming Bean Coffee Co.
221 South Oak: This is a popular, small restaurant that features a mix of seafood, game and beef. It is located in a charming old house that has a lovely outdoor patio in the rear. The Chef/Owner, Eliza Gavin, was featured on the program Top Chef. I enjoyed a wonderful scallop dish on the patio on a lovely August night.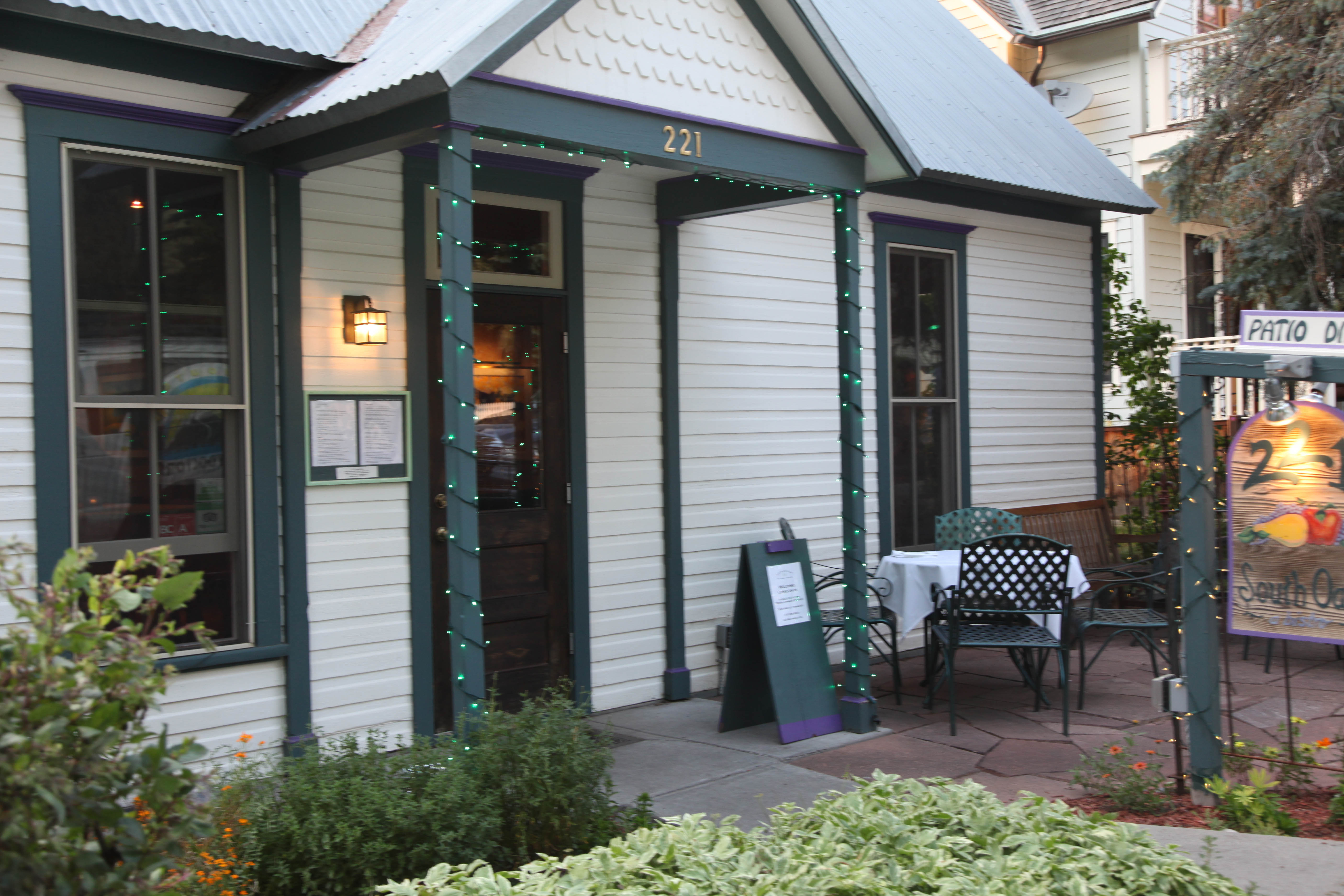 Beer lovers will love Smugglers Union Restaurant & Brewery  where they have 20 beers on tap which they brew in the basement of the restaurant. 225 S. Pine Street. Telluride Brewing Company has a tasting room that you can visit also. They are located just outside of town at 156 DEF Society Drive. They feature over 15 ales, IPA's and lagers. The Last Dollar Saloon is a casual spot downtown in an historic building from 1899.
On the way to Telluride or the Mountain Village, you might get off at the Station San Sophia and have a drink at Allred's which is a restaurant with stunning views of the valley below.
Located in the Heritage Plaza in the Mountain Village is Telluride Coffee Company, a good spot for your morning coffee and a fresh pastry.
Other restaurants to consider include Cornerhouse Bar + Grille which is popular with locals for sandwiches, salads and Mexican specialties in an historic house. 131 N. Fir Street. There is a small tapas bar, Little Bar, in the Lumiere Hotel that has gotten good press. La Marmotte, at 150 W. San Juan Ave., is a popular French bistro in an historic ice house that is more than 125 years old. Alpino Vino is recommended as a ski in/ski out lunch spot on the mountain. I also just read that There Bar is a fun spot for cocktails and small plates at 627 W. Pacific.
For Thai cuisine, Siam Telluride comes recommended along with it Mountain Village location, Siam's Talay Grille.
Rustico is a fine-dining restaurant serving excellent Italian specialties and excellent wines. 114 E. Colorado Ave. It has received many accolades from Wine Spectator Magazine.
Not far from Rustico is the Cosmopolitan Restaurant. This is an upscale, white-table cloth spot located in downtown 301 Gus's Way near the Gondola Station. St. Louis, MO friends were just there and really enjoyed the experience. It is rated as one of the best restaurants in town by a number of rankings.