Today it is difficult keeping up with the many new restaurants opening in Chicago. I always make a conscious effort to support my favorites, while at the same time trying as many new ones as possible. I also like exploring different neighborhoods throughout the city. My recent finds include:
Logan Square
Osteria Langhe is a wonderful Italian restaurant at 2824 W. Armitage. I enjoyed a prix fixe menu with a great pasta appetizer, pork entrée and lovely panna cotta for dessert. I highly recommend it and will definitely go back. They feature a very creative menu of appetizers, pastas and entrees.
One of my favorite new finds in Chicago is in Logan Square. Mi Tocaya Antojeria, located at 2800 W. Logan Blvd. is a neighborhood Mexican restaurant by Chef Diana Davila. It features a menu of small plates,  desserts and cocktails.  It has a colorful, casual atmosphere. It was a finalist for the 2018 James Beard Foundation Best New Restaurant and Diana Davila a Semi-finalist for Best Chef Great Lakes in 2019!  I loved the fish con mole amarillo and the tres leches cake. Don't miss the Oaxacan Old Fashioned cocktail made with mezcal, agave and bitters.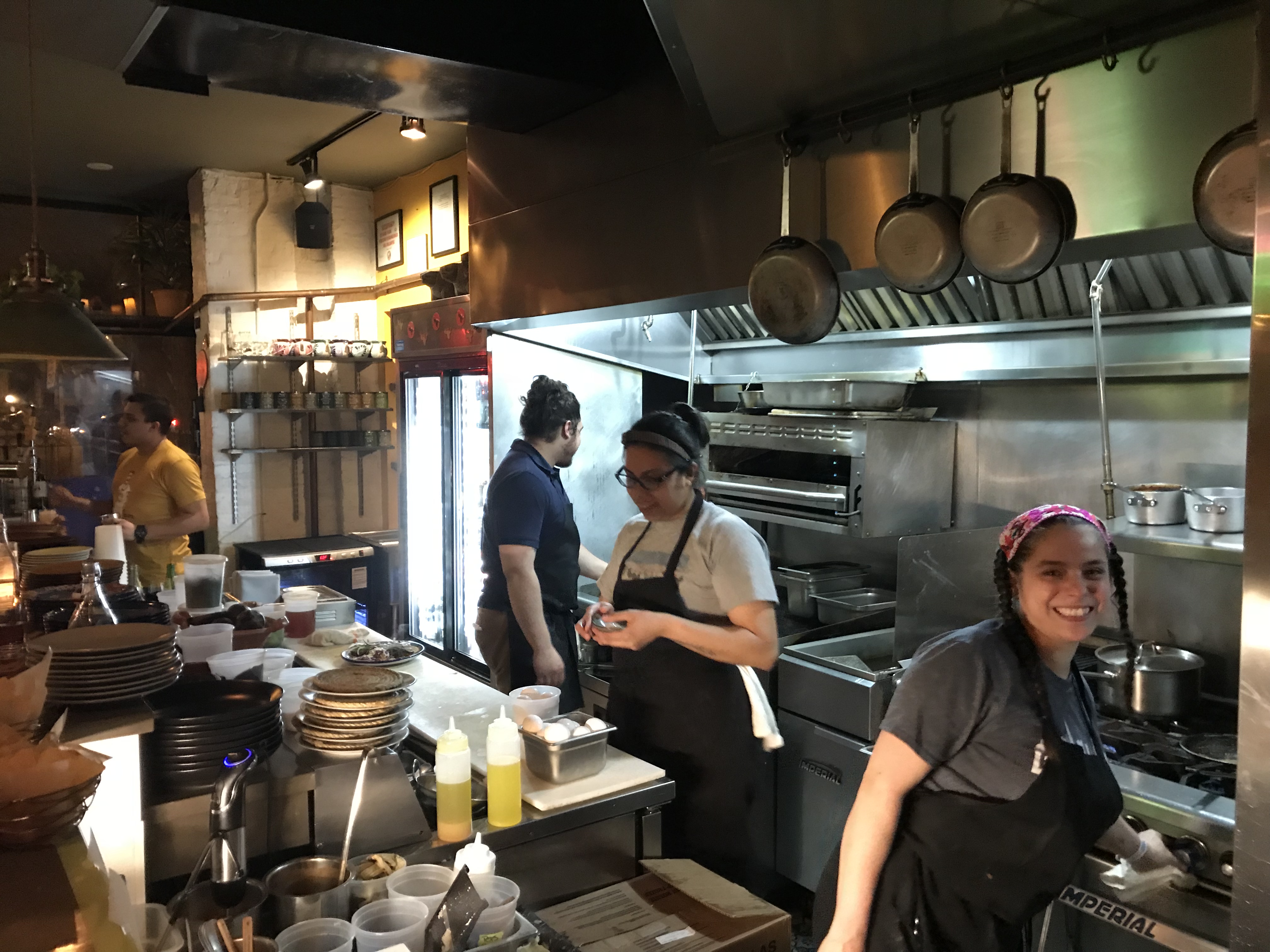 Lincoln Square
At 4535 N. Lincoln is The Warbler, opened by the same team behind Gather. They have a great menu of American comfort food and vegetarian dishes.  I thought the food was excellent. I enjoyed the baked mussels long with the cauliflower and asparagus sides. They have outdoor seating for the warmer months. I thought the service and the sleek contemporary design also helped make it a great experience.
Lakeview
Our newest neighborhood find in Lakeview is Coda di Volpe at 3335 N. Southport. It is a sleek spot featuring Italian pastas, pizzas and specialties. I enjoyed dinner with my niece who was moving that week to NYC.
Nearby to the east is one of my newest recommendations, Mortar and Pestle at 3108 N. Broadway. Opened in the fall of 2015, they serve breakfast, brunch and lunch. They are doing some pop-ups for dinner and may expand into that as well. My friend enjoyed the decadent grilled cheese which was very decadent and I loved the Alaskan king crab benedict with poached egg, sriracha hollandaise and watercress. Thanks to my friend, restauranteur and food columnist for the Chicago Tribune, Ina Pinkney, for this great suggestion. I enjoyed visiting with the manager and chef/owner.
West Loop/Fulton Market
My latest find is Fulton Market Kitchen at 311 N. Sangamon. Billing themselves as part art gallery, part restaurant and part craft cocktail bar, I had a wonderful meal surrounded by street art, paintings and eclectic furniture. They have a small menu of large and small plates for sharing and an extensive craft cocktail menu. The restaurant was inspired by the 1980's NYC art scene and the Wynwood Walls in Miami which is one of my favorite spots in my recent travels. We had great service and enjoyed meeting and visiting with Chef Kyle Petersen. The decor is one of the best in town!!
I just enjoyed dinner before the Goodman Theatre at Proxi. Located at 565 W. Randolph, this is a chic, new restaurant that has been been getting great press. It features a menu of global street food and cocktails in a contemporary setting with open kitchen. I enjoyed the roasted eggplant topped with tahini and pomegranates, a cobia fish entree in a coconut curry sauce and a tres leches cake topped with fresh strawberries. I highly recommend it.
BLVD Steakhouse:  Drawing inspiration from Hollywood's Sunset Blvd. in the 1950s, this is a swanky, upscale restaurant in the West Loop that features classic dishes, cocktails and champagne.  I recently went for dinner and loved the upscale decor with elegant booths, stunning chandeliers and great service. They feature seafood, pastas and steaks. I enjoyed my meal and was able to taste a number of dishes. The shrimp cocktail, salt roasted beet salad, hamachi, heirloom cauliflower and the scallops on a bed of white corn grits were all excellent. I highly recommend it.   817 W. Lake.
I just went popular chef Stephanie Izard's newest venture, Cabra, a beautiful rooftop Peruvian-inspired cevicheria by Restaurant Group at the new hotel, The Hoxton Chicago. It is open for lunch and dinner and have a menu of shared items as well as entrees. I went for lunch on a Friday and had a really excellent meal. While my friend had the fried seafood plate, I had a great seafood sandwich and excellent guacamole with sweet potato chips. The decor is contemporary and the views of the city exceptional.  I was glad to see Stephanie there working on the line in the kitchen. 200 N. Green.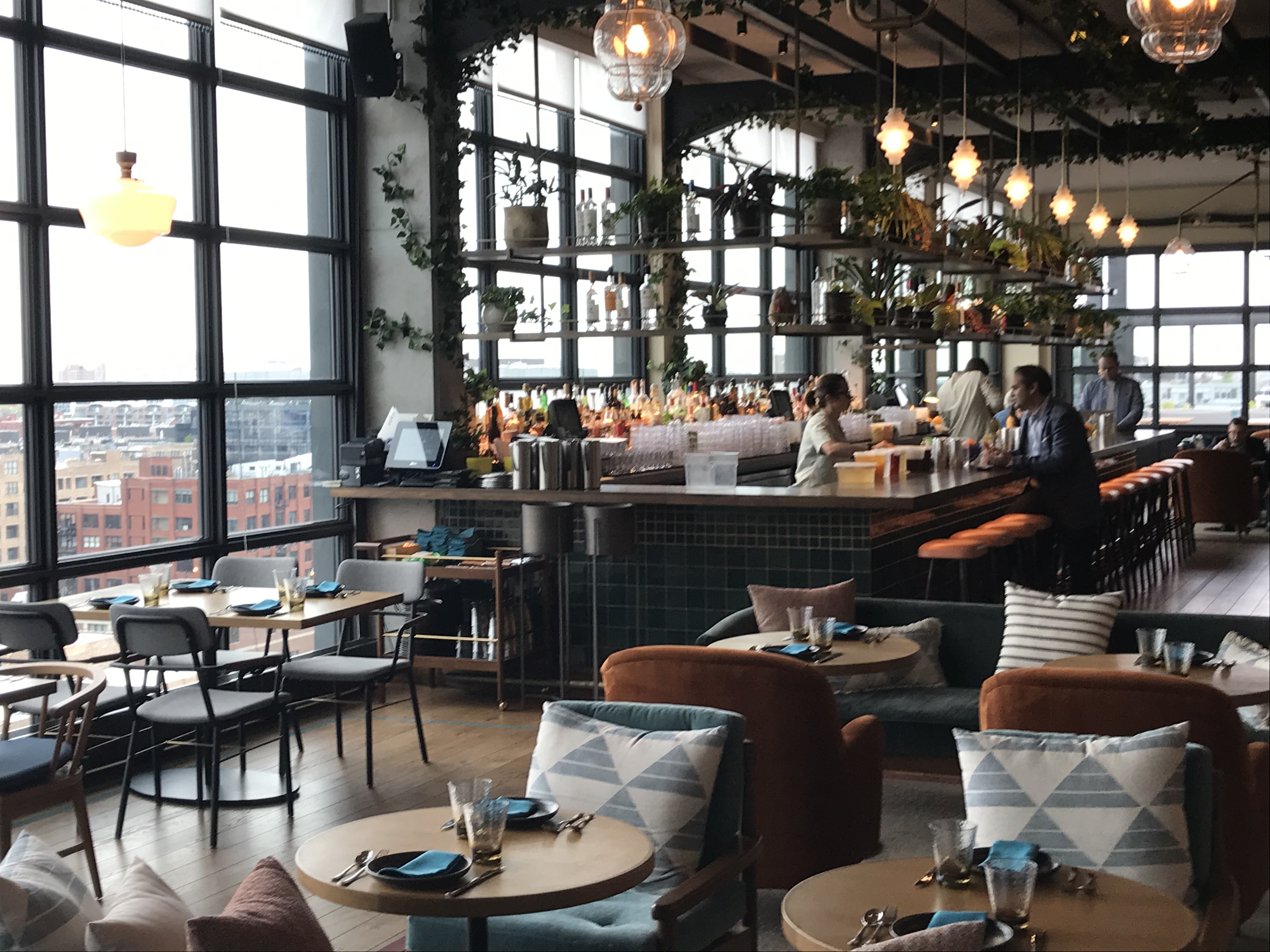 Pilsen
Pleasant House Pub: Pleasant House Bakery in Bridgeport has moved north to Pilsen and taken over the former Nightwood restaurant space at 2119 S. Halsted. You can stop in for coffee and a pastry or sweet or enjoy one of their famed meat or royal pies. I enjoyed a Sunday brunch and loved the chicken Balti Pie made with all-natural chicken in fresh-ground curry spices with tomato and Nigella seeds along with buttered peas in mint. It is a perfect spot to eat while visiting the National Museum of Mexican Art or one of the local galleries nearby.  
Across from the historic Thalia Hall is my favorite new find, S.K.Y. Restaurant, is located at 1239 W. 18th. It has gotten great reviews since opening in late 2017. Chef Stephen Gillanders has created a very creative menu from re-imaging classic dishes from his travels.  They are open for dinner and brunch on weekend.  They offer separate entrees as well as a tasting option. My friend and I went for brunch and shared the warm Maiitake mushrooms, the smoked salmon bao, the coconut pancakes and the lobster dumplings. The food and service were excellent. I can't wait to go back. They are across from Thalia Hall which allows you to eat at S.K.Y. and then head to a concert across the street.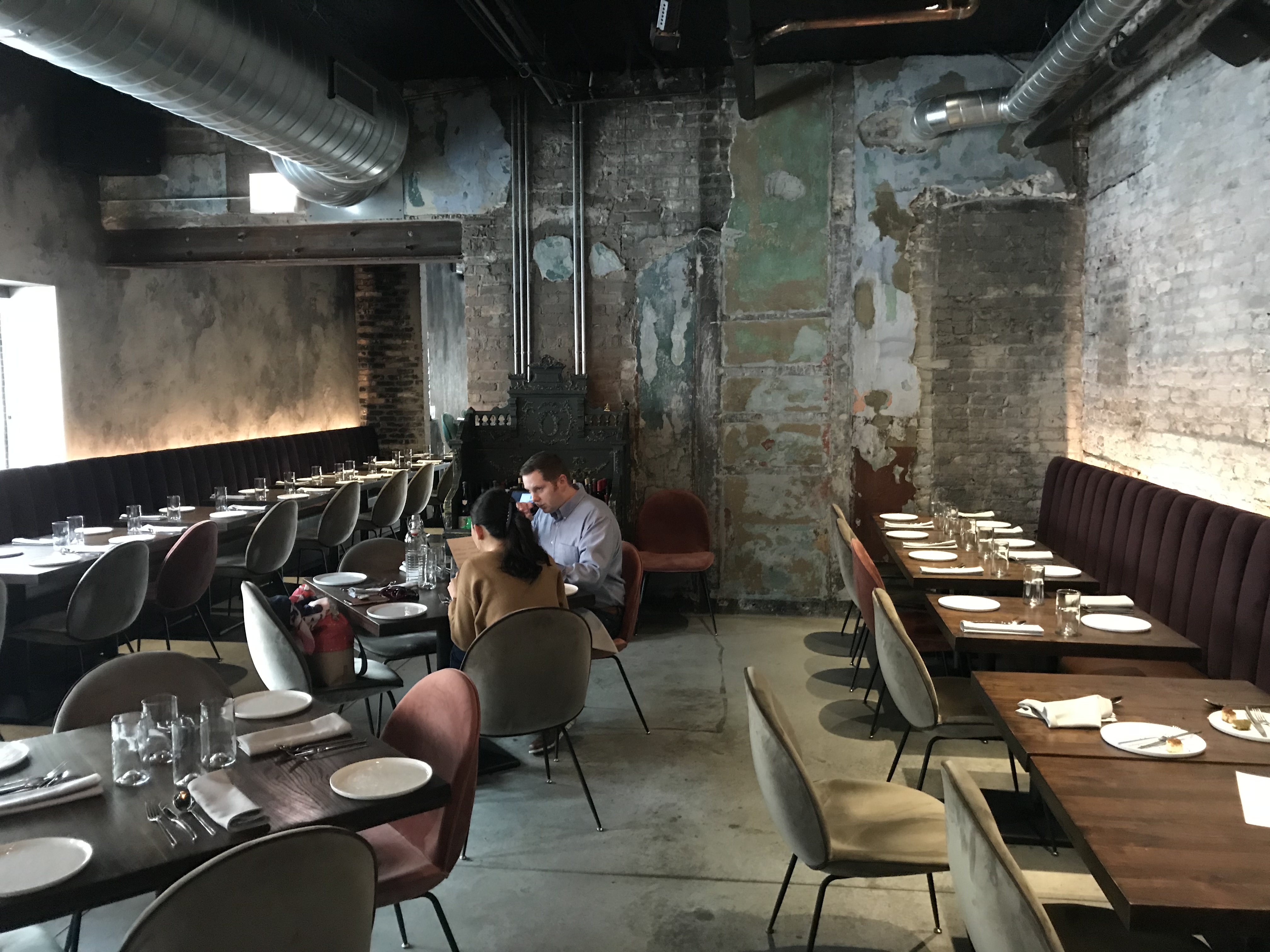 After reading the great press about HaiSous Vietnamese Kitchen, I had brunch at this Pilsen  hot spot owned by Thai and Danelle Dang. It was a Semifinalist for the 2018 James Beard Foundation Award for Best New Restaurant and received the Michelin Bib Gourmand listing. It was featured in Forbes as one of Chicago's Best New Restaurants, in the USA Today, Chicago Tribune, on Eater.com and Chicago Magazine. I had a wonderful experience!! I talked to both Thai and Danelle and was so impressed with their passion for food and the customer experience. The decor was contemporary with great art by Vietnamese artists. I loved the green papaya salad served over an omelette and a coconut bun for dessert. 1800 S. Carpenter.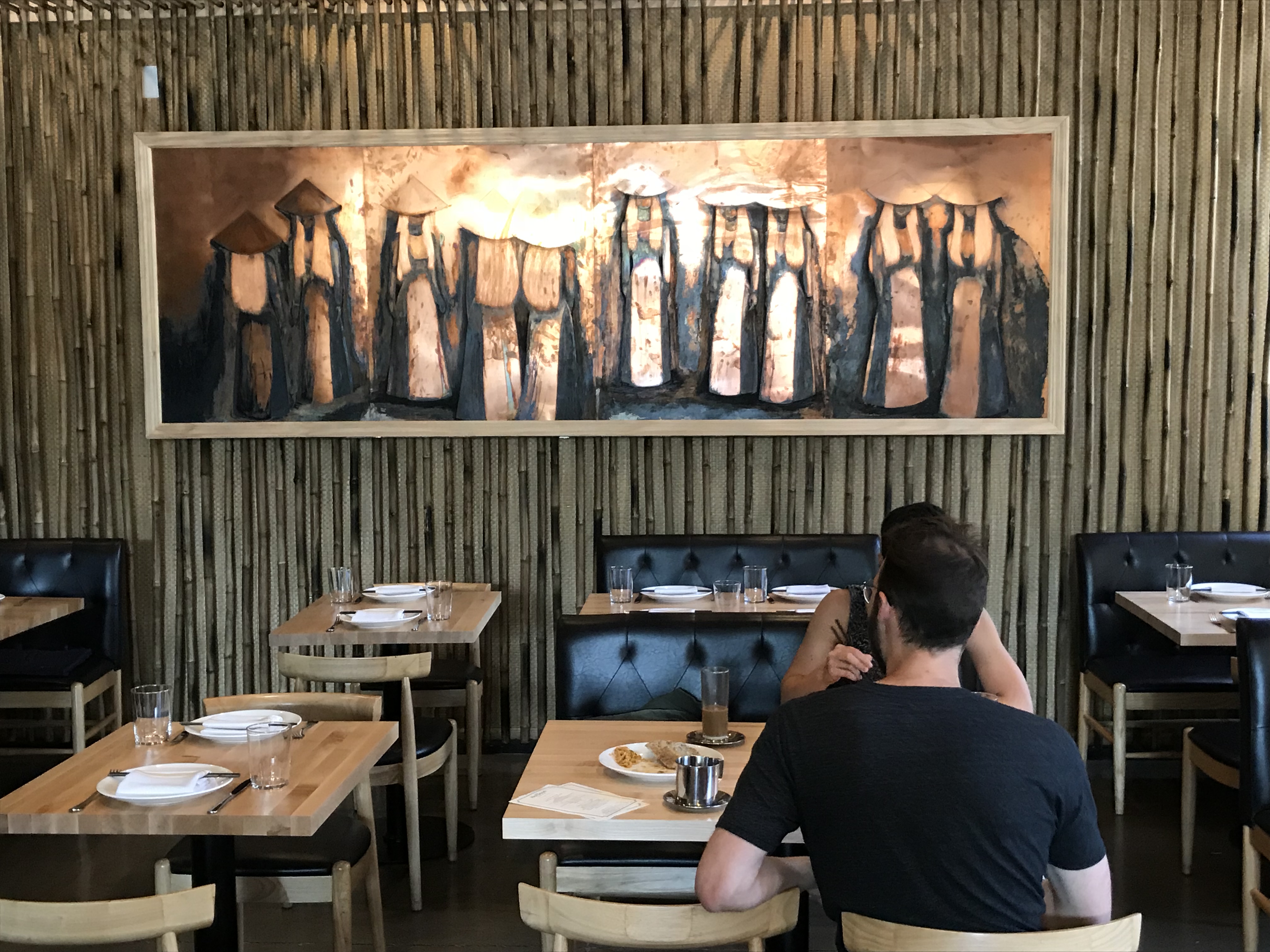 Bucktown and Wicker Park
A wonderful new addition to the city is in the Bucktown neighborhood is Cafe Robey at The Robey Chicago. It is aimed at independent and global travelers who appreciate great style and design.  The second floor lounge offers coffee by day and cocktails by night. Cafe Robey is a French American bistro on the ground floor and there is a 35-seat rooftop bar overlooking the neighborhood which is open to guests and their friends. I loved the food and the service in the restaurant and the view from the upstairs bar is amazing.
I enjoyed my recent experience at Antico at 1946 N. Leavitt at Armitage. This is a fun neighborhood Italian cafe and restaurant. They feature seasonal ingredients and make all of their pasta, bread, gelato and sausage in-house. I was able to share several dishes including the roasted beet and arugula salad with a goat cheese and fig vinaigrette and a pappardelle pasta with pork ragu. They have a lovely garden patio for the warmer month. I will definitely go back!
Opened in March, 2019, Cebu is a new Wicker Park spot featuring authentic Filipino cuisine at 2211 W. North Ave.  A longtime friend was born in the Philippines and wanted to have me experience the cuisine of his homeland for the first time. I was glad that I read about this new spot. The staff is great and it has a casual, contemporary design. Currently the menu has a  small number of traditional dishes, but will be expanded soon.  I was extremely impressed with the quality of the food. I loved the chicken adobo, the garlic rice and the atchara which is a salad made with pickled papaya and jicama. I loved tasting the turon (deep fried banana rolls) and the halo-halo with ube ice cream for dessert. I highly recommend the experience!
Lincoln Park
Recently opened in Lincoln Park is Avli Taverna at 1335 W. Wrightwood.  Along, with the original location in suburban, downtown Winnetka, they offer a modern take on classic Green dishes. My friends and I loved the food and the experience and will definitely go back. The portions are very large and easily shareable. We had a great conversation with Louis, the owner, whose parents were both born in Greece. It has a sleek, contemporary decor.
Bridgeport
Our top new restaurant find in the area is The Duck Inn at 2701 S. Eleanor. After getting great reviews, I had to go. Located just south of an industrial area, you can go south of Cermak on Loomis across the Chicago River. It has a warm, contemporary atmosphere in a building that looks like it was a local bar/restaurant for many years. They also have a large patio in back for dining in the warmer months. They are known for their Sunday brunch as well as their rotisserie duck entree. You need to pre-order prior to your dinner. It serves two people, and comes with a salad of roasted potatoes in duck drippings with fall greens, roasted pears and apples in a gooseberry vinaigrette. It was a really excellent dish and was perfectly paired with a cocktail called The Don made with Wild Turkey 101 Bourbon, Cocchi Barolo Chinato, Nux Alpina Walnut Liqueur and Scrappy's Chocolate Bitters.
N. Michigan Ave. and River North
La Storia Restaurante: This Michelin recommended Italian restaurant, has a warm, classic atmosphere and an extensive menu. They feature a number of pizzas, pastas, risottos and main courses from fish and scallops to beef and lamb. I really enjoyed the cioppino with fish, clams, mussels, shrimp, calamari in a puttanesca tomato sauce. The arugula pizza was also excellent. 
One of the highlights is the colorful mural by Ed Sorels who is an illustrator, caricaturist, cartoonist, graphic designer and author whose work is known for its storytelling. The mural features some of Chicago's historic figures over many years.  They have a lovely outside patio as well as two dining rooms upstairs for a more quiet experience. 1154 N. Dearborn. 
I also enjoy The Brasserie in the Waldorf Astoria in Chicago at 11 E. Walton. This is an upscale French brasserie.  I recommend it for brunch on weekends as the room is bright and elegant and the menu perfect with a number of omelets, croissant benedicts, soups, salads, burgers and sandwiches. The service was excellent.
Bar Sótano:  Rick Bayless and his daughter Lanie, have opened Bar Sótano downstairs below Frontera and Topolobampo. It is a casual cocktail lounge and restaurant, with 50 seats, featuring tequila and mezcal along with a Mexican menu of tacos, tostados, ceviche, snacks, burgers and more.They have a menu of daily specials as well.  I thought my tuna tostados were really excellent as was the chocolate, pecan tart. They have created a menu of 16 specialty cocktails.  I also enjoyed the old fashioned with a smoky mezcal. I highly recommend the experience and the casual, fun atmosphere. The mural on the west wall is  You enter through the alley behind Frontera Grill at 443 N. Clark. They do take a limited number of reservations.
Opened in September 2019 is Tzuco is the new restaurant by  Carlos Gaytán who earned a Michelin star at his first Chicago restaurant, Mexique which closed in 2018.  His new restaurant pays homage tohis hometown of Huitzuco, Mexico. The food was really excellent and the decor is really stunning. It looks almost like a museum where designer Ignacio Cadena features imported cooking utensils, plant life and other items. It is one of the best that I have seen anywhere. I also had one of the best meals that I have had in Chicago in several months. I just went back again and had anoher great meal. 720 N. State.
Avondale
Chicago's Avondale neighborhood has a growing food scene. Leading the resurgence of the area has been Parachute at 3500 N. Elston. This is a hip, popular spot that features creative Korean-American cuisine plus wine and cocktails. It has received one Michelin Star for the past two years.
Roscoe Village
My favorite new find is Le Sud a at 2301 W. Roscoe for French Mediterranean cuisine in a contemporary setting. I had a wonderful meal to celebrate a friend's birthday. The apple and beet salad was great and the scallops with kale and roasted beets was really outstanding. They have a great wine list as well. I can't wait to go back again soon.