Shopping in San Miguel offers endless opportunities, with so many artists, artisans and designers living there. It seems that there are new stores opening almost weekly, thus making it hard to keep up. I recommend just walking the streets to explore the many offerings.  Good streets to explore are Zacateros, Hernandez Macias,  Mesones, Relox, Jesús, Sollano, Aldama and Recreo. My top suggestions continue to be:
Recently opened in the same location at Marsala Restaurant is an attractive bookstore, Camila, Una Boutique de Libros. Make sure to stop in at  Hernandez Macias 48.
Virgins Saints & Angels: Stop in at their store and browse the collection of well-known jewelry. It is made in San Miguel and sold throughout Mexico, Europe and the US. They recently opened their store inside Café Rama which is located at Nemesio Diez No. 7. It is open on weekends. Their Recreo location is closed.
Abrazos: I love this store at Zacateros #24 featuring San Miguel Designs by a local friend Patrice Wynne. They have a large selection of colorful aprons for cooking, kitchenwares, table runners and place mats, baby bibs, men's shirts and ties, unique handbags, pajamas, bathrobes, and more. Their line of fine cotton fabrics feature exclusive designs depicting Mexican cultural icons such as Las Senoritas, Day of the Dead, Frida Kahlo, La Virgen, Papel Picado, Mexican cuisine and Sacred Heart.
Nearby is  El Pinche Grabador Printmakers at Zacateros #28. They feature some wonderful traditional designs including those from Day of the Dead. They carry large framed prints to smaller postcards.
Mixta: At Pila Seca 3 in Centro, this is a really attractive store located in a colorful historic space featuring attractive and colorful home accessories, bedding, women's apparel and jewelry and other gift items. Ana, the owner is a delight, so make sure to stop in while in town.

Camino Silvestre at Zacateros #46 and Correo #43: This is a beautiful gift shop that features hummingbird feeders, beautiful Gorky Gonzalez plates featuring birds (designed only for this store), etched glasses and other bird related gifts.
Galería Atotonilco: Located out of town in Atotonilco, make an appointment to visit this wonderful store filled with some of the best folk art you will find anywhere. I have purchased many item from him for my collection here in San Miguel.
Piedras Jewelry: Call Bill Harris and make an appointment to visit his jewelry showroom up the hill from the Jardin in Atascadero. Bill has been in town for many years and makes incredible jewelry that you must see. My guests can't resist his great work. If you are lucky he will show you his beautiful home, garden and antiques. info@piedrassanmiguel.com, 415 154-9193.
Doce 18 Concept House. The former Casa Cohen at Calle Relox 18 now houses high-end boutiques featuring jewelry, designer clothing and home accessories. There are galleries, a Cumpanio bakery a tasting room for Casa Dragones tequila and a new restaurant Casa Arca. Upstairs, L'Otel, one of the top boutique hotels in town, has a number of boutique hotel rooms and a bar/lounge for its guests. It is a wonderful addition to San Miguel.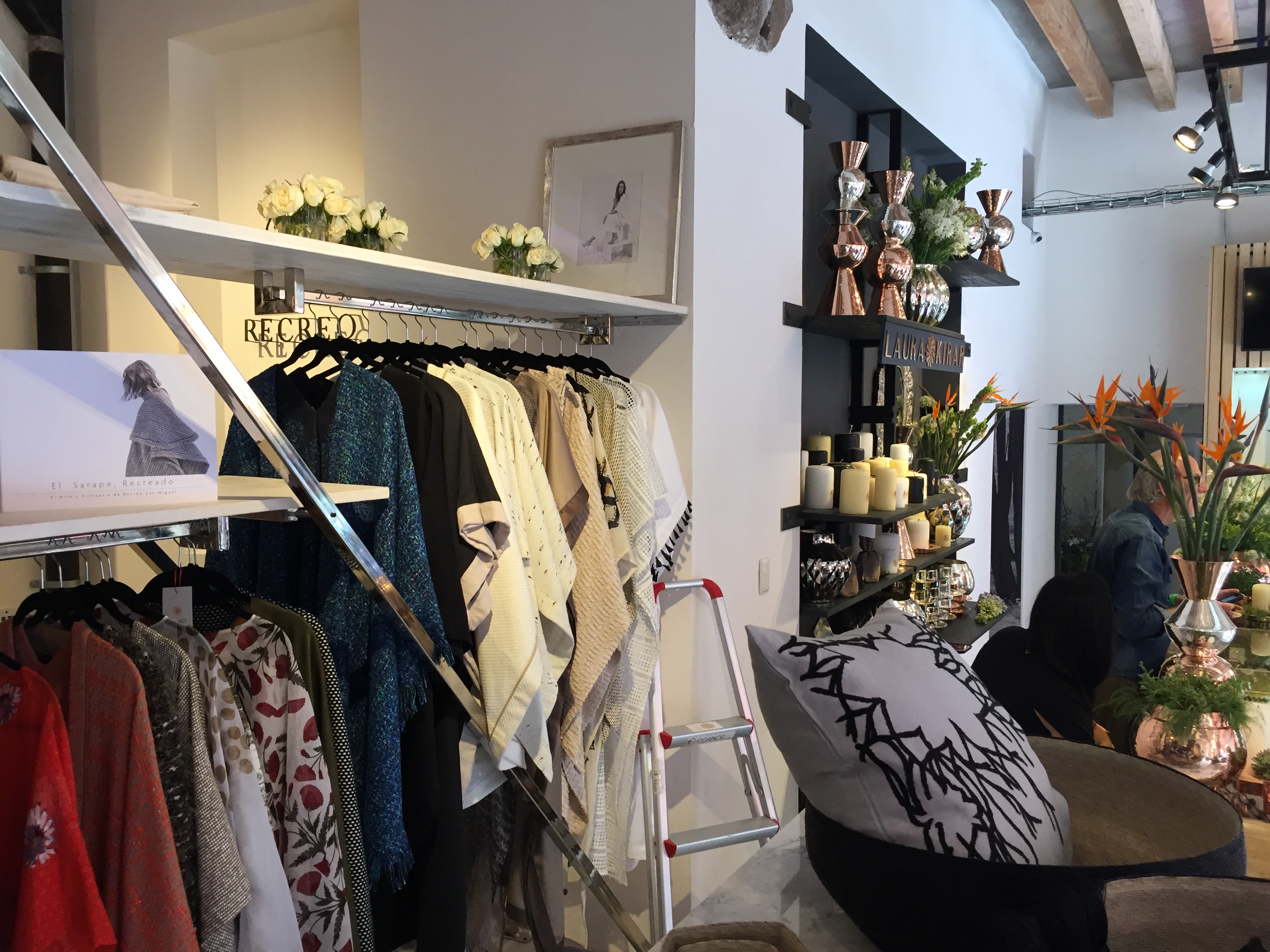 Up the street at the corner of Mesones at Mesones 53 is a new collective of several boutiques and a new pizza restaurant. I thought the quality of the stores was excellent.
San Miguel Shoes, Relox #27: All women who come to town must make a stop at this famed store for the San Miguel shoe or the "cocktail party combat boot" which will help you survive the cobblestone streets.
Fabrica la Aurora, Art and Design Center, Calzada de La Aurora: An old cotton mill, turned upscale shopping destination. It is worth a half day. There are art walks at the first of each month on a Saturday evening and open studios on Thursdays. Many artists teach in their studios in various mediums. There are two restaurants and a café which are good. One of our favorite boutiques is Pineda Covalin with its beautifully designed ties, scarves and women's clothes and accessories. Don't miss the gallery of one of my favorite local artists Merry Calderoni. The contemporary artist Juan Ezcurdia has a gallery there and has recently opened a fun store at Sollano #29 featuring paintings, purses, pillows and other accessories featuring his designs. The Skot Foreman Gallery featuring 20th and 21st century contemporary art, has some of the best artists that they represent. Make sure to visit Rachel Horn Home at La Aurora #3 for lovely home furnishings and accessories. Three new finds include Dirk Kinet Interiors, Galeria Beatriz Castaneda which  features her contemporary art and James Harvey Artist. On my last trip, I was pleased to meet and enjoy the art of Kelley Vandiver at the Kelley Vandiver Gallery.
Don't miss Victoria Pierce's gallery CCEis (C6) which features her mixed media work. I love her work and just bought my first piece.
Artes de Mexico, Calzada de la Aurora 47: Good for very Mexican furniture, tin work, lamps and lampshades. They do wonderful hand painted work. Nearby Casa Michoacana at #23 which also has a great selection of folk art for sale.
Recreo San Miguel: Make sure to stop by the great store at Recreo 26, which features updated Mexican serapes in silk, wool, cashmere and linen. It is owned by Michael and Lisa Coleman, long time friends from Chicago, who have relocated to San Miguel. They have been featured in Mexican Vogue, The New York Times and Architectural Digest. They also have a small boutique at the Doce 18 Concept House on Relox.
Magnolia Home & Style. This is a lovely home furnishings and accessories store at San Francisco 49.
La Calaca: La Calaca is a store featuring antiques and folk art of Latin America. I met Evita Avery, the owner, several years ago in the Semana Santa folk art market in Uruapan Michoacan MX. She has some amazing pieces including textiles, so make sure to visit her at Mesones 93.
Casa Coloniales: One of the original home furnishings stores, since 1950, with great quality even today. It is located at Canal 36.
Casa Katalina: Thanks to a local friend who introduced me to this lovely store featuring jewelry and home accessories. They have great folk art and antique pieces. They are now at Hospicio #37.
Colores de México: At Sollano 17, this is a small store in front of the Chamonix restaurant that carries lovely Mexican folk art.
At Cuna de Allende #10, Trinitate is a great spot to buy kitchen, home and garden accessories. Their line of white ceramics is really lovely.
For furniture and home furnishings there are Casa Midy  at Pila seca 3,  Namuh for great Asian style and Casa Armida, at Ancha de San Antonio #26, for larger pieces and wonderful Mexican candles. Namuh  until recently had only been outside of town, but just opened a lovely new store across from the Parroquia at Cuna de Allende 15. They feature furniture and home decor.
At Cuna de Allende 15 is MUNHA Boutique for women's jewelry and accessories. Up the street in a new location is Marquesa de Mancera. Recently opened at Cuna de Allende 3, they feature lovely antiques, art folk art, furnishings and accessories.
Fisher Weisman Collection: Inside Sollano 16, this is a gallery and retail space from Andrew Fisher and Jeffry Weisman, world famous interior designers from San Francisco
Tao Studio Gallery: A lovely gallery at Sollano 28. The owner is designer Miguel Arregui from Spain. They feature beautifully designed and curated creative objects, paintings, sculptures, ceramics, photography, jewelry and textiles.
New stores I like include Ted Wolter's WABI for contemporary home furnishings in a beautiful store at Sollano 58 and  Timeless Pieces at Ancha San Antonio 10A, features handcrafted cotton, linen and cashmere clothing, plus jewelry and perfumes.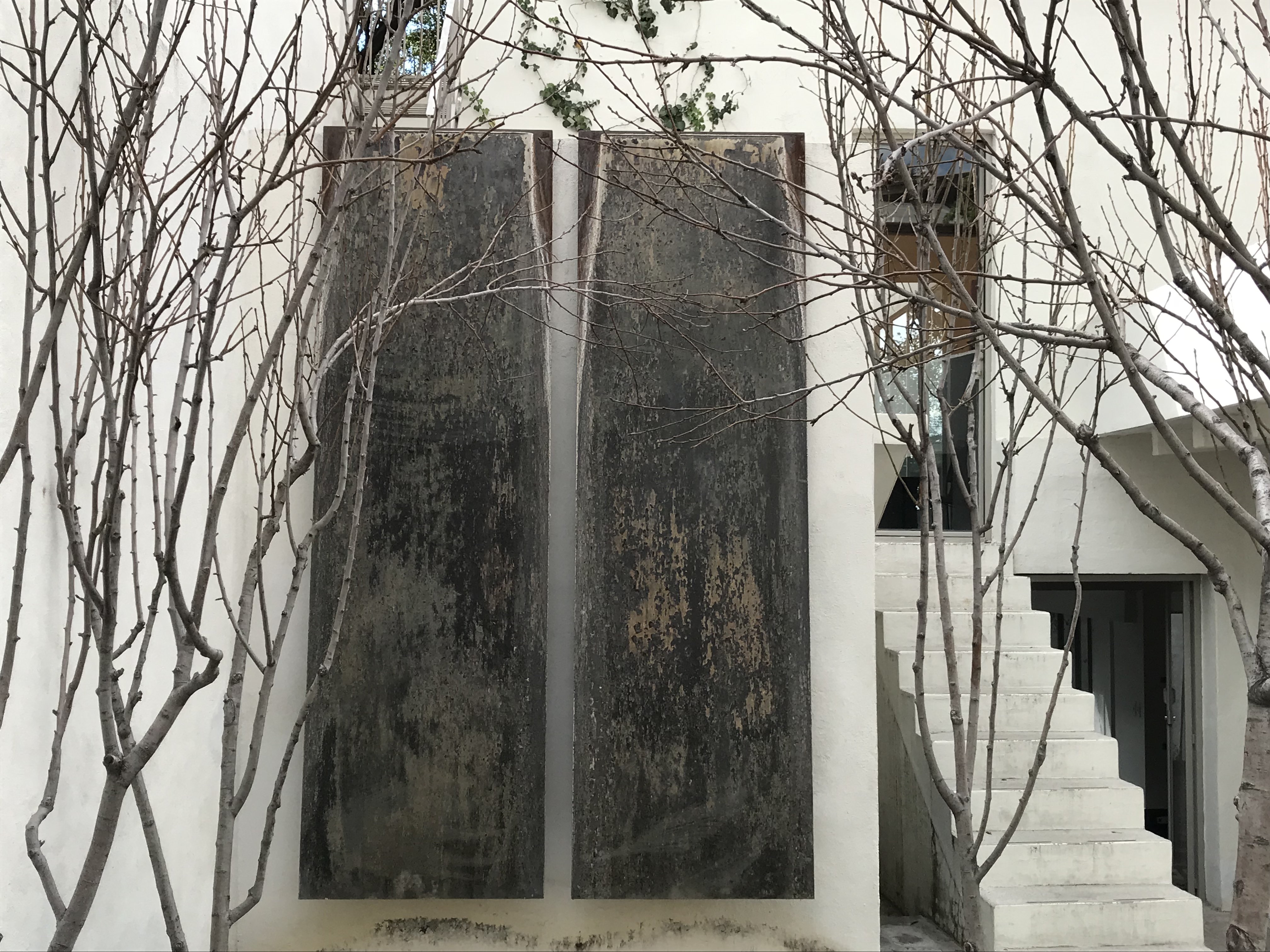 The artisan market has some fun finds. Nearby, I always shop Artesanias Don Quijote for great Mexican pewter at Loreto 50. The quality is great and the prices are very reasonable. They have frames, crosses and great serving pieces. Across the street is the Mexican Oil Cloth Store at Loreto 17 Here you can buy great gift items including shoulder bags, purses, make-up bags, placemats and other great items all made of colorful Mexican oil cloth. They can also make custom pieces which I did for my outdoor entertaining in Chicago.
My nieces love Sindashi at Hernandez Macias 83 A for their beautiful and unique hand-painted dresses. You can also find some elegantly painted men's shirts. They are really stunning. The owner's sister also has Fina Catrina at Mesones 74 which carries hand-painted handbags.
On my most recent trip, I found CORE Home, an upscale furniture, home furnishings and design store at Pila Seca #8. It is a very lovely store. 
Art lovers will enjoy the exhibitions of various painters at YAM gallery, Ancha de San Antonio 20, interior 1.
I just found Roma Quince, an attractive design store featuring home accessories and apparel. It is located at Jesús 20.
I recently learned of a company offering hand-painted glassware, candles and accessories called
Solana
.  The owner's mother is a neighbor of mine. I stopped in on my last trip and really liked their very unique products.  All are made locally by local artisans. Mesones 53
Hacienda La Aurora:  A another new find is Hacienda la Aurora, a small collection of stores and boutiques, consignment shops, artist studios, a restaurant, coffee shop and galleries at Calz de La Aurora # 48-A near Fabrica la Aurora. Make sure to stop in on the way.  A new English-language bookstore, Aurora Books, recently opened in the complex.