More and more women are taking a break and planning trips with their best friends. There are many places in the US where a group of two or more women can easily travel to spend a few days, hang out with each other, explore the destination, enjoy some great meals or an afternoon tea and partake in a cocktail or two.
From my article, Where to Travel in 2020 – My Top Recommendations, here are more details for my top spots for a fun and memorable "Girls' Weekend".
New Orleans has some outstanding new hotels, restaurants and shopping particularly outside of the French Quarter. Make sure to visit the Quarter and enjoy a meal at Galatoire's, Antoine's or Brennans' plus enjoy a beignet or coffee at Cafe du Monde. Just be careful of the powdered sugar on the beignets!! But don't spend all of your time there, as now there are many emerging areas outside of the Quarter that you will love.
The CBD/Warehouse District has become one of my favorite areas of New Orleans with boutique hotels, restaurants, galleries and more to explore. I really like the restaurants, art galleries, colorful homes and many antique stores along Magazine Street which starts at Canal Street and runs through the Garden District, Uptown all the way to Audubon Park. It is not touristy compared to the French Quarter, so make sure to add it to your list of things to see and do. You will love the shopping!
The lively Frenchmen Street is a great alternative to Bourbon Street, with some outstanding music venues along a three block strip of clubs and restaurants. Don't miss The Spotted Cat Music Club for the best in music!
The Elysian Bar at the Hotel Peter & Paul in Marigny was recently named a Semifinalist for the 2019 James Beard Award for Best New Restaurant. It serves coffee, food and drinks. The hotel looks wonderful as well, and is located in a former historic church, rectory, school house and convent.
Just east of Marigny, in Bywater, you will find many new restaurants, coffee shops, record stores, vintage markets and galleries in the nearby St. Claude Arts District. Here you can find Elizabeth's. It was just featured as a top breakfast spot though they do serve lunch, dinner and brunch on weekends. Bywater American Bistro is Chef Nina Compton's new concept. It is a casual, neighborhood restaurant and was named a 2019 Semifinalist for the James Beard Award for Best New Restaurant.
Tremé or Faubourg Tremé is one of the city's oldest neighborhoods. Historically, it has been a racially mixed area and a center of African-American and Creole culture especially the modern brass tradition. Here you can find some of the most famous restaurants in town, colorful homes and historic sites. Have a wonderful meal at Willie Mae's Scotch House, a favorite New Orleans restaurant, that was a James Beard Award Winner in 2005 as an American Classic. Dooky Chase's Restaurant, opened in 1941, is a classic restaurant made famous by legendary Creole chef Leah Chase. 
After lunch, make sure to visit the New Orleans Museum of Art to the northwest of Tremé and The Sydney and Walda Besthoff Sculpture Garden next to the museum.
I had wanted to see the new Crystal Bridges Art Museum in Bentonville since it opened in late 2011, so I made a spring trek from Chicago to see the museum and some of the surrounding sites. The countryside, particularly near Eureka Springs, is really beautiful. I love dogwoods, so spring is a great time to go when everything is so lush and green and the dogwoods dot the woods and trails. Fall is equally beautiful according to my local friends. So when you plan your trip, I suggest spring or fall as the best times to go. When in the area make sure to visit:
The Wal-Mart Visitors Center to learn about the history of this great American success story. Here on the site of Sam Walton's first five and dime store, opened in 1950, you will see displays and artifacts about how the company grew from a single store to a huge retailer today. I loved seeing Walton's office and pick-up truck. There is also a colorful vintage café, The Spark Cafe Soda Fountain, serving ice cream, baked goods and coffee. It is on the square in Bentonville.
Crystal Bridges Museum of American Art was the reason for my trip after it had been featured on television and in many newspaper and magazine articles since it opened in November 2011. It features more than 400 works by American masters that have been collected by Alice Walton, the daughter of the Wal-Mart founder. Designed by the well-known Moshe Safdie, the wood, stone and glass museum fits beautifully into the site. Plan on spending the day when you are in town. There is a new Frank Lloyd Wright home to visit that was moved to the site from New Jersey and the James Turrell Skyspace which you must visit at dusk to see the light show.
Opened in February, 2020 is The Momentary, an annex to Crystal Bridges located  along the Razorback Regional Greenway near 8th Street Market. They "transformed a decommissioned 63,000-square-foot cheese factory into a multidisciplinary space for visual and performing arts, culinary experiences, festivals, artists-in-residence, and more."  There are also options for food and drink as well. 507 SE E St,
Eureka Springs, located 40 minutes from Bentonville, is a  small town that has been an Ozark mountain resort town since the 1800's. The surrounding area is really gorgeous. It is worth spending a few hours wandering the streets of the downtown district which is on the National Register of Historic Places with one of the largest collections of Victorian architecture in the central US. It has been listed at #8 in the Top 25 Small Cities for Art by American Style Magazine.
There are many shops and galleries selling mainly local crafts like jewelry, ceramics and glass. Not true fine art, but art appealing to the mix of tourists, seniors, bikers and aging hippies that appear to hang out there. I recommend trying Local Flavor which has great lunch menu items. The outdoor patio is the place to sit.
The Fay Jones Chapels are well-worth the trip. Just outside of Eureka Springs is Thorncrown Chapel. This is not to be missed!!! It is a magnificent wooden chapel, surrounded by trees, that was named one of the top buildings of the 20th Century by the AIA. Opened in 1980 it was designed by famous Arkansas architect Fay Jones who was an apprentice of Frank Lloyd Wright. It is constructed of a large vaulted ceiling with 425 windows with over 6,000 sq. ft. of glass. The views of the surrounding trees are stunning. This is a big wedding destination, so going during the week might be a good idea to make sure it is open for visitors.
On the way back to Bentonville, drive west from Eureka Springs to Bella Vista to visit Fay Jones's other chapel, the Mildred B. Cooper Memorial Chapel. It was designed as a place of meditation with 15 main curved arches. Within those arches are three to four Gothic arches. The 4,460 sq. ft. of glass provide wonderful views of the surrounding trees. The combination of wood, stone, steel and glass with bronze and brown hues make it blend perfectly into its surroundings.
The place to stay in Bentonville is the 21c Museum Hotel which is just northwest of the town square and a short walk to the Crystal Bridges Museum. This is a 104 room boutique hotel with contemporary art exhibitions. Their Hive Restaurant serves three meals a day. Under the direction of executive chef and Arkansas native Matthew McClure, it features refined country cuisine. It has a great decor featuring contemporary art. 
Flying Fish, in downtown Bentonville, is a fun cafe and fish shack offering catfish, shrimp, oysters, crab, gumbo, po' boys and grilled fish. Don't miss the grilled catfish with rice and beans. The atmosphere is casual and fun.
Located at Crystal Bridges, Eleven is an attractive, all-glass restaurant with curved wood ceiling that overlooks the water. There is a coffee bar open during the day. Table service is available on Wednesday and Friday nights. They have special wine events, so check the calendar on the website. We chose our dates around the restaurant being opened on Wednesday night.
Santa Fe is one of the best cultural destinations in the US and one of my favorite cities. You will find wonderful cultural institutions, festivals, museums, classical music, dance, opera and hundreds of galleries. It is a perfect location for your getaway.
Santa Fe is a great walking town. Explore The Plaza, the many galleries on Canyon Road, the Museum Hill with its outstanding museums and the Railway Arts District with its art galleries, restaurants and microbrewery. Just like the French Quarter in New Orleans, The Plaza is the most touristy area of the city. My suggestion is to get away and explore other emerging areas.
Ten Thousand Waves, on the way from downtown to the Ski mountain, is a must do experience. This is a Japanese-style spa in the mountains, a few minutes from downtown. Take a break from shopping for a great massage!
Located in a wonderful venue, north of Santa Fe near Tesuque, The Santa Fe Opera has grown to become recognized as one of the world's leading cultural festivals. They usually produce five operas in the summer months. I have seen Carmen and La Boheme and enjoyed both immensely.
The Aspen Santa Fe Ballet is an excellent contemporary dance troupe that splits its time between Aspen and Santa Fe and other venues around the United States and the world. They are a world class company, with great reviews, so if they are in town at the Lensic Performing Art Center, don't miss them. I have seen them in both Aspen and Santa Fe.
Museum Hill, located off of the Old Santa Fe Trail, is a museum campus with four great museums. There is a nice café on the plaza outside the museums which is quite good. My favorite is the Museum of International Folk Art as I collect Mexican folk art. There is folk art from around the world. You have to see the huge room housing the Girard Foundation Collection which is wonderful and overwhelming at the same time!
Indian Market is one of the summer highlights in August of each year. There is a week of festivities culminating with the market in and around the Plaza. There are more than 1100 artists from 100 tribes and it is the largest cultural event in New Mexico. Spanish Market, occurring in July, is one of the highlights of the summer in Santa Fe. It celebrates the rich Hispanic culture of Northern New Mexico. While this market has focused on the traditional arts for 60 years, the Contemporary Hispanic Market during the same week features contemporary works by Hispanic artists.
The International Folk Art Market is one of my favorite Summer events. There are normally 160 artists from 50 different countries around the world selling their handicrafts or folk art. I like buying a patron ticket which allows you to preview the pieces on Friday evening and gives you early admission on Saturday morning. I have purchased some amazing pieces over the years.
The Georgia O'Keefe Museum at 217 Johnson St. is a wonderful small museum that is a must see. You can also make a reservation through the museum to tour her home in Abiquiu, north of Santa Fe. 
Cafe Pasqual's downtown is one of my favorites along with the newly expanded Coyote Cafe. on Canyon Road I love Geronimo and El Farol, but there are many great new spots away from these areas. Near the opera is the always good Tesuque Village Market and new El Nido Restaurant.
Paloma Restaurant, opened for two years, is a colorful, casual spot for Mexican and New Mexican cuisine with a nice outdoor patio. After reading great reviews, I enjoyed lunch at Vinaigrette off of Cerrillos Rd. They are known for their amazing salads. Radish and Rye is the place for whiskey and locally sourced food. I went for dinner on my recent trip and really enjoyed the restaurant and meeting the owner. It has a warm, contemporary interior and excellent food.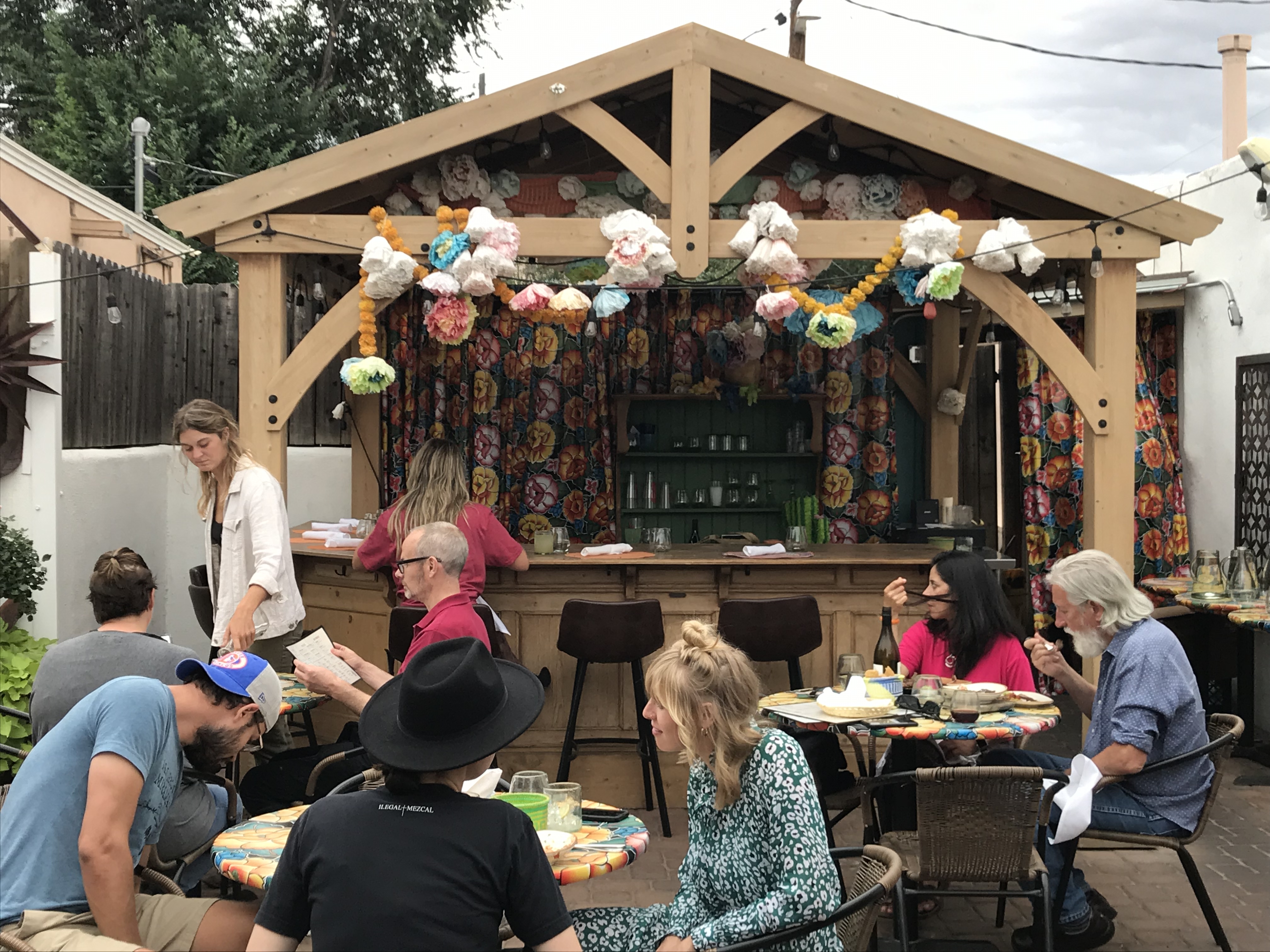 Restaurant Martin is one of my newest recommendations. Martin Rios has been nominated twice by the James Beard Foundation Award as Best Chef Southwest in 2017 and 2018. It has a large patio with a charming, warm interior space.
Iconik Coffee is a fun locals spot in a large, hip and eclectic space at 1600 Lena St. They roast their own coffee on site, make their own great pastries and cookies and have a number of food items including frittatas, soups, sandwiches and salads. Their coffee is organic and Direct Trade. On my last trip, I went to Iconik's two other locations in town. Their location at 314 S. Guadalupe is located in an old building and has an attractive indoor cafe and a very special outdoor patio. Their downtown location near The Plaza is located in 202 Galisteo in the Collected Works Bookstore & Coffeehouse. Grab a latte and explore the many offerings in the store.
For your trip, Newport is a perfect destination where you can enjoy the historic mansions, charming inns and hotels, a lovely afternoon tea and high quality restaurants.
Founded in 1639, Newport, RI is a charming city of around 25,000 people located on Aquidneck Island. Its yacht-filled harbor hosted the America's Cup, a renowned annual sailing regatta, for many years. It is also known for hosting the original US Open Tennis Tournament prior to it being moved to Forest Hills, NY. Newport is also known for its historic Gilded Age mansions lining Bellevue Avenue on the east side of town, where America's elite used to summer in the early 20th century. The Vanderbilts and Astors had cliffside mansions here (which they referred to as cottages); Jackie O. also had a childhood home here and it's where her wedding reception to John F. Kennedy took place.
Not to be missed are the tours of the famous mansions of Newport Mansions. I recommend buying and printing your ticket for the Newport Mansions Experience online before you go. You get to tour five properties of the eleven which includes the Green Animals Topiary Garden. Some offer self-guided tours while some of the smaller properties require a guided tour. So you might want to book those before you go to get the time slot that you desire. I found that there was ample parking at each of the properties that I toured. For those without a car, there are trolleys from the Newport Visitors Center at 23 America's Cup Ave.
The Breakers is by far the largest of the Newport mansion and therefore very popular. So make sure to go early to avoid the crowds! Home to the Vanderbilt family, the mansion became a National Historic Landmark in 1994. In 1893, Cornelius Vanderbilt II "commissioned architect Richard Morris Hunt to design a villa to replace the earlier wood-framed house which was destroyed by fire the previous year. Hunt directed an international team of craftsmen and artisans to create a 70 room Italian Renaissance-style palazzo inspired by the 16th century palaces of Genoa and Turin." There is a cafe on the property in the visitors center.
Marble House was one of my favorites of the mansions that I visited. It was built between 1888 and 1892 for Mr. and Mrs. William K. Vanderbilt. Inspired by the Petit Trianon at Versailles in France it contain 500,000 cubic feet of marble. There was a Chinese Teahouse, that is is now a small cafe, where you can grab a salad or sandwich. I wanted something light as I was having afternoon tea and enjoyed my lunch overlooking the water.
"Commissioned by Nevada silver heiress Theresa Fair Oelrichs in 1899, architect Stanford White modeled Rosecliff after the Grand Trianon, the garden retreat of French kings at Versailles." Rosecliff was one of my favorites and is a beautiful home that was featured in the film The Great Gatsby.
 "The Elms was the summer residence of Mr. and Mrs. Edward Julius Berwind of Philadelphia and New York. Mr. Berwind made his fortune in the coal industry. In 1898, the Berwinds engaged Philadelphia architect Horace Trumbauer to design a house modeled after the mid-18th century French chateau d'Asnieres (c.1750) outside Paris."
Not far from the historic mansions on Bellevue Avenue is the Newport Art Museum that was founded in 1912. "The museum operates a gallery in the John N. A. Griswold House, a National Historic Landmark that is the premier American stick style building, which was designed by noted American architect, Richard Morris Hunt in 1864."  Here you can visit the permanent collection as well as see temporary exhibitions.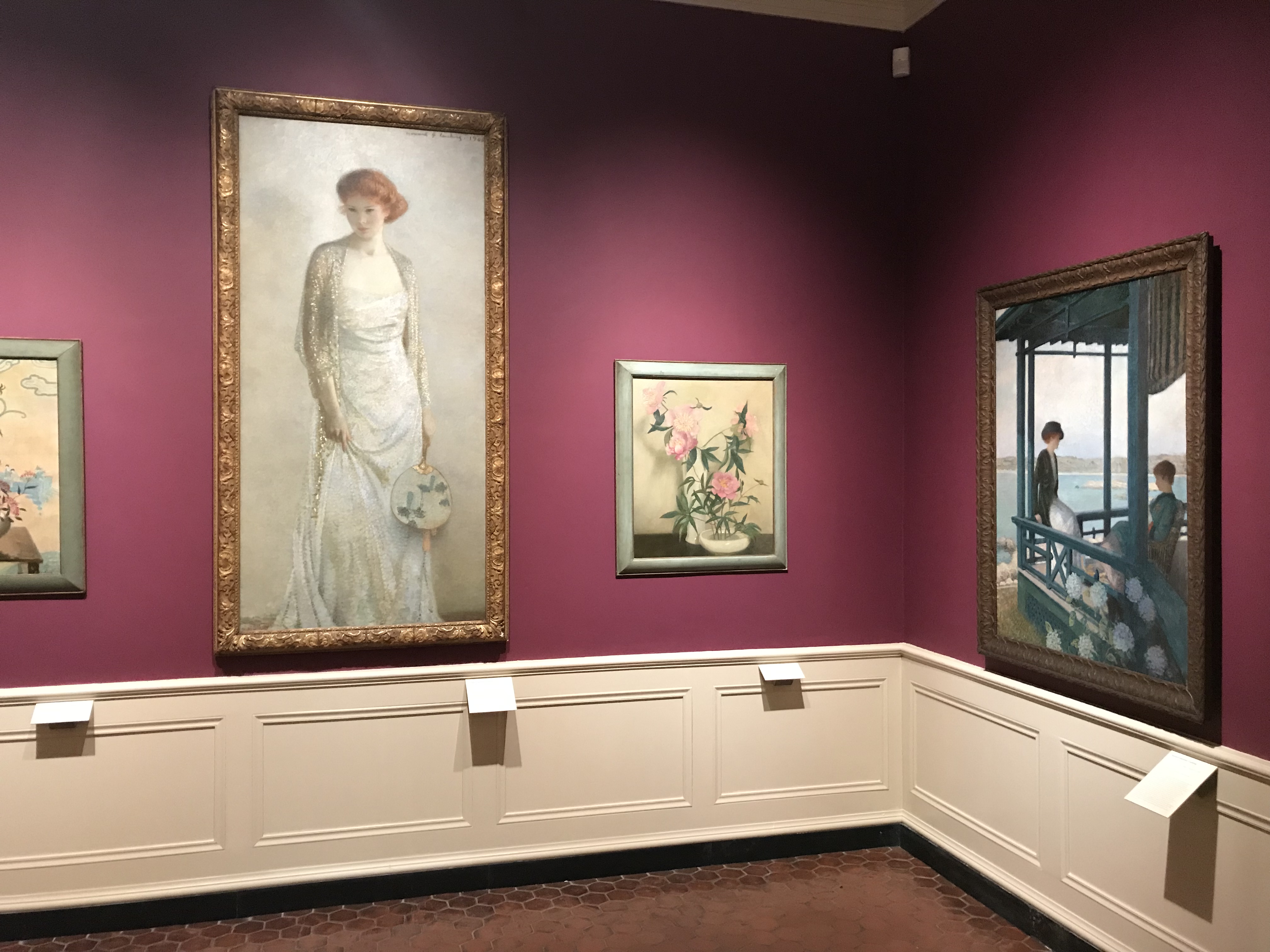 The museum's permanent collection consists of approximately 2,600 works of art in a range of media including works on paper (prints, drawings, watercolors, and photographs), paintings, sculptures, decorative arts, installation works, and textiles and is expanding to include new media. Concentrated on American art and contemporary art, the Museum's collection includes works of art from the 18th century to present.
You will see paintings by Gilbert Stuart and other 19th century paintings, prints and drawings by Winslow Homer and George Inness. The Museum also owns many 20th century works of art by nationally and internationally recognized artists such as George Bellows, Sol LeWitt, Roy Lichtenstein, Fairfield Porter and Andy Warhol. 73 Bellevue Ave.
Along the Newport Harbor you will find a number of bars and restaurants. One of the top is The Black Pearl at Bannister's Wharf. This is a local institution with a Classic Tavern Room, their Commodore's Room for upscale dining and a popular waterside patio and raw bar. They are known for their clam chowder. Nearby is Coffee Grinder on the dock. This is a small, casual coffee shop at the end of the wharf overlooking the water and boats in the harbor. The location is perfect!
I highly recommend The Vanderbilt Grill at the Vanderbilt Hotel, an Auberge Resorts Collection property. It is located in the heart of Newport. The hotel also has The Bar downstairs and The Roof Deck overlooking the city and the harbor.
After reading great reviews, I made sure that I booked a reservation  at The Mooring Seafood Kitchen & Bar. I enjoyed my last lunch in town sitting on the outside patio by the water. The lobster roll was a perfect choice! I highly recommend it. 1 Sayers Wharf.
I always try to enjoy a classic afternoon tea when I travel. On this trip, I really enjoyed my afternoon tea at The Viking Hotel. I had a very nice experience at this boutique hotel. The tea, with a choice of breads, scones, sandwiches and chocolates, was really excellent and the cost was so reasonable! It will be a memorable experience with your friends!
I am so pleased that I chose to stay at The Bayberry Inn. This is a lovely inn in a great location in town. With free parking in a large lot, it was easy to walk downtown to shops and restaurants. It has seven beautifully designed king and queen suites with very elegant furnishings. The breakfasts were really excellent as well. It also has a helpful staff. I highly recommend it when you are in town. 
Not always on the top of many people's lists of where to travel, Las Vegas can be fun with excellent restaurants, shows, afternoon tea, shopping and art plus many things to do away from the Las Vegas Strip. My suggestions on what to do, where to eat and where to stay include:
Downtown Las Vegas has totally changed since I first visited there in the 1980's. Make sure to explore downtown and The Fremont Street Experience which  is a large 24-hour mall featuring a huge LED canopy, casinos and restaurants and free entertainment. Stop in at the historic Golden Nugget Hotel & Casino.
The Neon Museum was one of my favorite new finds. I loved visiting the "boneyard" where I could see old signs from the Golden Nugget, Riviera, Sahara and other Vegas historic properties. I am so glad they are being preserved. I also visited the North Gallery where they have more on view including Binion's, Caesar's Palace and The Lady Luck. 
Located north of downtown, the Mob Museum is a fascinating museum offering a look at the history of the Mafia in America and the effect of the Mob on the history of Las Vegas. Being from the Kansas City area and now in Chicago, I enjoyed learning about the Mob influence in both of these cities as well as in other cities in the US. Make sure to try out their new Underground working distillery and authentic speakeasy. It is open after museum hours. Here you can learn about the history of prohibition while sipping on a cocktail! 
Shoppers will love the many great specialty retail stores on The Strip. Don't miss The Forum Shops at Caesars Palace with 160 specialty stores and restaurants, The Bellagio Shops, The Shops at Crystals a new mall and the Grand Canal Shoppes at the Venetian and Palazzo.
Make sure to catch a show with your friends while you are in town. From several Cirque du Soleil shows and concerts by top headliners to magic shows, dance clubs and musicals, Las Vegas has some great entertainment opportunities. You can even find music in many of the hotel bars. 
The Gallery of Fine Art is a small museum/gallery at the Bellagio and features works by some of the world's best artists in conjunction with major museums around the country. Also at the Bellagio is one of my favorite art installations, Dale Chihuly's 2,000 hand-blown glass blossoms in the main lobby. It was commissioned by Steve Wynn for the hotel in 1998.
At the ARIA Resort & Casino, make sure to ask for a map and visit the works in the ARIA Fine Art Collection. I enjoyed Maya Lin's Silver River above the Registration Desk. Outside the Main Hotel Lobby you will find Henry Moore's reclining connected forms sculpture. Between the Aria and the Vdara don't miss Nancy Rubins' Big Edge made with hundreds of boats sculpted together. The Vdara has a large Frank Stella painting, Damascus Gate Variation 1, behind the reservation desk.
Don't miss Crystals, the stainless steel-clad shopping center at CityCenter designed by internationally known architect Daniel Libeskind. The 500,000 sq. ft. building with its jagged, crystalline shapes is one of the highlights of The Strip. In the Shops at Crystals, in the ARIA Tram station you should see James Turrell Shards of Color featuring changing planes of color from colored lights. There is also Tatsuo Miyajima's LED sculpture titled Hoto on the first floor. 
Not to be missed is Claes Oldenburg's Typewriter Eraser Sculpture just outside the Gallery Row near the Mandarin Oriental. I also loved the colorful digital art installation in the lobby of The Cosmopolitan featuring eight 15 ft. columns featuring a continuous display of digital images.
Akhob is the title of the James Turrell total color immersion art located on the 4th floor of the Louis Vuitton store at Crystals. I always love seeing Turrell's works. It is well-worth the visit. The tour is free but reservations are required. I would book before you go to Las Vegas. You also get to see three other works in the store's private collection. 702-730-3150
Just south of downtown is the Las Vegas Arts District, centered north and south of Charleston Blvd. There are a number of galleries, artists studios, boutiques as well as bars and restaurants. They offer an art walk on the First Fridays of each month. There is also DTLV Arts which has several buildings with studios and galleries including The Arts Factory.
At the Sahara, Bazaar Meats by José Andres is the James Beard Award winning chef's steakhouse with an exceptional designed space by Philippe Starck. It is a meat lover's dream, but I opted for the fire roasted octopus/pulpo served with potatoes and a pepper sauce plus a wonderful Catalan spinach side made with apples, pine nuts, shallots and raisins.
The Mandarin Oriental is now the Waldorf Astoria Las Vegas. This five-star luxury property has some great dining options. The 23rd floor Tea Lounge is perfect for your group's afternoon tea overlooking The Strip or the nearby Skybar is a great place for a cocktail with equally great views. 
I loved my meal at the Bardot Brasserie at The Aria, the attractive French Bistro featuring comfort food by Chef Michael Mina. It is one of four restaurants he has in Las Vegas. The Aria is huge and features over 16 restaurants and a dozen bars. 
I chose to have lunch at José Andres' China Poblano Noodles & Tacos at The Cosmopolitan, which is his casual fusion restaurant featuring both Mexican and Chinese food. The atmosphere is very colorful and fun. The Chandelier is a stunning three-level cocktail lounge in the center of the casino/lobby area. It is a great spot for a before or after dinner drink.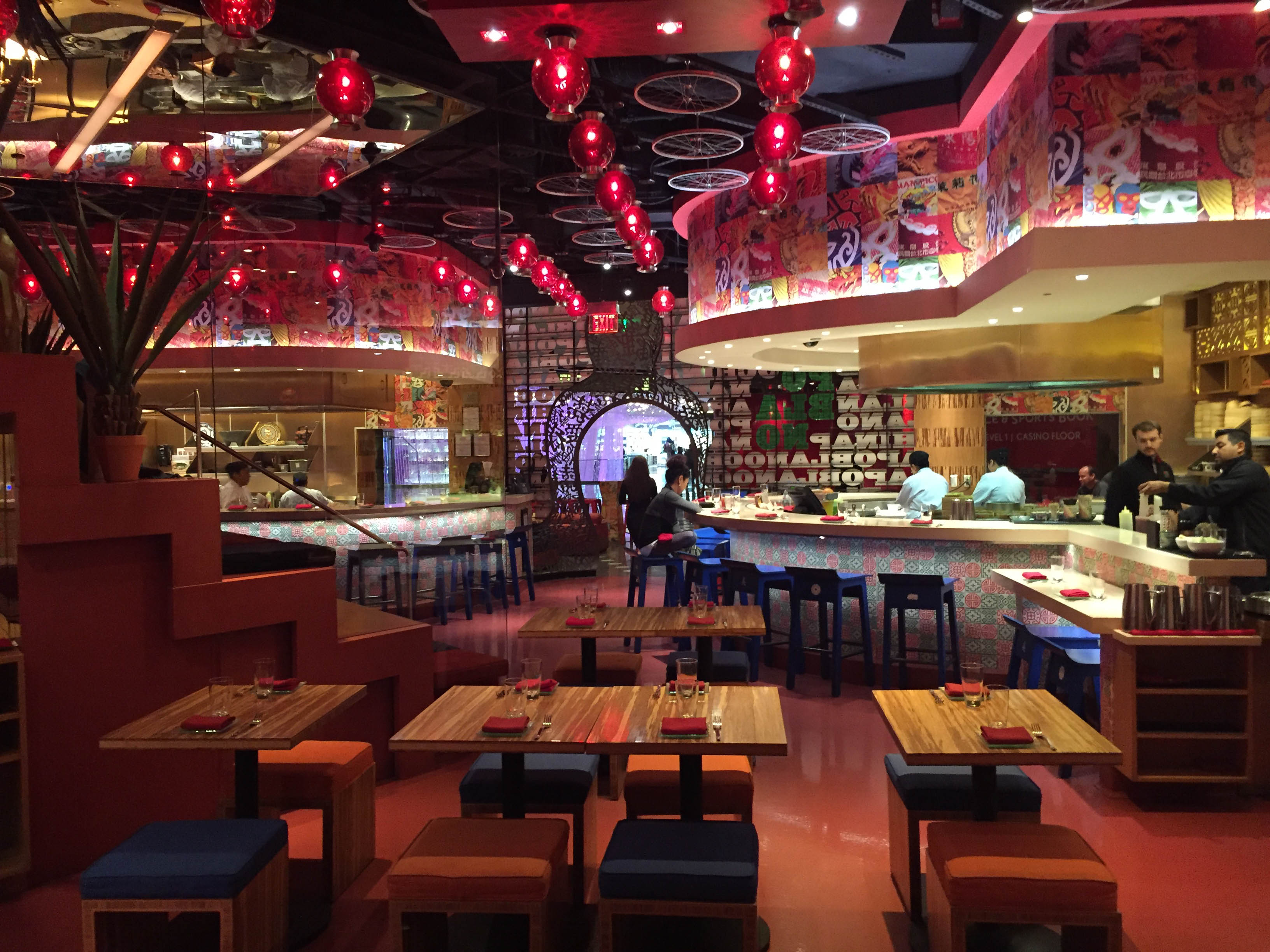 The Palazzo next to the Venetian has a Restaurant Row with notable restaurants like Yardbird Southern Table & Bar. I chose Yardbird as I had enjoyed their restaurant in South Beach in Miami. They offer a modern take on Southern comfort food with shared plates, craft cocktails, and popular fried chicken. It is a popular spot for brunch or dinner.
Bouchon is located at the Venetian Resort Hotel Casino in the Venezia Tower. Operated by famed California chef, Thomas Keller, his traditional French dishes including roast chicken, steak frites, croque madame, pot de creme and lemon tart as well as an extensive raw bar, are fixtures throughout the year.
On my way to the airport, I stopped for lunch at Della's Kitchen in the upscale Delano Hotel next to Mandalay Bay at the south end of The Strip. Open for breakfast and lunch, it is a stylish spot featuring classic comfort food and seasonal specialties. The grilled cheese sandwich with tomato soup and a kale slaw, hit the spot after a three-day eating binge in Las Vegas.
As a regular at Canyon Ranch in Tucson, the famed fitness resort and spa, I always try to work out at their Canyon Ranch Spa + Fitness at the Venetian.This is a great spot for a spa treatment or workout while you are in town. After a great workout I always loved their casual cafe for lunch. It is now called Truth & Tonic and features healthy cuisine. 
The larger hotels with large casinos and a large number of bars and restaurants, can be somewhat overwhelming with the crowds. So I recommend trying some of the newer properties nearby that don't have casinos, but where you can easily access the casinos, restaurants, bars and showrooms. These include the Vdara Hotel & Spa at the ARIA, the Waldorf Astoria Las Vegas and the Delano Las Vegas. Also, with the newer hotels, you have seen the trend of more and more upscale restaurants opened by celebrity chefs from around the country.