---
From classic hotels to hip boutique properties, Chicago has many great hotels to choose from. Our top recommendations include:
Chicago Loop
The Chicago Athletic Association Hotel: At 12 S. Michigan Ave., this hotel, opened in 2015, is a wonderful renovation of the former Chicago Athletic Association that was established in 1890. The building was completed in 1893 and was designed to resemble the Doge's Palace in Venice, Italy. The private club disbanded in 2007. The two year restoration started in 2012.
"Like any Chicago institution during Prohibition, the Club also had its own speakeasy so that at least the city's elite gentlemen could indulge in a drink if no one else could. But the ever-cautious businessmen made sure that even if a police raid occurred, everything would seem on the up-and-up: the booze was mixed with milk so that the pure white beverage disguised the mixed-in alcohol." Their bar today is called The Milk Room in reference to this.
Shake Shack, on the first floor, occupies the space of the club's Turkish baths. The second floor, contains the Drawing Room, The Milk Room, the Game room and the Cherry Circle Room that was the club's original men-only dining room, which won a James Beard Foundation Award in 2016 for best restaurant design. I remember great meals there in the 1980's. Cindy's Rooftop is the new rooftop bar and restaurant, that has wonderful views of Chicago's Millennium Park.
Hampton Inn: Hampton Inn has recently taken over the famed Art Deco building that was built in 1928 and was the former home of the Chicago Motor Club. It has a three-story lobby, which contains a new, 67-seat cocktail bar overlooked by a John Warner Norton original, 29-foot-wide road map mural. It has original light fixtures, Art Deco flourishes plus an original, 1928 Ford Model A overlooking the lobby. The hotel has 14 floors with 143 rooms. 68 E. Wacker Place.
A great spot for theater goers is theWIT Chicago – A DoubleTree by Hilton Hotel. This is an attractive, contemporary hotel with ROOF on theWIT, a stunning rooftop bar and restaurant. It is a short walk to the top theaters downtown. It is also close to public transportation.  201 N. State St.
Across the street at 230 N. Michigan Ave. is the recently opened Pendry Chicago, a boutique hotel located in the historic and iconic Carbine & Carbon Building, an Art Deco building from 1929. It is a beautifully renovated property along with Bar Pendry off of the lobby, Venteaux a French brasserie, oyster & champagne bar and café from Michelin-starred  Chef Donald Young and a stunning rootop bar, Château Carbide. Venteaux also has a colorful café featuring coffee, pastries, salads and sandwiches.
If you are a Kimpton brand fan, they two Chicago hotels. The Hotel Monaco  at 225 N. Wabash, is in a great location and has the restaurant, Fisk & Co. – Mussels + Beer, known for its seafood.
Recently opened in the Loop is Kimpton's  Gray Hotel at 122 W. Monroe. It is located in an historic building from 1894. It is home to the Steadfast restaurant, the Vol. 39 bar and the Boleo rooftop bar.
Right in the heart of the Loop is the new, contemporary Hyatt Centric at 100 W. Monroe. It is in the middle of the business and theater districts with great shopping and restaurants within a short walk. It's Cochon Volant Brasserie is a great new restaurant.
I also just found the Silversmith Hotel, a sleek boutique property at 10 S. Wabash a block from Millennium Park, The Art Institute and Michigan Ave. It has a sleek sleek, contemporary lobby  with chandeliers and granite floors in stripes of black and silver. In each of the 144 guest rooms have contemporary features like Danish Modern-style desks, elegant, tufted headboards and pops of purple that break up the silver and white color scheme. It is an easy walk to the theater district, shopping, Symphony Center and other  Loop highlights and restaurants. It is located along the CTA El tracks, so I highly recommend asking for a quiet room in the back.
Recently, opened in the Loop is LondonHouse Chicago. Located along the Chicago River at 85 E. Wacker Dr. on the corner of North Michigan Ave., this is a part of the Hilton Curio Collection. Located in an historic building, this 452 room design hotel, has great style. The second floor lobby and bar is really outstanding and the rooftop bar and terrace has some of the best views in town.
The hotel opened in 2016 is in the location of the former London House, a popular jazz club and restaurant in  the former London Guaranty and Accident Company Building. It was one of the foremost jazz clubs in the country, once home to successful jazz artists including Oscar Peterson, Ramsey Lewis, Dave Brubeck, Marian McPartland, Dinah Washington, Cannonball Adderley, Erroll Garner, Ahmad Jamal, Nancy Wilson, Barbara Carroll and Bobby Short.
The historic Blackstone Hotel is now an Autograph Collection Hotel and has been totally renovated. The rooms are sleek and contemporary. It is located along Grant Park at 636 S. Michigan and is close to theater, Symphony Center, the Art Institute of Chicago and other cultural activities. Their restaurant, Mercat a la Planxa is an excellent tapas restaurant where I have eaten several times. The hotel has an extensive contemporary art collection.
Just south of the Blackstone is the Le Meridian Essex Chicago at 800 S. Michigan. It is a total redo of the old Essex Inn by Marriott. It is an upscale property with great design. The lobby features the new French grill, Grant Park Bistro, and a small coffee shop with great pastries by Vanille Patisserie.
The Palmer House Hilton in the Loop at 17 E. Monroe is a great landmark  property that is still good today.  It celebrated it 150th anniversary in 2021. I first stayed in the Palmer House, as a child, on my first trip to Chicago in 1963. I recently ate at their Potter's Chicago Burger Bar with friends in from Texas and thought it was a fun spot to eat in the Loop. I understand that there are tours and a museum that you can visit. I recently learned that the brownie recipe was created there in 1983, at the direction of Bertha Palmer, to be served at the Columbian Exposition World Fair in 1893.
It is a member of Historic Hotels of America®, the official program of the National Trust for Historic Preservation for recognizing and celebrating the finest historic hotels across America
North Michigan Avenue and River North
At 203 N. Wabash, is the Virgin Hotels Chicago. This is a hip, contemporary boutique hotel with The Commons Club, a bar and restaurant, on the second floor and Cerise, a great rooftop bar on the 26th. It is located in the Loop in a great location near Michigan Avenue and public transportation. They also have the Two Zero Three on the first floor which is a coffee bar by day and wine bar by night.
The Langham is a stunning addition to the Chicago hotel scene. It occupies the first 13 floors of the historic landmark, IBM Building designed by Mies van der Rohe. Dirk Lohan, the architect's grandson, designed the hotel's lobby and furniture. Some of Mies van der Rohe's designs were also used. According to the New York Times, the hotel has an extensive art collection as well with works by Juder Ledgerwood, David Klamen, Jaume Plensa and Anish Kapoor. The hotel is a great place for tea, or a drink in the bar overlooking the skyline of Chicago. The Travelle restaurant is also getting very good reviews. It is located at 330 N. Wabash.
Another good option is the newly opened Aloft Chicago Downtown River North at 515 N. Clark with a hip lobby and good restaurant, Beatrix which is a neighborhood restaurant, coffeehouse, and meeting place. Next door is the contemporary Hyatt Place Chicago/River North, with its popular Ēma restaurant featuring Mediterranean small plates. 66 W. Illinois.
Also check out the Hotel Felix, at 111 W. Huron, which is a smaller boutique hotel. Troquet restaurant is attached for cocktails and dining. The Raffaello is now the Gale Chicago, a small boutique hotel, in a great location a block off of Michigan Ave. They have  newly renovated rooms along with a new restaurant and coffee bar. 201 E. Delaware
Further North is the Godfrey Hotel  at 127 W. Huron and the Eurostars Hotel (formerly the Dana Hotel) at 660 N. State, both with great rooftop bars. The Wit Hotel also has a stunning rooftop bar. Located at 201 N. State, this is a great location for the Chicago Theater District.  Since the Chicago El runs along the South side of the building, I would suggest asking for a room on the North side.
Hotel St. Clair: The former Red Roof Inn has now been totally renovated and has reopened. It is in a great location a block east of Michigan Ave. at 162 E. Ontario.
Down the street is  the Autograph Collection's contemporary, boutique hotel, EMC2 Hotel.  The Albert restaurant on the first floor has a stunning dining room with great design, a creative menu and beautifully presented dishes.  It is also surrounded by great neighborhoods, shopping and cultural opportunities. 228 E. Ontario.
Across the Street is the Aloft Chicago Mag Mile at 243 E. Ontario. Just east of Michigan, this is a sleek option while you are in town. I am hosting an event in November, 2022 and am recommending my guests stay here.
Radisson Blu Aqua Hotel is a sleek, contemporary hotel, located just north of Millennium Park in Chicago's New East Side or Lakeshore East, in a stunning building designed by Chicago architect, Jeanne Gang. 221 N. Columbus Dr. Their Filini restaurant is a very good spot and excellent for a pre-theater or pre-concert dinner.
The famous Drake Hotel from 1920, at 140 E. Walton Place is classic hotel right on Michigan Ave. and East Lake Shore Drive. Their Palm Court in the main lobby  is a wonderful place for afternoon tea or to catch a jazz band on weekends.
Luxury properties include the Ritz Carlton,  The Peninsula, and the  Four Seasons at 120 E. Delaware Place.  The Ritz has been recently renovated with over $100 million spent. The lobby has been totally redone and now there is a new lobby bar, a new Italian restaurant and small café for coffee, tea and pastries. I was recently back at the Peninsula which is a lovely spot for afternoon tea. The Four Seasons re-opened in September, 2020 after an extensive renovation. Its rooms, public spaces including the lobby and reception area, lounge area, bar and restaurant now have a postmodern look with a contemporary luxury twist.
The restaurant at the Four Seasons is now known as Adorn Bar & Restaurant and is  Chicago's first restaurant with James Beard Award-winning chef Jonathon Sawyer. It features globally-inspired cuisine starring the bounty of the American Midwest in a contemporary setting.  I recently went for lunch with local friends and throughly enjoyed the experience and great food and creative menu.
The Waldorf Astoria is also a great luxury choice at 11 E. Walton. It was named the Conde Nast Traveler Readers Choice for best hotel in the US in 2015. The  addition of the Brasserie and lobby Patisserie Petit  are welcome additions to the hotel and to the neighborhood. I enjoyed lunch at the Brasserie and loved the Patisserie for brunch with friends.
The Park Hyatt at 800 N. Michigan Ave. is a great property and its restaurant NoMI Kitchen is considered one of the best in town.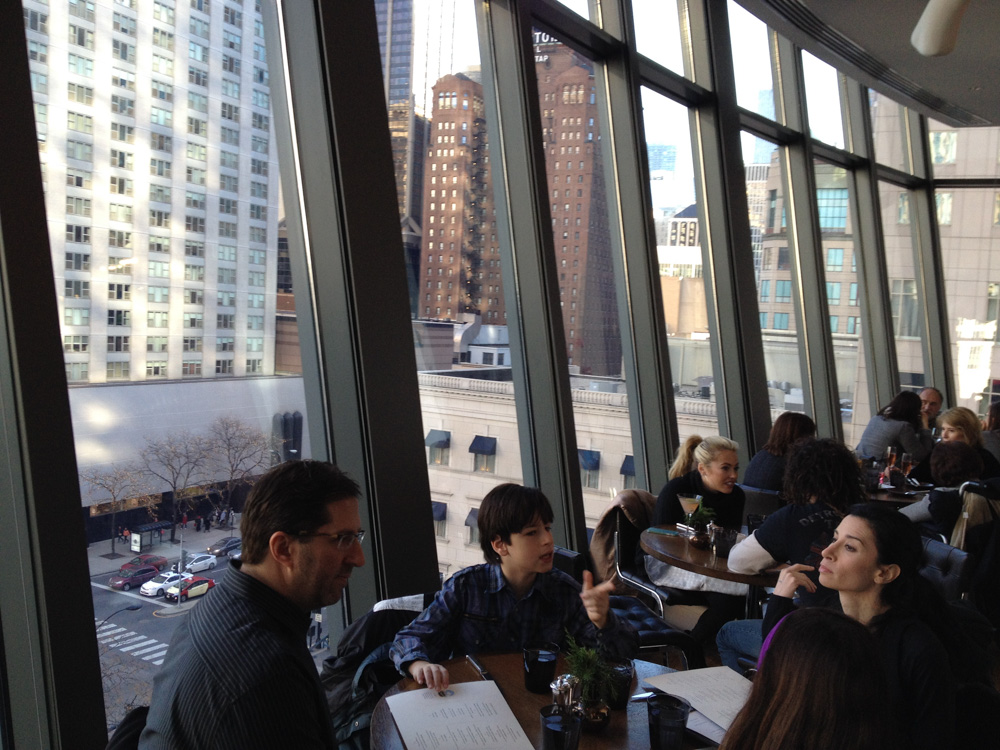 AC Hotel, 630 N Rush; Marriott's new concept, Acme Hotel at 15 E. Ohio and the Freehand Chicago at 19 E. Ohio are all hip new options geared to a younger crowd. I loved the Freehand Miami when I stayed there 2 years ago. This is an upscale hostel with both shared and private rooms.
Across from the AC is the recently opened 21c Museum Hotel at 55 E. Ontario. I love this concept and have stayed and eaten in three of their other properies and  have eaten dinner at two more. It is a contemporary boutique property a block west of Michigan Ave. As with their other locations, they have a contemporary art museum on the first two floors with rotating exhibitions.  Their new restaurant Lure Fishbar is now open.  It is a a seafood restaurant  along with a raw bar with a rotating oyster selection and a sushi menu. I will report back once I try it!
If you want a larger hotel or if you have a conference there, the Lowes Hotel Chicago is an attractive property. One of its highlights is Streeterville Social, its outdoor, rooftop lounge.  455 N. Park Drive.
Gold Coast
Ambassador Chicago: Ian Schrager's Public Hotel which was the former Ambassador East Hotel, is now the Ambassador Chicago, a JDV by Hyatt property. It is an attractive, contemporary hotel with a great vibe. The Library, off the lobby, for coffee or cocktails is becoming a local's hot spot. The former Pump Room from the 1930s is now called the Ambassador Room and is open nightly for dinner. 1301 N. State Parkway.
The Thompson Chicago: Formally opened at the end of 2013, this is a wonderful addition to the boutique hotel scene in Chicago. It has a sleek, contemporary lobby with a warm fireplace. The rooms have been totally redone from when it was the Sutton Place Hotel and are well-appointed, attractive and comfortable. The location is great for exploring the city and the staff extremely friendly. 21 E. Bellevue. Their restaurant, Nico Osteria at 1015 N. Rush, continues to get great reviews.
A block north of the Thompson Chicago at 1118 N. State is the Viceroy Chicago.   Once the 1920's era Cedar Hotel, this is a lovely boutique hotel, with a beautiful lobby and common areas. They have a sleek, new restaurant, Somerset, by the  Boka Restaurant Group, that is open for breakfast, lunch, dinner and brunch on weekends. It is a great new addition to the neighborhood. They also have an amazing rooftop bar, Devereaux, which features food and craft cocktails overlooking the Chicago skyline and small pool. It is a great spot from which you can explore the city.
The  former Indigo Hotel at 1244 N. Dearborn on the Gold Coast has been reopened/re-branded as the Claridge House. From 1923, when it opened,  until 2005 it was called the Claridge House. Today the name is back and it has undergone an extensive $9 million renovation. All of the 165 rooms have been redone and have a sleek, contemporary style.  Downstairs, there is a sophisticated/contemporary style that is found in the bar, the restaurant and the living room in the lobby which was designed as a communal space. There is original art throughout. I recommended the hotel to a friend from Houston who really enjoyed it.
A new sushi bar, Sushi Boutique, opened in October, 2021. In addition they have a bar called Juniper that features coffee and breakfast items as well. The former dining room has been transformed into Sushi By Bou Gold Coast with a beautiful design and classic cocktails.
This is a very good place to stay if you are in town. It is a far quieter neighborhood than the areas near Michigan Ave., River North, the Loop and  the West Loop where many of the new boutique hotels are found. It is a good location for taking public transportation on the CTA Red Line or buses, walking to restaurants and shopping plus exploring the lakefront.  It is also easy to walk to Lincoln Park and Old Town.
Opened in mid-2017 is JdV by Hyatt's totally renovated Talbot Hotel at 20 E. Delaware. It is a sleek, boutique property in a great location. The also have an attractive cafe and bar,  which is now called Prime by Butler.
West Loop
I just heard about The Publishing House Bed & Breakfast which is a 11 room, luxury B&B in the heart of the West Loop. It is right in the middle of some of the best restaurants in town.They have four sizes of rooms, depending on your budget. 108 N. May.
Chicago's up-and-coming Fulton Market District recently saw the opening of The Hoxton Chicago, the third opening in the U.S. (and latest worldwide) from the  U.K.-based boutique hotel mini-chain. The building fits  well into the area's industrial and meatpacking history. It has an industrial chic design with a mix ofmid century-modern furniture.  The lobby has a bar and coffee counter.  They have Cira, an all-day Mediterranean restaurant, Lazy Bird, a dimly lit basement cocktail piano bar and Cabra, a stunning rooftop cevicheria from popular local chef Stephanie Izard. The food is excellent.  Also on-site is a rooftop pool deck, a wellness studio, and an in-the-works co-working space that will afford members all the perks of hotel guests. It is a great location from which to explore the neighborhood and the city.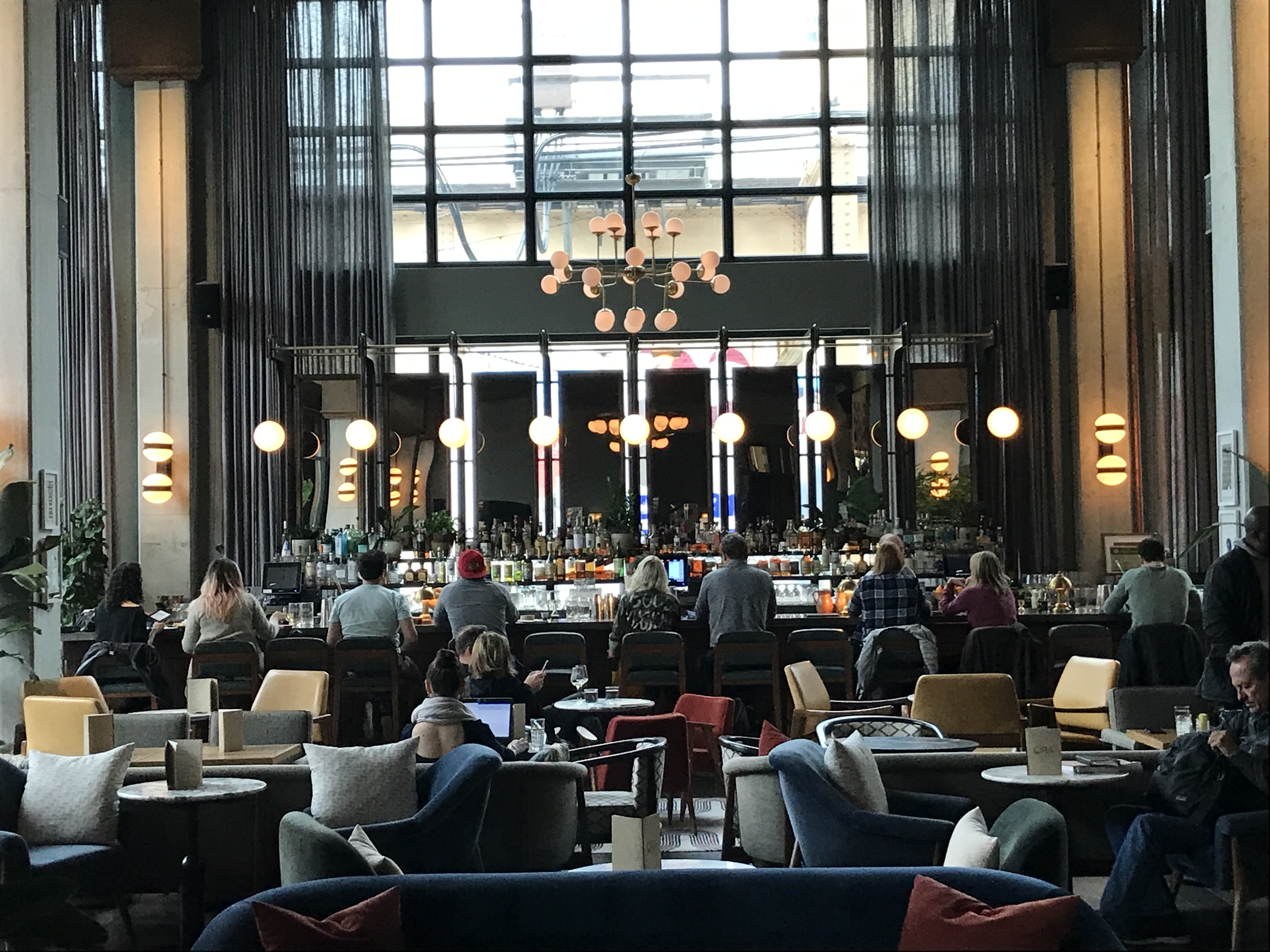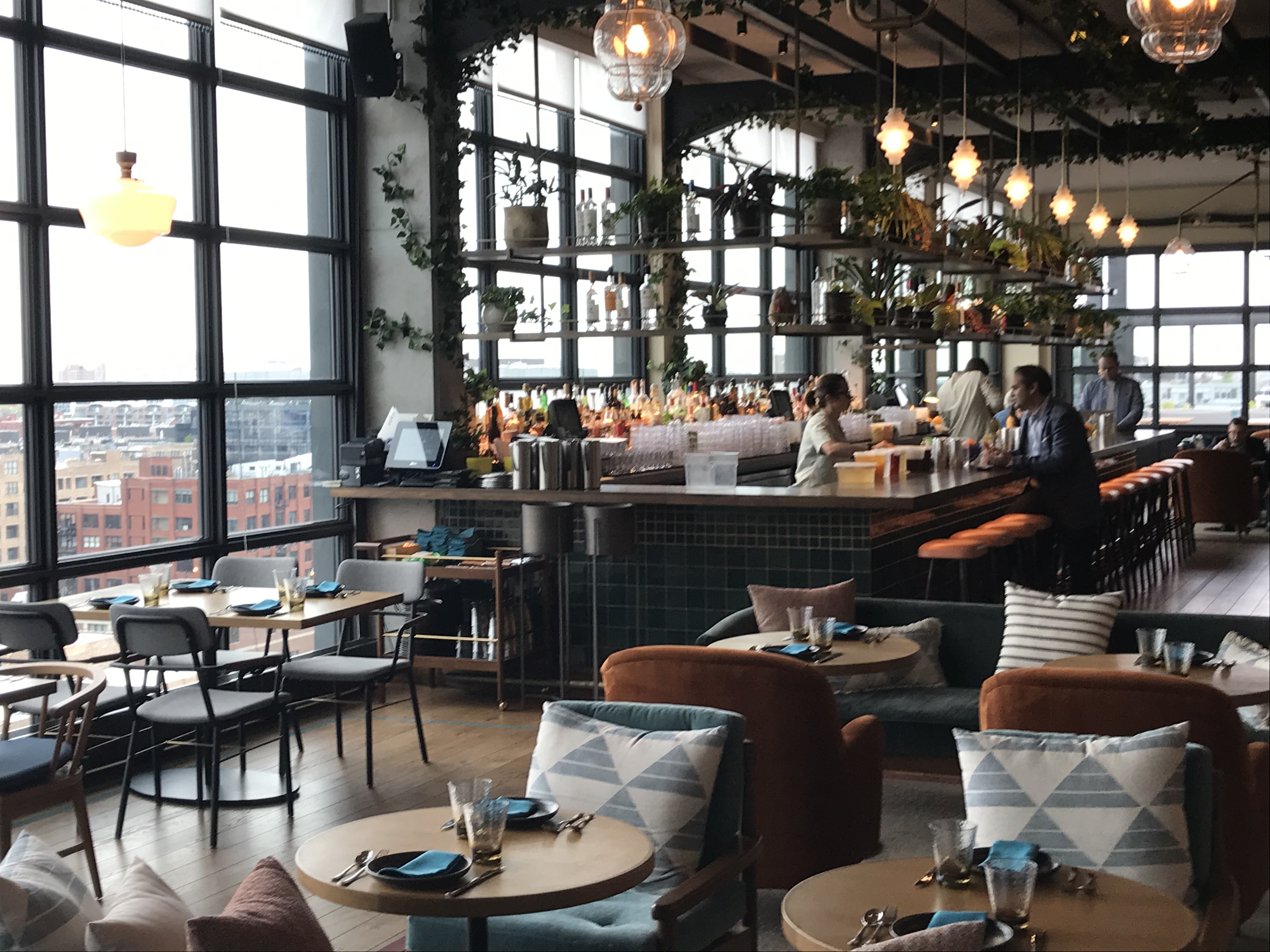 Lincoln Park
The Hotel Lincoln: This is a good alternative to Loop, Michigan Avenue and Gold Coast Hotels. It is directly across from the Lincoln Park Zoo, near the Chicago History Museum and you can easily walk to restaurants, shopping and nightlife.
I walk by the the six-room Villa D'Citta often. It is is a  romantic bed-and-breakfast occupying  a 19th-century stone mansion in residential Lincoln Park at 2230 N. Halsted. It is a good location to walk to theater, shopping, concerts including classical music and blues and excellent bars and restaurants.
Bucktown/Wicker Park
A wonderful new addition to the city is in the Bucktown neighborhood at the corner of North, Damen and Milwaukee right at the Blue Line stop. Groupo Habita from Mexico City has opened a great new hotel two historic buildings. The Robey Chicago which has 69 rooms in the main building is aimed at independent and global travelers who appreciate great style and design. The Robey features 400-thread count sheets, WiFi and a swimming pool. The second floor lounge offers coffee by day and cocktails by night. Cafe Robey, is a French American bistro on the ground floor and there is a 35-seat rooftop bar overlooking the neighborhood which is open to guests and their friends. I loved the food in the restaurant and the view from the upstairs bar is amazing. Next to it are 20 additional rooms featuring shared as well as private rooms. It is good for singles, families and small groups. They have a coffee shop in the lobby run by Metric Coffee with a grab-and-go menu.
Wrigleyville
Hotel Zachary Chicago:  This new hotel with both a classic and contemporary design, is located at 3630 N. Clark right across from Wrigley Field. The hotel is named for Zachary Taylor Davis, the Chicago architect who designed Wrigley Field in 1914.  The rooms and suites are very attractively decorated. Off of the lobby of the hotel you will find The Bar and The Alma Room where breakfast is served daily. On the first level are a number of restaurant options Dutch & Doc's, West Town Bakery + Tap, Big Star, Mordecai Whiskey & Grill and Smoke Daddy.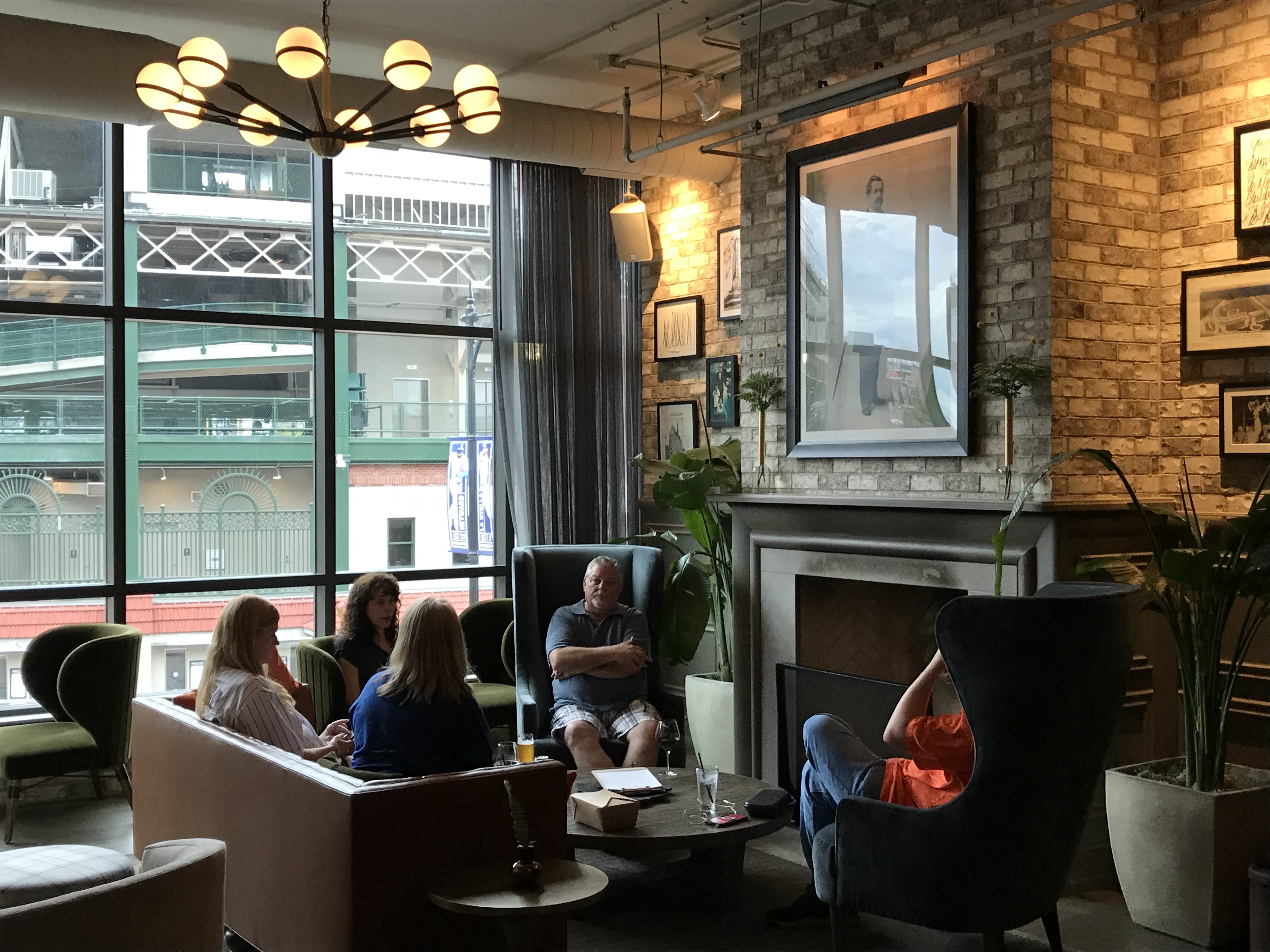 Hyde Park
If you wish to stay in Hyde Park for business or pleasure, I recommend the Hyatt Place Chicago South at 5225 S. Harper Ave. I have stayed in several around the US and always enjoy the experience. It is in the heart of all of the action in the area.
Another great option is the boutique hotel, Sophy Hyde Park at 1411 E. 53rd. It has great design and has a great location from which to walk to restaurants and shops.