Marfa has some very good hotel options, however the number of rooms are limited. I recommend booking fairly early as it tends to get busy during certain months particularly with weddings. When I was in town there were three outside weddings so hotel rooms were very scarce. Good choices include:
Hotel Paisano: Designed by Henry Trost and built in 1930, this is an historic hotel with 41 rooms and suites. "Trost was responsible for the design of over 550 buildings from California to Texas between the early 1900's until his death in 1933. He studied architecture under Louis Sullivan in Chicago and was influenced by Frank Lloyd Wright." I really liked the historic decor of the hotel. The room was more traditional, yet very comfortable with balcony overlooking the courtyard below. The staff was very helpful. They have an extensive gift shop, a pool  plus Jett's Bar and Restaurant with both indoor and outdoor seating. 207 N. Highland Ave.
El Cosmico: At 902 S. Highland, this is a fun spot if you want to stay in a vintage trailer, scout tent, traditional 22 ft. Sioux teepee, Mongolian yurt or tent campsite. They also have a fun small store in the lobby, the El Cosmico Provision Company. The property was developed by Austin hotelier Liz Lambert, who in addition to the Saint Cecilia and San Jose hotels in Austin opened the Havana in San Antonio.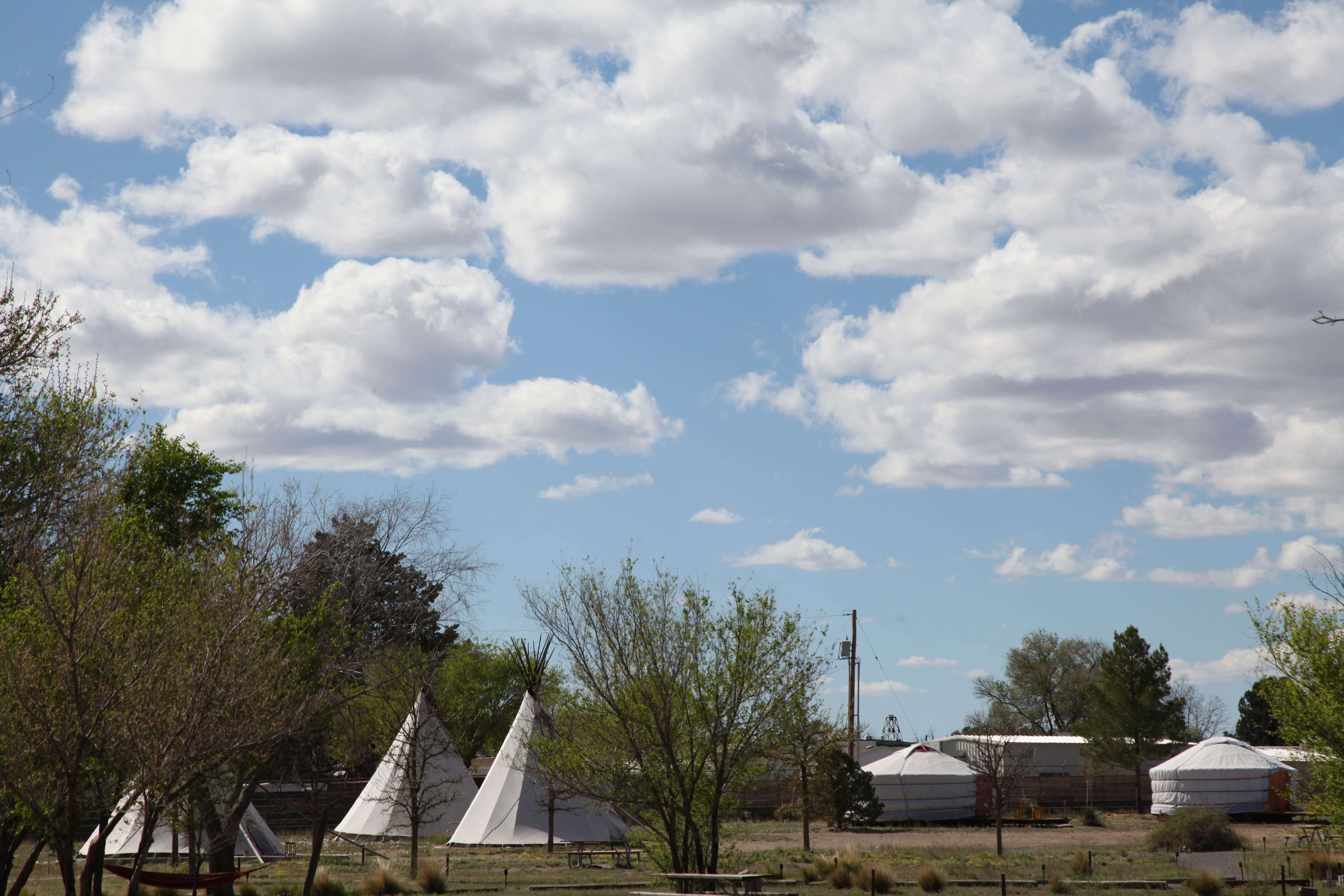 Hotel Saint George: A wonderful new addition to the Marfa hotel scene is the Hotel Saint George which opened in March, 2016. It is a boutique hotel with sleek contemporary design. It is home to the Marfa Book Company, the Bar Saint George off the lobby plus an excellent fine dining restaurant, LaVenture. 105 S. Highland Ave.
Thunderbird: At 601 W. San Antonio St., just west of downtown, this is a 24 room former motel from the 1950's, that has been transformed into a contemporary hotel featuring locally designed furnishings, pool, use of bicycles, an international art collection, a vinyl collection with record players and hand-crafted textiles.
Cibolo Creek Ranch: If you want a West Texas ranch experience about a 30 minute drive south of Marfa, this is a good option. Here you can explore Indian caves, ride horseback, take a jeep trip in the mountains or hike through canyons. You can also sit by the pool and have a massage. Listed on the US National Register of Historic Places, this working cattle ranch has three 19th century adobe forts that have been converted into suites in addition to the other guest rooms. Friends I met there loved the experience but were somewhat disappointed in the food. I might stay before or after I explored Marfa, because there is much to do in town that driving back and forth is more effort.