There are many options of where to stay in San Miguel de Allende, from upscale resorts, small boutique hotels, wonderful bed and breakfasts and truly gorgeous homes to rent.
For small hotels, my favorites include the sleek boutique properties, Hotel Matilda at Aldama 53 and Dos Casas at Quebrada 101. Casa Misha, Chiquitos 15, is a lovely, beautifully designed boutique hotel 2 blocks from the Jardin. The Matilda and Dos Casas have two of the best restaurants in town.
Condé Nast Traveler Magazine's 2023 Readers Choice Award ranked the Hotel Matilda number one in the Top 10 Hotels in Mexico.

Opened in early 2018, is Casa Blanca, a lovely boutique hotel, centrally located across from the San Francisco church. It has Cafe Casa Blanca and Fatima 7 on the roof for fine dining and wonderful views of Centro. Juarez 7.
Antigua Villa Santa Monica at Fray Jose Guadalupe Mojica #22: In preparation for a personal event, I toured this hotel property just south of Parque Juarez. I looked at several suites as well as a couple of standard rooms. The property has a very traditional colonial Mexican feel and has lovely grounds, a pool and nice outdoor dining. I had eaten there in the past but had not seen all of the grounds and the rooms. It is a really lovely property in a great spot. You can easily walk downtown, but you are in a quiet area of town. I now go often for their Sunday brunch buffet and really enjoy the food and the service. I love just looking at the architectural details, listening to the birds and seeing beautiful flowers.
I recently learned that it was the former residence of José Mojica, a well known Mexican Franciscan friar, tenor and film actor, which he acquired in 1933. He rebuilt the property and entertained such celebrities there as Dolores del Rio, Gary Cooper, John Ford, John Huston, Pedro Vargas and John Wayne.
A few doors away is  small six bedroom property, Tres Fuentes Hotel Boutique at Baeza 7. This is a very quiet spot along Parque Juarez with a colonial feel. They have attractive rooms along with a lovely garden and the Talavera restaurant.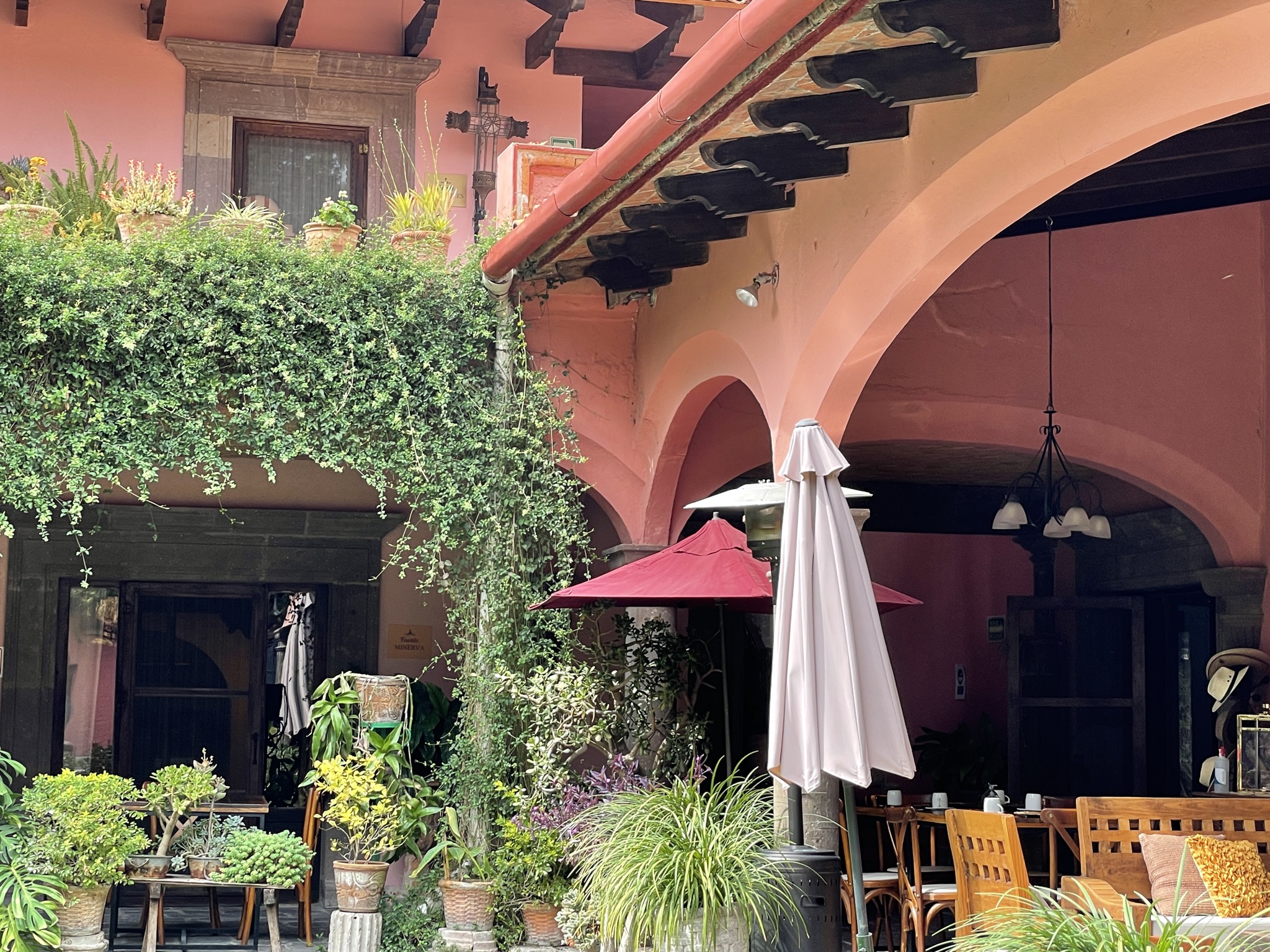 Nearby is a new boutique hotel, El Golpe de Vista Small Luxury Hotel at Prol. Aldama #1., across from the fountain at Aldama and Cardo. I went for brunch at the their rooftop restaurant and was very impressed with the hotel. They have 8 elegantly designed suites in various sizes. The two master suites have their own outdoor terracs. I was a little concerned over the noise level since the intersection is very busy, but they do have interior rooms and the exterior rooms have special glass to miminize the traffic sound according to the management.  In addition to their Terra la Vista restaurant, they have ZEN-tidos Salón and Spa in the basement area. Here they offer salon services, massages, facials and other treatments.
I was excited to find a new boutique hotel, Hotel Casamada, located in Col. Guadiana at Portranco 16. This is a very quiet street close to Parque Guadiana and many shops and restaurants on Ancha San Antonio/Salida de Celaya. It has eight beautifully decorated rooms, a lovely lounge downstairs, a garden and a retaurant that is open daily for breakfast and brunch.
I went for a  brunch on  Saturday during my last trip and and enjoyed the experience. The food and service were great and the atmosphere in the back courtyard of the restaurant was perfect. I realy liked the squash blossom omelette with great  bana bread and biscuits with homemade guava jam. It is a perfect spot on weekends when it can be crowded downtown.
Having read about La Valise San Miguel in an article in Travel + Leisure titled 20 Surprisingly Affordable Luxury Hotels Around the World, I made a point to visit it. Located at Jesus 17, just south of the Jardin, this is a small boutique hotel with six rooms. I had visited their  atrractive Mexico City hotel in Roma Nte.a few years ago, and was told that they would opening a location here in San Miguel. The hotel has a contemporary design with attractive accents including some by well-known Mexican-Italian artist Pedro Friedberg. It is a peaceful spot in a very good location in Centro. There is also a rootop for guest use.
With a colonial feel is Hotel Hacienda el Santuario. It is located on Aldama #41 and Terraplén 42 around the corner. It is a lovely property with 31 rooms in three houses along with several outdoor spaces, a bar and a restaurant on a quiet outdoor terrace. It is decorated with traditional Mexican folk art from the states of Michoacán, Oaxaca, Chiapas and Guanajuato. It is a good spot for Sunday brunch.
Casa de los Olivos: I also checked out this boutique hotel ata Correo #30, a block from the Jardin, for a personal event. It has five rooms and is very attractive with a contemporary décor. The roof top lounge area is very special. The rooms are very nice but not sure if the rooms on the front will hear loud traffic noise at night. I would book a room towards the back.
L'Otel Casa Arca: This boutique hotel was originally located at Chiquitos 1A, in Col. Centro, 2 blocks from the Jardin.  They opened a  lovely second location above Doce 18 on Relox. Today they have expanded the space and are now only on Relox. Their newly opened restaurant downstairs, Casa Arca, is a great addition with excellent food.
Casa de la Cuesta: This is a charming seven-room B&B located above the Mercado de Artesanias at Cuesta de San Jose #32. The rooms are lovely as are the public spaces and patio. A highlight is the stunning mask museum opened by the owner of the B&B, Bill LeVasseur,  and featuring masks used in dances throughout Mexico.
Another boutique hotel options that I recently checked out is Casa Rosada Hotel at Cuna de Allende #12. It has a lovely patio area and has 13 rooms.  It  is centrally located behind the Parroquia in the Jardin. Casa Schuck Boutique Hotel is also a nice option in Centro at Garita 3.
One of my favorite hotels is CASA 1810 Centro at Hildago #8. It has a lovely courtyard and small lobby bar. Their upstairs restaurant, Trazo 1810 is consistently one of the best restaurants in town with stunning views.
In  early 2022, they opened Casa 1810 Parque at Codo #3. It is small, lovely property with two restaurants, Dulce 1810 Patisserie & Bistro and Tené Latin Cuisine. Dulce 1810 features coffee drinks, pastries and a few salads and sandwiches. Tené has a large breakfast, lunch and dinner menu. I enjoyed my eggs benedict, latte and a yummy chocolate croissant. I hope to go back to try the lunch or dinner menu which offers tacos, soups, pizzas, salads, ceviches and other entrées.
Check out house rentals at San Miguel House Rentals. They represent a number of  lovely homes throughout town. Casa el Quijote, located south of Parquez Juarez is a beautifully furnished property.

If you want a larger property with many amenities, then the Rosewood is for you. The rooftop tapas bar is perfect for sunset views. The restaurant and bar are very attractive and locals rave about the pool and spa. It is popular with many people from Mexico City. I stop in often  at their coffee bar located in their gift shop off of the lobby that has wonderful pastries and serves Starbucks coffee. They have a small outdoor terrace.
Condé Nast Traveler Magazine's 2023  Readers Choice Award ranked the Rosewood  number eight in the Top 10 Hotels in Mexico.
The other luxury property in town is Belmond's Casa de Sierra Nevada. It is located in the heart of Centro and scattered in multiple colonial buildings around Hospicio #35. They have several room options, a spa and a nice dining room/restaurant and bar across the street. Their location near Juarez Park has re-opened and has a truly lovely setting with a great restaurant.
Condé Nast Traveler Magazine's 2023 Readers Choice Award ranked the Hotel Matilda number two in the Top 10 Hotels in Mexico.
The five small apartments at Cinco Flores just south of the Jardin are perfect if you want to stay in the heart of downtown. I have had several friends who have stayed there in the past.
The boutique, Clandestino Hotel, is located at Recreo 31 just south of the Jardin. It is a lovely small property with eight rooms, a rooftop bar and garden patio. Breakfast is included with the room. I would however, suggest asking for a room in the back as the front rooms might hear traffic noise.
In late 2020 they opened a number of new rooms and suites at Pila Seca #2. It has a very contemporary design and is in an excellent location.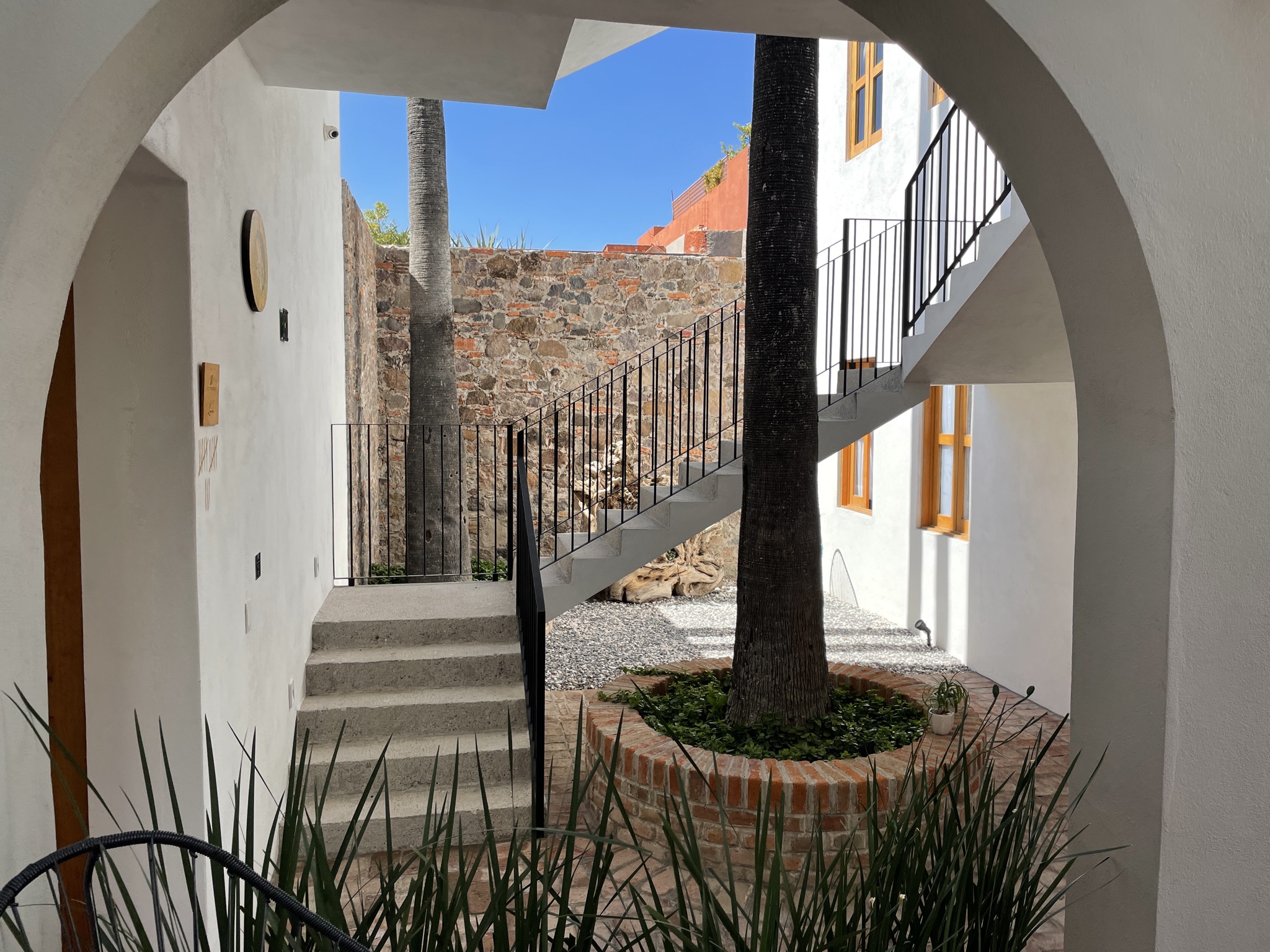 Also popular is Casa No Name, a Small Luxury Hotel at Hernandez Macias #52. Thanks to local friends who found it. It has a lovely courtyard where you can eat breakfast, a sitting room off the lobby and rooftop bar. The rooftop bar is perfect spot to enjoy a cocktail before dinner in town. There is also a new boutique off of the lobby. Recently they started featuring a Sunday brunch buffet that is open to the public as well.
After reading about it in several publications, I stopped by to check out the Casa Delphine Boutique Hotel. This is a beautifully decorated, five suite property located on a quiet street between the Jardin and Fabrica la Aurora. It has a contemporary style with natural light. Breakfast is included along with luxury linens, fireplaces, flat screen TVs and Wi-Fi. It is a really lovely property.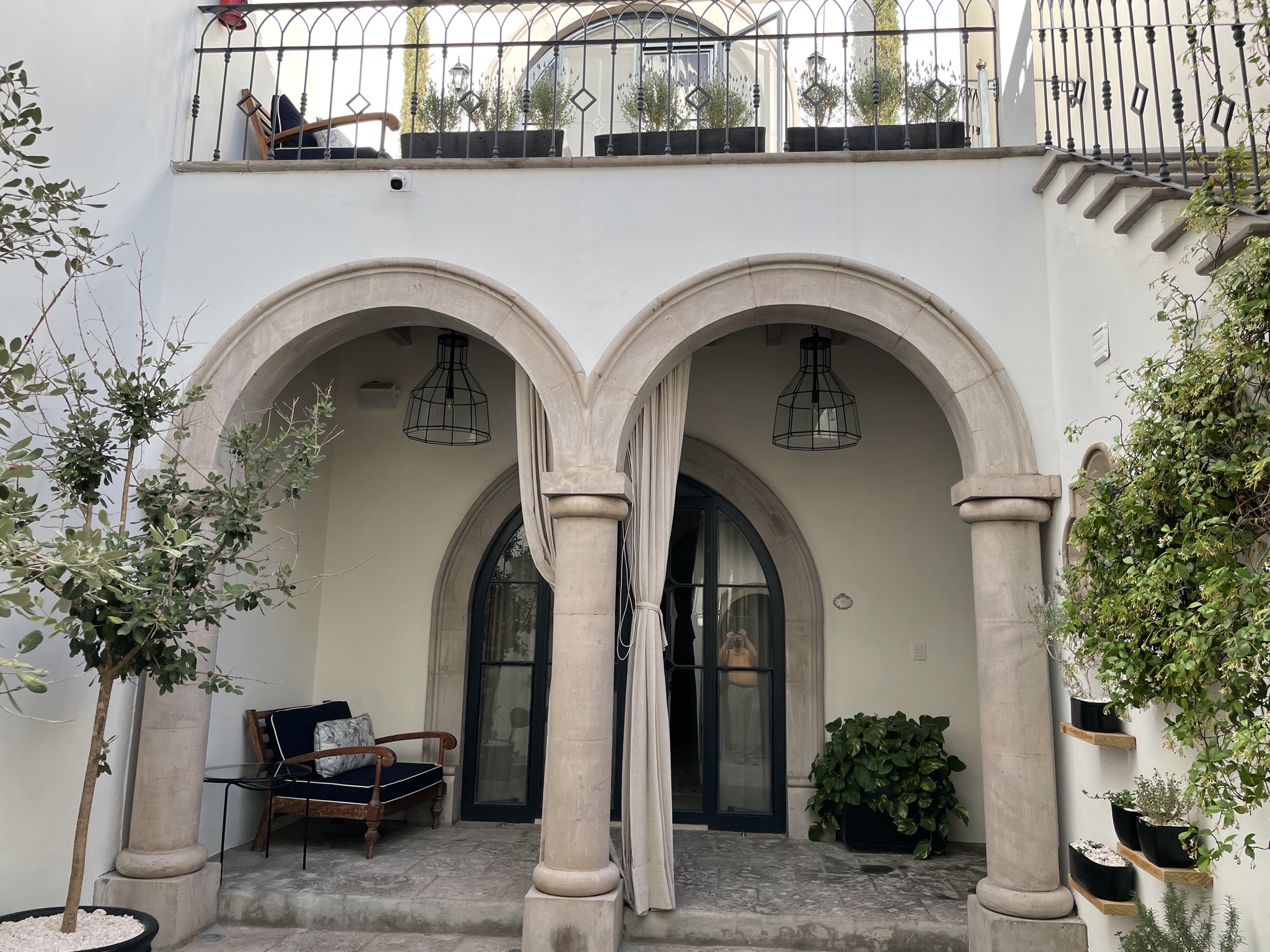 If you need a large property for a wedding or special event, I would recommend the Hyder House. Located at Quebrada #83 this is a very large 14,000 sq. ft. house with 11 bedrooms in three buildings, multiple outdoor spaces, gardens and a pool. You can reach them at  817 263 1040. It is a stunning property.
Casa Quetzal: Located in a great Centro location at Hospicio #35, this is a small boutique owned by,  SMA Hoteles, which is part of the same group as Casalisa.
South of Casa Quetzal near Parque Juarez, and owned by the same group, is Casaliza at Bajada del Chorro 7. This is a quiet boutique property, in a park like setting, away from all of the crowds of Centro. It has a lovely colonial design. There is a recently opened restaurant onsite, Mia de pies de cabeza which has excellent food.
Further afield on the outskirts of town is Vinedos San Lucas which has lovely rooms, a beautiful restaurant, a new winery. spa treatments and horseback riding excursions. Not far away is Hacienda los Picachos. This is a lovely spot with a nice restaurant called YO. I enjoyed the Sunday brunch buffet with great views. I was also back for a wedding reception.
Recently opened is the new luxury hotel, Live Aqua San Miguel Urban Resort at Calz. De La Presa No. 85.  The entire property is contemporary and beautifully designed.  They have a two restaurants and bar, along with a coffee bar serving pastries. Their new restaurant Spice Market recently opened to good reviews. I enjoyed my first visit.  There is a large outdoor patio as well. I envision it becoming a wedding and event destination, so make your plans accordingly if you mind crowds.
Longtime local friends Merry and Ben Calderoni  recently sold their small, luxury B&B called Casa Calderoni B&B. Under new ownership, the nine rooms are beautifully decorated and all named after famous artists. It is located in Centro at Callejón del Pueblito 4-A.
Recently opened is the upscale, boutique hotel, Hotel Essentia at Mesones 63.
On a recent trip I happened upon the lovely six room boutique property, Casa Cien, an Xanthe hotel, at Recreo 100. The property had been owned by the owners of La Parada restaurant a few doors away. It had been used primarily as a location for wedding and events, but now the rooms can be reserved separately. I enjoyed my tour of the grounds and one of the rooms. The rooms are beautifully designed, with king beds and the views are really stunning. Recreo is a busy street, but the hotel is set way back from the street. It is in a perfect location from which to explore the city. There are a number of excellent restaurants within block of the hotel.  It also offers excellent amenities. They suggested booking direct to save money. I was also told that they are changing the name to the Hotel Xanthe.
Down the street at the corner next to Casaliza is the small boutique hotel, Hotel Apapacho,.  Is has some beautiful rooms, in a quiet location.
One change I wanted to mention that the boutique hotel Hotel Nena at Nemesio Diez 10 has moved downtown and the space has been taken over by the Hotel Feliciana. It has  seven lovely rooms,  rooftop pool and the Mara Sky Lounge  with beautiful views of Centro.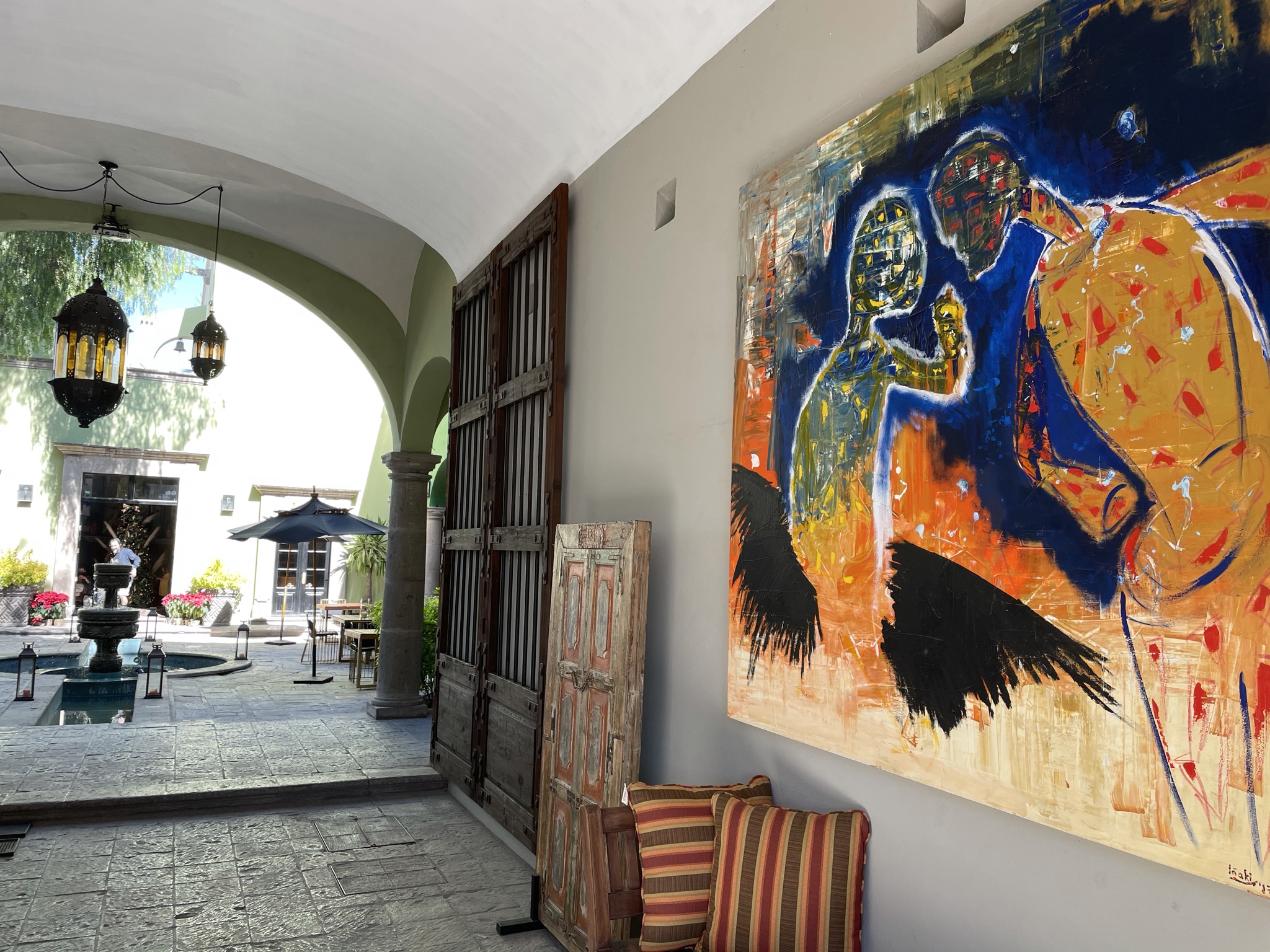 The Nena Hotel Boutique is now located at San Francisco 32. With twelve rooms and one apartment, it also has the popular La Doña de San Miguel restaurant onsite and a beautiful terrace overlooking the Parroquia and the Temple of San Francisco.
Next to the Hotel Feliciana and across from the Rosewood, is the new Numu Boutique Hotel which opened in February 2023. It has 44 rooms, many with balconies, plus a rooftop pool, a patio restaurant El Fogón de Enrique and soon to be added rooftop bar. It has a very attractive design and décor. I went to the restaurant for Sunday brunch with friends and really enjoyed the view, healthy food options and service. It is in the Unbound Collection by Hyatt. Nemesio Diez #20.