San Miguel is surrounded by a large wine growing area. I have been to five outside of town on the way to Queretaro, one on the way to Comonfort and seven more near Dolores Hidalgo and Atotonilco and have enjoyed the experience at each. Currently there are more than 15  wineries in the area with more under development. The number of wineries have recently exploded, as there were only three wineries 10 years ago. The local climate is semi-desert. 
"Wine making in Mexico began with the arrival of the Spanish in the mid-16th century. The Spanish brought vines from Europe to Mexico making Mexico the oldest wine-growing region in the Americas. Although there were indigenous grapes before the Spanish arrived, the Spaniards found Spanish grapevines from the homeland did very well in the dry and Mediterranean-like climate, similar to what you would find in the San Miguel de Allende and Guanajuato wine region." The wineries were later banned by the Spanish government in 1595. Since 2000, there has been a huge boom in wine production in the region. The climate is best for lighter, medium bodied wines with a freshness in the fruit taste. Though reds, whites and rosés are produced, reds are the most popular to drink in the area. Based on the climate, average temperature and amount of rainfall, the region is best suited for Syrah, Malbec, Tempranilo, Grenache, Pinot Noir, Merlot along with Sémillon and Sauvignon Blanc varietals.
"Today, Mexico's most popular wine producing regions are in Baja California (Valle de Guadalupe), Northern Mexico (Parras de la Fuente), and Central Mexico (Queretaro, Zacatecas, Guanajuato) where grapevines thrive in the Mediterranean-like climate and high altitudes. Throughout the year, thousands of international travelers come to enjoy wine tastings, grape stomping, music, cuisine and scenic Mexican vineyards."
There are now seven wonderful wineries between San Miguel and Dolores Hidalgo or close to Dolores located on Rutas del Vino de Guanajuato #4.
Cuna de Tierra is a stunning winery about 40 minutes from San Miguel on the outskirts of Dolores Hidalgo. The area is perfect for red wines. Their blend of Cabernet Sauvignon, Merlot, Shiraz and Cabernet Franc just won a medal in Madrid Spain and was a rich full-bodied red with berry notes. They offer wine tastings, tours and special dinners by appointment. Call or email them. The buildings are located in the middle of the vineyards and are very contemporary and sleek in design. There is a winery, a separate wine cave and a beautiful tasting room. The views are really exceptional so make sure to climb the observation tower a short walk from the winery.  Their restaurant is open for lunch and an early dinner from Tuesday through Sunday. I have been three times had great experiences. The chef, lives in San Miguel, and has worked at a number of the top restaurants in Mexico City.
You can stop in a small shop to buy their wines and book a tours in San Miguel at Correo #12.
On the same side of town as Cuna de Tierra is Viñedo los Arcángeles.  This is a winery, restaurant and hotel that is well worth a visit. I went with friends from San Miguel for lunch on the terrace and then enjoyed a tasting of four of their wines. The tasting was led by Ulises Ruiz Mariño. He studied at the Universidad de las Américas in Puebla, MX and received a masters or maestria en Enología y Viticultura at the Universidad Sup-Agro in Montpellier, France. He was very knowledgeable and impressive.  We tasted their Saugivnon Blanc, their Malbec Rosé, a Rosé blend and their Malbec and Grenache blend. I loved the Malbec Rosé and full-bodied Malbec and Grenache blend. Carretera Dolores Hidalgo San Diego de la Unión Km 13. They also make two craft beers.
South of Dolores is BERNAT Vinícola at Carr. Dolores – Xoconostle Km. 8.5. This is a small winery, established in 2012,  where you can taste a number of their red and white wines and tour their winery and wine cellar. Their whites were good, but I really preferred their Grenache and Syrah, Malbec and Merlot blend. We had a great experience with a tasting led by the wine maker.
In downtown Dolores Hidalgo is the Museo del Vino de Guanajuato. Located in an old hospital at Hidalgo 14-16, this is a small museum that explores the history of  local wine making along with the wine varietals found in the area. They also have a tasting room to sample the local wines.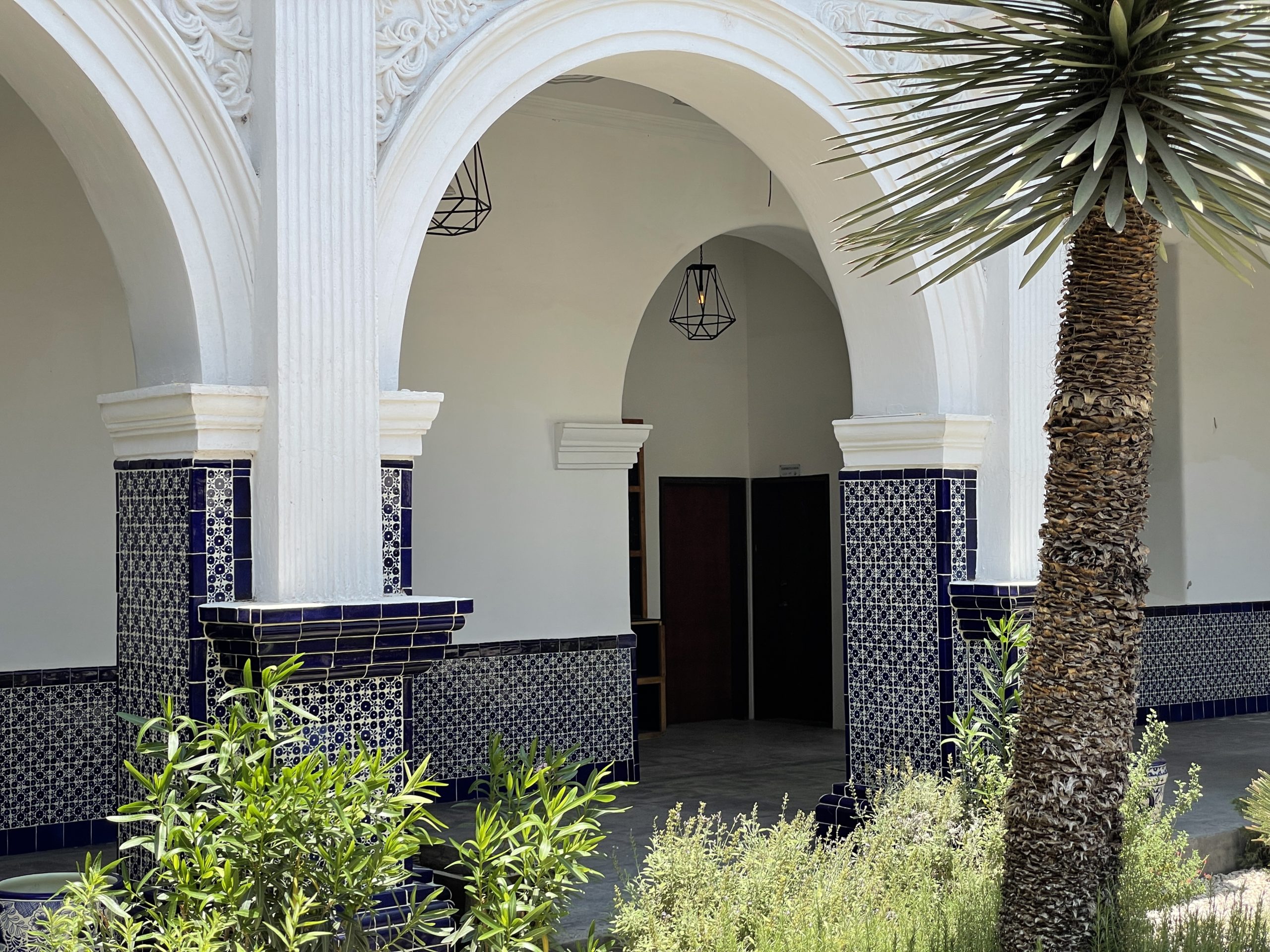 On the other side of Dolores Hidalgo, closer to San Miguel is the new La Santisima Trinidad. This is a spectacular property consisting of a luxury housing development, lavendar fields, olive trees, a vineyard and winery, a small boutique hotel  with six rooms and restaurant. They produce their own dried lavender and essential oil, olive oil and wines.  Make sure to book a tour and wine tasting ahead of time on their website or by phone. 556 926 5657
I enjoyed the tour by Argentinian born, winemaker Mailen Obon. It was followed by a lovely tasting in the winery/tasting room that featured local cheeses and a rose blend of malbec, cabernet, syrah and carminetti, plus two red wines, a malbec and a blend of tempranillo, malbec, syrah and cabernet franc. All were excellent and impressive.  After the tasting, I enjoyed a lovely lunch of a salad and pasta in their small farm-to-table restaurant featuring their local organic produce.
They recently moved their  tasting room in San Miguel from  Zacateros 12 to the art center, Fabrica La Aurora. 
Just down the road is the recently opened Vinicola Tres Raices. It is a really stunning new facility with the Terruño Restaurante, tasting room, wine cellar and  a boutique hotel. They are even building a small chapel to hold weddings.  The architecture is contemporary and some of the best that I have seen in any winery anywhere in the world. It reminded me a lot of Rioja in Spain. The food in the restaurant is really excellent. We opted to do the three wine tasting menu which we enjoyed with our lunch.  They also produce a merlot and cabernet sauvignon. They also offer a  number of wine tastings as well as more expensive dining experiences with wine pairings. They currently produce a number of red and white wines. The Tempranillo is excellent.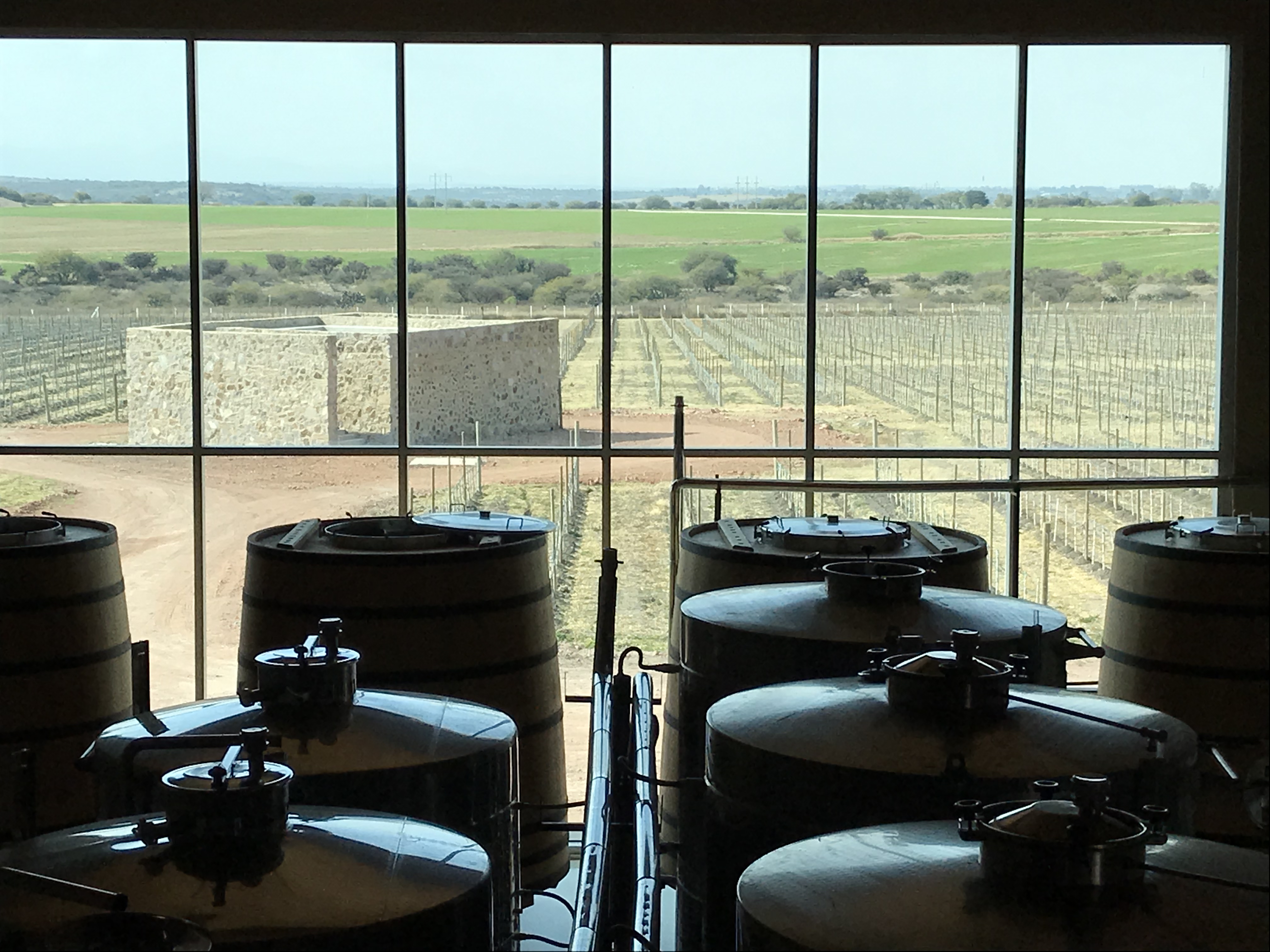 I had tried the local wine produced by Cava Garambullo at the local restaurant Santiago y Macarena in early 2020 and had then taken a virtual class on the history of Mexican wines from their owner in mid-2020. I then made a point to book a tasting with two local friends, who are in the wine business, when I returned to town. 
Cava Garambullo is located in the countryside outside of San Miguel near El Vergel Bistro & Market at San Miguel Allende- Dolores Hidalgo Highway, 3.5 KM, El Vergel de los Laureles.  I recommend booking a tasting and have a meal at El Vergel before or afterwards. It is a 5 to 7 minute walk from the restaurant. It is easy to take a local taxi out and back.
Natalia López Mota, from Mexico, and her Bosnian husband Branko Pjanic met while studying for a Master's degree in Science in Enology, Viticulture and Terroir in France, Italy, Portugal and Spain.  They came to San Miguel and rented a property, inside Hacienda la Romita, that is now their winery and tasting room since 2017. They are currently not growing their own grapes, but buy organic grapes from several local vineyards whom they consult with. They then blend the grapes to create natural, unfiltered wines depending on what is the best of the harvest for that paticular year. 
The tour and tasting were very informative as both are so knowledgeable. The wines were excellent. We tried a Sauvignon Blanc Orange wine and two reds including their Merak Cabernet Franc and Syrah blend and their Azumbre, made from Syrah which, along with Cabernet Franc and Grenache. I highly recommend that you schedule a tasting while in town by emailing natalia@vinograd.mx. You can buy their wines there onsite as well.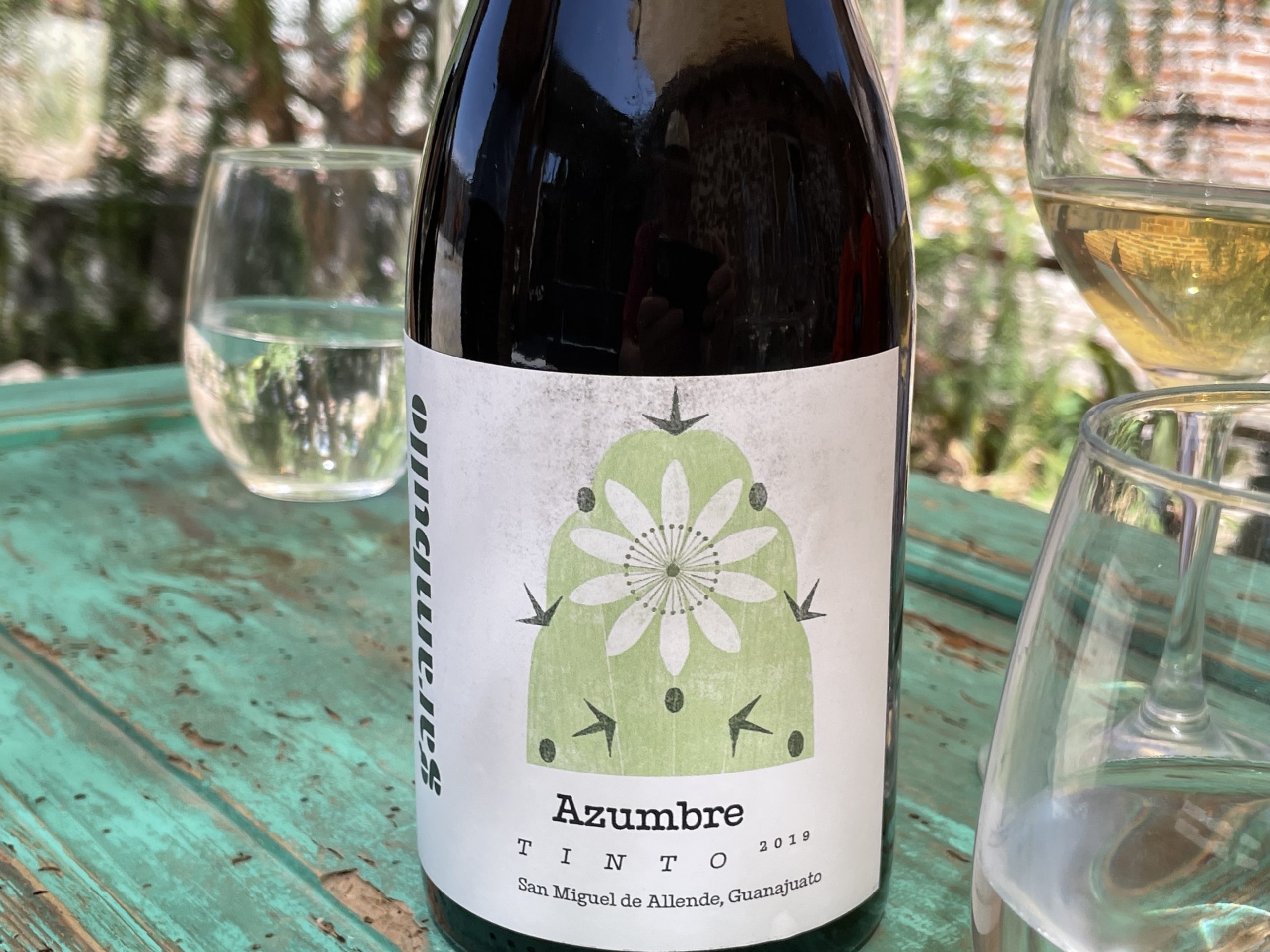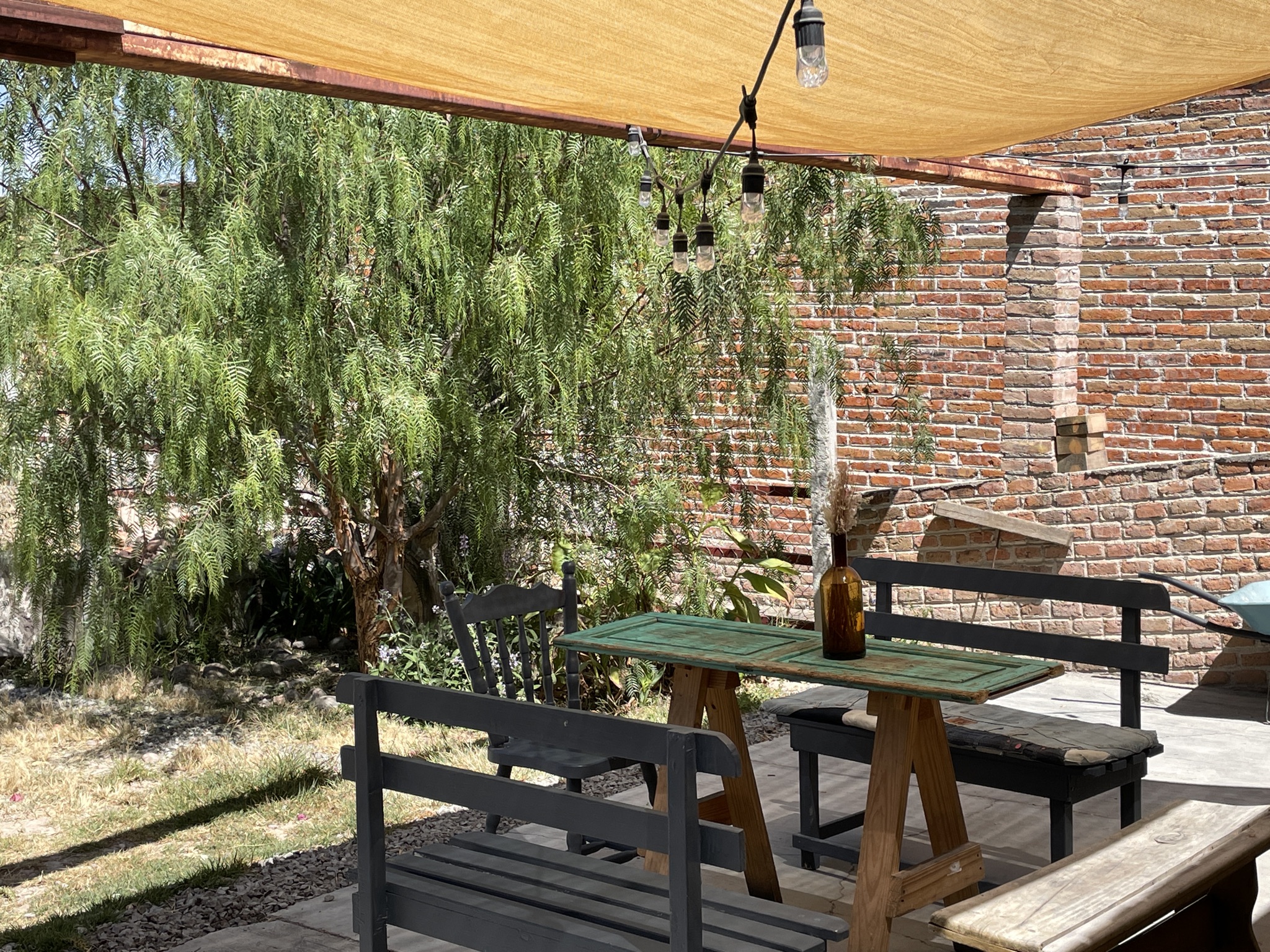 Even closer to San Miguel is La Santisima Trinidad's newest venture, Viñedos de Los Senderos. They took over the 0ld Los Senderos vineyards and built a new winery, tasting room and restaurant.  Here homeowners in the Los Senderos development can own a piece of the vineyards as well. The highlight is their restaurant Barrica de Fuego Smokehouse & Grill, with an Argentinian influenced menu of meat dishes with cooking on an open fire or in a mesquite smoker. I loved the contemporary decor with great views of the vineyards and surrounding countryside.
As the vineyards grow and production increases, tastings will be offered.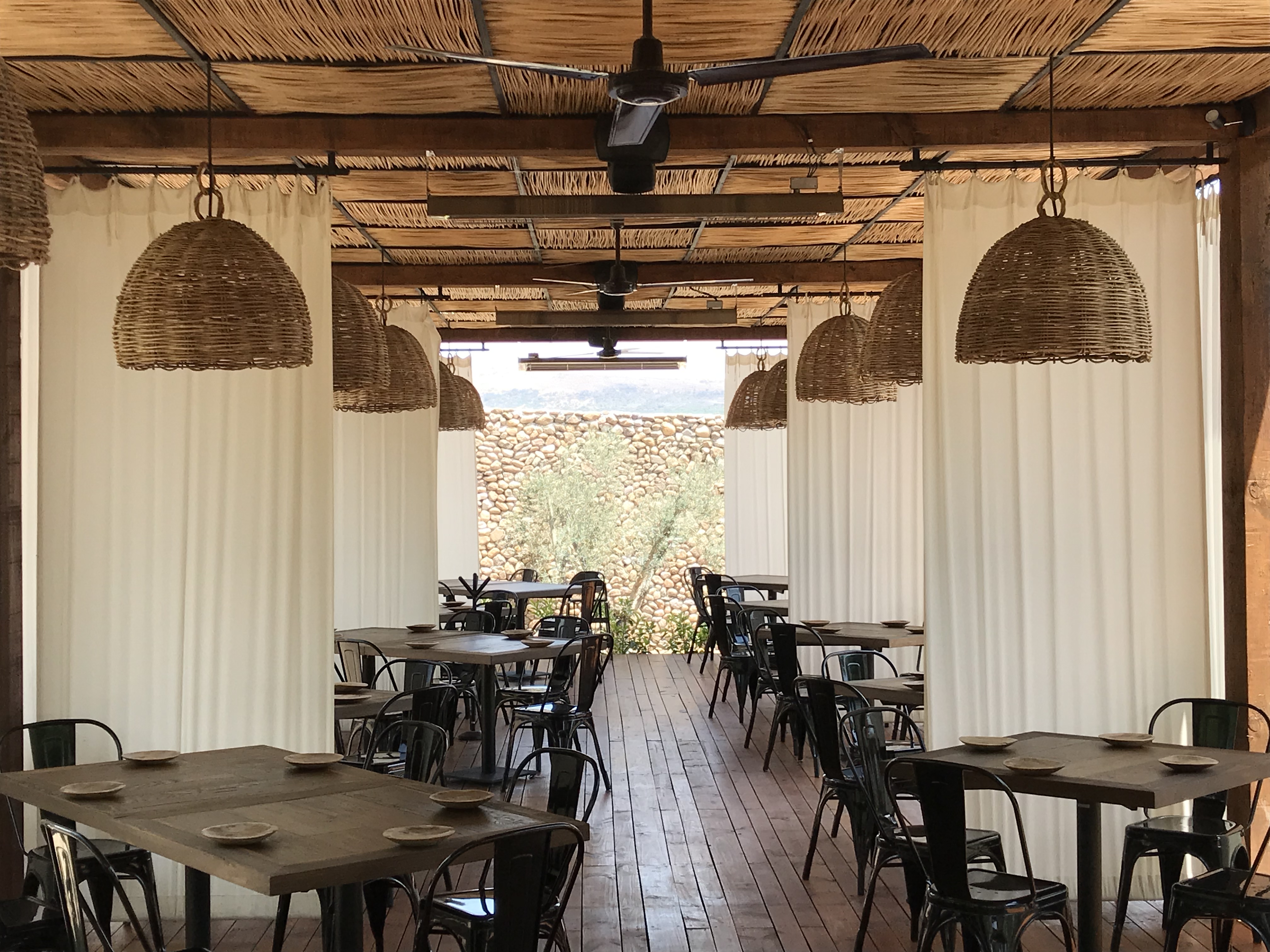 On the road to Comonfort, about 15 to 20 minutes outside of town, is one of my favorite new finds, Viñedo San Miguel. It is a complex of vineyards, homes and a really beautiful and contemporary tasting room, store and production facility.  They also have a restaurant, Trasiego, whose Chef David Quevedo, was recognized and awarded as one of the best chefs in Guanajuato and won first place in the Pinchos y Tapas contest in Spain. I had friends who just went and had a lovely dinner.
Their first production was in 2016. They recently launched five new wines including a Latiendo, a bridge between a rosé and a red, along with a Piedra de Oro, or blend of cabernet, and malbec. The location has really stunning views of the mountains in the distance. We opted for a tasting of three wines and a tour.  Two other options include more wines and food options.
The tour consisted of visting the vineyards and seeing the land from the top of a tower on the property. We then went back to the main building for a tour of the production facility and wine cellar. We then had a private tasting. I tried their full-bodied  rosé along with their malbec and blend of cabernet, cabernet france, shiraz, merlot and malbec. The rosé was excellent and I bought two bottles to take home. The malbec was also excellent. I was very impressed with the quality, and felt they were some of the best wines I had tasted in the area.
Nearby is Viñedo Los Remedios. Located in a 350 year old hacienda, Luis Gonzales and his wife Ingrid Rosas recently opened the winery in April 2023. I so enjoyed meeting them both! They were former partners in the nearby Viñedo San Miguel. It is set in a stunning location with a tasting area next to the winery. In addition to the hacienda there are two historic chapels. It is located around 20 minutes north of Comonfort and 15 minutes south of San Miguel.
Make sure to book your tasting ahead of time. You can pick the number of wines that you want to sample from those that they produce. The tasting also included a small charcuterie plate of cheese, crackers, bread, meats, nuts and fruit. We did the four wine tasting which included their Moscato white wine, a Merlot rose, a red blend of Cabernet Franc, Merlot, Petit Verdot and Cabernet Sauvignon plus a Cabernet Franc. All were really excellent. This is one of the best vineyards that I have visited near San Miguel. They also just made their first mezcal which we also tasted It was also great.
In 2023 their 2020 Cabernet Franc and their  2020 Cabernet Sauvignon won gold medals at the 2023 Concorrs Mondail Bruxelles in Brussels, Belgium.
On the road to Queretaro from San Miguel there are five more wineries on Rutas del Vino de Guanajuato #5. La Santisima Trinidad opened  Viñedos San Lucas across from Vinicola Toyan a short drive from San Miguel by taxi.  This is a stunning property that features a boutique hotel, restaurant and spa. There are vineyards and a new winery that has recently opened last November. Tastings are available by reservation three times a day except for Tuesday. I had an excellent brunch in the elegant restaurant overlooking the property before my tour and tasting. You feel like you are in the middle of Tuscany! The hotel rooms are really outstanding. They offer horseback riding and other activities as well.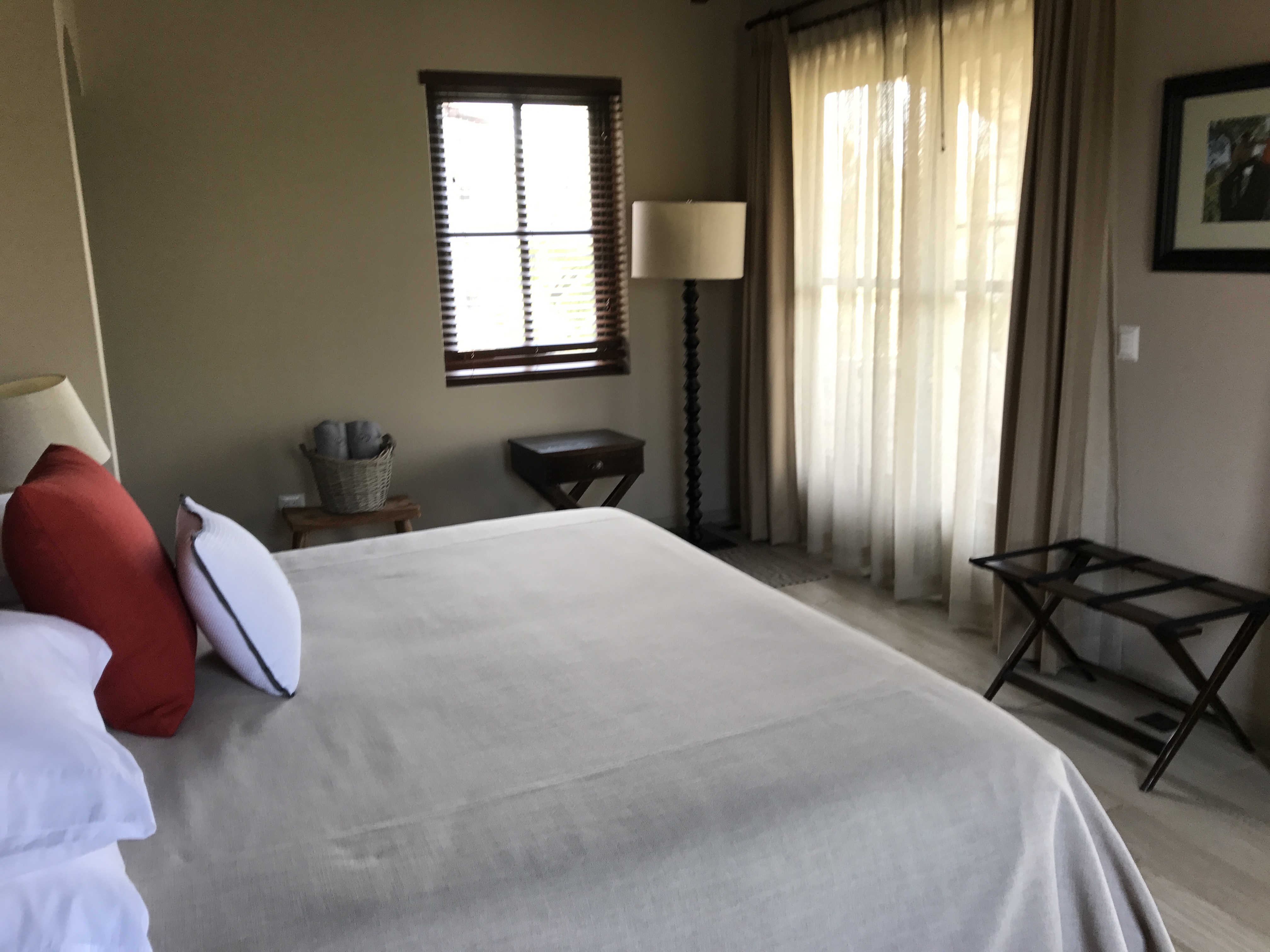 The winery, complete with a photography exhibit, is really stunning and one of the most attractive I have seen anywhere.  I enjoyed the tour by Argentinian born, winemaker Mailen Obon who I had previously at the other location. It was followed by a lovely tasting in the winery/tasting room that featured local cheeses and four wines, a chardonnay and three red blends from La Santisima Trinidad. All were excellent and impressive. San Lucas just had its first harvest and the wines are now aging.
 Viñedos San Lucas
 Viñedos San Lucas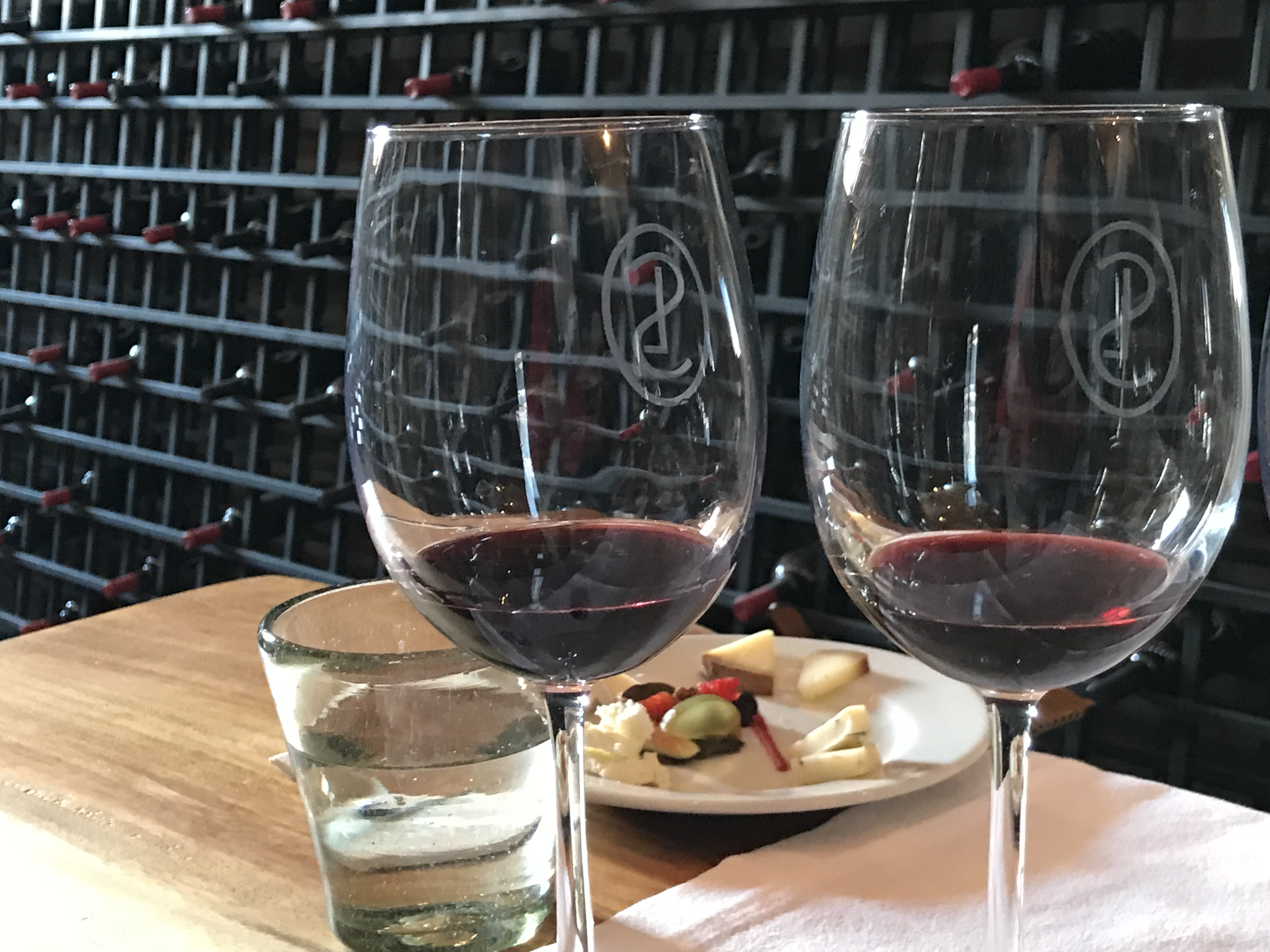 After the tasting, you can buy their wines, their olive oil and their lavender oil, sachets and soaps made from lavender grown on the property. They also opened a casual restaurant at the winery where you can enjoy salads, pizzas and sandwiches. It was a really wonderful experience. You can also find their wines at their tasting room and store at Doce 18 Concept Store in San Miguel.
They recently opened Viñedos San Francisco next door which I was finally able to visit on my most recent trip. With beautiful views, they have a contemporary designed restaurant and  hotel, plus  operate a polo field and equestrian club with riding school. Currently as their grapes mature, tasting are being help next door at San Lucas. I enjoyed lunch with local friends on the terrace.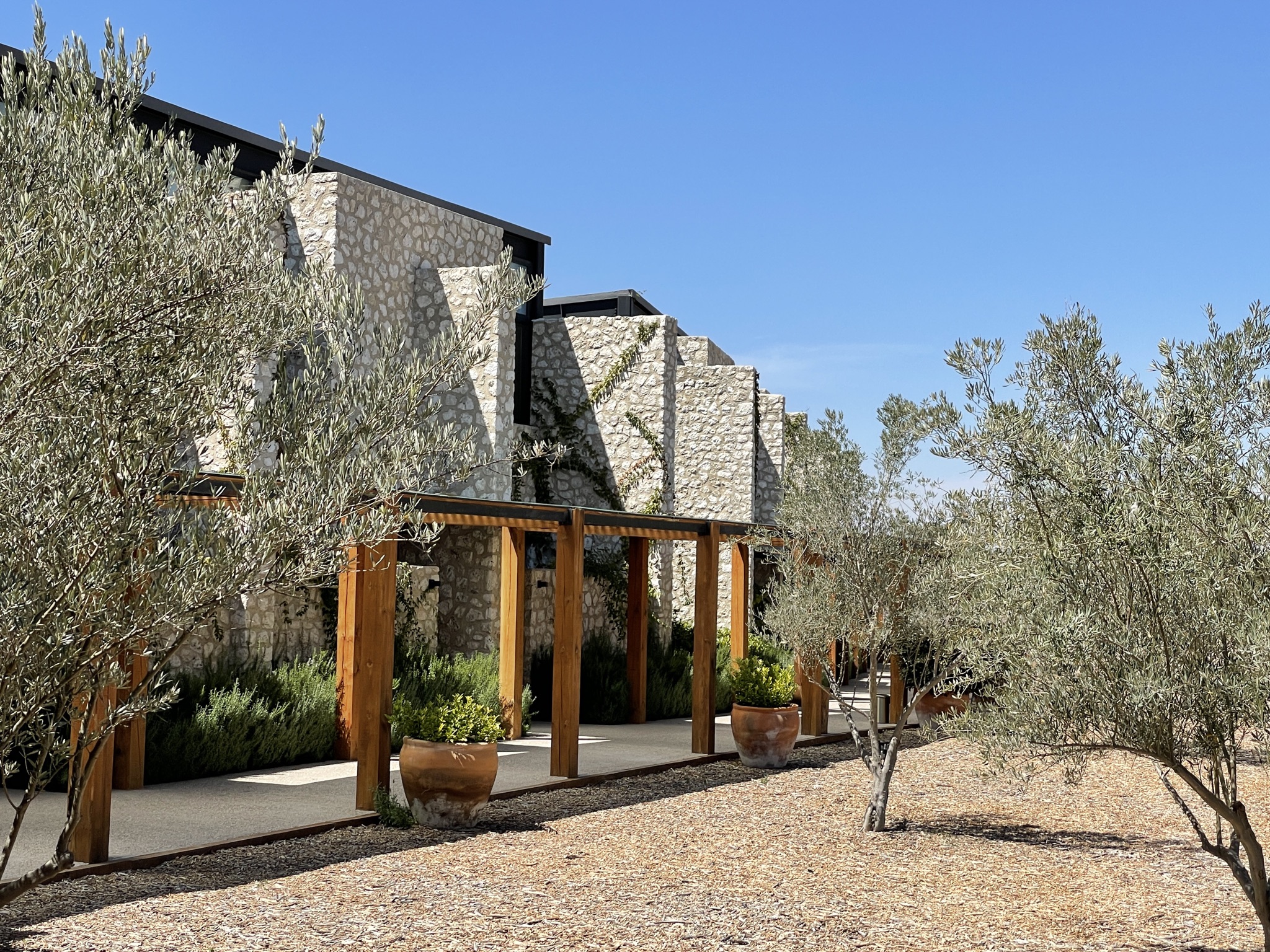 Not far from San Lucas and San Francisco, is a great new find, El Pavo Real Winery. This is new winery that has in process of growing their first grapes which should be ready for harvesting in 2023. Due to their soil their focus is on Xarel·lo, a white grape varietal of Spanish origin specially grown in Catalonia. In the meantime, they are offering tastings of  red, white and rosé wine from other Mexican vineyards as well as mezcals from some of the best producers in Mexico. They have a beautiful. contemporary tasting room with outdoor seating. I had a really lovely experience with a tasting hosted by owner April Pedersen. She has a real passion for local wines, while her partner Fernando is great with the mezcals!. They are also featuring special events from tastings on Friday evenings to tasting, special dinners on Saturday and brunch on Sunday. I went for a special Day of the Dead/Día de los Muertos brunch in October, 2022. It was beautifully decorated and the food was excellent.
They are on the Road to Jalpa. The entrance is across from the entrance to the small village of Sosnabar about a 10 minute drive from San Miguel. Stop by before or after to see the small church in the center of town. You can actually see the dome from the vineyard patio. You can call for reservations. 415 140 0117 or email at elpavorealdelcampo@gmail.com.
Vinicola Toyan: Just outside of San Miguel is Vinicola Toyan where you can schedule a tour of the winery and wine caves below. The caves are worth the trip as the entrance and path down are decorated with carved sculptures in lighted niches. They offer special events including breakfast/lunch in the winery. They also have a weekly organic market with items from their gardens. Their cabernet and merlot blend that I purchased was rich and full-bodied.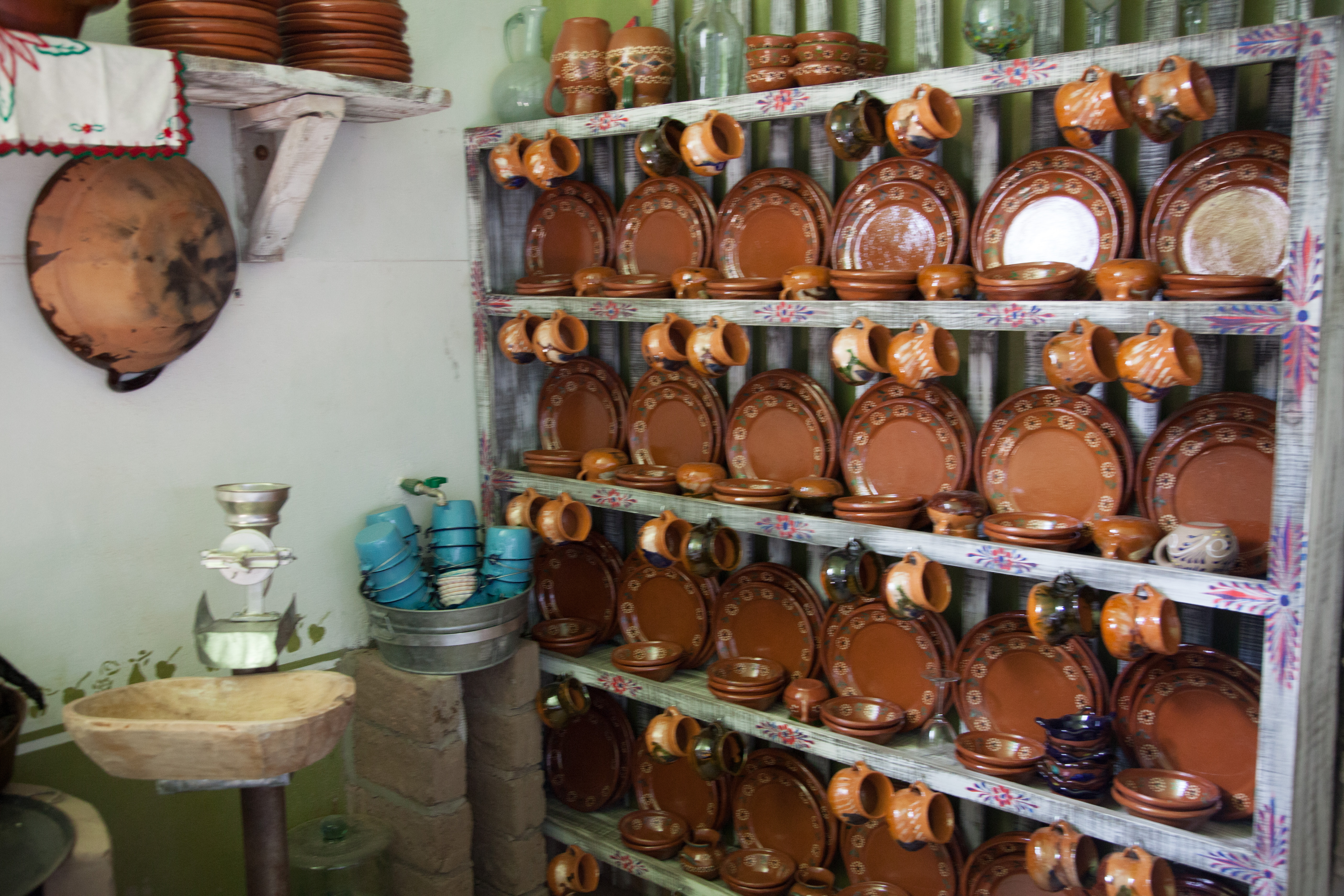 One of my newest finds is Bodega dos Buhos (two owls). It is a short distance from San Miguel and not far from Vinicola Toyan. The vineyard was the dream and dedication of three generations of the the owners.  100% of the wine if from their own grapes from their own vineyards. I highly recommend doing the tour plus tasting. You visit the vineyard, see the production room and then visiting the eclectic and beautifully decorated tasting room. They also have a restaurant onsite. We tasted three wines, one white and two reds. The reds were really outstanding. The best in my book was the  red blend made of cabernet sauvignon, cabernet franc and tempranillo called their Special Selection or Seleccion Especial. They are now offering a rose.  They offer tours, tastings and a tastings with food.
A short distance from Toyan and dos Buhos is a fun restaurant specializing in paella, El Asador Catalan. There is also a small store where you can buy some wonderful jamon Serrano, lomo or cured pork, chorizo and other local and  imported meats. Carretera Queretaro km 9.5. This would be a great spot for lunch between tastings. They also have some old Pullman railroad cars.
A Guanajuato Wine Route is being started by the state government featuring the 16+ wineries in the area. We will add more information as we find them. The state of Queretaro has some nice wineries outside of Bernal on Ruta del Queso y Vino.  You might explore those in a fun day trip from San Miguel. In addition to the reds produced in Guanajuato, Queretaro also produces more white wines and sparkling wines.
In a recent webinar on Mexican wines, I learned that there is the Museo del Vino de Guanajuato/Wine Museum of Guanajuato located in Dolores Hidalgo at Hidalgo 14-16.  Here you can learn about the history of wine making in the area along with being able to taste some of the local wines and buy the ones that you enjoy.
In San Miguel make sure to visit Xoler at Insurgentes 60. This is a wine bar that opened in 2022 across from the Biblioteca. Here you can try a number of wines from Mexico and from around the world. There are also cocktails and a food menu featuring shared plates and entrees. I enjoyed my first visit with local friends who have been in the wine business for many years.
Cava Sautto, a sleek new wine and liquor store in town at Codo 36, now has a new wine bar in the back of the store.
Another new find is the tasting room of the ICAVI Cultural Institute of Agave and Wine at Recreo 10A. They feature tastings of wine, tequila and mezcal and educational workshops. You can also buy the products onsite.
Also in San Miguel is the recently opened tasting room for Octagono Winery at Tenerías #2. Started by Marcelo Castro Vera, they make natural wine in clay vessels at the winery in San Felipe. They produce a white, orange, two reds and rosé. You can also taste a number of mezcals from their Penca and Piedra distillery and beer from their Serrana brewery.