With the Chicago Cubs having won the 2016 World Series, Wrigleyville or the area around Wrigley Field is a hot destination. You should try catching a Cubs game or attend a concert during the summer at Wrigley Field. I just went to a game with the St. Louis Cardinals and a Billy Joel concert with friends. Both were great fun.
The first major league baseball game was played here on April 23, 1914, making it the nation's second-oldest major league ballpark. The original scoreboard is still used, where score-by-innings, players' numbers, strikes, outs, hits, and errors are all posted manually.
There are several new restaurants and a new hotel that has recently opened that is giving this neighborhood a new vitality and a makeover. If you are in town for a game or concert this is the place to stay and eat. Locals will love it also, but if you are not attending a game, you might avoid the crowds by visiting when the Cubs are away or in the off-season to make sure you can get a reservation.
Hotel Zachary Chicago:  This new hotel with both a classic and contemporary design, is located at 3630 N. Clark right across from Wrigley Field. The hotel is named for Zachary Taylor Davis, the Chicago architect who designed Wrigley Field in 1914.  The rooms and suites are very attractively decorated. Off of the lobby of the hotel you will find the Alama, its newly reimagined bar and lounge.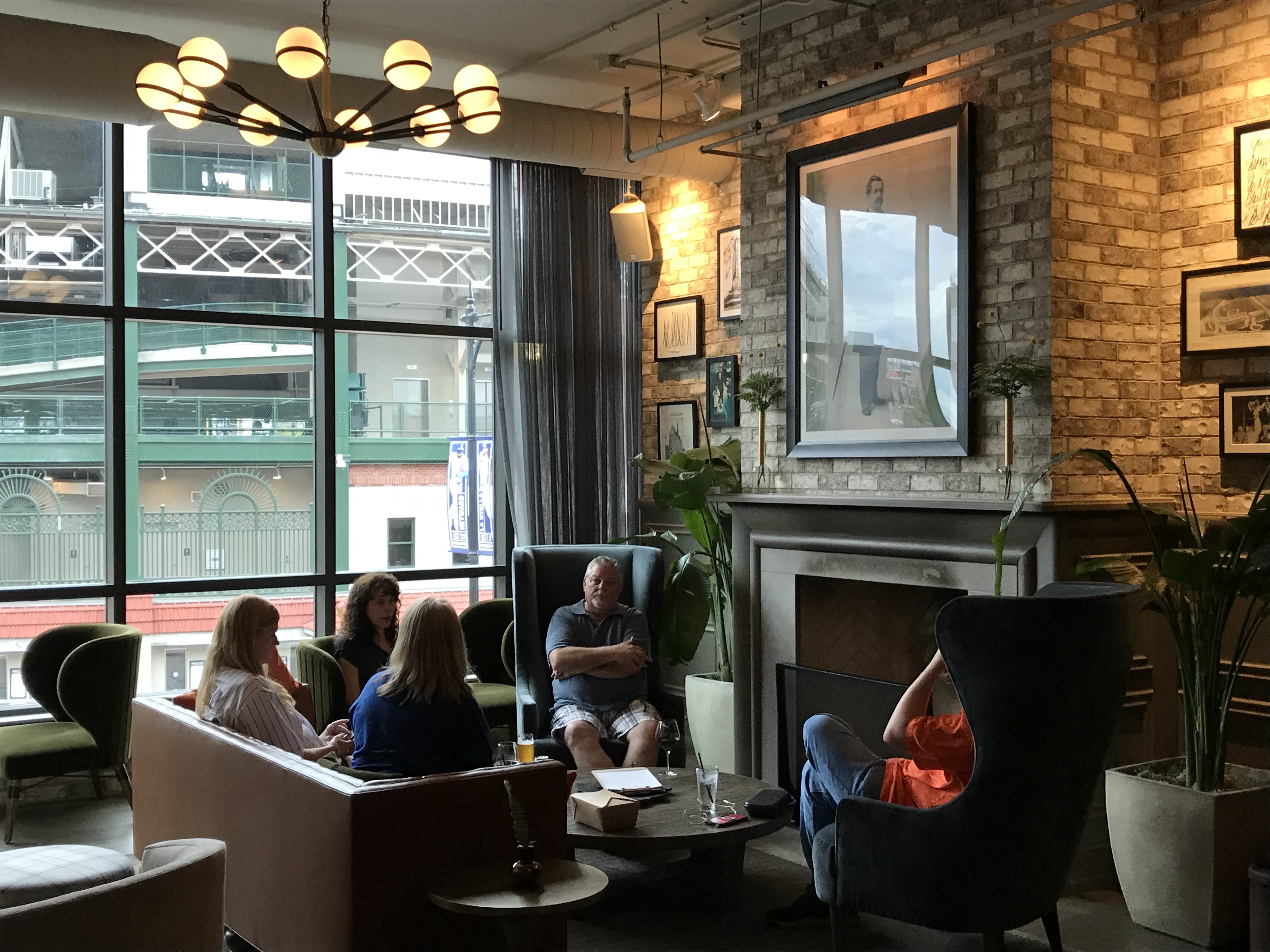 On the street level you will find some great restaurants to try, including Swift & Sons Tavern with  more of a tavern atmosphere and a menu of sandwiches, po'boys and oysters. It is located at the corner of Clark and Addison.
West Town Bakery + Tap has opened at 3626 N. Clark featuring sandwiches, cakeballs, baked goods,  coffee drinks made with Dark Matter Coffee craft beer and cocktails. The original location is at 1916 W. Chicago and there is also one at 15 E. Chicago in River North.
Big Star, who has had their popular Wicker Park restaurant for several years now has their second location at 3640 N. Clark. It also has a second floor with outdoor terrace overlooking the stadium. Here you will find a large number of tacos that you will enjoy along with a long list of tequilas and mezcals.
On my first visit, I enjoyed a great old fashioned at Mordecai Whiskey & Grill. Here you will find a large menu of classic drinks and a food menu of small plates, salads, sandwiches and entrees. It has a sleek contemporary, yet classic design. It also has a second floor bar/restaurant as well.
After drinks, we went next door to Smoke Daddy for its Kansas City-inspired barbecue and smoked meats along with live music. This is their second restaurant in town, after a successful location in Wicker Park since 1994. The menu features ribs, smoked meats, chicken, salads and sides. You can have platters or sandwiches. I recommend the Wrightwood salad with rotisserie chicken, tomatoes, craisins, avocado, goat cheese, corn, almonds, citrus vinaigrette and cornbread croutons.
A block north and across the street, the same group has opened Brickhouse Tavern at 3647 N. Clark. It is names for the legendary Cubs broadcaster Jack Brickhouse. At 1101 W. Waveland, there is Lucky Dorr Patio & Tap. They feature a large number of draft beers from local craft breweries. At 3657 N. Clark is a new Jeni's ice cream shop featuring great ice cream and bleacher seating. We enjoyed dessert after our dinner at Smoke Daddy.
In late November, 2o21 I went for the first time to the Wrigleyville Christkindlmarket German Holiday market in the Gallagher Way plaza, adjacent to Wrigley Field. Now in its fourth year, it is a fun holiday market and perfect for families with ice skating, food and holiday vendors. I loved the hot chocolate!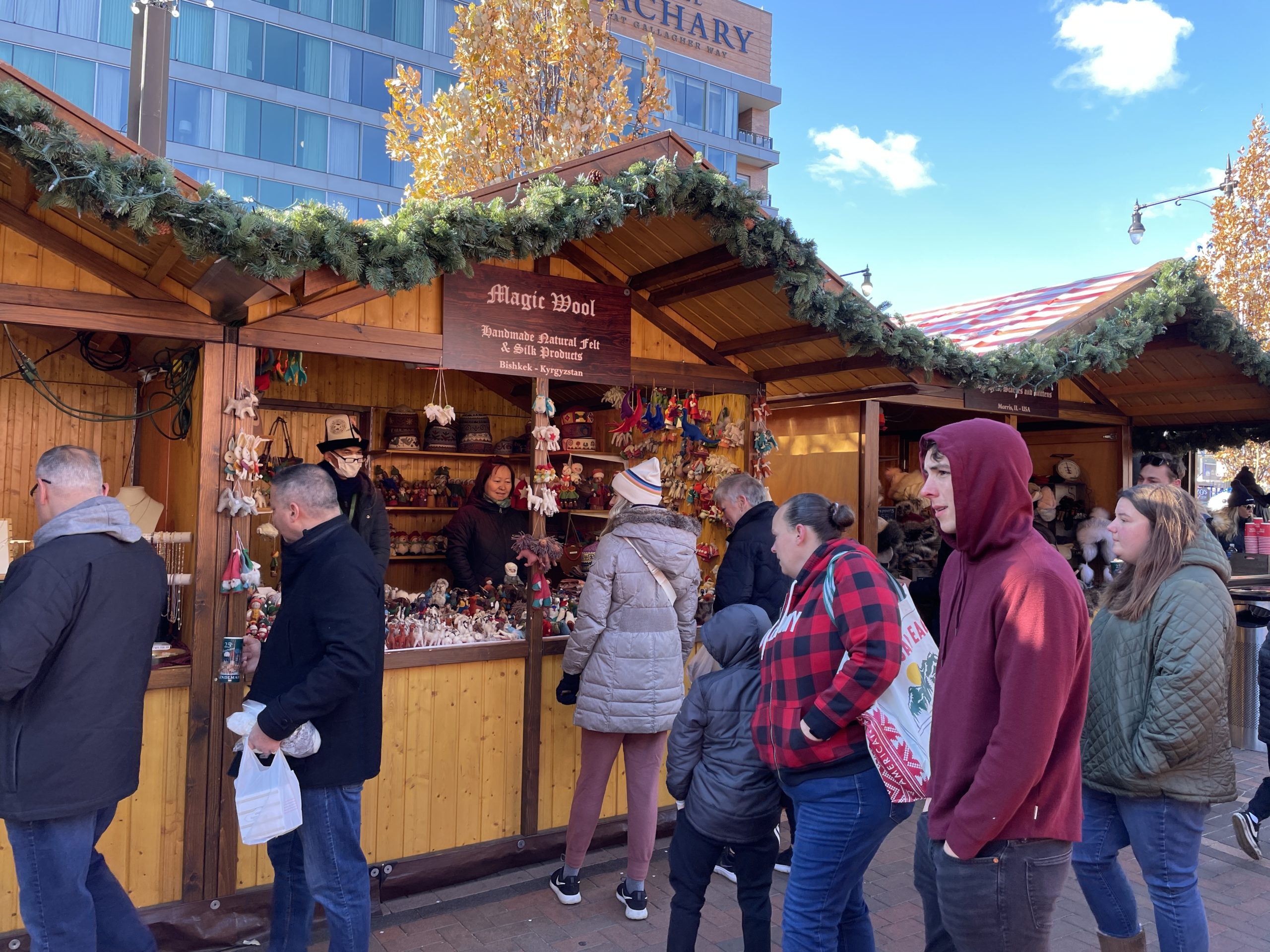 On the northern side of the neighborhood is a great new find, Uncommon Ground at 3800 N. Clark which I didn't realize has been there for over 30 years. It is casual spot offering breakfast, brunch, lunch and dinner daily. They also feature gallery space, live music and other events.  I met a friend for brunch and loved the avocado toast and she loved her salad.. The service and food were excellent and they have a great outside patio during the warmer months. This location is home to Greenstar Brewing, the first certified organic brewery in Illinois.
They have a second location in Edgewater, at 1401 W. Devon Ave., which has the first certified rooftop organic farm in the US.