In addition to fine dining options, here are some wonderful casual Mexican restaurants and a growing number of ethnic neighborhood spots to try while in town. I always add to my list each time I am back in town. My top recommendations include:
Silverya's Restaurant: I first visited this new restaurant in my neighborhood after hearing about it on Facebook. I learned that Keli and her husband Ruben Silveyra moved to San Miguel from Kansas City, MO, where they were both in the restaurant business, and decided to open restaurant featuring American cuisine in the lower level of their house in Ojo de Agua. I went and learned that she also grew up in my hometown of St. Joseph, Mo. I really enjoyed by omelette with toast and hashbrowns and my friend the Boca Feliz breakfast sandwich. In addition to a breakfast menu, they offer sandwiches for lunch. I enjoyed it so much that I went back and loved the pulled pork sandwich! It was better than many that I have had in Kansas City which is known for its BBQ.  After reading about their new sandwich, the Ruben's Reuben, I had to try it. It was really tasty! In June 2022, they moved to a new location, that is easier to get to, at Ancha de San Antonio #2. It is a much larger spot with and expanded menu and a  lovely outdoor patio.  Their new dessert oferrings are excellent. The new location makes for a great experience.
I was excited to try Cha Cha Cha after it reopened in September, 2022 after being closed for several years. It is owed by a friend of many years and her husband. I went with friends and enjoyed the colorful decor and atmosphere, the outdoor patio  along with great food. It is open Wednesday through Saturday from 1pm to 7pm and features traditional Mexican dishes. I loved the guacamole, the sopes with shredded chicken, beans, crema and avocado and a yummy flan. My friends recommended the flautas and the quesadillas. I will definitely go back! 28 de Abril Nte. 37 in Col. San Antonio.
Another recent opening that I wanted to share with you is Siete Cielos Cocina Mexicana at Prol. de Pila Seca 50A. It opened in October 2021 and is a small place with attractive patio and indoor dining room. The owners are really delightful. On my first visit I enjoyed a great omelette and fruit plate.  I  had to go back for lunch one day before I left to try their fish or shrimp tacos. They were great as was the guacamole. On my most recent trip I went back again twice for the omelette and the shrimp tacos! Both menus were available when I went at noon. I love supporting small local businesses!! They are now open daily from 9am to 4pm.
Located at Zacateros 81b is Venencia Mezcal- Cocina- Vino.  I love the colorful decor. They open for dinner at 5pm with a menu of authentic Oaxacan-themed small plates along with Mexican local wines and artisanal Mezcal. There is a lovely Mezcal & Wine Tasting Room downstairs. I just attended an event with a mezcal tasting and a dinner of their specialties. I was impressed with the quality.
Another new find is Jacques, a small, casual neighborhood restaurant located north of the Biblioteca at Del Pueblito 3A.  They have a large menu of breakfast and brunch items, bowls, pita sandwiches, salads, juices, smoothies and coffee drinks along with beer and wine. I loved my lunch on the rooftop terrace where I had a grilled cheese sandwich and tomato soup. I will definitely go back. The owners were delightful.
When one of my favorites was full for lunch, I walked into the colorful Marluz cafe at Relox #33.  I was attracted to the traditional menu and attractive outdoor patio. I ran into a new local friend and enjoyed a very tasty omelette for my meal with her.  The owners, a young Mexican couple, were really delightful. I enjoyed the experience.
Thanks to local friends, I found Andrea's Italian Restaurant at Cjon. de Loreto #40. This is a small, Italian restaurant that has a menu of salads, starters, pastas and entrees. The owner Andreas moved to San Miguel after having a restaurant in Dallas, TX. I was impressed witht the quality of the food and enjoyed the caprese salad, the fried calamari and the mussels served in a tomato sauce. My friends enjoyed their salads and pasta dishes. I will definitely go back again. I would recommend that you call to make a reservation in advance.
I was always a big fan of Café MuRo for breakfast/lunch when it was located on Loreto. I had not been until recently to their new location at San Gabriel #1 in El Obraje. It is a bright restaurant with outdoor patio seating. They have a large breakfast and lunch menu with many items to choose from. I highly recommend the eggs benedict with smoked salmon. They also serve excellent coffee drinks as well as pastries.  It is a good place to enjoy a meal when centro is crowded on weekend. They also offer to pay money to cover some of you taxi costs.  The staff and owners are very friendly and helpful.
On a recent trip I had a great meal with local friends at Restaurante Bennu. They are known for their handmade pizzas, salads and other vegetable dishes. I loved the house salad made with nuts, dried fruits along with a carrot and mandarin orange dressing. My choice of the Las Cabras pizza made with a butternut squash sauce, pear, balamic vinaigrette, goat cheese and greens was another great choice. My friends also loved the margarita pizza. The prosciutto pizza also looked excellent. They also have a large wine and cocktail menu.
It is located in a small attractively designed space at Jesús 20, which it shares with the small design shop Roma Quince. The owner Pablo Mil is delightful and works very hard to make sure everyone enjoys the experience. He has worked in a number of restaurant kitchens from Oaxaca to Copenhagen.
I just went to Restaurante la Martina at Sollano #21 for the first time. It has been opened for three years. It has a large breakfast and lunch menu featuring omelettes, pancakes, pizzas, pastas and salads. I enjoyed my smoked salmon omelette and my friend her spinach and goat cheese omelette. It has a small but nice covered outdoor patio. I highly recommend it.  It is a family-friendly spot as well.
After hearing about a new hot spot in town, I made a point to visit the recently opened Distrito Soma – Diseño + Gastronomía, which is located in the former Guajuye Glass Factory at Estación del Ferrocarril, Lupita 2.  It has a growing number of furniture, textiles, antiques and interior design stores along with restaurants, a wine bar and a brewery tasting room. It is a beautifully designed, contemporary structure that has room to grow and expand with new tenants. I recommend that you plan to spend some time eating, shopping and then trying some great beer and wine. Check the website as they feature live music and other events from tango shows and karaoke nights.
I enjoyed a really excellent brisket burger and fries at ramé burger with local friends. There is also Neapolitan Brick Oven Pizza,  Once Gatos wine bar where you can taste a number of local wines. I particularly enjoyed tasting several of the beers on tap at Cerveceria Hércules. I know the owner and had been to their main facility in Querétaro a few years ago. I enjoyed the Rafaga Pale Ale, the Macanuda Brown Ale and the Rathaus Munich Dunkel. They have a large menu to try.  There is also La Barra, a bar in the complex.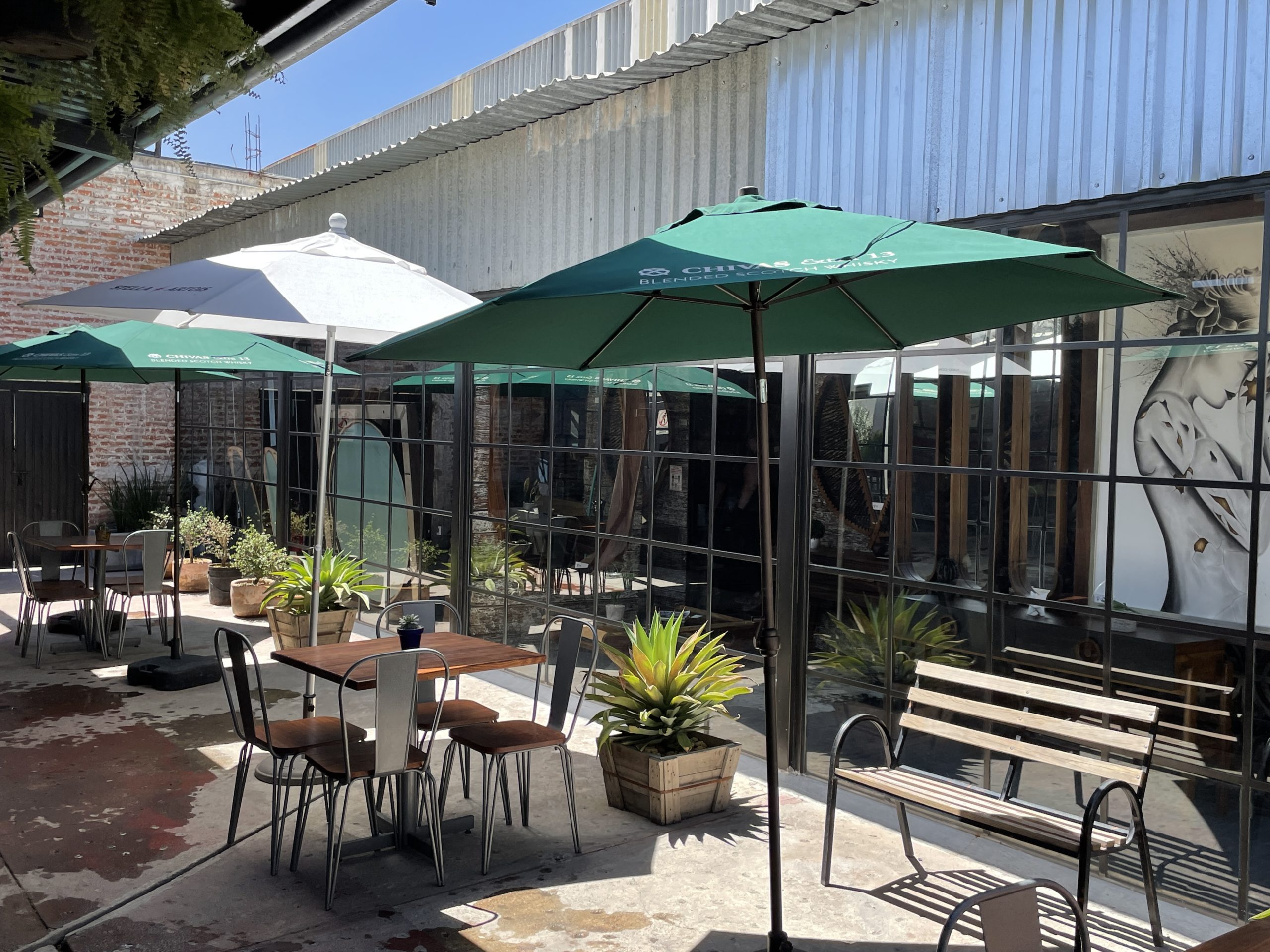 I also recommend that you walk around the corner to Mezcal-Art at Calz. de la Estación 59. This is a mezcaleria, restaurant and store featuring a number of Mexican mezcals. You can taste a flight of their mezcals, enjoy a meal of Oaxacan specialties, have a cocktail, hear live music, enjoy stand-up comedy or attend a film presentation at night. I chose the three glass flight and they added a 4th. They were from Oaxaca, Guanajuato and other Mexican states. I really enjoyed the experience, the knowledgeable bartender who did the tasting and the great outdoor terrace.
Another new find, thanks to a local friend, is Hierba Santa Cocina Del Sur. It is located in Hacienda la Aurora, a small collection of stores and boutiques, consignment shops, artist studios and galleries at Calz de La Aurora # 48-A near Fabrica la Aurora. Open for breakfast and lunch, the menu changes at noon from breakfast to lunch items. I opted for the breakfast menu before the change and loved the very fresh and beautifully presented eggs benedict.  I just back to try the huevos motuleños and enjoyed the dish. The owners are a married couple from Acapulco who previously worked here at Nomada.
Polp S.M.A. Gastrobar: Polp means octopus in Catalan. The Catalan reference is a nod to the time that, San Miguel born, chef and co-owner Patricio Fuentes Alvarez spent in Barcelona, working at the Michelin-starred Restaurante Hofmann. Patricio and his partner, Jose Pablo Diez, have created a small but great menu of Spanish-style tapas along with wines and cocktails. I enjoyed the typical Spanish omelette and the great scallops served on a perfect cauliflower cream. My friend really enjoyed the mushroom risotto. I just went back and enjoyed it for the second time. It is a small spot at Relox #3 just north of the Jardin.
After reading about the recently expanded Inside Cafe at Insurgentes #66, I had to try it. I went for lunch and really enjoyed the experience. The delightful owners are Teu Campbell from New Zealand and David Barajas from San Miguel. They opened it just as a coffee shop, but have expanded to a rooftop restaurant with both indoor and outdoor seating.  They feature a menu of breakfast and lunch items including sandwiches and salads. I thought the grilled cheese sandwich was one of the best I have had anywhere! I had to go back and have it again. It was so good. They recently added a second upstairs terrace for more seating. I was back and loved the grilled cheese pulled pork sandwich with bbq sauce.
Mercado del Carmen: Zacateros #45. This casual food hall in San Miguel has a very attractive contemporary design. It features Mexican and international cuisine with a number of vendors selling beer, cocktails and more. There has been some recent turnover and closings of some of the restaurants.                                                                                                                                                                                                                                                                                                     
Another fun spot now in Mercado Del Carmen is Chikitana. I enjoyed lunch with new friends who are buying a house in San Miguel. They feature a menu of Latin and Asian cuisine. I enjoyed the coconut fried rice with shrimp and chicken, plus a tostado with grilled pineapple, plantains and a tamarind salsa. Chef/owner Aleysha Serrato Garfias, is from Mexico, but lived in Berkeley, CA for several years. Here she loved trying Korean, Chinese, Japanese and  Vietnamese restaurants with her friends. When she opened the new restaurant in San Miguel, she wanted to focus on the Asian cuisine she loved with Mexican flavors. It was formerly located at Hernandez Macias #68 in the back of a gallery space, but has recently moved.
TURK, is a casual spot for Mediterranean street food at Salida a Celaya 16. I enjoyed dinner with a local friend. The owner Ali Sarraf, of Iranian and Mexican descent, grew up in Los Angeles. I was able to share some great dishes including a beet salad, tabouleh, humus and baba ganoush.
Bananas a casual diner-style restaurant, at Salida a Celaya #6, featuring  salads, soups, asta, pizza, tacos, burgers and sandwiches. I went for the first time for lunch.  I had a perfect salad with grilled shrimp and tasty piece of key lime pie! The service was excellent and the atmosphere fun.
Upstairs in the same building is Lima, a casual Peruvian restaurant. They feature ceviches, shared plates and other Peruvian specialties. I went with local friends at the recommendation of others. I had a tasty rice dish with shrimp, octupus and squid. They have a lovely outdoor terrace and feature live music during the week. I then went back again and had the rice dish with shrimp. Salida a Celaya #6, 2nd fl.
Across the street is another new find, Raíces SMA. This is a small restaurant with outdoor patio dining that is open for breakfast and lunch. On my list of places to try, I went recently with a local friend and really liked the experience. The food and the presentation of the food was really excellent. I had an tasty omelette and fruit bowl. They have a large number of egg dishes along with traditional Mexican choices.
A little further south is another new spot for me, Mario's Mariscos at Salida de Celaya #81. This casual seafood restaurant has been opened almost six years in San Miguel, with four at the current location. The owner Mario Cabrales spent a lot of his life in Mazatlan before moving to San Miguel. He is delightful and adds to the experience as does his mother Josefina who hangs out at the restaurant and can be seen watching Mexican telenovelas! The menu consists of many items including seafood tacos, oysters, ceviche, octopus, lobster tails, shrimp and scallops. I really enjoyed my grilled scallop entree which came with a salad, coconut rice and scallops in a white wine sauce. I can't wait to go back as I really enjoyed the colorful atmosphere and the food!
I was glad to have been introduced to Francesco's Restaurante Italiano y Pizzeria. This is casual Italian restaurant at Zacateros #85. I went with local friends on a busy Saturday evening in town. I loved the warm atmosphere and thought the food was very good. I enjoyed the pasta with seafood or linguini al frutti di mare with clams, mussels, shrimp, and calamari in a tasty marinara sauce. They have an extensive menu of salads, starters, pastas, pizza, soups along with seafood and chicken entrees.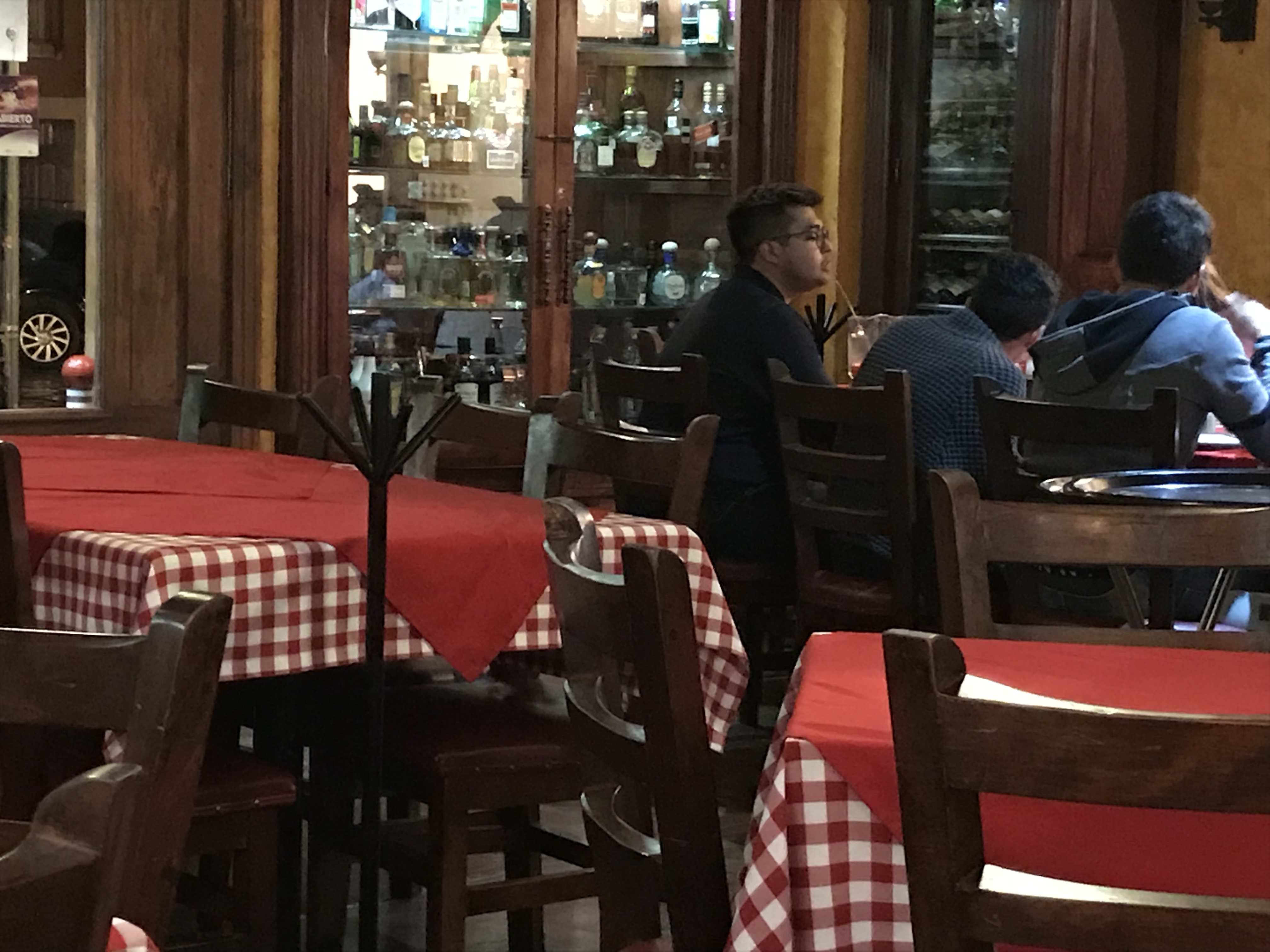 Also fun for Italian food is the casual Denver's Los Olivos Restaurante at 20 de Enero Sur 44 in Col. San Antonio. Their menu features appetizers like bruschetta plus pasta, salads and mains like chicken parmesan. I enjoyed my salmon and pasta entree along with red wine. They have indoor dining along with outdoor dining in their garden in the back. I went with local friends who introduced me to Denver who worked for several restaurants in the Chicago area prior to moving to San Miguel.
Other favorites include:
Lavanda Cafe: Located at Hernandez Macias 87 at the corner of Umaran, this is great spot for breakfast and lunch with a large number of egg dishes from omelets, eggs benedict and huevos rancheros. I also love the lavender latte! There is a lovely small patio in the rear and upstairs seating on the roof.  I have to go every time I am back in town. I now recommend going during the week as the wait to get in on weekends can be very long. There is a takeout window in front.  They recently opened a second location north of the Jardin at Loreto 48 A near the Mercado de Artesanías.
A block north of Lavanda is the colorful Bistro San Miguel at Hernandez Macias #74. I went for brunch at the recommendation of local friends and really enjoyed on the rooftop. It opened in 2020.
In the courtyard of the building next to Bistro San Miguel is Restaurante La Parroquia at Hernandez Macias #72.  Opened in December, 2021, they took over the space which had been occupied by one of my favorite restaurants in the past, Cafe Contento. They have a breakfast and lunch menu. I opted for the lunch menu and enjoyed my ham and cheese baguette sandwich and a side salad. I  also liked the space and the staff. After you eat, stop down the hall and buy some great pastries, bread or cookies from Panaderia La Buena Vida, one of the best in town.
Around the corner from Bistro San Miguel is Bugambilia Restaurante Bar, which has been a popular spot for Mexican food since 1945.  Having not been a number of years, I recently went for lunch/brunch at their new location at Canal 9. I really enjoyed their quiet, outdoor patio in the rear. The omelette with flor de calabaza (squash blossoms) and goat cheese was very tasty.
Tacos Don Felix, Juan de San Miguel #15, Col. San  Rafael, 152 5719: This local's favorite started as a food cart on Ave. Independencia. Today it is a very attractive, traditional Mexican restaurant with outdoor spaces and great food. They still have tacos but have wonderful beef and fish entrees as well. I was recently there for brunch before a theater event at the nearby San Miguel Playhouse and enjoyed the experience and seeing the owners Felix and his wife Gloria again. This a great spot if you are attending a production at the Playhouse which is a short walk from the restaurant.
A fun, casual spot is El Manantial at Barranca 78. El Manantial was founded in 1920 as a men's bar or cantina. The restaurant has great ceviches, tostados and fish tacos. This is now high on my list of small casual spaces in town. The decor is traditional with a contemporary flair. There are amazing new black and white murals that were completed in the last few years. I would call or stop by for a reservation.
El Manatial had been called La Sirena Gorda. After a management split, La Sirena Gorda relocated to Hernandez Macias 85 just down from the Jardin. They recently moved closer to the Jardin in the former Mama Mia space at Umaran #8. I enjoyed the seafood menu with a friend at the former location and will now to try their new spot.
Rincon de Don Thomas Portal de Guadalupe No 2: A good place to grab a quick lunch with friends. It is always a good place for traditional Mexican specialties.
In the Colonia San Antonio neighborhood, I always enjoy El Buen Cafe at San Jorge 26. This is a great spot for breakfast, lunch and dinner. Attending a ceramics class a block away, I enjoyed eating there four times for lunch. Kris Rudolph is a very good chef and offers cooking classes next door. She also does food tours in Europe.
El Rinconcito: This is a fun restaurant in a home in Colonia San Antonio at Refugio Norte 7. There is both indoor and outdoor seating and a great traditional Mexican menu with reasonable prices. I went back again and enjoyed their trout entree, one of their specialties, and a piece of key lime pie.
Near El Rinconcito is the colorful El Monarco at Refugio Sur #2A. They are open for breakfast, lunch and dinner from Tuesday through Saturday. I recently stopped in for a drink to listen to live music on a Friday evening while visiting the home altars before Palm Sunday. I look foward to going back for a meal and more music.
Not far around the corner is El Café Tal at Orizaba 36. This is a fun spot for coffee or for breakfast or lunch. So glad that a local friend suggested it! They also have a lovely terrace in the rear.
Located in the Hotel Real de Minas, at Sterling Dickinson and Ancha San Antonio, is the recently opened Cerveceria Allende Tap Room of the locally based brewery Cerverceria Allende. You can sit inside or on their outside patio and try their beer and order off the casual food menu. You can do a number of tasting flights. I enjoyed the Allende Brown Ale and Allende Golden Ale, but my favorite was the Allende Agave Lager, which I have tried in the past.
Ten Ten Pie al Carbon: This is now the only location for Ten Ten Pie, featuring grilled items, fish, chicken, beef, hamburgers and salads.  I  love the casualness and the outdoor/open air seating. For lighter fare, I like the fresh spinach salad with pears, goat cheese and freshly grilled chicken. I recently had the fish tacos along with guacamole and enjoyed it. It is located at Sterling Dickinson #5, Col. San Antonio.
Down the street at Sterling Dickinson #15 is Mär 13. This is a casual seafood restaurant with a large covered patio seating. They have a menu of tacos, tostadas, sandwiches, starters, entrees, ceviche and other items. I had a craving for fish tacos and loved the Mahi mahi tacos, marinated in an achiote sauce and served with pineapple, onion, corriander and avocado. I did mine with out the house green sauce.
La Frontera, formerly at 28 Sterling Dickinson is now at Calle Refugio Sur #28.  This is a casual spot frequented by gringos. They have a good choice of salads, sandwiches and entrees. They have both interior and outdoor dining. I went to neighborhood friends and we all thought the food and atmosphere on the outdoor patio were great. I loved my mahi mahi and shrimp tacos!!
Just to the south is a fun new find, Cafe Rincon Guanajuato at Sterling Dickinson #31. It is a breakfast and lunch spot with a lovely outdoor terrace and garden. I enjoyed a tasty omelette, carrot bread and a latte for brunch. The back portion becomes Benditto Bocatto for Italian specialties in the evening.
The former Ba-Bite, at Salida a Celaya #51-A, has been transformed into Mikka, for sushi bowls, rolls plus a teriyaki and a ramen bar. I enjoyed visiting with Joseph, the owner who also has Mikka restaurants in Mexico City and in Guadalajara. He has a passion for this food and features bowls made with tuna, salmon, teriyaki, tofu and shrimp. You can order them spicy or not. His ramen bar will be open shortly. It is a fun, casual spot with outdoor seating, that is a great option when on a weekend or holiday that the restaurants in Centro are jammed with tourists. I enjoyed the tuna bowl made with zucchini noodles and the chicken teriyaki bowl with rice.
Nearby across the street is Café del Sol at Salida de Celaya #34. I had walked by several times on my recent trip and decided to try it. I thought it was a new spot, but turns out it has been there for 16 years, just as long as I have had a home here. It is a casual cafe for breakfast and lunch. I was there around noon, so ordered off the breakfast menu which had a number of omelettes, pancakes, egg and breakfast dishes along with coffee drinks. They have a lunch menu with Mexican specialties. I had a very good omelette, latte and fruit plate. They have inside seating as well as two small patio areas.  I enjoyed the service and the experience. It is another good spot to try when Centro is busy on weekends.
Back in Centro is La Alborada for pazole, which is behind La Ventana, the coffee shop and window at Sollano 11. Opening at 1pm, it is perfect for lunch on the small patio with colorful oilcloth tablecloths or in the small dining room on colder days. The pozole is consistent and so, so good.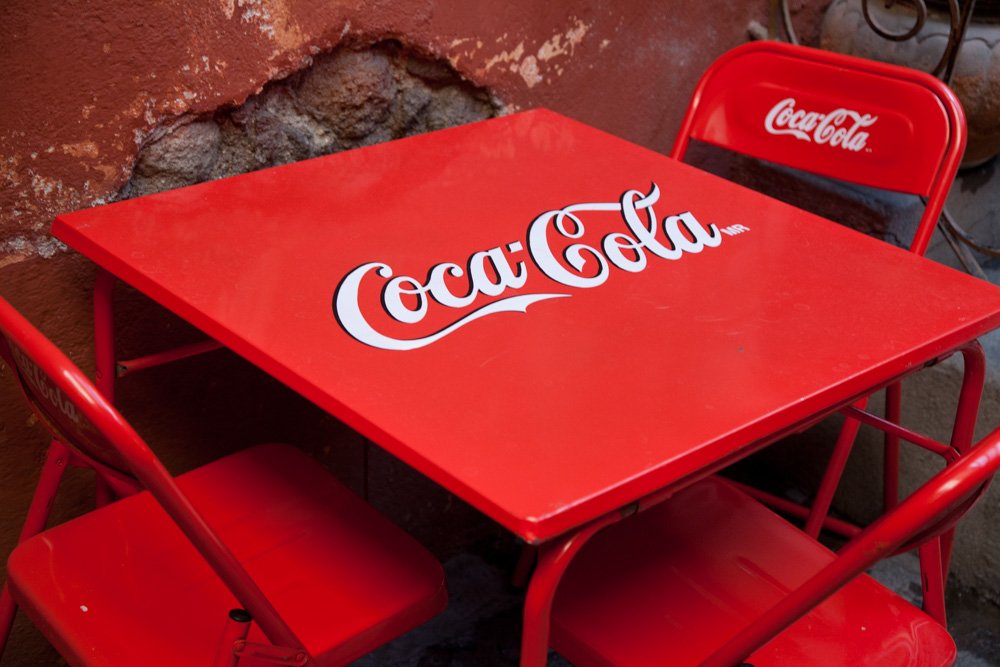 La 21 Unica Cantina: At Jesus #23, this is an updated, chic version of an old Mexican Cantina. It has a great atmosphere. You can order tapas from their menu or order from their Pescau restaurant menu which is next door. You then have the best of both worlds.
La Cocina: Located at the corner of Pila Seca and Hernandez Macias, this café and coffee shop offers good food at reasonable prices. They have indoor and outdoor seating. I was just back for lunch and enjoyed it again!
After it opened mid-October, 2019, I always enjoyed El Encanto at Recreo #84,where they had a great breakfast menu and a lovely garden in back along with an indoor dining room. I went several times. They recently moved to a new location at Relox 41, north of the Jardin near the Biblioteca. I just went to the new location and really enjoyed my omelette as always. The portions are huge!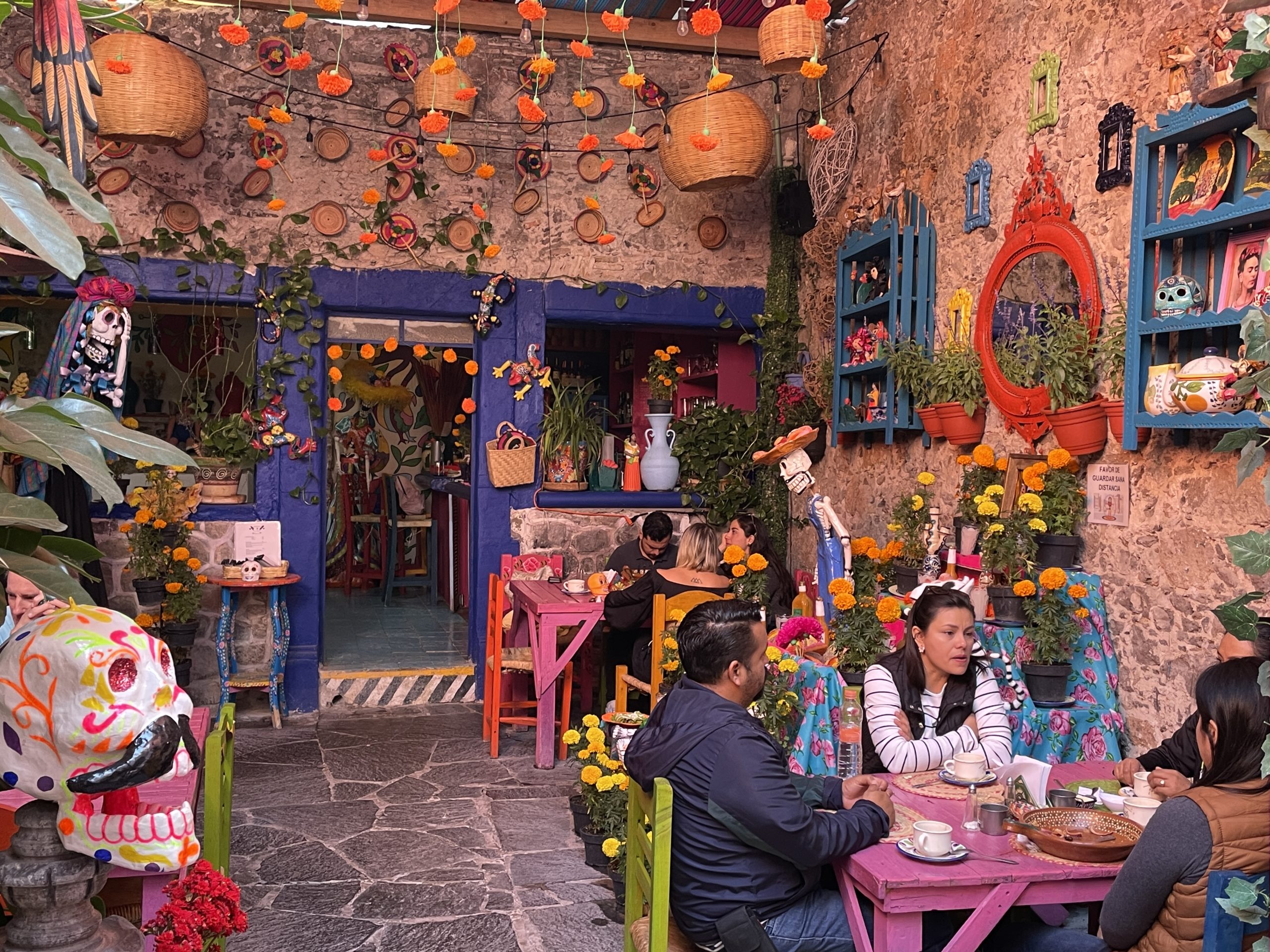 Via Organica: This was a popular store featuring organic food items not often found in San Miguel.  They also had a cafe for breakfast, lunch, dinner and brunch items. They recently closed this location at  Calle Margarito Ledesma #2 in Colonia Guadalupe and have moved the operation to its organic farm outside of town. Here they have an organic,  farm-to-table restaurant  and store plus they offer tours, classes, bike tours and horseback riding. There is also a school with a research and education center dedicated to the production of organic food in a regenerative way.  I loved being in the country away from town. I had a perfect brunch with an omelette and fruit.    It is 20 minutes outside of town at Deviation Camino a Jalpa, km 9. 
I also like Los Milagros. It is a fun, casual restaurant serving Mexican specialties including tacos and fajitas. I prefer it for lunch as the music on some nights can be somewhat loud. Relox 17. They opened a second location, Los Milagros Terraza near the Mirador at Salida Real a Querétaro #91. I just went with a local friend for lunch on a Sunday. I loved the colorful space as it has incredible views of Centro. If you can't go for lunch or dinner, at least go for a margarita and some of their excellent guacamole.
The Hotel Posada Carmina has a lovely patio restaurant, Maria Xoconostle Cocina Mexicana, for breakfast, lunch  or dinner (Wednesday through Saturday) at Cuna de Allende #7. I always enjoyed it, but had not been back for a few years. On my recent trip I went for brunch and loved my omelette with goat cheese, tomatoes and basil. I also liked the atmosphere with a fountain, music, birds singing and colonial architecture. It is a nice respite when Centro is busy.
Pork Belly: Make sure to visit Pork Belly which  has a very creative menu by Chef Erik Medina using fresh ingredients. They have a good selection of salads, sandwiches and entrees. I enjoyed the salmon entree for lunch. I went back for dinner and enjoyed the lamb shank with polenta and an arugula salad with tomatoes. They recently moved from Cinco de Mayo #10 to Sterling Dickinson #10. I  first  went to the new location which is larger and  really liked my omelette for brunch and my friend loved the brisket chilaquiles. I went back for the third time in the new location and had the best pulled pork sandwich!  After seeing a social media post, I went back to try their brisket sandwich with bbq sauce and monterey jack cheese. It was one of the best sandwiches I have had in SMA. It has two outdoor terraces and just opened a small rooftop terrace in 2022. They recently opened Pork Belly Tacos & Cocktails at Cuna de Allende 15.
In Col. Guadalupe, I found Neopolitan Brick Oven Pizza at Julián Carillo #4b. This is their second location in town which locals highly recommend. Located on the second floor, they have an indoor dining room and rooftop terrace.
Nearby is Deli Q which several of my neighborhood friends enjoy. They feature deli items to go like pastas, salads, and quiche along with pastries, sandwiches and more in a casual spot at Margarito Ledesma #6A.
I recently went on my second food tour through San Miguel Food Tours. The Taco & Tequila is a food tasting and cultural walking tour held in the evenings two days a week. Private tours can be arranged on other nights. Highlights of the tour for me was finding some new casual spots that I had not been to before. These included Don Taco y Tequila at Hernandez Macias #83. This is fun spot with a contemporary design. I really enjoyed trying my first sotol, a cousin of  tequila and mezcal. They are offering a number of new tours including one called Chocolate & Cobblestones. I can't wait to go.
Baja Fish Taquito, at Mesones #11B, is a casual spot for fish tacos with a newly added rooftop. I also loved trying the agave beer by Cerveceria Allende. I went back recently for a lunch with friends on the rooftop terrace. I had some excellent shrimp tacos and a tasty vanilla flan.
I normally don't eat street food due to health safety concerns, but if you want to try it, Andy's Tacos near the corner of Insurgentes and Hidalgo is considered one of the best in town. The owners went to culinary school and the are very clean in their preparation. The tacos al pastor were very good! Our last stop was the Cantina el Cucu, Insurgentes #39, which has been a popular San Miguel casual bar since 1953. The tequila we tried there was very good. Vail, our guide was excellent. I highly recommend that you request her and try one of their tours. 
On a recent  trip I went back to the casual El Correo for Mexican specialities at Correo 21-23. I had not been in several years, but enjoyed my meal with a local friend.
Berlin Bar & Bistro at Umaran #19 is a small bar and restaurant that is popular with the gringos in town. They often feature art exhibitions by local artists. You can go early and enjoy drink specials. I went on a recent visit and enjoyed eating some great fish tacos at the bar with a group of local friends.
While on an art walk at Fabrica La Aurora, I went to El Gandpa & Son Burgers just near the front entrance. It is a fun, casual spot with great burgers, sliders and salads along with cocktails and wine. My artist friend loved the hamburger while I had a yummy shrimp burger and great salad. Calz. de La Aurora 8. I will definitely go back.