With a growing trend of locally grown organic produce and locally produced wines, cheeses and olive oil, the food scene and culture in this stunning city has never been stronger. In addition to my top recommendations below, there are a number of more casual cafes and restaurants in town, a growing list of nearby wineries which offer excellent food and wine tastings plus some fun spots for coffee, tea, ice cream and chocolates. Known for its great weather, San Miguel has many choices for rooftop dining that you can take advantage of while enjoying the amazing views.
Restaurants in Town
Casa Nostra: Opened in February, 2018, this is a wonderful addition to the dining scene for Mediterranean cuisine.  It is located at Terraplen #8, south of the Jardin and north of Parque Juarez.  It has a small indoor dining room, but has two outdoor terraces upstairs. The top terrace is perfect for views of the sunsets over the distant mountains,  the flowering jacaranda  trees in the spring and of the churches of San Miguel. I was very impressed with the passion of chef/owner Marco Massarotti and the wonderful menu he has created. It features a large number of  tapas, salads, risottos and pastas plus entrees of fish, chicken and veal. In the colder months, you might enjoy cheese fondue, raclette and chocolate fondue for dessert.  There is also an extensive menu of cocktails and wines. I loved the pistachio crusted tuna, and the lobster ravioli special. I can't wait to go back for another great experience.
Trazo 1810: Located at Hidalgo #8 in the Casa 1810 Boutique Hotel, I enjoyed an excellent meal in their rooftop bar and restaurant. The views are stunning and the food outstanding. I loved the beet salad and octopus/pulpo entree. The chocolate dessert was excellent as well. My friend loved the fresh green salad and a lovely couscous served with grilled shrimp.  I highly recommend this great new spot close to the Jardin.
Nomada Cocina de Intrepretacion: Open for breakfast, lunch and dinner, this is the restaurant  that recently moved to a new location at Jesus #27. Opened by talented chef, Marco Cruz and his wife Sofia, this is a great addition to the SMA food scene.  They also feature a tasting menu on Wednesday evenings. I loved my beet salad and a white fish with salsa verde. The mushroom risotto was also excellent. I went to their attractive new location and had a great meal with local friends. Had another fish entree. The presentation is always lovely. On my last trip I went for Sunday brunch and had a perfect omelette.
Vinos + Tapas: At Insurgentes #63 this is one of my favorite new spots in town. I heard about their excellent mussels so had to go with local friends. The decor is sleek and contemporary, the staff excellent the the food really outstanding. I enjoyed mussels along with octopus pintxos and a tapas of figs and goat cheese wrapped in prosciutto.  I was back and loved the mussels again. Their new outdoor terrace on the second floor is a lovely addition. I highly recommend it.
Another great spot is Marsala Cocina con Acentos at Hernandez Macias #48. They redid the former restaurant space into a comfortable, contemporary space with very good food. I enjoyed my quinoa salad and a great lamb ragout. Make sure to add it to your list of places to try. I went back again for dinner and had an even better meal and experience.  In the last year or two they started serving a great Sunday brunch. I have been several time and love it. For one price you get an entree, unlimited mimosas or Bloody Marys, coffee and visits to the buffet for scones, fruit, yogurt, granola and more. I was just back with a group of friends!
Bovine: This is a sleek, new spot with a really stunning, contemporary décor was opened by chef Paul Bentley from Magno Brasserie in Guadalajara. I enjoyed a meal with local friends and we all loved the food. The fish entree was really excellent and the side of brussel sprouts and grilled cauliflower were outstanding and some of the best I have eaten. Reservations can be made through their website. You can also reserve the private dining room called Mesa Dragones, featuring Casa Dragones tequila. Here you can try a special tasting menu created just for them with tequila pairings. Canal 16.
La Azotea and Pueblo Viejo's fine-dining restaurant ATRIO means atrium. When you make the climb to the rooftop restaurant you get one of the most spectacular views of the Parroquia in the entire city. It is located in the old La Fragua space at Cuna de Allende #3  I went on the first night and loved the food.  The salmon on a bed of curry, the burrata salad, a quinoa/shrimp salad. Fig and marscapone dessert was amazing. It had lovely wines and large cocktail menu. 
Cafe Casa Blanca:  Located on the ground floor of the recently opened Hotel Casa Blanca, at Juarez 7, this is an attractive cafe that features a great menu of Mediterranean meze or tapas. I loved sharing three vegetarian dishes for lunch with my friend. It is located in a 300-year old landmark building and is part of the growing group of local restaurants by chef Donnie Masterton. Upstairs they opened Fatima 7 in May 2019. I want to go back as  I went for a  private event and thought the space and the views were stunning.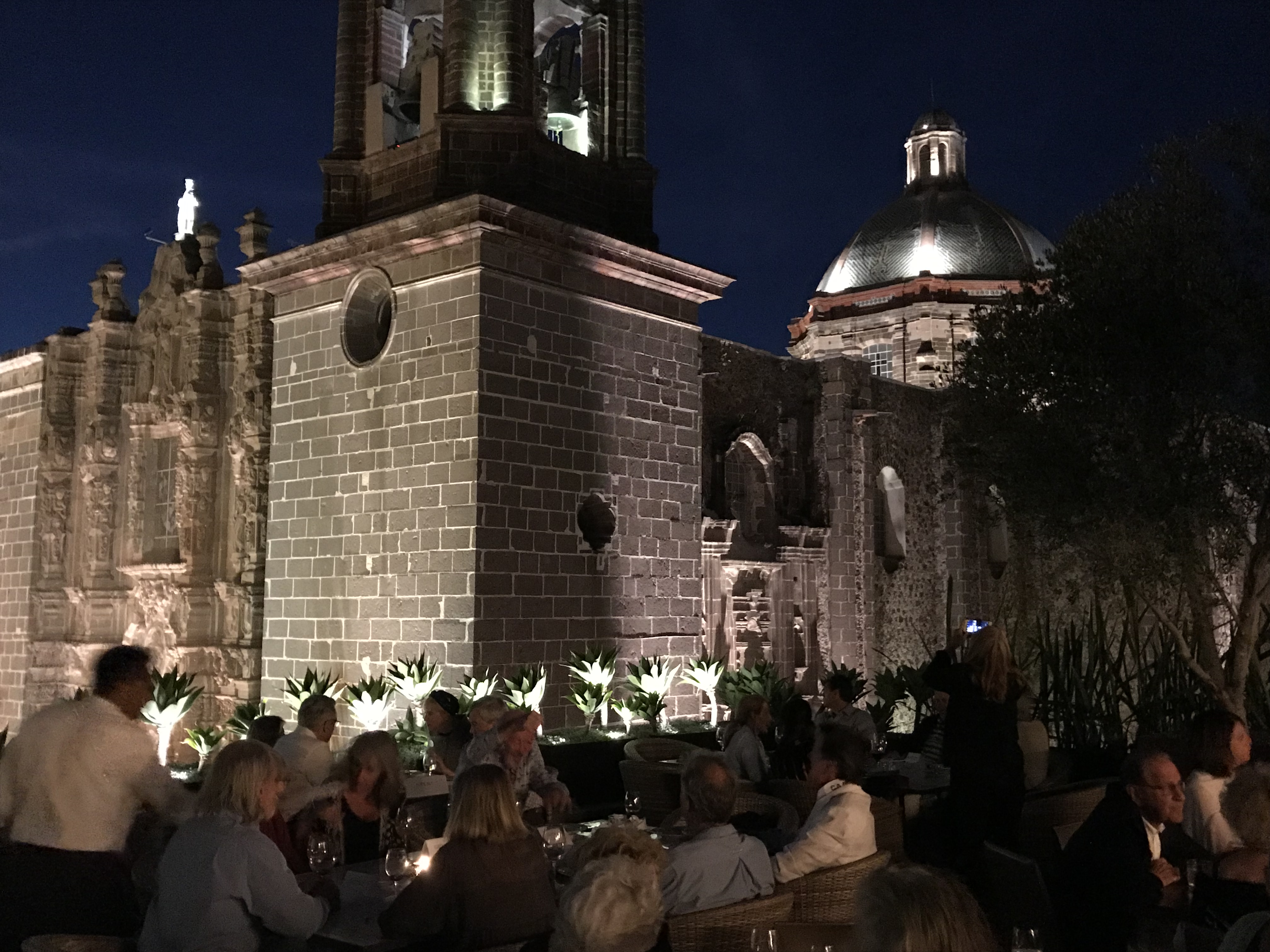 Restaurante del Parque: Santa Elena #2. Belmond's Casa de Sierra Nevada en el Parque has reopened its restaurant after being closed for a few years. It was always one of my favorite places for brunch or dinner. This elegant spot as wonderful views of the gardens of the hotel. I enjoyed dinner with local friends who were equally glad that it had reopened. I then went back for Sunday brunch. It is open for breakfast, lunch and dinner. It is a great spot on a holiday or when the downtown restaurants are full. I have been there for brunch on New Years Day the last two years and really enjoyed it.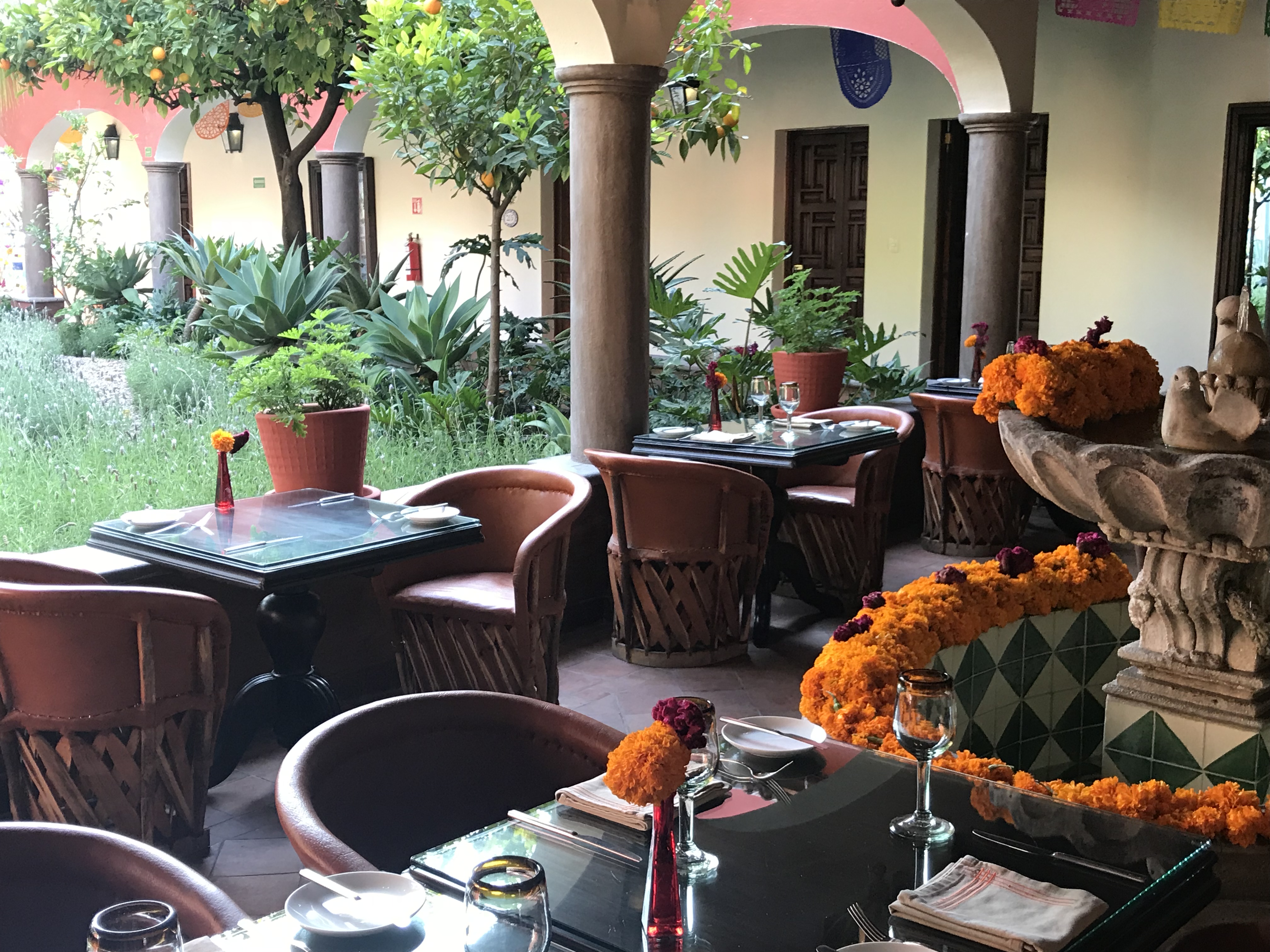 Belmond's other restaurant is Andanza. It is open for breakfast, lunch and dinner. I always enjoy the colonial setting. I had been several times in the past, but recently went back for dinner with my new neighbors. I really enjoyed my meal! The duck breast along with a sweet potato puree was really excellent. Their Blue Bar is also a great spot to grab a drink.  They offer  live music twice weekly in the courtyard. It is in their downtown location Hospicio #35.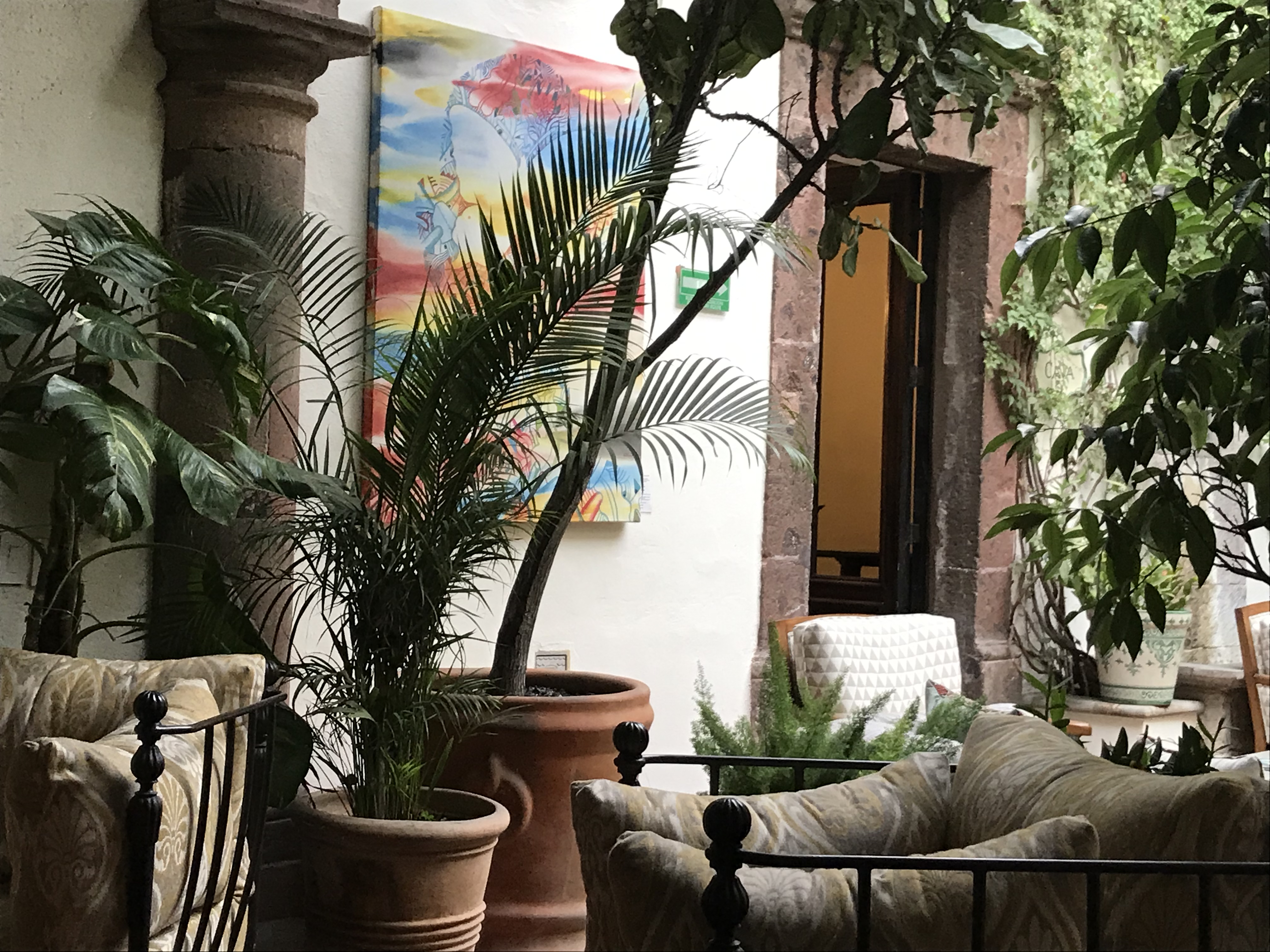 Panio:  Their newest location is really lovely on Salida de Celaya #69. This is their third location in town. They have a lovely bakery as well as a cafe for coffee sandwiches and more. I really loved the sandwich with prosciutto, goat cheese and sundried tomatoes for lunch on the first week that they opened.
Across from the new Panio is another great new find. Rustica, at Salida a Celaya #34, was opened by a delightful young couple. I enjoyed visiting with Eduardo who was originally from Spain. They have turned a former, casual Mexican spot into a delightful restaurant and cafe with a perfect outdoor patio in the back. I went for lunch where they have a menu of omelettes, tacos, sandwiches, coffee and pastries. I thought the roasted beet salad and a pizza with arugula, figs, goat cheese and prosciutto was a perfect choice!! It was so good that I  just went back and had it again. Just went back again, as it is now one of my favorite spots in town.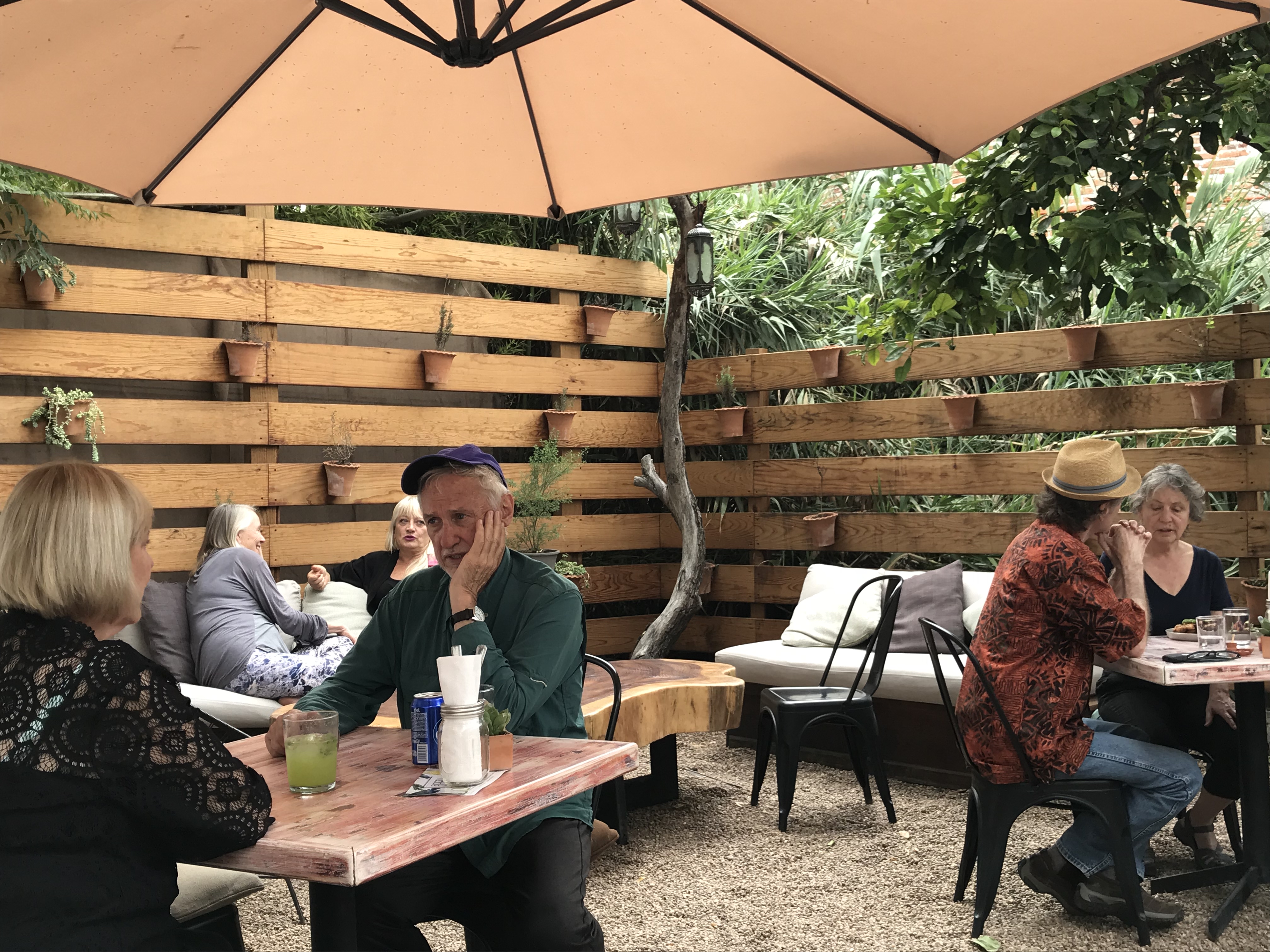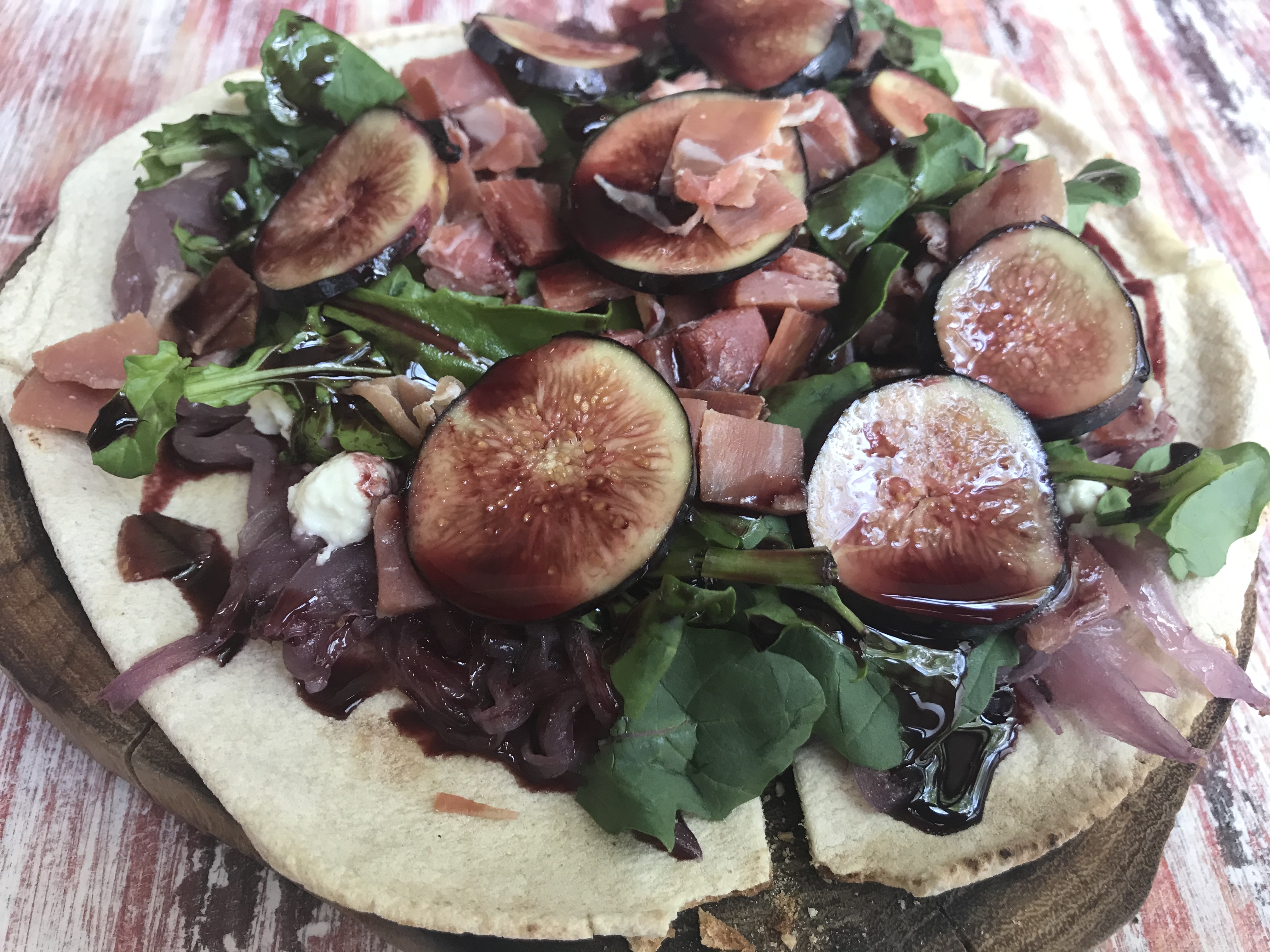 Hacienda de Guadalupe Boutique Hotel: Newly remodeled is the restaurant of this boutique hotel just north of the Jardin at Hidalgo #4. It has a stylish, contemporary design with tile floors, and wood accents. I went for brunch and really enjoyed the food and service.
Recently opened is the new luxury hotel, Live Aqua San Miguel Urban Resort at Calz. De La Presa No. 85. They have a stunning new restaurant and bar, along with a coffee bar serving pastries. On my last trip, I went to Sunday brunch. They have a full brunch buffet, an ala carte menu with a buffet option as well. We just ordered from the menu and had a great meal with outstanding service. I highly recommend it. The entire property is contemporary and beautifully designed. I am excited to try their new, upscale restaurant called Spice Market on my next visit.
A new spot getting good press is Tostevere at Codo #4. I just went for the first time and really enjoyed the experience. It is a tiny spot, so make sure to make a reservation before you go. They have a small menu featuring tacos, tostadas, sides and some sandwiches and entrees. I thought the seared tuna and grilled octopus tostadas were excellent as was the roasted beet tostada. I also thought dessert of figs with a balsamic reduction sauce and cream was a perfect way to end a great meal.  I will definitely go back.
Other favorites include:
Cent'anni Trattoria: At Canal 34, this is second location for this Italian trattoria based in Condesa in Mexico City. The San Miguel restaurant opened in early 2014. It has inside seating downstairs but the highlight is the rooftop bar and outside terrace seating with wonderful views of the Las Monjas across the street. They have a large menu of pizzas, salads, pastas and meat and fish entrees. Our group had a great house salad with nuts, goat cheese and apples, and steak, fish and  grilled pulpo or octopus. Try to go before the word gets out, as it will be very crowded on weekends. I went back on my last trip where I enjoyed an excellent tuna entree.
La Parada: Check out this Peruvian restaurant located at Recreo #94. Located in an old home, the decor is contemporary and food very good. There is a small indoor space but a large, attractive patio with the bulk of seating. They have some very good ceviches/cebiches. They have a very good chicken entree with rice and good pisco sour cocktail. The young owners are delightful!
They opened a  Mezcal bar in April, 2018, two doors north, called San Mezcal. They feature an extensive menu of mezcals from many Mexican states along with wine, cocktails and a tapas/small plate menu. It is a fun, small, contemporary space that is well-worth the visit. My favorite cocktail is the old fashioned with a smoky mezcal!
Moxi: Don't miss this great restaurant at the boutique Hotel Matilda at Aldama 53. The small private dining room with fireplace and round table is perfect for a group. The service and food are always excellent. Their terrace is a lovely spot for dinner on warmer nights! For something more casual, there is a fun bar on the second floor featuring handmade pizzas. Their new chef is Australian Paul Bentley who most recently was at the popular Magno Brasserie in Guadalajara, MX. He is designing a new menu. I am excited to go back.
Restaurante Lolita: Opened in November 2012, this good restaurant can be found a short distance from Centro on Salida a Celaya 52. There is valet parking if you need it. They have a large selection of Mexican wines and Mexican specialties from salads, soups, fish, pork, beef and chicken. The decor is attractive (very Mexican) and the service great. They also had live music the night we were there.
Bistro Mi Casa: One of the prettiest dining rooms in town, this is a great spot for dinner. The outdoor terrace has amazing views of Centro and the Parroquia. Don't miss an evening with Gil Gutierrez, if he is playing, as his music is amazing. Good food and great entertainment make for a perfect evening. It is located inside the Instituto Allende at Ancha de San Antonio 20. For reservations visit the website for the email address. It is open for dinner most Wednesdays and Thursdays plus some Friday nights.
Cafe Firenze: I always enjoy Cafe Firenze. They  moved from  a contemporary space overlooking the church of San Antonio at San Antonio #2 to a new spot, Recreo #13 in Centro. In the past I have enjoyed good wines, service and food. The new location is smaller with both indoor and outdoor seating. With seven to eight tables make sure to book ahead. The salads, pastas, and entrees were really excellent. I just had a wonderful grouper entree on a recent trip!
MX Restaurante Bar: Make sure to check out this  San Miguel restaurant and bar. The decor is sleek and contemporary and the upstairs rooftop bar is one of the best in town. The lighting at night is spectacular and the views of the Parroquia are wonderful!! A perfect spot for an after dinner drink. They have a full menu upstairs as well in the dining room downstairs, including sushi. It is located at San Francisco #8, a block from the Jardin.
1826 Restaurant: This is the  main restaurant at the Rosewood Hotel in San Miguel. It is a beautiful room with a great menu. There is a nice bar across the hall with comfortable seating. I also love, Luna, the rooftop tapas bar which has amazing views of Centro and the Parroquia. This is the place to watch the sunset over the city.
La Azotea: A sleek restaurant that is perfect for drinks, lunch or dinner overlooking the mountains and nearby churches. Sunsets here are excellent. It was smaller when it first opened, but has recently been expanded for more bar/lounge seating. It has a great tapas menu with good jicama tacos. I always enjoy the experience. Umaran 6.
Downstairs from La Azotea, Pueblo Viejo remains a local's favorite with Mexican specialities. They have music on the weekends. I went back after several years with my family and friends and enjoyed the food and music.
La Mesa Grande: Located at Zacateros #49 at Pila Seca, this is a panaderia (bakery) and café serving really good, fresh sandwiches on their homemade breads. 

La Casa del Diezmo, Jesus 36: The former El Buen Cafe, this is one of our favorite lunch/brunch spots overlooking the garden. They feature Yucatan cuisine. The decor has been updated and is warm and colorful. The new owners are a delightful! They have live music on Sundays.
Pescau, at Jesus 21, specializes in seafood. It has a great contemporary atmosphere. They have excellent tuna ceviche and marlin tacos.
I also recommend Dos Casas at Quebrada 101. Their restaurant, Aperi, is one of the best in town. I have been several times with local friends. It has a lovely contemporary decor with both indoor and outdoor seating. They offer both a tasting and an ala carte menu. I thought the salad, sea bass entree and chocolate hazelnut dessert were very good and beautifully presented. On my second visit, I loved the beet salad and the tuna steak entree. It is one of the best fine dining experiences you will find in San Miguel. For special occasions, the chef's table experience in the kitchen is highly recommended by local friends.
Dos Casas also owns Cumpanio, Correo 29. It is a gourmet bread store or panaderia gourmet, which also has a great restaurant that is perfect for lunch. It was designed by a top Mexico City designer who has made this a very attractive, sleek new addition to San Miguel. You can always hit the bakery and pick up something great for your breakfast or a snack to eat in the Jardin. They also have locations at Doce 18 and at Salida de Celaya #69 mentioned above.

Mivida at Hernandes Macias 97, in the old Azefran and Gallo space, has been transformed into a very attractive Italian restaurant, with a Mexican accent. They have attractive indoor seating as well as seating in the garden in the rear. Great pastas and wines. I was just back again with local friends and enjoyed a great salad and pasta dish.

Tio Lucas, Messones 103: Known for its steaks, it has good food but much better late night jazz.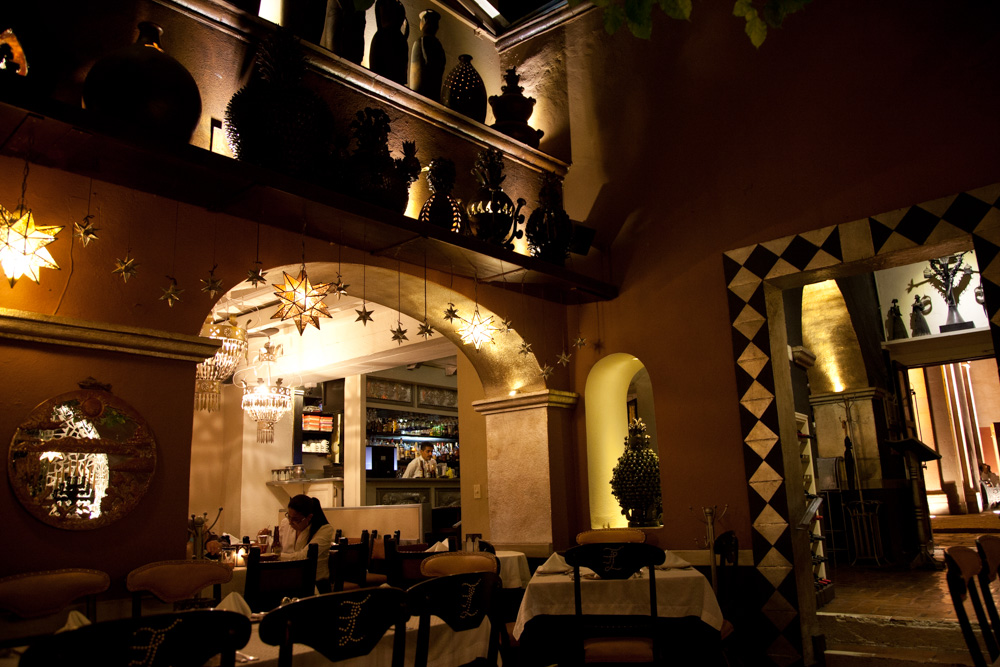 Café Rama, Calle Nueva 7, 154-9655: This local's favorite, took over the former Natura local organic grocery and just expanded again, doubling their space and adding a wonderful indoor dining room with eclectic furnishings and great art. There is now a  larger bar and considerably more seating. It has wonderful food and is perfect for lunch or dinner. The atmosphere is very attractive and casual. The pulled pork sandwich and the jicama slaw are the best!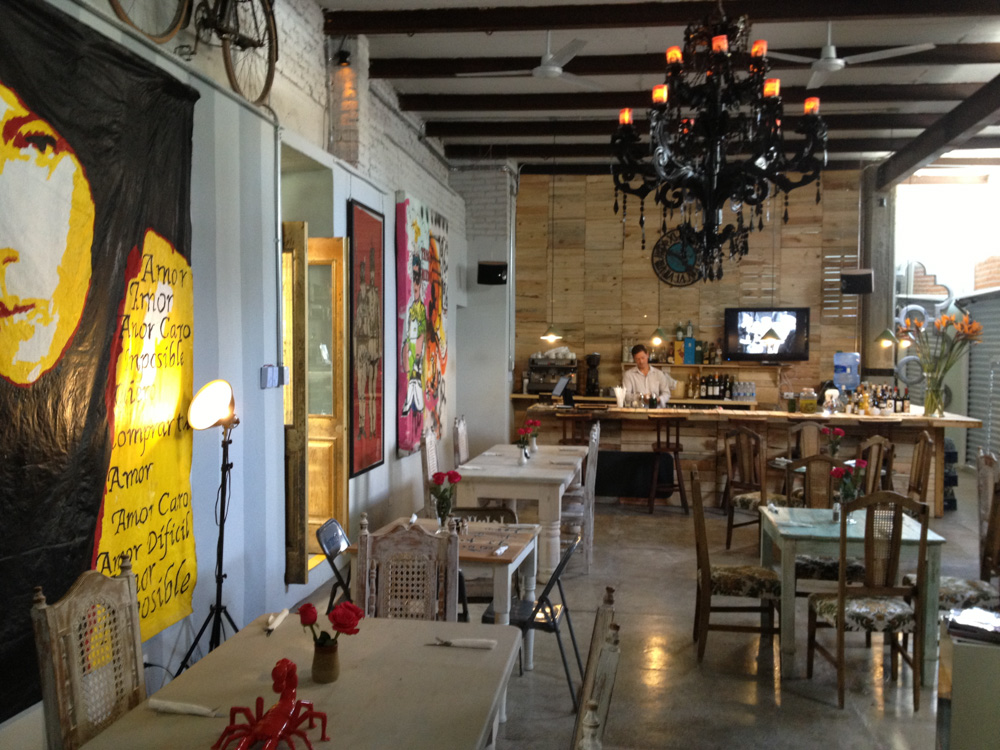 The Restaurant at Sollano 16, is one of the tops in town… particularly for special occasions like New Year's Eve. Always ask to be seated on the front patio around the fountain. They do have a Sunday brunch and offer special events like a pop-up restaurant by a visiting chef or a popular burger night every Thursday night during the week. The contemporary design and great style, excellent food by chef Donnie Masterton and an attentive staff make for one of the best experiences in town.
The Restaurant recently expanded, by taking over part of Sollano Sixteen Life + Home, and opened a new  Asian bar and restaurant, The Bar at The R. Chef Donnie Masterton, explained at a recent event, that he has a passion for Asian food and that he wanted to open a small bar that featured sushi and small plates along with music played on 33 1/3 vinyl records.  The food is very tasty.
Chamonix at Sollano 17, with its great outdoor dining is one of my favorite spots. They do a nice job in preparation of the the salmon and the spring rolls. They have a lovely patio as well as a small indoor dining room which is nice during the cooler months.

Café Parroquia at Jesus 11, is the place for Sunday breakfast or weekday lunch. I love the omelettes!! Sitting on the terrace, listening to birds and the gorgeous fountain with roses petals floating in the water, is the perfect way to start the day. Also great is their La Brasserie restaurant in the front room which is open in the evenings. It is a cozy, casual spot with great food at very reasonable prices!
El Pegaso, corner of Correo and Corregidora, for great lunch fare. I always get the gazpacho. They recently opened a lovely rooftop dining room and bar which has great views.
Hecho en Mexico at Ancho San Antonio 8 near the Instituto, is known for the best guacamole in town and  the wonderful fish tostada salad. It is not on the menu but ask for it. They often have musical entertainment at night. I was just back with a group of friends and had the seared tuna with their yummy sweet potatoe caserole and jicama slaw. The food is always consistently good!!
I always enjoy the wonderful views and Mexican food of La Posadita at Cuna de Allende 13. They have great Mexican specialties. Make sure to eat on the rooftop terrace! I heard they just remodeled and it is lovely.
The Food Factory at La Aurora: After a day of gallery hopping and shopping this is a great spot for lunch or dinner.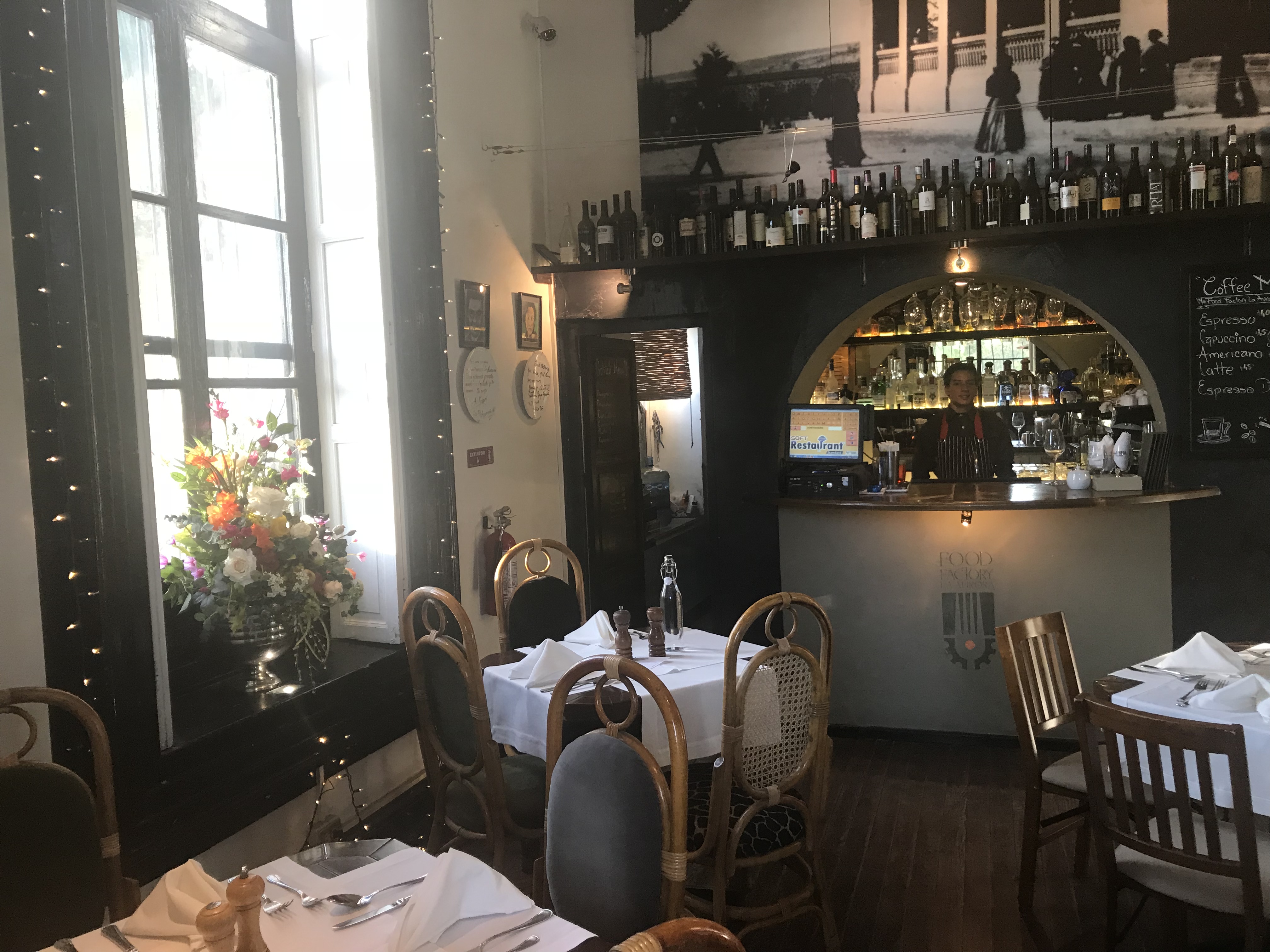 Oko Noodle Bar: Located in Plaza Alhondiga across from La Comer, this good Asian restaurant has a fun casual atmosphere, with good food and huge portions.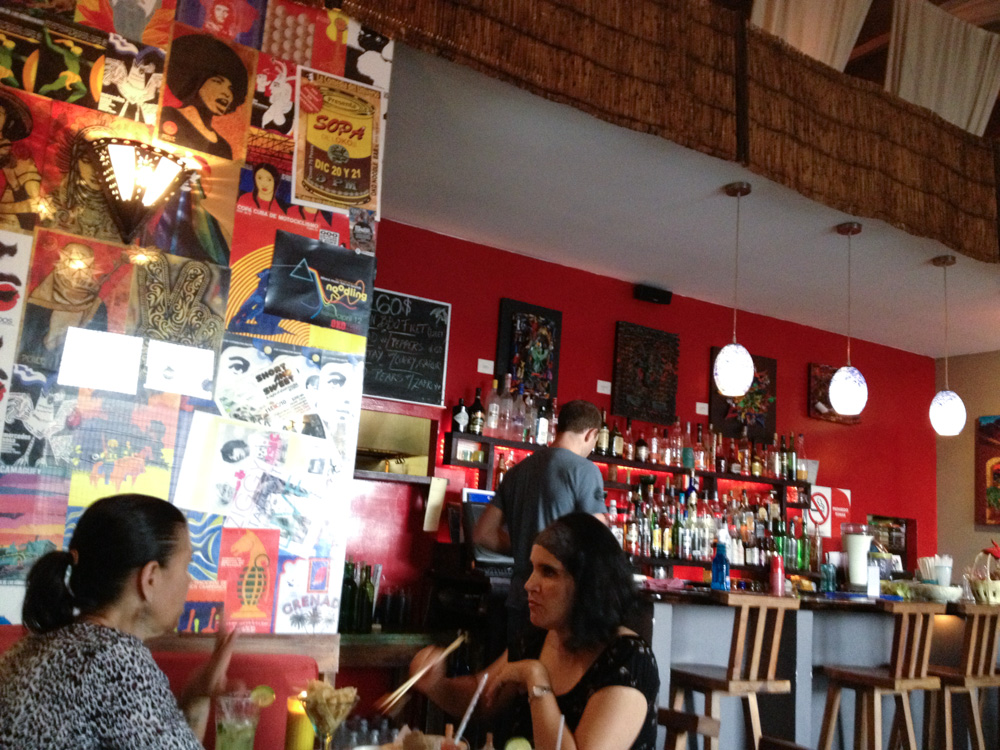 Paprika: A great  restaurant in San Miguel, it has a great eclectic decor with both indoor and outdoor seating. I enjoyed a wonderful salad and great salmon dish. Ancha de San Antonio #7. I recently went back and enjoyed a great tuna dish. They do have music on weekends  and some nights during the week which is a great addition. Make sure to make a reservation for the music as the concerts are very popular.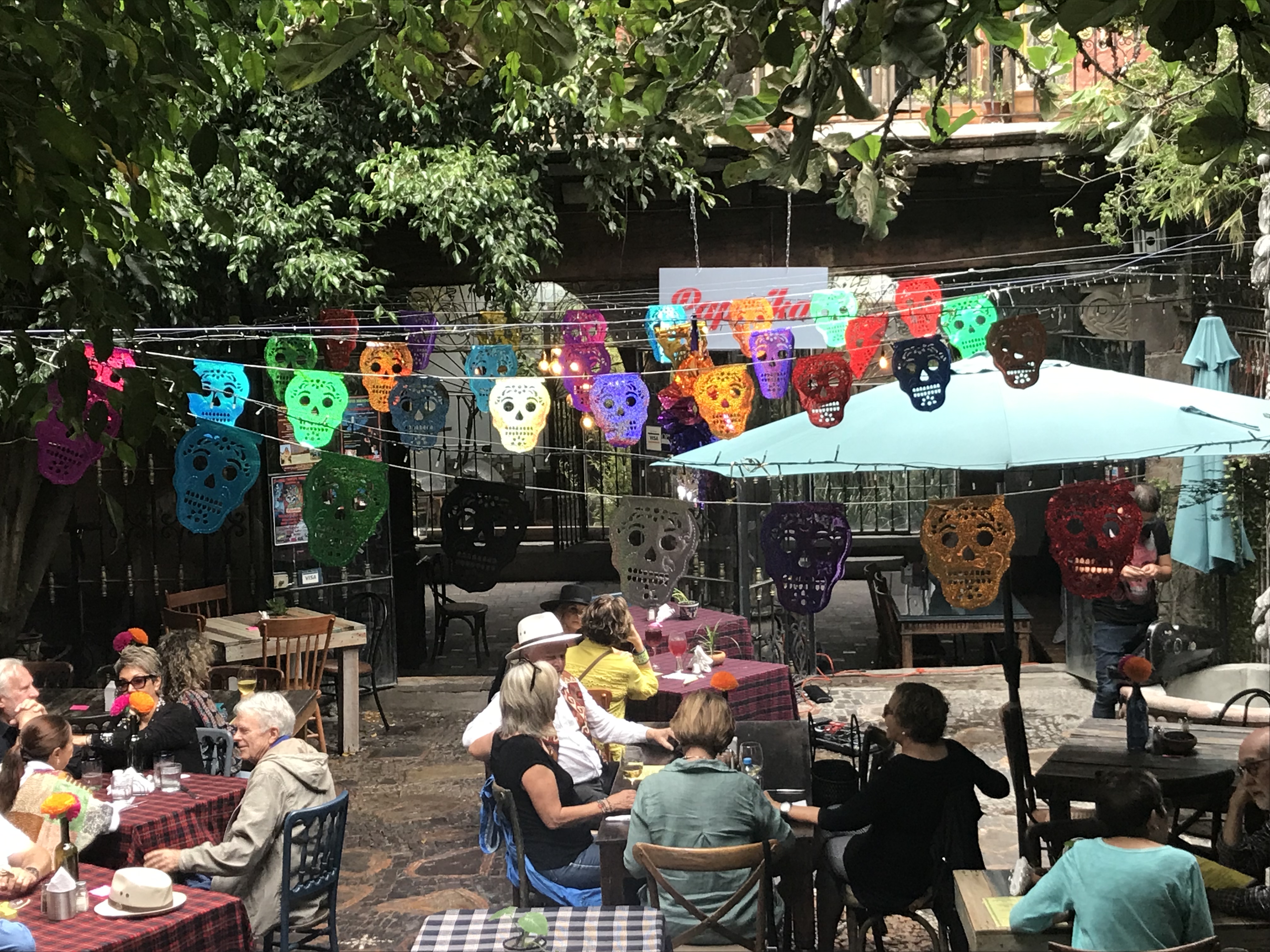 Open for a few years now is Mezcaleria for mezcal, tapas, cocktails and wines at Correro #47. I have been several times and always enjoy the contemporary atmosphere and outdoor patio. The food is very good despite somewhat slow service. This is a great spot to try one of their mezcals or tequilas. I thought the smokier mezcal was excellent.
Casa Chiquita, two doors down, is a a casual spot with very good pizza. There are a few seats downstairs but the roof top patio has incredible views. Correo #45.
Formerly located in the Colonia San Antonio neighborhood,  Zumo restaurant has recently moved to its new location at Canal and Quebrada. This is one of San Miguel's best fine dining restaurants. The new space above a small boutique hotel,  has wonderful views of Centro and the Parroquia. The staff is extremely attentive and the food excellent. It used to be open for dinner and offered a full tasting menu. Now in its new space, they are open for breakfast, lunch and dinner. In addition to its tasting menu at dinner, they now offer ala carte options as well. I went for brunch with a local friend and  we both had a great experience. I also enjoyed visiting with Stewart Haverlack the owner, who has a real passion for great food and service.
I just went back for brunch and again loved the food. The crab benedict was excellent!
Doce 18 Concept House: The former Casa Cohen on Calle Relox 18 now houses high-end boutiques featuring jewelry, designer clothing and gourmet cuisine. There are galleries, a tasting room for Casa Dragones tequila, a store and small tasting room for La Santisima Trinidad winery, a new Cumpanio bakery called Panio and food court with Donnie Masterton's Taco Lab and Birdie's Burgers. I always go back to Le Macaron Boutique for wonderful macaron.  The tacos from Taco Lab were excellent! Recenly opened is Cent'anni Grill, from Cent'anni  Ristorante, featuring pizza, pasta and grilled meats. Upstairs, L'Otel, one of the top boutique hotels in town, has opened a number of boutique hotel rooms. It is a wonderful addition to San Miguel. You do feel like you are in Mexico City, New York or Chicago!!
Jacinto 1930 located in the Doce 18 Concept House has been taken over by well-known chef Vincent Torres and is now Oli Tapas. I went for the first time on my last visit and thought the scallop, octopus and tuna dishes were very good.
Le Cochon Qui Saute: French Chef Yves Maurice Vincent, has created a private dinner and delivery service featuring outstanding French food. He has several menus to choose from as well as different price points. I loved a dinner at the home of local friends, which consisted of mussels, French onion soup, steak au poivre with asparagus and potatoes, a cheese platter and a decadent chocolate mousse topped off with creme fraiche.
Luna de Queso: This is one of my go to spot in town which is a gourmet grocery and cafe. Here you can buy cheese and other specialty food items or grab a lovely quiche and salad in their cafe. They just moved around the corner from #79 Salida de Celaya to a larger location at Josefina Orozco 10. I am anxious to try out the new spot on my next trip.
Local 67 Cocina Bar at Jesus #8,  is a stylish cafe serving coffee drinks, breakfast and lunch. I enjoyed a tasty salad for lunch with a local friend. Opened in April 2016, is the sleek, new Quince restaurant located at Cuna de Allende 15. Opened by American restaurateurs, it features upscale Mexican cuisine in a spectacular setting overlooking the Parroquia and the city of San Miguel. I was there on one of the first nights it opened and thought the food and service were excellent. It is also a great spot for an early cocktail to catch a sunset view. They have some wonderful specialty cocktails made by their talented bartenders.
I always love going to Buenos Aires Bistro with local friends. At Mesones 62, they feature a large number of salads and steaks but do have fish and chicken entrees. The atmosphere is warm and inviting and the service excellent. They also have some wonderful Argentinian wines to try as well. I was just back for a special dinner with wine pairings. I thought the food was again excellent. I loved the empanada and the steak. The wines perfect for each course. The owner lived in Canada for many years and has now been in San Miguel for twelve years.
I recently went to a newly opened spot near Buenos Aires Bistro, Bruno Cucina at Mesones #58.  With other locations in Leon and Queretaro, this is an upscale Italian spot in a sleek, contemporary setting. They feature a number of salads, pizzas, pastas and entrees.  I enjoyed my dinner with a local friend. The caprese salad and the seafood risotto  where excellent. I very much enjoyed the experience!
Mi Bistro 300: Located at Quebrada 18D, this is restaurant opened by five partners from Mexico City who all met in a restaurant there. They have a creative menu of tacos, tostados, entrees and more. They started in a small outdoor spot, but just moved into a brand new spot across the parking lot. I thought the food was excellent as was the decor and ambiance. The grilled octopus entree was a perfect choice.
A recent find from my most recent trip is Kab'an Cocina de Origen.  Located at Hernandez Macias 43B this is an upscale restaurant on two floors with a small outdoor patio as well. It has a very creative menu inspired by the Mayan culture, an excellent chef and very knowledgeable servers! I had a lovely roasted beet salad and a mahi mahi fish entree served in a leaf with beans and vegetables. On the main floor there is also a small French pastry shop and wine store and downstairs is a fun speakeasy bar.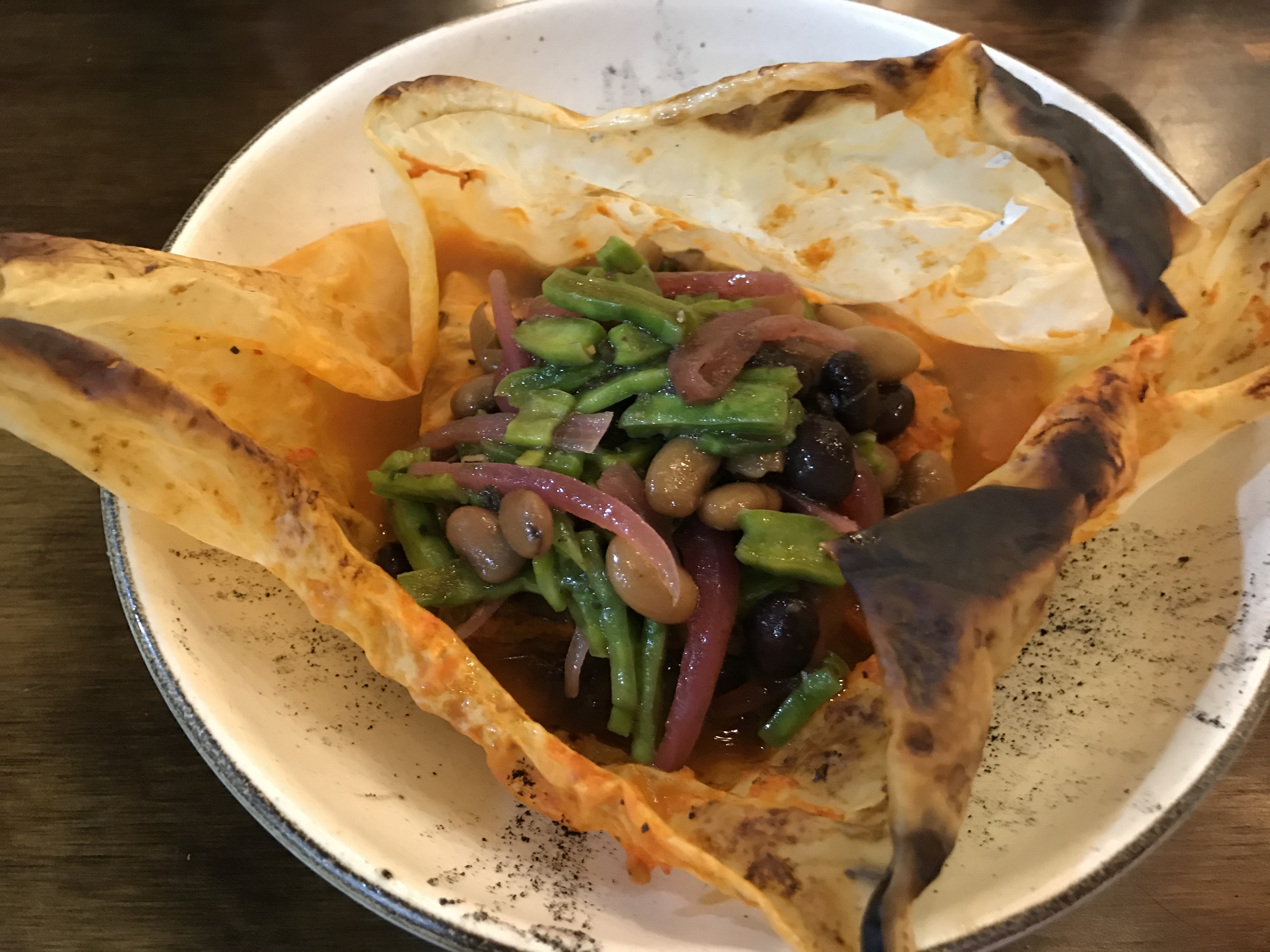 Antonio Bistro: Located atop the El Palomar Hotel at San Francisco #57, this new fine dining restaurant is a great addition to the San Miguel food scene. Not only are the views of Centro exceptional, but the food is excellent. I loved the beet salad, grilled tuna entree and decadent chocolate mousse, ice cream and cake.
Carnevino Grill: The well-known wine and butcher shop recently opened a lovely restaurant behind the store at Calle de Ancha San Antonio #22. They offer a large number of meat and steak entrees as well as fish. They closed the wine and butcher shop and how have Caprichio, an attractive cocktail and wine bar.
La Mansion de Montitlan: Located in the Los Balcones neighborhood, this is a very good restaurant located in a private home. Open on Sundays from 1 to 3pm and holidays, I was there for Easter lunch with friends and had a delightful meal. The setting on the terrace is really lovely. Montitlan 18.
Garufa Restaurante Argentino: At Canal #28, this a restaurant featuring meats and steaks. A little on the pricey side, it has a nice decor and good food. I chose the tuna entree and beet carpaccio and enjoyed it and my friends enjoyed the steak.
Opened in 2007, I went to Vivoli Cafe at Hernandez Macias 66 several times. After a somewhat bad experience, I stopped  going. I just went back to the newly christened Vivali Restaurant + Bar, that features a number of Italian specialties from pastas and pizzas. It has been recently revived by the original owner.  I really enjoyed the experience with local friends. My seafood risotto was very tasty as was the caprese salad.  I am glad that I went and will definitely go back!
Another fun,  casual Italian spot is Antigua Trattoria Romana at Codo 9. I went back again for a third time and was very impressed this visit. They have an extensive food and wine menu. I really enjoyed the  linguine al frutti de mare or linguine with fresh clams, squid, mussels, shrimp, octopus and fish.
Opened in mid- 2019 is La Doña de San Miguel at San Francisco #32. An upscale restaurant,  I was impressed with the decor, the service and the food. I loved the salmon entree with pistachios and a decadent chocolate dessert. My only disappointment was that someone next to us started smoking a cigar as we were paying the check. I recommend going on the early side before the locals go to avoid this happening to you. Is is part of a restaurant group based in nearby Queretaro.
Restaurants Outside of Town
With San Miguel gaining popularity as tourist destination, it often gets very crowded during festivals and holidays. There are more and more dining options within a short drive from town that are great places to escape the crowds. My recommendations include:
Nirvana Restaurant & Retreat is a wonderful spot to visit in Atotonilco, next to Mayer Schacter's Galleria Atotonilco.  There are lovely grounds, a pool, hotel rooms and a great restaurant. The food, service and views are always great. They do a wonderful shrimp in Jamaica sauce and salmon with mango salsa. If they have the watermelon gazpacho, make sure to order it!  I have been a big fan of the owner, Juan Carlos Escalante and his wife, for over 15 years when they had their first place downtown. I make a point to go at least once a year when I am in town. My favorite spot is on the terrace in the back! I would call ahead to make a reservation in advance as it is very popular on weekends.
La Burger: On the road to Dolores Hildago, just outside of town, is a well-known road-side spot featuring really awesome burgers. Fun outside seating with a red, green and white motif. The excellent burgers are grilled over mesquite wood. Had a perfect lunch with friends. Other friends recommend the steaks. Carretera San Miguel de Allende – Dolores Hidalgo km. 7.3.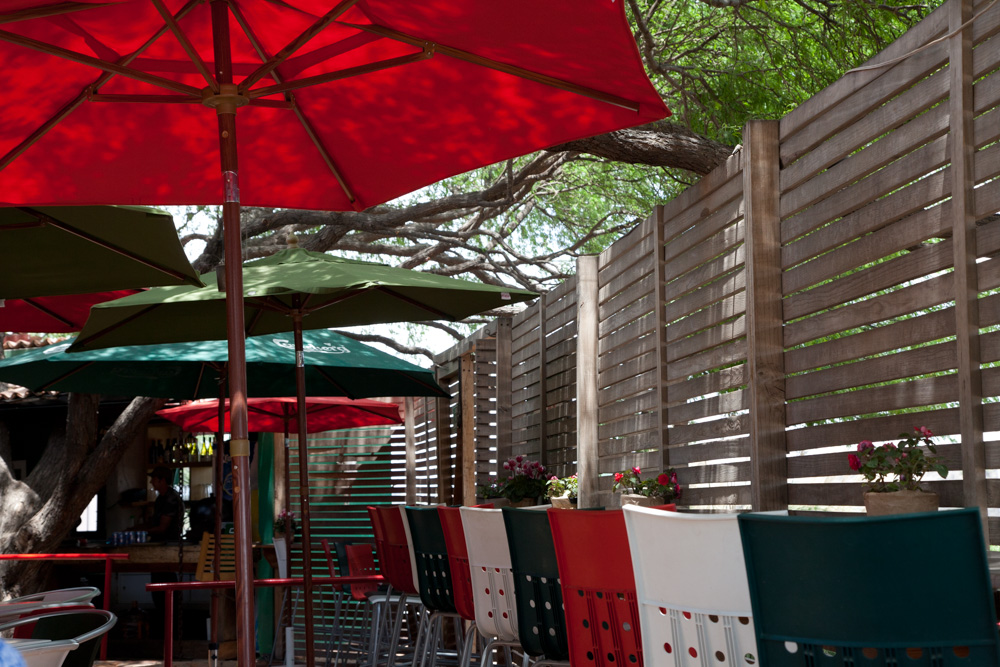 Another new spot is El Vergel. Located at Camino a el Vergel, a short drive outside of town near Candelaria, this is a restaurant and market with Chef Donnie Masterson as one of the owners. On my first visit, I enjoyed a lovely lunch on the terrace with local friends. The chicken sandwich with asparagus pesto was excellent. On my second visit, I went at night to enjoy a great meal and listen to jazz. In addition to a great restaurant, there is The Market, run by Luna de Queso,  which has some great food items to purchase. I was back again and loved the salmon and quinoa risotto.
La Santisima Trinidad recently opened Vinedos San Lucas across from Vinicola Toyan a short drive from San Miguel by taxi.  This is a stunning property that features a boutique hotel, restaurant and spa. There are vineyards and a new winery that has recently opened last November. Tastings are available by reservation three times a day except for Tuesday. I had an excellent brunch in the elegant restaurant overlooking the property before my tour and tasting. You feel like you are in the middle of Tuscany! The hotel rooms are really outstanding. They offer horseback riding and other activities as well.
I always enjoyed D'Andrea Ristorante Mediterraneo, a short taxi ride from San Miguel at the beautiful Hacienda de Landeta.  Andrea Lamberti moved  his restaurant to a location on the road to Dolores Hidalgo, but is now back at Landeta.  It is a small restaurant with outdoor patio the features excellent Italian specialties. I am excited to try it on my next trip. Carretera San Miguel de Allende Doctor Mora km 2.5
D'Adrea's former location in the former stables of the Hacienda Landeta,  is now the home to Parrilla al Rojo Vivo. This is a good spot for steaks, pasta, salads, and grilled chicken. I always loved the atmosphere when it was D'Andrea Ristorante. The food and service were very good when I went with local friends.
Another great spot out of town is the YO Restaurante at the Hacienda  los Picachos, a lovely hotel property just outside of San Miguel on the road to Queretaro. I enjoyed it for Sunday brunch with local friends.
I went to  Valle de Los Senderos many years ago when it was smaller development with a small organic restaurant. Over the last few years, the development has undergone a major transformation. The stables has been enlarged and the restaurant closed. The owners have built a new beach area near the water features on the property. They have created places where people and families can swim, enjoy horseback riding, yoga classes, boating, paddle boarding, biking and walking trails. A new spa is under construction.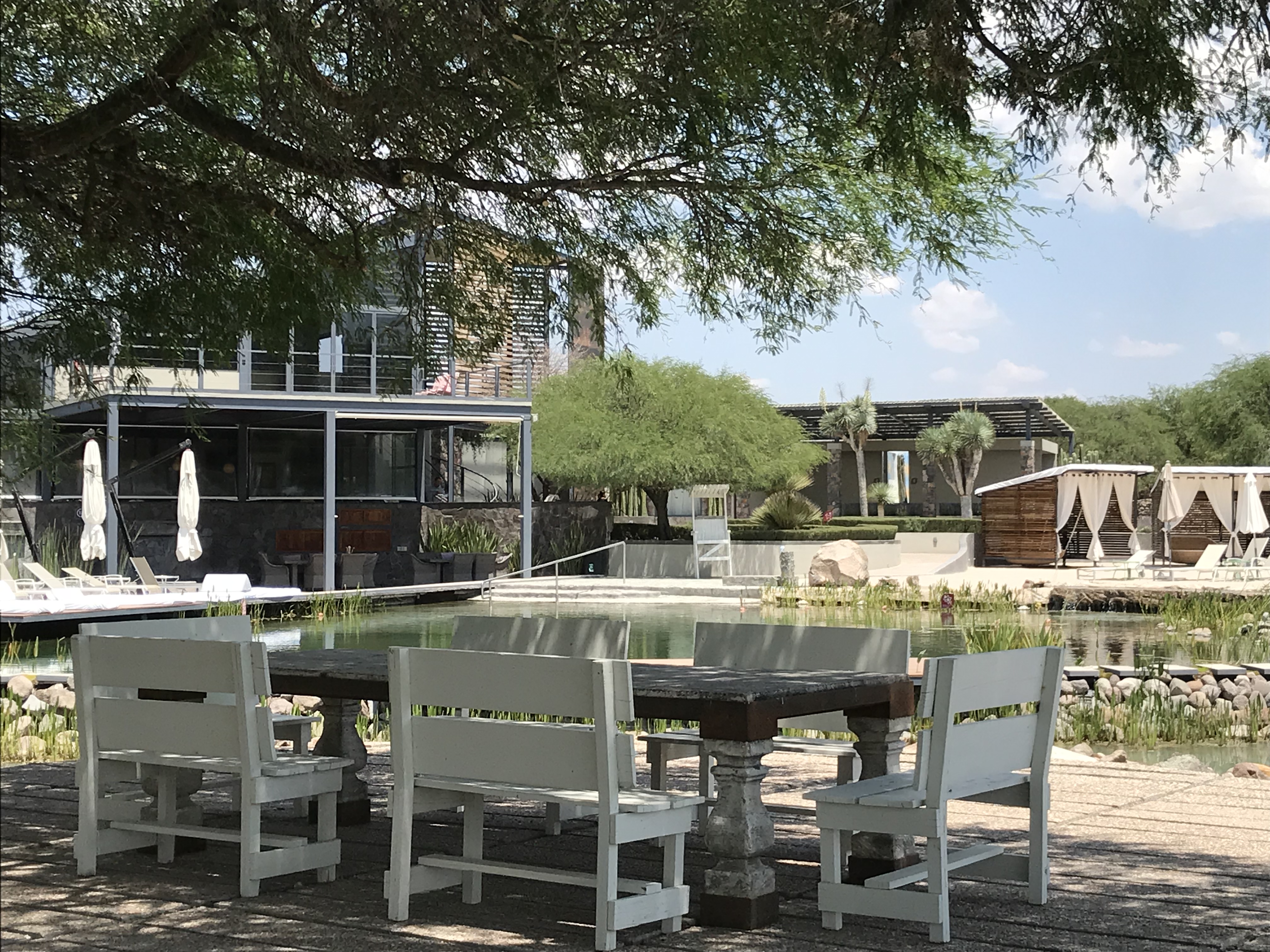 While enjoying your time at the resort, you can eat at their food truck which has a great menu or enjoy their restaurant Manaia which also offers music in the evenings.
Also at Valle de Los Senderos is La Santisima Trinidad's newest venture, Viñedos Los Senderos.They took over the 0ld Los Senderos vineyards and built a new winery, tasting room and restaurant. The highlight is their restaurant, Barrica de Fuego Smokehouse & Grill, with an Argentinian  menu of meat dishes with cooking on an open fire or in a mesquite smoker. I loved the contemporary decor with great views of the vineyards and surrounding countryside. I expect that as the vineyards grow and production increases that tastings will be offered.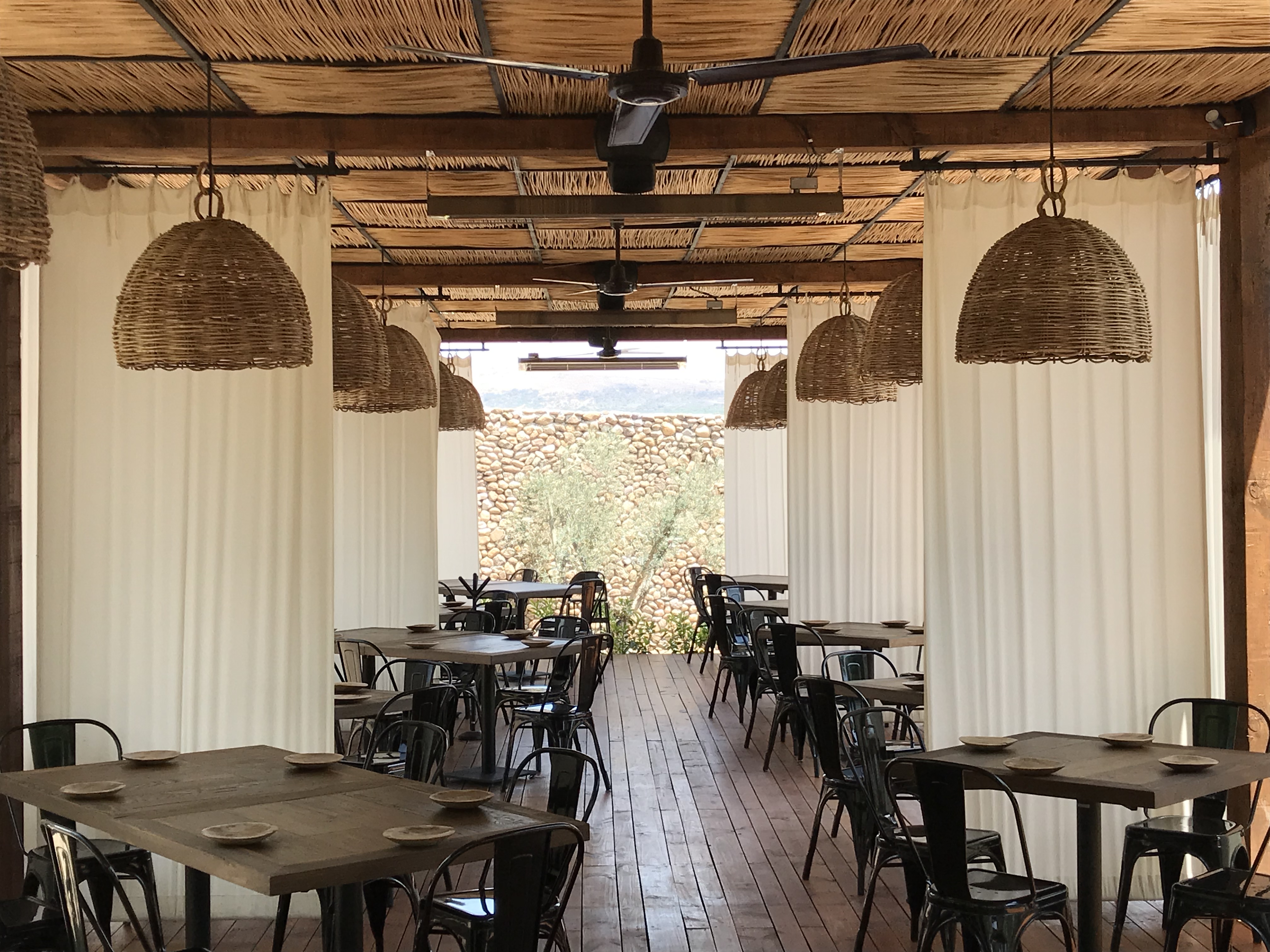 Sounds like all we do is eat in San Miguel. With many things being grown or produced locally, like artisanal cheeses, and with amazing new restaurants showing great creativity, San Miguel is becoming a Mecca for "Foodies" from all over!!!