At the request of a good friend, I am adding a post on the best rooftop dining. With great weather most of the year and stunning views, San Miguel is a perfect spot for rooftop dining. Also, with the impact of the COVID-19 in 2020, 2021 and 2022, rooftop dining has become even more important. My top recommendations include:
Casa Nostra: Opened in February, 2018, this is a wonderful addition to the dining scene for Mediterranean cuisine.  It is located at Terraplen #8, south of the Jardin and north of Parque Juarez.  It has a small indoor dining room, but has two outdoor terraces upstairs. The top terrace is perfect for views of the sunsets over the distant mountains,  the flowering jacaranda  trees in the spring and of the churches of San Miguel. I  am always very impressed with the passion of chef/owner Marco Massarotti and the wonderful menu he has created. It features a large number of  tapas, salads, risottos and pastas plus entrees of fish, chicken and veal. In the colder months, you might enjoy cheese fondue, raclette and chocolate fondue for dessert.  There is also an extensive menu of cocktails and wines. I love the pistachio crusted tuna, the salmon with mango cilantro sauce and their ravioli specials. I always look forward to going back for for another great experience.
A great new find is the restaurant on top of the El Golpe de Vista boutique hotel at Prol. de Aldama 1 across from the fountain at Cardo. I have friends who have gone in the evening for cocktails and dinner, but I chose to go for Sunday brunch. I loved the incredible views of Centro, the service and the food.  I had a perfect omelette. In addition, the experience was enhanced by the live violin music being played They are open for brunch on Sundays and for lunch and dinner the other days of the week, I just went back again with friends for dinner. It is a perfect spot for sunset views. They have a large menu of food as well as cocktails and wine. I loved the seared tuna entree.  Reservations are accepted. 415 688 1444.
Opened in 2020, Cielo Rooftop is a great addition to the restaurant scene in town. Located at Correo #9, at the corner of Sollano and Correo on the edge of the Jardin, this rooftop restaurant has excellent views and food. They feature a breakfast menu from 9:30 am to 12:30 pm and then a lunch and dinner menu is offered from 1pm until closing. I recommend the breakfast menu. My friend and I split our entrees which allowed us to try two of their dishes. The Spanish omelette and the toast with goat cheese, arugula and serano ham were both excellent. They also serve coffee, tea and other drinks. I loved the food, the service and the views.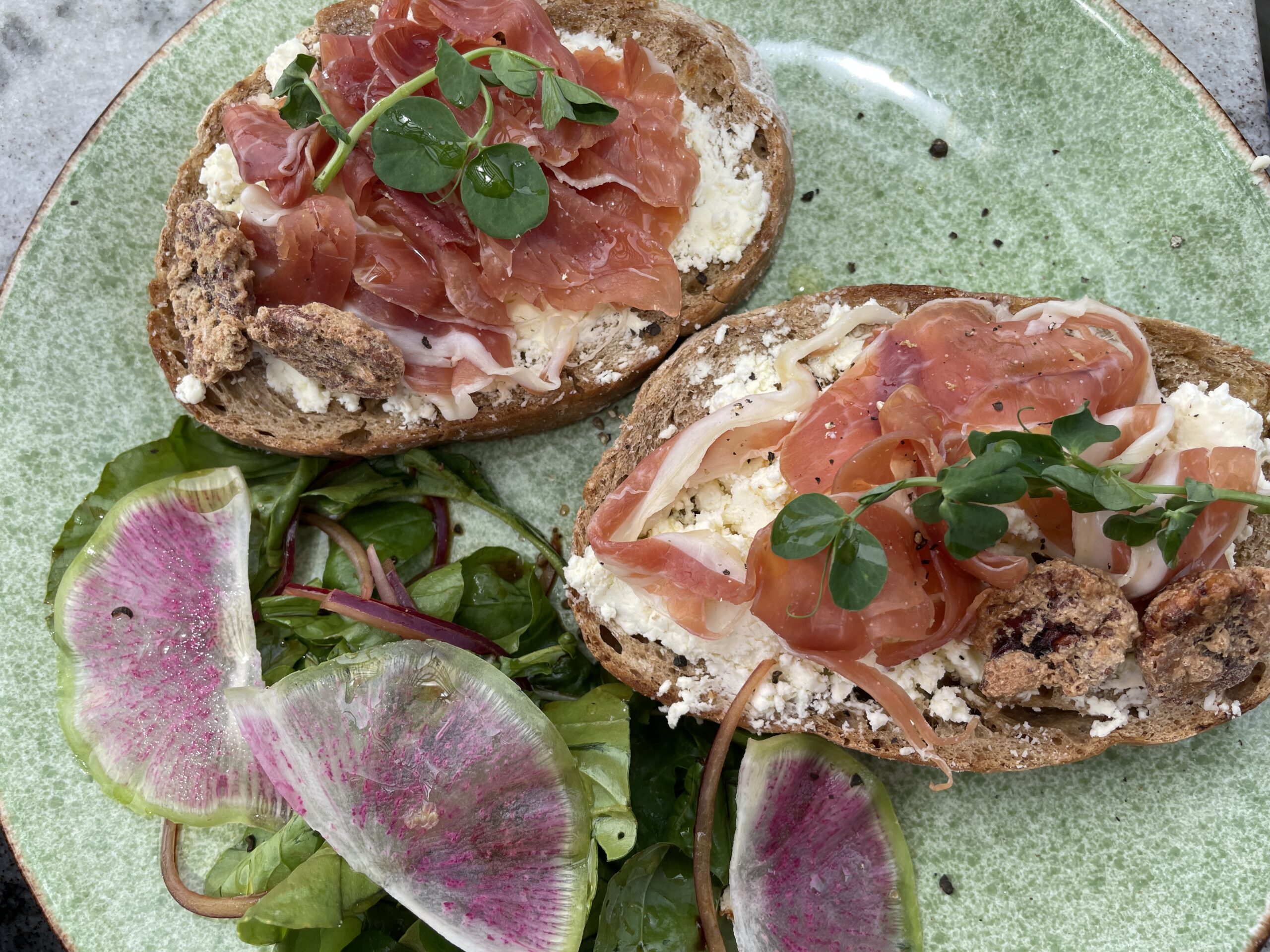 Opened in June, 2022 is a new fine dining restaurant, Sollano 18 by Vincente with lovely rooftop views of Centro. Their San Miguel location is one of eight restaurants located in towns including Guadalajara, Mexico City, Morelia and Querétaro. It is known for it grilled meats and seafood. They have a large menu including steaks, pasta, tacos and carpaccios. I enjoyed my  grilled octopus or pulpo for lunch along with excellent service. They also have small private dining room on the first floor.
At the suggestion of a friend, I made sure to try Hacmans Cocina A La Leña at the recently opened hotel, Amatte Wellness Community, at Salida Real a Querétaro 168. It is located on a rooftop above Centro with stunning views of the area. Make sure to go for the sunset! There are a lot of steps to climb or you can take the elevator to the top. There is restaurant seating along with five bars offering tequila, wine and cocktails.  I was very impressed with the menu and had one of the best meals that I have had in town. The quality of the food, the presentation and the service were top notch.
I enjoyed the octopus ceviche amuse-bouche, the burrata salad with figs and tomatoes, a sea bass entrée with some mussels and topped off by a deconstructed carrot cake ice cream. I also had an excellent old fashioned with a smoky mezcal.  I highly recommend the experience.
Having read good reviews, I was excited to try b'ani at Umarán 34, located on the roof of the Hotel Naramu boutique hotel. It did not disappoint. It has great views of  Centro and the downtown churches. Open for breakfast, lunch and dinner, except on Monday, I took a friend there for brunch at noon to celebrate her birthday. I loved my smoked salmon omelette with fresh ingredients, the presentation, the views, the sleek style and the service. I will definitely go back.
b'ani opened a smaller, second location at Cuna de Allende #15 in March, 2023. I went for lunch and really liked the food, atmosphere and service. I had some guacamole and chips along with two large octopus tacos. I highly recommend it.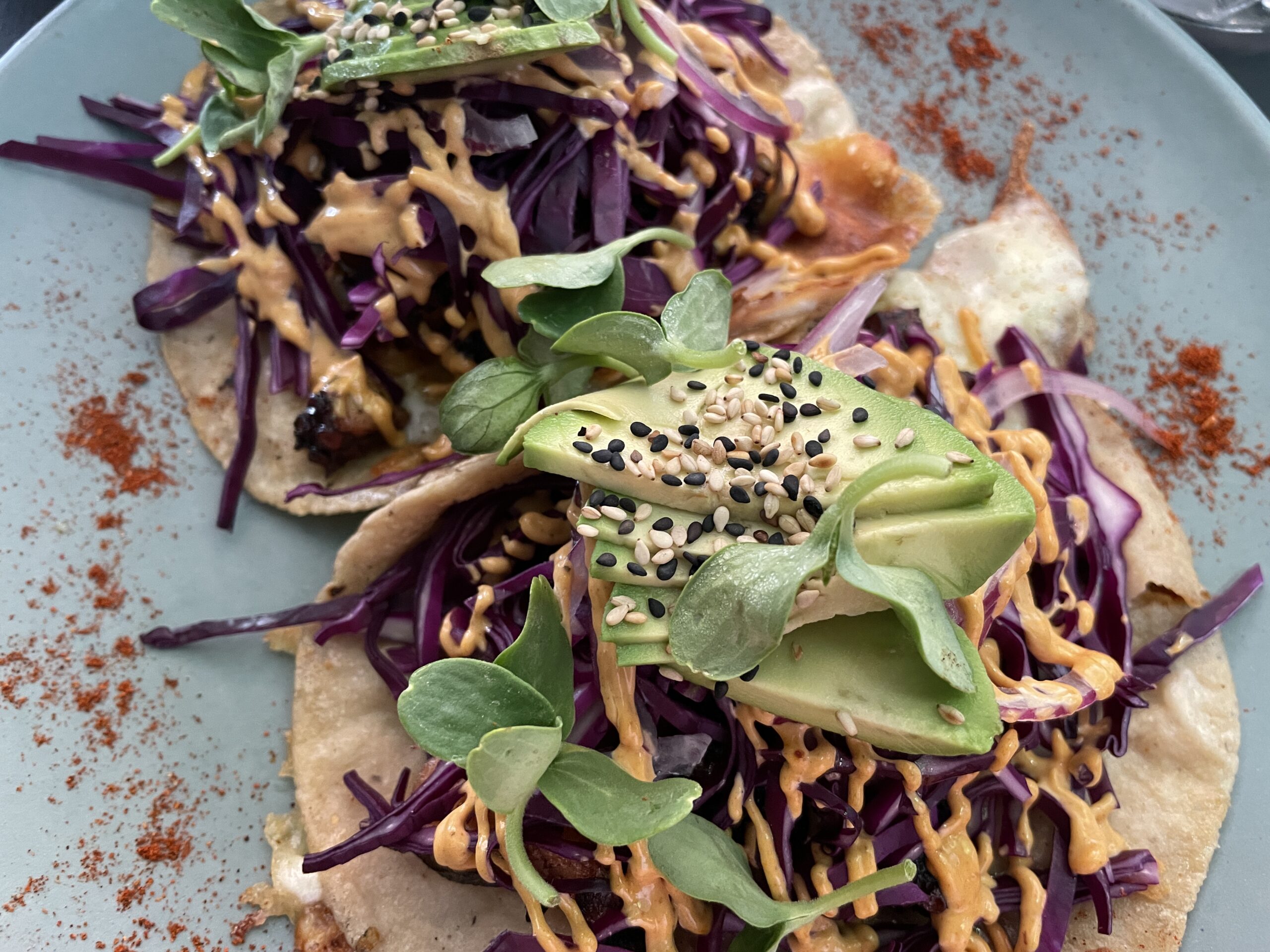 Trazo 1810: Located at Hidalgo #8 in the Casa 1810 Boutique Hotel, I enjoyed an excellent meal in their rooftop bar and restaurant. The views are stunning and the food outstanding. I loved the beet salad and octopus/pulpo entrée. The chocolate dessert was excellent as well. My friend loved the fresh green salad and a lovely couscous served with grilled shrimp.  I highly recommend this great new spot close to the Jardin.
La Azotea and Pueblo Viejo's new fine-dining restaurant ATRIO means atrium. When you make the climb to the rooftop restaurant you get one of the most spectacular views of the Parroquia in the entire city. It is located in the old La Fragua space at Cuna de Allende #3  I went on the first night and loved the food. The salmon on a bed of curry, the burrata salad, a quinoa/shrimp salad. Fig and mascarpone dessert was amazing. It had lovely wines and large cocktail menu. 
Cent'anni Trattoria: At Canal 34, this is second location for this Italian trattoria based in Condesa in Mexico City. The San Miguel restaurant opened in early 2014. It has inside seating downstairs but the highlight is the rooftop bar and outside terrace seating with wonderful views of the Las Monjas across the street. They have a large menu of pizzas, salads, pastas and meat and fish entrees. Our group had a great house salad with nuts, goat cheese and apples, and steak, fish and  grilled pulpo or octopus. I have been back several times and always enjoy the experience.
La Azotea: A sleek restaurant that is perfect for drinks, lunch or dinner overlooking the mountains and nearby churches. Sunsets here are excellent. It was smaller when it first opened, but has recently been expanded for more bar/lounge seating. It has a great tapas menu with good jicama tacos. I always enjoy the experience. Umaran 6.
Next door to La Azotea is the recently opened Carajillo bar and restaurant. With restaurants in Mexico City, Cancun and soon in Merida, they feature a creative food and cocktail menu. The presentation sets it apart from other spots in town.  The name comes from the hot coffee drink with added hard liquor that is popular in Spain and other Latin American countries. Thus the emphasis on creative cocktails.  It is hip restaurant with nice views and music. Be prepared as it is not a quiet spot. I enjoyed my dinner and cocktail as did my friends. Umaran #8.
El Pegaso, corner of Correo and Corregidora, for great lunch fare. I always get the gazpacho. They recently opened a lovely rooftop dining room and bar which has great views.
Formerly located in the Colonia San Antonio neighborhood, Zumo restaurant has recently moved to its new location at Canal and Quebrada. This is one of San Miguel's best fine dining restaurants. The new space above a small boutique hotel,  has wonderful views of Centro and the Parroquia. The staff is extremely attentive and the food excellent. It used to be open for dinner and offered a full tasting menu. Now in its new space, they are open for breakfast, lunch and dinner. In addition to its tasting menu at dinner, they now offer ala carte options as well. I went for brunch with a local friend and  we both had a great experience. I also enjoyed visiting with Stewart Haverlack the owner, who has a real passion for great food and service. tewart just expanded the restaurant by adding another terrace on the rooftop above. It can be reserved for dining and special events.
Thanks to a social media post I found Roof Clandestino, a small bar at the top of the Clandestino Hotel that is located at Recreo #31 a short walk from the Jardin. I am always looking for a fun spot to enjoy a drink an watch the sunset in town. This is a small bar with wonderful views. It is not a well-know spot, which makes it a great place when the town is more crowded. Weekends are a little busier than during the week.
Next door, is the newly opened Tunki Rooftop by Handshack at the Belmond Casa de Sierra Nevada at Hospicio 35. They have lovely views and have a menu of small plates along with cocktails and wine. I enjoyed by wine before dinner down the street. You must book online as the seating is limited. You go to the hotel and the staff will let you up if you are not a guest of the hotel.
Opened in April 2016, is the sleek Quince restaurant located at Cuna de Allende 15. Opened by American restaurateurs, it features upscale Mexican cuisine in a spectacular setting overlooking the Parroquia and the city of San Miguel. I was there on one of the first nights it opened and thought the food and service were excellent. It is also a great spot for an early cocktail to catch a sunset view. They have some wonderful specialty cocktails made by their talented bartenders.
Antonio Bistro: Located atop the El Palomar Hotel at San Francisco #57, this new fine dining restaurant is a great addition to the San Miguel food scene. Not only are the views of Centro exceptional, but the food is excellent. I loved the beet salad, grilled tuna entrée and decadent chocolate mousse, ice cream and cake. I recently went back for great sunset views and really enjoyed my shrimp tacos and mozzarella salad.
I read about and just tried Ki'bok Coffee at Sollano 25, A bock off of the Jardin, this a fun spot for coffee that has a lovely rooftop patio with great views. This cafe is the second one after their original in Tulum.
A new spot in town is Sabroso Taqueria at Zacateros #41. This is a fun, casual and colorful spot that features a large number of tacos made with different preparations. I enjoyed the chicken tacos with cheese. It came with a number of salsas you can add. They also feature a number of sides as well. On nice days, I recommend eating upstairs in the Raffaele rooftop terrace and bar. Next door they also have Chicago's Stuffed Pizza for those craving this Chicago specialty.
I always enjoy the wonderful views and Mexican food of La Posadita at Cuna de Allende 13. They have great Mexican specialties. Make sure to eat on the rooftop terrace!
Luna Rooftop Tapas Bar: Located at the Rosewood Hotel in San Miguel, you will find Luna, the rooftop tapas bar which has amazing views of Centro and the Parroquia. This is the place to watch the sunset over the city.
MX Restaurante Bar: Make sure to check out this fun San Miguel restaurant and bar. The decor is sleek and contemporary and the upstairs rooftop bar is one of the best in town. The lighting at night is spectacular and the views of the Parroquia are wonderful!! A perfect spot for an after dinner drink. They have a full menu upstairs as well as in the dining room downstairs, including sushi. It is located at San Francisco #8, a block from the Jardin.
Casa No Name, a small boutique hotel at Hernandez Macias #52, has Olivia BAr. This is a lovely spot to stop in and enjoy a cocktail in a perfect setting on the roof.
The Hotel Casa Blanca, at Juarez 7, opened Fatima 7 by chef Donnie Masterton in May, 2019.  I went for a  private event just as it was opening and and then went back while hosting a family dinner. The food was excellent and the views stunning. It is now under new management.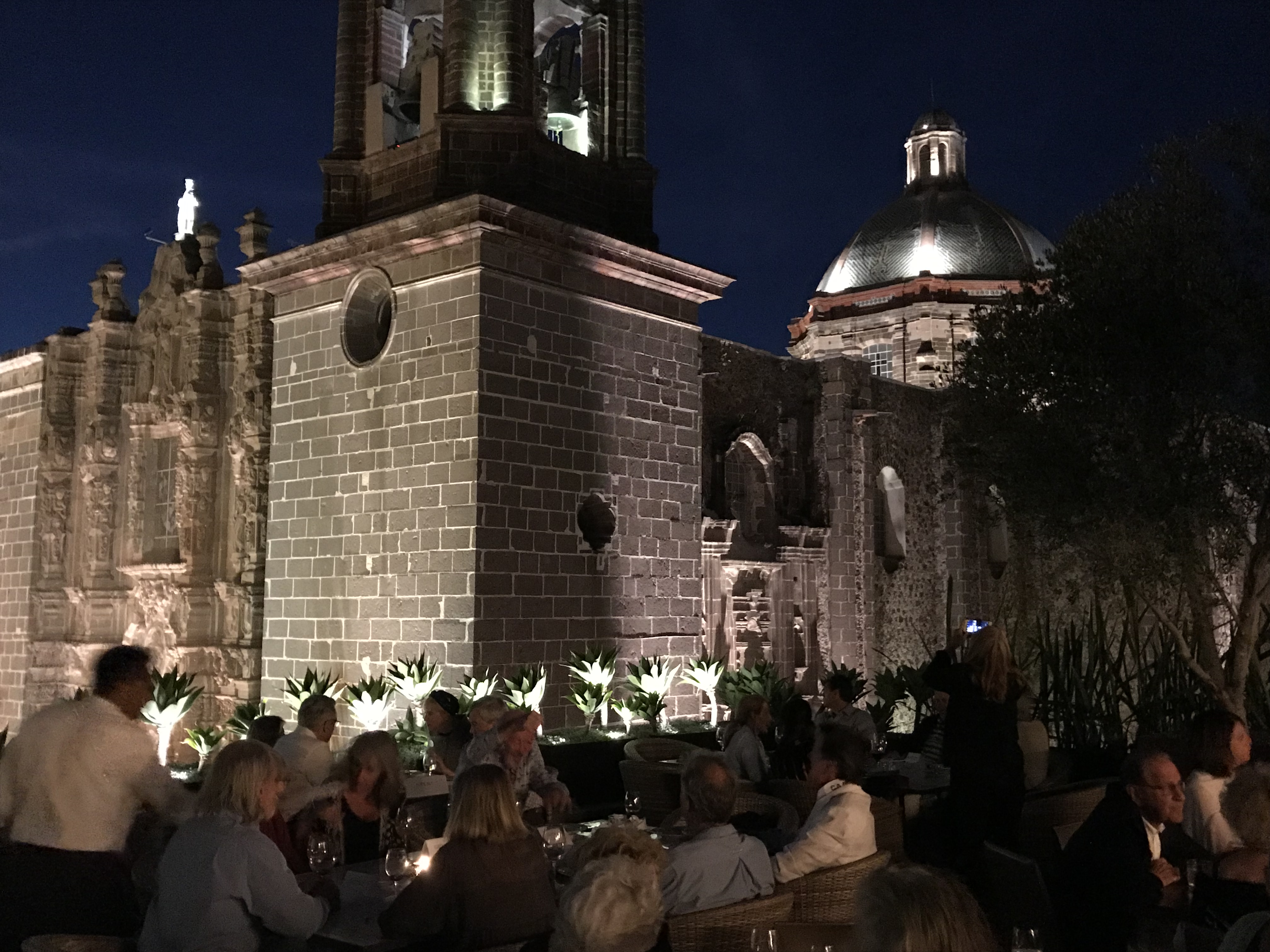 After reading about the recently expanded Inside Cafe at Insurgentes 66, I had to try it. I went for lunch and really enjoyed the experience. The delightful owners are Teu Campbell from New Zealand and David Barajas from San Miguel. They opened it just as a coffee shop, but have expanded to a rooftop restaurant with both indoor and outdoor seating.  They feature a menu of breakfast and lunch items including sandwiches and salads. I thought the grilled cheese sandwich was one of the best I have had anywhere! I had to go back and have it again. It was so good.
They recently added a second upstairs terrace for more seating.
On my recent trip I enjoyed Anónimo Rooftop at the Selina Hotel at Cuna de Allende #11. I went with family and friends for dinner and to enjoy the sunset views. It is an attractive spot with outstanding views and excellent menu of food, wine and cocktails. I really enjoyed the roasted beet salad and the fish entree of the day with fresh herbs in a beurre blanc sauce. The presentation of both dishes was perfect. It was an excellent experience. Just be aware that there is no elevator and there are many steps to climb.
Abel Hernandez, the chef, has created three of Mexico City's most popular restaurants: Eloise Chic Cuisine in San Ángel, Loretta Chic Bistrot in Álvaro Obregón and Margaret Chic Kitchen, a French-American kitchen in Polanco.