I have been wanting to visit the Indiana Dunes National Park since it was upgraded to national park status in 2019. It is under an hour drive from Chicago and is an easy day trip. I recently went on a beautiful September day, and felt that I was totally away from the city, though I could actually see the skyline in the distance from several points along the beach! 
Indiana Dunes National Park
Indiana Dunes National Park: As one of our newest National Parks, this is a long, 15 miles stretch of Lake Michigan shore. With 15,000 acres between Gary, IN and Michigan City, IN, it surrounds the Indiana Dunes State Park. Together, the preserves include beaches, prairies and oak savannas, marshes or wetlands, forests, rivers and bogs. The dunes reach nearly 200 feet above Lake Michigan and there are more than 50 miles of hiking  trails that lead through diverse plants and wildlife. Other popular activities include camping, sailing, swimming, fishing, biking, horseback riding, boating, and bird watching. Created by strong winds from Lake Michigan, the dunes were saved in the past from the creeping industrialization from nearby Gary. 
To get to the area from Chicago, the South Shore Railroad from Chicago does make four stops throughout the park. I understand that the The Dune Park station is the only stop within the park that allows bikes. The beaches and dunes are approximately two miles from the stations. But with so much to see and do in the area, I recommend driving or renting a car so you have flexibility to explore. It is an easy drive from downtown by taking the Chicago Skyway, a toll bridge.
I suggest that you stop in at the Visitors Center on IN 49 just south of US 20, when you arrive, to get a map and guides on both the National Park and State Park. Their information was very helpful. 
As of March 31, 2022, a new entry fee will start at $15 per person for walk-ins, bikes, and boats, with a maximum of $25 per family, according to the National Park Service. Vehicles will be charged $25 for up to seven days, and motorcycles will be charged $20. Visitors can buy an annual pass for $45. Anyone who holds a federal land pass (like an annual pass, senior pass, veterans, military, or gold star family pass, fourth grade pass, access pass, or the volunteer pass) will be exempt.
The roughly 20-mile-long "Dunes and Lake" drive includes a leafy segment of U.S. Route 12 as the tree-flanked highway cuts through the park from east to west.
There are multiple access points to the beaches and Lake Michigan. I enjoyed exploring West Beach with its popular bathhouse and large beach. For a challenge, you can also climb the 250+ stairs of the Dunes Succession trail with ponds and a mile-long boardwalk. I did not hike it, but I understand it is worth the hike for the panoramic views of surrounding dunes and Lake Michigan. 376 N. County Line Rd. in Gary, IN.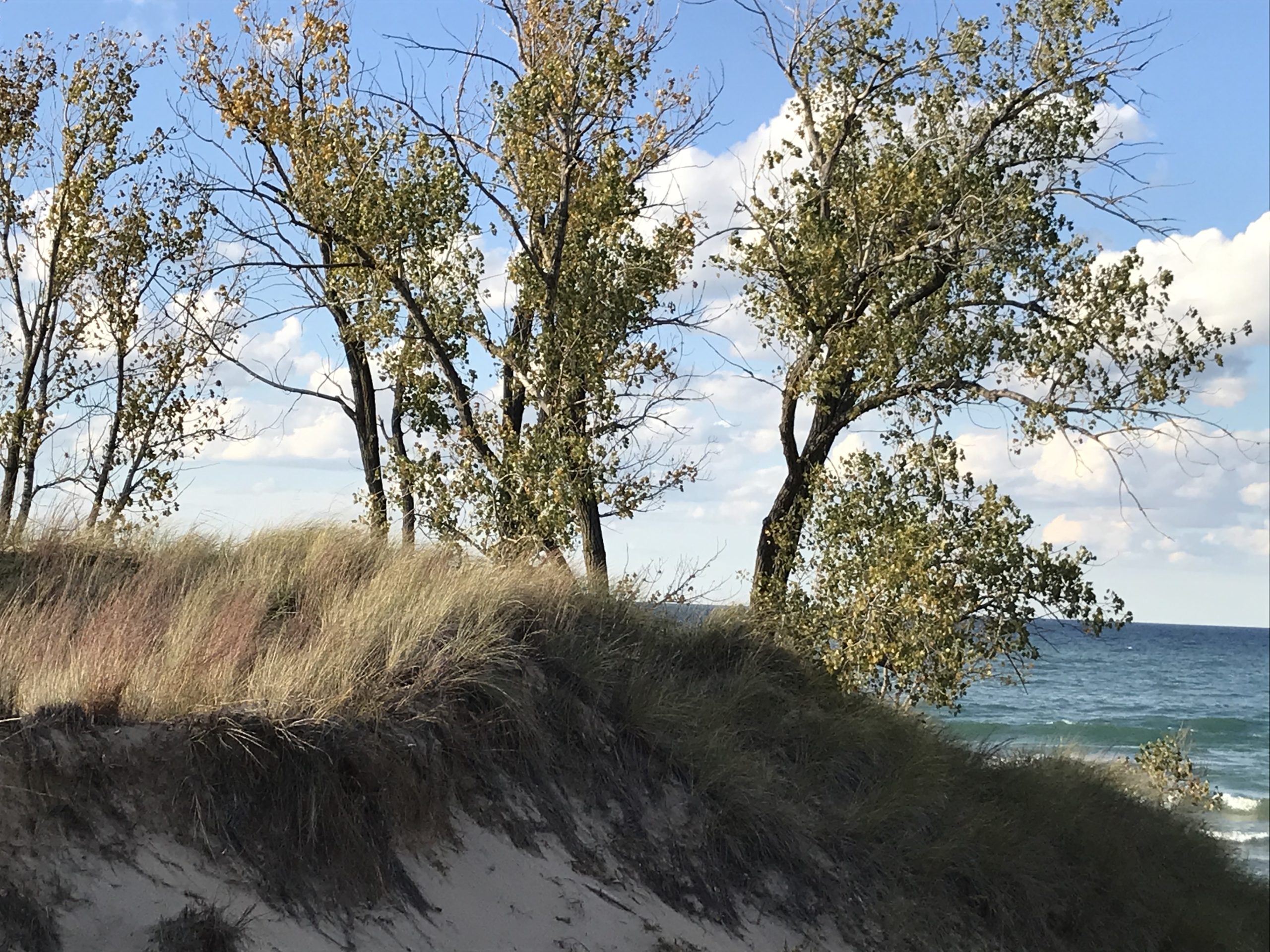 Porter Beach at 3057 Wabash Ave. in Porter, IN,  is a popular beach as is Kemil Beach at 26 N. East State Park Rd. in Beverly Shores and Lake View Beach & Picnic Area at 50 W. Lake Front Dr. in Beverly Shores.
I just read that between Porter Beach and Kemil Beach is the Dunes Pavilion. Located in a historic building from 1930, it has undergone a recent renovation. It now features a pizza restaurant and grill, an ice cream shop and an event space. There is often live music as well. It offers wonderful views of the lake from its rooftop lounge.
East of Kemil Beach is the Dune Ridge Trail which has a handful of trails that loop around a forested dune, with many wildflowers and views of the wetlands to the south. 
The Indiana Dunes State Park is surrounded by the National Park. This is a separate park with different regulations and fees. It has more than three miles of beaches and 2,182 acres. There are beaches, hiking trails, a nature center, camping, and a nature preserve. I didn't visit the park but understand that the Devil's Slide is particularly fun in the winter, when it transforms into a natural tubing and sledding hill for visitors. 
Meanwhile, the Glenwood Dunes Trail System, located more inland at Indiana Dunes National Park, features interconnected loops that pass through rolling wooded dunes. At the eastern end of the Park towards Michigan City, you can visit Mount Baldy, a 126 ft. tall sand dune mountain that's always changing shape, as well as gorgeous beaches and freshwater swimming. 
I learned in a recent program hosted by Chicago Detours, that they recommend a stop in Miller Beach to view the classic stone bathhouse or Aquatorium that was built in 1921. It can be found at One Marquette Drive at Miller Beach in Marquette Park, located in Gary, IN. It is listed as a National Historic Landmark.
Beverly Shores
Beverly Shores is a small town near the east end of the Indiana Dunes and 36 miles from Chicago, IL and to the west of Michigan City, IN.  Here you can walk the beach, hike the dunes, explore some historical homes and enjoy a great meal.
Goblin and the Grocer: This is a casual market and restaurant serving excellent soups, salads, sandwiches along with schnitzel, Austrian goulash, sauerkraut and more. I chose it after reading several articles recommending it as one of the best spots in the area. I was glad that a longtime friend, who lives in Beverly Shores, could join me. I had a tasty black forest ham sandwich with whole grain mustard, strawberry preserves and swiss cheese on a marble rye bun. My friend loved the Bavarian roasted turkey with cranberry compote and Brie on a pretzel roll. 1 W. Dunes Hwy.
Century of Progress Homes: Not to be missed is the Century of Progress Historic District. Located East of Kemil Beach, you will  find five homes that were built for the 1933 World's Fair in Chicago. A residential developer, Robert Bartlett, moved the homes to the area in 1935 to attract buyers for his Beverly Shores community, a new housing development. They were loaded on barges and then moved to the dunes above the beach 50 miles away. Seeing them before heading home was the highlight of my Indiana Dunes day trip.
These five historic houses were constructed for the 1933 Century of Progress Expo's "Homes of Tomorrow" exhibition. Here architecture firms used Modernist aesthetics, like Art Deco and Art Moderne, new building techniques, notably prefabrication, and new materials, like the artificial stone called Rostone. Since being moved and also in recent years, they have been totally remodeled to preserve them for the future. The homes include:
Armco-Ferro House: This house on a high hill is located at 212 Lake Front Dr. It is an all-steel home using corrugated steel panels for walls without a frame. It was designed so that it could be mass-produced at an affordable price. 
Cypress Log Cabin: My friend who lives in the area, used to live in this historic home at 215 Lake Front Dr. It was built  from cypress to be a mountain home with a lodge atmosphere, along with cypress fences, arbors and bridges. 
Florida Tropical House: This was my favorite of the five. Located on the beach at 210 Lake Front Dr., the flamingo pink paint makes it really stand out. It was designed for Southern Florida and its tropical climate. It has a two-story living room and large open terraces on the roof.
House of Tomorrow: This was designed as the house of the future with three stories, glass walls and a garage and airplane hangar below on the first level. It is currently the only one of the five houses that is under renovation. 214 Lake Front Drive.
Wieboldt-Rostone House: This is a home that is framed in steel and clad with an artificial stone called Rostone that was later replaced. It is right on the beach at 208 Lake Front Drive.
One bit of trivia is that one of the display homes from the Fair was not moved to Beverly Shores, but was moved to the site of the Chicago Yacht Club at Monroe and Lake Shore Drive in 1935 as a temporary clubhouse. Once the new clubhouse was built in 1955, it became the Mackinac Bar and is still in use today.
Just east of the district is the The Horner House, an historic house at 2 Merrivale St. It is an excellent example of the mid-twentieth century architectural movement known as the International Style that was built in 1949. This style is "characterized by rectangular structures and forms, simple exteriors with large glass panes and open interiors." It is listed on the National Register of Historic Places.
Chesterton, IN
South of the Indiana Dunes is Chestertown, a charming small town in Porter County, IN with a population close to 13,000. The three towns of Chesterton, Burns Harbor, and Porter are known as the Duneland area. It has a very walkable downtown with a number of art galleries, boutiques, bars, cafes and restaurants.
I recommend that you try:
Running Vines Winery: Located on the main square at 101 Broadway is a contemporary tasting room of the Valparaiso based winery. They feature their white, red and sweet wines. As a red wine fan, I enjoyed their Cabernet Sauvignon which was a full bodied red with a smooth finish. The parent Aftermath Cidery & Winery, in addition to wines, makes a number of ciders.
I was not that familiar with Indiana wines until I went to Chesterton. But I hope to visit more in the future. There are currently ten wineries in Northwest Indiana on what is known as the South Shore Winery Trail. There are tasting rooms that offer tasting and special events. They feature wines as well as ciders and mead or honey wine.
Red Cup Café & Deli: At 115 Broadway, this is a fun café serving homemade pastries, coffee, deli sandwiches and soups. I had a latte and a yummy piece of pumpkin pie. It was perfect on a beautiful fall day!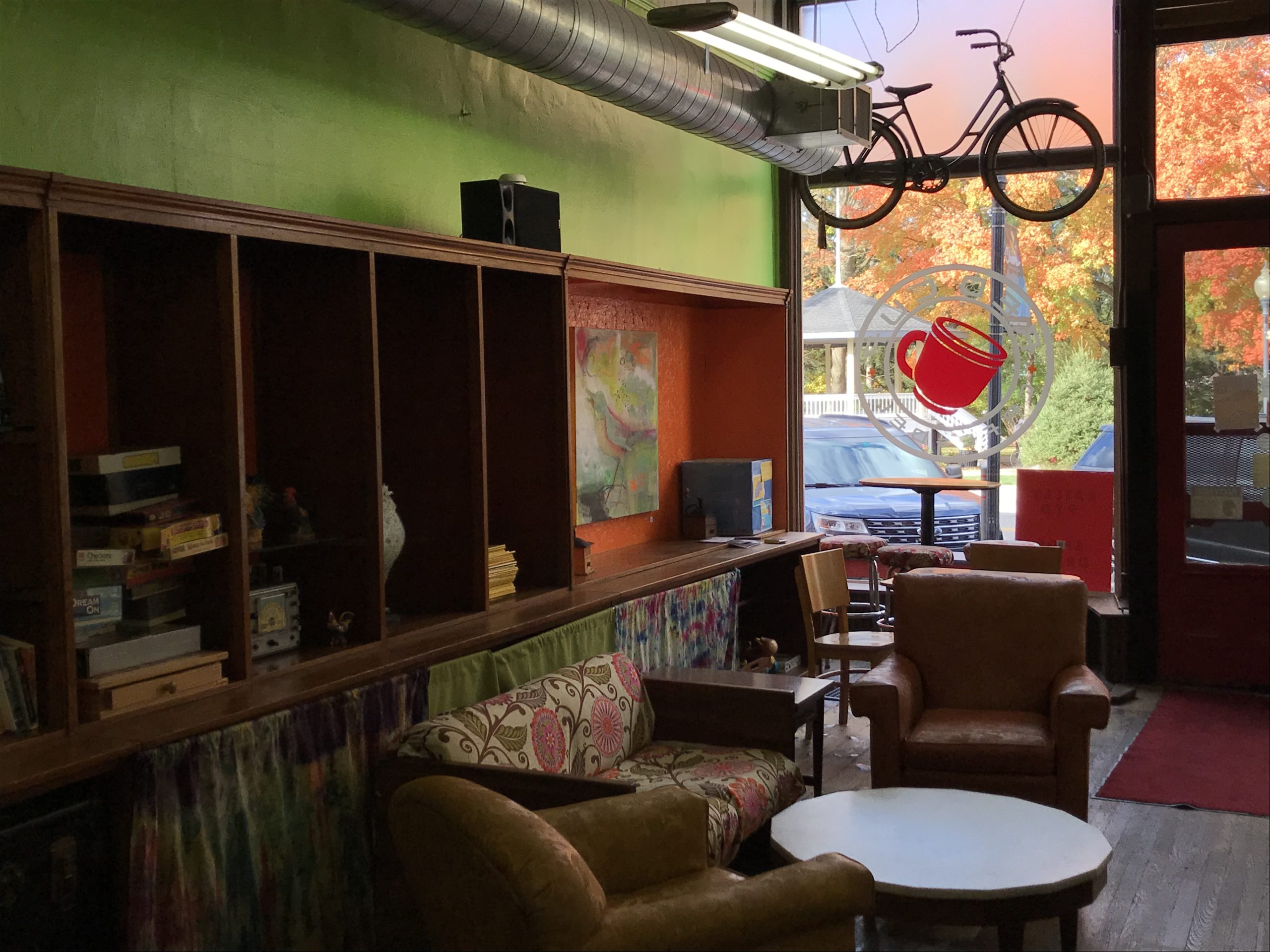 Octave Grill: This is a popular spot that is recommended for its burgers, craft beer and cocktails and desserts. 105 S. Calumet Rd.
Northside Diner: This casual diner gets great reviews for its breakfast and brunch menu. It is right downtown at 100 N. Calumet Rd.
Another popular diner is Peggy Sue's Diner at 117 S. Calumet.
Dog Days Ice Cream Parlor: This is a classic ice cream parlor and soda fountain at 123 S Calumet Rd.  They serve gelato, sorbetto, super-premium ice cream, shakes, floats, coffee, tea, and seasonal drinks. It gets its name from the Dog Days of Summer, the period from July to September with the hottest temperatures!
Main Street Tap House: At this casual tavern, you can taste a number of craft beers by serving yourself straight out of a variety of 24 taps utilizing self-serve technology. 119 S. Calumet Ave. 
At 125 S. Calumet Rd. is Flannery's Tavern a casual pub.
Just like there is a South Shore Winery Trail, there is also a South Shore Brewery Trail where you can visit and taste their local brews in approximately 25 local area breweries. Many offer food as well. Chesterton has Hunter's Brewing at 1535 S. Calumet Rd. featuring beer and food. 
Chesterton European Market: With over 150 vendors, this is a downtown Saturday market from May through the end of October. It features fruits, flowers and vegetables along with vendors that sell prepared foods, meats, cheese, handcrafted jewelry, clothing, art and more. Look out for the popular The Rolling Stonebaker, a retrofitted Studebaker that serves wood-fired pizzas, which come highly recommended by my local area friends.
I just heard about the 4th Street Theater in Chesterton at 125 N. 4th St. They feature a number of musicals and theater events. I will definitely attend an event on my next visit.
I also just read about a popular spot for Italian food that has a lovely rooftop terrace. Luna Rooftop Bar at Abbiocco is located at 600 Gateway Boulevard.
If you want to overnight in the area, I have read that there are three good choices. The Dunes Walk Inn is located in Chesterton in the historic Furness Mansion. It has two suites and three guest rooms. At Home in the Woods Bed & Breakfast has four rooms overlooking beautiful woods. Riley's Railhouse in downtown Chesterton, is located in a renovated former freight train station.