Located in northwest suburban Lake County, both Long Grove and Grayslake are well-worth a visit. Together they have excellent restaurants, cafes, shopping, bars, wineries and breweries to explore.
Historic Long Grove
Founded in 1836, Long Grove started out as a farm community, settled by German farmers. It grew over the years as more people moved to the area. It has been one of my favorite suburban destinations for almost 40 years. I used to take my Mother there for lunch and to shop when she was in town visiting me every December for many years. At that time it was a popular spot for antique stores, shops and bars and restaurants. It did fall upon hard times after the great recession of 2008. I was back a few years ago and was very sad to see that so many of the businesses had closed.
I did go back recently and was so pleased and excited to see the opening of many new shops and restaurants along with a new wine bar and microbrewery. You can easily add a visit to Long Grove to your day trip to Woodstock, Barrington or Huntley or to your North Shore trip to Lake Forest or Lake Bluff.
My top recommendations include:
The Village Tavern: Established in 1847, this is the oldest tavern and restaurant in Illinois in continuous operation. Originally the Zimmer Tavern and Wagon Shop, this bar was granted one of the first liquor licenses in Lake County. Inside the bar you will find many antiques, such as a grandfather clock from the 1893 World's Fair. The mahogany bar known as the Presidents Bar, was rescued from the Great McCormick Place Fire in 1967. I always love the rustic atmosphere and food. It is known for its burgers, sandwiches like the Tavern Reuben and its famous "all-you-can-eat" fish fry on Fridays. 135 Old McHenry Rd.
Covered Bridge: On Robert Parker Coffin Rd., just south of Old McHenry Rd., is the historic covered bridge that was constructed by the Joliet Bridge and Iron Company in 1906 and is one of the two remaining bridges of its kind in the Chicago area. June 11, 2018 was the date the covered bridge was formally listed on the National Register of Historic Places. It has been damaged by many truck accidents, but thankfully it is still there and now repaired!
Long Grove Confectionery: Since my first visit, the Long Grove Confectionery has moved across the street to a new location at 114 Old McHenry Rd. It still features a large selection of handcrafted chocolates, including their signature Giant Myrtles, English toffee, dark chocolate, barks and sea salt caramels. They also make a number seasonal offerings as well including peppermint bark and a dark chocolate pumpkin sea salt caramel that I love.
The Apple Haus, owned by the same group, has closed its separate store, but is now part of  their new combined location. I have always loved going there for their apple cider donuts. I just bought several again, and it immediately brought back fond memories of my first taste in the early 1980s.
Long Grove Coffee Co.: At 125 Old McHenry Rd., this is a new coffee shop that opened in 2017. I enjoyed my latte before I walked through town.
Morkes Chocolates of Long Grove: Located in Fountain Square, this is a local store featuring candy, donuts, coffee and muffins. It is a suburban chain, founded in 1920, with three locations. I visited the one in Huntley a month before and loved the chocolates and donuts. However they will be spinning off from the group and rebranding soon, according to the owner. 220 Robert Parker Coffin Rd.
Enzo & Lucia Italian Ristorante: At 343 Old McHenry Rd., this is an upscale restaurant featuring Italian cuisine, seafood and pasta with a lovely outdoor patio in the back overlooking Fountain Square. I had an excellent grilled chicken sandwich for lunch with a local friend. I highly recommend the food, service and atmosphere.
Buffalo Creek Brewing: This is a new microbrewery at 360 Historical Lane. They "transformed the former Art Studio of Long Grove Academy of Fine Arts into a state of the art brewing facility with Bavarian themed Taproom, Biergarten, Event Room, Patio, Brew Masters Table and Scenic Lawns."  They brew a number of stouts, strong ales, amber ales and pilsners. I enjoyed tasting the Bus Wedgie, a Munich Dunkel, which is rich ale and perfect on a gorgeous fall day. I loved the fact that it was named after the bus that hit the Covered Bridge mentioned above!
Covered Bridge Creamery: For dessert head to this small ice cream shop for premium ice cream, tea and coffee. I loved the pumpkin flavor on a beautiful fall day. 320 Old McHenry Rd.
Signature Popcorn: Next door at 318 Old McHenry Rd. and owned by the same team, this is a popular popcorn shop. They have a creative menu along with seasonal offerings like a mix of pumpkin, caramel and apple in the fall.
Corked Wine Bar: Located in a charming old house, Corked opened in 2020. It has indoor seating along with a large outdoor patio. It offers a large number of wines from around the world along with a food menu including many small plates and charcuterie. 132 Old McHenry Rd.
High Tea with Gerri: Though it was closed during my recent trip, high on my list to try is this elegant tea room for afternoon high tea. Inspired by British classics, they serve an array of finger sandwiches, raisin scones, and petite pastries. It is located at 144 Old McHenry Rd.
Broken Earth Winery: Located in the Mill Pond Shops in Long Grove, this retail store and tasting room at 219 Robert Parker Coffin Rd. features the owner's wines which are estate grown, harvested and bottled in Paso Robles, CA. Paso Robles is one of my favorite wine growing regions in the US. They also feature craft beer, cheese, charcuterie and snacks. I thought their Zinfandel, with a taste of raspberries, was excellent.
Also in the same complex is Joanie's Pizzeria at 235 Robert Parker Coffin Rd. and another new addition to the restaurant scene in town. In addition to pizza, they serve ribs, salads and calzones.
Another popular spot is The Chatterbox, a gastropub located in a former barn. They feature food, cocktails and live music. They also have two large outdoor patios. 330 Old McHenry Rd.
Shops and Galleries that you should visit include:
Paddy's on the Square: This is an Irish Boutique in Fountain Square that has a large selection of imported Irish gifts, clothing, jewelry and home decor. 228 Robert Parker Coffin Rd.
Epilogue Arts: This is a small gallery featuring handmade fine art and gifts by a talented group of artists in different mediums. They also have events and offer art and photography classes. 130 McHenry Rd.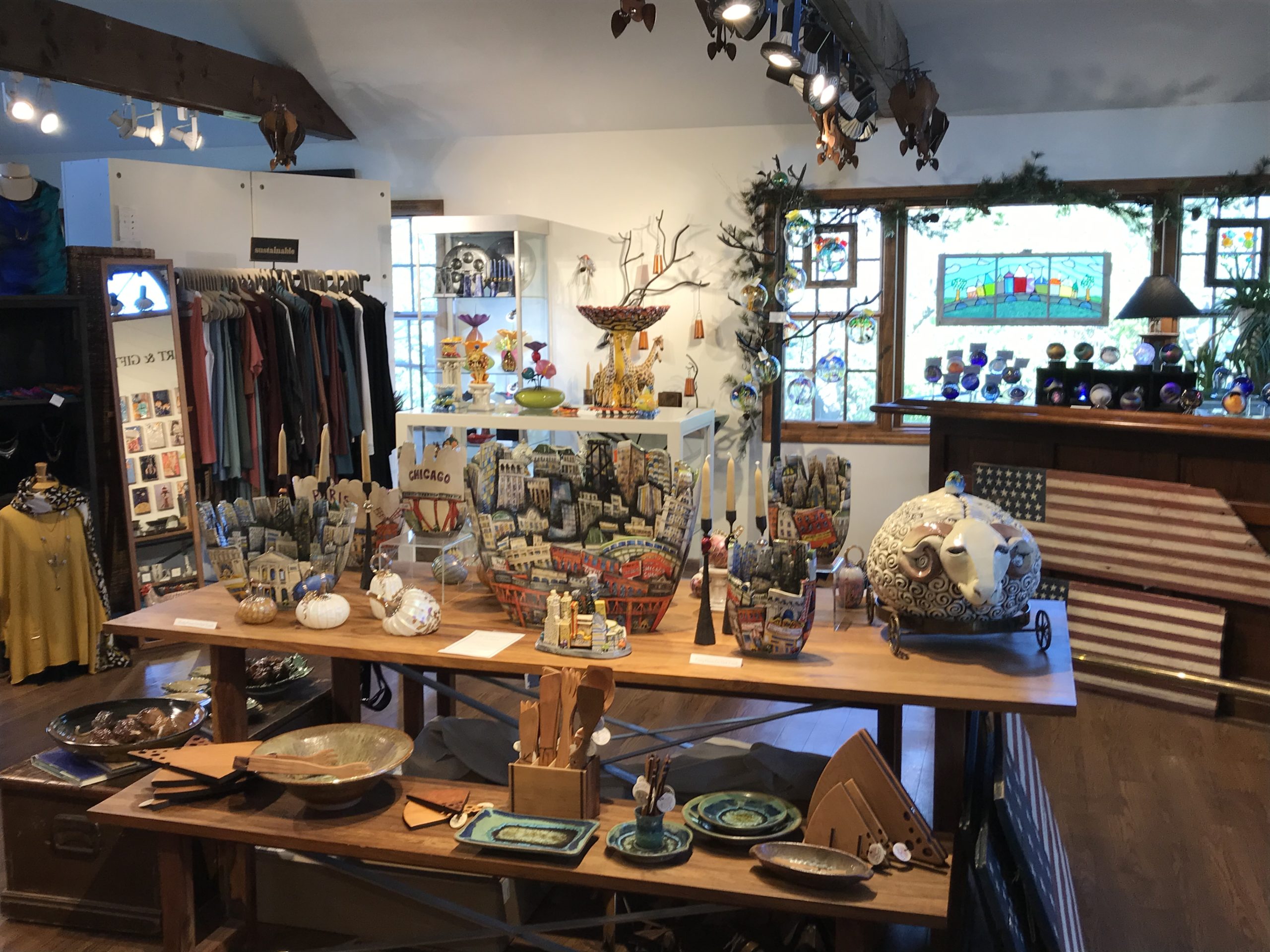 Within Reach: This is an attractive boutique offering gifts and home accessories. 128 Old McHenry Rd.
Long Grove hosts a number of festivals throughout the year that you might enjoy. These include Chocolate Fest in May, Strawberry Fest in June, Irish Days in September, and Apple Fest in September followed by the Holiday Open House and Sleigh Rides in December.
Grayslake
Thanks to a college friend, I drove to Grayslake in suburban Lake County, IL to meet him for lunch. It is located 12 miles from Long Grove and 40 miles from downtown Chicago. I enjoyed exploring the downtown and nearby residential streets of this small village with a population of close to 21,700 people. I found that it has some fun restaurants, bars, shops and cafes to visit on Center Street along with a winery tasting room nearby. You might visit the Grayslake Farmers Market during the spring, summer and fall seasons.
I chose the 1950s style diner, Twisted Burger, after reading about it in a local article. It's menu primarily features burgers, fries and delicious milkshakes. I had the first cheese burger, fries and a chocolate shake that I have had in many years. It was a great treat!!  It is located at 217 Center St., with two other locations in suburban Barrington and Round Lake.
Somethings Brewing: With two locations in town this is a popular coffee shop and bakery at 82 Center St. They feature a large selection of coffee drinks, pastries, muffins, cookies and chocolates along with a cafe menu of breakfast and lunch items of soups, sandwiches and salads. The other location in town is at 1126 E. Washington St.
Fred's Diner: This a popular classic diner, of almost 40 years, at 225 Center St. that features American classics for breakfast & lunch. 
Right out of the past is The Freeze, which in addition to burgers and hot dogs, is known for its ice cream cones, sundaes and shakes. 131 Hawley St. Also not to be missed is the local Dog n Suds Drive-In located at 454 Center St. I had not seen one of these classic drive-ins in many years and it brought back great memories from my childhood. 
First Draft, located at  250 Center St., is a bar and restaurant featuring craft beer. Whitney Street, is another diner-style restaurant serving breakfast, lunch and dinner at 30 N. Whitney St. Emil's Tavern on Center is a popular tavern and sports bar serving broasted chicken,sandwiches, wraps pizzas, wings, burgers and more plus a large beer menu. It has a large outdoor patio. Charlie's Bar is also a popular bar downtown at 255 Center St. 
Since 2002, This Old Book at 138 Center St., is a book store specializing in quality used, rare and out-of-print books along with new books by local authors. 
Beer lovers might enjoy Light the Lamp Brewery located at 2 S. Lake St. They specialize in Belgian-style ale along with tacos, bowls, snack, flatbreads and burgers. Also recommended is Crab & Grab for southern cooking and Cajun food.
Just outside of downtown is the small tasting room of the Glunz Family Winery & Cellars at 888 E. Belvidere Rd., Suite 107. The Glunz Family has been purveyors and producers of wine in Chicago since 1888. At that time Louis Glunz began bottling wine and beer in the basement of his store. The family moved to Grays Lake in 1940. The company, now in the hands of the fourth generation of the Glunz family, has been producers of small-batch wines since 1992. The winery started with the production of sangrias, May wine, a winter Vin Glogg and dessert wines like ports, Angelica and Raspberry wine. They are now in production of excellent red and white wines at their winery in Paso Robles CA.
I thought the Bunzer's Blend 2018 Zinfandel that I tasted was smooth and full-bodied. I have known members of the Glunz family for many years. The family still operates The House of Glunz, started by Louis Glunz. Located in Chicago's Old Town Neighborhood at 1206 N. Wells, the store is Chicago's oldest wine and spirits shop and their Glunz Tavern next door is a popular restaurant and bar.