Glen Ellyn
Glen Ellyn, a village in DuPage County, is a Chicago suburb located 24 miles due west of downtown. I had not been there before, but went with a friend to explore and to see a special Frida Kahlo art exhibition at the Cleve Carney Art Museum at the College of DuPage.
It has a small, charming downtown area with a number of bars, restaurants, cafes and boutiques. I think you will enjoy my recent finds:
Our first stop was for coffee at Blackberry Market. Located at 401 N. Main St., this is a cafe/market offering coffee drinks, pastries and a large menu of breakfast and lunch items.
Ten Thousand Villages is a charming shop, from 1946, selling fair-trade crafts and housewares from Asia, Africa, Latin America and the Middle East. Their mission is to create opportunities to earn income for artisans in developing countries through fair trading relationships. 503 Pennsylvania Ave. 
Chocolaterie Stam: This is a downtown chocolate shop featuring old-world, Dutch traditional chocolates. The Stam family has been in the confectionery business for over 200 years. Based in Des Moines, they have locations in Missouri, Illinois, Iowa, Colorado, Minnesota and Nebraska. 530 Pennsylvania Ave A.   
Families with children will love 2 Toots Train Whistle Grill downtown at 450 N. Main St. It is a train-themed restaurant with train tracks running throughout the restaurant delivering baskets of food. They feature a menu of hamburgers, hot dogs, milkshakes, malts, and classic root beer floats.
Two Hound Red Brewing Co. is a popular downtown brewery and restaurant at 486 Pennsylvania Ave. They offer food and beer pairings. They make a number of IPAs, lagers and porters. Their food menu includes burgers, sandwiches, salads, pizzas and soups.
Marché is an attractive cheese and wine shop, at 496 N. Main St., that features cheese and charcuterie boards and plates along with sandwiches. They also offer a number of classes and events.
Maize + Mash: Located downtown at 430 N. Main, this is a contemporary American bistro with a focus on craft cocktails, whiskey and classic tavern fare.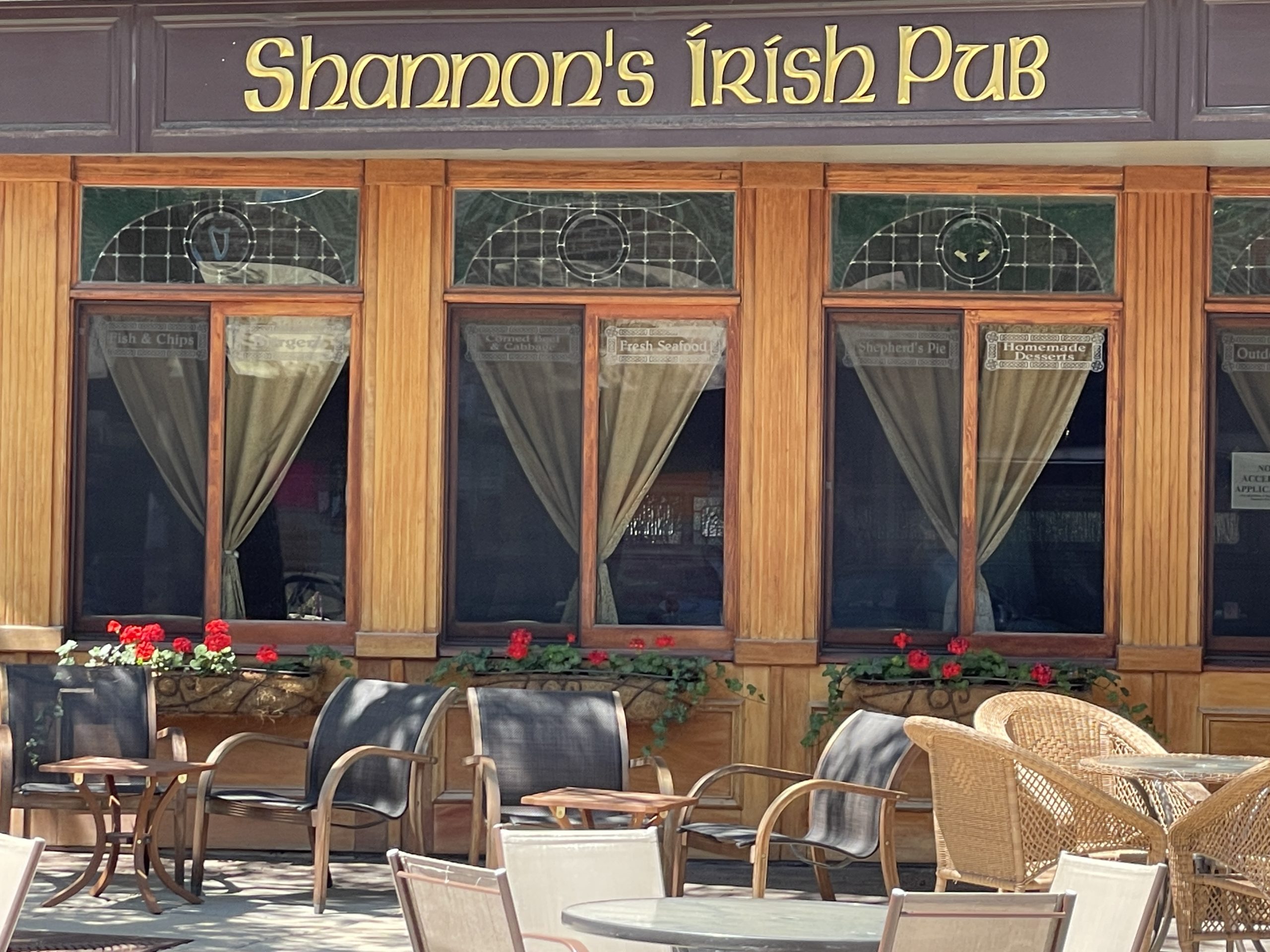 I highly recommend Reserve 22, the restaurant at the local Village Links Golf Course. Located just south of downtown, it is a nice restaurant with a lovely outdoor patio overlooking the golf course. They feature seasonal cuisine. I loved my Reuben sandwich and our excellent server. It is very popular, so make sure to make a reservation before you go.
Just south of Reserve 22, at the College of DuPage, is the Harold D. McAninch Arts Center where you can see performances of music, dance and theater by students and other professionals along with films. At 425 Fawell Blvd., it is also home to the Cleve Carney Art Museum which has art exhibitions showcasing art by regional, national and international artists. I went to see a Frida Kahlo show with 26 of her paintings from the Dolores Olmedo Museum in Mexico City along with an historical exhibit on her life and family. I was very impressed with the Arts Center as this was my first visit.
I went back in September, 2023 to see an excellent Andy Warhol exhibition.
South of the College of Dupage, in suburban Lisle, is the Morton Arboretum. Well-worth a visit, the Arboretum is a public garden, and outdoor museum with a library, herbarium, and program in tree research including the Center for Tree Science. It has grounds, covering 1,700 acres and collections of trees and other living plants, gardens, and restored areas among which is a restored tallgrass prairie. The living collections include more than 4,100 different plant species. 
As a place of recreation, the Arboretum has hiking trails, roadways for driving and bicycling, an interactive children's garden and a 1-acre maze. I enjoyed seeing a special exhibition of sculptures located throughout the grounds. I would love to go back in the fall when the leaves are changing. 4100 Illinois Route 53.  
Downers Grove
Located southeast of Glen Ellyn is the village of Downers Grove, founded in 1832, with a population of around 50,000 people.  I recently enjoyed visiting the downtown area before attending the Andy Warhol exhibition at the Cleve Carney Museum of Art in Glen Ellyn. There are a number of small shops, taverns, restaurants along with the historic Tivoli Theater from 1928. I recommend that you visit as it is a perfect spot for a day trip or night out:
Pierce Tavern: This is a casual, upscale neighborhood pub serving a menu of burgers, salads, sandwiches, pizzas, soups and large plates. They also have a large beer and cocktail menu. I really enjoyed the brisket grilled cheese sandwich. 5135 Main St. 
The Foxtail: Located at 5237 Main St., this is a Mediterranean-inspired restaurant with a menu of seafood, flatbreads, salads, entrees and a raw bar. I really liked the contemporary design. I recommend it as a place for dinner, as it is a little more formal than many of the other bars and restaurants downtown. The weekend brunch menu also looks excellent.
Every Day's A Sundae: After lunch or dinner, make sure to stop in at this downtown ice cream shop at 990 Warren Ave. They feature the great flavors from Sherman's Ice Cream in South Haven, MI.
Two fun bars downtown include Emmett's Brewing Company and Ballydoyle Irish Pub & Restaurant. 
Emmett's Brewing Company is a local microbrewery that features their ales, lagers,stouts, pilsners, IPAs. wheat beer, and saisons, along with  steaks, sandwiches, pastas, seafood, appetizers and nightly specials.  
Ballydoyle Irish Pub & Restaurant: Located downtown at 5157 Main St., this is an Irish pub that features live music along with a food menu of Irish fare, burgers, salads and sandwiches. 
Tivoli Theater: This historic theater opened in 1928 at 5021 Highland Ave. Today you can catch a new film or classic movie.  There is a full bar for you to enjoy. It was only the second theatre in the country to accommodate movies with sound at the time. It is also home to a Wurlitzer organ which is played before movie showtimes on Friday evenings.
Evelyn Jane Boutique: Located at 1008 Curtiss St #1, this is an attractive shop selling gifts, clothing, accessories and jewelry. I bought some fun cards to help support this local business.
I also read that Bar Chido is a great spot for its modern take on Mexican street food. It opened in 2021 at 1012 Curtiss St. 
Downers Grove also has the  largest collection of Sears catalog kit homes. These homes were ordered straight out of the catalog and shipped to buyers who would assemble the house themselves. They were built between 1910 and the 1940s. Visitors can take a self-driving or walking tour of the Sears Homes around town to see them.
You also might enjoy the Tuesday Summer Concert Series in Fishel Park. In early September, there is also The Downers Grove Fine Arts Festival in the downtown area.