If you are in St. Joseph or Weston, MO, visiting historic Atchison, KS, in the northeast corner of the state, should be on your list of things to see and do. I used to go often to shop at a favorite store for home accessories, but had not been back after the store moved to Kansas City. I was pleased to have made the trip back to explore it once again.
On July 4, 1804, the Lewis and Clark expedition passed through what is now the city. In September, 1860, the Atchison, Topeka & Santa Fe Railroad Company was incorporated and became a major rail center. 
In its earliest days, Atchison was a center of industry, commerce and education. It had a number of merchants, railroaders and real estate barons who built some beautiful homes. You can still see many today which have a variety of architectural styles.
Make sure to visit:
Amelia Earhart Birthplace Museum: At 223 N Terrace St., this historic home was built in 1880. It was the birthplace of Amelia Earhart, the famous female pilot and the first female aviator to fly solo across the Atlantic. Earhart was born in her grandparents' Atchison home on July 24, 1897. She lived with her grandparents during the school months and spent much of her formative years in town.  Unfortunately, it was closed the Sunday that I was in town.
Amelia Earhart Historic District: Located on the river bluffs overlooking the Missouri River, this is a residential neighborhood, near her birthplace, that contains historic residences, of various styles, which date from the 1860s to the 1920s. The boundaries are from Commercial St. on the South to Atchison St. on the north and 3rd St. on the west to North Terrace St. on the east. You might also enjoy driving through the attractive campus of Benedictine College at 1020 North 2nd St.
Atchison Railroad Museum: The famed Atchison, Topeka & Santa Fe Railroad built this freight depot in 1880. Today it houses the City of Atchison's Visitor Center and Historical Society Museum. It is well-worth the visit. Outside the depot is the Atchison Rail Museum where you can enjoy an outdoor collection of rail cars. Northeast Kansas Railroad members operate the Atchison & Western Miniature Railroad, a 12" gauge railroad, on weekends during the summer. This is a fun activity for children. 200 S. 10th St.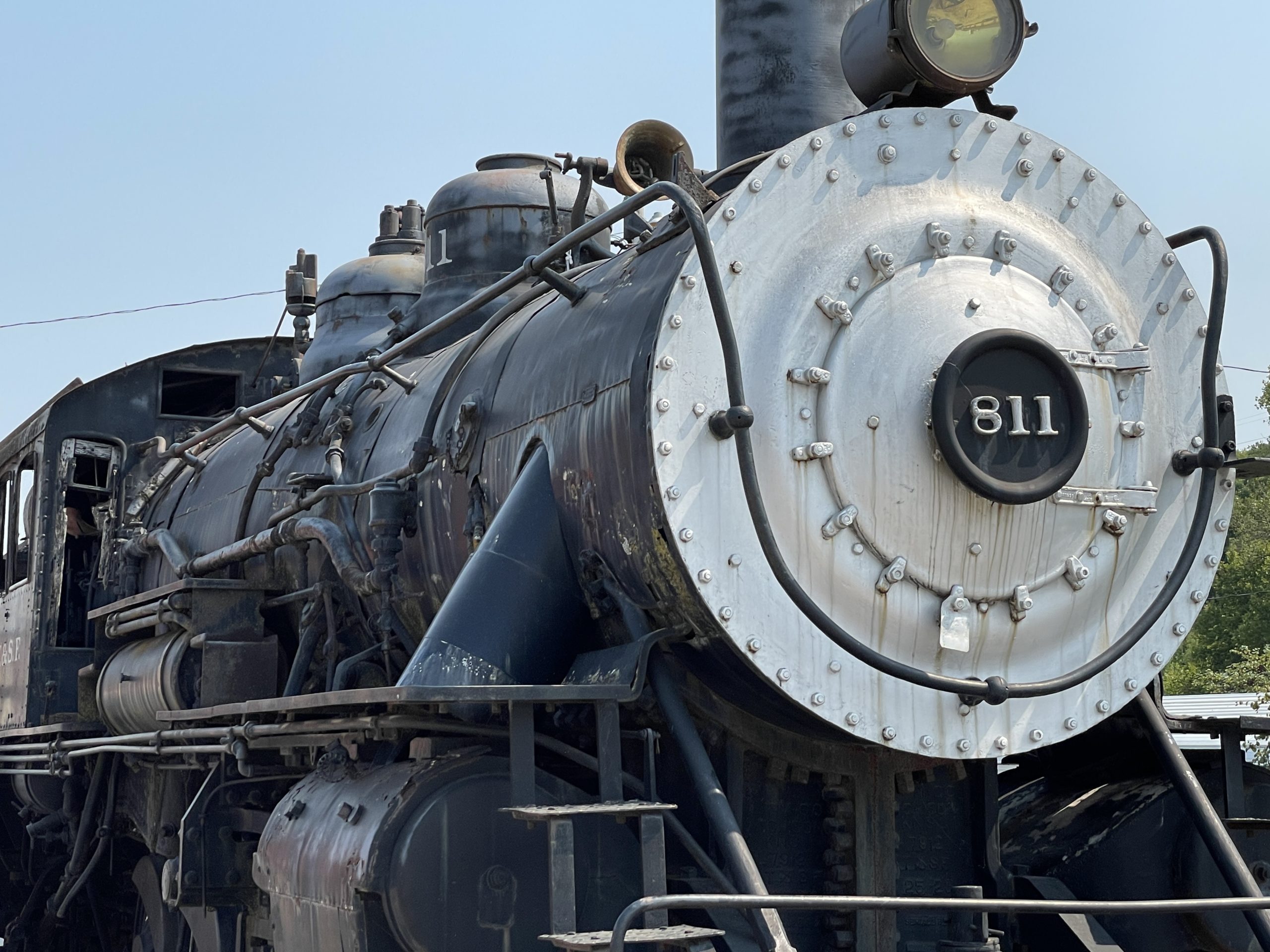 Muchnic Art Gallery, 704 N. 4th St.: This elegant mansion is a Queen Anne-style house built in 1885. It is a three story brick residence with 14 rooms. It is beautifully ornamented by carved woodwork, original stained glass windows, parquet floors of mahogany, oak and walnut, four fireplaces with the original fireplace tiles and trim, with imported glass tiles and the original cast bronze hardware. It is owned by the Muchnic Foundation and is used as a gallery and for art related functions. I enjoyed the tour by the docent as well as seeing the art on display and the beauty of the home.
Mueller's Locker Room: Located along the Missouri River at 120 S. 2nd St. is a fun, casual  tavern that was recommended to me for lunch. They have a menu of starters, sandwiches, burgers along with daily specials. I enjoyed my Reuben Sandwich while seated on the outside patio.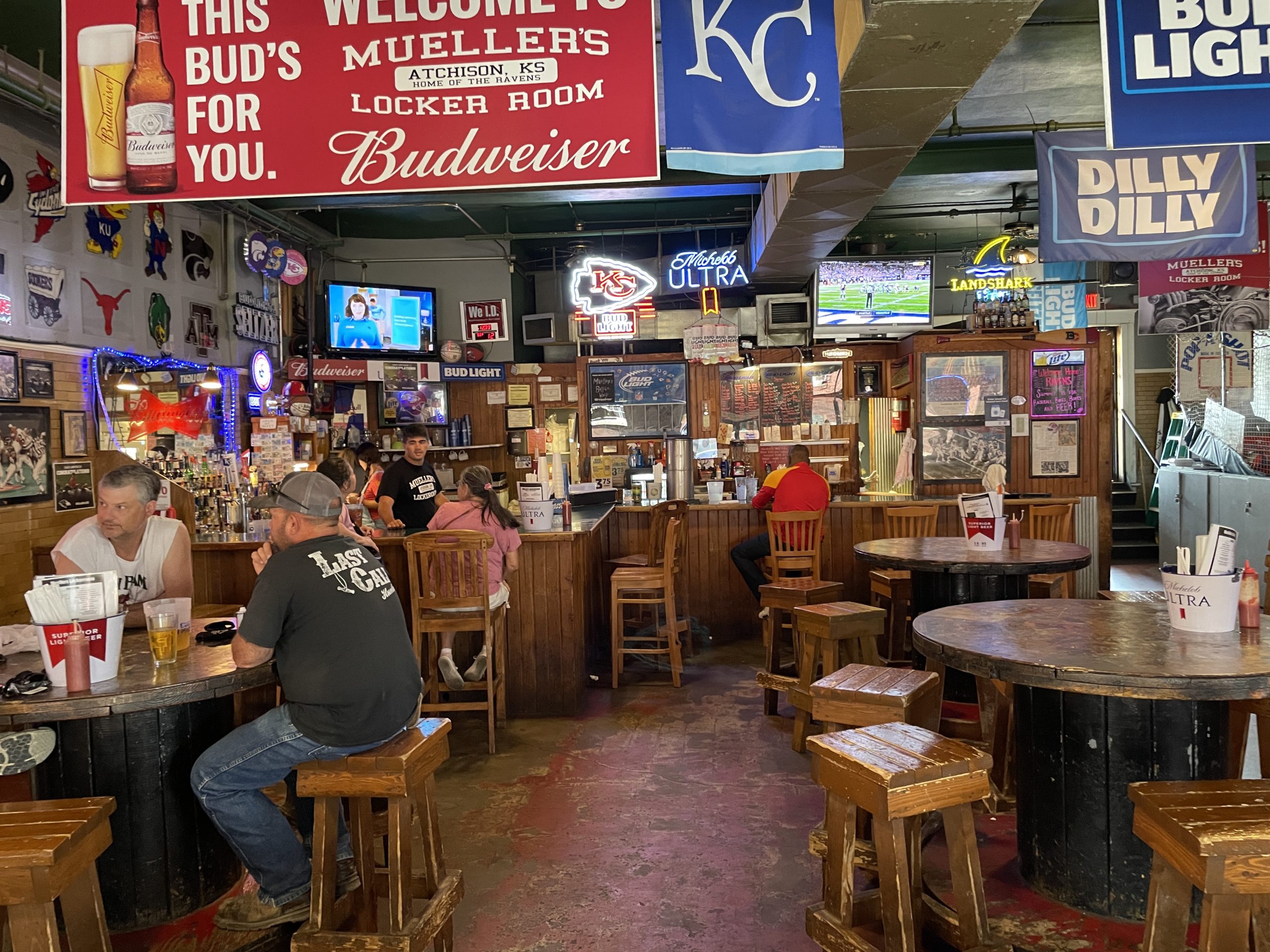 The Sunflower Café: This is a casual cafe at 115 N. 5th, a favorite for coffee and pastries along with breakfast and lunch items. Check out their outside patio.
I also read that Paolucci's Restaurant, Deli & Lounge is a fun spot for Italian specialties. The Paolucci family business dates back to 1894, when two brothers, Felix and Dominic Paolucci came to Atchison from Frosolone, Italy, a small town just north of Naples. Together, along with Dominic's wife Rosa, they started Paolucci's Grocery. The restaurant was opened in 1983.
Daylight Donuts: Enjoyed stopping by Daylight Donuts downtown, for a great chocolate donut as I started my visit in town. It was started in 1954 and is still going strong with locations throughout Kansas, Oklahoma, Missouri and Arkansas. 714 Commercial St.
I also just read that Domenique's Bakery at 626 Main St. has great pastries, cookies, pies,  cakes breads, croissants and more.
After I was there, I read about Eddie's Five and Dime located at 504 Commercial St. It is a variety store with a grill and Leah's old fashioned soda fountain that I will definitely visit when back in the area.
The Downtown Farmers' Market, from May through October on Wednesdays and Saturdays, are popular during the summer months. There is also the Funky Junk Flea Market. You might also check out the calendar for Theatre Atchison which produces a number of plays and youth programs throughout the year.
Downtown Atchison has a number of antique and vintage stores including Presley Pierce for home decor at 500 Commercial St. and Backroad Atlas for home goods at 517 Commercial.