Montclair is a beautiful town in Essex County, NJ, roughly 30 minutes or 10 miles from downtown Newark. My mother was born in Montclair and lived in nearby Verona and West Orange, where I went often as a child to visit my grandmother and her family. My parents actually met there! On my most recent trip to the Jersey Shore, I made a point to spend some time in Montclair and the surrounding area to see the old places from my childhood and to see local friends for lunch. 
You can easily take the train from New York to Montclair on NJ Transit or drive from Newark Airport before or after your flight.
I highly recommend that you visit:
Eagle Rock Reservation: I drove through the Reservation with its gorgeous views of Manhattan. I remember the view as a child as I used to go horseback riding there. It is a 400-acre forest reserve and recreational park along the Watchung Mountains ridge line located between West Orange, Montclair and Verona. Eagle Rock Ave. & Prospect Ave., West Orange.
Downtown Montclair has a number of bars, restaurants, cafes and shops primarily along Church St.and Bloomfield Ave. I recommend just walking and exploring. There is street parking as well as several parking lots available. 
I enjoyed brunch at Faubourg, a modern French brasserie, at 544 Bloomfield Ave. It is an attractive contemporary space serving a seasonally French-inspired menu. They have a very attractive covered outdoor patio. The co-owners were both mentored by Chef Daniel Boulud, the restauranteur best known for his NYC restaurant, Daniel, which has received two Michelin stars. They opened in 2019 in a former theater space.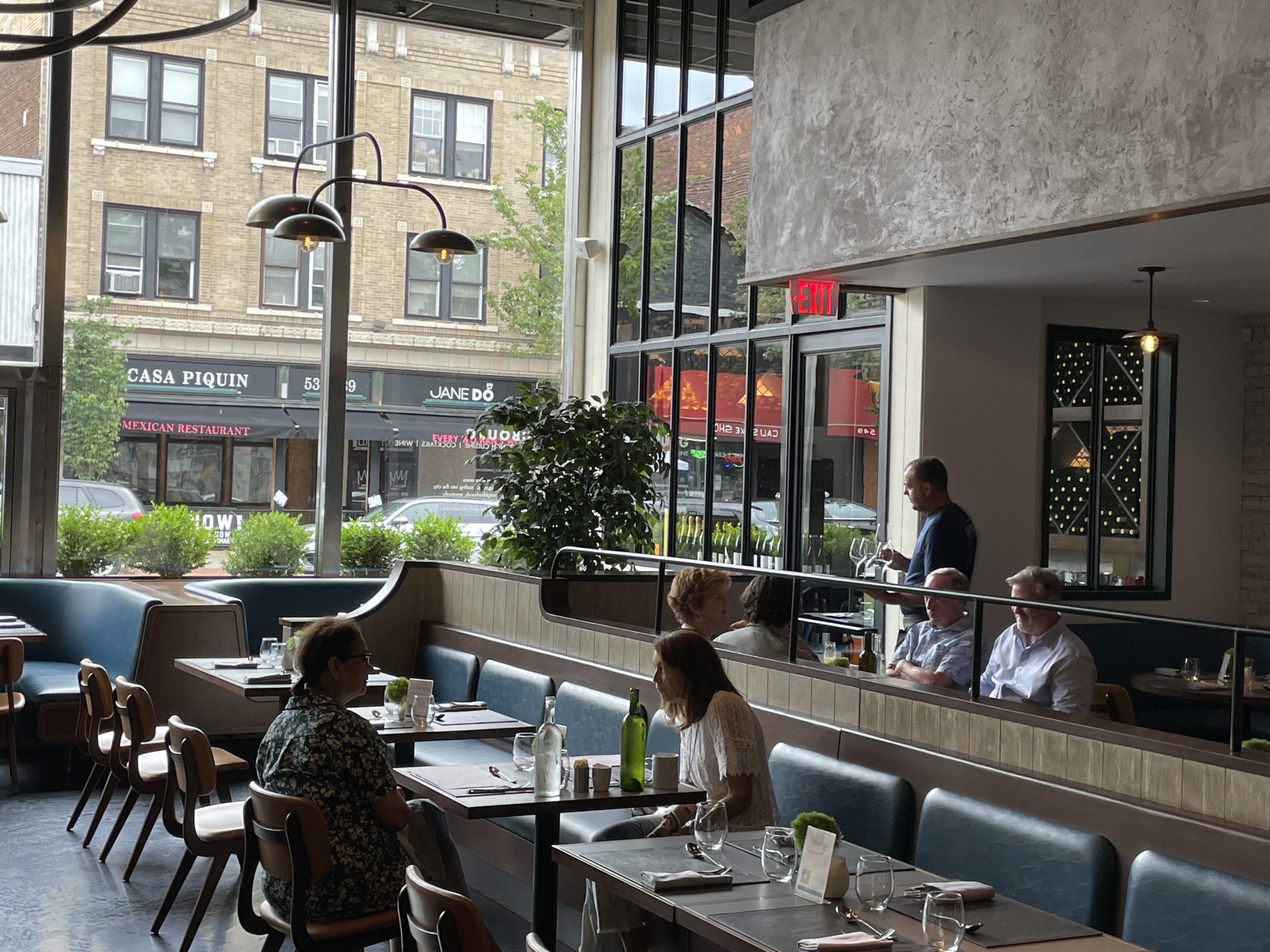 Nearby and recommended by my friends is Fresco da Franco for classic Italian favorites, at 15 Church St.
Popular for brunch is the stylish diner, Raymond's, located at 28 Church St. It opened in 1989 and was expanded in 2004.
Benvenuti Gelato: Located at 20 Church St., this is the spot for quality gelato. I loved their hazelnut flavor after brunch.
Java Love Coffee Bar: This is a popular coffee shop with two locations at 49 Church St. as well as in Upper Montclair at 244 Bellevue Ave.
I had read about the Montclair Art Museum located at 3 S. M0untain Ave. I would have gone while in town, but it was closed on the day I was there. It has a focus on exhibitions, educational programs and collections of American and Native American art.
I also recommend that you drive north to the neighborhood of Upper Montclair which looks like a small town in the Cotswolds in England.  
Here you can visit Java Love as well as the Montclair Diner at 613 Valley Rd. It has been a neighborhood staple since 1923. It has an updated menu along with traditional diner classics.