Comonfort is a small city of just over 24,000 people located 30 minutes directly south of San Miguel. It makes for a fun day trip as I enjoyed my first visit with San Miguel friends. It has the designation of being Pueblo Magico or Magic Town in the state of Guanajuato.
Unlike San Miguel, I found it to be a very Mexican city and not touristy at all. I loved walking through the colorful streets, and seeing the architecture, the small shops and many vendors or vendedoras along with some of the newly created street art. This art project has drawn more people to the area to explore.
You will see many vendors and shops selling stone molcajetes which are made locally and used for cooking and making guacamole, salsa and to crush and grind spices.
A highlight was walking through the Jardin Principal, Plaza 5 de Febrero with its gazebo. There were many vendors selling street food and other items, while the locals were enjoying just hanging out in the garden or park.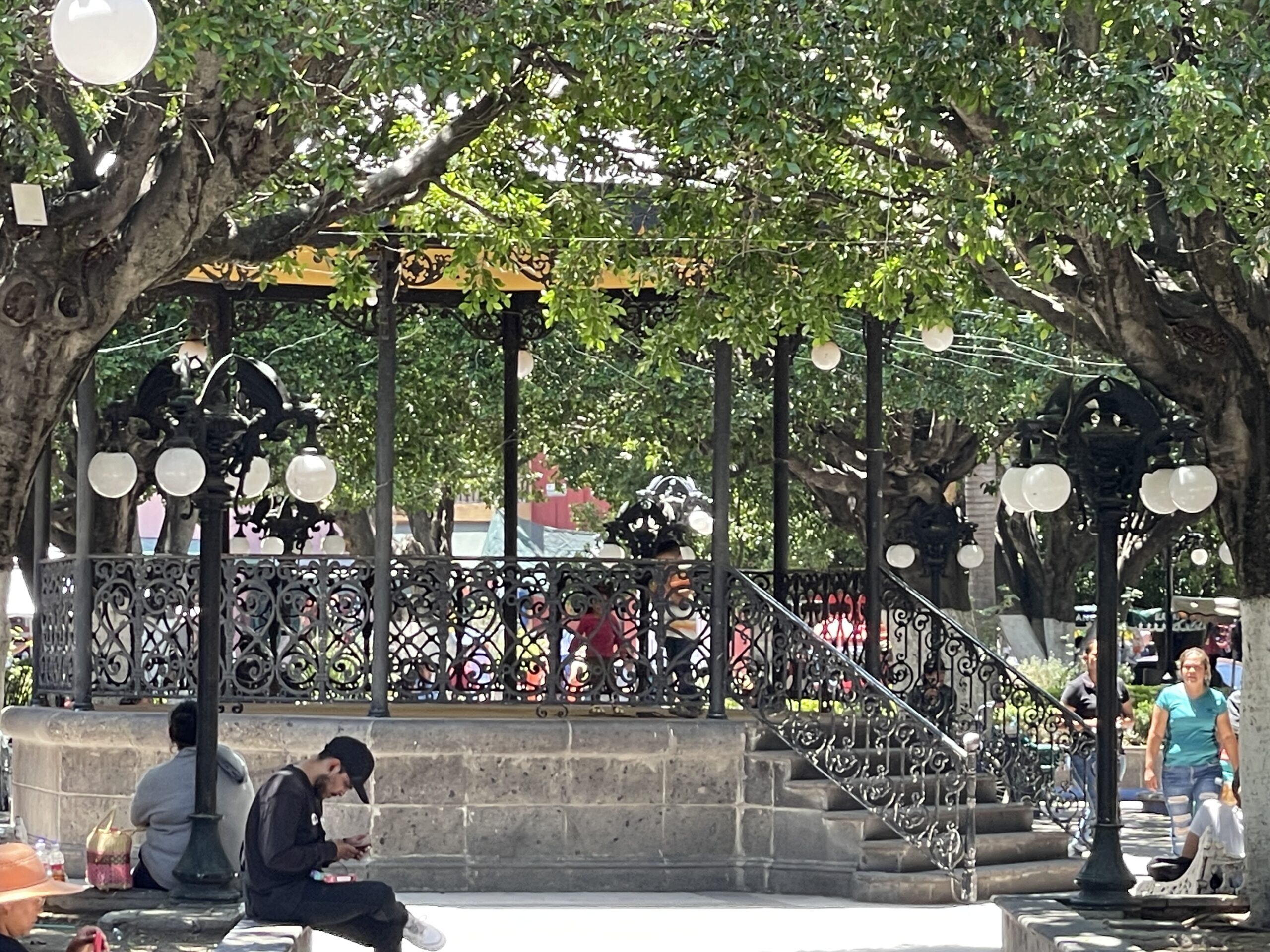 While there, stop in and buy a paleta or ice cream bar at La Michoacana at Pl. 5 Febrero 12. The chocolate bar dipped in chocolate and coconut was the best I have had.
Also not to be missed is the historic Parroquia San Francisco de Asís. The four Baroque altarpieces, made of mesquite wood and gold leaf to the right and left of the main altar, are really spectacular. It was built at the end of the 16th Century to the middle of the 17th Century. It is located on the large Plaza Civica Dr. José María Luis Mora. 
Nearby is the old Municipal Palace that is beautifully decorated with murals that tell the history of Comonfort and the area from pre-Hispanic times to the present.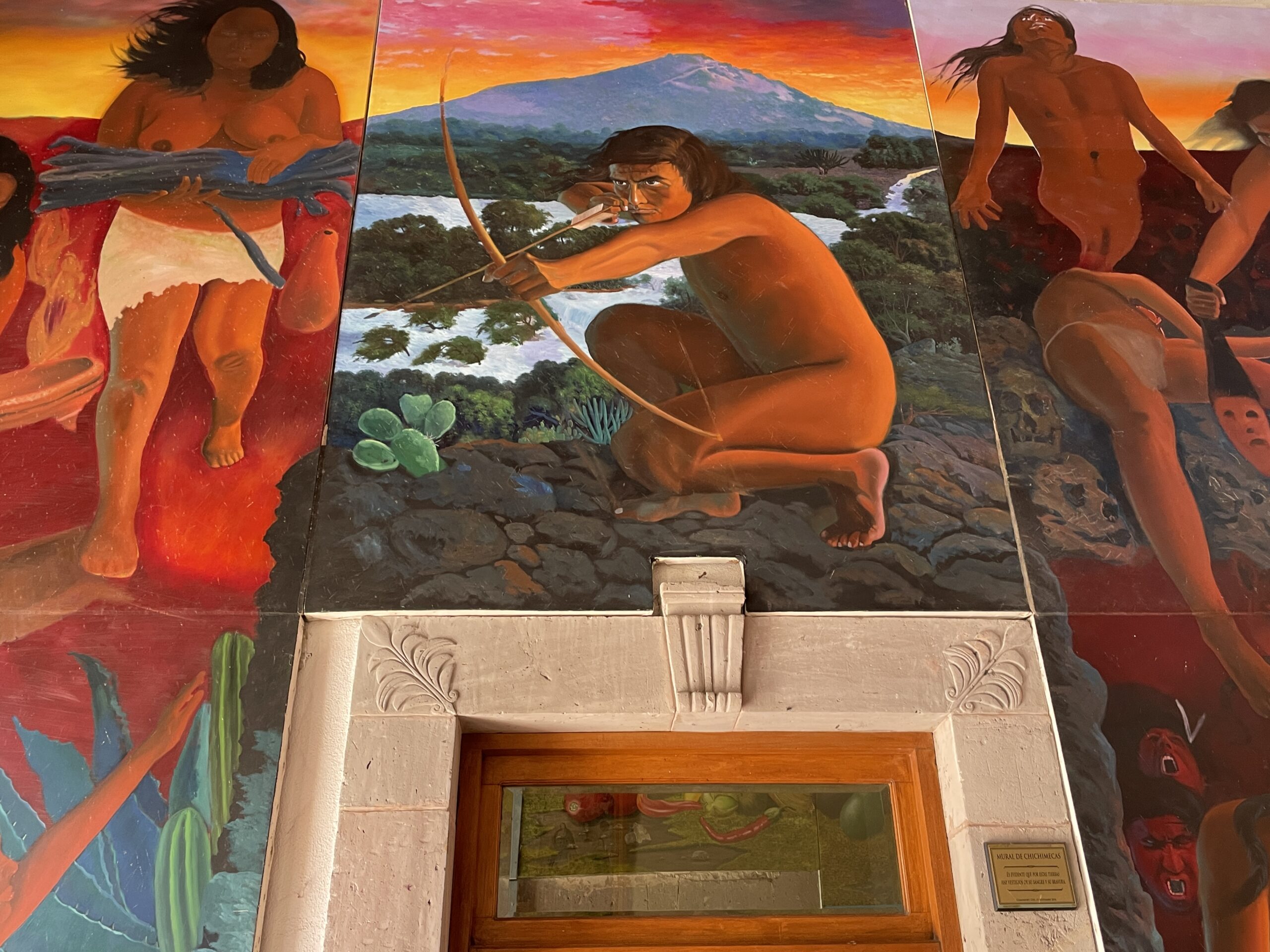 I suggest having lunch at Citronella Restaurante & Terraza. Located a few blocks from the Jardin Principal. I found it through my driver as well at Trip Advisor. The upstairs terrace was perfect to eat and they have a large menu of pizza, salads, burgers, omelets, sandwiches and other entrees.  It is located at Vincente Guerrero #83. They have public parking in the rear, so I suggest parking there and then walking  around the city from there.
On the way back to San Miguel, you can enjoy two wineries. The newest is Viñedo Los Remedios. Located in a 350 year old hacienda, Luis Gonzales and his wife Ingrid Rosas recently opened the winery in April 2023. They were former partners in the nearby  Viñedo San Miguel. It is set in a stunning location with a tasting area next to the winery. In addition to the hacienda there are two historic chapels. It is located around 20 minutes north of Comonfort.
Make sure to book your tasting ahead of time. You can pick the number of wines that you want to sample from those that they produce. The tasting also included a small charcuterie plate of cheese, crackers, bread, meats, nuts and fruit. We did the four wine tasting which included their Moscato white wine, a Merlot rose, a red blend of Cabernet Franc, Merlot, Petit Verdot and Cabernet Sauvignon plus a Cabernet Franc. All were really excellent. This is one of the best vineyards that I have visited near San Miguel. They also just made their first mezcal which we also tasted It was also great.
In 2023 their 2020 Cabernet Franc and their 2022 Cabernet Sauvignon won gold medals at the 2023 Concours Mondail Bruxelles in Brussels, Belgium.
They will soon be opening a restaurant on site and a venue for special events and weddings. Eventually there will be hotel rooms on site along with new home development. 
A few minutes north of  Viñedo Los Remedios is Viñedo San Miguel. It is a complex of vineyards, homes and a really beautiful and contemporary tasting room, store and production facility. They also have a restaurant, Trasiego, whose Chef David Quevedo, was recognized and awarded as one of the best chefs in Guanajuato and won first place in the Pinchos y Tapas contest in Spain. I have friends who just went and had a lovely dinner. It is high on my list to try.
Their first production was in 2016. They recently launched five new wines including a Latiendo, a bridge between a rosé and a red, along with a Piedra de Oro, or blend of cabernet, and malbec. The location has really stunning views of the mountains in the distance. We opted for a tasting of three wines and a tour. Two other options include more wines and food options.
The tour consisted of visiting the vineyards and seeing the land from the top of a tower on the property. We then went back to the main building for a tour of the production facility and wine cellar. We then had a private tasting. I tried their full-bodied Rosé along with their Malbec and blend of Cabernet, Cabernet Franc, Shiraz, Merlot and Malbec. The Rosé was excellent and I bought two bottles to take home. The Malbec was also excellent. I was very impressed with the quality, and felt they were some of the best wines I had tasted in the area.